Our editorial team uses a strict editorial review process to compile all reviews, research, and evaluations of any kind. Our company, WallStreetZen Limited, is supported by our user community and may receive a small commission when purchases are made through partner links. Commissions do not affect the opinions or evaluations of our editorial team.
At the end of the day, all we want is access to good investment opportunities with supporting research.
Unfortunately, that's not always what we get.
When I first started looking for the best stock advisor and the best investment advice websites, I can't even count how many called Amazon and Netflix at their IPO dates. It seemed every single site I found had bought Apple in 2001.
The average portfolio screenshot from these "stock advisors" looked something like this: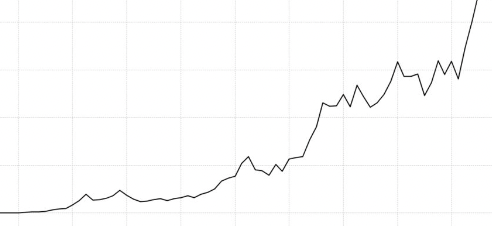 Doesn't that look great?
There were a lot of claims of outperformance, but most of them lacked one thing: proof.
I realized I needed a service that is credible and transparent, has a track record of strong performance, and comes at a reasonable price.
So I set out to find the best stock advisor subscription based on those 3 criteria:
Reputability
Performance
Price
Turns out, not many pass these simple tests.
But the 4 that do made it on my list of the Best Stock Advisor Websites and Subscriptions for Investment Advice in 2022.
I'll rank each site by the criteria listed above, provide key details about each service, and include the relevant information you need to find the one that will best suit your investing goals.
The Best Stock Advisor Websites & Subscriptions for Investment Advice in
1. WallStreetZen
In my (albeit biased) opinion, WallStreetZen is the best stock advisor website in 2022.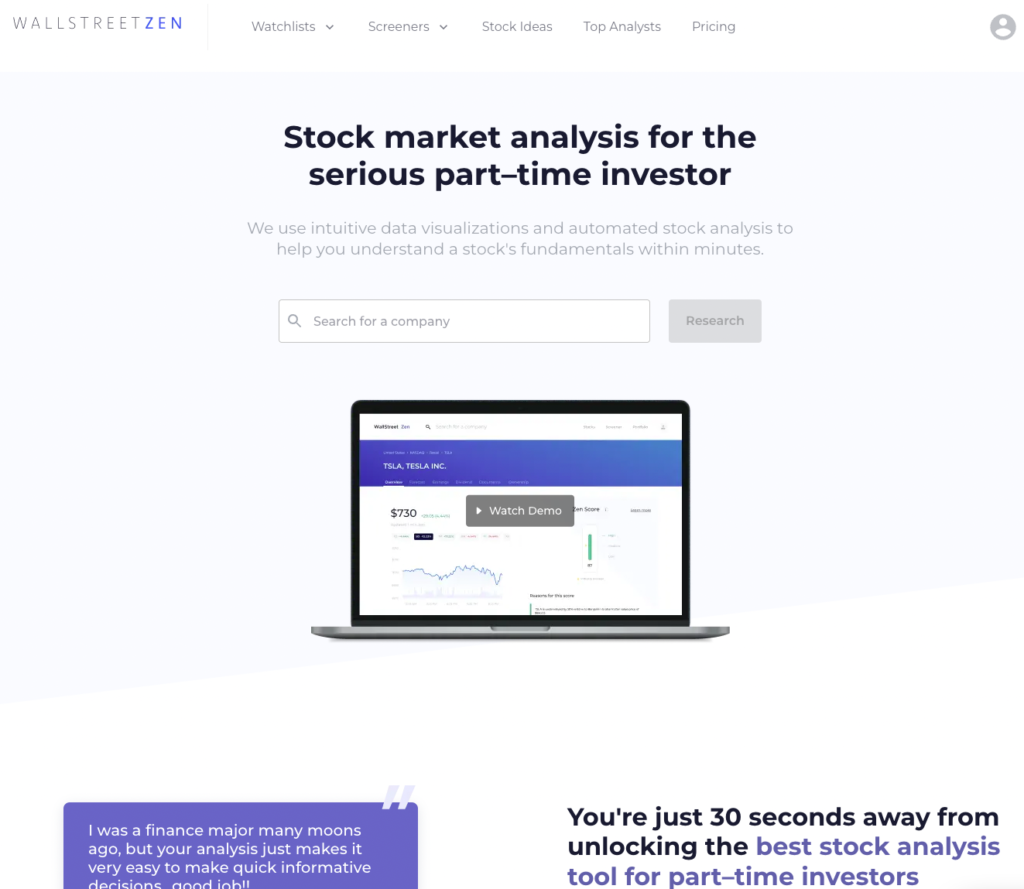 When I first set out to find the best stock advisor, I was bombarded with stock recommendations from "analysts" and self-proclaimed "experts".
The trouble was, I had no clue who these people were and why their ideas were worth investing in. They seemed to be making random predictions, then beating their chests when they were right – which just so happened to be about 100% of the time.
Coincidence? Not really.
They just weren't telling me when they were wrong (which was often!).
It was time to start cutting through the noise, and we had the scissors.
If you've ever wondered, "Who's the best stock advisor to follow?", that's the question WallStreetZen's Top Analysts was created to solve.
We collect data each day on stock recommendations from more than 3,500 analysts, backtesting their performance over multiple years.
Then, these analysts are ranked by average return, frequency of ratings, and win rate.
Then we sort them, and show you exactly what they're recommending right now: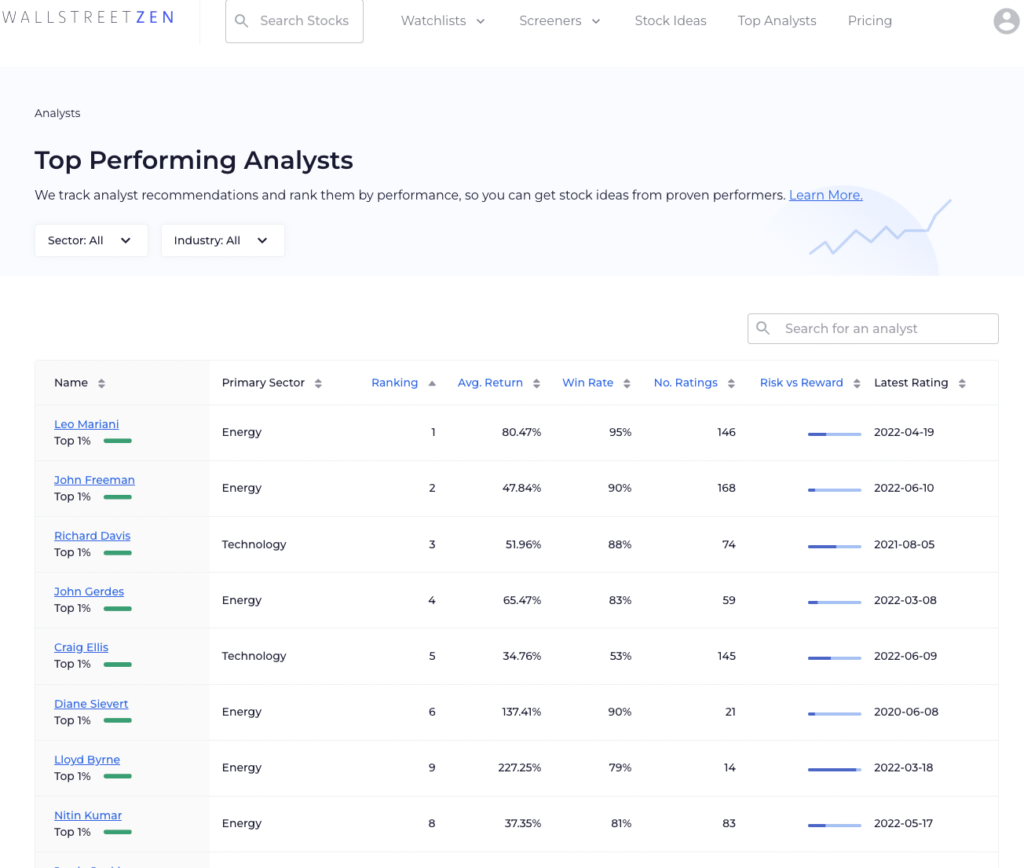 And these aren't just random "analysts".
Top Analysts is filled with the best-performing analysts on Wall Street.
You know, this place: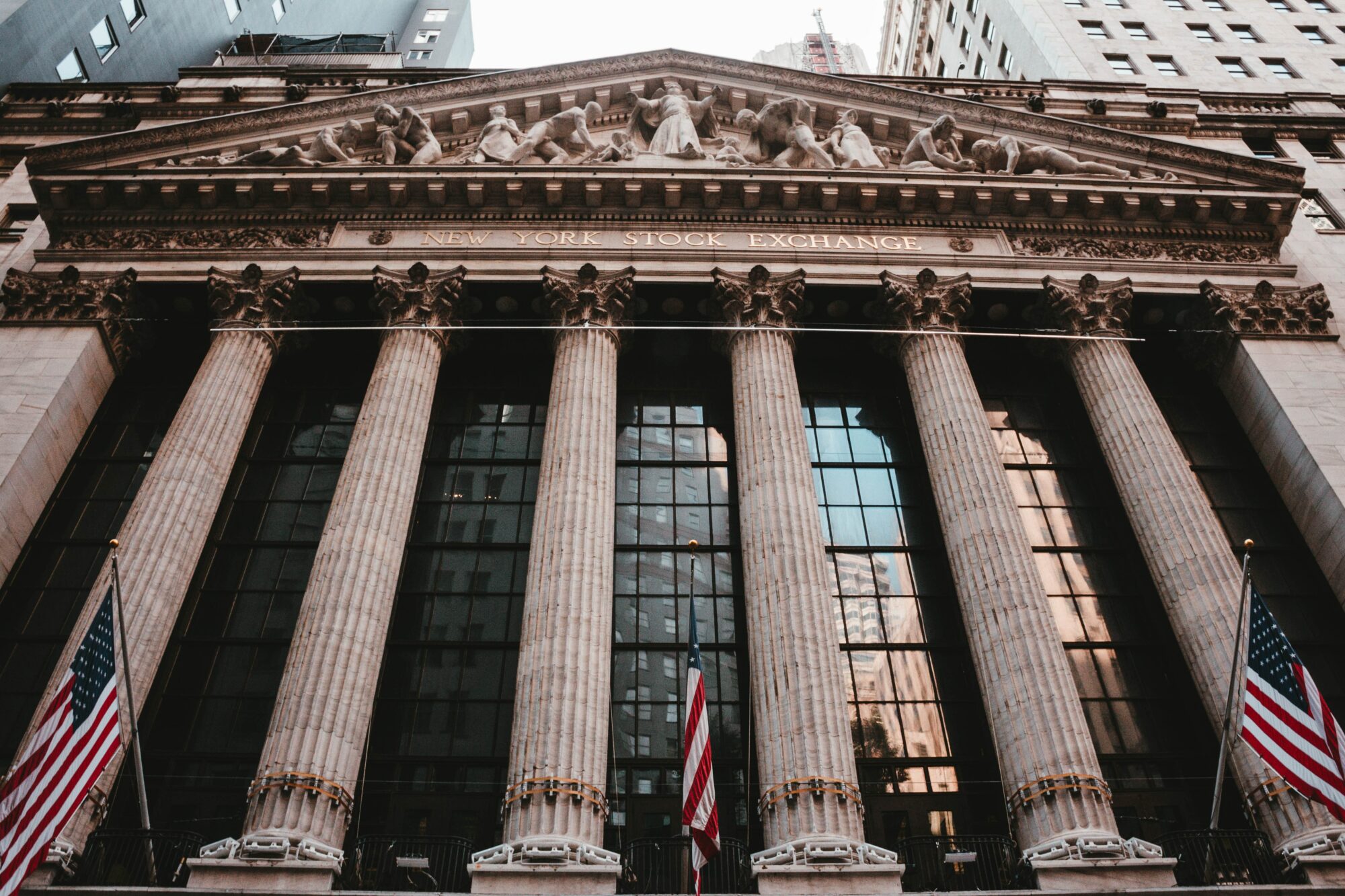 And you can see what they're recommending.
Public track records created from public stock recommendations by Wall Street analysts (click here to learn about how we track and analyze stock analyst performance).
What that means for you: You can see the most recent recommendations from the best performing, professional analysts.
This research can all be found on the Top Analysts page, but is also sprinkled throughout the entire WallStreetZen site on Forecast pages, Stock Ideas, the Stock Screener, and in exclusive weekly content.
Bottom line: It's everywhere, because when these analysts speak, it's worth a listen.
What You'll Get
Get new investment ideas, research your current positions, see price targets, and read reports from Wall Street's top analysts.
You get up to 10 analyst profile visits per month, completely free! If you find yourself wanting more, you can give Premium a 14-day trial run.
If you want to see exactly how we use Top Analysts, just hit play:
And that's just with Top Analysts!
I didn't even mention:
…and everything else you get for going Premium.
Everything you need for fundamental analysis, all in one place.
Reputability: 5/5
Unlike the other names on this list of best stock advisor websites, WallStreetZen isn't in the business of selling stock picks and opinions – it's in the business of providing transparent information from which you can make better, more informed investing decisions.
And if you're looking for stock picks and advice on stocks, why not look at the most recent reports from the best performing analysts in the world.
Performance: 5/5
The entire point of the Top Analysts feature is to follow the advice of proven performers (and to ignore the recommendations of the laggards).
Every analyst is ranked and sorted by their individual performance data – there's no room for opinions or subjectivity here.
Price: 4.5/5
WallStreetZen gives away most of its features for free, but some have a limited number of uses. To unlock full access, you'll want to upgrade to Premium.
$19.50/month ($234 billed yearly) or $59/monthly. Save 60% by going annual.
WSZ Premium includes a 30-day, money-back guarantee.
WallStreetZen Premium may be a good choice for you if:
You're looking for stock recommendations from the best analysts in the world
You want to filter your stock recommendations by sector or industry
You want to make your own investing decisions, with the help of industry experts, and a one-stop shop for fundamental data
You're a serious fundamental investor
You don't have unlimited time to perform data-driven analysis
2. The Motley Fool
I'm sure you've already heard of The Motley Fool and if you're looking for a list of the best stock tip sites, the list can end here.
The Motley Fool has been a leader in the stock-picking and investment ideas space since it was founded in 1993.
Beyond providing stock recommendations, the company provides resources and training for all levels of investors, from the introductory basics of investing up to more ethereal topics such as mindset and psychology.
That said, let's be honest: Most of us just want a few stocks per month that each have a great opportunity to vastly outperform the market.
Although The Motley Fool offers quite a few different services, the one I'm recommending to you is Stock Advisor, and it has reliably shown that type of outperformance.
Stock Advisor has had a few massive winners over the years:

While these are the best performers, the average Stock Advisor pick has returned 356% compared to 106% for the S&P 500.
What You'll Get
The primary benefit you will receive from this subscription is 2 stock picks each month which include a full analysis of the company, management, and risks.
You'll also get lists of the 10 "Best Stocks to Buy Now" and 15 "Starter Stocks" to start building your new portfolio. Members also have access to exclusive research reports, discussion boards, Motley Fool Live, and other bonus features.
Reputability: 4.5/5
Once inside the service, you'll realize what more than 700,000 members have realized before you – the Fool team is personable, trustworthy, and genuine with the stock advice they give.
They understand the role our emotions play in our investing, and do a great job of mentoring and coaching their members with timely wisdom to deal with the inevitable volatile times.
Performance: 5/5
Stock Advisor has 3x'ed the S&P 500 over the last 20 years: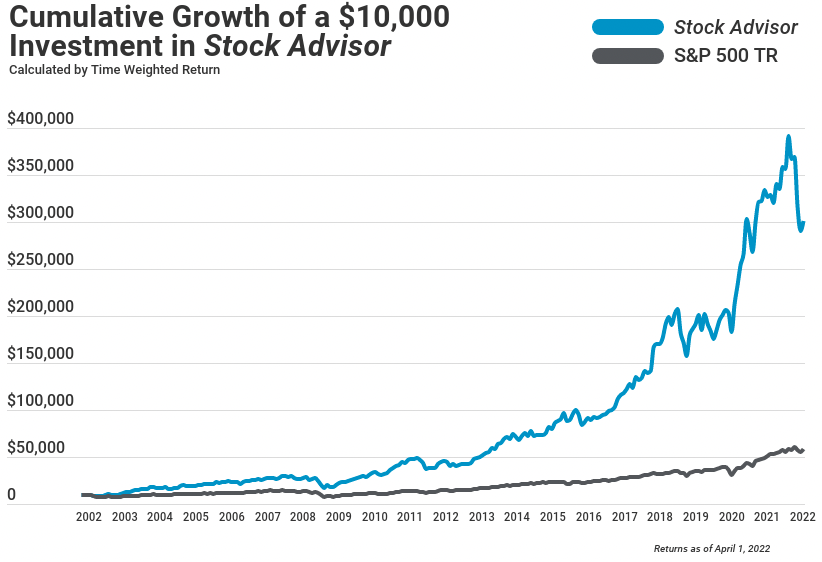 The company also boasts 171 recommendations with 100%+ returns – an incredible statistic.
Price: 4/5
With the link below, you can score Stock Advisor at a $89 introductory offer for new members, which will increase back to its regular price of $199/year thereafter.
For that price, it's no wonder it made it on our list as one of the best stock advisor subscription services out there.
Motley Fool Stock Advisor may be a good choice for you if:
You prefer active vs passive investing
You're interested in high-growth companies (and can stomach the volatility)
You want the investing decisions made for you
Get my full Motley Fool Stock Advisor review or Motley Fool Rule Breakers review.
3. Seeking Alpha
Seeking Alpha is chock-full of research and recommendations on financial news, stocks, and more, making it one of the best stock investment advice websites available.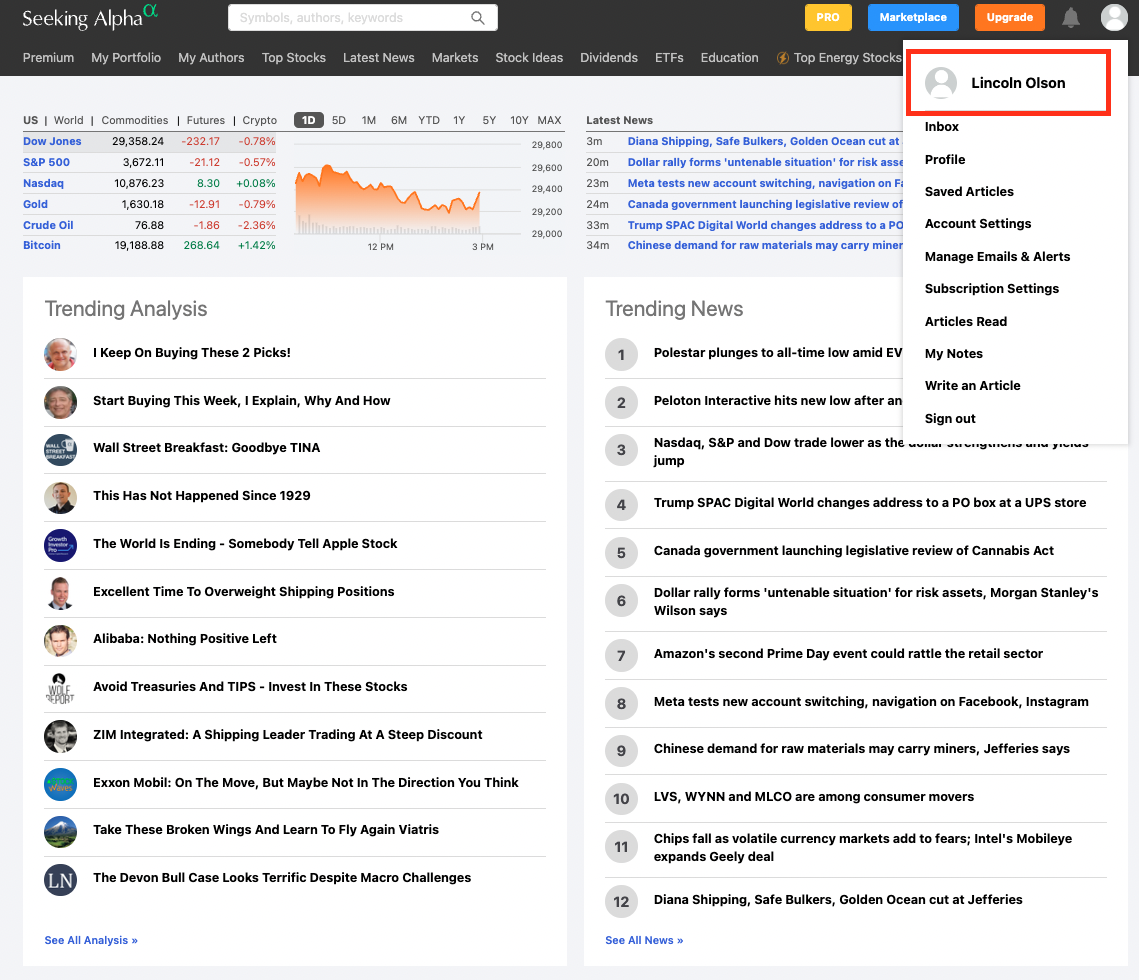 Unlike Stock Advisor, which essentially makes the investing decisions for you, this service is designed to assist you to make better investing decisions.
The research on Seeking Alpha is mainly crowdsourced from professional and amateur investors, and allows you to follow your favorite "authors" to stay up-to-date on their latest recommendations, and Seeking Alpha Premium gives you near unlimited access to these analyses.
Because of this model and given the number of authors who contribute regularly, Seeking Alpha is able to offer a wide range of stock research and analysis on nearly every single publicly-traded company.
What You'll Get
If you're looking for company-specific news and third-party opinions, Seeking Alpha will certainly have it.
The site provides 10 years of financial statements, access to dividend and earnings forecasts, earnings call transcripts, a proprietary quants rating system, and a large investing community. You can also create your own portfolio, follow your favorite stocks, and sign up for email alerts.
Additionally, there are author ratings (readers can grade the contributors) and some author performance metrics: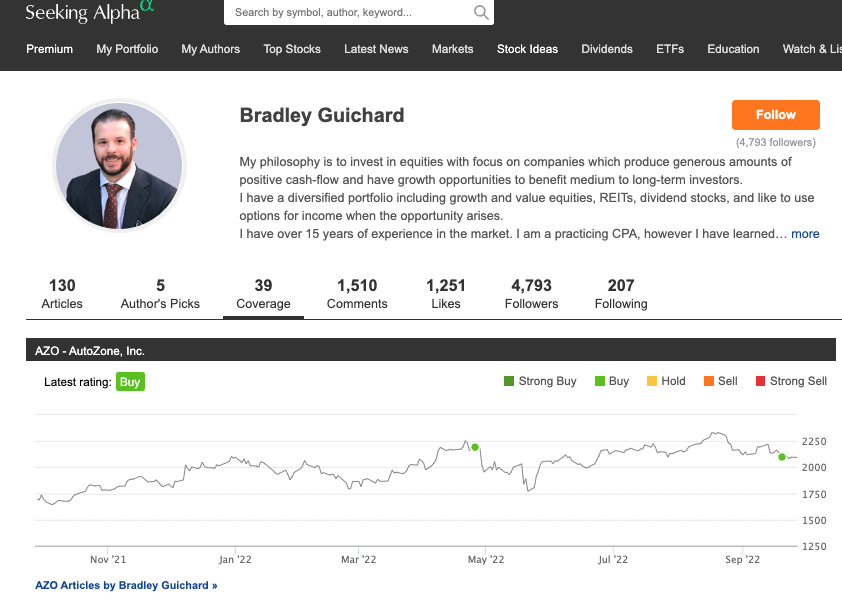 Reputability: 4/5
While it hasn't been around for as long as The Motley Fool, Seeking Alpha has rapidly gained traction as the premier stock research repository. There are countless, extremely high-quality authors who help members every single day.
Though it has a strict approval process, Seeking Alpha lacks a well-defined investing philosophy, leaving each investment recommendation up to the individual contributor's judgment.
Performance: n/a
Every analyst's performance is different and not all of them share their complete performance data.
Most members use Seeking Alpha as a research tool, not as a stock-picking service. That said, most contributors are writing about stocks they're buying and selling, so they typically do have "skin in the game".
Price: 3/5
At $19.99/month, Seeking Alpha Premium isn't super cheap, but if you do a lot of research and enjoy reading multiple analyses by various authors, it may well be worth the upgrade.
Seeking Alpha Premium is one of the fastest-growing subscriptions in the industry – you may want to go find out why for yourself.
Seeking Alpha Premium may be a good choice for you if:
You are looking for supplementary research to aid your own decisions
You want opinionated research from contributors on stocks you own or are considering buying
Click here to read my full Seeking Alpha review.
4. Morningstar
If you're looking for a similar but more objective alternative to Seeking Alpha, Morningstar is likely the best stock advice site for you.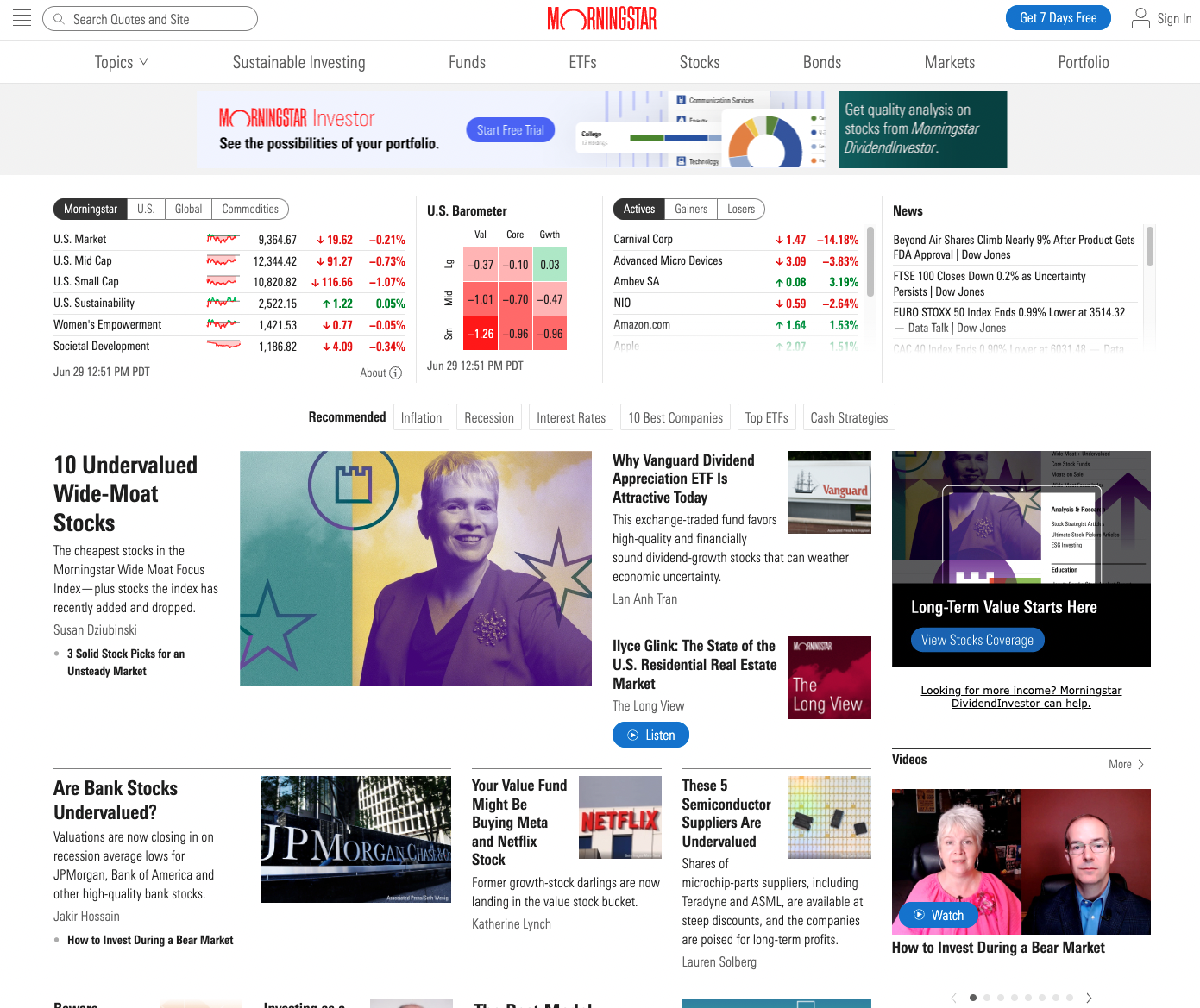 Morningstar is a comprehensive investment research platform that is used by both professional and amateur investors. It offers expert research and investing advice, focusing on data instead of subjectivity.
(Morningstar also ranks #1 on my list of best stock portfolio trackers and #3 on my best stock tracking apps and best stock analysis software lists.)
Simply put, Morningstar can be used to find and evaluate investment options, monitor existing positions, learn about portfolio management, and get expert opinions based on hard evidence.
And Morningstar Premium takes it all a step further.
What You'll Get
Morningstar Premium users get exclusive research reports, ratings, tools, investing advice, and advisor-grade portfolio management tools to benefit their entire investment process.
Members can monitor their investments and ensure proper diversification, plus receive exclusive fair value estimates and "star" and "moat" ratings on thousands of securities. All of this based on trusted and independent evaluations.
Reputability: 5/5
Morningstar is heavily used by industry professionals and financial advisors (many of whom would rank it as the best investment advice website) as their go-to resource.
Morningstar ratings can be seen on most mutual fund product pages, indicating the level of respect this brand has commanded since its inception in 1984.
Performance: n/a
Though they do offer "star" ratings, Morningstar advertises itself as an investment research tool.
Since it's not a stock-picker with performance data, I've left this category unscored. If you're looking for tailored financial advice, consider starting at our Edward Jones review.
Price: 3/5
At $250/year, Morningstar Premium is about the same price as Seeking Alpha. But, Morningstar is offering our readers a 14-day free trial with the link below:
Again, very active Morningstar users will find no problem paying this subscription fee.
Morningstar Premium may be a good choice for you if:
You're looking for a research tool with unbiased opinions
You want to learn about portfolio construction techniques
You're looking for objective news and alerts
Want to learn more? Read my full Morningstar review.
Summary
If you're looking for the Best Stock Advisor Website in , WallStreetZen is the best overall option.
Get real-time stock ideas and read investment reports from the top performing Wall Street analysts. Plus, see the analyst ratings on each individual stock's Forecast page: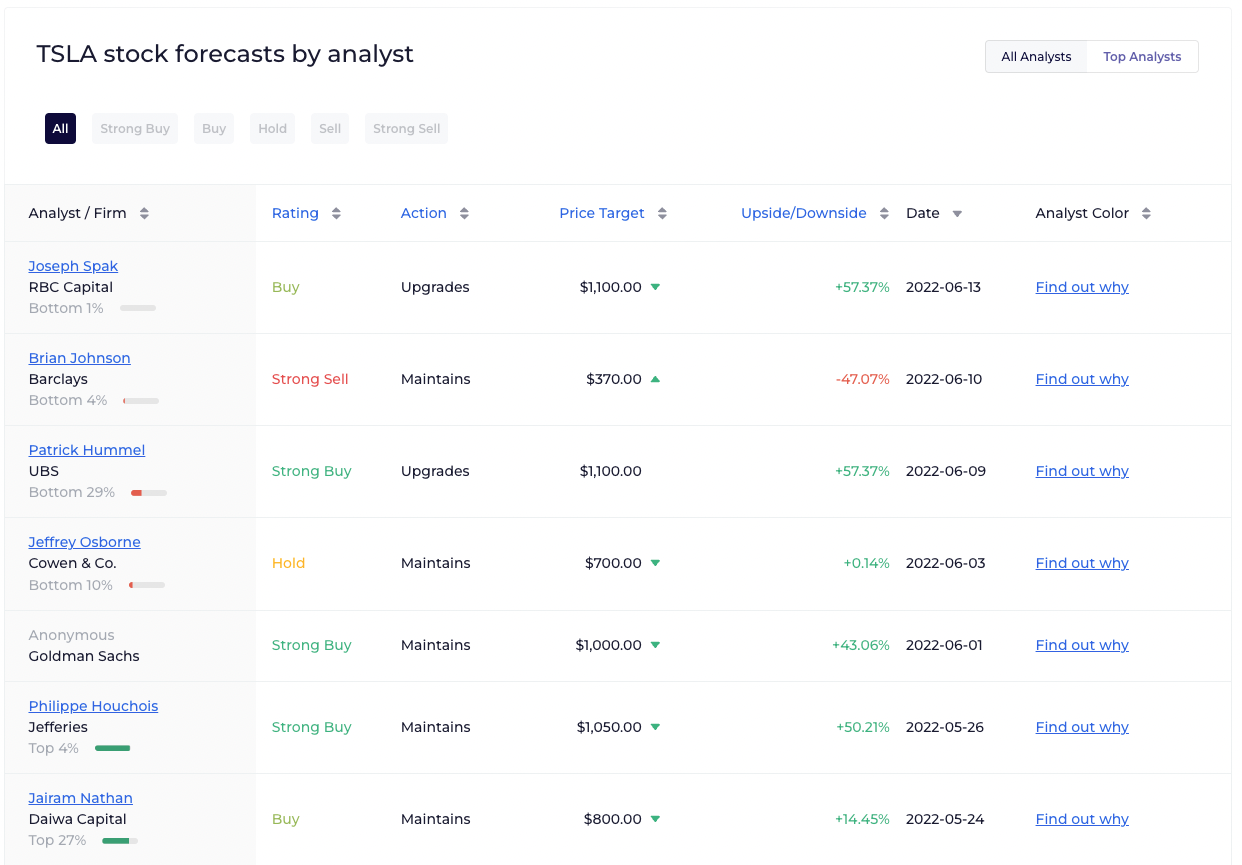 If you like the Top Analysts feature and/or make investing decisions based on fundamental analysis, you'll love the rest of WallStreetZen.
If you're looking for regular stock picks, I'd recommend The Motley Fool's Stock Advisor. You may also want to check out my article on the best investment newsletters.
For the best stock advisor investing website, I'd suggest Seeking Alpha Premium (more biased and a larger quantity of reports) or Morningstar Premium (more objective and data-driven).
Where to Invest $1,000 Right Now?
Did you know that stocks rated as "Buy" by the Top Analysts in WallStreetZen's database beat the S&P500 by 98.4% last year?
Our December report reveals the 3 "Strong Buy" stocks that market-beating analysts predict will outperform over the next year.