Our editorial team uses a strict editorial review process to compile all reviews, research, and evaluations of any kind. Our company, WallStreetZen Limited, is supported by our user community and may receive a small commission when purchases are made through partner links. Commissions do not affect the opinions or evaluations of our editorial team.
Art has appreciated 13.8% per year over the last 25+ years, higher than stocks (10.2%) and real estate (8.9%).
Plus, unlike public markets, art is largely uncorrelated with other asset classes, making it an excellent store of value.
Because of its high appreciation and price stability (not to mention its inherent beauty), art has always been a highly sought after investment, but only the wealthiest were able to afford it.
Until now.
Today, online marketplaces like Yieldstreet and Masterworks allow you to buy a stake in famous (and wildly expensive) artworks.
These platforms make it easy to start investing in art. Read on if you want to find out how to invest in art, what are its risks and benefits, and which platform you should choose to start investing in art in 2023.
FEATURED OFFER: Masterworks
Want an investment that won't collapse like a bank? Try art. 
Since 1995, contemporary art has appreciated 14% annually on average. That's even more than you'd get with the S&P 500 (with less volatility). After all, there's a reason why many billionaires invest 10-30% of their wealth in art. 
Want in? You can invest in shares of million-dollar paintings with Masterworks, the world's premier art investment platform. 
For a limited time, you can skip the waitlist here
*See important disclosures at masterworks.com/cd
Why Should You Invest in Art?
Art has historically been almost entirely uncorrelated with any other market – a bearish period in the stock or bond markets won't necessarily drag the value of artworks down with it.
Art has shown consistent historical appreciation. The Mei Moses Index – an index that tracks the performance of art – shows the value of art has increased by about 9% per year since 1871: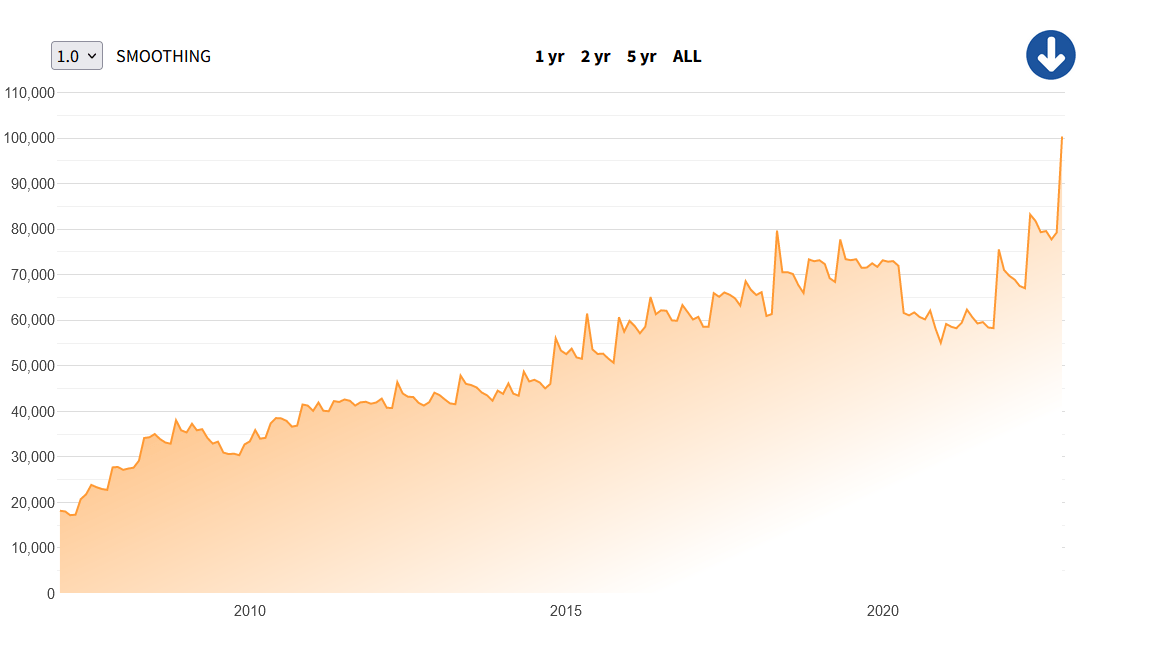 Over the same period, the S&P 500 increased by about 7% per year.
Recent returns are even more impressive – art has appreciated by almost 14% per year since 1995, outpacing the stock market by 3.6% per year: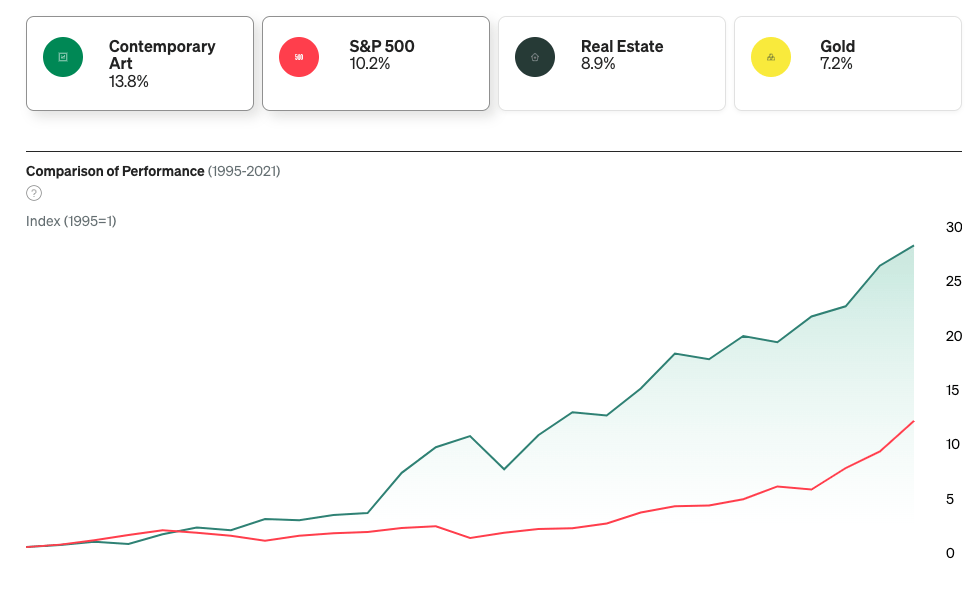 Low volatility and strong price appreciation make art an incredibly attractive investment.
Now that you know that it's a good investment, here's how to invest in art:
How to Invest in Art
There are 2 routes you can take to invest in art:
1. Traditional – Outright Ownership
You can buy art directly at auctions, art galleries, and art fairs.
Pros:
Outright ownership
Possession of the art
Cons:
Expensive
May be damaged
Difficult to perform investment analysis
Risk of fraud
Illiquid
2. Crowdsourced – Fractional Ownership
You can buy shares of artwork or an art fund through a platform like Yieldstreet or Masterworks.
These platforms analyze and buy physical art directly or indirectly and store them, then sell fractional ownership to investors.
Historically, the primary problems limiting the number of art investors were:
Price barrier
Physical storage
Investment analysis (choosing which pieces to buy)
Authentication
These platforms analyze which artists and pieces have momentum then authenticate and buy the art. After proper storage, the companies offer individual shares or collateralized loans for you to invest in.
(I breakdown each platform in more detail below.)
What are the Risks of Investing in Art?
There are 4 primary risks associated with investing in art.
A painting can be counterfeit or it can get damaged. Both scenarios are disastrous for its value, and you should seek assurances from professionals before buying any art. Identifying artworks and storing them properly requires an expert's skill.
This is one of the most overlooked reasons why online art trading platforms have become so popular—they offer professional identification, storage, and restoration, while offering insurance.
Thirdly, buying new artworks can be risky. They are difficult to evaluate because of the lack of information—it is difficult to compare a new artist to others and put an appropriate price tag on their work.
Finally, art is an illiquid asset. It is usually held for years or even decades (so it has time to appreciate) by investors before being re-sold. You should not invest in art with money you're planning on needing in the near future.
Should You Invest in Art?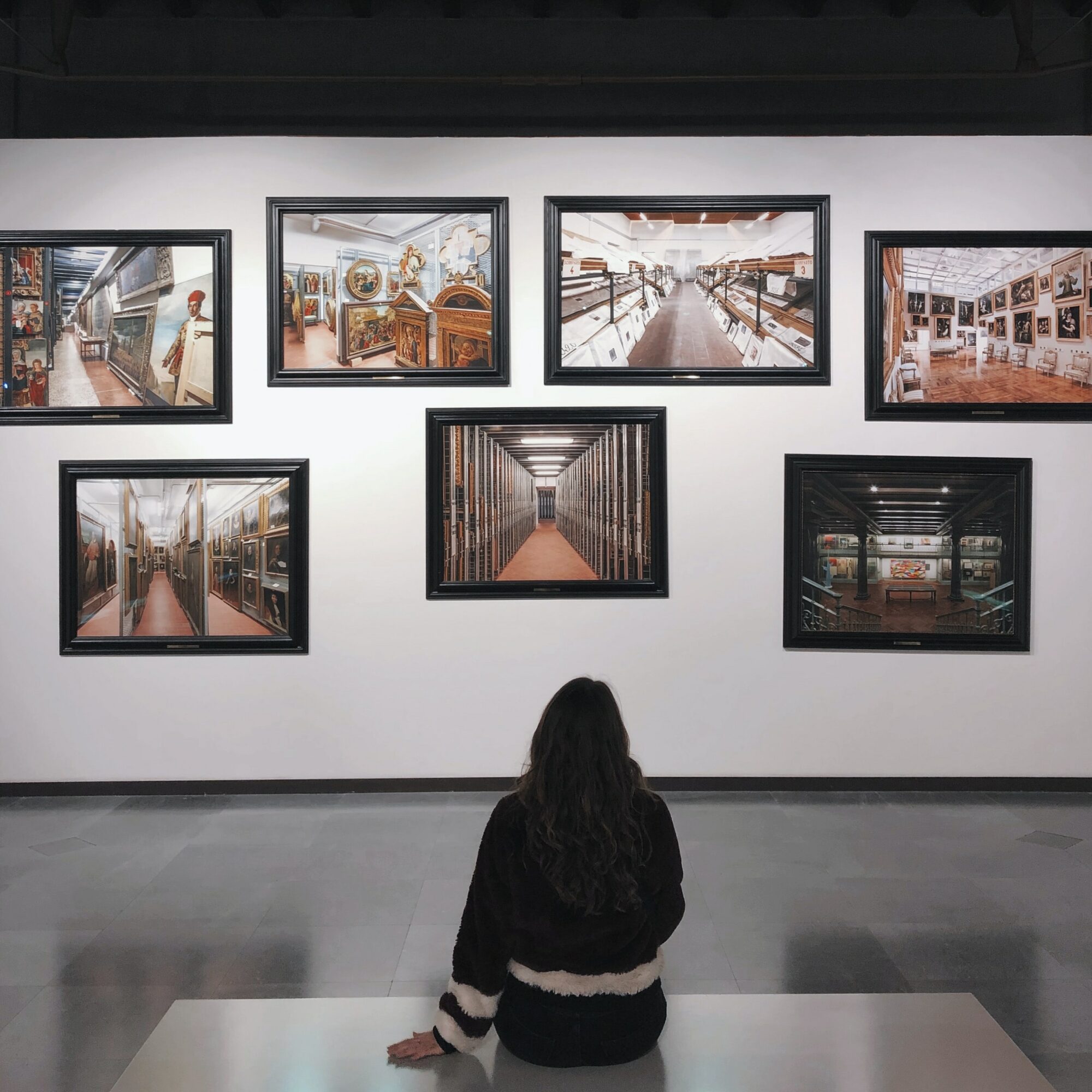 There is a reason why many wealthy investors include art in their portfolios – art is unique in that it has appreciated strongly and consistently for a very long period of time.
This makes it a great inflation hedge, and acts as protection against bear markets that might affect your stock, bond, and real estate holdings.
Unfortunately, it is not a perfect investment. Art is hard to sell quickly, dealers and marketplaces have high commissions, and it is treated as a collectible – the capital gains tax on art is 28%, which is much higher than long-term capital gains tax on stocks and bonds.
Types of Art
There are 4 classes of art you can choose between:
Old masters—the most pristine artworks created by renowned painters with historic significance like Michaelangelo, Leonardo, Rembrandt, etc. These are the most valuable artworks but are hard to acquire due to their scarcity and extreme price.

Blue chip art—like blue chip stocks, these artworks come from established artists who are always sought after and are thus very reliable as investments. This includes great artists like Dali, Frida Kalo, and Warhol among many others.

Up-and-coming artists—many artists are yet to reach the popularity they deserve, and investing in one can be highly profitable. However, a casual investor is very unlikely to stumble upon the next Picasso, which makes these investments highly speculative.

Art funds—a fund is simply an art collection that investors can buy shares in. This is probably the most accessible investment vehicle (especially for beginners) because the price of a single share can be very low, and the investment is diversified by nature.
Investing on Masterworks
Masterworks analyzes and buys art, stores it, and then offers shares to its users of each piece.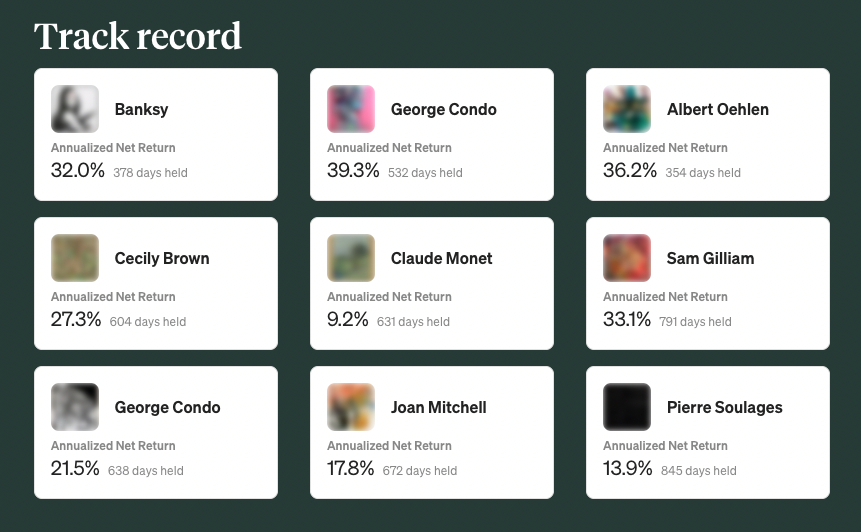 After a holding period, Masterworks will sell the piece and distribute any profits to the owners.
All art is insured and transactions are regulated by the SEC – in this way, buying shares on Masterworks is like buying shares on the NYSE, where each piece of art is its own "public company".
After Masterworks buys an art piece, they sell shares (usually around $20) for 90 days. After buying in, users can wait until the artwork is sold by Masterworks to collect their earnings or they can sell their shares to other users via a secondary market. The secondary market is only available to U.S.-based clients with a U.S. bank account.
Masterworks Investing Platform
To get access to the platform, you must register and request an invitation. If you meet all the requirements, you will get invited and can start using the app to invest in art.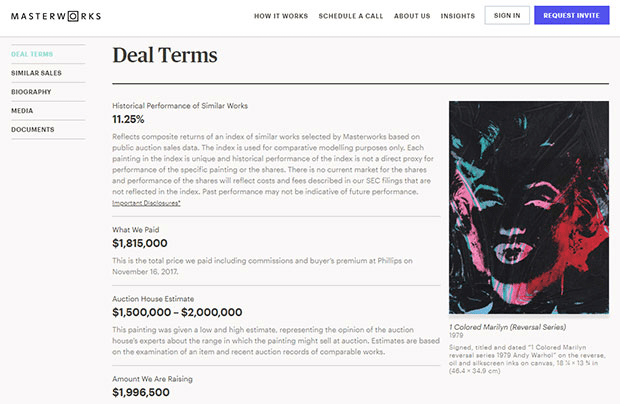 The platform shows the primary offerings and the pieces available on the secondary market. Each piece has description and performance data. You can also look at different artists and see the financial performance of their work through interactive charts.
Masterworks Fees
There is no minimum investment on Masterworks. However, Masterworks retains complete discretion to determine that subscribers are "qualified purchasers" (as defined in Regulation A under the Securities Act) in reliance on the information and representations provided to them regarding their financial situation. Besides the hefty entrance barrier, there are 2 fees users need to be aware of.
There is a 1.5% management fee to cover the storage and regulatory expenses for each artwork you own.
There is a 20% profits fee for when Masterworks sells an artwork for a profit (the remaining 80% is distributed to the shareholders).
If you want to own individual shares of art, Masterworks is the best place to do it:
Investing on Yieldstreet
Yieldstreet doesn't buy art directly, nor does it give you direct ownership.

When you invest in art on Yieldstreet, you're investing in portfolios of art-backed loans and pools of fractionalized shares.
For example, let's say Yieldstreet makes a deal with a company that wants to make an art fund. They will crowdfund and give the money to the art collector as a loan. The art collector will then pay back the loan with interest over time and Yieldstreet users will get regular payments.
Yieldstreet only works with companies with strong track records, and the artwork those companies buy is used as collateral. Moreover, the debt is insured and the company is fully regulated by the SEC, so the risks are kept to a minimum.
Yieldstreet Investing Platform
Yieldstreet's investing platform is very simple and easy to use. All of the offerings are on the main page and the list can be narrowed down through various filters.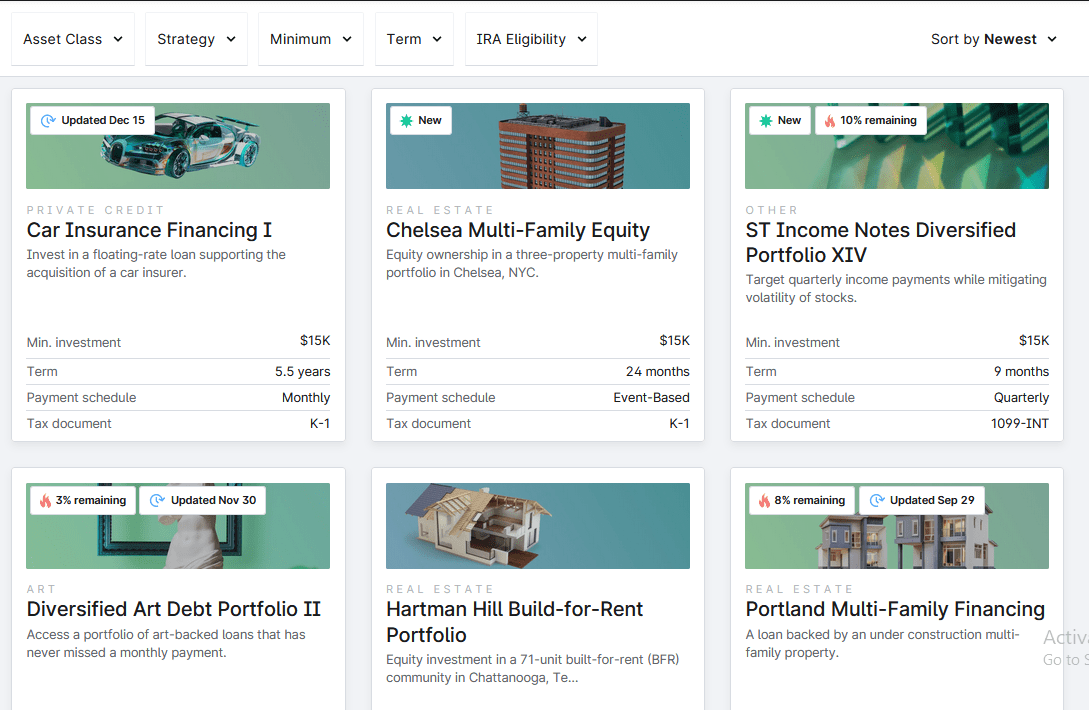 Each offering has extensive information including its expected yields, info about the borrower and the collateral, and the ownership structure of the debt. All of the benefits and potential drawbacks are included on the same page.
Yieldstreet Fees
The minimum initial investment for art funds on Yieldstreet is $15,000.
The platform charges a yearly management fee ranging from 1% – 4%. Each investment is different, and its specific fee will be listed on its offering page.
Some investments may also have a flat fee charged once per year, usually ranging from $100 – $150 for the first year dropping to $30 – $70 for subsequent years. Both fees are automatically deducted from the user's regular interest payments.
If you have an existing Yieldstreet account, and are interested in other non-traditional assets (like crowdsourced real estate and other private loans), you should consider art investing on Yieldstreet:
Final Word: How to Invest in Art
The best way to invest in art is on Masterworks or Yieldstreet.
These platforms eliminate the 7-figure price barrier, investment analysis, authentication, and complicated storage and maintenance processes.
If you're deciding between the 2, here's your test:
If you only want to invest in art, use Masterworks.
If you want to invest in art, real estate, and other non-traditional asset classes simultaneously, use Yieldstreet.
That's how to invest in art in 2023!
---
FAQs:
How can a beginner invest in art?
The best way for a beginner to invest in art is via online marketplaces like Masterworks and Yieldstreet.
What is the best way to invest in art?
In my opinion, the best way to invest in art is to acquire ownership via online marketplaces like Yieldstreet and Masterworks.
While investment-grade art is prohibitively expensive, online marketplaces sell individual shares of artworks, making it easier to acquire art and diversify your holdings.
Is investing in art a good investment?
Historically, investing in art has been a great investment.
The price appreciation has been strong and the returns have been stable. It is unaffected by other markets which makes it a good long-term inflation hedge and protection against downturns in public markets.
Is there an ETF that invests in art?
At this time, there are no art ETFs or mutual funds.
There are art funds which allow you to diversify your art investments. These funds are typically very expensive and privately-offered investments, but many investors use Yieldstreet's art funds.
Where to Invest $1,000 Right Now?
Did you know that stocks rated as "Buy" by the Top Analysts in WallStreetZen's database beat the S&P500 by 98.4% last year?
Our September report reveals the 3 "Strong Buy" stocks that market-beating analysts predict will outperform over the next year.