Our editorial team uses a strict editorial review process to compile all reviews, research, and evaluations of any kind. Our company, WallStreetZen Limited, is supported by our user community and may receive a small commission when purchases are made through partner links. Commissions do not affect the opinions or evaluations of our editorial team.
Stock market simulators make it easy for you to practice investing and trading without risking real money.
The stock market is complex and can be volatile. It's far too easy for new investors and traders to lose money while they're still learning how the stock market works.
Paper trading allows new investors to practice investing with virtual money. Users can buy and sell stocks in a simulated platform that mirrors the real stock market.
There are quite a few stock market simulators available to you, but they're not all created equally. Some are paid, some are free. Some are made for long-term investors, some are made for day traders.
In this review, I'm going to cover the 7 best free stock market simulators for paper trading and which one is best for you.
The 7 Best Stock Market Simulators (Free Virtual Paper Trading Platforms & Apps)
1. eToro – The Best Stock Market Simulator Overall
eToro is the best trading simulator in .
eToro offers Demo Accounts where you can practice investing with $100,000 in virtual funds: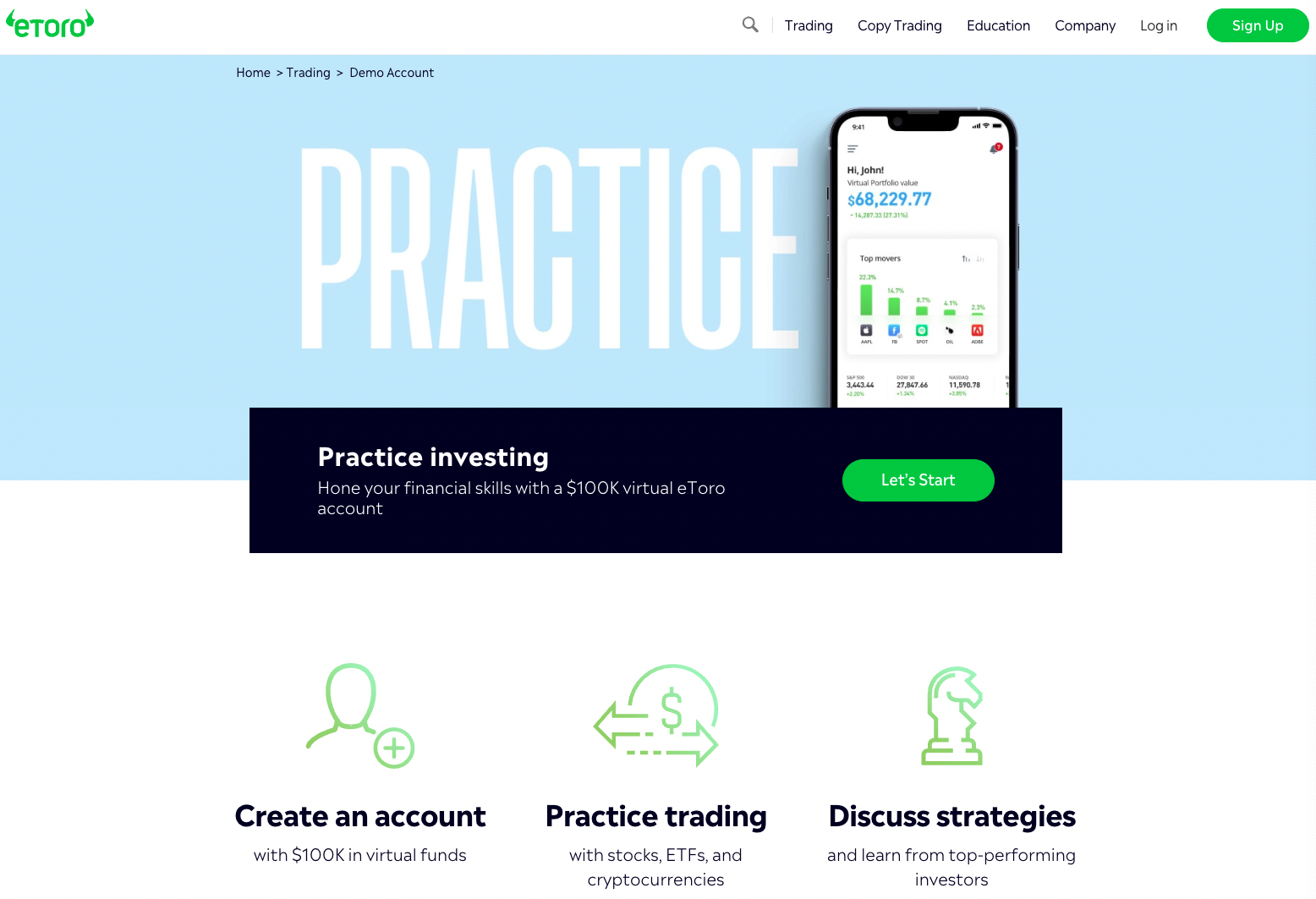 You can buy stocks, ETFs, and cryptocurrencies, and test various buy-and-hold or technical trading strategies.
At the same time, you can experience all of the features eToro offers in its simple, intuitive platform.
Plus, unlike the other simulators on this list, eToro makes it easy for you to switch back-and-forth between your Real and Virtual accounts by clicking on the Real/Virtual button under your username at the top left-hand corner of your account dashboard.
This feature allows you to practice investing at any time, from your phone (eToro's mobile app) or computer, regardless of your investing experience.
You can also discuss different strategies and learn from top-performing investors within the world's leading social investment community. You can even copy traders on eToro.
Con: eToro might make it too easy to practice trading – don't get your Real/Virtual accounts mixed up. You can easily avoid this by not funding your account until you're ready to invest.
Best for: All investors who want to practice investing and/or try new trading strategies. In my opinion, eToro is the best stock market app.
eToro is a multi-asset investment platform. The value of your investments may go up or down. Your capital is at risk.
2. Thinkorswim paperMoney by TD Ameritrade – Runner Up for the Best Paper Trading Platform
TD Ameritrade offers a stock simulator called paperMoney which runs on its trading platform thinkorswim. paperMoney uses real-time data so you can test your strategies in the open market.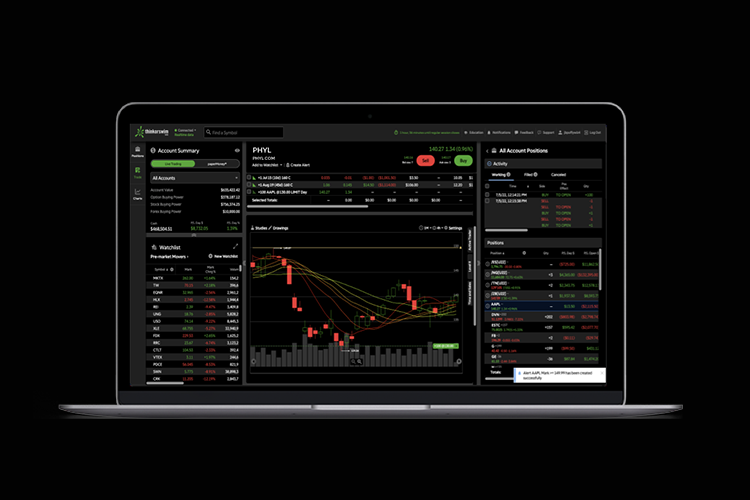 It includes a wide range of assets including stocks, options, futures, currencies, Bitcoin, and forex markets. There are also countless indicators and chart studies that traders can use to test a variety of technical strategies.
It's completely free to use (you don't even need to open a brokerage account).
Con: thinkorswim is not as intuitive as other stock market simulators. There will be a learning curve.
Best for: 1) Investors who are considering using TD Ameritrade as their brokerage, and 2) Traders who can handle the complexity of the platform.
3. TradeStation – The Best Day Trading Simulator
TradeStation is an online broker geared toward active traders.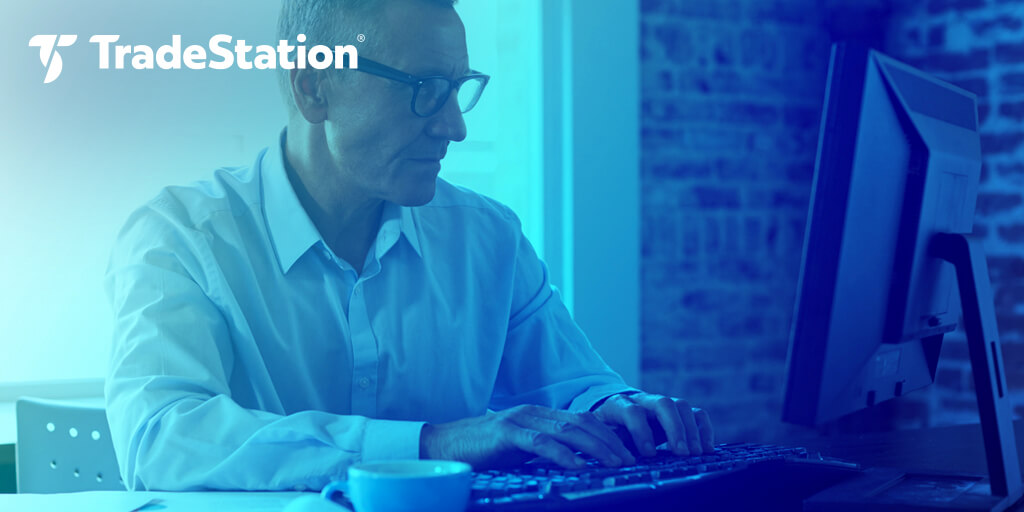 Day traders love TradeStation (our editorial team chose it as the best day trading platform in 2023), which comes with a free trading simulator. The simulator offers all the charting and analysis tools you'll need to test your strategies before you start trading.
TradeStation's trading simulator offers real-time data, unlimited paper trading dollars, and back-testing. There really is unlimited learning potential with its paper trading simulator.
You can practice with stocks, options, and futures in both real-time or historical simulations. Make sure to experiment with a few different options strategies before putting any real funds into these complex derivatives.
Con: TradeStation is a traders-only platform. Long-term Investors should look elsewhere.
Best for: Active day traders ONLY.
4. NinjaTrader – The Best Software-Based Day Trading Simulator for Active Traders
Like TradeStation, NinjaTrader is another broker specifically focused on active traders. If you're considering TradeStation, I would also check out NinjaTrader – you may like its interface and features better.
Backtesting, charts, indicators, analysis tools, stock screener, and multiple assets like stocks, futures, and forex make NinjaTrader a very compelling option.
Con: NinjaTrader Simulate is downloadable software and does not offer a web-based version.
Best for: Active day traders ONLY who prefer NinjaTrader's interface, functionality, and features over TradeStation.
5. MarketWatch
While the other names on this list are heavily gear toward active traders, MarketWatch allows you to create games for traders and long-term investors alike.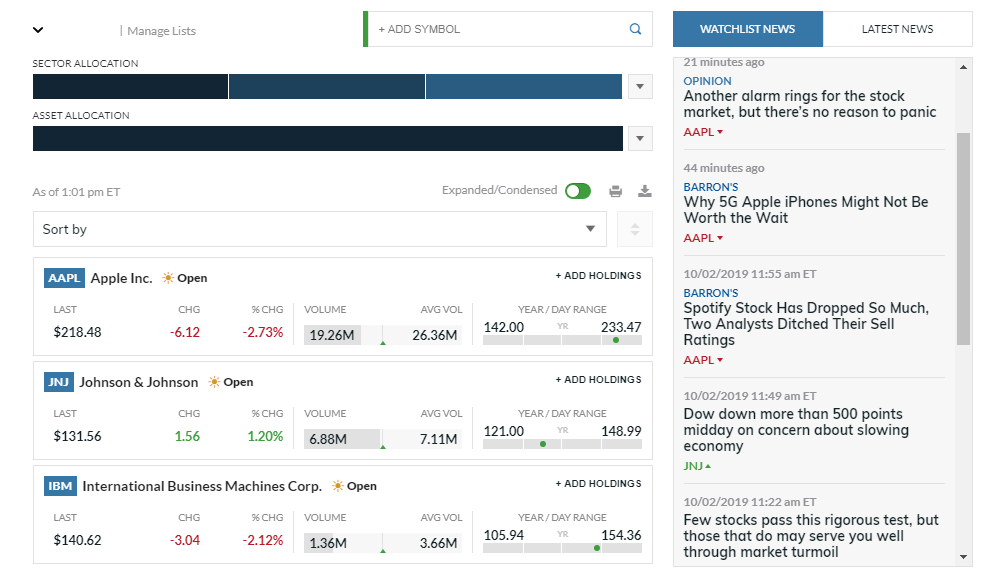 In fact, a semester-long trading game on MarketWatch was my first experience with investing. In a class of 22 students, I took dead last in the challenge (I've improved as an investors since then).
In addition to its trading games, MarketWatch has real-time quotes, news, signal services, and more. Once you're done practicing, MarketWatch will be an excellent resource for you to manage your real portfolio.
My biggest complaint with MarketWatch is that it is littered with ads. The app and website are free to use, but you pay for it by needing to click to close advertisements pretty frequently.
6. Pilot Trading
Pilot Trading is a platform geared toward active traders.
Its primary product is algorithmic-trading signals, which use artificial intelligence to gauge market sentiment. If that sounds far-fetched to you, you're not alone.
Hence the company's paper-trading simulator. Pilot Trader makes it easy for you to put your trading skills to the test in a lifelike environment while subtly selling you on their trading signals.
Even if the trading signals aren't your thing, the trading platform is easy to use and can help you build confidence in your own short-term strategies.
7. HowTheMarketWorks.com
HowTheMarketWorks.com was one of the very first stock market simulators to go live. Today, it has one of the most robust toolkits for traders to learn the ropes and more advanced traders to develop new strategies.
The site has trading games, educational materials, and a realistic environment that will prepare you well for trading with your own cash.
The biggest drawback to using this simulator is the lack of assets. On HowTheMarketWorks.com, you can only trade stocks and ETFs. If you're interested in trading options, futures, currencies, commodities, or cryptocurrencies, you'll need to choose one of the other simulators on this list.
What is a Stock Market Simulator?
Stock market simulators, also known as paper trading, are a way for new investors to practice investing in the stock market without fear of losing money.
These platforms provide users with virtual money which they can use to buy and sell stocks or other securities in a simulated platform which mirrors the real stock market.
New investors, armed with $100,000 in virtual money, can build portfolios and test a variety of investment strategies to learn in a completely risk-free environment.
The best stock market simulator is eToro.
Who Should Use a Stock Market Simulator?
Stock simulators are useful for long-term investors who want to practice making different order types, but they're most beneficial for day traders and swing traders.
Paper trading allows short-term traders to practice various strategies without the risk of losing real money. Once a trader feels confident in a strategy and is assimilated with the ebbs and flows of the stock market, they can start trading with real money.
In this way, paper trading isn't only for new traders. Any trader who wants to test out a new technical trading strategy or new indicator can do so without risking money.
Additionally, stock simulators are a good way to become familiar with a specific brokerage.
If you're new to the stock market, I would recommend opening a paper trading account at eToro. Once you feel comfortable placing orders, you can easily transfer your account into a real brokerage account and start investing for real.
Key Characteristics of the Best Stock Market Simulators
Each of the best trading simulators have a few overlapping features:
Resemble the actual stock market – To be useful, a stock market simulator needs to be the real thing. Choose a paper trading platform that allows you to buy and sell in real time.
Many types of securities – You should have access to stocks, ETFs, options, and maybe commodities, mutual funds, futures, and cryptocurrency. If you plan on investing in it, your simulator should provide it.
Research and charting tools – This should be a complete simulation. Beyond actually placing orders, you should be able to do all of the research and analysis you would need to do before buying or selling.
Get the Best Stock Simulator
Paper trading is the best way to practice investing and testing different technical trading strategies.
In my opinion, eToro has the best stock simulator and, once you're ready to start investing for real, makes it easy to get started with a real brokerage account.
However, even the most realistic stock simulator is no substitute for the real thing. When you're ready to start investing in the stock market, go slowly at first.
TradingView, my favorite charting software, released its own stock market simulator after I wrote this article. See my full TradingView review here to learn more.
Final Word
Those are the 7 best paper trading platforms available, and they're all free.
Learn the ins-and-outs of the stock market with these stock market simulators that give you virtual money so you can develop your investment strategies completely risk free.
Read more: The Best Stock Trading Computer
---
FAQs:
How do you practice stock trading?
A stock trading simulator allows you to practice trading risk free with virtual money.
What is the best stock trading practice app?
eToro Paper Trading is the best stock trading practice app. Unlike the other paper trading platforms on this list, eToro is the only one that offers virtual trading from your mobile device.
It offers free paper trading in a realistic simulator and gives you access to stocks, cryptocurrency, and ETFs.
How do you practice trading stocks with hypothetical money?
Paper trading on platforms like eToro or thinkorswim are the best place for investors or day traders to practice buying and selling stocks with virtual money.
If you're interested in how to learn options trading, TD Ameritrade's paperMoney offers the functionality you'll need.
What is virtual trading?
Virtual trading, also known as paper trading, is a way for investors to learn how to buy and sell stocks and other assets without using real money.
You can start virtual trading on one of the 7 stock market simulators listed above.
Where to Invest $1,000 Right Now?
Did you know that stocks rated as "Buy" by the Top Analysts in WallStreetZen's database beat the S&P500 by 98.4% last year?
Our February report reveals the 3 "Strong Buy" stocks that market-beating analysts predict will outperform over the next year.