Our editorial team uses a strict editorial review process to compile all reviews, research, and evaluations of any kind. Our company, WallStreetZen Limited, is supported by our user community and may receive a small commission when purchases are made through partner links. Commissions do not affect the opinions or evaluations of our editorial team.
What if there was an app that automated your entire financial strategy, from saving and budgeting all the way to building a sophisticated investment portfolio?
That's the thinking behind the Albert app, which is a one-stop financial planning tool that can track your spending, automate your investing, and even give you a cash advance on your next paycheck.
That sounds great in theory, but does it work? Is Albert legit?
I'll cover my experience with Albert, what I like and dislike about the app, and if I'm still using it as my go-to finance app in this Albert app review.
Albert App Review: Is Albert Legit for Banking, Saving, & Investing in 2023?
The Bottom Line: Yes, the Albert app is legit. In my experience, it's like having a personal financial advisor who manages your entire financial picture.
Albert is an excellent tool for anyone who struggles to stay on top of their finances (income, spending, and saving). Plus, if the thought of building a portfolio (or even a budget) is intimidating to you, the process couldn't be simpler on Albert.
Plus, its bank-grade encryption and FDIC insurance make it as safe as any bank in the U.S.
What is Albert?
Albert is a financial app that has features which cover income, expenses, saving, budgeting, and investing. You can find most of these features on other apps, but if there's another app that has all of them under one roof, I haven't heard of it.
That's what makes Albert unique.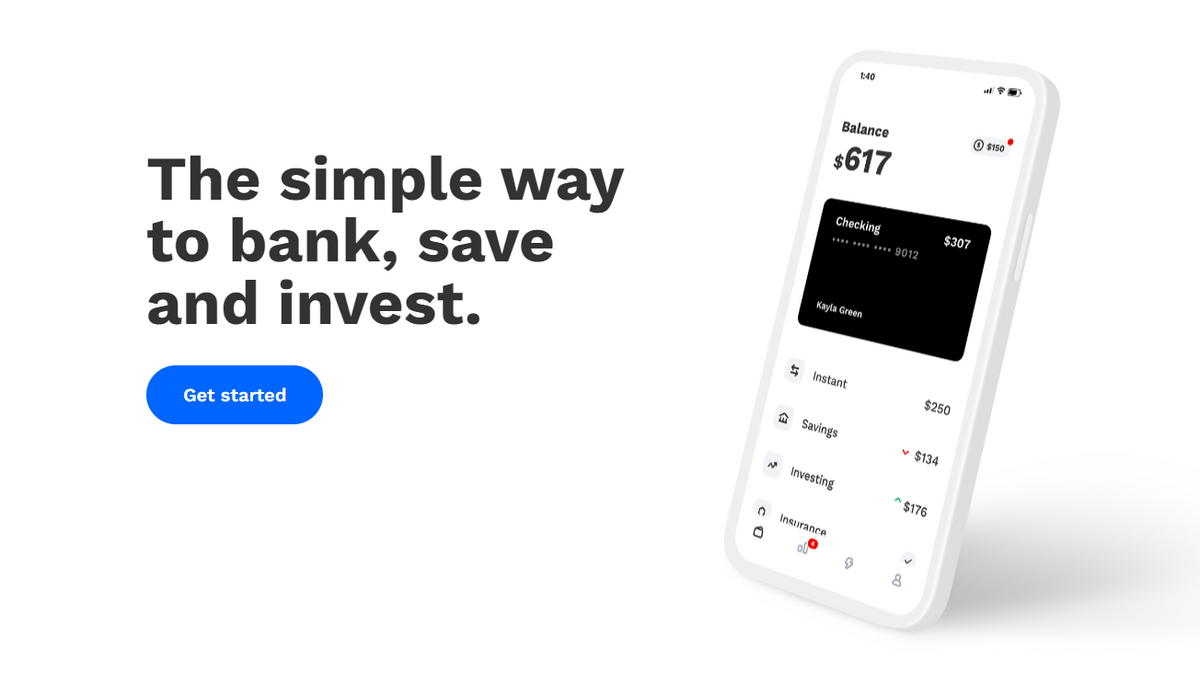 How Does the Albert App Work?
Albert is free to download, so you can download it and start poking around before spending any money.
Be aware, though, that the app is a bit pushy — it steers you toward setting up accounts and features without making it clear that you can opt out.
Most of the interesting features require an upgrade to "Albert Genius," which operates on a pay-what-you-like model (though it hopes you like to pay at least $8/month).
For your money, you'll get access to Albert's team of financial experts, who can help you build a budget, improve your credit score, and more. In my experience, the Albert app customer service team is exceptional.
If you want to take things to the next level, you can begin investing through the app as well — its minimum investment requirement is just $1.
Albert Genius members can ask the experts for advice on anything money-related via chat. Not sure if you can truly afford that apartment or want to know if there's a smarter way for you to save money? Just ask the pros.
Two of Albert's most noteworthy features are fee-free cash advances (up to $250) and the ability to get your paycheck 2 days early after setting up direct deposit. More on this below.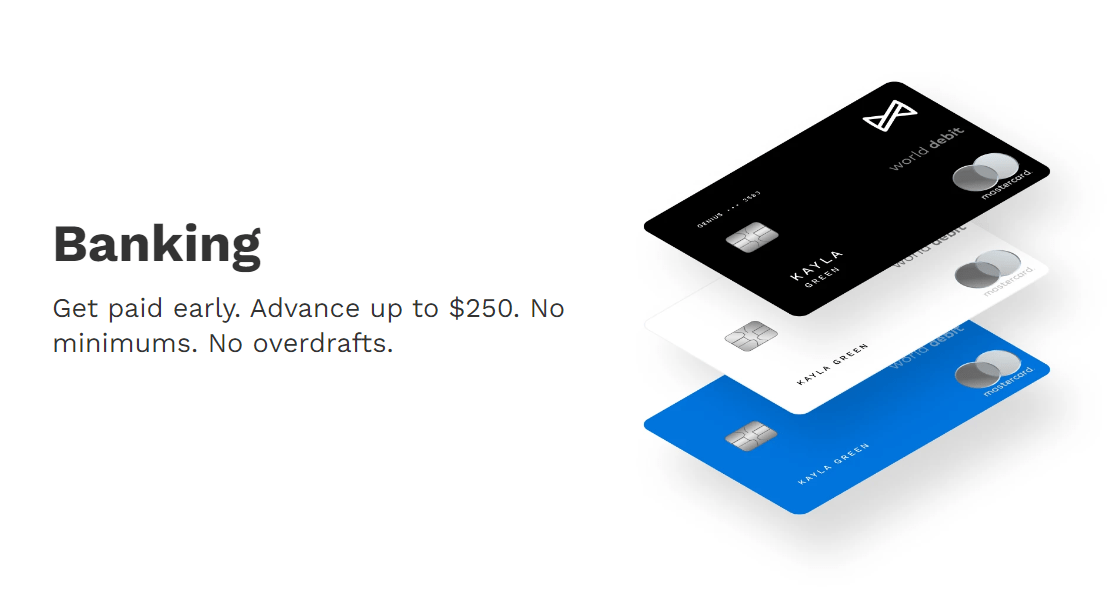 Who is Albert App Best For?
The Albert app is best for people who know they need to get a handle on their finances but don't know where to start and don't have the time to figure it all out.
If you're someone who already has your financial house in order, then Albert might not have much to offer you. Keep up the good work.
For those of us who struggle with budgeting, saving, and investing, Albert is a shortcut to financial freedom.
Albert App Features:
While many of the Albert app's features might not be significant in and of themselves, it's the breadth of Albert's features that makes it so impressive.
Here's a short sampling of what Albert can do:
Albert Banking
While Albert isn't technically a banking app, it is backed by Sutton Bank (which is secured by FDIC insurance). You have the choice of linking your own bank account or opening an account with them.
Regardless of which you choose, your Albert checking account has zero maintenance fees and no minimum funding requirements.
Once you finish the setup process, you'll have the option of being issued an Albert cash card, which allows you to withdraw money from over 55,000 ATMs nationwide free of charge.
If you open an account with Sutton Bank and set up direct deposit, you can get your paycheck 2 days early.
Genius users have the ability to get a $250 fee-free Albert cash advance, provided you meet certain criteria. They'll ask questions about your income and employment history and, if you qualify, you'll get an interest-free boost to your bank account.
For a truly "Albert instant" cash advance, there's a $6.99 processing fee, but that's waived if you can wait 2-3 days. They don't check your credit — not even a soft pull — so your credit score won't be affected.
Albert Saving
If you have trouble finding money to stash away each month, the Albert app can automate the process and make saving effortless.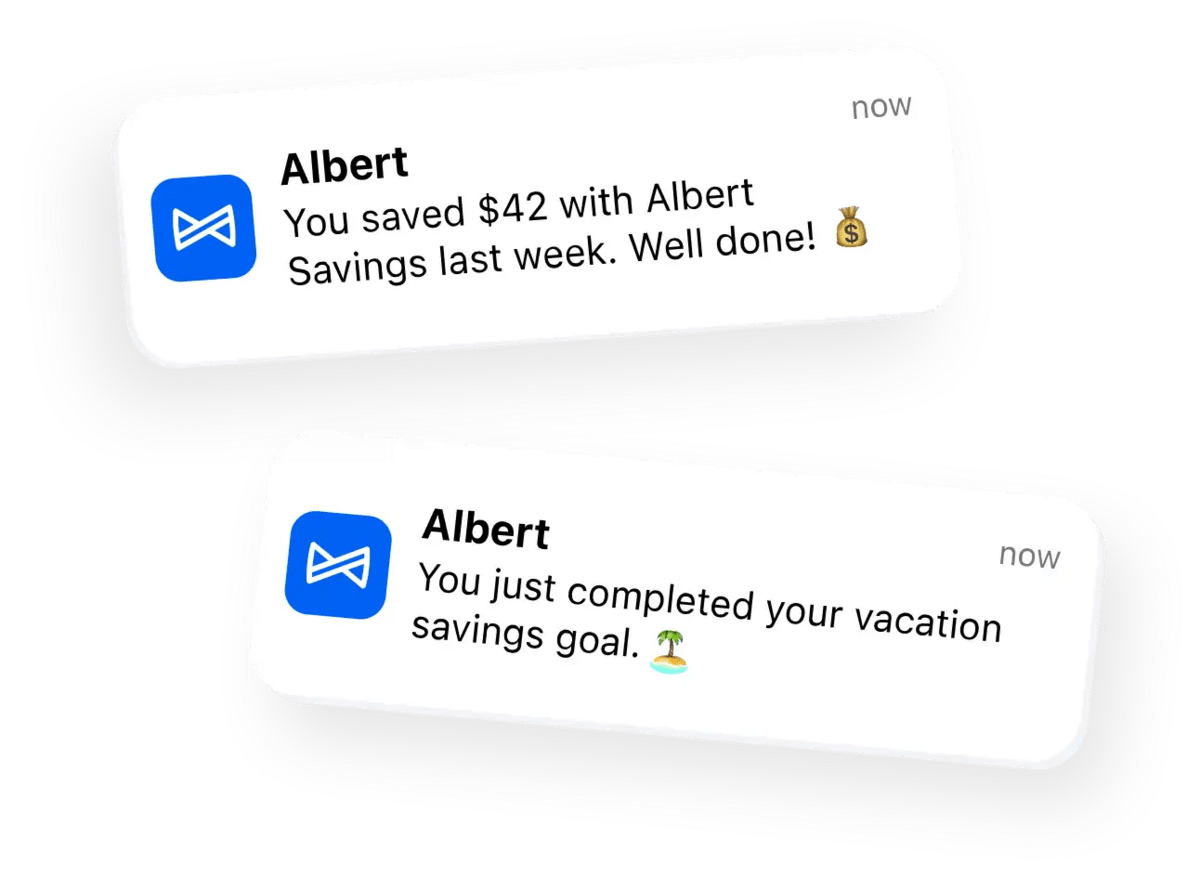 The software scans your spending habits to identify savings, then automatically transfers the cash into your savings account.
If you're worried that this will cause you to dip into the red, don't be — the app checks your balance beforehand to make sure you can handle it (and you can easily transfer the money back if you need it).
The app will deduct between $5 and $100 each week, but you can also pick a fixed amount that's withdrawn on any schedule you choose.
After struggling for years to save more, this feature is perfect for me. I don't have to consciously decide to move money into my savings and I totally forgot the money was being moved on my behalf. It was great to open my savings account and find a much higher balance than I expected.
There's no fee for transferring funds to or from savings and Albert Genius subscribers can create personalized savings goals within the app.
Albert's savings account will pay Genius subscribers an annual bonus of 0.25%, whereas non-Genius users will get a 0.10% bonus.
Albert Investing
The Albert app makes investing easier than ever, regardless of whether you do it alone or with the assistance of their experts.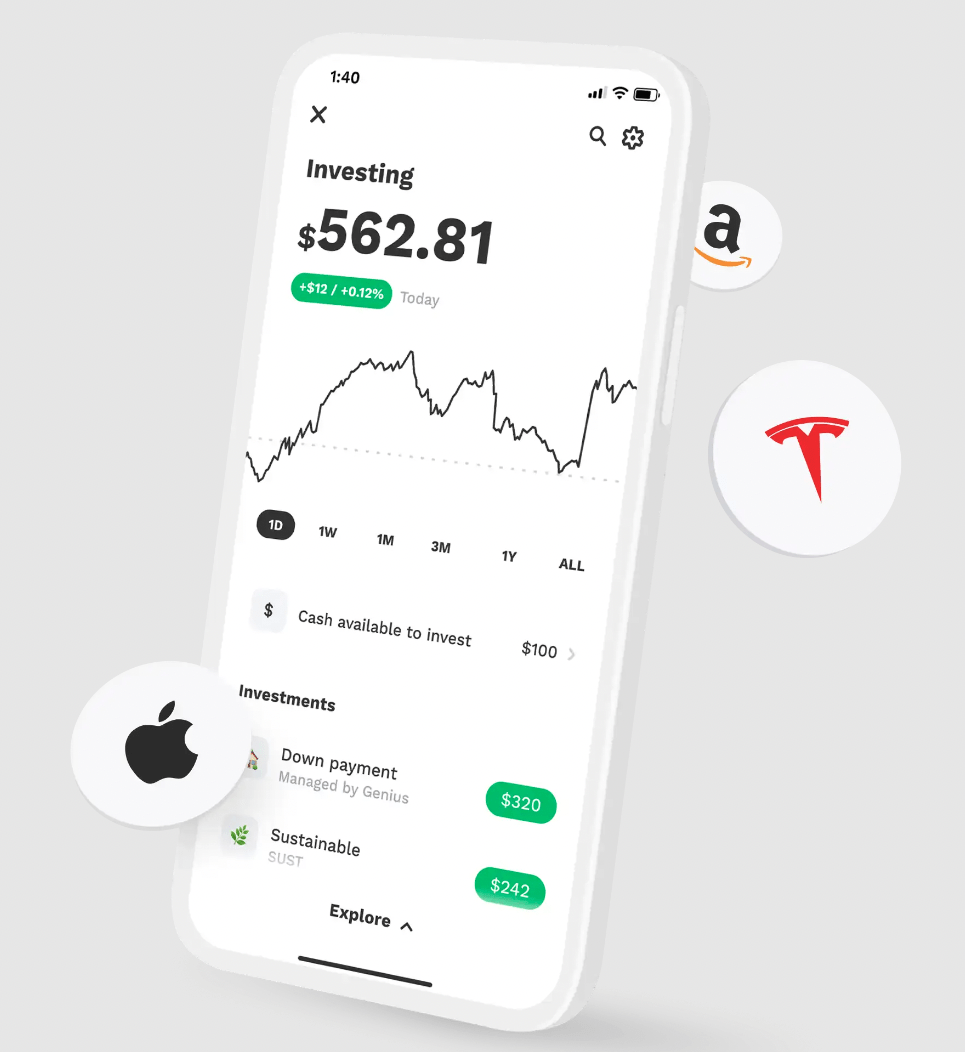 If you choose to go it alone, the app will ask you a series of questions so it can design the perfect portfolio for you based on your goals, risk tolerance, and time horizon. You can choose how aggressive you want to be, what sectors you want to focus on, and even pick a theme (like "sustainability").
Once you're all set up, you can invest automatically or on a recurring schedule. It's an easy, hands-off way to grow your net worth.
Albert Budgeting
Like many other financial apps, Albert has a budgeting feature that lets you track spending, set up savings goals, and more.
It can also notify you of things like recurring charges, overdraft fees, and other potentially damaging events, allowing you to stay on top of your finances.
You won't find any budgeting features you can't find elsewhere (or that you couldn't get from a free spreadsheet). Still, it's just one more tool Albert has in its toolbox, which makes it a great one-stop-shop for your finances.
Albert App Fees
If you become an Albert Genius subscriber, you'll be given the choice to pay what you think is fair to access all the app's features, though it pushes you toward $12/month.
This subscription fee is charged on a yearly basis, but you'll have one month to try the service before you're charged.
There are no fees on transfers or investments.
Pros and Cons of the Albert App
| | |
| --- | --- |
| Pros | Cons |
| All-in-one financial tool | Most features require paid subscription |
| Fee-free cash advances up to $250 | Savings account has relatively low APY |
| Makes saving and investing simple and easy | Albert app customer service only available via chat |
| Genius subscribers have access to team of financial experts | |
How to Open an Account on the Albert App
Download the app from either Google Play or the App Store, or go to the Albert website, click on "Get Started," and scan the QR code that pops up.
Fill out your personal information. The app will ask about your name, address, and the like, while also asking you to verify things like your birthday and social security number.
Pick what you want the app to focus on. Options include things like starting investments, building a budget, and more.
Link your bank account. This will require going to your bank's website and entering your user name and password.
Decide how much you're willing to pay for the Genius membership (the suggested default is $12/mo). You'll be automatically enrolled, but you have 30 days to cancel before you're charged.
Final Word: Albert App Review
After reading dozens of user comments and Albert app reviews on sites like Reddit, it's clear that the Albert app is legit and saves people money, get cash advances, and start investing.
It is particularly useful for people whose financial information is spread out over multiple apps, as Albert lets you consolidate all that data in one easy-to-understand program.
Will the Albert app replace real-life financial planners? Doubtful — but for people like me who have struggled to stay on top of their finances, Albert may just provide the help they need to finally take control of their money.
Or you can keep clogging your phone with half a dozen other apps that do a fraction of what Albert does (and probably charge roughly the same amount). The choice is yours.
---
FAQs:
Is the Albert app safe?
Yes, the Albert app is safe.
Your money is FDIC-insured and the app uses bank-level security to protect your personal information.
Does the Albert app give you money?
The Albert app won't "give" you money, but you can get an "Albert cash advance" of up to $250. This money is interest- and fee-free, and you can repay it on a schedule that's favorable to you.
Does the Albert app give you $250?
The Albert app can give cash advances of up to $250 to qualified users, yes. In order to qualify, you must be a Genius-level subscriber, and you must prove that:
You have an employer who's paid you consistently over the last 60 days
You make at least $1,000 a month from one employer after taxes
Your paycheck is deposited directly into the same account that will receive the cash advance
Why is Albert taking money from my account?
The Albert app doesn't charge any fees (other than the Genius subscription, which is billed annually), so any money you see disappearing from your account isn't being "taken."
Instead, it's likely being transferred to a savings account on your behalf. The Albert app automatically budgets how much you can afford to set aside for a rainy day, and it will transfer that amount (in increments of $5 to $100) to your savings account.
You can turn this feature off if you don't want it (or switch to a single transfer amount on a set schedule), but it's an effortless way for many people to start building a nest egg.
Where to Invest $1,000 Right Now?
Did you know that stocks rated as "Buy" by the Top Analysts in WallStreetZen's database beat the S&P500 by 98.4% last year?
Our September report reveals the 3 "Strong Buy" stocks that market-beating analysts predict will outperform over the next year.