Our editorial team uses a strict editorial review process to compile all reviews, research, and evaluations of any kind. Our company, WallStreetZen Limited, is supported by our user community and may receive a small commission when purchases are made through partner links. Commissions do not affect the opinions or evaluations of our editorial team.
Technical analysis can make or break your trades.
If you want to master this powerful discipline, it's crucial to find a tried and tested program — otherwise, you risk spinning your wheels.
The problem? There are so many courses out there. How can you tell the difference between a great online technical analysis course versus a not-so-great one?
Good news: we've combed through the best technical analysis training courses available and sorted them below. By the end of this article, you'll understand what makes a great technical analysis course — and a better idea of which one is right for you.
Let's begin.
Preview: What's the best technical analysis course?
Here are five of our top picks…
But that's not all. Keep reading for the full list…
What Makes for a Great Technical Analysis Course?
Just like technical analysts vary widely in their performance, the best course for technical analysis is orders of magnitude more valuable than the worst. That's why choosing the best technical analysis course to suit your needs is crucial.
A great technical analysis course can help expedite your learning, hopefully resulting in more profitable trades sooner. The quicker you level up, the better.
We've compiled the seven best online technical analysis courses and broken them down to give you an apples-to-apples comparison.
What to Look For in a Great Technical Analysis Course
We looked at the following factors in our search for the best technical analysis course:
Experienced Instructors: The best instructors balance the benefits of theory and practice. In other words, they have a deep academic understanding of the material coupled with substantial real-world experience.
Engaging Format: For a course to be effective, it must be interactive and engaging. While some form of passive reading is expected and unavoidable, the best courses also combine charts, various multimedia, forums, quizzes, and other elements. Some even offer webinars or live sessions encouraging student participation.
Practical Application: Courses leveraging historical data can help students understand the nuance often involved when charts are unclear. The real world is often fuzzy, not clean lines. Courses that embrace this better prepare students for practical use of the discipline.
Comprehensive Curriculum: The best courses offer an extensive education in technical analysis. These courses cover the fundamental aspects of various trading chart patterns using real-world samples. The best programs not only detail how to learn technical analysis, they clearly detail how to implement different trading strategies.
Extensive Support & Resources: Students can become frustrated when they hit roadblocks or technical challenges without competent support. The best technical analysis courses have attentive and helpful assistance that can be accessed through various means, like chat or email.
Regular Assessments: Feedback helps students know where they fall short and where they excel and helps direct a student's efforts. A great online technical analysis course should include frequent mini-quizzes, problems, tests, and even direct teacher feedback.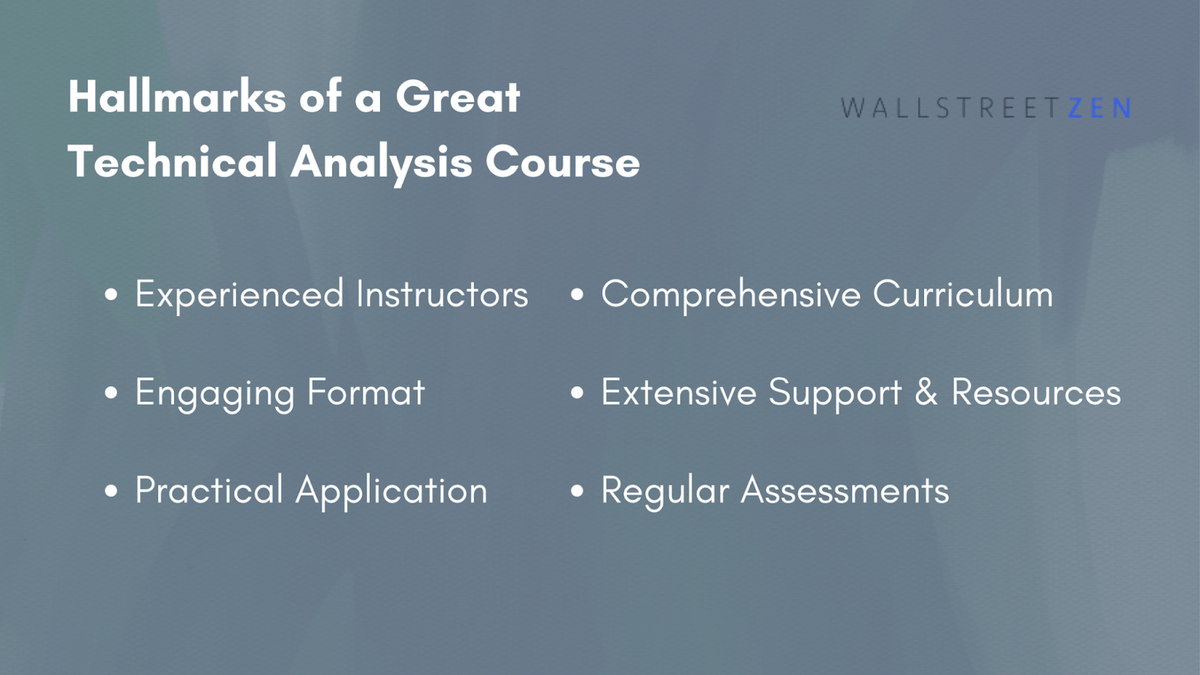 The 7 Best Technical Analysis Courses in 2023:
Without further ado, let's dive into the seven best technical analysis courses.
1. eToro – The Best Platform to Learn While Trading

Pros:
Free to use
Stock market simulator (paper trading), gives you the opportunity to refine your technical analysis trading
Cons:
Education resources are excellent but limited in scope
eToro offers a wealth of free learning resources, including a guide covering the most popular technical analysis tools.
Where eToro shines, however, is its use of demo accounts.
Combining knowledge from their learning resources with practical trading using virtual funds gives students the best chance of learning technical analysis basics as quickly as possible.
You can also easily switch between paper trading and your real account anytime.
eToro securities trading is offered by eToro USA Securities, Inc. ("the BD"), member of FINRA and SIPC. Cryptocurrency is offered by eToro USA LLC ("the MSB") (NMLS: 1769299) and is not FDIC or SIPC insured. Investing involves risk, and content is provided for educational purposes only, does not imply a recommendation, and is not a guarantee of future performance. https://www.wallstreetzen.com is not an affiliate and may be compensated if you access certain products or services offered by the MSB and/or the BD.
81% of retail investor accounts lose money when trading CFDs with this provider. You should consider whether you can afford the high risk of losing your money before investing with these products.
eToro is a multi-asset investment platform. The value of your investments may go up or down. Your capital is at risk.
2. Investors Underground – The Best Technical Analysis Course for Beginners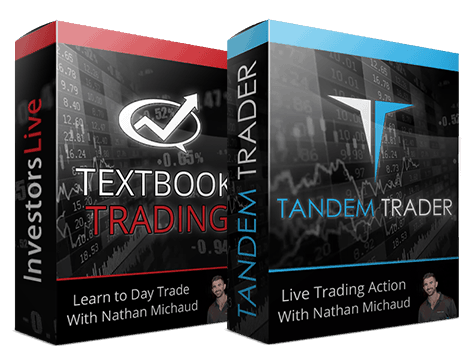 Pros:
World-class technical analysis training
Massive library of resources
Seamlessly bridges the gap between theory and practice
Mentorship access
Highly-rated
Cons:
Expensive ($297/month; $697/quarter; $1897/year)
Investors Underground is one of our favorite technical analysis courses. The program helps prepare new traders through a thorough education — the platform boasts over 1,000 video lessons.
While Investors Underground will cover a broad subset of trading themes, it truly excels as a base for learning about day trading broadly and technical analysis specifically.
The platform also enjoys a long track record with impressive reviews. IU is now nearly two decades old, and its experience is evident in the quality of instruction and feedback from current and prior students.
While selecting only one is challenging, our favorite on the IU platform is the Swing Trader course. This 6-hour course exhaustively covers swing trading and is led by a 20-year industry veteran.
3. Udemy – The Complete Technical Analysis Trading Course (2023) – The Best Technical Analysis Course for the Value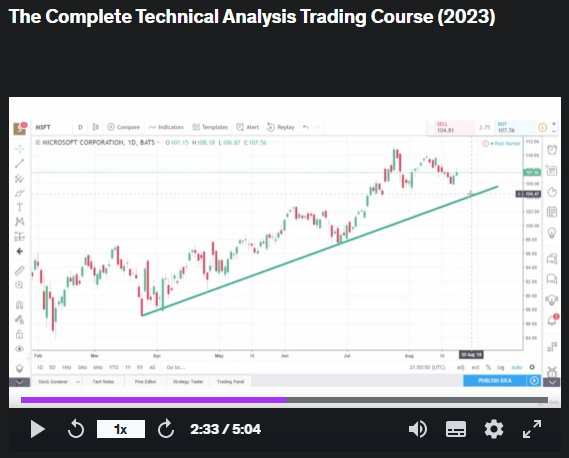 Pros:
Low cost (regularly $84.99, often discounted to $13.99)
Comprehensive
Well-reviewed, highly-attended
Cons:
Potentially overwhelming (substantial volume of topics covered)
Udemy is the creator of top-rated courses including The Complete Foundation Stock Trading Course.
But that's not all they have to offer. This online technical analysis course has now been taught to nearly 14,000 students and for good reason. Beginners will enjoy the comprehensive, step-by-step instruction that leaves no stone left unturned.
Through this Udemy course, you'll get exposure to all the major technical charting patterns, how they work, and how to use them.
This course isn't for the faint of heart. It's a big undertaking, but it will likely result in a monumental leveling up of your technical analysis know-how.
4. Udemy – Technical Analysis MasterClass: Trading by Technical Analysis – The Most Engaging Course on Technical Analysis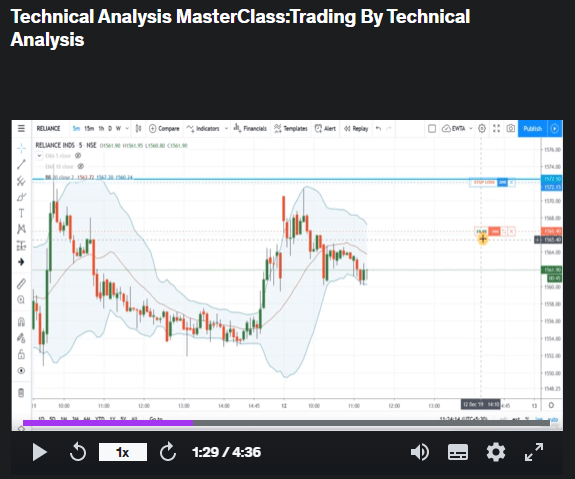 Pros:
Exceptional rating (4.5 / 5 based on over 20,000 reviews)
Engaging and diverse content, including lessons, articles, quizzes, and other resources.
Regularly costs $149.99 but is often on sale for $17.99
Cons:
It may not go as deep as some students hope for.
The second Udemy course on our list boasts even more alumni. Over 100,000 people have taken this course, and it enjoys a rating of 4.5 out of 5 on over 20,000 reviews.
Needless to say, this course has an impressive track record.
This course has over seven hours of on-demand video, assignments, practice tests, articles, and other downloaded resources.
The course covers the importance of considering risk-adjusted returns, a critical factor sometimes overlooked by those newer to trading.
5. Thomas Kralow – The Most Comprehensive Course on Technical Analysis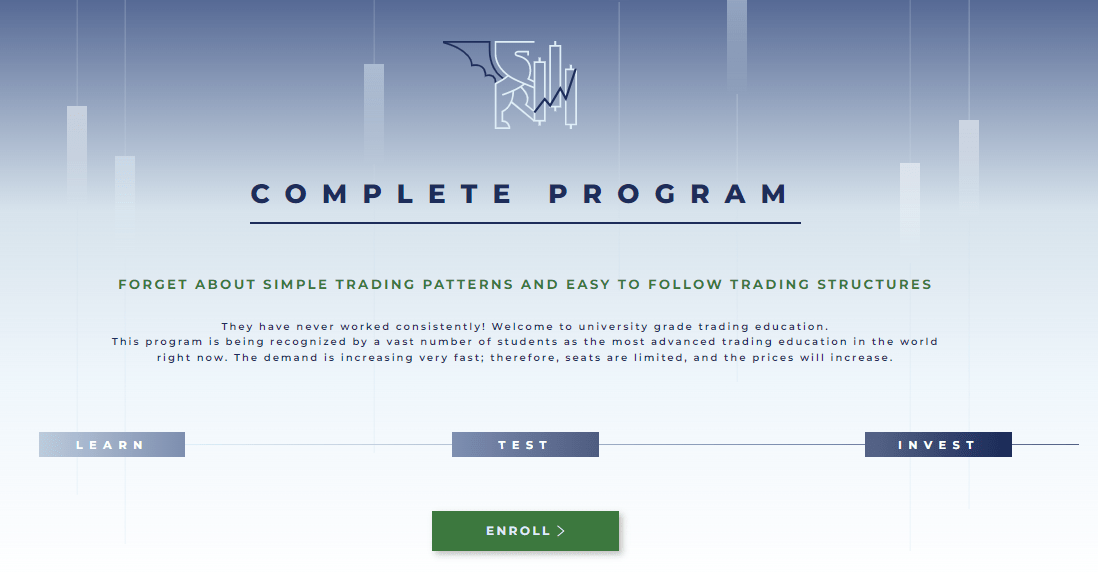 Pros:
Comprehensive trading education
Access to a large trading community
30-day money-back guarantee
Cons:
Costlier than some other options:

Basic program: one-time payment between $123 to $899
Shortened Program: $370/quarter to $5,845/quarter (or one-time payments ranging from $1,180 to $18,880)
Complete Program: $395/month to $6,125/month (or one-time payments of $1,280 up to $19,980)
If you want something a bit flashier, Thomas Kralow's comprehensive trading education is right up your alley. This Dubai-based instructor doesn't shy away from showing off the fruits of his trading labor. And maybe that's a good thing. After all, it's best to learn from a successful, tried, and tested trader.
The course isn't light. While there's a significant focus on technical analysis, this course is truly a crash course in day trading. To call it comprehensive is an understatement.
6. TD Ameritrade – The Best Free Technical Analysis Course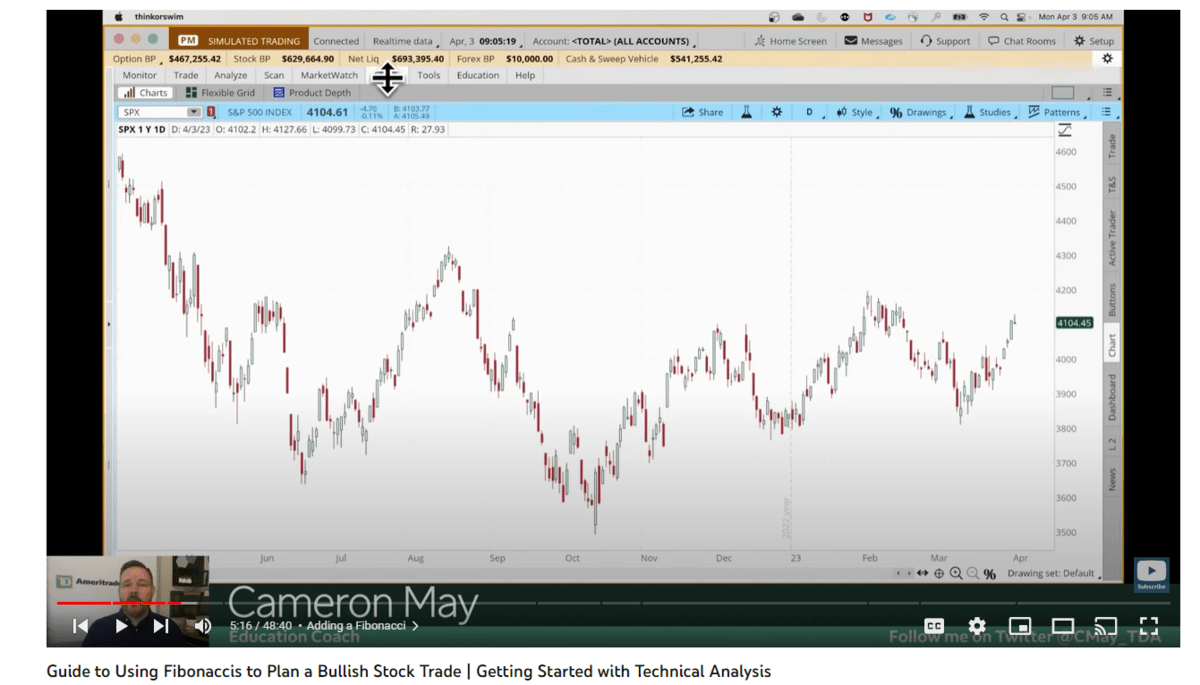 Pros:
Free
Nearly 200 videos focused on "Getting Started with Technical Analysis"
High-quality material
Reputable institution
Interactive
Cons:
No direct coaching
No interaction with other traders
TD Ameritrade offers an extensive library of free trading resources, including excellent courses focusing on technical analysis.
The program is exceptional for beginners and advanced traders alike.
One of our favorite sub-courses is the "Getting Started with Technical Analysis" series. You'll find nearly 200 videos offering detailed instructions on particular strategies. This is an excellent solution for eager investors wishing for a deep understanding of technical analysis.
7. Bear Bull Traders – The Best Premium Technical Analysis Course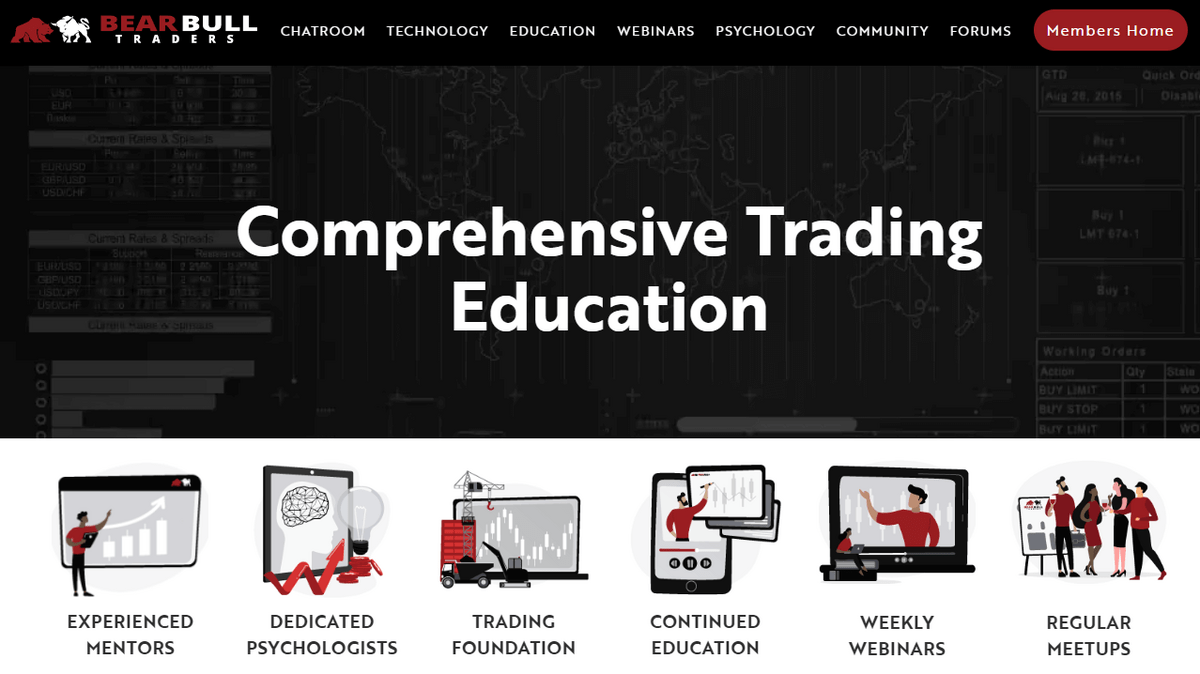 Pros:
A vast library of tutorials
Among Investopedia's Best Day Trading Courses in 2021, 2022, and 2023
Access to trading simulator
Affordable
Access to a large trading community
Cons:
No free trials. 7-day trial costs $39, basic costs $99/month, and elite costs $199/month (or $999 annually)
Bear Bull Traders is another comprehensive program, best for traders looking for a more exhaustive technical analysis education. Bear Bull Traders offers a variety of courses, like the intro course, essentials course, day trading strategies course, and advanced course.
You'll learn about the ins and outs of technical analysis, like learning how to read indicators and identify optimal entry and exit prices.
If you want to be thorough and have the capacity to spend substantial time learning, the Bear Bulls Trader course is an excellent option.
Let's get technical…
Does technical analysis work? Yes, it can (click that link to read how + why).
But it works even better with the right tools. Here are some of our suggestions:
Tools
Brokers
81% of retail investor accounts lose money when trading CFDs with this provider. You should consider whether you can afford the high risk of losing your money before investing with these products.
Final Word: The Best Technical Analysis Course Online
At the end of the day, the best course for technical analysis will largely depend on your personal preferences. If you desire a high-level, low-cost offering, there's a suitable option.
If you're willing to pay a higher premium for deeper, more extensive learning, that's available, too.
Regardless of the route you choose, the options we've provided will all provide a robust learning experience. Ultimately, the most critical factor will be taking what you learn and applying it in practice.
---
FAQs:
What is the best technical analysis certification?
The Chartered Market Technician (CMT) is often considered one of the best technical analysis certifications. Other well-respected designations include the Certified Financial Technician (CFTe) and the Chartered Technical Analyst (CTA) certification.
What is the best way to learn technical analysis?
The best way to learn technical analysis is to familiarize yourself with foundational concepts, like trend lines and chart patterns, using a well-respected course like Investors Underground. Next, you should frequently practice newly learned techniques with real-world data in paper trading platforms like eToro. Continually analyze trades to help deepen your understanding of what's working and what isn't.
Which institute is best for technical analysis?
The Chartered Market Technician (CMT) Association - which offers the CMT designation - is often considered the best institute for technical analysis.
Does Warren Buffett use technical analysis?
Warren Buffett famously does not use technical analysis. Instead, Warren Buffett relies on fundamental analysis. In other words, Buffet focuses on the underlying accounting health of a company, its particular advantages, and its long-term prospects.
Where to Invest $1,000 Right Now?
Did you know that stocks rated as "Buy" by the Top Analysts in WallStreetZen's database beat the S&P500 by 98.4% last year?
Our September report reveals the 3 "Strong Buy" stocks that market-beating analysts predict will outperform over the next year.