Our editorial team uses a strict editorial review process to compile all reviews, research, and evaluations of any kind. Our company, WallStreetZen Limited, is supported by our user community and may receive a small commission when purchases are made through partner links. Commissions do not affect the opinions or evaluations of our editorial team.
You're a savvy investor.
You know what you're doing, and you know the tools and information your investing style demands in order to be successful.
But if you're anything like I was, you've got 15 different stock research tools you use on a regular basis.
What a pain.
What you need is a "go-to" site – one place to handle the majority of your stock analysis.
The trouble is, there's a million tools out there, all claiming to be the best stock research website.
So, which one really is the best?
Well, it depends on what you're looking for.
The 4 Types of Stock Research Websites & Tools
Stock Pickers/Analysts
Stock Screeners
Investment Researchers
News/Basic Quote Information Providers
If you're not sure which category you should be looking in, here's a few questions to give yourself some clarity:
Are you looking to gather financial data to perform your own fundamental analysis calculations?
Are you looking for stock recommendations from industry professionals or opinions on stocks you already know about?
Are you looking for a screener tool to help you uncover new stock ideas?
Are you looking for up-to-date news and basic quote data?
Or – most commonly – some combination of all of these?
Here's a list of the 8 Best Stock Research Websites & Tools, organized by category, that will meet your needs and goals as an investor.
Plus, a detailed explanation of each sites' best features and limitations, what type of investor it's right for, and pricing.
Overall – The Best Stock Research Website
1. WallStreetZen

WallStreetZen is (in our biased opinion) the best stock research website in .
WallStreetZen makes it easy for serious, part-time investors to perform heavy fundamental analysis and get new stock ideas in minutes, not hours. This stock analysis website aggregates the latest financial data and summarizes a stock's fundamental strengths and weaknesses in simple, one-line explanations that help you make better long-term investing decisions.
WSZ was built to cover all 4 stock research categories – If you're looking to research companies, perform fundamental analysis, get stock recommendations from top analysts, or use a screener that's built to handle your personal investing style, WallStreetZen is the site for you.
Zen Score
Zen Score is a summary of a company's fundamental strengths and weaknesses, generated in seconds, from which you can launch further investigation: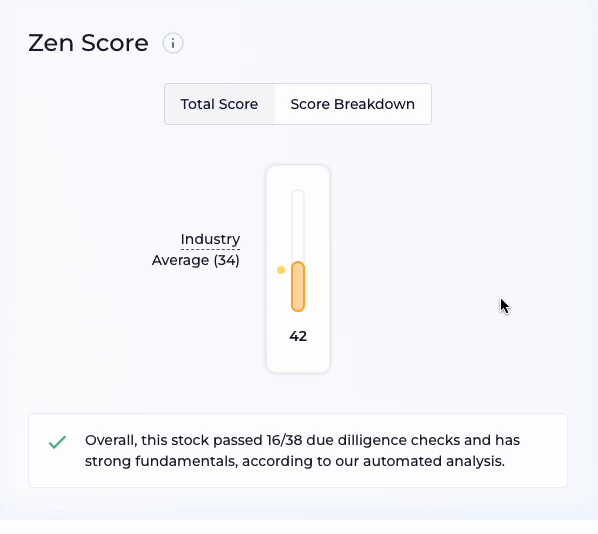 After noting AAPL's Forecast score of just 33, we can dig deeper and quickly see its forecasted revenue and earnings are less than stellar, both of which are projected to grow at rates slower than its industry and market averages: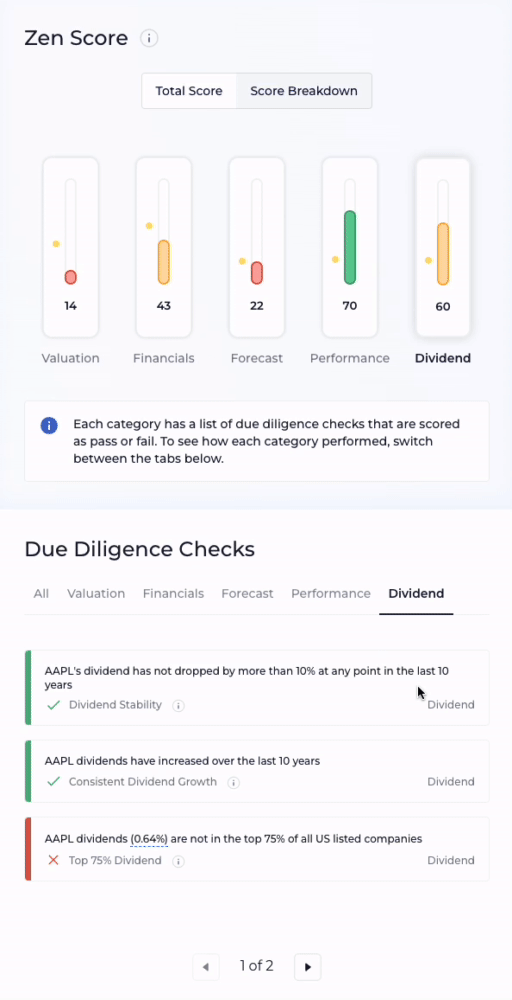 After finding that out, you may decide to investigate these figures more closely on AAPL's Forecast page, where you can read analyst commentaries and the thoughts going into their projections (with "Find out why").
Top Analysts
WallStreetZen tracks and ranks nearly 4,000 analysts based on the returns, frequency, and win rate of their stock recommendations over multiple years, so you get the very best ideas from proven performers. Plus, the Top Analysts feature lets you dig into the exact reasons why an analyst made their buy/sell/hold recommendation and read analyst narratives on any stock: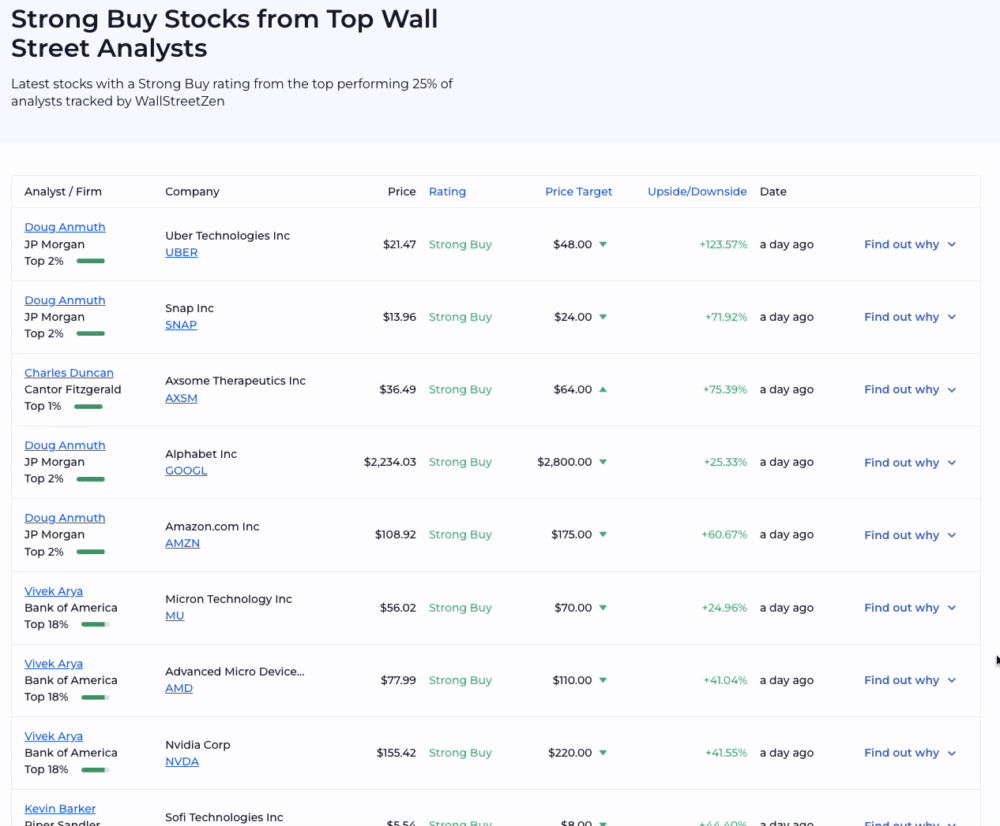 Check out the profile of a Top 1% Analyst Lloyd Walmsley, who turned SNAP into a 500%+ gain in 1 year: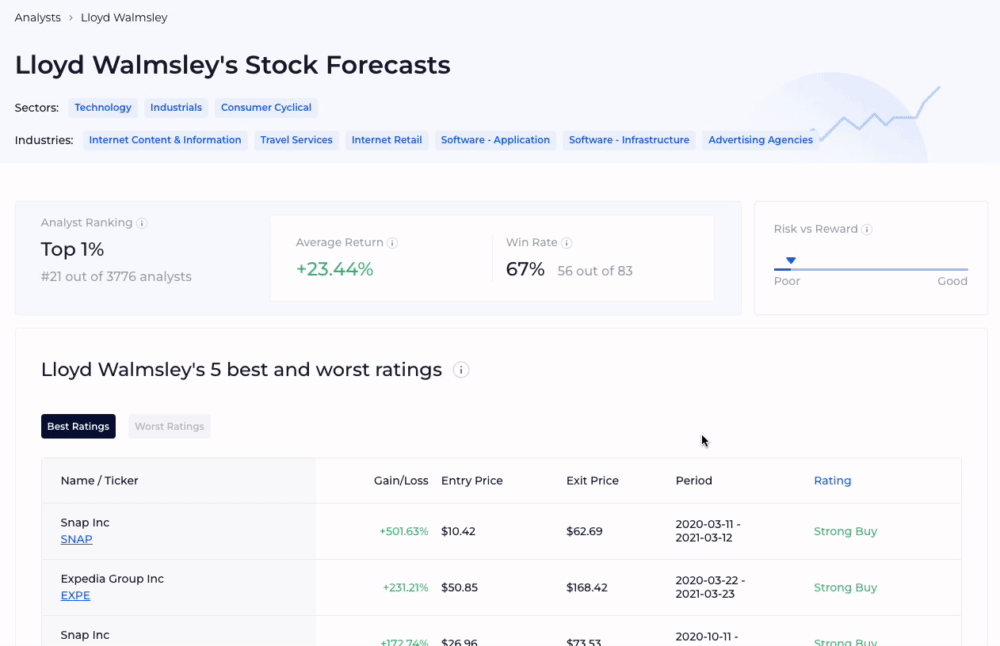 Looks like he's currently recommending DSP, with a price target suggesting 50%+ upside.
To see the full list of analysts, click here. You can filter by Sector & Industry and sort by date of their Latest Rating.
Stock Screener
You probably already have an investing style. What you need now is a way to translate those personal preferences into investment ideas.
Unlike its peers, WallStreetZen's Stock Screener allows you to easily filter on whatever quantitative or qualitative criteria you find most important, and save your setups:
If you're not sure what criteria to use, WallStreetZen's stock screener also comes with a library of pre-built Stock Ideas to get you started. How about discovering the most recent insider transactions with Bullish Insider Buys:
As we learned from Peter Lynch, insiders buy for only one reason: They think the stock will go up.
And More…
Watchlists, consensus ratings, "Why Price Moved", news feeds, visual comparisons across time, and so much more – the more you use it, the more you'll find.
Plus, unlike the other sites you'll find on this list of best stock research websites, WallStreetZen offers the vast majority of its features for free, up to a certain number of uses per month.
Who It's For
WallStreetZen is the best stock research website overall because it handles nearly every component of the investing process:
Fundamental analysis ✅
Stock screener ✅
Stock pickers/analysts ✅
Investment research ✅
News and quote data ✅
Technical analysis ❌
I may be biased, but I do believe it's the most versatile site on this list of best websites for stock research – investors with varying objectives can all benefit from its comprehensive suite of features (Zen Score, Top Analysts, Screener, Stock Ideas, etc.).
WallStreetZen may be a good supplement for investors who rely heavily on technical analysis, but it won't replace their main charting tool.
However, even if you're a pure day trader, it's never a bad idea to check the underlying fundamentals of the stocks you're trading or see the latest analyst stock ratings from Wall Street's top analysts.
Pricing
WallStreetZen has two plans: Basic and Premium:
Unlike the other sites on this list, the Basic plan is free (just start researching!) and includes almost every feature, but power users will want to upgrade to Premium to unlock unlimited access, which is just $12.50/month (billed annually).
Best Stock Pickers/Analysts Websites
2. The Motley Fool
One of the most well-known and best websites for stock research in the world, The Motley Fool:
The Motley Fool is a direct competitor to Zacks (which I'll cover next) and offers many of the same features, though it focuses on just 2 premium services, both of which espouse a buy-and-hold strategy.
Its most popular product, Stock Advisor, has returned 333% since its inception in 2002 (compared to 77% by the S&P 500), hence why I'm recommending this service today.
The site's investing philosophy revolves around ignoring short-term volatility, choosing instead to focus on companies' strong fundamentals and riding market trends: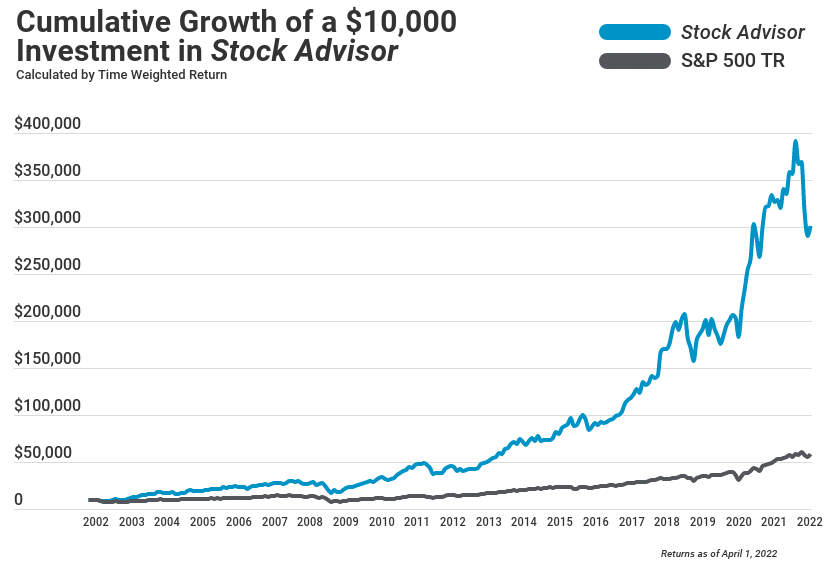 The Motley Fool Stock Advisor service gives out 2 monthly recommendations, alongside a list of 10 "Starter Stocks", a knowledge base, market news coverage, access to The Motley Fool Community, and more.
This service's biggest winners include: Netflix, Amazon, Booking Holdings, Disney, and Activision Blizzard.
Who It's For
Motley Fool Stock Advisor is for long-term investors looking to get a few premium stock picks per month:
Fundamental analysis ❌
Stock screener ❌
Stock pickers/analysts ✅
Investment research ✅
News and quote data ✅
Technical analysis ❌
Again, you're only paying for stock picks and some supporting analysis, not the data/information needed to make buy/sell/hold decisions independently.
Pricing
Motley Fool Stock Advisor is typically $199/year, but if you sign up with the link below your first year will cost just $89:
Also, if you sign up for the annual membership with the link above, there is a 30-day money-back guarantee.
*After your first year, your subscription will renew at the typical $199/year.
3. Zacks
Zacks Investment Research is one of the largest providers of independent stock, ETF, and mutual fund research in the U.S.:
The site is best-known for its simple rating system, ranging from Rank #1 (Strong Buy) to Rank #5 (Strong Sell).
Zacks members receive research published in daily newsletters including market news and commentary, Zacks Rank #1 (Strong Buy) stocks, Bull and Bear of the Day, stock and portfolio tracking, quote lookups, investment ideas from Zacks' analysts, Top Stories, and more.
According to the site, Zacks Rank #1 (Strong Buy) stocks have more than doubled the S&P 500 with an average gain of +25.1% per year from January 1, 1988 through April 4, 2022 – quite the consistency, and is the single biggest selling point for its service and what merits its spot on our best stock research sites list:
Self-directed short-term traders, long-term investors, and those interested in mutual funds and ETFs, can leverage its independent research and the Zacks Rank through a comprehensive suite of investment newsletters, including value, growth, income, options and more.
It also has educational, video, and podcast content to learn about investing and to gain insights into current market conditions.
Who It's For
If you're simply looking for premium stock picks to follow and don't want to use Motley Fool Stock Advisor, Zacks is an obvious choice:
Fundamental analysis ❌
Stock screener ❌
Stock pickers/analysts ✅
Investment research ✅
News and quote data ✅
Technical analysis ❌
If you're not interested in copying other analysts' trades and having access to their research, look elsewhere.
Pricing
Zacks is built as a members-only platform, with quite a few different services. Its service with the best value is Zacks Premium, which you can try for free for 30 days with the link below:
After the trial period, Premium will cost $249/year.
Read my full Zacks Premium review.
Best Stock Screener Website
4. FINVIZ
When it comes to researching and filtering on vast amounts of statistical information, FINVIZ stands alone, which is why it's the only true screener on this list of best stock research tools.
There aren't a lot of bells and whistles, just screens and screens of extensive financial data, charts, and statistics:
The FINVIZ screener offers 3 different types of filers: Descriptive, Fundamental, and Technical:
But, unlike WallStreetZen, the interface is not minimal, clean, or overly user-friendly.
The Descriptive filters are the basic set of filters offered on exchanges, such as market cap, dividend yield, earnings date, average volume, industry, price, country, etc. These filters are the first ones used to narrow down your search.
The second set of filters are called Fundamentals, and they go into even greater detail about the stocks. The user can filter tickers based on the basic P/E ratio, margins, sales growth quarter to quarter, EPS growth, insider ownership, and many more. P/E ratio data is important because it shows how a company is expected to perform in the future.
(Get my full Finviz Elite Review here.)
The third filter option is the Technical filters such as moving averages, gap, RSI, volatility, performance, percentage change, after-hours change, and so on. This page also includes candlestick and patterns.
As you can tell, FINVIZ is very complex and can be intimidating for many users who are new to stock trading or prefer a more qualitative approach.
Although it offers news reports, blog reports, maps, groups, Portfolios and Insider Tabs, the heart and soul of FINVIZ is its screener, making it a somewhat limited option beyond a niche group of investors.
Who It's For
FINVIZ is a powerful tool but its use cases are limited, making it one of the best stock researching websites available for investors looking for a quantitative stock screener:
Fundamental analysis ❌
Stock screener ✅
Stock pickers/analysts ❌
Investment research ❌
News and quote data ✅
Technical analysis ✅
The site is severely lacking when it comes to fundamental analysis and qualitative investment research.
Pricing
Like WallStreetZen, there are two plans to choose from: a free Basic plan and a paid, ad-free plan called Elite:
The free version offers most of the data and charts that a casual or beginner trader would need to be successful. However, many professional day traders find the Realtime data and backtesting features that come with Elite to be invaluable.
You can choose to either pay monthly ($39.50) or annually ($299.50) for the Elite version.
Best Investment Research Websites
5. Morningstar
If we were to give a 2nd best overall stock research website behind WallStreetZen, Morningstar would be the clear runner-up.
Morningstar is one of the world's most widely respected equity research firms, used by both retail and professional investors alike. It's one of the best stock research websites because of its focus on hard data for the long-term value investor.
If you've been on more than a couple different stock sites, you've likely seen "Morningstar ratings", which should give you an idea of the amount of respect Morningstar has earned from its peers.
Beyond financial data, the site is full of content and daily updates via news feeds and multiple newsletters:
While Morningstar allows you to research fundamentals for securities like stocks and bonds, its primary focus is mutual funds.
Morningstar analyst reports provide in-depth analyses from over 150+ independent analysts, enabling you to make decisions with confidence knowing that data and solid due diligence has gone into each rating.
If you like what you've seen from the basic version of Morningstar, you have to check out Morningstar Premium.
Beyond an enhanced version of its core offering, Morningstar Premium has tools for tax planning, asset allocation, personal finance, retirement, and education investing.
Who It's For
Morningstar is a fantastic tool regardless of the type of investor you are. For long-term investors and those who love to keep their finger on the market pulse, this is a fantastic option:
Fundamental analysis ✅
Stock screener ✅
Stock pickers/analysts ✅
Investment research ✅
News and quote data ✅
Technical analysis ❌
However, the site can be a bit overwhelming because of how much (not always helpful) information you must weed through, and it doesn't offer as many free features as WallStreetZen.
Pricing
Like its peers, Morningstar comes in two forms: Basic and Premium:
I know countless financial advisors who use Morningstar Premium as their primary tool and news source. It's legit.
(Read my Morningstar Premium review.)
6. Seeking Alpha
While WallStreetZen and Morningstar give you all of the fundamental data and additional analyst reports you need to make your own informed decisions, Seeking Alpha puts its analysts front and center:
If you've ever typed a ticker into Google, you've likely stumbled across one of these analysts' reports.
Unlike WallStreetZen, however, its articles and blogs (which are typically buy/sell/hold recommendations) are crowdsourced by primarily amateur investors with varying backgrounds – anyone can apply to be a writer.
Users are encouraged to follow their favorite analysts/authors and will typically follow their recommendations for buying and selling equities.
Instead of making your own investing decisions, Seeking Alpha is really built for investors looking for some portfolios to replicate.
While it does offer data for fundamental analysis, this information serves as a backdrop to its analysts' research, and – like its screener – is reserved for Premium users only.
However, unlike Zacks or Motley Fool, there's much more transparency about why SA's analysts are making their buy/sell decisions for their own portfolios. Personally, this is my favorite feature.
Who It's For
If you want stock ideas and the accompanying research from fellow investors who are actually putting their own money into their recommendations, Seeking Alpha Premium is a solid choice:
Fundamental analysis ❌
Stock screener ✅
Stock pickers/analysts ✅
Investment research ✅
News and quote data ✅
Technical analysis ❌
Seeking Alpha is built for investors who want to follow others' portfolios and ideas, not those looking to make their own decisions based on their own analysis.
Pricing
Seeking Alpha has 3 membership tiers, but Premium is by far the best value (in my opinion):
Read my full Seeking Alpha Premium review.
7. Yahoo! Finance
Yahoo! Finance is still the most popular finance website in the U.S., earning its spot on our best stock market websites list.
Personally, my favorite feature is its news feed. Yahoo! Finance is the largest repository of third-party research reports sourced from analysts all over the world:
The quantity of information on its site is challenged by only 1 or 2 others on this list of best stock sites, and a lot of websites (including The Motley Fool, Seeking Alpha, and Zacks) derive a large amount of their traffic through Yahoo! Finance.
Beyond being a news repository, the site has a number of high-quality tools and features which include market data on everything from mutual funds to crypto, watchlists, company profiles, and premium features like advanced charting and portfolio analytics.
(For related websites, read my article on the best stock news apps for stock market news.)
Who It's For
Yahoo! Finance's "no fuss, plain Jane" approach attracts experienced investors who know exactly what they're looking for.
Unlike WallStreetZen, its statistics are fixed, numerical data points that lack any interpretation or comparisons. Compare the two sites' displays of ROE data:
(Learn what is a good ROE and why Warren Buffett loves this figure.)
This may work for investors who know exactly what they're looking for and what represents value for an individual company in a specific industry, but non-professional investors may find themselves looking for additional context.
That said, it's a solid option for the news-centered, experienced investor:
Fundamental analysis ✅
Stock screener ✅
Stock pickers/analysts ✅
Investment research ✅
News and quote data ✅
Technical analysis ✅
While it technically does check all of the boxes, some of the features are not entirely helpful while others are hidden behind paywalls or just links to third-party sources, lowering its rank on our list of best stock analysis websites.
Pricing
Yahoo! Finance offers 3 plan levels, Free, Lite, and Essential:
Before switching to WallStreetZen, I used the free version of Yahoo! Finance for 5+ years.
After a free 14-day trial, the Lite version costs $20.83/month and Essential costs $29.17/month, both of which are billed annually.
For Google's (albeit much simpler) version, check out Google Finance – it deserves an honorable mention for best stock websites.
Best Stock News/Basic Quote Information Provider
8. Wall Street Journal
This one may be a surprise on this list of best stock analysis tools, but the Wall Street Journal has been one of the top-ranked business journals in the world since its first issue in 1889.
Obviously, its focus is on news and current market events, but it also has a powerful section for looking up and doing some analysis on individual tickers, earning it a spot on our list of best stock research tools:
The Journal provides news on global stock exchanges and covers up-to-the-minute news from around the world. It also publishes 6 days per week, providing in-depth, well-vetted commentary you can trust.
In many ways, I prefer it to Yahoo! Finance, especially when it comes to its interface (though it lacks the repository of commentaries).
Who It's For
Stock market coverage is just one aspect of the WSJ site – if you're looking for a quality news source and a place to do some light fundamental research, the WSJ is an excellent choice:
Fundamental analysis ✅
Stock screener ❌
Stock pickers/analysts ❌
Investment research ✅
News and quote data ✅
Technical analysis ❌
Pricing
The Wall Street Journal is listed at $38.99/month, but they almost always have a special going where you can lock in a price at a lower rate. For example, I've been paying $4/month to use The Journal for the last 7 years.
Summary: The Best Stock Research Websites & Tools in
Did you find the right stock investing tool for you?
If you're looking for stock picks, Motley Fool Stock Advisor is the best option.
If you're looking for a heavy screener, FINVIZ should be your tool.
For investment research, Morningstar Premium, Seeking Alpha Premium, and Yahoo! Finance are all viable options.
But, if you're looking for the single, best overall stock research website, WallStreetZen is the place for you.
It has it all: Recommendations from top analysts, a customizable screener, top-tier fundamental analysis and investment data, and news feeds to keep you abreast of any new developments.
If you're interested in doing your own stock research, read about the best stock analysis software.