Our editorial team uses a strict editorial review process to compile all reviews, research, and evaluations of any kind. Our company, WallStreetZen Limited, is supported by our user community and may receive a small commission when purchases are made through partner links. Commissions do not affect the opinions or evaluations of our editorial team.
I'm going to start with the conclusion:
The Bottom Line: A subscription to FINVIZ Elite is worth it for an extremely niche group of day traders and swing traders.
If you're on the fence about whether or not you should pay for the premium version of FINVIZ, then you shouldn't upgrade.
The free version of FINVIZ (and a few of its competitors) is excellent for the vast majority of investors and traders.
In this review, I'm going to cover the features that come free with FINVIZ and the extra features you would receive from the $24.96/month subscription to Elite.
(If you're already familiar with FINVIZ's free features and want to know what else you'll get from upgrading to Elite, scroll to the "FINVIZ Elite Features" section below.)
At the end, I'll cover why we built WallStreetZen's Free Screener and how it stacks up against FINVIZ.
What is FINVIZ?
FINVIZ is one of the best stock screeners in the world.
And if you don't believe me, you can ask any 1 of its nearly 20 million monthly users.
The vast majority of these investors and traders are using FINVIZ for free – only the most serious find value in upgrading to FINVIZ Elite.
That's not because of FINVIZ Elite's lack of features, but a testament to the powerful lineup of features available with the free version of FINVIZ.
Worth noting: FINVIZ is riddled with ads.
FINVIZ Features (FINVIZ Review)
Stock Screener
FINVIZ is known for its screener (did you know it has other features?).
If someone mentions FINVIZ, this is what comes to mind:
The screener is a tool that allows investors to sift through thousands of stocks from markets all over the world using whatever Descriptive, Fundamental, or Technical criteria they find most important.
Descriptive (stock price, market capitalization, exchange, etc.)
Fundamental (P/E, operating margin, return on assets, etc.)
Technical (20-day SMA, RSI, volatility, etc.)
For most users, this is where their use of FINVIZ begins and ends.
Almost all of the features on the screener are free to use, except for the Alert and Export features (available with FINVIZ Elite).
Company Search
In the upper-left corner of the site you can enter any stock symbol and get instant access to its chart (with some pre-drawn technical analysis), some key quantitative data and fundamental figures, and a news feed:
Within the chart, you can switch between multiple charting types (candle or line) and multiple timeframes.
News
FINVIZ collects the latest news headlines from various outlets in the financial space. You can sort these articles chronologically or by origin.
Heat Maps & Groups
FINVIZ's Heat Maps and Groups are the two most visually-appealing features on the site.
The Heat Maps tool helps you quickly analyze the performance of individual sectors and industries:
The Groups tool shows the same performance data but transforms it into bar charts and spectrums:
Personally, I'm a fan of visually-displayed data – I find it much easier to interpret.
Portfolio
Registered users can create up to 50 portfolios and can add up to 50 tickers per portfolio, though portfolio alerts are only available to Elite users.
More Data – Insiders & Futures & Other Markets
You can also research insider transactions, futures markets, Forex markets, and cryptocurrency markets.
FINVIZ Elite Features
In addition to everything include in the free plan, FINVIZ Elite users receive access to features such as:
Real-Time and Extended Hours – Real-time stock quotes and premarket and aftermarket data in all stock features.
Advanced Charts – More charting possibilities necessary for performing deep technical analysis (intraday charts, overlays and indicators, drawing tools, etc.).
Backtests – Evaluate your trading strategies before applying them to the real market.
Correlations – Proprietary correlation algorithms optimized for financial markets.
Advanced Screener – Get statistics, data exports, customized filters, and more.
Alerts – Set email notifications for price movements, portfolio updates, and new tickers fitting screener criteria.
All in an ad-free layout.
FINVIZ Elite Cost
FINVIZ Elite costs $24.96/month when billed annually ($299.50 total) or $39.50/month.
FINVIZ offers a money-back guarantee within the first 30 days of subscribing, so don't hesitate to give Elite a test drive if you're interested!
FINVIZ Elite Review (Who is FINVIZ Elite Best For?)
As I mentioned at the top, a FINVIZ Elite subscription is only worth it for a very select group of investors/traders.
However, if you're someone who needs the real-time quotes, advanced charting capabilities, and/or uses the backtesting features
Plus, the amount of quantitative data on FINVIZ is second-to-none.
The Bottom Line: If you need FINVIZ Elite, you don't need me to tell you.
If you're not sure, try it risk-free for 30 days, then decide for yourself.
And if you are thinking to yourself, "What kind of person is creating their own algorithmic trading bots and needs to test the reliability of their multi-indicator technical analysis system across 24 years of historical data?", then I think you'll be content with the free version.
FINVIZ Stock Screener vs WallStreetZen's Screener
In my opinion, the WallStreetZen Stock Screener is a much more attractive and user-friendly alternative to FINVIZ:
Instead of cramming every single data point we could fit onto one page, we've designed our screener in a way that allows the data to be digested. And once you start using our screener, you'll notice we were able to do this without sacrificing any filtering capabilities.
We also offer an entire library of Stock Ideas, a list of stock recommendations based on pre-set screening criteria:
These pre-set screeners make it easy for beginner investors to start screening stocks, even if they're not sure what screening criteria to use.
Plus, more advanced investors can use them to generate new ideas and narrow them down in minutes.
And like FINVIZ's screener, the WallStreetZen screener is completely free to use!
Plus, if you find a stock you like, instantly add it to your free Watchlist and sign up for daily email alerts.
Try WallStreetZen's Stock Screener or Stock Ideas today!
WallStreetZen Premium Features
Regardless of whether you use the FINVIZ or WSZ Stock Screener, our Zen Score and Top Analyst features are complementary tools for your investing process.
Zen Score – easily understand a stock's fundamental strengths and weaknesses in minutes with an automated series of due diligence checks: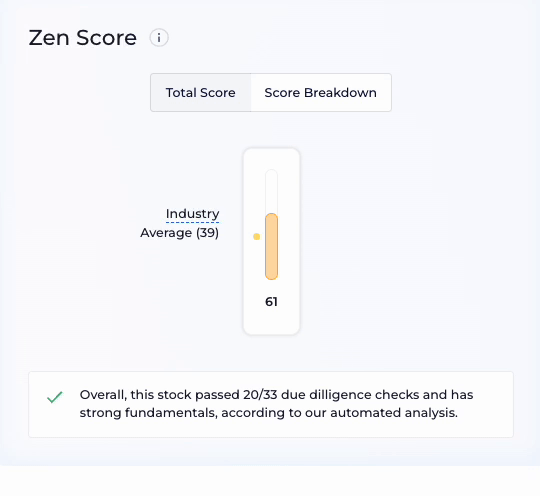 Top Analysts – get analyst forecasts (price targets and earnings and revenue projections) from top 1% of analysts on Wall Street: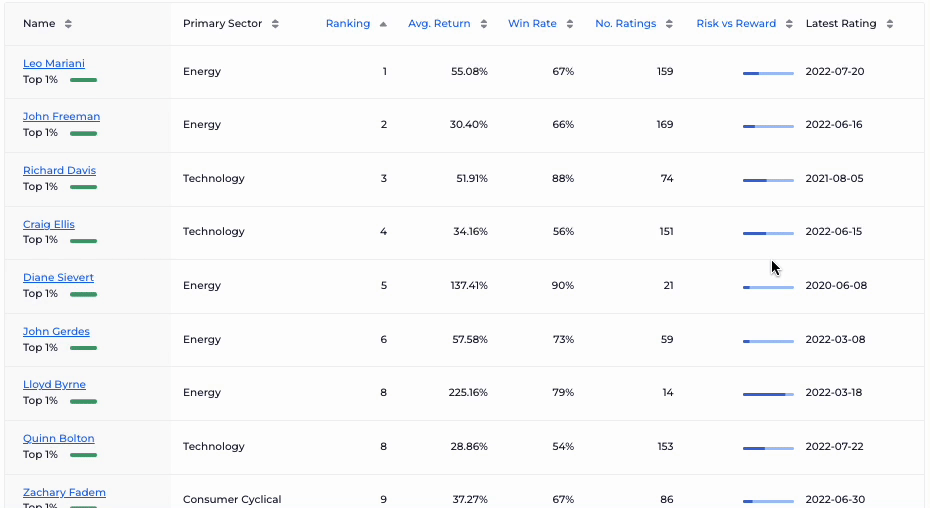 Read more: If you're looking for a premium stock service that's worth the money, check out my Motley Fool Stock Advisor Review or my Seeking Alpha Review.