Our editorial team uses a strict editorial review process to compile all reviews, research, and evaluations of any kind. Our company, WallStreetZen Limited, is supported by our user community and may receive a small commission when purchases are made through partner links. Commissions do not affect the opinions or evaluations of our editorial team.
Everybody wants to make better investing decisions.
If we can outperform the market by just 2% for 20 or 30 years, the results can be staggering.
I'm talking about millions of dollars.
With that potential reward on the line, paying a couple hundred bucks for a stock research subscription is almost a no-brainer. The trouble is, which one should we use?
One of the most popular investing subscription services is Zacks Investment Research.
In this Zacks review, I'm going to highlight my experience using Zacks and whether or not I think you should pay for the service (I have a different take than most).
I'll also cover the site's accessibility, the quality of its research, and its cost.
Let's dive into this Zacks review, starting (as always) with my conclusion:
Is Zacks Premium Worth It in ?
The Bottom Line: Zacks Premium is not worth the money. If you want a premium stock research service, get Seeking Alpha (I'm begging you).
Accessibility: 2/5
Quality of Research/Analysis: 1/5
Price: 2.5/5 (Zacks Premium costs $249/year)
Zacks Premium is antiquated and its analysis is incomplete. Its entire "system" is based on EPS revisions which was a revolutionary idea in the 1970s, but it's 2023 – information flows more freely these days.
The entire Zacks system can be found in a single check on Seeking Alpha: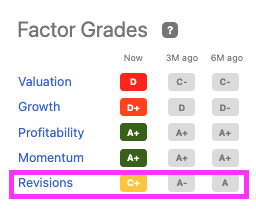 No, I'm not kidding.
You can try Zacks for yourself (and get a feel for its complete service in the remainder of the review below), I'm just trying to save you from wasting your time.
Go read my Seeking Alpha Premium review instead or, better yet, start your free trial here.
What is Zacks? (Zacks Investment Research Review in 2022)
Zacks Investment Research was founded in 1978 by MIT researcher Len Zacks.
After spending years analyzing stocks, Len made an observation: earnings estimate revisions may be the most powerful force impacting stock prices.
This discovery led to the Zacks Rank system which expanded into an independent and quantitatively-driven stock research company. Zacks goal is to arm individual investors with reliable investment research so they can reach their investing goals.
The company offers a variety of services, but its flagship product is Zacks Premium.
Key Features of Zacks Premium
A subscription to Zacks Premium unlocks access to Zacks Ranks (including Zacks #1 Rank List), Equity Research Reports, Focus List, Premium screens, and much more.
Zacks Premium will help you identify which stocks to buy and sell with powerful tools to cut through the noise.
Zacks Rank System
Zacks Rank is a stock-rating system based on analyst earnings estimate revisions.
Today, Zacks tracks around 3,000 analysts and over 200,000 earnings estimates, waiting for positive or negative revisions.
Here's the theory: Positive revisions are bullish, negative revisions are bearish.
Example:
An analyst believes a stock is worth 25 times next year's earnings (P/E of 25x) and has an earnings estimate of $1.00 per share. This would imply the stock's fair value is $25 per share.
If the analyst changes his forecast to $1.25 in EPS, the fair value would then be $31.25 per share (25x P/E x $1.25 est. EPS = $31.25).
When earnings estimates are increasing, the stock price should increase as well – this is the Zacks Rank system.
Zacks Rank harnesses the power of daily earnings estimate revisions by aggregating the current revision data and classifying the underlying stocks into 5 groups ranging from "Strong Buy" to "Strong Sell".
If the Zacks Rank system worked, we should expect to see outperformance of Zacks Rank #1 "Strong Buy" stocks and underperformance of Zacks Rank #5 "Strong Sell" stocks.
Zacks Rank Performance
And that's exactly what we see: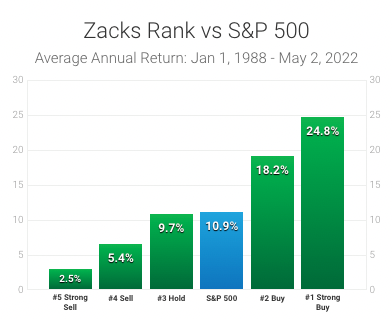 And when you compound those annual returns over time, you get a chart that looks like this: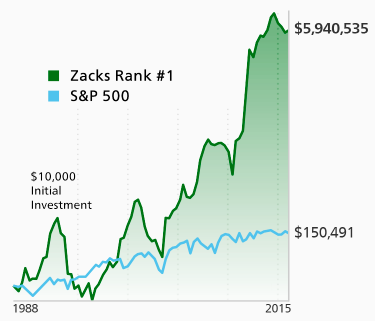 My Zacks Rank review is this: It works.
Get this and more with Seeking Alpha Premium. Save yourself time and money – read my Seeking Alpha review.
The 4 Factors Behind Zacks Rank
How does Zacks use earnings estimate revisions in Zacks Rank? The Zacks Rank is calculated from 4 inputs:
Agreement – The greater the percentage of analysts revising their estimates higher, the better the score for this component (40% of the analysts revising higher is more bullish than 10% revising higher).
Magnitude – The higher the change, the better the score for this component (a 5% increase is more bullish than a 2% increase).
Upside – The bigger the difference between the most accurate estimate (as calculated by Zacks) and the consensus estimate, the better.
Surprise – Companies with historical positive earnings surprises are more likely to surprise again.
These components are recalculated every night.
Final Word – Why don't I recommend Zacks Premium?
Yes, that's the entire Zacks system.
Like I said above, simply tracking EPS revisions may have worked in the 1970s, but investing in the stock market has changed (slightly) since then.
Plus, I can go to Zacks right now and type in any stock I own and immediately see the Zacks Rank: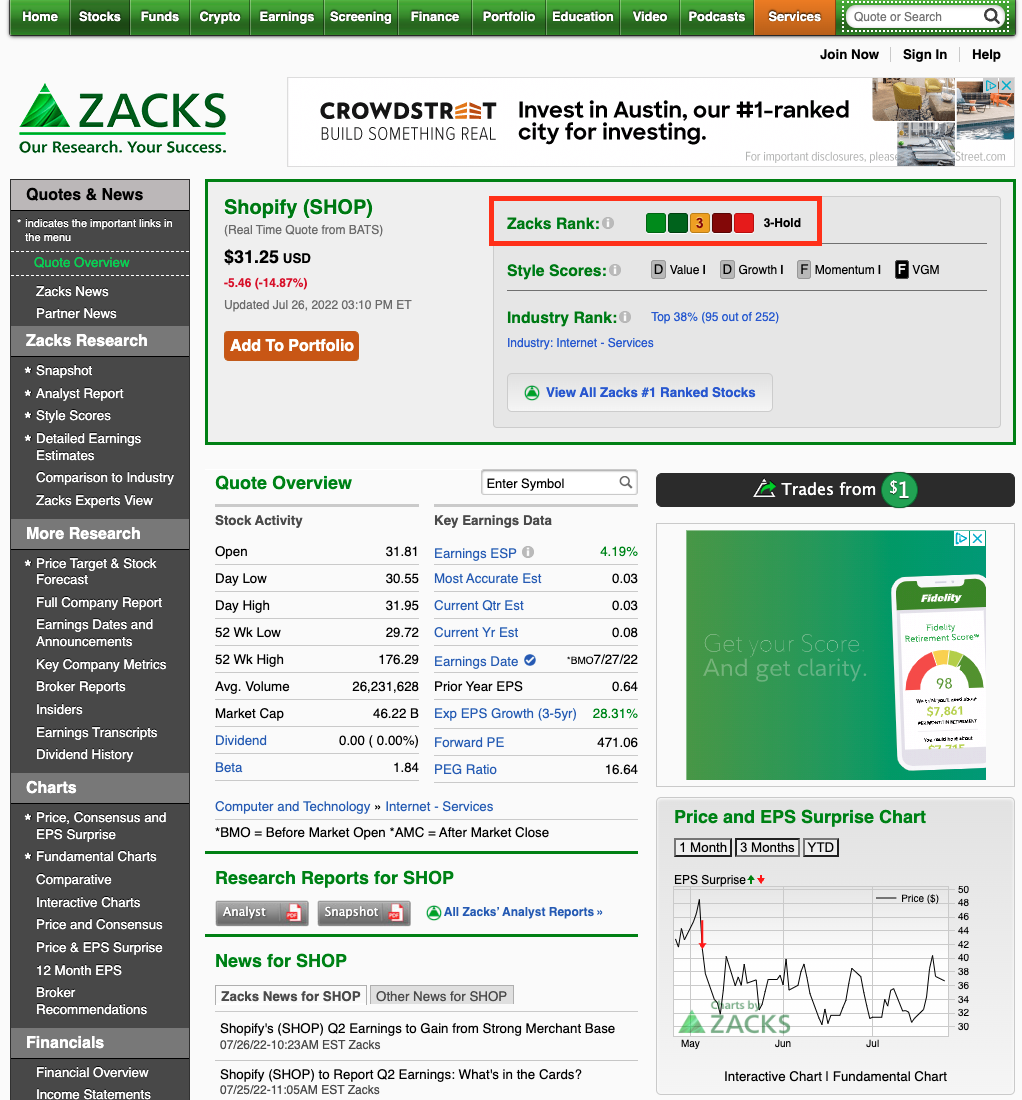 Shopify (NYSE: SHOP) is a Zacks Rank #3 – Hold
I can do this for every stock in my portfolio an unlimited number of times.
That said, almost everything besides the overview page is hidden behind a paywall, so the above screenshot is all the information you will get without going premium.
But that's good enough for me.
After having a Zacks subscription, I found I hardly ever used it.
I wasn't a fan of 99% of the stocks on the Zacks Rank #1 List. After using it for 20 minutes immediately after subscribing, I never looked at the list again, in 10 months.
All I used Zacks for was double checking the Zacks Rank of stocks I found elsewhere. I still do this, for free, to make sure a stock I'm considering isn't a "Sell" or "Strong Sell" according to the system. If it is, I try to figure out why (usually by going to WallStreetZen).
It's not that I don't like or believe in the Zacks Rank system, it's just that I don't have any reason to subscribe to Zacks Premium. The primary value I get out of Zacks I can get for free.
Plus, I can get that value with my Seeking Alpha Premium subscription just by checking a stock's Factor Grades: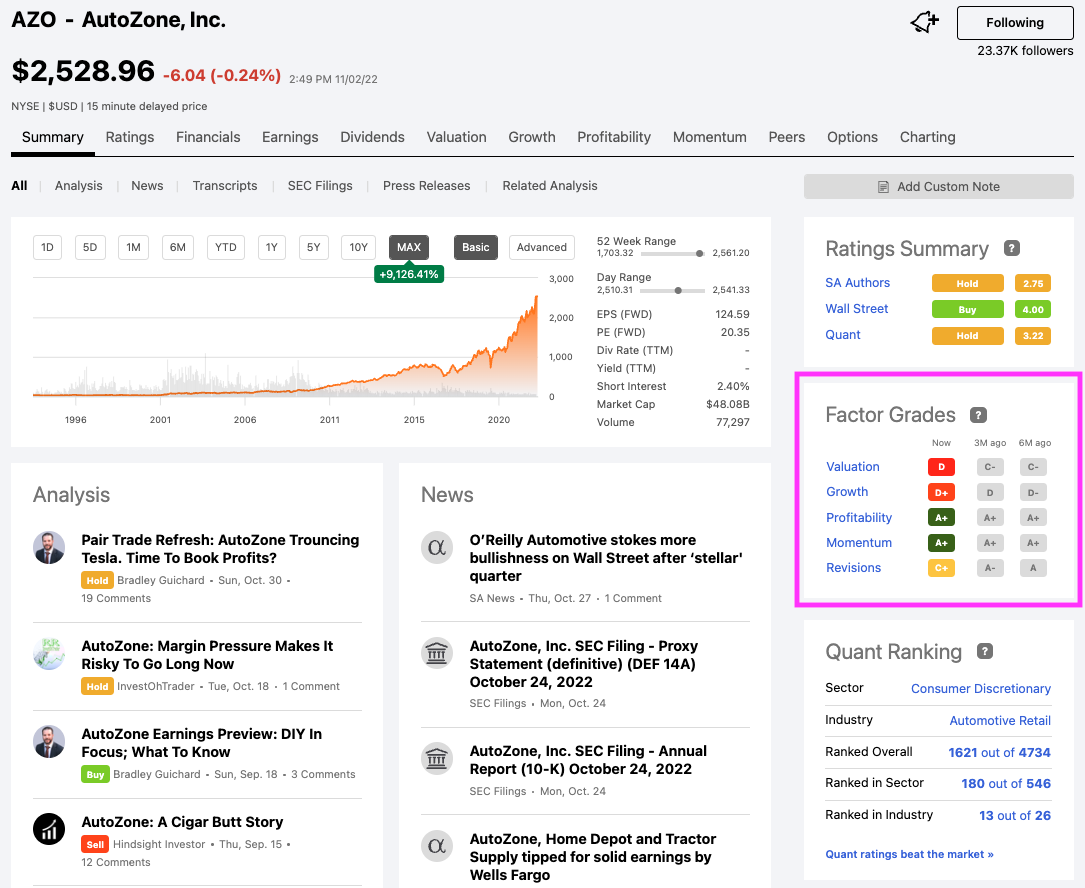 Zacks Premium is a horse-drawn carriage. Seeking Alpha is a Lamborghini.
Read more: Seeking Alpha review.
That's a wrap on my Zacks Premium review.
If you want to read another a side-by-side comparison article on some of the most popular premium stock services, go here to read by review of Motley Fool vs Zacks vs Morningstar vs Seeking Alpha.
---
FAQs:
Is Zacks com trustworthy?
Yes, Zacks is trustworthy.
The company boasts exceptional long-term returns using its quantitative system which are backed by data.
How good is Zacks Rank?
Zacks Rank #1 stocks have vastly outperformed the market over the last 34 years. Over that period, Zacks Strong Buy stocks had an average return of 24.9% per year, more than double the S&P 500 average of 10.9%.
The system works.
Which is better Zacks or Morningstar?
In my opinion, a subscription to Morningstar is much more valuable than a subscription to Zacks.
Zacks most valuable feature is Zacks Rank which you can access for an unlimited number of stocks without a paid plan.
How much does Zacks cost?
Zacks Premium costs $249/year.
Where to Invest $1,000 Right Now?
Did you know that stocks rated as "Buy" by the Top Analysts in WallStreetZen's database beat the S&P500 by 98.4% last year?
Our October report reveals the 3 "Strong Buy" stocks that market-beating analysts predict will outperform over the next year.