Our editorial team uses a strict editorial review process to compile all reviews, research, and evaluations of any kind. Our company, WallStreetZen Limited, is supported by our user community and may receive a small commission when purchases are made through partner links. Commissions do not affect the opinions or evaluations of our editorial team.
Trying to choose between Seeking Alpha Premium and Alpha Picks?
Why decide? Get both for an amazing price.
Unlock the ultimate experience:
Get Premium AND Alpha Picks for just $249 with this coupon. (The regular price is $438 — that's more than 40% savings) 
You'll gain access to deep market insights, actionable data and two top stock picks every month sent directly to your inbox.
Wouldn't it be great to sit back, relax, and have profitable investment opportunities fall in your lap?
That's the idea behind Seeking Alpha's newest signal service, Alpha Picks.
But does Alpha Picks deliver?
In this Seeking Alpha Alpha Picks review, I'll answer that question by exploring:
What is Alpha Picks and how does it work?
How has Alpha Picks performed over time?
What features does the service offer?
How much does Alpha Picks cost?
Let's go.
Is Alpha Picks by Seeking Alpha Worth It in 2023?
The Bottom Line: Yes, Alpha Picks by Seeking Alpha is absolutely worth it in 2023 for buy-and-hold investors. Here's why.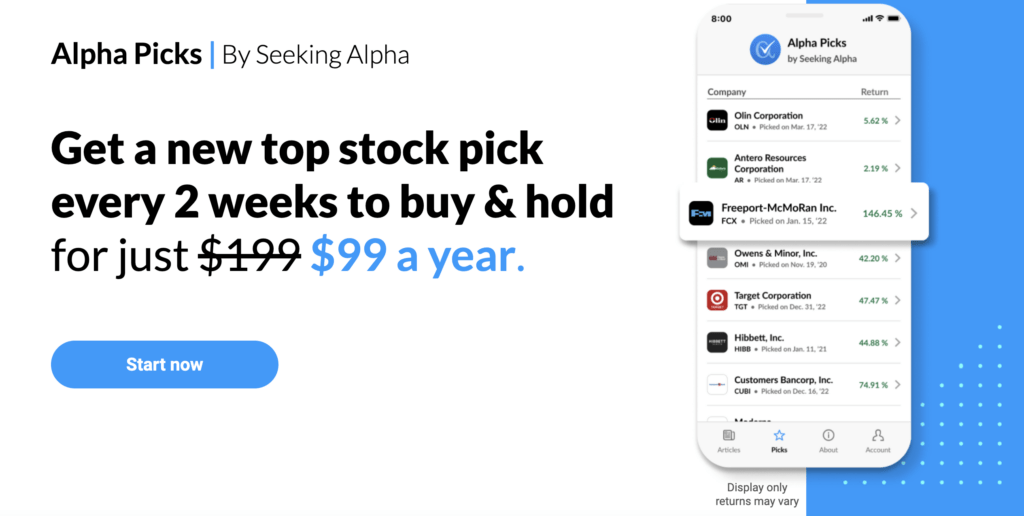 Most buy-and-hold investors want to minimize the time they spend managing their investments — Alpha Picks provides a solution.
The signal service delivers a high-potential stock pick every two weeks, along with a watchlist of current top-rated buys — so you're always aware of the best opportunities.
From there, you have the option to add the stock to your portfolio and hold until you're happy with your returns or Alpha Picks changes its rating.
Now, let's dive into the full Seeking Alpha Alpha Picks review.
Neither Alpha Picks nor any alerts or investment services guarantees profits. Be sure to do your due diligence before entering any trade or investment. Your investments are solely your decisions.
What is Alpha Picks?
To better understand what Alpha Picks is, here's a refresher on its publisher, Seeking Alpha.

Seeking Alpha is a renowned investing community with 20 million monthly users built by founder and CEO, David Jackson.
Jackson worked as an equity research analyst at Morgan Stanley during the tech stock boom and eventual bust. However, he saw the opportunity for combining new technologies — the internet — with crowdsourced equity research. Seeking Alpha was born in 2003.
These days, the financial research platform boasts thousands of expert-vetted contributors who share hundreds of daily ideas and analyses. These ideas are reviewed further by Seeking Alpha editors to ensure the highest standards.
The community also provides:
Timely and trending financial news so you always understand the "why" behind market movements.
Key market data across stocks, bonds, commodities, equities, and much more.
Analyst ratings and historical performance to give context to investment ideas.
Proprietary dividend safety scores and forecasts so you're not caught by surprise when they change.
Exclusive investment ideas and tools with premium subscriptions.
Strong-buy stock picks that perform four times better than the overall market.
But the foundation of Alpha Picks came from Seeking Alpha's proprietary quant-driven stock ratings.
Thanks to the tool's success at picking profitable stocks, Seeking Alpha decided to provide these picks to their community, and Alpha Picks was born.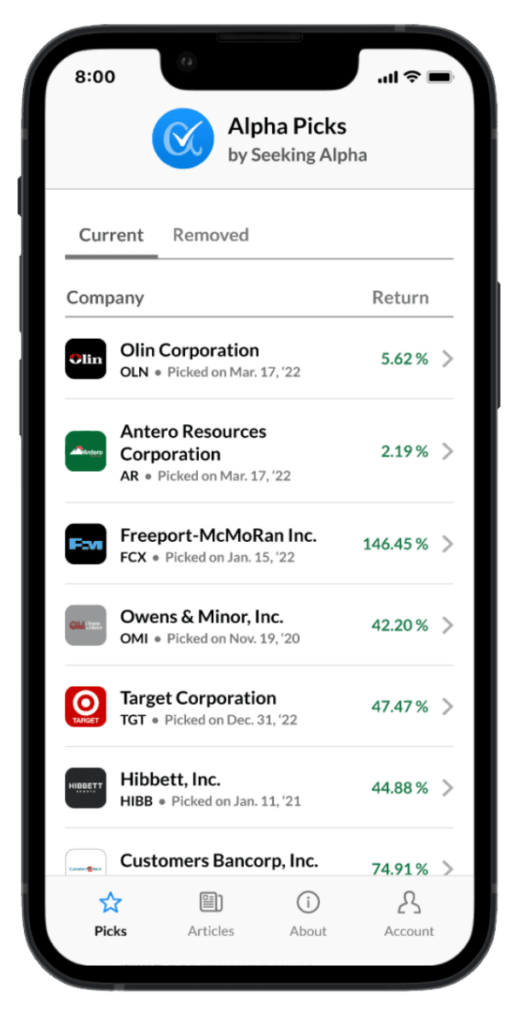 While the algorithm is proprietary, the system is based on analyzing key metrics to determine growth potential, such as:
Valuation
Growth
Profitability
Momentum
EPS (Earnings Per Share) estimates
The service also considers analyst estimates when recommending monthly stock picks.
How Does Alpha Picks Work?
Alpha Picks provides two investment opportunities (out of thousands of stocks) each month based on Seeking Alpha's proprietary quant algorithm.
New subscribers also get access to a list of top-rated stocks that still have potential upside. However, the most recent picks always provide the best entry points as top-rated stocks have had time to increase in price.
From here, what you do with this information is up to you.
The suggestion? Consider adding them to your portfolio and holding long enough for the prices to appreciate.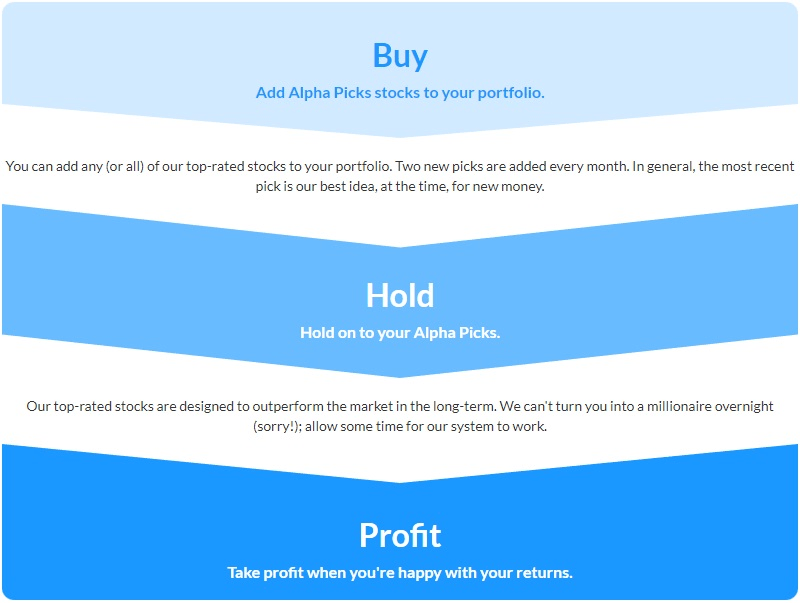 But if for some reason the market environment changes before then, Alpha Picks will notify you with a "sell" alert.
Besides the actual stock picks, you'll receive explanations on why a particular stock is a good buy and an overview of what the company does.
Alpha Picks Features
While it's all fine and well to receive high-potential stock picks each month, you still need conviction to execute — especially during uncertain market environments.
And you can build that conviction through a deeper understanding of how Alpha Picks recommends its stocks.
Each stock must:
Have a "Strong Buy" rating for at least 75 days.
Trade only as common stock.
Have a market cap of over $500 million and a price of over $10.
Plus, it must not have been recommended within the last year.
When a stock matches these criteria, it's added to the top picks list on either the first trading day of the month or at the halfway mark (every two weeks or so).
If any top-rated stocks become "Sells", "Strong Sells", or remain "Neutral" for more than 180 days, they're sold.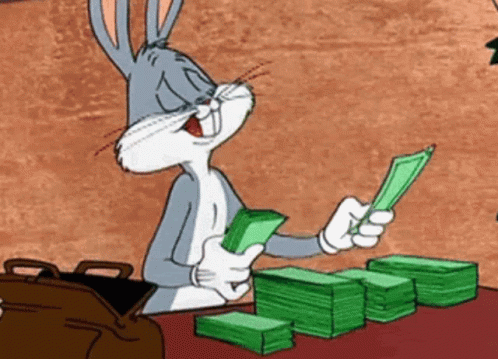 One caveat? If a stock doubles or more in price, only the initial investment should be sold upon becoming a Sell or Strong Sell recommendation. If the same stock receives another Sell or Strong Sell recommendation, it should be fully sold if the position value is less than 2x the original investment.
Finally, all dividends should be reinvested and any cash from stock sales should be fully invested when rebalancing your portfolio.
Alpha Picks Performance
A stock-picking service is only as good as its track record and Alpha Picks' performance is promising.
First up is their backtesting performance: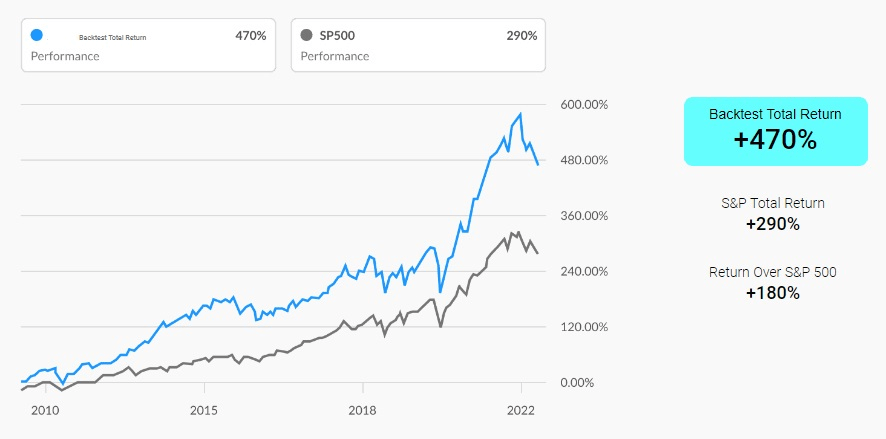 While not indicative of future performance, Seeking Alpha is a trusted community so I'd assume that they've done their best to avoid curve-fitting the backtest. Based on these numbers, Alpha Picks' quant system performs much better than simply buying the index.
But the real proof is in the service's performance since inception.
Here are some highlights from an Alpha Picks subscriber:
Alpha Picks has a success ratio of 73% (16 picks in profit and 6 running at a loss).
The average return of these picks is 19% while the S&P 500 returned 10% over the same period.
Only one position has been officially sold for a profit of 57%.
Notably, the service's oldest picks are all in profit and have returned 14% more than the S&P 500 since inception.
Keep in mind that Alpha Picks has only been active since July 2022, meaning the stock picks haven't had enough time to reach their potential.
Besides that, remember that Alpha Picks is simply a tool in your investing arsenal.
Yes, the service is built upon reputable, tested quant algorithms and investing experience. But Alpha Picks is most effective when you combine it with your own due diligence and unique knowledge and opinions.
After all, the best investors don't blindly follow others. They analyze all information at their disposal through their own lens.
How Much Does Alpha Picks Cost?
Alpha Picks costs $199 per year (plus applicable taxes) but you can get started today for just $99 for your first year with immediate access to top-rated stock picks!
Alpha Picks vs Motley Fool Stock Advisor
While Alpha Picks certainly makes a case for being your go-to signal service, The Motley Fool's Stock Advisor is a competitor that has been around much longer.
Motley Fool Stock Advisor also boasts competitive returns — 3x more than the S&P 500 over the last 20 years. They also have over 170 stock picks that have returned 100%+ with some returning over 15,000%!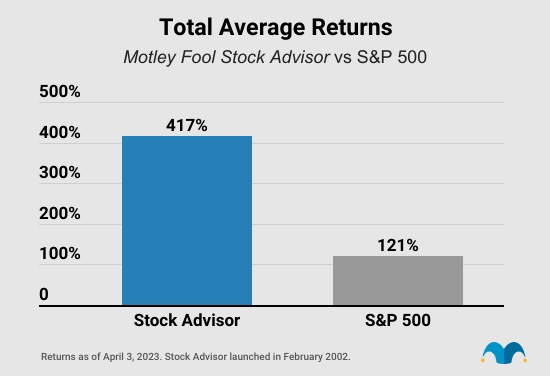 A Stock Advisor subscription provides you with two picks each month along with The Motley Fool's top 10 buys from a list of 300 stocks.
They also share stock reports and educational content, and give you access to a community where you can network with other investors.
But how does Stock Advisor compare to Alpha Picks when it comes to investing strategy?
Stock Advisor doesn't share specifics like Alpha Picks, but they do share their "investing philosophy":
Build a diversified portfolio of 25 – 30 stocks over time.
Hold stocks between 5 – 25 years to allow time for appreciation.
Compound investments through additional capital.
Ignore volatility or add during declines.
Let your winners run.
While this is quite vague compared to Alpha Picks' more actionable criteria, you can easily create a portfolio strategy for yourself with Google's help.
Motley Fool Stock Advisor costs $199 per year which is on par with Alpha Picks.
Which service should you choose?
On one hand, Stock Advisor is a proven stock-picking service with hundreds of high-quality picks and testimonials from trusted names, such as The Economist.
On the other hand, Alpha Picks is a newer service without a long track record but it is backed up by Seeking Alpha's reputation as a top investing community and has done well so far. Besides that, Alpha Picks is much more transparent about its stock criteria and investing process.
Final Word: Alpha Picks Review
Based on everything I covered during this Seeking Alpha stock picks review, I believe that Alpha Picks is 100% worth it in 2023.
Although they haven't had the chance to build an extensive track record, the service's backtest along with its performance since inception is promising. Besides that, Seeking Alpha's reputation as a top-performing investment community is another vote of confidence.
For these reasons, I'd rate Alpha Picks a 4.5/5 with the main drawback being its short track record.
Overall, Alpha Picks' transparent criteria, strategies, and simple investment rules make it a must-have signal subscription for buy-and-hold investors.
---
FAQs:
Is Alpha Picks any good?
Alpha Picks is an excellent stock-picking service that has proven not only profitable during backtesting but also during the current market environment.
How does Alpha Picks work?
Alpha Picks provides subscribers with two high-potential stock picks each month based on Seeking Alpha's quantitative rating system.
Is Seeking Alpha legit?
Seeking Alpha is a legit investing community with 20 million active users each month. They're also one of the best sources of investing information from professional money managers.
Where to Invest $1,000 Right Now?
Did you know that stocks rated as "Buy" by the Top Analysts in WallStreetZen's database beat the S&P500 by 98.4% last year?
Our September report reveals the 3 "Strong Buy" stocks that market-beating analysts predict will outperform over the next year.