Our editorial team uses a strict editorial review process to compile all reviews, research, and evaluations of any kind. Our company, WallStreetZen Limited, is supported by our user community and may receive a small commission when purchases are made through partner links. Commissions do not affect the opinions or evaluations of our editorial team.
How much interest did your savings account earn last year?
According to the Federal Deposit Insurance Corporation (FDIC), the national rate is 0.33% APY — there must be a better option.
Enter Varo Bank, a 100% digital bank that avoids many of the fees associated with physical branches and offers one of the highest-yield savings rates in the nation.
But is it the right bank for you?
This is the review to end all Varo Bank reviews. We'll take a comprehensive look at everything you need to know, including how a Varo savings account stacks up to other banks, Varo fees, and other pros and cons of this modern fintech bank.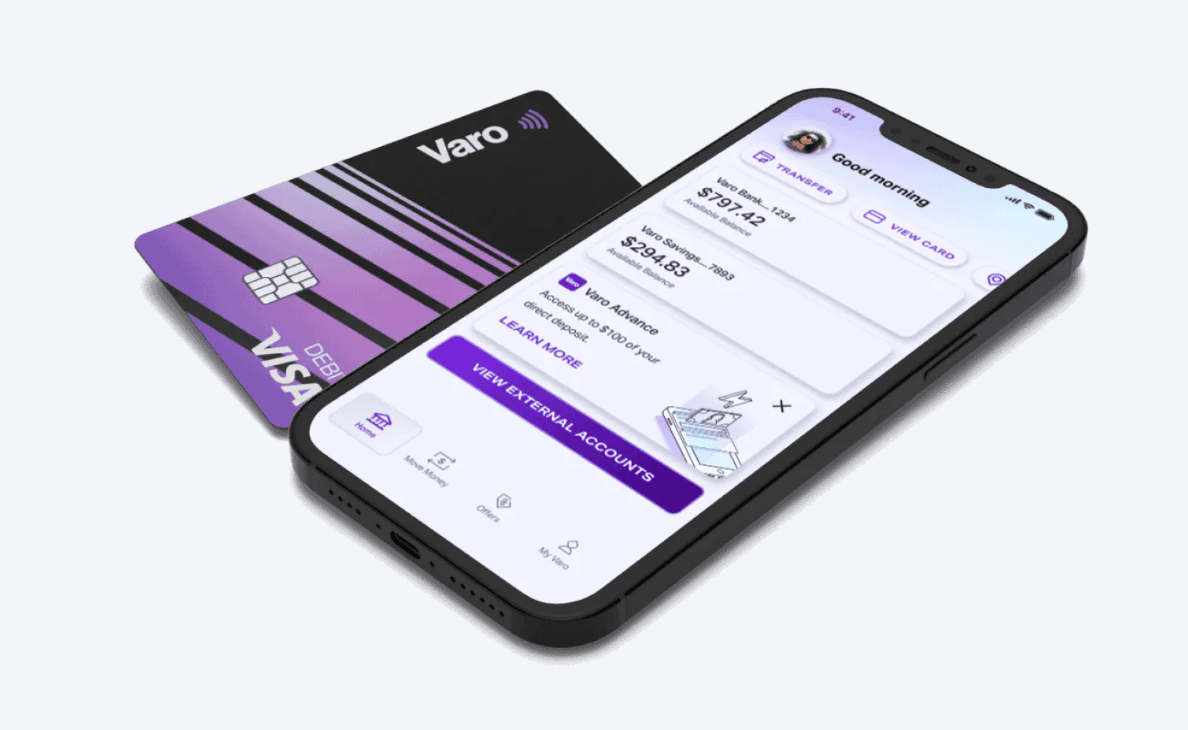 Varo Bank Review: Is Varo a Real Bank?
The Bottom Line: Yes, Varo Bank is a real bank, and it's quite good.
Varo Bank N.A., Member FDIC, is the first U.S. consumer fintech to receive a national bank charter from the Office of the Comptroller of the Currency in 2020.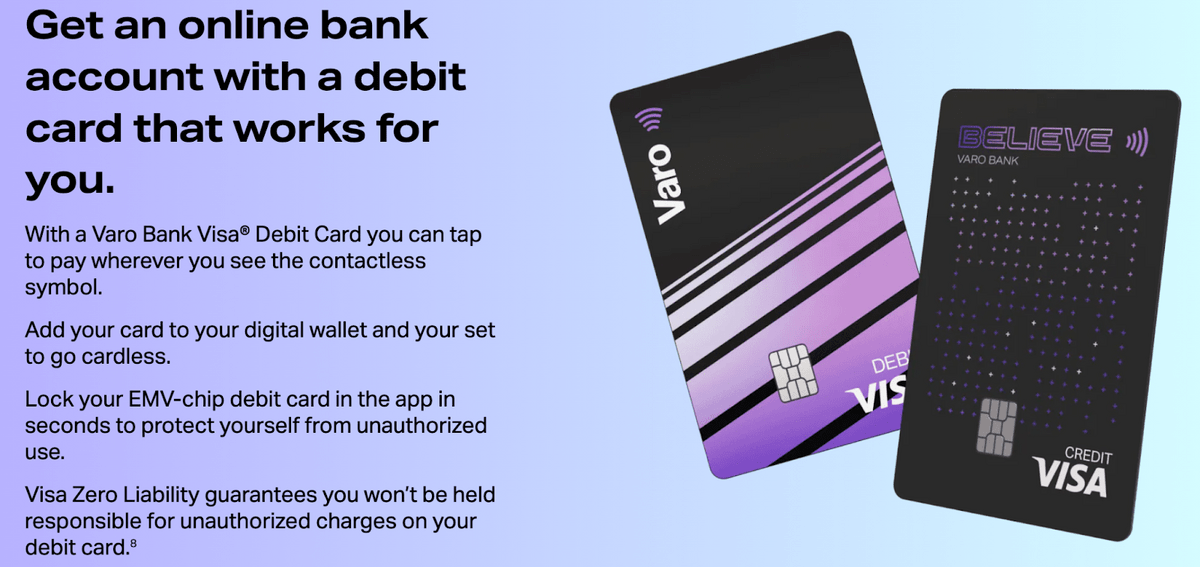 Since then, they've been trailblazing a path to modernize banking.
Keep reading to learn more…
What is Varo Bank?
Varo Bank is a fintech company offering 100% online mobile banking services. Since their inception in 2015, CEO Colin Walsh has set out to pair banking industry veterans with tech experts to modernize the banking industry.
According to Walsh, "We're building a bank from the ground up to improve the financial health of our customers through better technology and total transparency." 
Varo Bank accounts are loaded with features, including:
Earn up to 5% Annual Percentage Yield on your savings (much higher than the FDIC-reported national average of 0.33% as of 3/20/2023)
No minimums
No monthly fees or overdraft fees
Send and receive money with Zelle
Deposits are FDIC insured up to $250,000
That all sounds good. But the fact that there are no physical locations is unusual. It might have you wondering…
Is Varo a real bank?
What about cash withdrawals?
Not to worry. Varo has 55,000+ fee-free Allpoint ATMs in plenty of places you probably already shop, including:
Let's move past what is Varo bank and into more detail about Varo savings account features…
Varo Bank Accounts:
Varo Savings Account
With a Varo savings account, you can start earning 3% APY right away, then qualify to earn an additional 2% if you meet certain requirements.
What is APY? This stands for Annual Percentage Yield and shows the total interest earned over the course of one year. This takes into account how your balance compounds over time.

In addition to the high-yield savings account offered at Varo (no minimum required), here are two more ways your savings account can help you reach your goals faster:
Save Your Pay: Choose a percentage of your direct deposits to automatically go to savings.
Save Your Change: Transactions are rounded up to the nearest dollar and moved to savings.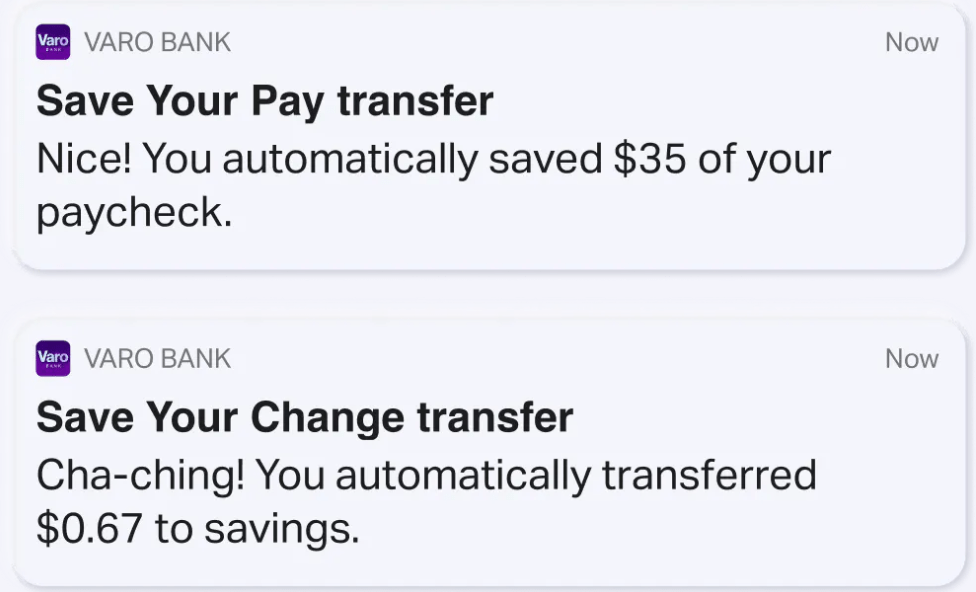 Varo Checking Account
Varo offers checking accounts in addition to the Varo savings account. Here are some of the deets:
No minimum balance
No overdraft fees (Industry standard is $35)
No monthly maintenance fees
Direct deposit
No transfer fees
No foreign transaction fees
55,000+ Allpoint ATMs to access for free at places you already shop
Varo Bank is able to offer the features of a traditional bank, such as direct deposit, ATM withdrawals, and transfers — all without physical branches.
Because Varo Bank does not need to maintain physical locations, the company can avoid charging customers a number of monthly and other transactional fees.
Other Varo Bank Features
If you find yourself in a cash crunch, Varo Advance has you covered.
With Varo Advance, you can borrow up to $250 to cover bills and other unexpected expenses. You start with just $20 and qualify for higher amounts based on direct deposit amounts and historical timely payments.
Think of it as a small-dollar line of credit. The "advance" aspect means a loan is deposited to your Varo Bank Account which must be repaid.
As you qualify for higher advances, fees begin to range from $0-$15 per advance. This is a unique feature most banks don't offer that can provide some peace of mind.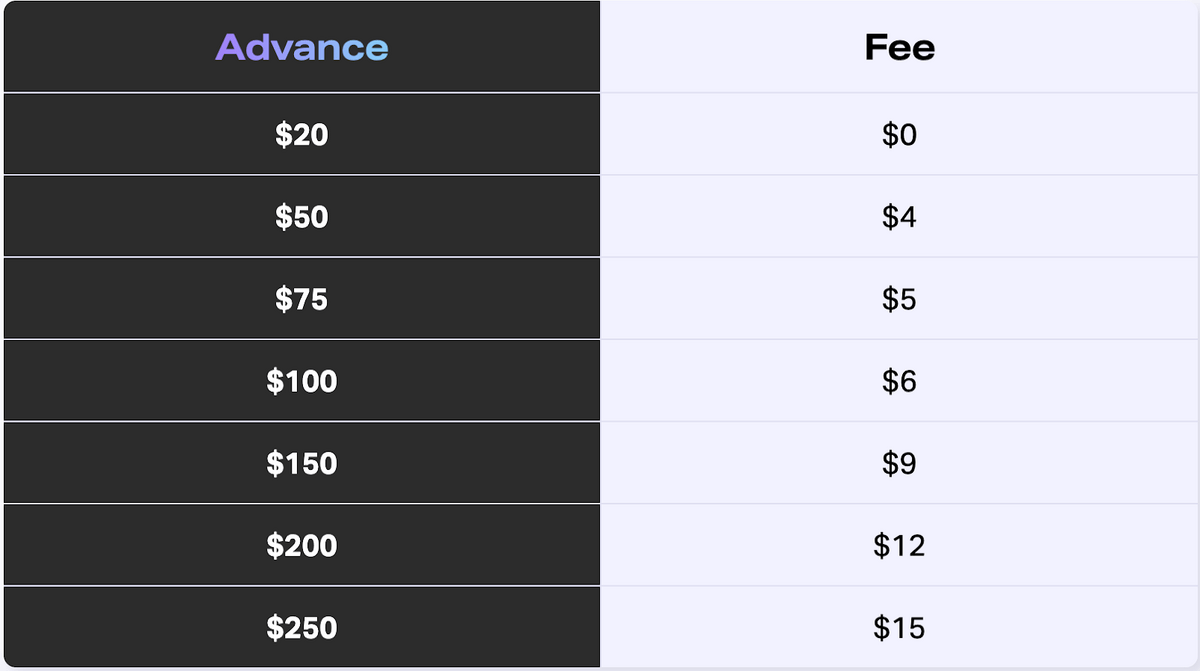 Here's how to qualify:
Make sure your Varo Bank Account has been active for 30+ days
Activate your Varo Debit Card
Set up direct deposit and ensure $1,000+ in deposits are made in the last 31+ days
Pro tip: Curious about how Varo Advance impacts your credit score?
A credit card cash advance can increase your credit utilization, which can negatively impact your credit score. However, a cash advance with Varo Advance does not impact your credit score.
Speaking of credit, Varo Believe is another feature Varo Bank offers to help you build credit. Here's how it works:
Add money: Transfer money from your Varo Bank Account to your Varo Believe secured account. This is the amount you can spend on your Varo Believe Card.
Use your card: Use it anywhere Visa accepted, for gas, groceries, and other everyday items.
Build credit history: By turning on Safe Pay, you pay your statement balance with the money you already transferred over.
Track your credit score: Varo will report your payment history to the three major credit bureaus and you'll be able to see your credit score in the app.
The Varo Believe feature is a great way to use your own money to build credit while managing your debt. Unlike traditional credit cards, there's no minimum security deposit. Instead, you stay in control by choosing your spending limit by transferring your desired amount from your Varo Bank Account to your Varo Believe Secured Account.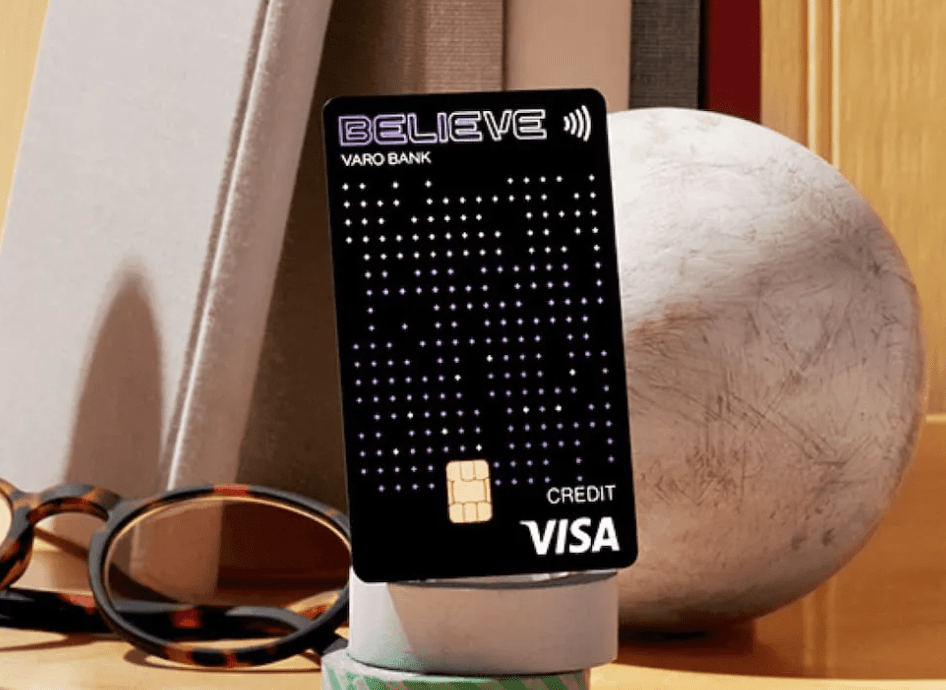 Here are some other features of the Varo Believe Card:
No credit check to apply
No annual fee
No minimum security deposit
Pay your balance with a security deposit
No APR (Other well-known cards can be as high as 23%)
Varo Bank Fees
What about Varo fees?
Traditional banks with branch locations have higher overhead which is passed on to the customer in the form of account and transaction-related fees. Since Varo is 100% digital, they're able to pass along these savings to the customer.
That means no maintenance fees, no transfer fees, no foreign transaction fees…
So how does Varo Bank make money? Here are some fees they do charge:
Varo Bank Account
$3 for out-of-network ATM withdrawals (non-Allpoint ATMs)
$2.50 for over-the-counter cash withdrawals
Varo Advance
Fees charged per advance for any amount over $20
Varo Believe
$3 for out-of-network ATM withdrawals (non-Allpoint ATMs)
Pros and Cons of Varo Bank
| | |
| --- | --- |
| Pros | Cons |
| Up to 5% APY on savings | No in-person services |
| No minimum balance | No retirement accounts (IRA or Brokerage) |
| No monthly fees | No business accounts |
| FDIC Insured up to $250,000 | |
| Direct deposit early access | |
How to Open an Account
A common thread in Varo Bank reviews? Opening an account — whether it's a checking account or Varo Savings Account — is pretty simple.
First, download the Varo app. Then, answer a few quick questions and submit your application.
Once you get a response, you can get started immediately. There are several different ways to deposit money into your Varo Bank Account:
Direct deposit: Set up for paychecks and take advantage of early deposit (receive money two days earlier than traditional banks)
External account transfer: Transfer within the app or from your other bank's online tools
Digital wallets like Venmo or PayPal: Initiate these payments from the digital wallet
Mobile deposit: In the app, go to Move Money > Deposit Checks and deposit by taking two photos of the check
Cash deposit: Deposit cash when you check out at Green Dot locations nationwide — you'll find locations at Walmart, CVS, Walgreens, Kroger, and Dollar General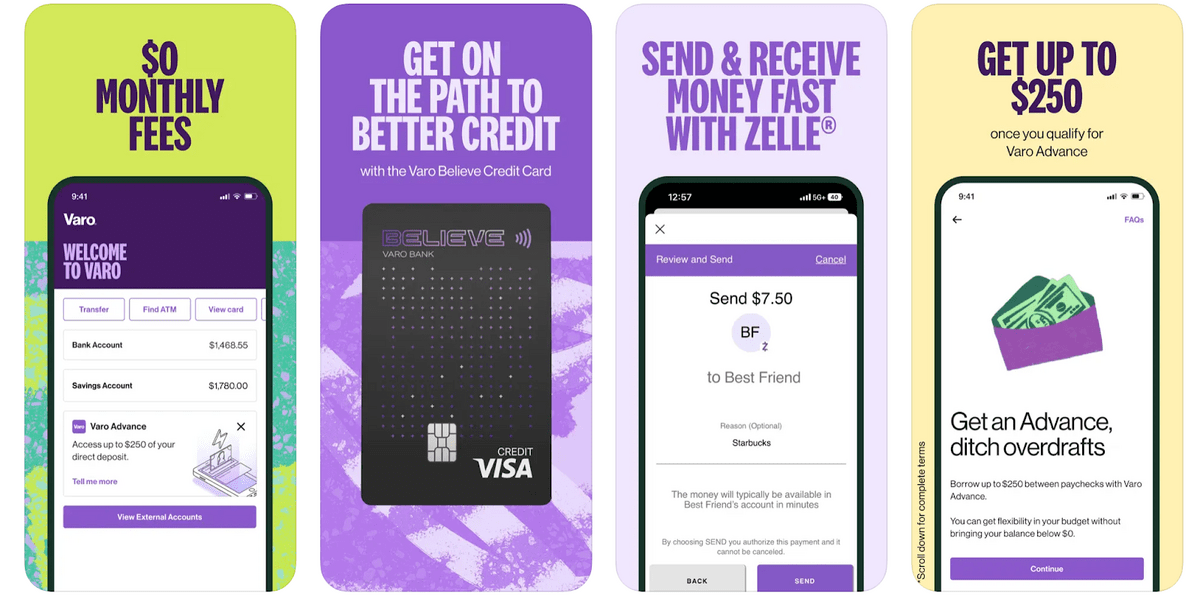 Final Word: Varo Bank Reviews
Varo Bank has built a pioneering all-digital bank designed to improve the financial health of its customers.
Most Varo Bank reviews will talk about the great savings account APY. But as you've learned in this review, Varo has a lot more to offer than great interest rates — they offer lower fees, easy money transfers, and easy-to-use tools to help you build credit.
That said, Varo doesn't have everything. If you want to take your investing to the next level by buying stocks, mutual funds, or other assets, you may need to look for a more comprehensive investment platform.
---
FAQs:
Why is Varo closing accounts?
Varo is regulated by the OCC, FDIC and CFPB and must follow their respective mandates to eliminate criminal activity and protect client accounts. If a Varo account is closed or frozen, there is likely a valid reason such as suspicious and/or unusual activity, which can result in an account suspension or termination.
What are the cons of Varo Bank?
The biggest drawback of Varo Bank is the lack of investing options available. For instance, they don't offer retirement accounts such as a traditional or Roth IRA.
Is Varo Bank trustworthy?
Signs point to yes. Deposits at Varo are insured by the FDIC up to $250,000. In addition to FDIC protection, your information is protected with industry-standard encryption technology.
Is Varo a real bank account?
Yes. In June of 2020, Varo received approval from The Office of the Comptroller of the Currency (OCC) for a national bank charter. The OCC is an independent bureau of the US Department of Treasury that is responsible for regulating all national banks and federal savings associations.
Where to Invest $1,000 Right Now?
Did you know that stocks rated as "Buy" by the Top Analysts in WallStreetZen's database beat the S&P500 by 98.4% last year?
Our September report reveals the 3 "Strong Buy" stocks that market-beating analysts predict will outperform over the next year.