Our editorial team uses a strict editorial review process to compile all reviews, research, and evaluations of any kind. Our company, WallStreetZen Limited, is supported by our user community and may receive a small commission when purchases are made through partner links. Commissions do not affect the opinions or evaluations of our editorial team.
Rocket Money is a money-saving app originally designed to help you monitor and cancel unused subscriptions. Originally known as Truebill, the app was redesigned and rebranded after being acquired by Rocket Companies in December 2021.
Since then, the app has evolved into a holistic financial sidekick that can help you "save more, spend less, see everything, and take back control of your financial life."
Rocket Money will eliminate unnecessary subscription charges, negotiate and reduce your bills, automatically save for you, educate you on sound money management and your credit score, and teach you budgeting skills. Its basic features are free, and you can add on premium tools if you think you need them.
The following Rocket Money app review explains what Rocket Money is, how it works, what it offers in terms of value, whether it really can help you save money, and how much it charges for its premium services.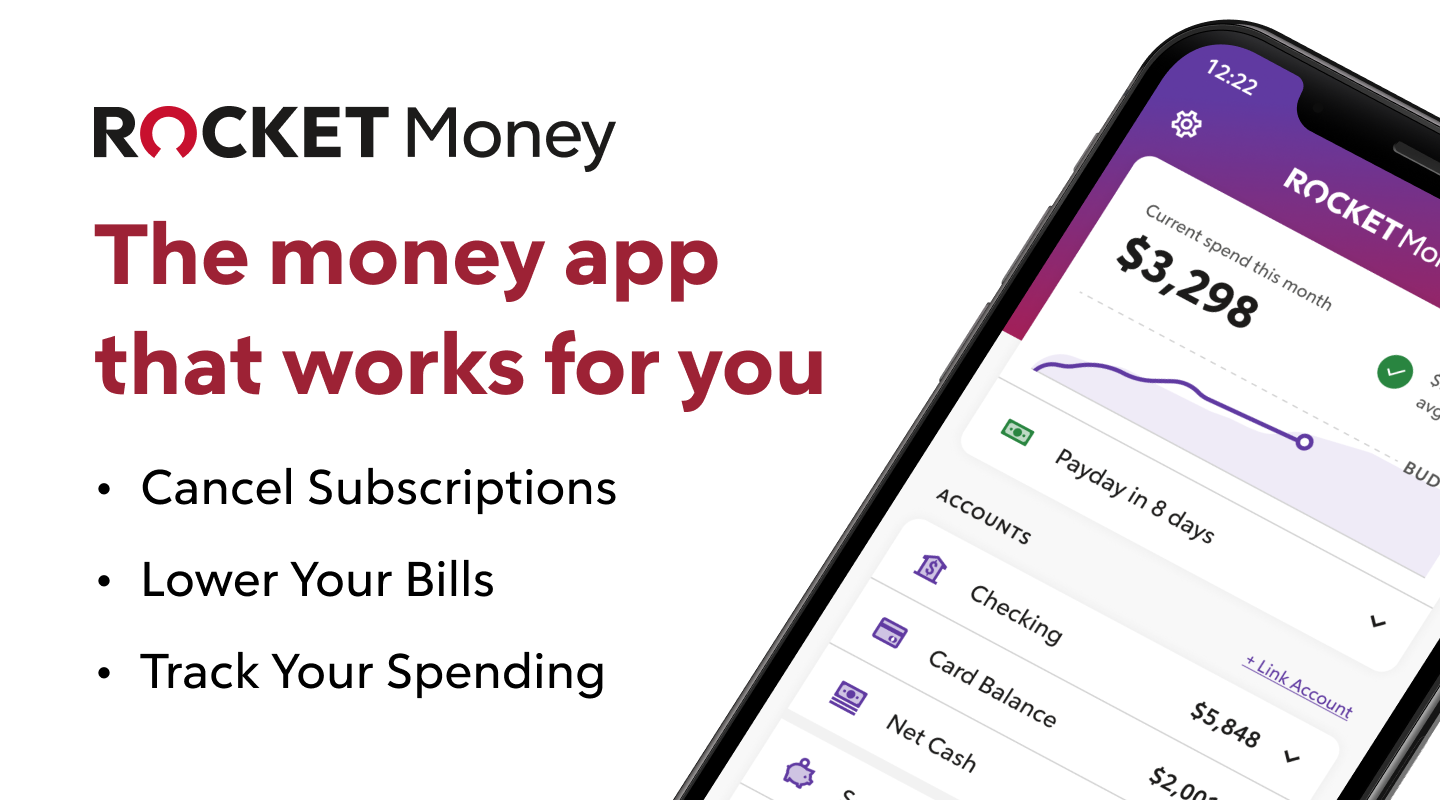 Rocket Money Review: Is Rocket Money Safe and Legit?
The Bottom Line: Yes, Rocket Money is safe and legit.
It has the same bank-grade encryption software used by companies like Venmo, and the app has thousands of positive reviews from real people on sites like Reddit, TrustPilot, and more. While we can't promise it will be right for you, it's definitely not a scam.
The Rocket Money app finds and eliminates costly and unused subscriptions, negotiates with service providers to reduce your monthly expenses, and helps you budget and manage your finances.
It's like having an accountant in your back pocket working 24 hours per day to lower your expenses and save you money. If you don't have the time or inclination to go over your bank statement with a fine-tooth comb, the Rocket Money app could plug some holes in your budget you didn't even know were there.
Who is Rocket Money Best For?
If you're a busy person or suspect you're paying for things you shouldn't, try Rocket Money (you can try it for free).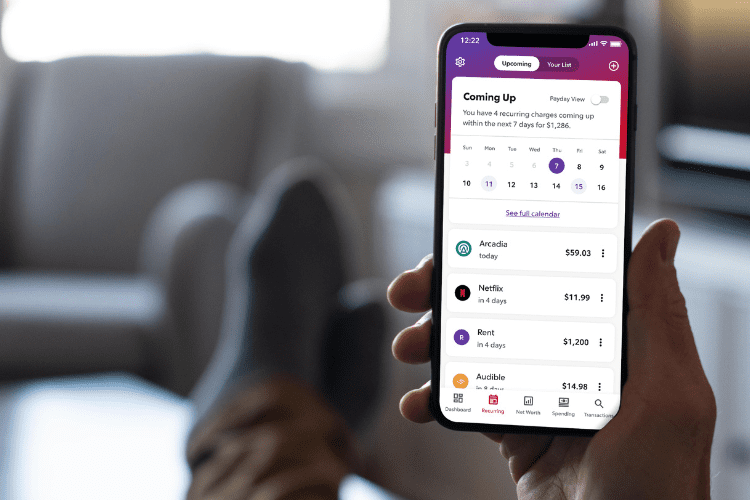 Like thousands of other people, I signed up for Apple Streaming to watch the comedy series Ted Lasso during COVID. 3 months later I realized I had been paying for Apple TV+ without even realizing it.
In a few minutes, I had canceled the subscription right from my phone.
While a $6.99/month subscription may not make or break the bank, a recent survey showed that Americans are paying $133 more per month on recurring subscriptions than they assumed. Those $6.99 subscriptions can really add up, especially over a year or two.
The app does more than just whittle down your monthly expenses, though. It can also give you a snapshot of your financial health (and offer suggestions on how to improve it), help you budget responsibly, and show you places you might be able to easily reduce spending.
Rocket Money is best for:
People who want to save money and budget effectively.
People who suspect they are paying for unused subscriptions.
People who would like an advocate to negotiate better service deals.
In 2023, that criteria fits pretty much everybody.
What is Rocket Money?
Rocket Money, known as Truebill up until August 2022, was originally an app designed to save you money by identifying and managing subscriptions. It has since become a complete budgeting and saving app.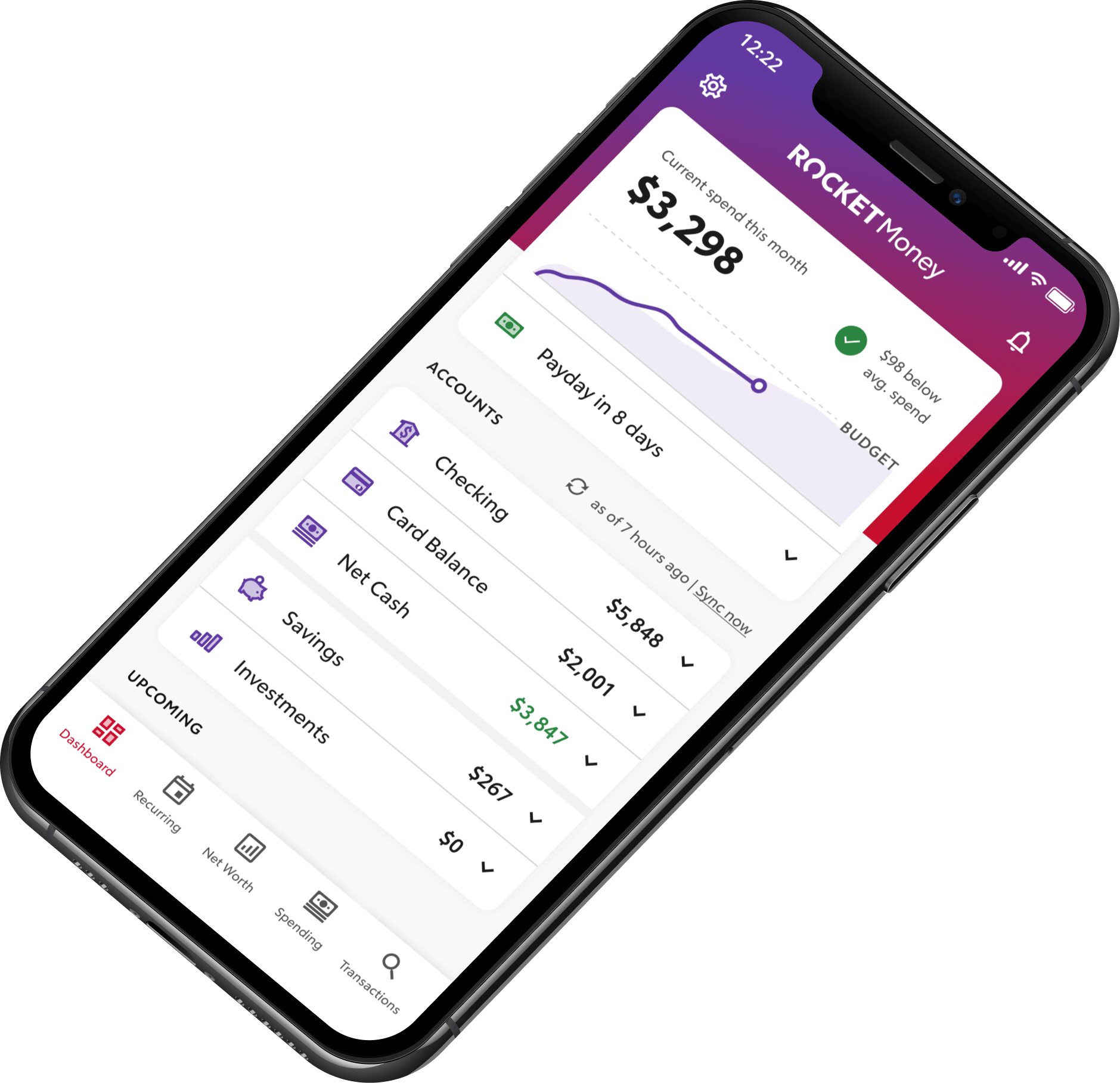 The app is free to download, but you will be charged if you use its premium services. For example, if the app is able to save you money by renegotiating your existing service contracts, Rocket Money will take a 40% cut of those savings. That sounds like a steep rate, but if the app saves you $200 and takes $80, you still have $120 you didn't have before.
You don't pay unless you save.
The Rocket Money app helps you save by managing your subscriptions and configuring a budget. It will also negotiate with service providers, such as Comcast or Verizon, to find you a better deal and lower your bills. It will even find refunds for you if there is a break in service, such as a power outage.
Rocket Money will ask you for your credit card information when you sign up, and any fees as a result of savings are charged to your card.
If you just want to use the app to get a better gauge of where your money is going (which is how I use it), Rocket Money is completely free to use.
To better understand how the app saves you money, our Rocket Money review looked at each of Rocket Money's features.
Rocket Money Features:
The Rocket Money app has broadened its range of features since older Truebill reviews. Some of them are free, and some cost extra:
Manage Subscriptions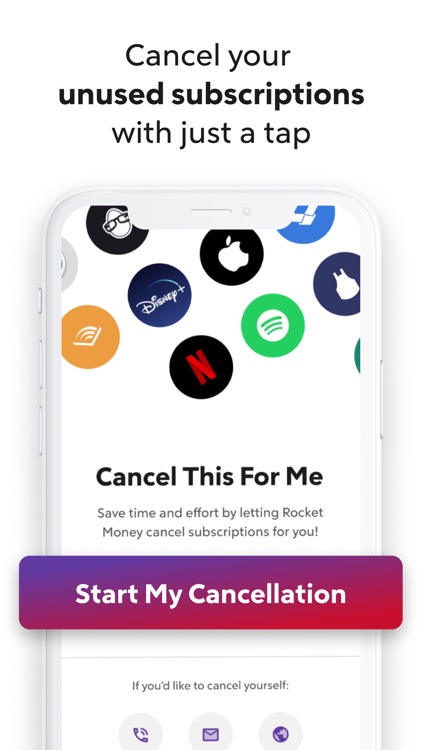 From time to time, we all forget to cancel that free 30-day trial and end up paying for a service we never use. You could be paying a hundred dollars a month for subscriptions you don't use.
Rocket Money will manage these subscriptions by monitoring your bank or credit card statement and show you exactly where your money is going.
The app will find recurring monthly charges you have on your account from subscriptions and display them for you on one screen. You can then identify the subscriptions you no longer want and cancel them.
It seems like some companies make it purposefully difficult to cancel a subscription (no surprise here!), so Rocket Money has a premium service that does it for you. The cost of premium services is between $3 and $12 per month.
Budgeting
Budgeting tools are a more recent addition to Rocket Money's arsenal.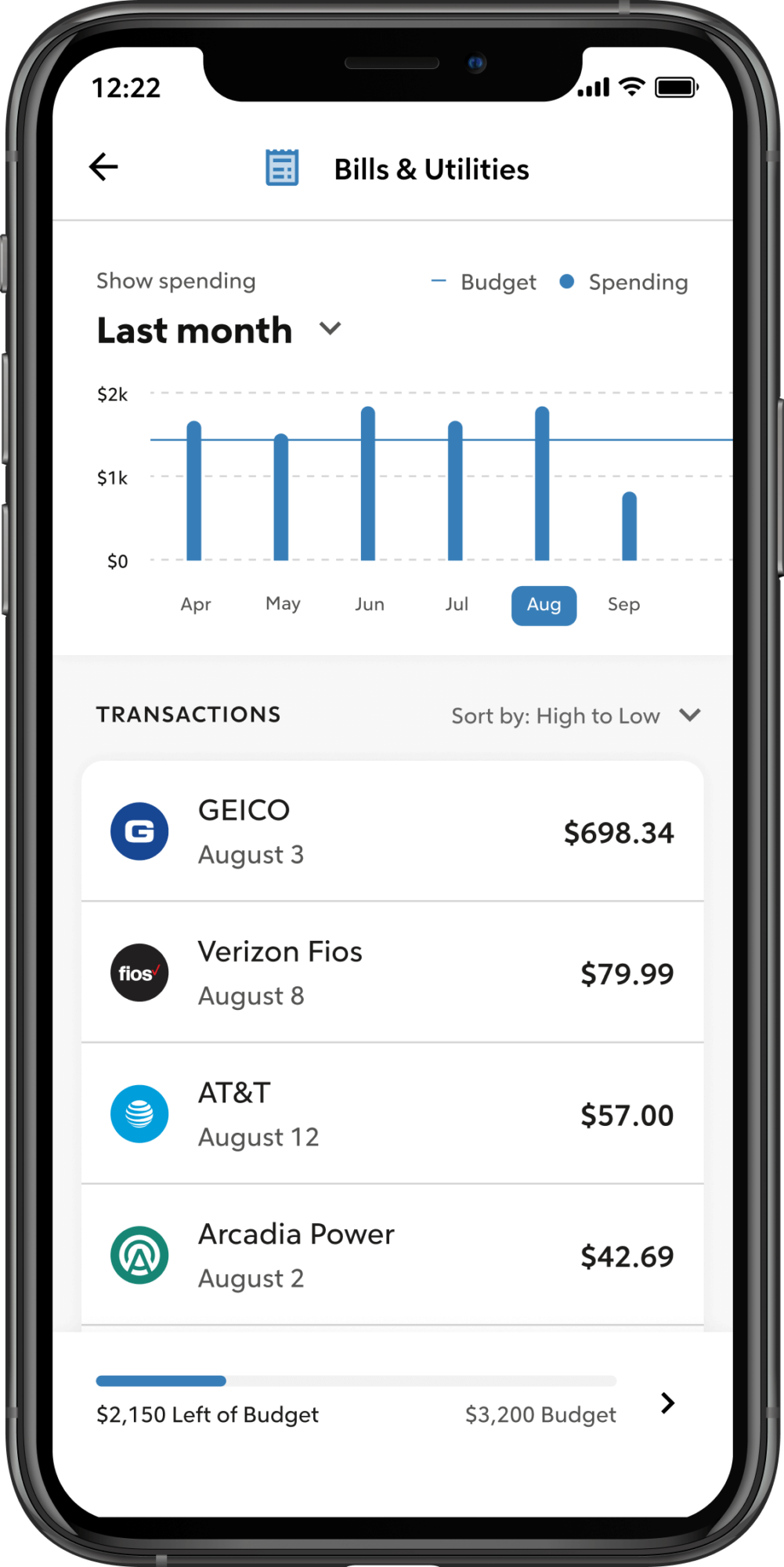 To help you manage your budget, the app displays your income and expenses (organized by spending categories) each month. It will also analyze your transactions, tell you how much you have available to spend each month, and show your spending history.
You can set amounts for how much you want to spend each month on various categories (food, entertainment, clothes, etc.). Real-time alerts keep you on track and prevent you from overspending.
Net Worth
Ever wondered what your net worth is? Wonder no more.
Rocket Money has a net worth tracker that monitors your major assets and liabilities. You can add categories such as a 401k and real estate.
Autopilot Savings
Rocket Money helps you automate savings by transferring money from a connected checking account to a Rocket Money smart savings account.
You choose the amount you want to save and set the deposit frequency, then let the app take care of the rest.
Spending Insights
Rocket Money gives you spending insights that can motivate you to save.
It will show you where you spend most of your money and suggest how to adjust your spending habits to reach your financial goals. It will notify you when bills are due and if your balance is low, helping you avoid overdraft and late fees.
How Bill Negotiation Works
When you open an account, you will be asked to enter your monthly bills into the database. To negotiate a better rate, you must upload a copy of your most recent bill or connect the service provider directly to your online account and provide a description of the service you're already receiving.
You will be asked to enable "True Protect," which allows Rocket Money to negotiate a better price on the bill. Often, Rocket Money can get you onto a promotional plan, reduce your fees, or simply lower the rate.
Let's say Rocket Money lowers your Verizon bill from $150 to $115, you save $35 and pay Rocket Money $14 (40%).
Is Rocket Money worth it? That depends on how likely you are to pick up the phone and negotiate your rates yourself. If you're willing to spend an hour or two doing that, then paying Rocket Money 40% of your savings may not make sense. For most people, though, the 60% they'll save each month is basically found money, making it a no-brainer.
The app can also request refunds from service providers for phone and cable outages that you are unaware of and for overdraft or late fees for connected accounts. The bank must permit the app to do so, however, and the account has to be linked to the app.
Credit Scores
If you're interested in receiving a loan for a car or a house now or sometime in the future,  your credit needs to be in excellent shape.
You have access to your credit report and history through the Rocket Money app, and you can receive alerts if your score is about to change. The app can help you to understand how credit scores are calculated and how your financial history affects your score.
Education
Rocket Money has a free, comprehensive learning center with articles on budgeting and saving, debt and credit, homeownership and investing, and more.
If you find personal finance to be an intimidating topic (and don't we all), its library has plenty of simple, actionable information that can quickly show you how easy it is to get your financial house in order.
Rocket Money Cost (Fees & Pricing)
Rocket Money's app is free to download and will show you an overview of where your money is going and what subscriptions you're paying for.
However, its premium features are where it shines: Budgeting tools, bill negotiation, subscription cancellations, automated savings, and more.
Rocket Money Premium costs between $3 and $12 per month.
If you select a $3 or $4 package, you pay annually. Otherwise, you're charged monthly. So, the cost could be just $36 per year or $144 per year. Depending on how many forgotten subscriptions you have, or how high your bills are, this could be a bargain.
Bill negotiation is separate, and you pay between 30% to 60% for successful bill negotiations.
Your subscription can be modified or canceled any time straight from the app.
Pros and Cons of Rocket Money
Rocket Money can save you money but you will have to pay for its most effective features.
| | |
| --- | --- |
| Pros | Cons |
| Savings from canceled subscriptions and lower bills | Effectively, a 40% fee for savings |
| Your finances are organized all in one place | Budgeting and bill negotiation features cost more |
| Easy (and free) to monitor spending habits | There are several steps involved in canceling if you have ongoing bill negotiations |
Is Rocket Money Safe?
Is Rocket Money legit, and is it safe?
There are risks with any app that you use for your banking, finances, and bill paying. Rocket Money uses bank-level 256-bit encryption and partners with Plaid, a financial services company that securely connects your bank account with other financial institutions using encrypted data.
Plaid also serves other well-known apps, such as Venmo, Betterment, and Chime.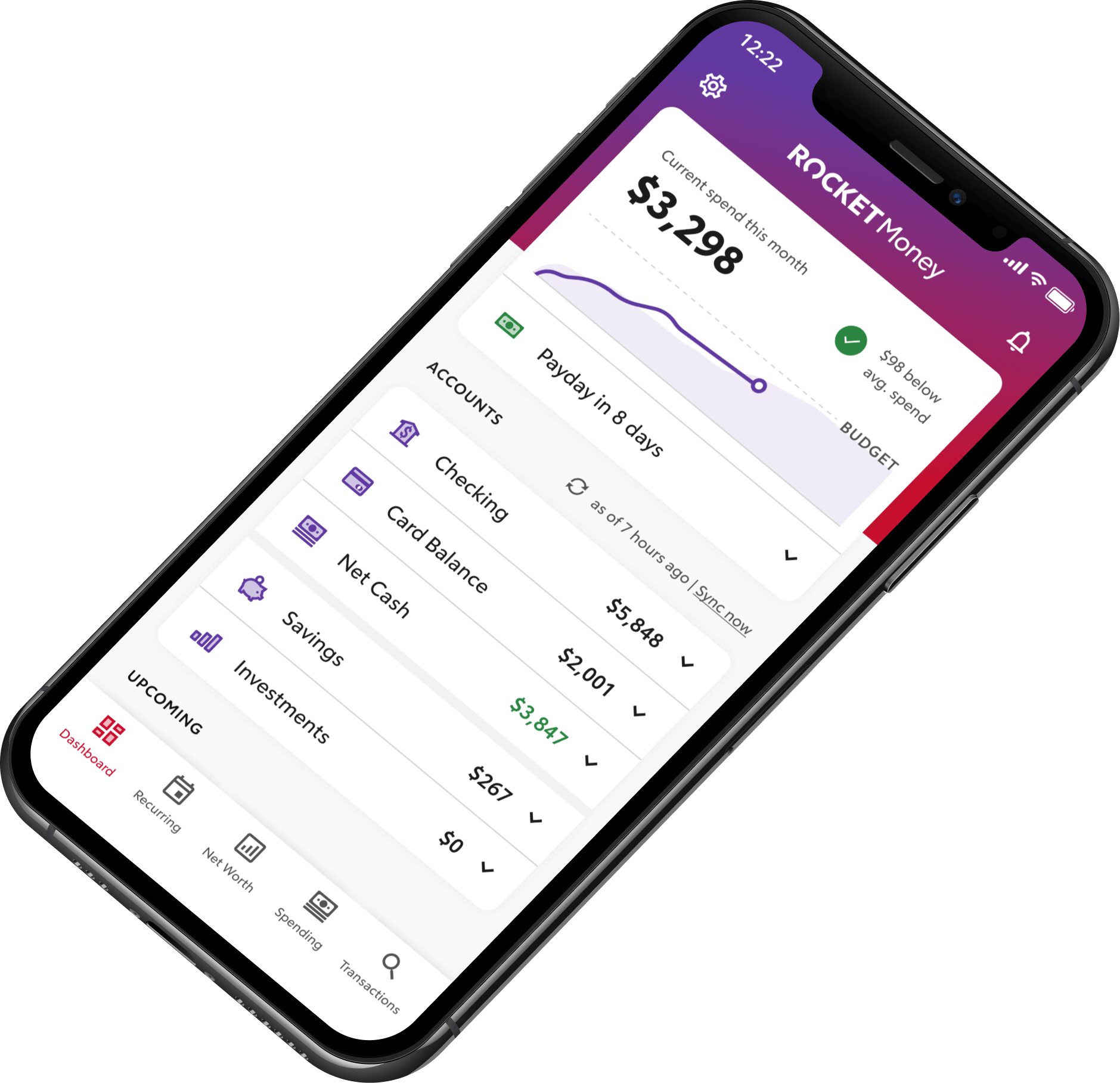 Also, if you're a premium user, the company offers identity theft monitoring and protection up to $1 million.
How to Open an Account on Rocket Money
To open an account on Rocket Money:
Download the app from the App Store or Google Play (for iOS and Android). You can also use a web browser by creating a Rocket account and logging into your account on the Rocket Money website.
Click on "Get Started," and enter the information requested (name, email address, password).
Rocket Money will ask you some questions about your lifestyle (whether you rent or own a home, marital status, whether you have student loans) and financial goals.
Link the accounts that you want to be checked for subscriptions.
Select how much you want to pay per month for Rocket Money from $0 or $3 to $12 (if you select $0, you cannot use Premium plan features.)
You're ready to go!
Final Word: Rocket Money Review
A quick review of user comments on Reddit, Truebill reviews, and Rocket Money reviews shows it has saved users hundreds of dollars by finding unwanted subscriptions and lowering bills, particularly, for those who are not well-organized with their finances. The free budgeting features are also worthwhile for those who need help monitoring their spending.
The Premium bill negotiation feature helps save money and time, but you could call billing companies yourself and negotiate a better deal if you have the time. That goes for canceling identified subscriptions also.
At the end of the day, it's a matter of how well you know yourself. Are you really going to pick up the phone and renegotiate all your service contracts and manually cancel every subscription? If so, you don't need Rocket Money.
But most of us don't have the time or inclination to hunt down every misspent dollar, so paying Rocket Money to do it for you is vastly preferable to letting that money just go down the drain every month.
Ultimately, if you're curious if Rocket Money will work for you, there's no risk in giving it the chance to save you money. After all, the worst that can happen is that you end up right where you are now.
---
FAQs:
How trustworthy is Rocket Money?
Rocket Money reviews show it is very trustworthy and has many happy users. Rocket Money is rated 4.5 out of 5 by Trust Pilot.
It is much better than when it was known as Truebill - Truebill reviews were mixed.
How much does the Rocket Money app cost?
You can use Rocket Money's app for free.
However, if you want Premium budgeting features or the app to cancel unwanted subscriptions for you, the Rocket Money costs between $3 and $12 per month. This is on top of the 40% you will pay on any savings the app gives you. Bill negotiation is separate, and you pay between 30% to 60% for successful bill negotiations.
How does the Rocket Money app work?
The Rocket Money app will scan your accounts and itemize subscriptions that you are paying. That makes it easy for you to cancel any you don't need. If you choose the Premium service, the app will also negotiate lower bills with service providers, such as phone and cable companies, to save you money, and request refunds for outages or breaks in service. You can also try the app's budgeting tools.
Rocket Money is free to download. Then, for every dollar you save by using the app, the company takes 0.40 cents, 40%, as a fee. If you don't save anything, you will not be charged.
How do I cancel Rocket Money?
To cancel your Rocket Money account, go to "Settings," "Profile," and click on "Delete my account."
Where to Invest $1,000 Right Now?
Did you know that stocks rated as "Buy" by the Top Analysts in WallStreetZen's database beat the S&P500 by 98.4% last year?
Our September report reveals the 3 "Strong Buy" stocks that market-beating analysts predict will outperform over the next year.