Zen Score can help you quickly understand the fundamental strengths and weaknesses of a stock in minutes, instead of hours.
We've automated some of the most common and time-tested due diligence checks used in fundamental analysis of stocks across the following dimensions: Valuation, Forecast, Performance, Financials, Dividends.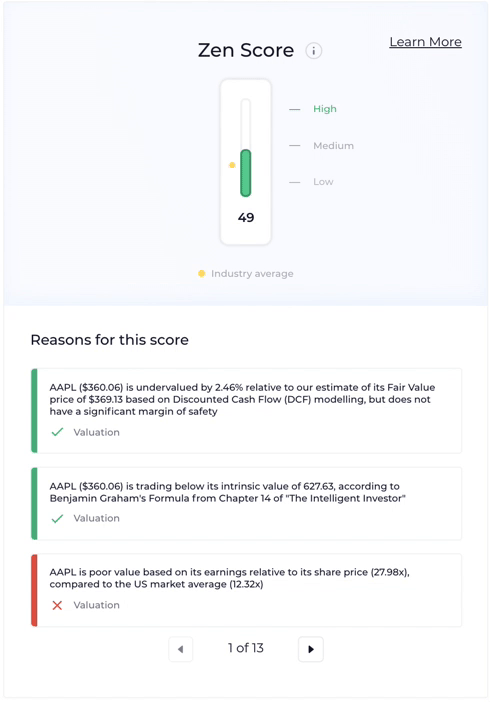 Zen Score gives you a quick overview of a stock's fundamentals. By zooming into the individual due diligence checks, you can get the benefit of our automated analysis, summed up in succinct 1 line explanations.
If you're a novice investor who is aspiring to advance your understanding of a stock's fundamentals, Zen Score and the accompanying due diligence checks make it super easy to dip your foot into fundamental analysis and discover new ways of analyzing key metrics, without feeling intimidated or having to spend hours crunching data.
Unlike other fundamental analysis platforms, we don't just show you data, we use technology to help you interpret the data.
If you're a serious part-time investor who already spends hours exporting data to spreadsheets and doing analysis (or if you're just getting started and not sure where to start), Zen Score and the accompanying due diligence checks can save you hundreds of hours and quickly uncover hidden insights.
Maybe you'll still want to export data and do your own analysis to get a deeper understanding of certain aspects of a stocks fundamentals, but our due diligence checks let you screen and monitor a stock's fundamentals in a way no other tool can!
How is Zen Score Calculated?
The Zen Score is completely transparent and simple to understand. Each stock is analyzed across 5 dimensions of fundamental analysis:
Valuation – we compare the current stock price to its intrinsic value, using a number of time-tested stock valuation methods
Forecast – we apply analyst estimates of future growth to key metrics and benchmarks
Performance – we analyze the past performance of the company
Financials – we analyze the company's financial strength (or weaknesses)
Dividends – we examine the stability and growth potential of the company's dividends.
For each dimension of a stock, we analyze it with 5-10 due diligence checks. These automated due diligence checks apply proven, time-tested checks used by legendary investors like Warren Buffett (who loves a good ROE) and Benjamin Graham.
These are the same due diligence checks a Wall Street analyst or an experienced value investor might run through an excel spreadsheet, but we make these checks accessible and easy to understand, even if you're not a financial expert.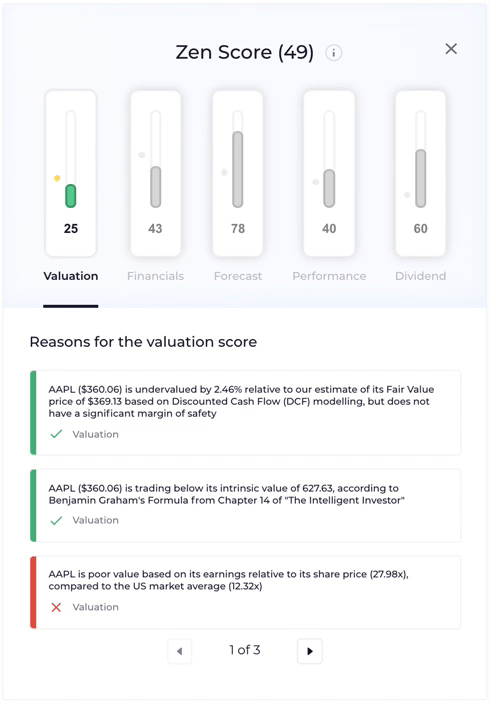 If a stock passes a due diligence check, we give it a 1, if it fails, we give it a 0.
Then we simply add up all the 1s and divide by the total number of checks within that dimension, and multiply by 100.
For example since there are 7 Valuation checks , if a stock passed 5 of those, then we would score it: 5/7 * 100 = 71 for Valuation.
The final Zen Score is calculated by taking the average score of the 5 dimensions – unless the company has not received a Dividend in the past 10 years.
In this case, we exclude the Dividend checks from the overall Zen Score calculation, and the Dividend score will appear as "-", instead of "0".
Why Should I Trust Zen Score?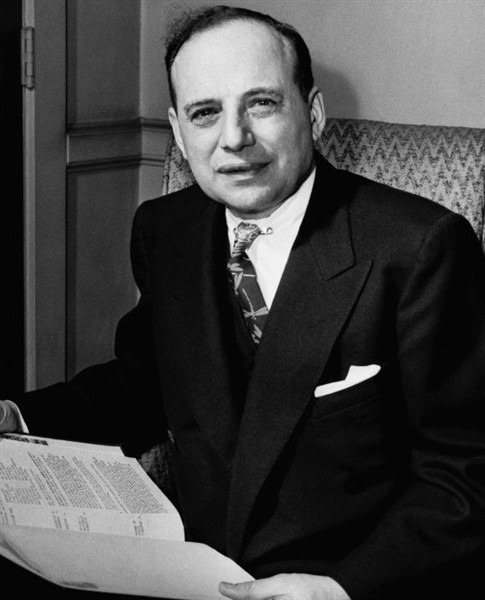 Ben Graham – Warren Buffet's famed mentor and the father of value investing – stated that in the short term, the market is a voting machine, but in the long term, it is a weighing machine.
In other words, emotion and psychology may cause Mr. Market to overreact or underreact to information in the short term, thus affecting the share price, but that in the long-term, the value of a company is determined by its fundamental strengths and weaknesses as a business.
If you share this philosophy and you believe that identifying fundamentally strong yet undervalued companies is key to long-term investing success, then Zen Score can make your research easier.
There is no magic in the Zen Score – it was not designed to determine once and for all what is a good vs bad stock – it is just a better way to quickly analyze a stock's fundamentals. All we've done is taken time-tested fundamental analysis checks and used software to automate the process and make the results easy for you to understand.
You can (and should) examine the due diligence checks for yourself and decide whether or not they are important to you as an investor.
Like with everything in stock investing, you can take what works for your investing style and discount things that matter less to you.
Zen Score and our automated due diligence checks are meant to supplement a holistic research process that suits your own investing goals, not replace it.
By automating these time-tested due diligence checks, we can help you evaluate stocks more deeply and in less time, making it easier for you to understand a stock's valuation, financials, long-term stability, growth prospects, and more!
Like this article? Read my review of the best fundamental analysis websites.
Where to Invest $1,000 Right Now?
Did you know that stocks rated as "Buy" by the Top Analysts in WallStreetZen's database beat the S&P500 by 98.4% last year?
Our December report reveals the 3 "Strong Buy" stocks that market-beating analysts predict will outperform over the next year.