Our editorial team uses a strict editorial review process to compile all reviews, research, and evaluations of any kind. Our company, WallStreetZen Limited, is supported by our user community and may receive a small commission when purchases are made through partner links. Commissions do not affect the opinions or evaluations of our editorial team.
Between 1992-2020, farmland has returned 11% per year, experienced just 6.9% volatility of return, and is largely uncorrelated with other asset classes*.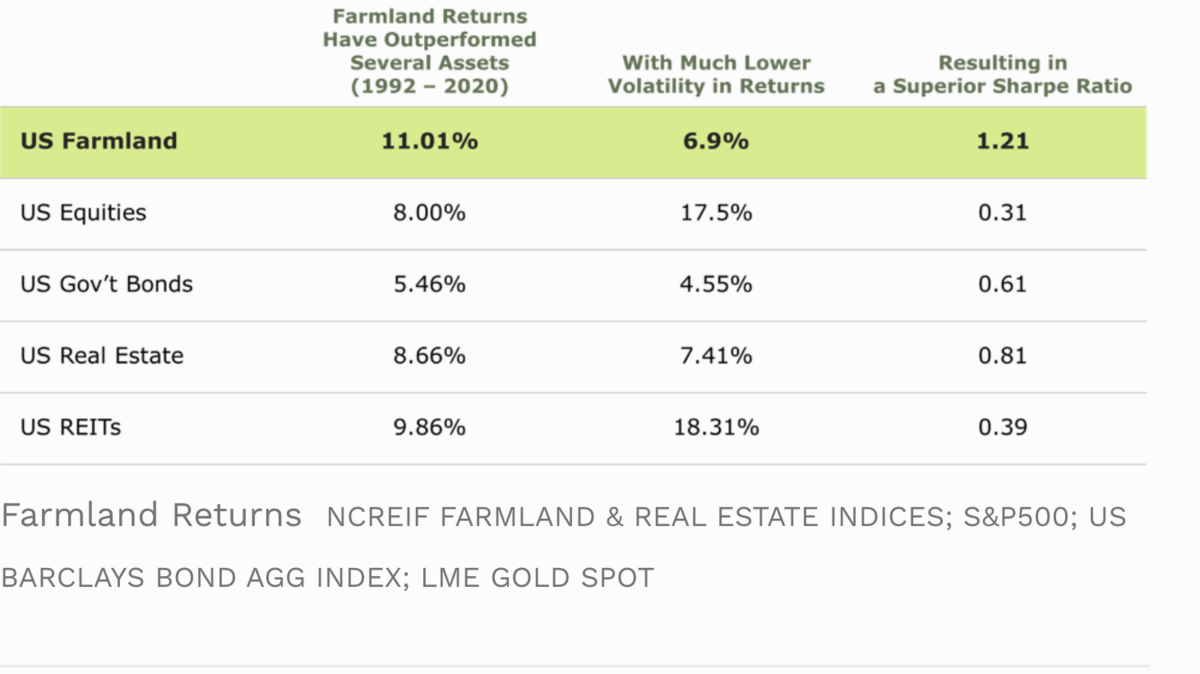 Additionally, supply is only decreasing, which protects from recessionary and inflationary risks.
Given the current levels of global economic volatility, an investment in farmland makes even more sense than usual.
But farmland has traditionally been quite difficult to invest in.
Over 86% of farmland is owned by families who are typically reluctant to sell. If they do sell, it's often in large plots which prevents many investors from gaining exposure.
However, advances in alternative investment vehicles have democratized the market and made it accessible to a much larger audience.
AcreTrader is a modern investment platform that allows you to easily purchase farmland and profit through appreciation of the land itself and from rental income.
In this AcreTrader review, I'm going to investigate the advantages and disadvantages of AcreTrader, and provide a general overview of the platform, the pricing, and how it works.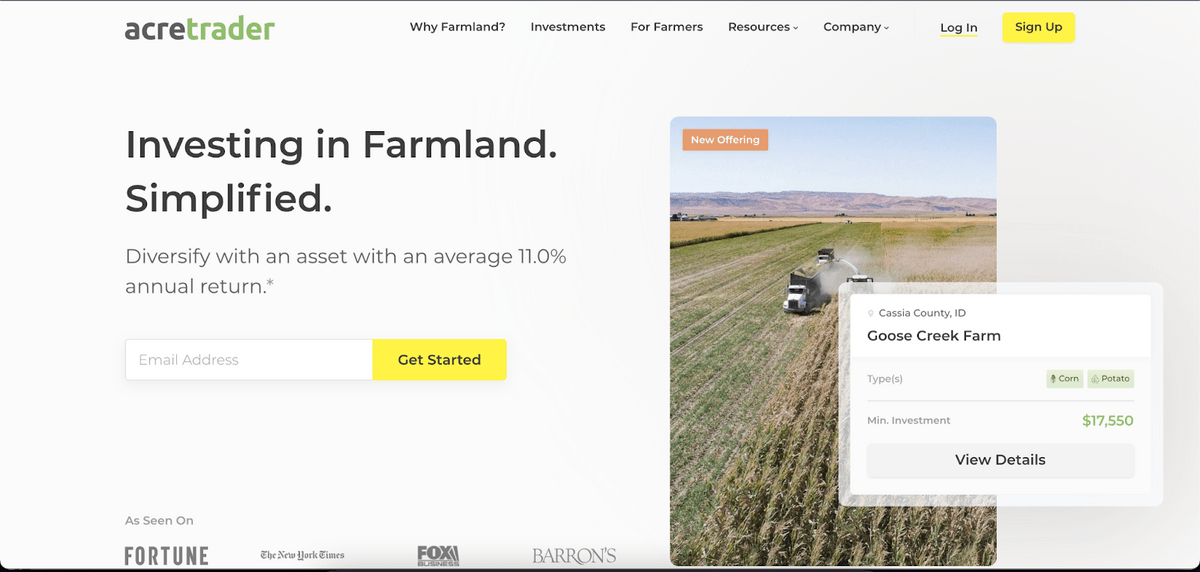 Is AcreTrader the Best Way to Invest in Farmland?
The Bottom Line: If you're an accredited investor and interested in owning farmland, AcreTrader is an excellent vehicle. AcreTrader only accepts about 5% of the land that it reviews, so investors can be confident in a rigorous due diligence process.
AcreTrader is also a great investment platform for accredited investors because of its low fees, streamlined interface, and ease of investment.
Accessibility: 3.5/5
Due Diligence Process/Analysis: 5/5
AcreTrader accepts less than 5% of the parcels it reviews. The farm and title are placed into a Limited Liability Company (usually). The distinct legal entity establishes a contract with the owner and offers time to complete due diligence and other legal work. The time period for this due diligence is 30-90 days.
Price: 5/5 (Fees are very low at 0.75% annually for administration. In other investment areas, these fees can range from 1% – 2.5%.)
Pros
Simplified farmland investment.
No management required – hands off passive investment.
Low fees for investing in farmland.
Access to in-demand asset class (farmland).
Cons
Only available to accredited investors.
Not suitable to those just getting started on their investment journey.
Keep reading for all of the details to backup my conclusion in the rest of this AcreTrader review.
What is AcreTrader?
AcreTrader is a farmland investing platform based in Fayetteville, Arkansas. It has been in operation since 2018.
AcreTrader makes it easy to invest in farmland. Each property is subdivided into smaller, more affordable segments. Plus, the due diligence process is completed by the intermediary platform for a small fee.
Since 2018, the platform has grown considerably and has clients across all 50 states. It has an excellent reputation among both investors and farmers.
For farmers, AcreTrader provides the capital needed to improve the land and to make other purchases for their farms. The platform also assists farmers to transition from conventional to organic crop produce, a move which is aligned with investors and wider market preferences.
For investors, AcreTrader creates an affordable and simplified way to invest in farmland.
Investing in Farmland
The benefits of investing in farmland are well established: Good annual returns, low volatility of returns, and the potential to act as a hedge during inflationary markets.
Traditionally, there are 2 primary barriers to investing in farmland:
1. Capital requirements
Farms are usually sold all at once, requiring significant funds to complete the transaction.
2. Due diligence
Farmland is a highly-nuanced asset class. It's difficult to assign proper value to pieces of land and even harder to do so across multiple counties and states.
AcreTrader renders these issues obsolete.
By subdividing and pooling investors capital, investors can make farmland investments with just $10,000.
And with their in-house team of investment professionals, AcreTrader can assign proper valuations to different pieces of land all over the country.
In this way, AcreTrader operates similarly to an insurance company – pooling capital, spreading risk, and using statistics to its advantage.
Rate of Returns with AcreTrader
Farmland has proven to be a lucrative field (pardon the pun).
AcreTrader expects between 3%-5% unlevered yield for low-risk properties. However, the cumulative rate of returns, on a long time horizon, look even better.
According to AcreTrader, the cumulative rate of returns for farmland has been 12.24% since the year 2000. A $10,000 investment in farmland in the year 2000 would currently be valued at ~$96,149.
Farmland returns are made up of two components: Land appreciation and capitalization rates (similar to rental income).
Total farmland returns have been positive every year since 1990: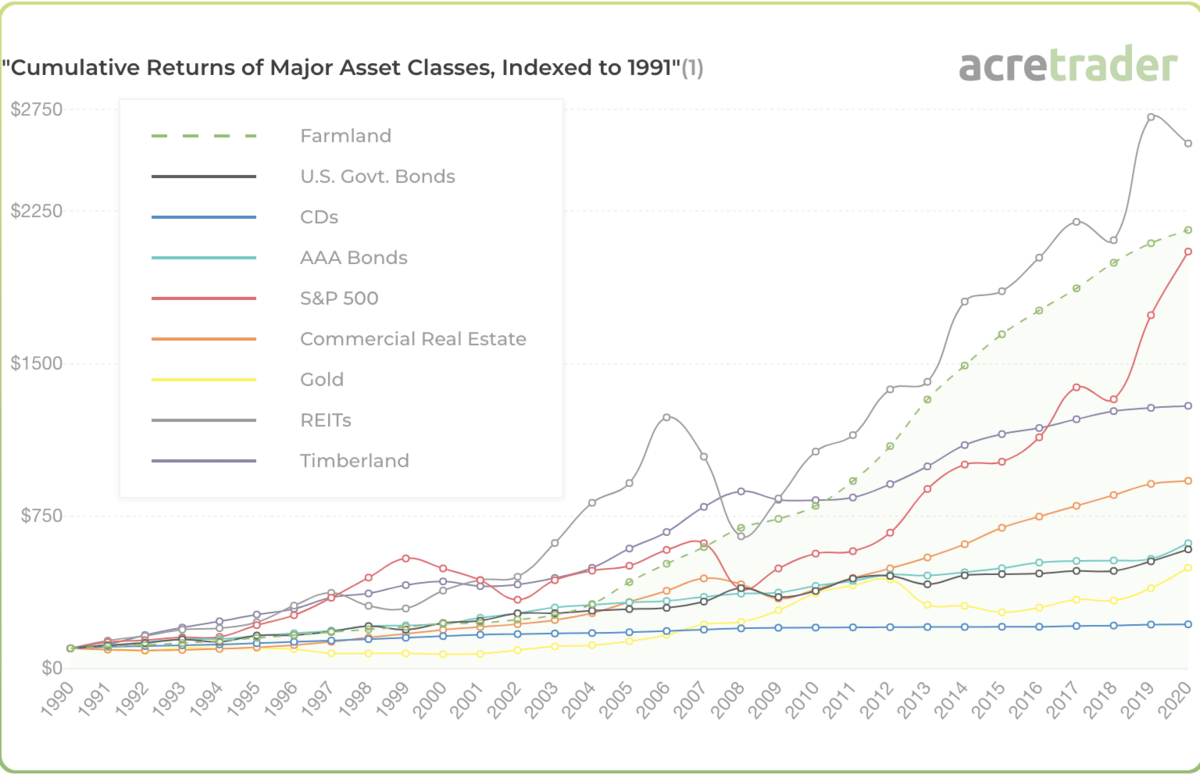 Keep in mind that investing in farmland via shares is not exactly the same as investing in farmland directly, in terms of calculated returns.
Advantages of Using AcreTrader
These are the 3 primary advantages of investing in farmland with AcreTrader:
1. You get access to high-quality farmland.
AcreTrader only accepts ~5% of all the land parcels they review. The acres are packaged into an LLC for ease of investment, with a minimum of ~$10,000.
2. There is nothing you have to do as an investor.
The farmland does not have to be managed. You only own shares. AcreTrader takes care of accounting, insurance, and working with farmers regarding soil sustainability and ecological practices.
3. Low fees.
With an annual fee of only 0.75%, it really is one of the best kinds of farm investing.
Disadvantages of Using AcreTrader
There are two primary issues associated with investing with AcreTrader (although neither are specific to AcreTrader but issues of investing in farmland in general):
1. You need to be an accredited investor in order to invest.
To be an accredited investor, you need to either:
Have a net worth over $1 million, excluding primary residence (individually or with spouse or partner).
Have an income over $200,000 (individually) or $300,000 (with spouse or partner) in each of the prior two years, and reasonably expect the same for the current year.
This can eliminate large segments of the market considerably, and rules out novice investors who are interested in smaller investments.
The minimum investment is about $10,000, which will again rule out those investors of a lower net worth who cannot afford this amount.
If you're not an accredited investor, check out our Vinovest review — you can invest in fine wine with only $1000.
2. Farmland is an illiquid investment
Many of the land parcels have minimum holding periods of 5 to 10 years. Be sure to review the minimum holding period before making an investment.
This disadvantage may soon be removed. AcreTrader is investigating a secondary marketplace where investors can sell shares to each other, navigating around the existing liquidity issue.
How To Use AcreTrader
Provided you are an accredited investor and have completed the sign up process, the investment process is quite streamlined.
After creating an account, you will receive periodic notifications of new listings.
AcreTrader selects only the highest quality land parcels based on extremely narrow criteria (outlined in more detail below). This helps investors feel confident that nothing material to their investment remains undisclosed – a common problem with traditional farmland investing.
AcreTrader completes the demanding due diligence process required for farmland investing on your behalf.
The land parcels are listed in a format that is easy for you to filter through and evaluate, including the minimum investment, stage, location, and type of produce: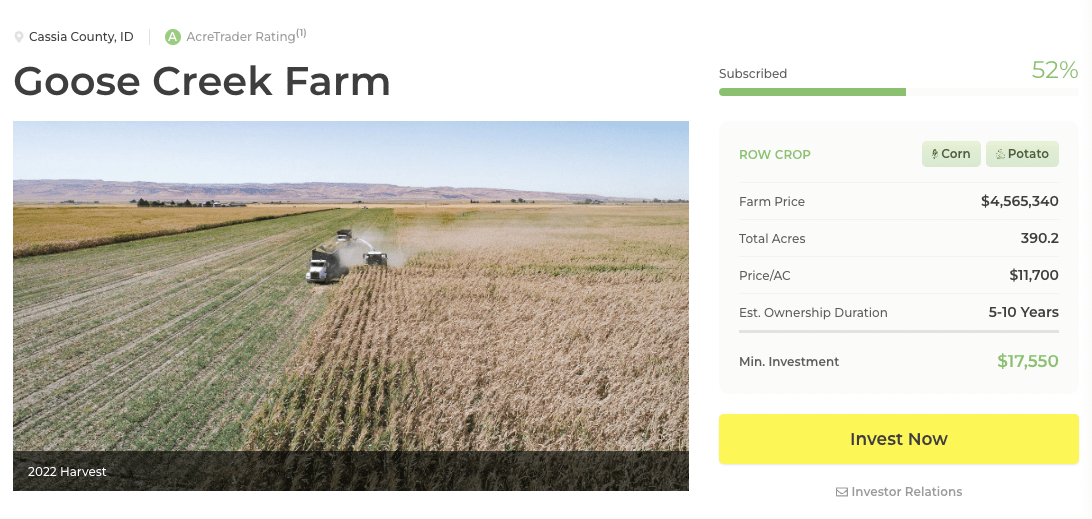 How to Invest in Farmland with AcreTrader
AcreTrader selects the best farmland parcels and places each parcel into a unique entity (typically an LLC). This LLC is then uploaded to the crowdfunding platform for investors to view and purchase.
Instead of buying an entire parcel, each investment is a purchase of shares of the LLC.
This way, you can easily buy $10,000 increments of premium farmland with all of the relevant information and necessary legal protection – it's hands-off farmland investing.
DEAL ALERT: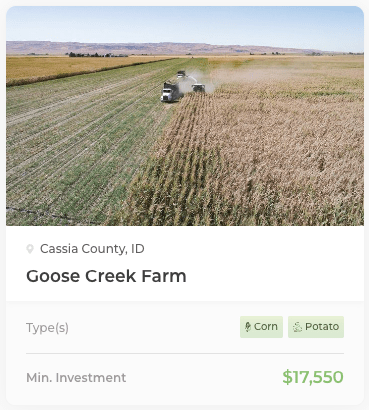 Buy shares of Goose Creek Farm, a corn and potato farm in Idaho. Hurry – shares are going quick!
AcreTrader Due Diligence Process
AcreTrader approves less than 5% of the potential investments its team analyzes. This process ensures its users are selecting from only the highest quality parcels available in the U.S.
The due diligence process consists of 3 main steps:
1. Sanity Check
Checks price and problems of a plot of land to see if it's worth pursuing.
2. Documentation and Verification
Verifies to see that initial data supplied is correct. To gain a working understanding of the farm from a future cash flow standpoint, AcreTrader uses software analysis, mapping verifications, financial modeling, and AT scores.
3. Ground Check
This is the most extensive and down to earth step comprising of area diligence, manager calls, tenant calls, comparable sales, and government database data.
In addition, they provide research tools and all of the deal information so you can complete your own due diligence process before making an investment.
As of 10/5/2022, AcreTrader has even launched Acres, a land analysis platform for desktop and mobile that provides access to comprehensive data for 150 million U.S. parcels.
My Opinion
If you meet the following 2 criteria, AcreTrader is a nearly perfect investment platform for farmland investing:
You are an accredited investor.
You are interested in purchasing US farmland.
If you do not meet these criteria, AcreTrader is not for you.
Final Word: AcreTrader Review
If you're wondering how to invest in farmland in the U.S., AcreTrader is your answer.
Investing in farmland has never been easier.
AcreTrader has removed the large capital requirements and extensive due diligence process that has historically prevented so many investors from getting exposure to this unique (and profitable) asset class.
If you're an accredited investor and are interested in buying farmland in the United States without all the hassle, look no further.
Thanks for reading my AcreTrader review. If you're interested in reading more of my review articles, head to the 'Continue Reading' section below.
*Disclosure: Facts and figures per Forbes.
---
FAQs:
Is AcreTrader trustworthy?
AcreTrader is 100% trustworthy and is A+ rated with the Better Business Bureau.
However, it's useful to note that AcreTrader, Inc. is not a registered broker-dealer, investment adviser, or crowdfunding portal under Regulation CF. It's just a way for you to gain access to farmland.  
Can you make money on AcreTrader?
Yes, you can make money on AcreTrader.
The rate of returns of US farmland balanced against relatively low fees mean that you can most certainly make money with AcreTrader. Farmland is a lucrative asset over the long term, though no investment is risk free.
Is AcreTrader for accredited investors only?
Yes, AcreTrader is only for accredited investors.
You cannot invest through this platform unless you meet the legal criteria as an accredited investor.
How much do I need to invest in AcreTrader?
The minimum investment on AcreTrader is $10,000.
Most available listings offer individual shares in the region of $15,000-$25,000 each.
Where to Invest $1,000 Right Now?
Did you know that stocks rated as "Buy" by the Top Analysts in WallStreetZen's database beat the S&P500 by 98.4% last year?
Our March report reveals the 3 "Strong Buy" stocks that market-beating analysts predict will outperform over the next year.