Our editorial team uses a strict editorial review process to compile all reviews, research, and evaluations of any kind. Our company, WallStreetZen Limited, is supported by our user community and may receive a small commission when purchases are made through partner links. Commissions do not affect the opinions or evaluations of our editorial team.
There is a certain cachet attached to investing in objects of passion, such as rare Macallan scotch for whiskey investors, a Patek Philippe for watch investors, a Hermès Birkin handbag for fashion divas, or a 2009 bottle of Chateau Angelus for wine enthusiasts.
Alternative investments, like wine investing, can reduce your portfolio's volatility and increase its returns while indulging in a passion.
If you want to start investing in fine wine, Vinovest is the best way to do it – this Vinovest review will show you why.
Is Vinovest Legit?
The Bottom Line: Yes, Vinovest is legit.
Vinovest offers accessibility to a lucrative luxury market. Instead of you scouring the globe, investing hundreds of thousands of dollars, and shipping and storing fine wine yourself, Vinovest does it for you. You can invest in rare wines with just $1,000.
Investment Opportunities: 4/5
Ease of Use: 4/5
Fees: 3/5
So, what is Vinovest exactly?
What Is Vinovest?
Vinovest is a wine investment platform that allows anyone to invest in a portfolio of fine wines.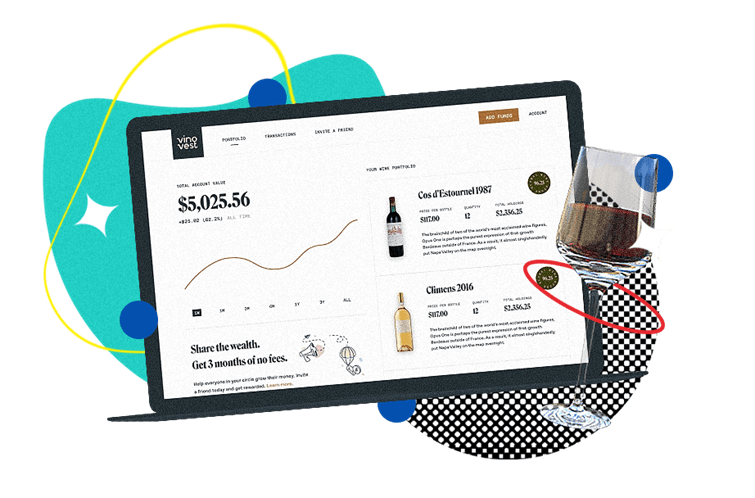 Vinovest authenticates, insures, and stores your collection of wine on your behalf – as an investor, you own 100% of the wine in your portfolio. You can have a bottle shipped to you at any time.
But you don't need to be a master sommelier, analyze investments, or have a warehouse set at the optimal temperature, light, and humidity – Vinovest manages the entire investing process for you. Vinovest is one of the most risk-free ways of investing in wine.
Because of this, many wealthy wine investors also use Vinovest.
Additionally, Vinovest has a marketplace that allows you to buy and sell individual bottles with other investors.
How Does Vinovest Work?

After creating an account, you will be asked how much and when you are planning to invest. You will then be asked to choose from 3 portfolio options:
Conservative – Historical returns of 5.5%, wines with proven track records of low volatility
Moderate – Historical returns of 8%, a wide variety of wines for maximum diversification and medium volatility
Aggressive – Historical returns of 12%, wines from expected high-growth regions and the highest volatility
After funding your account, Vinovest will invest your money algorithmically based on your portfolio selections and timeframe.
Remember, you are investing in individual bottles of wine, not a fund.
Vinovest usually buys cases of wine which can range in size from 3-12 bottles. Most bottles are at least $100, so a portfolio of $1,000 will have limited diversification. The process to buy and sell wines in your portfolio takes 2-4 weeks.
After investing, you can track your portfolio in real time.
If you ever decide to sell a bottle or more, Vinovest's marketplace has investors ready to buy and it will handle the delivery for you.
Clients investing more than $50,000 will have access to Vinovest's human advisors and a wine futures market, where you can speculate on wine that hasn't been bottled yet.
Vinovest Client Tiers and Vinovest Fees
Vinovest has 4 client tiers with ranging fees depending on your account size:
| | | | | |
| --- | --- | --- | --- | --- |
| | Starter | Plus | Premium | Grand Cru |
| Min. balance | $1,000 | $10,000 | $50,000 | $250,000 |
| Annual fee | 2.85% | 2.70% | 2.50% | 2.25% |
| Diversified investment portfolios | ✓ | ✓ | ✓ | ✓ |
| World-class storage | ✓ | ✓ | ✓ | ✓ |
| Fully insured | ✓ | ✓ | ✓ | ✓ |
| Access to premium wines | | ✓ | ✓ | ✓ |
| Access to portfolio manager bi-annual reviews | | ✓ | ✓ | ✓ |
| Portfolio customization | | | ✓ | ✓ |
| Access to wine futures | | | ✓ | ✓ |
| Dedicated Portfolio Advisor | | | ✓ | ✓ |
| Exclusive invites to Vinovest Events | | | ✓ | ✓ |
| Access to the rarest most exclusive wine | | | ✓ | ✓ |
| Personalized portfolio reports | | | ✓ | ✓ |
Can You Make Money on Vinovest?
Yes, you can make money on Vinovest.
Wine outperformed the Global Equity Index by 1.88% per year over the last 15 years. And unlike public financial markets (which tend to move in lockstep with one another), wine is largely uncorrelated with global stock markets: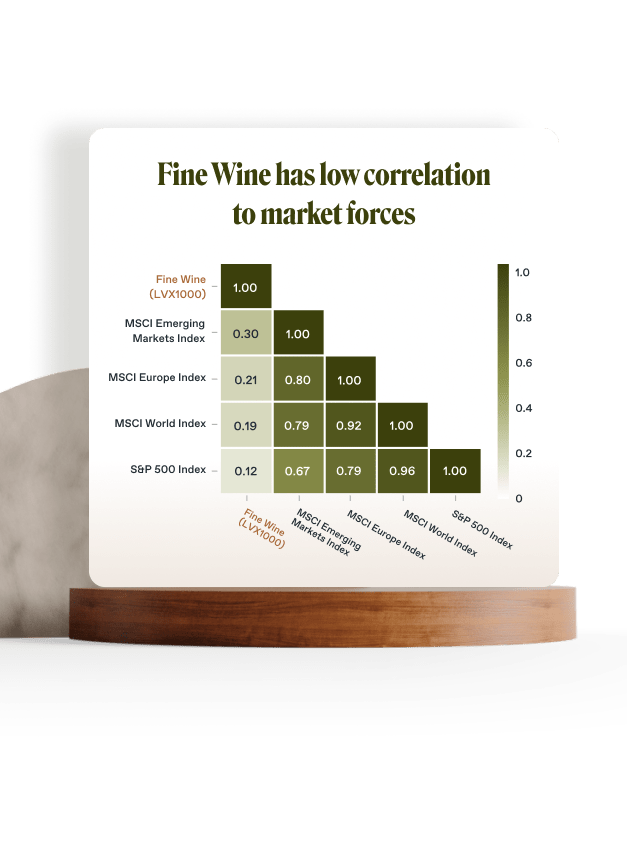 This lack of correlation means investing in wine may reduce the risk of your investment portfolio and stabilize your returns, making for a more consistently profitable portfolio.
As mentioned above, since the analysis, verification, purchasing, shipping, insuring, and storage is managed for you, Vinovest is one of the safest ways to invest in fine wine.
Who Can Invest on Vinovest?
Anyone can invest on Vinovest if they have access to a computer, are at least 21 years of age (18 if you live outside of the United States), and have $1,000 to invest.
You don't need to be located in the United States or be an accredited investor.
Pros and Cons of Vinovest
| | |
| --- | --- |
| Pros of Investing in Vinovest | Cons of Investing in Vinovest |
| Anyone can invest | Fees of 2.25 – 2.85%, and a 3% early liquidation fee may sometimes apply |
| Low investment minimum | Liquidation takes 2 – 4 weeks |
| Limited expertise necessary | Ideal holding period is 10 – 15 years |
| Wines are analyzed, insured, shipped, stored, and liquidated for you | |
Final Word: Vinovest Review
Vinovest is an accessible option for those seeking an alternative to stocks, bonds, and other volatile assets and who would like to add some robust flavors, complex character, and consistency to their portfolios. If you're a wine enthusiast, all the better – you can invest with passion.
---
FAQs:
Is Vinovest trustworthy?
Yes, Vinovest is trustworthy.
The entire wine investing process is insured, and professionals are handling your wine from analysis to storage.
Can you make money on Vinovest?
Yes, you can make money on Vinovest.
Historical returns have averaged between 5.5 - 12% depending on your investment selection and holding period.
Is investing in wine legit?
Yes, investing in wine is legit. Over the last 15 years, wine outperformed the Global Equity Index by 1.88% annually.
How much does Vinovest cost?
Vinovest costs between 2.25 - 2.85% per year depending on your plan.
Vinovest has 4 plans, each with different minimum investments and management fees, ranging from a minimum investment of $1,000 and a management fee of 2.85% up to a minimum investing of $250,000 and a management fee of 2.25%.
Where to Invest $1,000 Right Now?
Did you know that stocks rated as "Buy" by the Top Analysts in WallStreetZen's database beat the S&P500 by 98.4% last year?
Our March report reveals the 3 "Strong Buy" stocks that market-beating analysts predict will outperform over the next year.