Our editorial team uses a strict editorial review process to compile all reviews, research, and evaluations of any kind. Our company, WallStreetZen Limited, is supported by our user community and may receive a small commission when purchases are made through partner links. Commissions do not affect the opinions or evaluations of our editorial team.
Ziggma is a portfolio tracker designed by professional financial analysts to help you invest better.
Unlike other of the best portfolio trackers, Ziggma designed innovative features to better help you understand what's in your portfolio.
The team created custom Stock Scores, Model Portfolios, and a Stock Simulator you won't find anywhere else.
Instead of just having the basic breakdowns of sectors and geography, Ziggma will show your portfolio's Beta Risk Factor, Carbon Footprint, Revenue Growth rate, and more.
In my Ziggma review, I'll share my complete findings after testing out the stock tracking app for myself, walking through each feature and my thoughts on the portfolio tracker site as a whole.
Is Ziggma the Best Portfolio Tracker in 2023?
The Bottom Line: Ziggma is the best portfolio tracker for the long-term investor looking for unique tools to stay informed on their portfolio.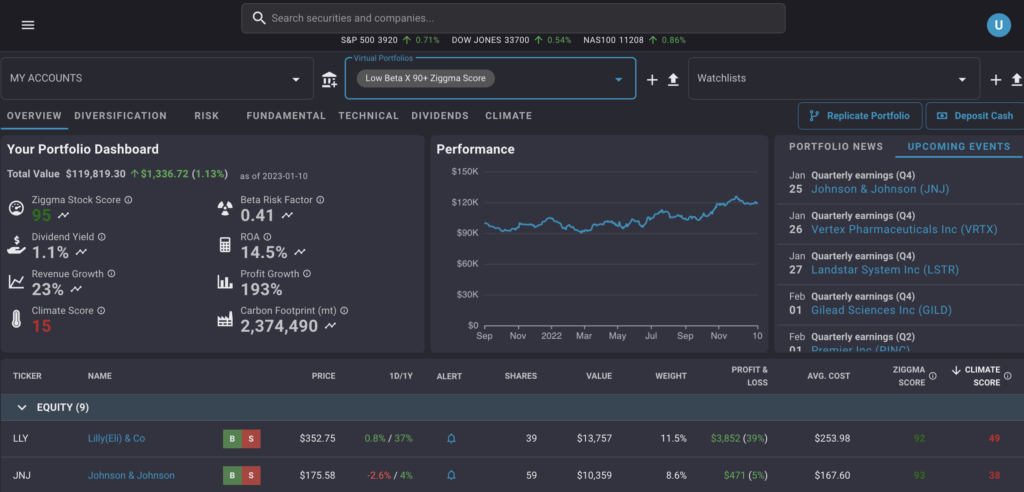 Ziggma's portfolio tracker is specifically designed to simplify portfolio management for self-directed, long-term investors.
My Ziggma review reveals that it solves a series of major pain points for a very specific type of long-term investor who struggles to keep up with key portfolio metrics.
Tracking portfolio split, target prices, dividends or portfolio companies' financial performance can get extremely time-consuming and complex, especially as a portfolio grows in size.
Ziggma's best portfolio tracking app puts investors in great shape to reach their long-term investment objectives.
Plus, if you're like me and have multiple investment accounts, Ziggma makes it easy to aggregate a holistic view of your portfolios in one place.
Ziggma Features:
Ziggma Portfolio Tracker
Here's a look at the one-of-a-kind Ziggma Portfolio Dashboard: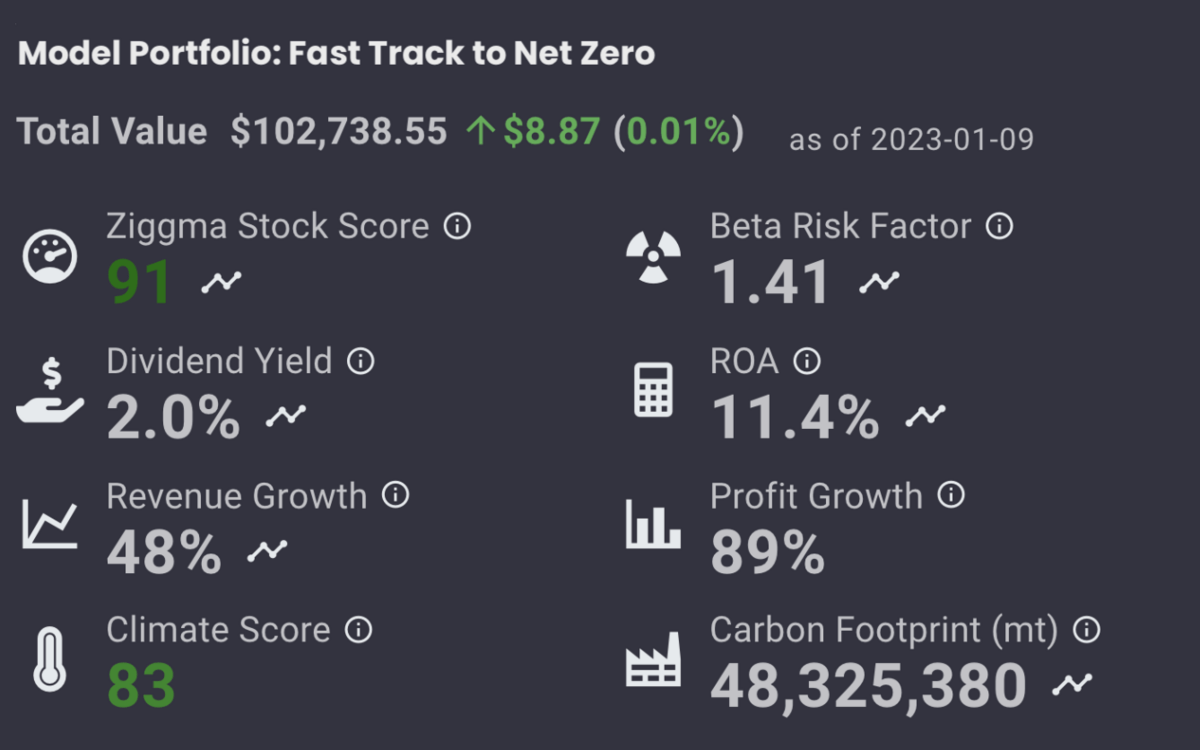 You will instantly notice several data metrics that your broker or other portfolio trackers don't provide, like Revenue Growth, Beta Risk Factor, ROA, Climate Score, and Carbon Footprint.
For a certain subset of long-term investors, Ziggma has already sold itself.
What you can't see in the image above is Ziggma Smart Alerts. Smart Alerts can help you passively monitor your portfolio by setting triggers to alert you when certain prices, P/E ratios, or other metrics are hit on any stock in your portfolio.
For long-term investors who don't want to check in on their portfolios every day, this is a much needed feature.
Ziggma Stock Screener
Ziggma's free stock screener makes it easy to find great stocks by filtering on standard financial metrics (like P/E, P/S, and Dividend Yield) and its custom data points (like Stock Score and Carbon Footprint).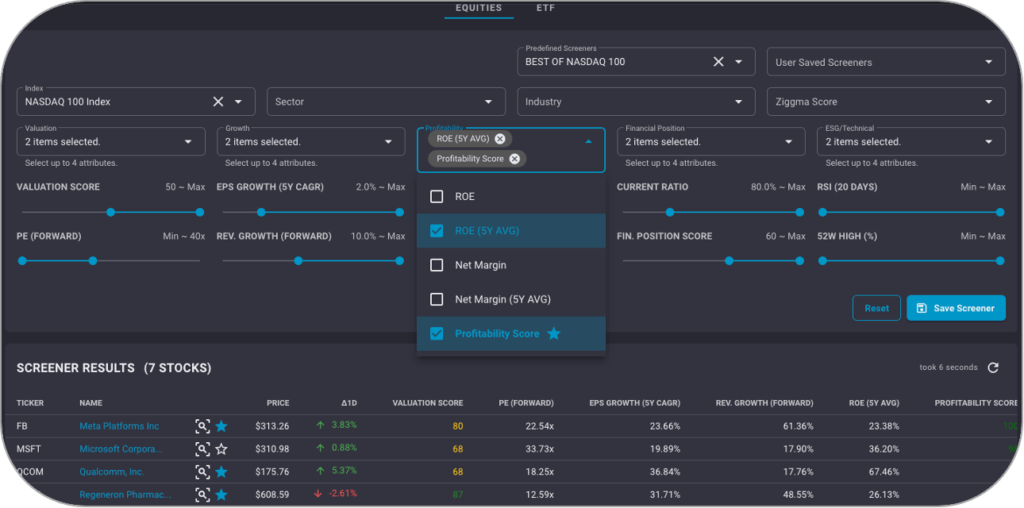 Instead of using bottomless dropdown menus filled with financial ratios hardly anyone uses, Ziggma places an emphasis on qualitative measures to make stock research simple.
Ziggma Stock Scores
Ziggma's Stock Scores are the product of institutional-grade, quantitative stock research.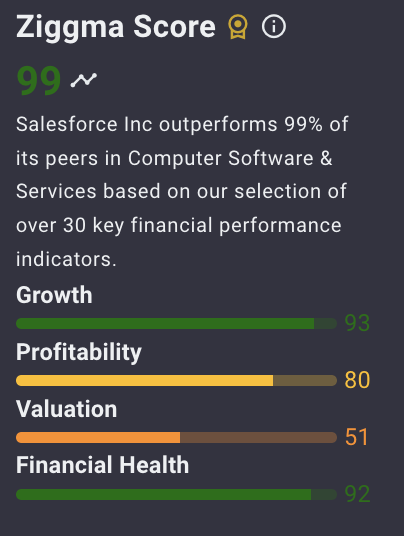 Ziggma's proprietary methodology ranks companies against their peers every day on more than 30 key performance indicators and 150 data points.
Again, this is a custom feature you will not find anywhere else, and visualizations couldn't be easier to understand (even if you don't have a finance degree!).
Ziggma Stock Research
Ziggma's Stock Research is arguably its most popular feature, something you wouldn't know until trying Ziggma for yourself.
While Ziggma is first and foremost known as a portfolio manager software, its unique strengths and weaknesses list for each stock is my favorite aspect: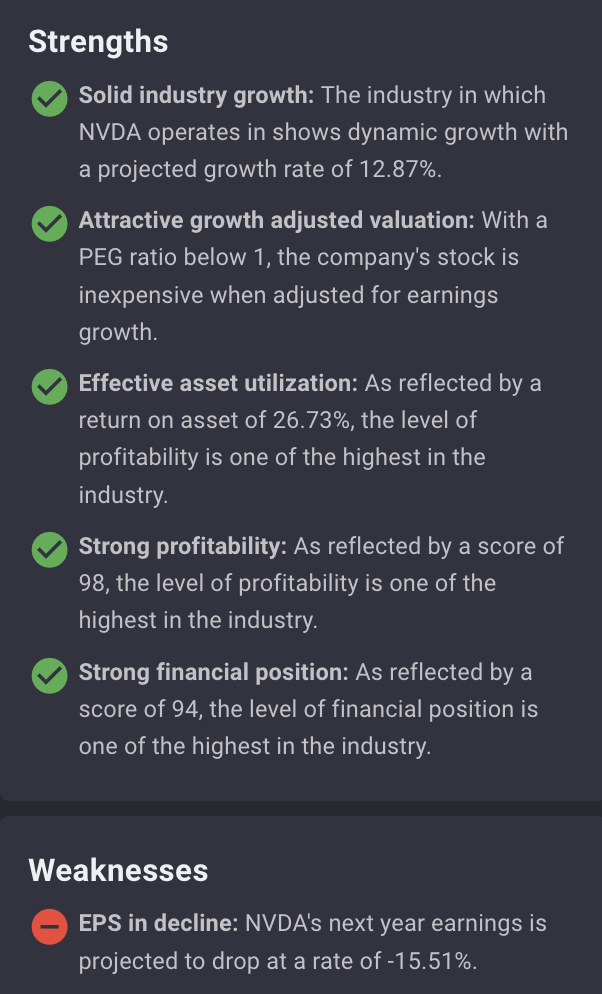 The stock research data is well-organized by growth, valuation, profitability, and financials, and you can conveniently switch back and forth between yearly and quarterly data.
Ziggma covers all NYSE- and Nasdaq-listed securities.
Ziggma Model Portfolios
If you're looking for inspiration, Ziggma offers 2 types of model portfolios.
Its in-house Model Portfolios are curated by its in-house analyst team. These portfolios cater to a wide variety of investment approaches, such as growth, value, low volatility, high yield or even climate impact.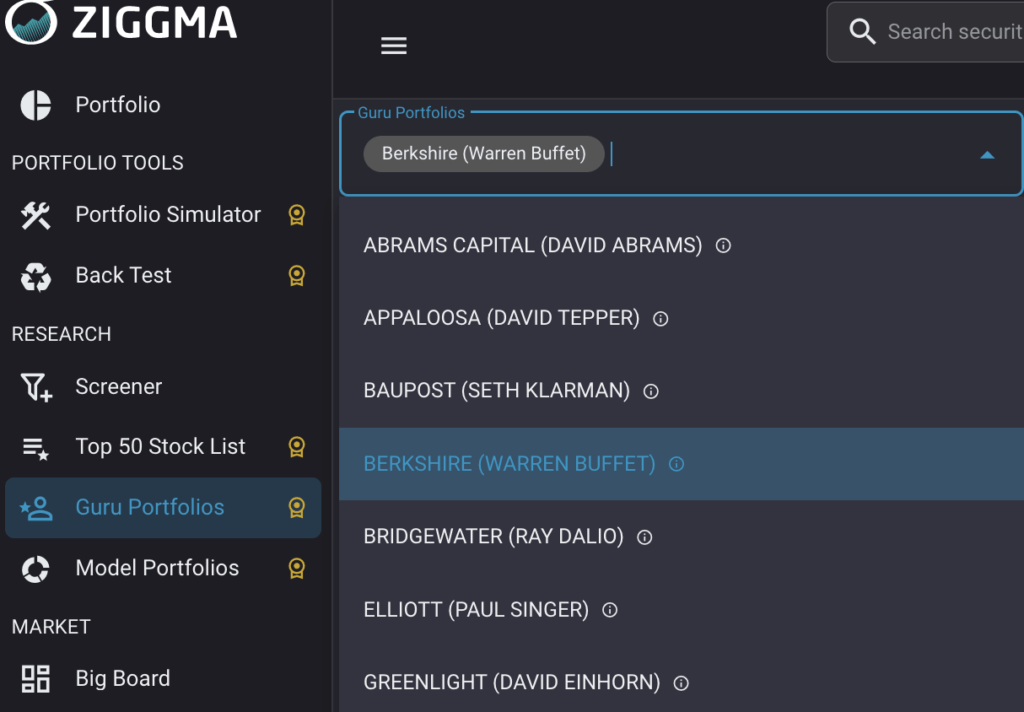 The second type of model portfolios, Guru Portfolios, are made up of the top 10 holdings from some of the world's most renowned investors, such as Warren Bufflett, Ray Dalio, and Paul Singer.
Portfolio Simulator
Ziggma's Portfolio Simulator allows you to gauge the impact a trade will have on your portfolio. This enables you to see how a trade will affect your portfolio split, average yield or growth.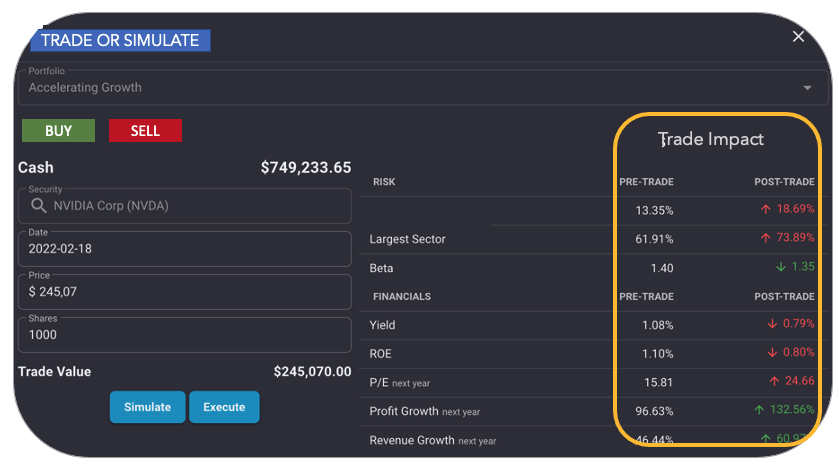 The Portfolio Simulator is another great example of how Ziggma's team leverages its experience in institutional finance and its willingness to create brand-new features for the benefit of individual investors.
Ziggma Plans & Fees
Ziggma has a Free Plan and a Premium Plan.
You can get many great features, such as the Portfolio Dashboard and the Ziggma Stock Screener, at no cost on the Free Plan.
By upgrading to Premium, you can unlock its most powerful features such as Smart Alerts and Stock Scores.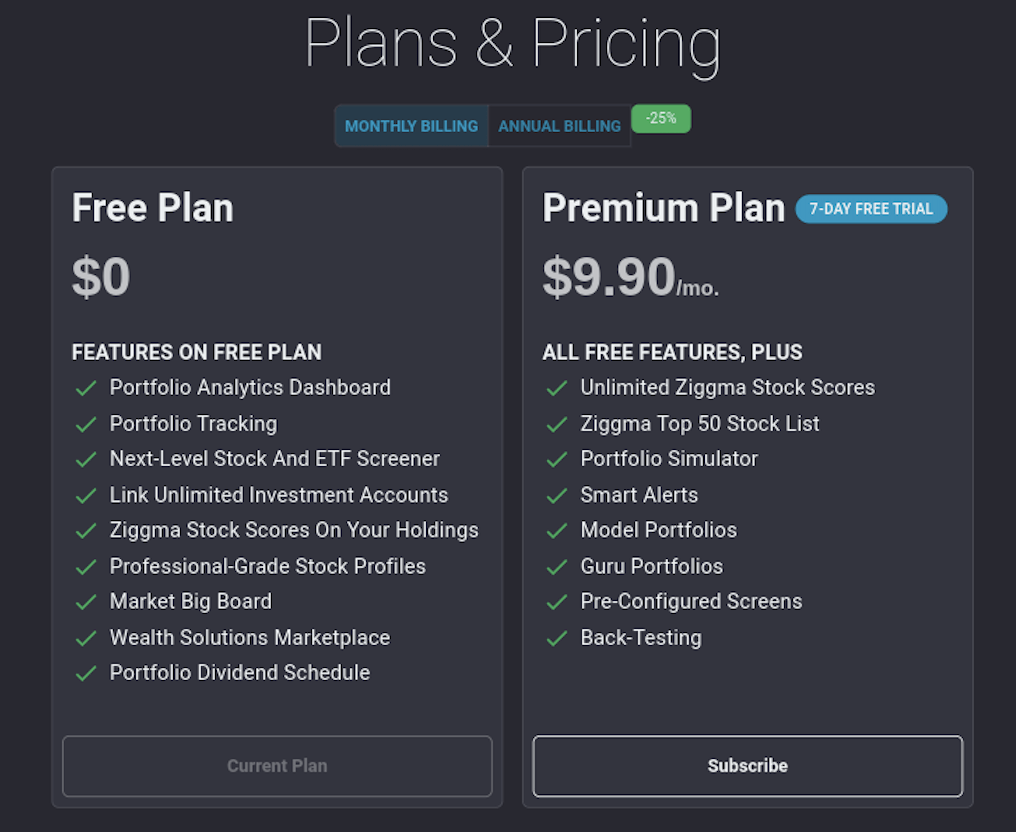 Ziggma vs Sharesight
My Ziggma review wouldn't be complete without a comparison of Ziggma vs Sharesight.
Personally, I found Ziggma to be the better portfolio tracker because of its innovative features that I have not found anywhere else. It's also less than half the price of Sharesight.
If you're an international investor or have holdings in multiple countries or in multiple currencies, however, Sharesight is the better platform.
Final Word: Ziggma Review
Ziggma took a unique approach to portfolio management and offers some features and data points that you won't find anywhere else.
If you're at all interested in Ziggma, I would highly recommend hitting any of the links in this Ziggma Review and try the Premium Plan for free with a 7-day trial.
---
FAQs:
Is Ziggma safe?
Our Ziggma review shows that Ziggma's best portfolio manager software is safe. User sign-up information is encrypted and safely stored.
Is Ziggma good?
Yes, our Ziggma review finds that Ziggma boasts the best portfolio tracker and free stock screener in the market. Premium features are extremely powerful and affordably priced. Investors on a budget that decide not to subscribe get a highly versatile portfolio visualizer free of charge.
Is Ziggma free?
Ziggma runs a Freemium model. Even on the free plan, Ziggma is one of the best investment tracking apps in the market. At $7.49/month on the annual subscription, Ziggma's Premium plan offers an unbeatable value proposition.
What is Ziggma?
Ziggma's portfolio tracker was designed to simplify portfolio management for self-directed, long-term investor and empower them to reach their investment goals.
Where to Invest $1,000 Right Now?
Did you know that stocks rated as "Buy" by the Top Analysts in WallStreetZen's database beat the S&P500 by 98.4% last year?
Our March report reveals the 3 "Strong Buy" stocks that market-beating analysts predict will outperform over the next year.