Our editorial team uses a strict editorial review process to compile all reviews, research, and evaluations of any kind. Our company, WallStreetZen Limited, is supported by our user community and may receive a small commission when purchases are made through partner links. Commissions do not affect the opinions or evaluations of our editorial team.
Blue Origin is not publicly traded, but that doesn't mean you can't invest in it.
Equitybee gives accredited investors access to hundreds of private, VC-backed startups before they IPO.
Sign up with Equitybee and invest in Blue Origin today.
Blue Origin is aiming to "tap into the limitless resources of space" with asteroid mining, space tourism, and more.
Sound far-fetched?
Maybe not.
Jeff Bezos has already proven that he can deliver on disruptive technology – Amazon's AWS and AI businesses are incredibly advanced. This isn't a man I'd bet against.
It makes you wonder, what can his company Blue Origin achieve in 5 years? What about in 50 years?
The possibilities are endless.
So, how can we invest in Blue Origin stock?
The best way to go about it depends on whether you're an accredited investor or a retail investor.
How to Buy Blue Origin Stock as an Accredited Investor
Equitybee gives accredited investors access to hundreds of high-growth, VC-backed startups. You can become an investor in private companies like Blue Origin, Reddit, and Instacart.
By funding employee stock options, investors like you can own stakes in private companies at past valuations. In exchange for funding the options, you will receive a percentage of future proceeds from successful liquidity events.
Click on the image below to view Blue Origin's current offerings on Equitybee: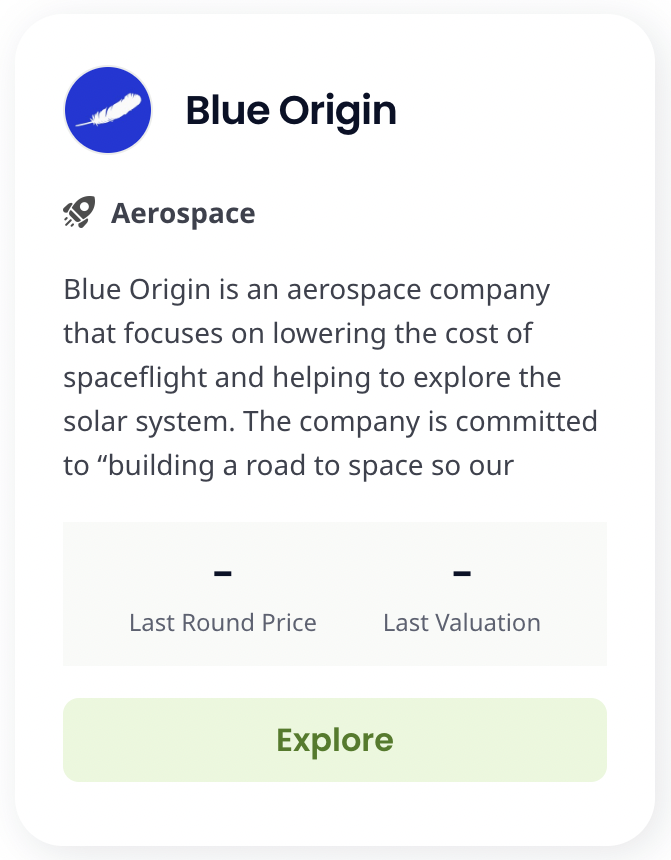 Start investing in Blue Origin and hundreds of other private companies on Equitybee.
Subject to availability.
If you're not an accredited investor, no problem. Here's how you can still gain exposure to Blue Origin's upside…
Can You Buy Blue Origin Stock as a Retail Investor? Is Blue Origin Publicly Traded?
Blue Origin stock is not currently available for purchase on the stock market. The company has not announced any plans to go public and has not released a great deal of financial information. If they decide to go public in the future, the Blue Origin stock symbol and price will be announced in the IPO filings.
Who Owns Blue Origin?
Due to the fact that Bezos has a net worth of roughly $125 billion, the company didn't take a traditional approach to raising funds. Besides Bezos Expeditions, there are no venture capital firms or other investment funds that own any portion of the company.
In fact, it appears that there are only three entities that have been allowed to invest in Blue Origin: Bezos Expeditions, NASA, and the U.S. Air Force.
Unfortunately, none of these are publicly-traded companies.
Does Amazon Own Blue Origin?
Unlike a number of other ventures owned by Bezos, Blue Origin is not a subsidiary of Amazon. Amazon does not directly own Blue Origin.
With that said, the two companies certainly do work together. For example, both Amazon and Blue Origin are involved in the Orbital Reef project, which aims to construct a space station which orbits Earth. Additionally, Bezos' reputation and net worth will certainly be a factor in the success of any of his companies.
The valuation of Blue Origin is likely to be at least partially tied to the performance of Amazon.
December 2023 Deal for U.S. Residents
eToro is one of the world's most popular investing platforms with over 28.5 million users.
As of December 5, 2023, eToro is offering a $10 bonus* for U.S. residents who open and fund a new account.
$10 bonus for a deposit of $100 or more. Only available to U.S. residents. Additional terms and conditions apply.
How to Invest in Blue Origin Stock
At this time, there is no way to directly invest in Blue Origin.
Although Blue Origin stock is not currently available to the public, there are still a number of ways to invest in the company's success indirectly.
The first and most obvious way is to invest in Amazon (NASDAQ: AMZN), the flagship company of Blue Origin's founder. The two companies are involved in some of the same projects, and may become more closely related over time.
Looking further, there are a number of other publicly traded companies that are a part of the Blue Origin National Team. These companies are all working together with NASA to return to the moon in the near future. The success or failure of this mission is very likely to impact the valuations of all companies involved. Lockheed Martin and Northrop Grumman are both publicly traded, and are both a part of Blue Origin's National Team.
Lockheed Martin is an American corporation involved in aerospace and defense, among other industries. Half of the company's corporate sales are to the US Department of Defense.
Northrop Grumman is another one of the world's largest weapons manufacturers and military technology providers. They have worked with NASA on a number of projects, including the James Webb Space Telescope.
How to Buy the Blue Origin IPO
There has not been any announcement yet of an IPO – there is no confirmed Blue Origin stock symbol, there is no Blue Origin stock price chart, and it is not available on any exchanges.
An IPO would be an effective way for Blue Origin to raise money from the public. Given that they are in an extremely competitive and expensive industry, this is not unlikely.
Here are the steps on how to buy Blue Origin stock if and when it becomes available:
Create or login to your brokerage account (if you don't have one, we recommend eToro – it's free)
Search for Blue Origin
Select how many shares you want to buy
Place your order
Monitor your trade
If you don't want to wait for its IPO, register for Equitybee and invest in Blue Origin today.
Subject to availability.
Blue Origin Stock Price Chart
Since it is not available to the public, there is not a traditional Blue Origin stock price chart.
The financials of the company have been kept under wraps as well, so there's not a lot of information to go off when attempting to place a valuation estimate on Blue Origin. Jeff Bezos has reportedly been putting $1 billion per year into this venture, and they have roughly 6,000 employees.
Learn how to buy Boston Dynamics stock.
---
FAQs:
How to buy Blue Origin stock?
You can't buy Blue Origin stock right now, but you can invest in Amazon, Lockheed Martin, or Northrop Grumman, all of which are working with Blue Origin and are likely to have some degree of correlation to the future Blue Origin stock price.
How much is Blue Origin stock?
Due to the private nature of the company's financial structure, and the fact that they are funded by Bezos Expeditions and the government, it is not possible to determine an accurate valuation at this time. Right now, there is no Blue Origin stock price available.
What is Blue Origin stock symbol?
The Blue Origin stock symbol has not yet been announced – if they decide to go public, it will be released within the IPO filings.
Who owns Blue Origin stock?
Blue Origin is a privately-held company. It is primarily owned by Jeff Bezos via Bezos Expeditions. NASA and the U.S. Air Force have also provided funding.
Where to Invest $1,000 Right Now?
Did you know that stocks rated as "Buy" by the Top Analysts in WallStreetZen's database beat the S&P500 by 98.4% last year?
Our December report reveals the 3 "Strong Buy" stocks that market-beating analysts predict will outperform over the next year.