Our editorial team uses a strict editorial review process to compile all reviews, research, and evaluations of any kind. Our company, WallStreetZen Limited, is supported by our user community and may receive a small commission when purchases are made through partner links. Commissions do not affect the opinions or evaluations of our editorial team.
Redwood Materials is not publicly traded, but that doesn't mean you can't invest in it.
Equitybee gives accredited investors access to hundreds of private, VC-backed startups before they IPO.
Sign up with Equitybee and invest in Redwood Materials today.
Missed out on Tesla's 1,000%+ rally over the last 3 years?
Don't sweat it.
There's a plethora of new companies poised to ride the shift toward electric vehicles.
Redwood Materials is one of them.
The company specializes in producing lithium-ion batteries for electric vehicle manufacturers… and it was founded by Tesla's former CTO.
Interested?
Here's how to buy Redwood Materials stock in 2023 for both accredited investors and retail investors.
How to Buy Redwood Materials Stock as an Accredited Investor
Equitybee gives accredited investors access to hundreds of high-growth, VC-backed startups. You can become an investor in private companies like Redwood Materials, Stripe, and Instacart.
By funding employee stock options, investors like you can own stakes in private companies at past valuations. In exchange for funding the options, you will receive a percentage of future proceeds from successful liquidity events.
Click on the image below to view the current Redwood Materials offerings on Equitybee: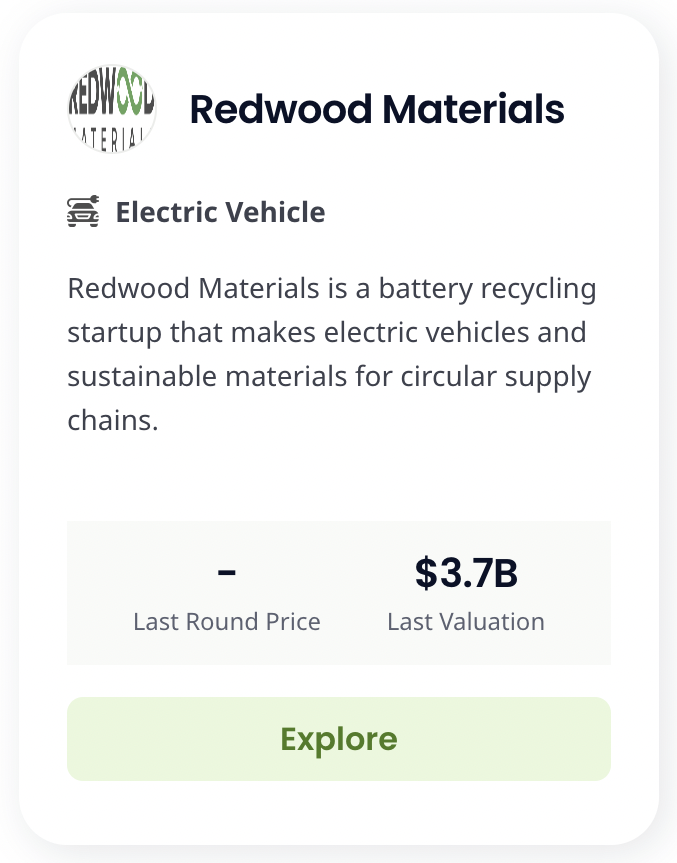 Start investing in Redwood Materials and hundreds of other private companies on Equitybee.
Subject to availability.
If you're not an accredited investor, keep reading to learn how you can gain exposure to Redwood Materials' upside…
Can You Buy Redwood Materials Stock as a Retail Investor? Is Redwood Materials Publicly Traded?
Redwood Materials stock can't be purchased by retail traders at this point. It is a private company, meaning that its shares are not available to purchase on the stock market.
There are many publicly-traded companies, however, with ties to Redwood Materials which can give you exposure to Redwood Materials stock price.
Several vehicle manufacturers purchase batteries from Redwood Materials and one of them also has a large stake in the company as well.
Hint: It's not Tesla.
December 2023 Deal for U.S. Residents
eToro is one of the world's most popular investing platforms with over 28.5 million users.
As of December 8, 2023, eToro is offering a $10 bonus* for U.S. residents who open and fund a new account.
$10 bonus for a deposit of $100 or more. Only available to U.S. residents. Additional terms and conditions apply.
Who Owns Redwood Materials?
There are currently 13 investors in Redwood Materials, primarily venture capital firms and investment funds. Additionally, Goldman Sachs, Fidelity, and Amazon are on its list of backers.
But one company, which led the corporate funding round, is especially notable – Ford Motor Company.
The leader of an investment round is the first one to commit funding to that round. They set the terms for other investors that participate. This suggests that Ford believes in the company and that it invested a significant amount of capital.
Ford's electric vehicle sales rose 197% YoY in 2023, making them the second largest EV manufacturer behind Tesla. It makes sense that they're interested in battery production.
Instead of starting their own battery company from scratch, why not buy from and invest in one of the leaders?
Is Ford Publicly Traded?
Yes, Ford is a public company with a market cap of almost $60 billion. It trades on the NYSE under the ticker F (NYSE: F).
It's a component of the S&P 500, the Russell 1000 Index, and other major ETFs.
Buying Ford stock is the most direct method for investing in the future of Redwood Materials. Ford is a major buyer of and investor in Redwood Materials, which means it has significant exposure to the company's upside.
How to Invest in Redwood Materials Stock
If you look on any trading platform or brokerage, you won't find a Redwood Materials stock symbol, or a price chart associated with the company. They have not yet filed for an IPO, though it's not unlikely that they will in the near future.
While you can't invest directly in Redwood Materials, you can invest indirectly by purchasing shares of companies that have direct ties to them, such as Ford Motor Company (NYSE: F). This way, you can get some level of exposure to the success of Redwood Materials before they go public.
The success of Tesla and other major EV stocks will likely have some correlation to the Redwood Materials stock price as well. Consider learning how to buy Waymo stock for more exposure to this industry.
How to Buy the Redwood Materials IPO
Rumors of a Redwood Materials IPO have gained a lot of attention in the media, but nothing is set in stone.
If you don't want to wait for its IPO, register for Equitybee and invest in Redwood Materials today.
Subject to availability.
Here's how to buy Redwood Materials stock if/when it has its initial public offering and becomes publicly-traded:
Create or login to your brokerage account (if you don't have one, we recommend eToro – it's free)
Search for Redwood Materials
Select how many shares you want to buy
Place your order
Monitor your trade
Please remember that you cannot buy Redwood Materials stock until its IPO. A date for the IPO has not been determined.
That said, we have an article on how to invest in companies before IPO you may be interested in.
Redwood Materials Stock Price Chart
As a private company, it's difficult to find financial information to create a Redwood Materials stock price chart at this time. As of July 2021, the company was valued at $3.7 billion.
If they file for an IPO, all the relevant information will be disclosed at that time.
---
FAQs:
How to buy Redwood Materials stock?
You can indirectly buy Redwood Materials through an investment in Ford Motor Company (NYSE: F). Ford led an investment round for Redwood Materials and is a major buyer of its batteries.
Redwood Materials isn't publicly traded at this time, so you can't buy it directly.
How much is Redwood Materials stock?
As of July 2021, Redwood Materials was valued at $3.7 billion.
It's a private company, so Redwood Materials stock does not exist.
What is Redwood Materials stock symbol?
Until the company files for an IPO, there will not be a Redwood Materials stock symbol. Right now, it is only available for purchase privately by large corporations and investment funds.
Who owns Redwood Materials stock?
There are currently thirteen investors in Redwood Materials stock – including Amazon, Fidelity, Goldman Sachs, and Ford.
Tesla does not own Redwood Materials, despite Redwood Materials being founded by Tesla's former Chief Technology Officer, J.B. Straubel.
Where to Invest $1,000 Right Now?
Did you know that stocks rated as "Buy" by the Top Analysts in WallStreetZen's database beat the S&P500 by 98.4% last year?
Our December report reveals the 3 "Strong Buy" stocks that market-beating analysts predict will outperform over the next year.