Our editorial team uses a strict editorial review process to compile all reviews, research, and evaluations of any kind. Our company, WallStreetZen Limited, is supported by our user community and may receive a small commission when purchases are made through partner links. Commissions do not affect the opinions or evaluations of our editorial team.
Stripe is not publicly traded, but that doesn't mean you can't invest in it.
Equitybee gives accredited investors access to hundreds of private, VC-backed startups before they IPO.
Sign up with Equitybee and invest in Stripe today.
Have you ever wondered what kind of companies Elon Musk invests in?
In 2012, Elon and other legendary investors (like Peter Thiel) backed a small software company called Stripe.
A year later it was worth $100 million. By mid-2023, it was valued at $74 billion.
Stripe's flagship product is a secure and convenient checkout solution for e-commerce platforms. They've partnered with Shopify, Amazon, Lyft, Instacart, and many others.
Want to invest alongside Elon?
Here's how to buy Stripe stock in 2023 whether you're a retail investor or an accredited investor:
How to Buy Stripe Stock as an Accredited Investor
Equitybee gives accredited investors access to hundreds of high-growth, VC-backed startups. You can become an investor in private companies like Stripe, Reddit, and Instacart.
By funding employee stock options, investors like you can own stakes in private companies at past valuations. In exchange for funding the options, you will receive a percentage of future proceeds from successful liquidity events.
Click on the image below to view Stripe's current offerings on Equitybee: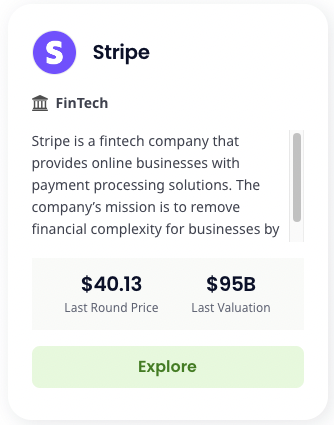 Start investing in Stripe and hundreds of other private companies on Equitybee.
Subject to availability.
If you're not an accredited investor, keep reading to learn how you can gain exposure to Stripe's upside…
Can You Buy Stripe Stock as a Retail Investor? Is Stripe Publicly Traded?
Right now, you can't directly buy shares in Stripe on the stock market. This privilege is reserved for venture capital firms and accredited investors.
In the near future, however, it's likely that Stripe will go public. They have filed their intentions of an IPO with the SEC, but a date has not yet been announced.
Until the IPO, let's cover a few ways to get indirect exposure to Stripe.
Who Owns Stripe?
Stripe has been funded by a total 51 investors. Early investors include Elon Musk, Peter Thiel, Andreessen Horowitz, Sequoia Capital, and more.
As a side note, Elon Musk and Peter Thiel also provided the startup capital for another successful venture — check out how to buy Open AI stock for more information.
2 publicly-traded companies within the payments industry also invested in Stripe during its early years: Visa and American Express.
Both Visa and Amex participated in the Series C funding round in 2014, when Stripe was worth only a few hundred million dollars.
Here's how we can benefit from their investments:
September 2023 Deal for U.S. Residents
eToro is one of the world's most popular investing platforms with over 28.5 million users.
As of September 20, 2023, eToro is offering a $10 bonus* for U.S. residents who open and fund a new account.
$10 bonus for a deposit of $100 or more. Only available to U.S. residents. Additional terms and conditions apply.
Are Visa and Amex Publicly Traded?
Visa and Amex are both public companies available on the NYSE and are members of the S&p 500.
What do Visa and American Express have to do with investing in Stripe stock?
I'm getting there…
How to Invest in Stripe Stock
Just to be clear – there is no Stripe stock symbol yet. Stripe announced that it intended to go public on the stock market, but has not released a date yet.
But buying Visa and/or American Express may give you exposure to Stripe's upside. By buying the companies which own Stripe, any valuation leaps made by the fintech payment processor should be reflected in Visa's and Amex's stock prices:
Although the amount that these companies invested was not disclosed, Stripe's valuation is roughly 100x what it was when they bought in.
Additionally, Visa and Amex will track the performance of the payment industry as a whole. If Stripe's business takes off, Visa and Amex are likely to as well. If you're interested in this sector, make sure to also look into how to buy Klarna stock.
How to Buy the Stripe IPO
Stripe's IPO has been eagerly anticipated for years and always seems to be just around the corner.
An IPO would enable Stripe to invest more capital to grow more quickly and provide major windfalls to its early investors and founders.
If it announces its IPO, here are the steps you will need to take to buy shares of Stripe:
Create or login to your brokerage account (if you don't have one, we recommend eToro – it's free)
Search for Stripe
Select how many shares you want to buy
Place your order
Monitor your trade
The Stripe stock price has not yet been determined – be sure to research the valuation of the company at its IPO to determine an investment strategy. You cannot buy shares of Stripe stock until its IPO.
If you don't want to wait for its IPO, register for Equitybee and invest in Stripe today.
Subject to availability.
Stripe Stock Price Chart
Since it's a privately-held company, there isn't a traditional Stripe stock price chart that you can find on a trading platform. However, there has been enough data available to create a timeline of the company's valuation during different funding rounds.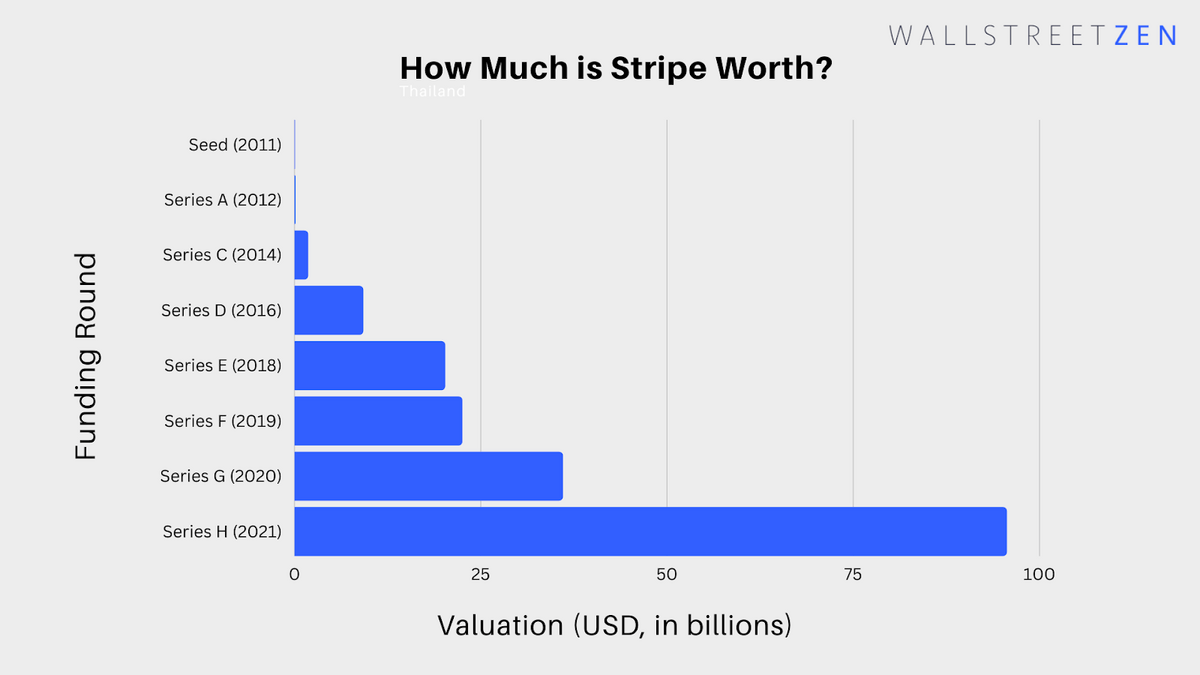 ---
FAQs:
How to buy Stripe stock?
Stripe is a private company right now and its shares cannot be purchased directly on the stock market.
However, Visa and Amex both invested in early funding rounds, which means that although there is not a Stripe stock symbol to buy, you can purchase Visa (NYSE:V) or Amex (NYSE:AXP) to get some exposure to the success of Stripe.
How much is Stripe stock?
Stripe was most recently valued at $74 billion, down from its high of $95 billion.
What is Stripe stock symbol?
There is no Stripe stock symbol - the company has yet to IPO.
Who owns Stripe stock?
Stripe has dozens of investors, including Elon Musk, Peter Thiel, Sequoia Capital, Andreessen Horowitz, Visa, and American Express.
Where to Invest $1,000 Right Now?
Did you know that stocks rated as "Buy" by the Top Analysts in WallStreetZen's database beat the S&P500 by 98.4% last year?
Our September report reveals the 3 "Strong Buy" stocks that market-beating analysts predict will outperform over the next year.