Our editorial team uses a strict editorial review process to compile all reviews, research, and evaluations of any kind. Our company, WallStreetZen Limited, is supported by our user community and may receive a small commission when purchases are made through partner links. Commissions do not affect the opinions or evaluations of our editorial team.
Binance is not publicly traded.
Equitybee gives accredited investors access to hundreds of private, VC-backed startups before they IPO.
Sign up with Equitybee and invest in Binance when it becomes available.
Binance's growth has been rapid, but it's been a bumpy ride. Right now, the largest crypto exchange in the world is in hot water with the SEC.
I'll be real with you: Right now might not be the best time to invest in Binance. That said, a company's fortunes can easily change. Plus, the crypto exchange space is still highly profitable and has the potential to grow.
Caution is key. But as evidenced by Ripple, which recently won a case against the SEC, a lawsuit does not equal a company's demise. Binance is still the largest dog in the fight — some 8 times larger than its next competitors.
Still interested in how to buy Binance stock? Let's talk.
Binance: The Basics
We'll get to how to buy Binance stock in a minute, along with a discussion of some important considerations.
But first, we should go through a couple of key factors illustrating why this company, all troubles included, is still a key player in the crypto space: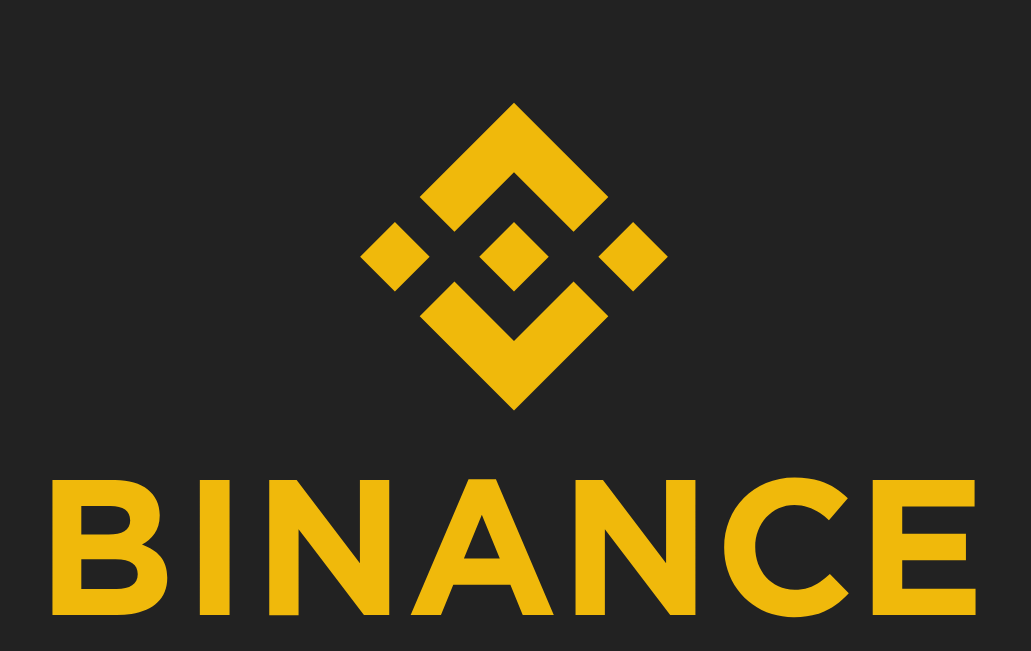 Binance is the largest crypto exchange by trading volume. At writing, it had handled $5,776,697,996 in the past 24 hours.
The company does business in more than 180 countries.
Binance's own cryptocurrency, Binance Coin, currently has a market cap of over $37 billion.
There are more than 128 million registered users on Binance
Binance's annual revenue hit a high of $12 billion in 2022 — experiencing a growth factor of 10 in just two years.
Can You Buy Binance Stock? Is Binance Publicly Traded?
Interested in how to buy Binance stock?
Binance stock isn't publicly traded — so don't waste your time looking for a Binance stock symbol. The company hasn't gone public yet, and its legal problems will likely delay a potential IPO further.
But that doesn't have to be the end of that. There may still be ways to gain exposure. Let's talk about it.
How to Buy Binance as an Accredited Investor
Traditionally, accredited investors have invested in private companies through hedge funds, venture capital firms, or angel investing. There's a slight issue there — all of those methods require large investments (think 6 figures or more).
This is the very issue that Equitybee tackles. The platform works like so: In exchange for funding the stock options plans of employees, you get a cut of the profits whenever a liquidity event (like a merger or acquisition) occurs. And the best part? The minimum is $10K — a far cry from the typical minimums required for the options mentioned above.
Binance isn't available via Equitybee at the moment (that could change).
However, another cryptocurrency exchange, Kraken, is: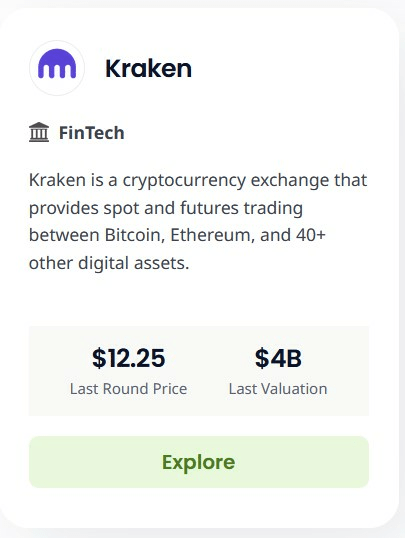 There are also other companies in the crypto/blockchain space available on Equitybee that you might be interested in:
Circle
Anchorage
Fireblocks
And more — take a look at Equitybee's site and see if anything piques your interest.
How to Buy Binance as a Retail Investor
Back to our original topic — how to buy Binance as a retail investor. Long story short, you can't — at least not directly.
However, there are ways in which you can gain exposure to Binance, recreate its performance, or potentially profit off of the same industry by investing in competitors. But first, a few things you should know:
Who Owns Binance?
The founders of the company — Changpeng Zhao, commonly known as CZ, and He Yi, are most likely the holders of the largest stakes in the company.
Apart from them, ownership of the company is divided among the businesses that funded Binance, including:
Black Hole Capital
Sequoia Capital
Vertex Ventures
Funcity Capital
Fundamental Labs
Iron Key Capital
Does Blackhole Capital Own Binance?
No. Although Blackhole Capital was among the first backers of Binance, and its stake is likely significant, they do not own the company.
Blackhole Capital and Funcity Capital led the first round of VC investment for Binance, but the actual ownership percentages were never publicly disclosed, as is standard practice.
How to Invest in Binance Stock as a Retail Investor
Note: This article does not provide investment advice. The stocks listed should not be taken as recommendations. Your investments are solely your decisions.
Today's question was how to buy Binance stock. The answer is that you can't do that right now and that there are plenty of reasons why investing directly in Binance is a risky move.
However, if you want to gain some exposure to the company, invest in it indirectly, I've got you covered. Let's look at two possible avenues that you can take.
Binance Coin
Since Binance stock isn't publicly available, the simplest way to gain exposure to the company is through its crypto token, Binance Coin (BNB). Although it has seen significant price drops due to the lawsuit, as well as general cryptocurrency troubles, the token is currently trading at around $240.
I won't try to summarize whether or not investing in BNB is a good idea at the moment — I do have to keep these guides short.
I will remind you once again that Binance is in legal trouble, and that crypto investing is riskier than most other forms of traditional investing.
With that said, I'll leave a price chart below (courtesy of TradingView) and leave the in-depth research in your capable hands.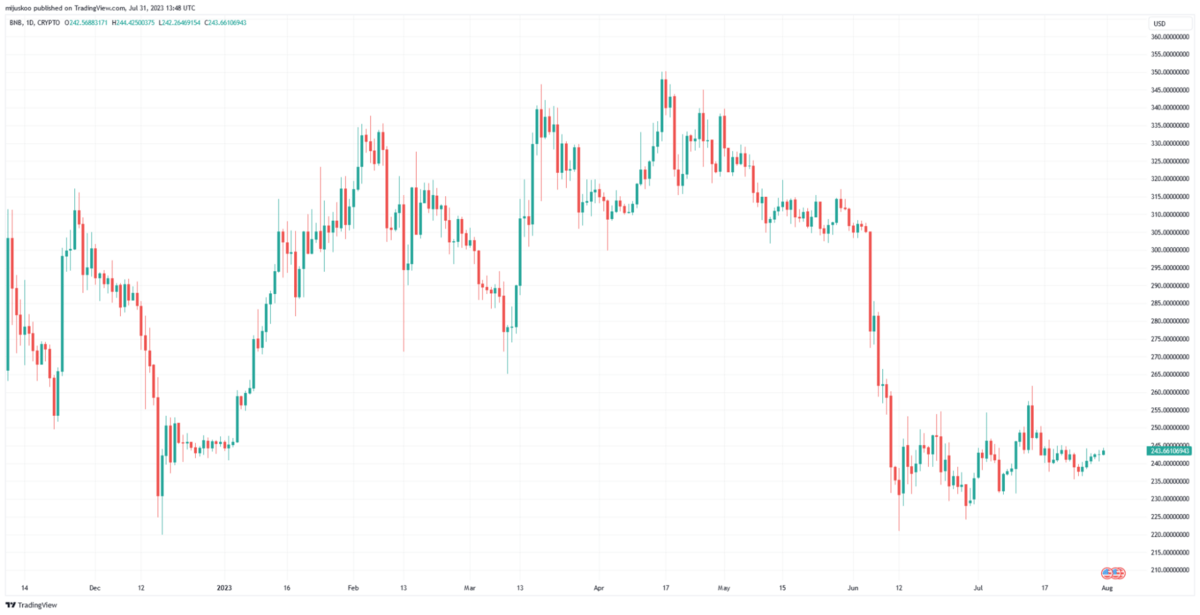 Interested in trading crypto? One of our favorite exchanges is eToro.
Competitors and Publicly-traded Crypto Companies
Binance has competitors, and some of them are publicly traded.
Before moving on to those companies, I'd like to reiterate that Ripple (XRP) and Kraken, two cryptocurrency companies, the latter of which is also an exchange, are available on Equitybee.
The first item on our list is Coinbase (NASDAQ: COIN). Coinbase is significantly smaller than Binance, and is currently rated Buy by the top analysts featured on our website.
However, the average forecast for the coming year is -16% — so I would steer clear unless you're intent on a long-term, buy-and-hold approach. Still, Coinbase deserves a spot in one of your watchlists.
Block Inc, formerly known as Square (NYSE: SQ), although not a crypto exchange, is a payment platform — and apart from just accepting Bitcoin, the company is also a part of plenty of exciting crypto projects.
Last but not least, Riot Platforms (NASDAQ: RIOT) and Microstrategy Inc (NASDAQ: MSTR) are companies with large exposure and correlation to cryptocurrencies.
Out of all these options, Block currently looks like the best choice — rated a strong buy by our featured analysts, with an average forecast of +16.64% looking at the next year. Chart below courtesy of TradingView.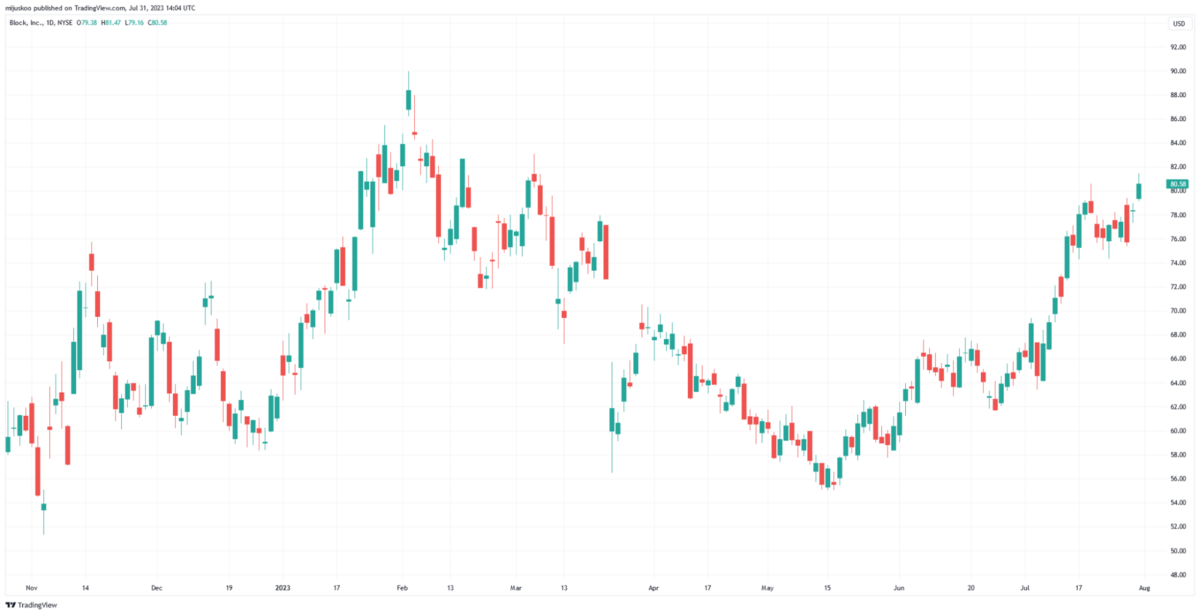 How to Buy the Binance IPO
Here are the steps on how to buy Binance stock if and when it becomes available:
Create or login to your brokerage account (if you don't have one, we recommend eToro – it's free)
Search for Binance
Select how many shares you want to buy
Place your order
Monitor your trade
eToro securities trading is offered by eToro USA Securities, Inc. ("the BD"), member of FINRA and SIPC. Cryptocurrency is offered by eToro USA LLC ("the MSB") (NMLS: 1769299) and is not FDIC or SIPC insured. Investing involves risk, and content is provided for educational purposes only, does not imply a recommendation, and is not a guarantee of future performance. https://www.wallstreetzen.com is not an affiliate and may be compensated if you access certain products or services offered by the MSB and/or the BD.
Binance Stock Price Chart
Because the company hasn't gone public yet, I can't give you a legitimate Binance stock price chart. There's no Binance stock symbol and no way to measure Binance stock price.
That being said, I can give you other charts that will provide you with some useful information. Let's start with the bad news.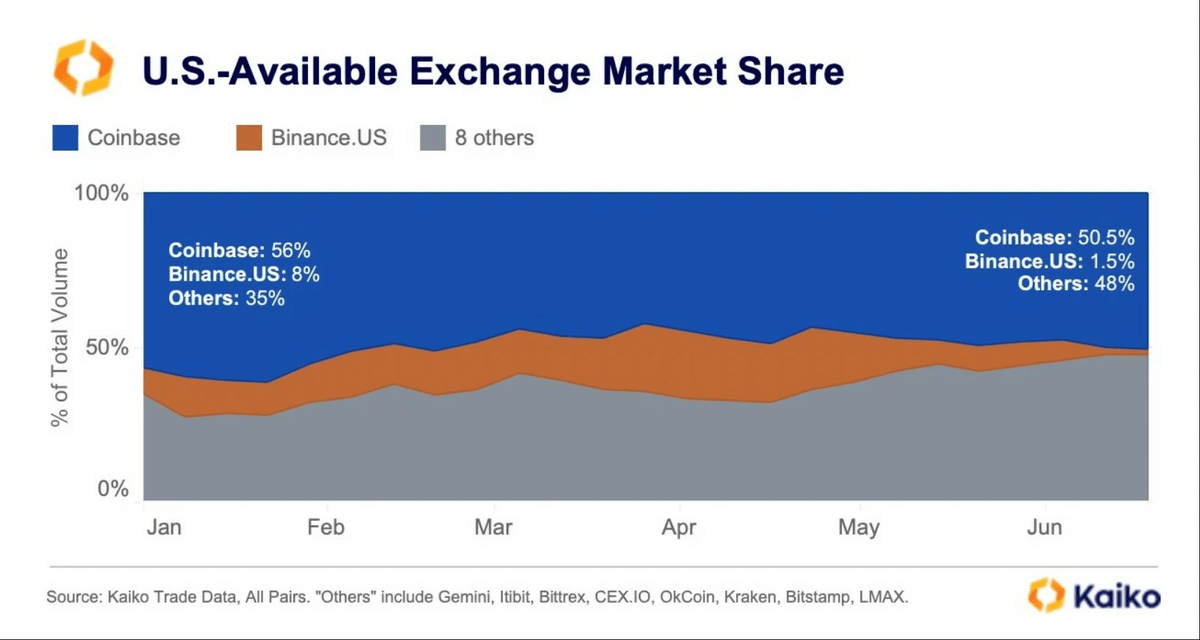 The chart above, dated June 2023, shows the rapid drop in market share that Binance US experienced as a result of the SEC lawsuits. Since then, market share has dropped even further, plummeting below 1%.
On the bright side, while the troubles that Binance and other crypto exchanges have run into with regulatory bodies have certainly thrown a spanner in the works, things aren't actually all that bleak.
In the chart above, you can see Grand View Research's estimates on the growth of the crypto exchange market. At the forecasted 28.3% CAGR, the market should be worth $264.3 billion in 2030.
The legal and regulatory issues facing cryptocurrency are far from a done deal, as Ripple's recent court victory against the SEC has shown.
While there may be some more bumps further down the road, they won't be able to stop the inevitable growth and further adoption of crypto worldwide.
The bottom line? You can't buy Binance stock yet. However, if you're an accredited investor, you can explore like-minded companies on Equitybee; if you're a retail investor, there are plenty of other crypto stocks to explore.
---
FAQs:
How to buy Binance stock?
You can't buy Binance stock — at least not at the moment. The company is still privately-held, so its shares are not publicly traded.
How much is Binance stock?
There currently isn't a way to accurately measure how much Binance stock is worth, or for how much it would trade.
What is Binance stock symbol?
There is no stock symbol associated with Binance as of mid-2023 since the company isn't listed on any of the world's stock exchanges.
Who owns Binance stock?
Apart from the two founders, Changpeng Zhao and He Yi, various VC and private equity companies own Binance stock — including Black Hole Capital, Sequoia Capital, Vertex Ventures, Funcity Capital, Fundamental Labs, and Iron Key Capital.
Where to Invest $1,000 Right Now?
Did you know that stocks rated as "Buy" by the Top Analysts in WallStreetZen's database beat the S&P500 by 98.4% last year?
Our September report reveals the 3 "Strong Buy" stocks that market-beating analysts predict will outperform over the next year.