Our editorial team uses a strict editorial review process to compile all reviews, research, and evaluations of any kind. Our company, WallStreetZen Limited, is supported by our user community and may receive a small commission when purchases are made through partner links. Commissions do not affect the opinions or evaluations of our editorial team.
There's a lot to love about real estate investment trusts (REITs)…
REITs have historically outperformed stocks over the past 20-50 years.
They're relatively low-risk.
They generally pay higher dividends than stocks themselves.
Best of all, they're a lot more accessible than buying property, and can offer more diversity than investing in crowdfunding real estate.
If you want to invest in REITs in an easy-to-use platform, the Concreit REIT investing app might be right for you.
In this Concreit app review, I'll help you figure out whether or not this REIT investing app is a good fit. You'll learn all about Concreit's unique and low risk investment strategy and the mechanics behind the simple and easy-to-use app.
Is Concreit the Best REIT Investing App?
The Bottom Line: The Concreit REIT investing app offers an attractive entry into the lineup of real estate investing apps due to its low minimum investment requirements. With just $1 you can sign up, fill out some information, connect your bank account, and start investing immediately.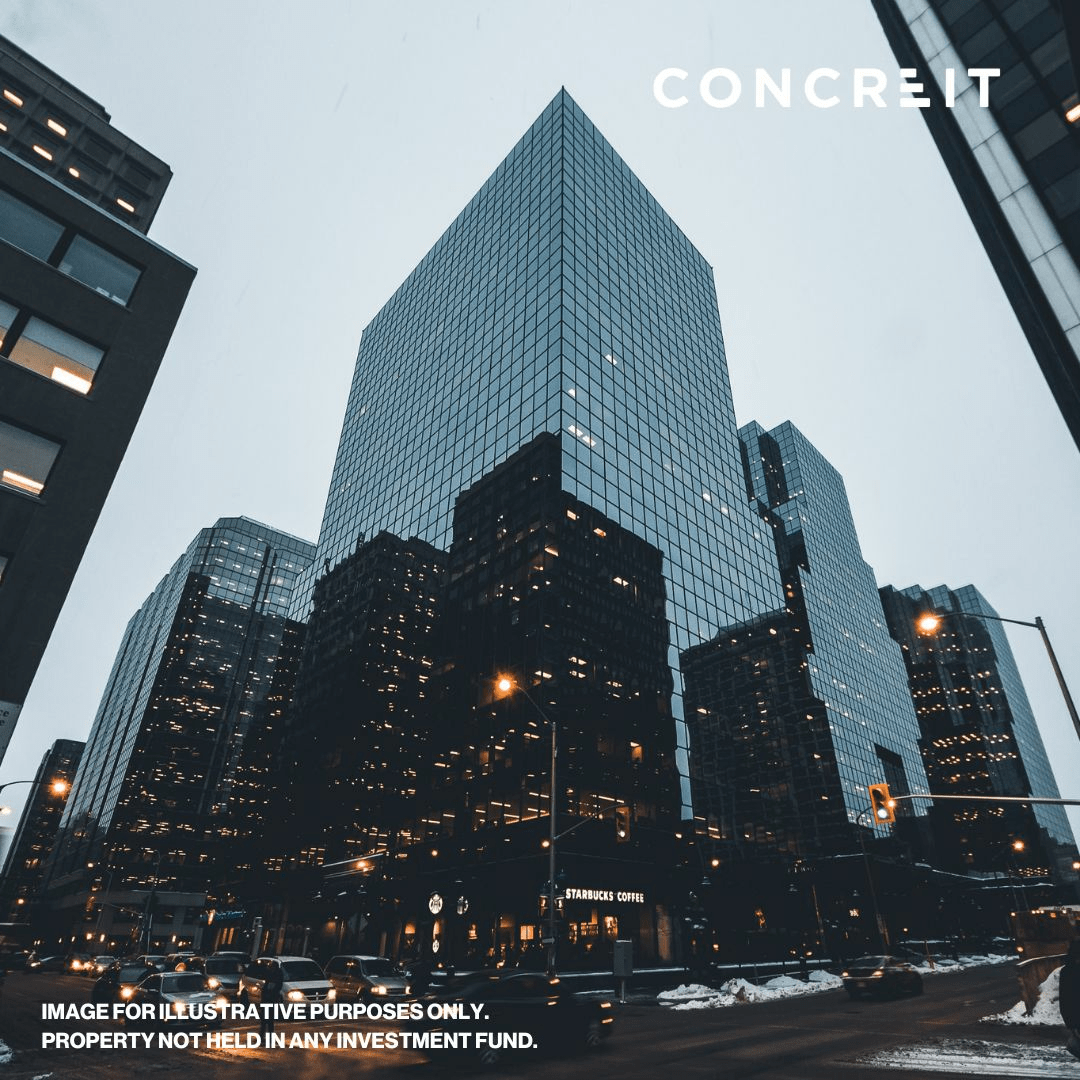 Among its other selling points?
Concreit has a bonus program called Instant Earn where your investment starts earning dividends immediately, even while your deposit is processing.
Concreit pays weekly dividends and has a historic annual return rate of 6.18%.
By placing your money in the Concreit Trust, your money is used to purchase fractional shares in more than a hundred properties across the continental U.S.
Unlike other REIT apps, the money you invest doesn't go to purchasing concrete assets, but to fixed-income first-lien mortgage loans which the company says offer much lower risk and higher yield stability.
Concreit has a flexible withdrawal structure using cash on hand instead of selling positions in their assets.
Let's dig in deeper with this Concreit review.
What is Concreit?
Concreit is a low risk real estate investment trust app that allows new and inexperienced investors or investors with limited capital an easy way to participate in the potentially lucrative real estate investment market.

Concreit uses investors' money to crowdfund a trust through which they purchase fixed-income first-lien mortgages backed by collateralized assets in commercial and residential real estate.
These mortgages are said to offer attractive potential returns and high yield stability.
As a result, the app is purported to be a safer alternative to REITs that invest in actual commercial and residential real estate.
The barrier for entry is incredibly low — just $1 — so just about anyone can invest.
While new and inexperienced investors will find its low investment minimums and low risk profile attractive, it also caters to the more experienced investor with more liquid capital.
While Concreit is in the same vein as apps like Fundrise or Crowdstreet, this trust invests in mortgage loans instead of physical assets.
Concreit Review: How it Works
Concreit is a REIT investing app that works by pooling its investors' money into a single real estate investment trust.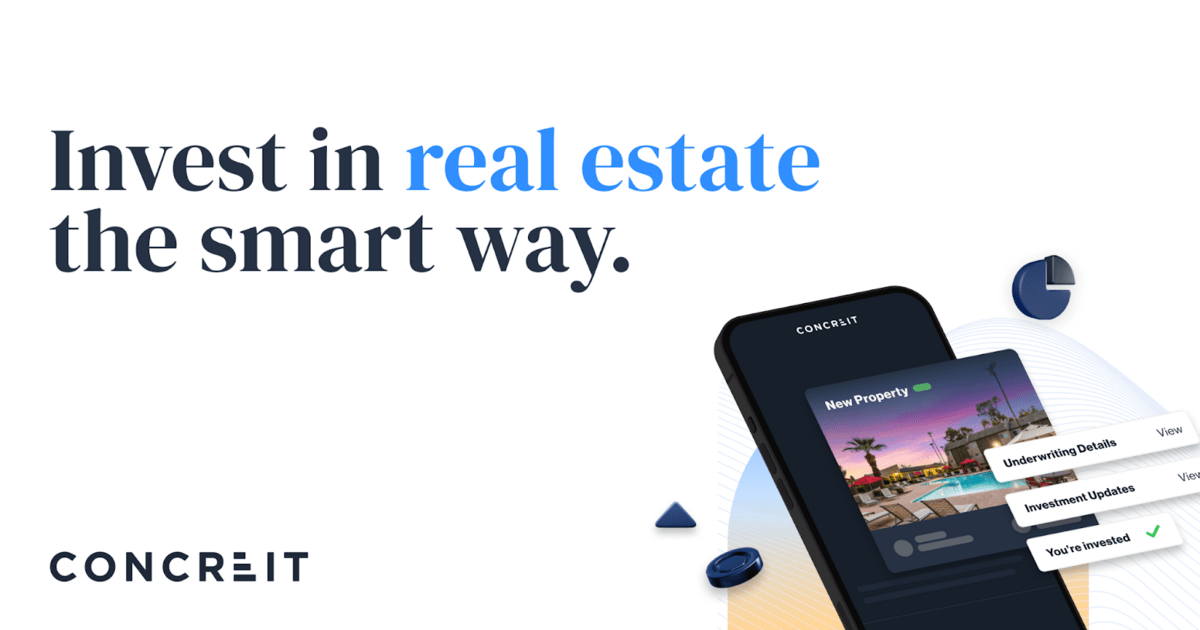 The company aims to make it accessible for everyone from Joe Schmoe to seasoned longtime investors with attractive offers like investing any amount you like, no long-term commitments and available profit being paid out weekly via dividends.
Their flagship fund, Concreit Fund I, aims to generate cash flow while at the same time balancing private market liquidity. The fund invests in fixed-income first-lien mortgages, which are loans that pay a fixed rate of interest and that are secured by the equity in the borrower's primary residence. Essentially, these are home equity loans.
The goal? Investors can potentially generate higher yield stability with lower risk investments. The average return on REITs is quite impressive.
What Investors Get
Concreit investors will own fractional shares of all 102 properties that the fund manages. This means a highly diversified real estate investment portfolio with none of the hassle that comes with the traditional real estate investing route.
In particular, the fund invests in professional developers looking to make renovations, development and acquisitions to commercial and residential real estate properties. Additionally, all the loans the fund invests in are also short-term loans meaning returns and profit are generated more regularly.
Concreit says that whether you're investing long-term, seeking to diversify, or looking to make passive income, they support your financial goals.
Is the app easy to use?
Concreit's app is an incredibly easy-to-use platform and keeps everything you need to know about the REIT's investments at your fingertips. It shows and details each property the REIT has invested in, including information about the property, photos of the property, loan breakdowns, loan structures, LT/ARV, and brokerages for the loans.
It also shows an overview of each investment property and property valuations.
It's incredibly detailed for such a simple app and it's nice in that it gives a personal outline of how your money, as an investor, is being used in the trust.
With the option of having dividends being paid out as cash or reinvested, and an annual return of about 6.18%, it's a powerful tool for new investors who want to get started with real estate investing.
Who Can Use Concreit?
Concreit is unique in that it can be used by any investor 18 and up with a bank account and at least a dollar to get started.
There is no lengthy verification process — all you have to do is download the app, sign up, answer a few questions, connect your bank account, and invest.
This process makes it easy not only to invest, but also to understand just how the trust works and where the investor's money is being used.
As a REIT investing app, it's amazing for providing accessibility to real estate investing for pretty much anyone who is looking to invest in the lucrative real estate market.
Concreit Features: What Makes Concreit Different?
Concreit has a variety of attractive features for investors, many of which can't be found on other real estate investment apps including but not limited to:
Easy Sign-Up
$1 account minimum
Easy investment process
An attractive and low risk cash flow investment profile
A diversified portfolio of both commercial and residential real estate
A network of more than 100 properties all over the country
Weekly dividend reinvestment and payouts
Instant Earn program, where you earn dividends even while your money is processing
Individual investor breakdowns
Detailed property information, financials and photos
Flexible withdrawal structure using cash-on-hand
Recent activity breakdowns for your investments
Strategy and thesis breakdowns
6.18% annual return rate
Vary high payout stability
Very low risk grade
Quick customer service
An extensive documentation library
With all these features, Concreit stands out among other real estate investment apps offering a less comprehensive view of assets and higher account minimums.
Concreit's Key Numbers
Concreit is a versatile real estate investing app with several enticing features … But how does the company break down?
6.18% Annual Return
128.6% Growth since 2012
$15 Million in Revenue
30,000 Registered Users
49 employees
102 investment properties
3 investing profiles
41% Bridge and Refinance Assets
26% Construction Assets
33% Heavy Rehabilitation Assets
1 Overarching Investment Fund
Concreit Fees & Pricing
Concreit's fees are on par with other real estate investment apps:
$5 a month membership fee to investors with less than $5,000 in their accounts. This covers investors' shares of the underlying asset management fees allowing the investment to balance and grow more rapidly.
For accounts over $5,000, Concreit charges a 1% annual fee. This is calculated at the underlying investment level and charged to the investor's fund. For this, a balance of $5,000 or more needs to be maintained in the account on an ongoing basis.
Pros and Cons of Concreit
| | |
| --- | --- |
| Pros | Cons |
| Low ($1) minimum to invest | Lower annual return than other REIT apps |
| Easy-to-use app | One fund meaning limited investment options |
| Low Risk and HIgh Yield | Lack of control over where money is being used |
| Weekly Dividend Reinvestment and Payout | Invests in first-lien mortgages instead of concrete assets. |
Is Concreit Safe?
Concreit is committed to your safety in a variety of ways:
The app allows investors to purchase shares through an issuer-direct A+ Tier 2 offering that is qualified by the Securities and Exchange Commission. Concreit is an SEC registered Investment advisor and is backed by VCs like Unlock Venture Partners, Hyphen Capital, and Betterment founder Jon Stein.
Concreit follows rigorous underwriting guidelines for their investments and prioritizes their investor's preservation of capital.
Each dollar you invest in the Concreit Cash Flow fund is backed by real estate that is 1.3 times the amount you invested.
The Concreit Fund I aims to protect your money through investing in first-lien mortgages that are typically about 130% of the corresponding dollar value to protect against potential negative price fluctuations.
Of course all investing is speculative and there remains no guarantee that your investment will produce any yield or appreciation. Market conditions may even cause the value of your investment to drop. Do your research before investing in anything.
At-a-Glance: Concreit vs. the Competition
| | | | |
| --- | --- | --- | --- |
| | Concreit | RealtyMogul | Yieldstreet |
| Overall Rating | ⭐⭐⭐⭐ | ⭐⭐⭐⭐ | ⭐⭐⭐⭐⭐ |
| Minimums | $1 minimum for every investor in the Cash Flow profile. | $5000 minimum account balance | $5,000 for Prism Fund$10,000 for accredited offerings |
| Projected Returns | 6.18% annually | 8.66% annually | 8-20% annually |
| Investment Options | First-Lien mortgages backed by collateralized real estate assets. | Real Estate Investment Trusts and Individual properties | Real Estate, Legal,Art, Transportation,Private Credit,Cryptocurrency |
| Fees | $5/Month for less than $5000 invested. 1% annually for more than $5000 | 1-1.25% annual management fee | 0-2.5% |
| Retirement Accounts | Not Available but you can set up goals in the app | SDIRA Available | Available |
| Mobile App | ✅ | ✅ | ✅ |
| # of Investors | 40,000+ | 274,000+ | 404,000+ |
| Amount Invested | Unpublished | $1+ billion | $3+ billion |
| More Info: | Check out Concreit | Check out RealtyMogul | Check out Yieldstreet |
Final Word: Concreit Review
Concreit is an attractive real estate investment platform for the everyday retail investor. With shares in the trust priced at only $1, it truly is available to anyone who wants to invest.
The app offers a relatively low-risk investment strategy and it provides diversification not only in your investment portfolio but also in the assets that the fund manages.
Overall, there are many benefits to using the platform such as the low minimums, the weekly dividend payout, and the overall ease of use for the app.
Is Concreit right for you? That will depend on your unique situation and investing style. Some investors may be put off by the lack of options available and the lower rate of return. However, overall Concreit is a great app to get anybody started in real estate investing with no real barrier to entry. Their fees are reasonable and the app is easy to use.
---
FAQs:
How much can you earn on Concreit?
Approximately 6.18% of your investment annually, based on historical returns.
How does the Concreit app work?
With the Concreit app, unlike other REIT apps, the money you invest doesn't go to purchasing concrete assets, but to fixed-income first-lien mortgage loans which the company says offer much lower risk and higher yield stability.
How do I withdraw from the Concreit app?
Withdrawals are flexible so just go to your account, initiate a withdrawal and you should see your money in a few days.
Is it safe to invest in real estate crowdfunding?
As with any investment, Real estate investing involves a certain amount of risk. Whether through a crowdfunding REIT app like Concreit where your money is pooled to buy assets, or more traditional methods like buying physical assets, it's important to be aware of what you're getting into.
Is there a Concreit promo?
Yes, there is a Concreit promo. They offer a base referral reward of $10. Terms apply — the Concreit website has more information.
Where to Invest $1,000 Right Now?
Did you know that stocks rated as "Buy" by the Top Analysts in WallStreetZen's database beat the S&P500 by 98.4% last year?
Our September report reveals the 3 "Strong Buy" stocks that market-beating analysts predict will outperform over the next year.