Our editorial team uses a strict editorial review process to compile all reviews, research, and evaluations of any kind. Our company, WallStreetZen Limited, is supported by our user community and may receive a small commission when purchases are made through partner links. Commissions do not affect the opinions or evaluations of our editorial team.
Investing in the stock market is great, but it's not the only way to get a return.
In fact, diversifying your investments outside of traditional markets can yield higher returns as well as give you a hedge against the volatility of investing in regular assets.
Until recently, you had to have a lot of cash or be well-connected to access investments like commercial real estate, high-end art, fine wine, or private equity. Now, most investors can access these assets through online platforms.
Want to find the best alternative investment platforms?
For this article, I reviewed over two dozen alternative investment apps and platforms (including their available assets, stated returns, fees, and platforms). Below, you'll find a comprehensive review of the top alternative investments that offer the best experience for investors.
Keep reading to find out which one is right for you:
At-a-Glance: The 9 Best Alternative Investment Platforms
P.S. Want to take your top alternative investments knowledge further? Check out this article.
The 9 Best Alternative Investment Platforms in 2023:
1. Yieldstreet – The Best Alternative Investment Platform Overall
Overall Rating: ⭐⭐⭐⭐⭐
Assets: Real estate, art, crypto, legal, private credit, private equity, short-term notes, transportation, venture capital
Minimum Investment: $15,000
Type of Investor: Primarily accredited
Yieldstreet is an alternative investment platform that offers a huge selection of alternative assets with a simple-to-use dashboard and low fees.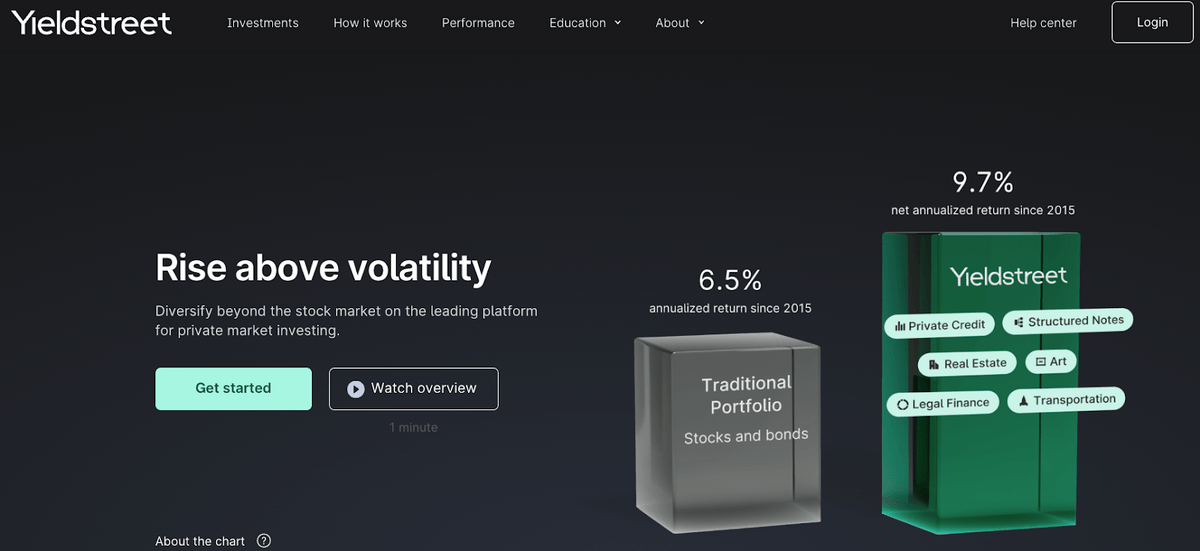 Founded in 2015, Yieldstreet has grown to become one of the best places to invest in just about anything outside of traditional markets.
Available assets include crowdfunded real estate, rare artwork, cryptocurrency, private deals, venture capital, and more.
While most deals require that you qualify as an accredited investor, the Yieldstreet Prism fund is accessible to non-accredited investors.
Yieldstreet portfolios let you invest in multiple asset classes within a single investment. That means you get instant diversification across investments.
Fees range from 0% up to 2.5% annually, depending on the investment.
2. Masterworks – Invest in Fine Art
Overall Rating: ⭐⭐⭐⭐⭐
Assets: Contemporary art
Minimum Investment: N/A
Type of Investor: All investors
Masterworks is the best online platform for investing in high-end contemporary art.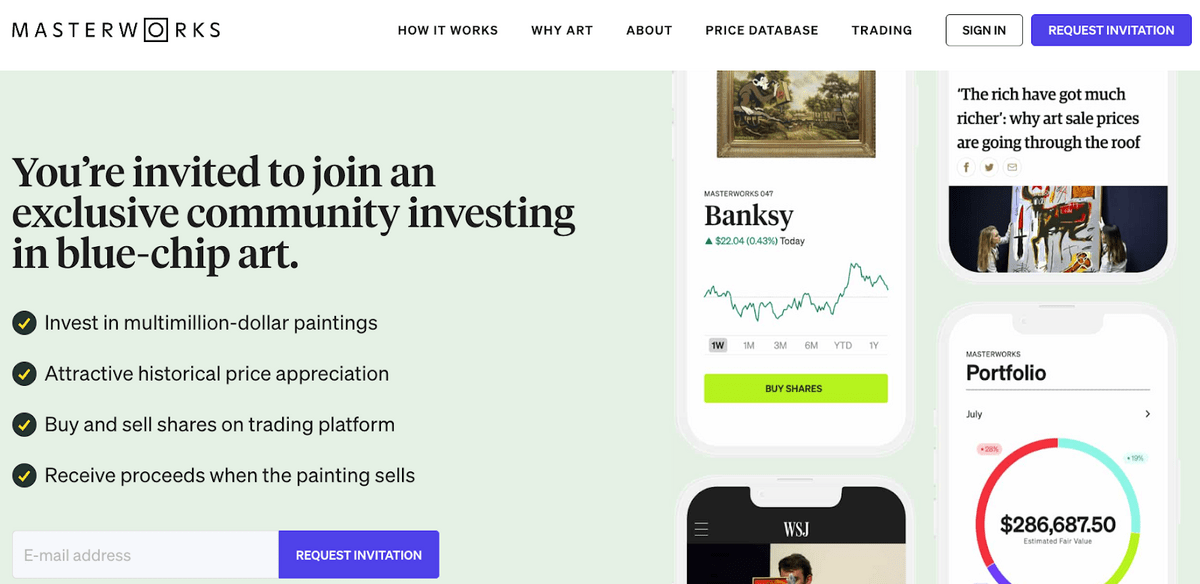 What is it? A crowdfunding platform that lets both accredited and non-accredited investors purchase fractional shares of fine art.
They have a solid track record: Masterworks has purchased over 200 art pieces, with 13 sales so far, generating +17.8%, +21.5% and +35% in net annualized gains on their last few exits*
Overall, investing in art is a great way to diversify your portfolio and is uncorrelated with public markets, giving investors a hedge against market volatility.
However, investing in fine art does carry a higher degree of risk, as you must choose the pieces to invest in, and there is no guarantee of a return. Check out our complete Masterworks review for all the details.
Masterworks does have a waitlist for onboarding interested investors, but you can skip the line by using the link below.
* Returns are examples of those deals that represent median returns. Past performance is not indicative of future returns.
3. Fundrise – Invest in Residential & Commercial Real Estate
Overall Rating: ⭐⭐⭐⭐⭐
Assets: REITs, Commercial real estate
Minimum Investment: $10
Type of Investor: All investors
Fundrise is one of the top crowdfunded real estate investing apps, offering access to a wide range of investment opportunities through diversified real estate investment trust (REIT) funds.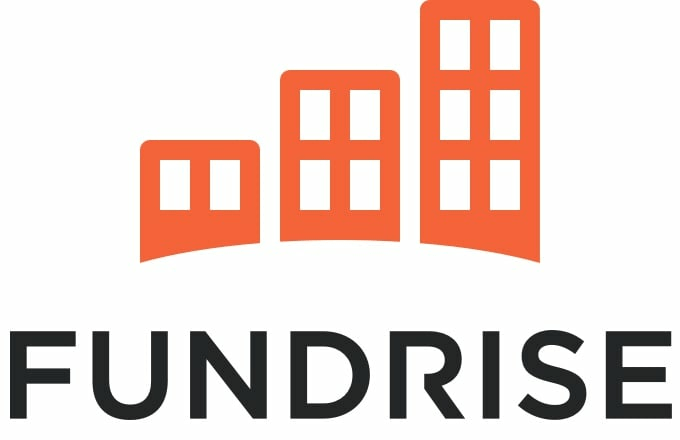 Fundrise has several types of investments, from REITs to specialized funds and accredited offerings (reserved for accredited investors).
Here's something different: Fundrise even offers a retirement account (IRA), allowing you to use the platform to save for retirement.
As for fees? Fundrise keeps fees fairly flat, with a 0.85% platform fee, and 0.15% advisory fee, so the overall cost is 1% of the total investment (per year).
4. Percent – Invest in Private Credit
Overall Rating: ⭐⭐⭐⭐⭐
Assets: Consumer loans, trade receivables, SMB Loans, SMB cash advances, SMB leases, corporate loans
Minimum Investment: $500
Type of Investor: Accredited only
Percent is one of the best platforms for investing in private credit (accreditation required).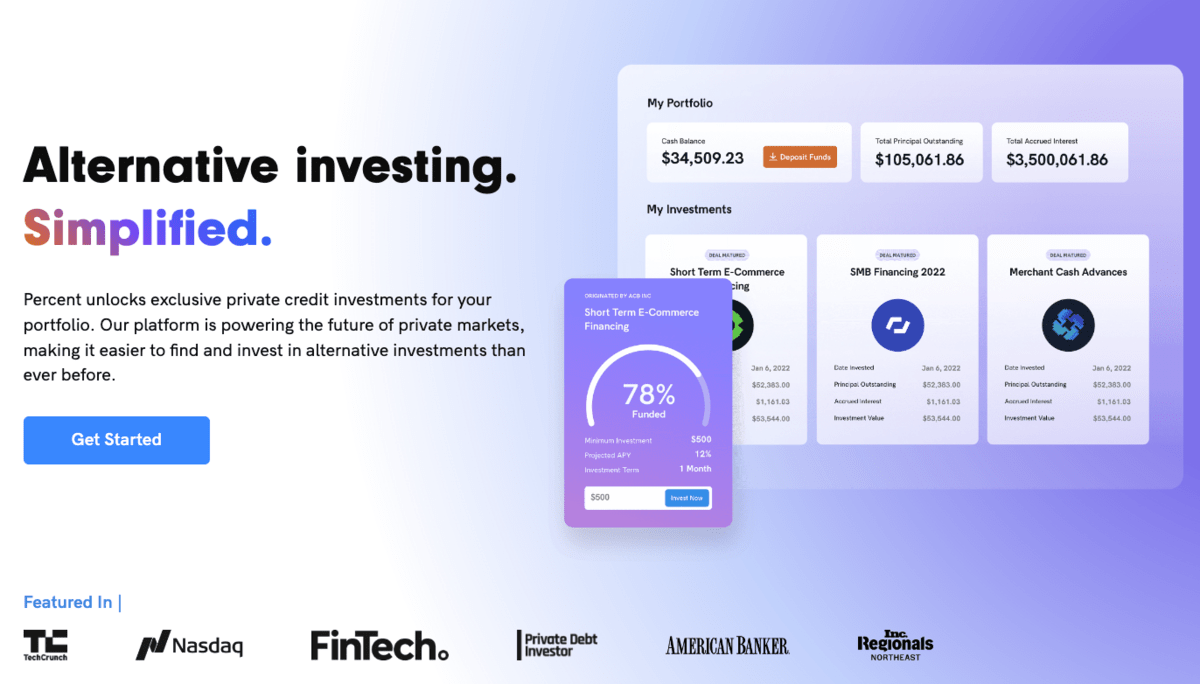 Percent is a crowdfunded platform that offers access to a variety of debt investment opportunities, including corporate and small business loans, as well as trade receivables and consumer loans.
The platform also offers blended note portfolios made up of a variety of loans in a single investment.
The process is simple: Percent partners with corporate borrowers that originate loans to small businesses and consumers, and the loans are funded by you, the investors. You collect earnings through loan interest, and most loans are backed by assets, giving you extra protection.
What about fees? Percent charges variable fees depending on the investment product.
For direct deals, 0% management + a % of yield
For managed products like Percent Blended Notes, 1% management + a % of yield
For example, if a deal paid 15% APY and the fee charged was 10% of interest, your effective APY is 13.5% after fees.
Percent is available to accredited investors only. Not sure how accredited investor opportunities work? Check out this article.
5. Equitybee – Invest in Private Companies
Overall Rating: ⭐⭐⭐⭐
Assets: Private companies
Minimum Investment: $10,000
Type of Investor: Accredited only
Equitybee is one of the best ways for accredited investors to invest directly into private companies like Impossible Foods and Waymo by funding employee stock options.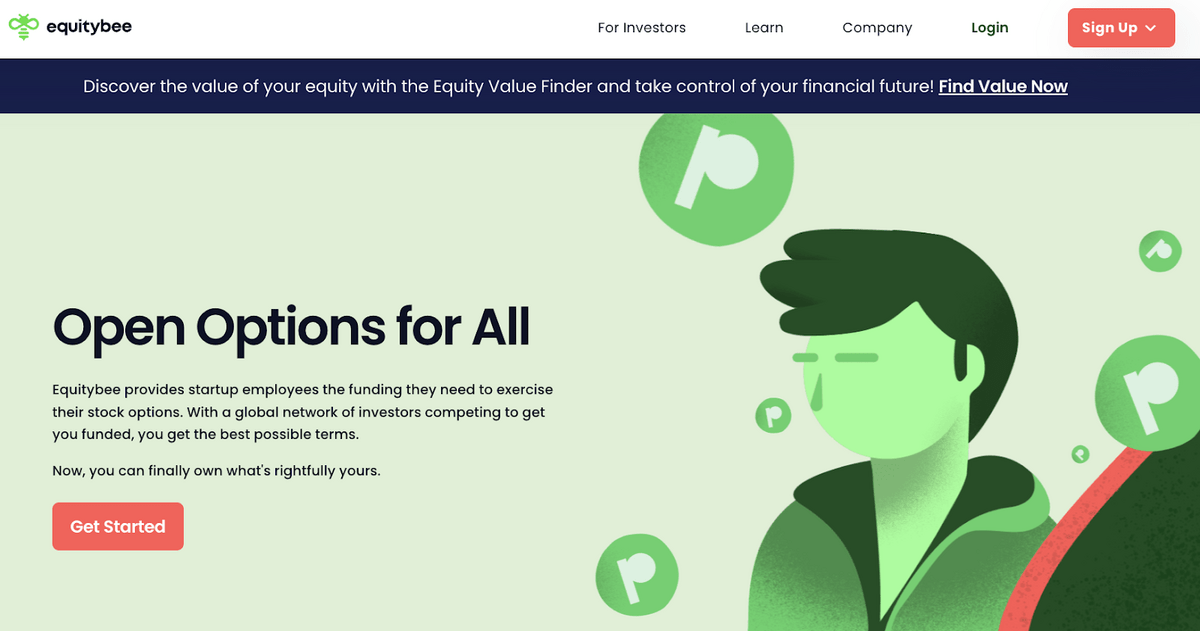 Equitybee is a platform that connects startup employees with accredited investors to help them exercise their stock options, while only paying the investor after a liquidation event.
Since purchasing stock options in a privately-held company can be expensive, this helps employees access their options while investors can reap the rewards as well.
Equitybee is a win-win for both investors and employees, as the employee access options they otherwise could not afford, and investors collect interest and a portion of the shares when a company goes public or is acquired.
Fee-wise, Equitybee does charge a 5% upfront investment fee and collects 5% of the profit from a successful liquidity event.
6. Vinovest – Invest in Wine
Overall Rating: ⭐⭐⭐
Assets: Vintage Wine
Minimum Investment: $1,000
Type of Investor: All investors
Vinovest lets you invest in AI-selected wine portfolios and individual wine collections, with a secondary marketplace available.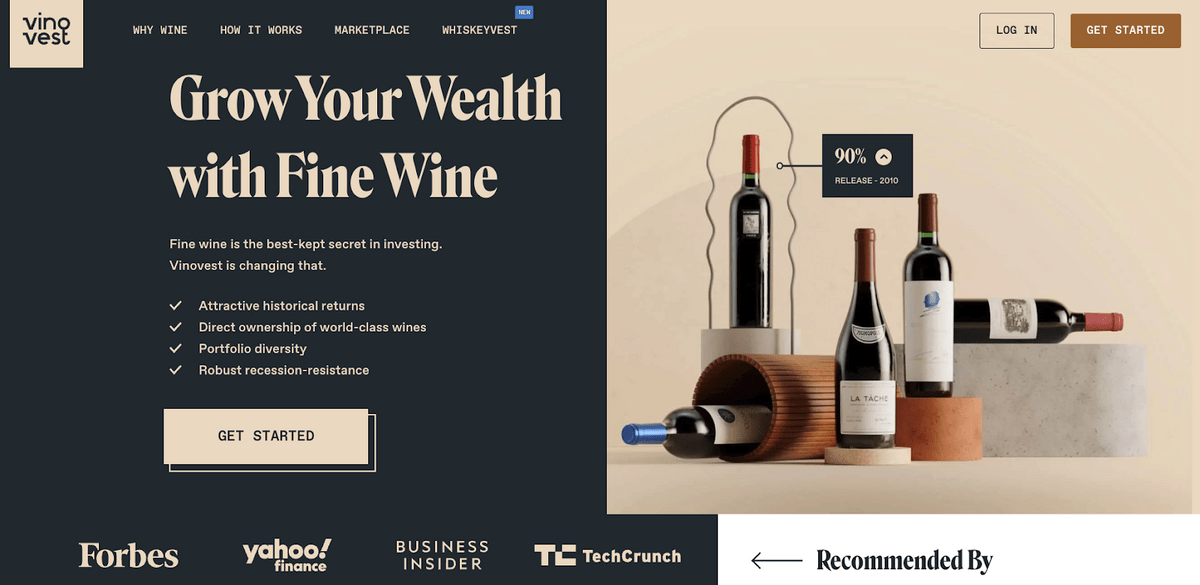 Vinovest is an investing platform that offers fine wine portfolios and collections to both accredited and non-accredited investors. You can also invest in individual bottles through the Vinovest marketplace. Best of all? You own all the wine that you purchase through the platform.
Vinovest uses artificial intelligence to create a portfolio of selected wines based on thousands of data points, including market liquidity. They also enlist master sommeliers to help them curate wine collections to match your investment choices.
There is an annual 2.50% fee assessed (at the starter investment level) and a $1,000 investment minimum.
7. Arrived Homes – Invest in Fractional Real Estate
Overall Rating: ⭐⭐⭐⭐⭐
Assets: Single-family home rental properties
Minimum Investment: $100
Type of Investor: All Investors
Arrived Homes is the best crowdfunded real estate platform for investing in single-family rental homes, with an extremely low $100 minimum. Plus, it's backed by Jeff Bezos.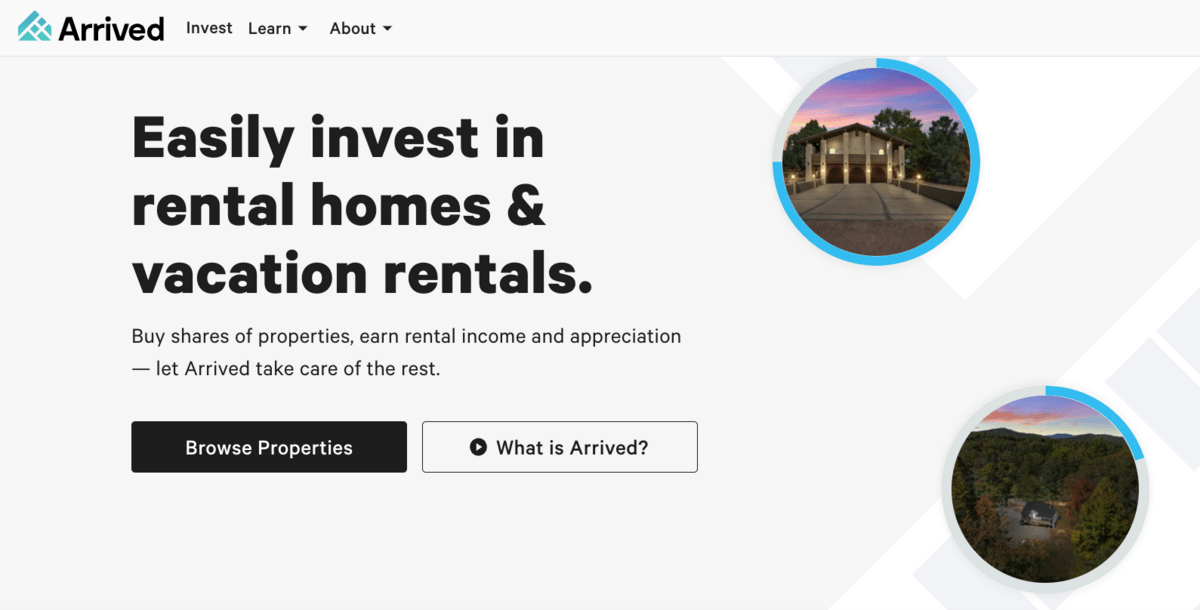 Arrived offers an intuitive platform that lets you invest a small amount of money into single-family residential investment properties. You can purchase shares of a single property for as little as $100, and earn dividends in the form of monthly rental income.
Among its selling points? Arrived has a stringent vetting process, selecting less than 1% of the deals they review, and they offer both long-term rental and vacation rentals.
While there are a few fees for each property (0.15% annual fee, 8% gross rents fee, additional fees for short-term rentals), expected net returns range from 8% – 20% APY.
8. Public – Invest in Collectibles & Stocks
Overall Rating: ⭐⭐⭐⭐
Assets: Stocks, ETFs, crypto, fine art, collectibles
Minimum Investment: None
Type of Investor: All Investors
Public.com lets you invest in stocks, ETFs, crypto, and even collectibles with minimal fees.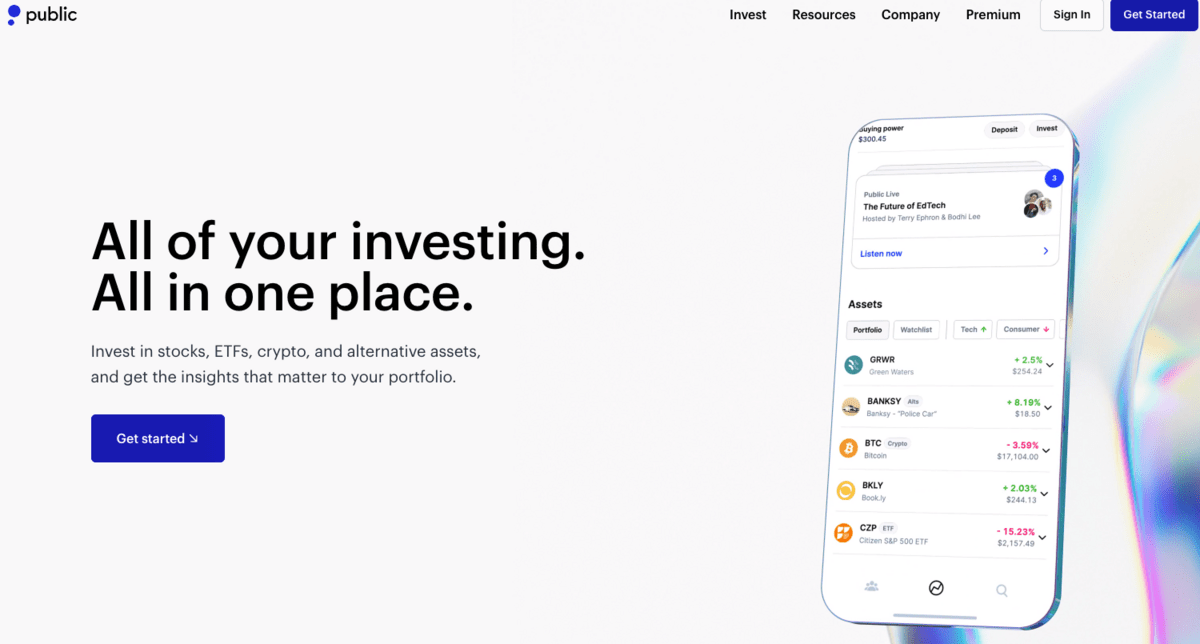 Public is a trading platform and one of the best alternative investment apps out there. Why? No fees on stocks and ETF trading, plus many more assets, like NFTs, rare sports cards, collectible sneakers, famous artworks, and more.
The platform is unique in that it offers a secondary trading market where you can buy and sell shares of ownership in these alternative assets. Plus, there are no accreditation requirements, so anyone can invest in collectibles, stocks, and other assets on Public.
Worth noting: Investing in alternative assets comes with a 2.5% commission per transaction, so if you try to actively trade alternative assets, it can get expensive.
9. AcreTrader – Invest in Farmland
Overall Rating: ⭐⭐⭐⭐
Assets: Farmland
Minimum Investment: $10,000
Type of Investor: Accredited only
AcreTrader is the best way to invest in farmland, offering ownership shares in farms across the U.S. with a low minimum investment.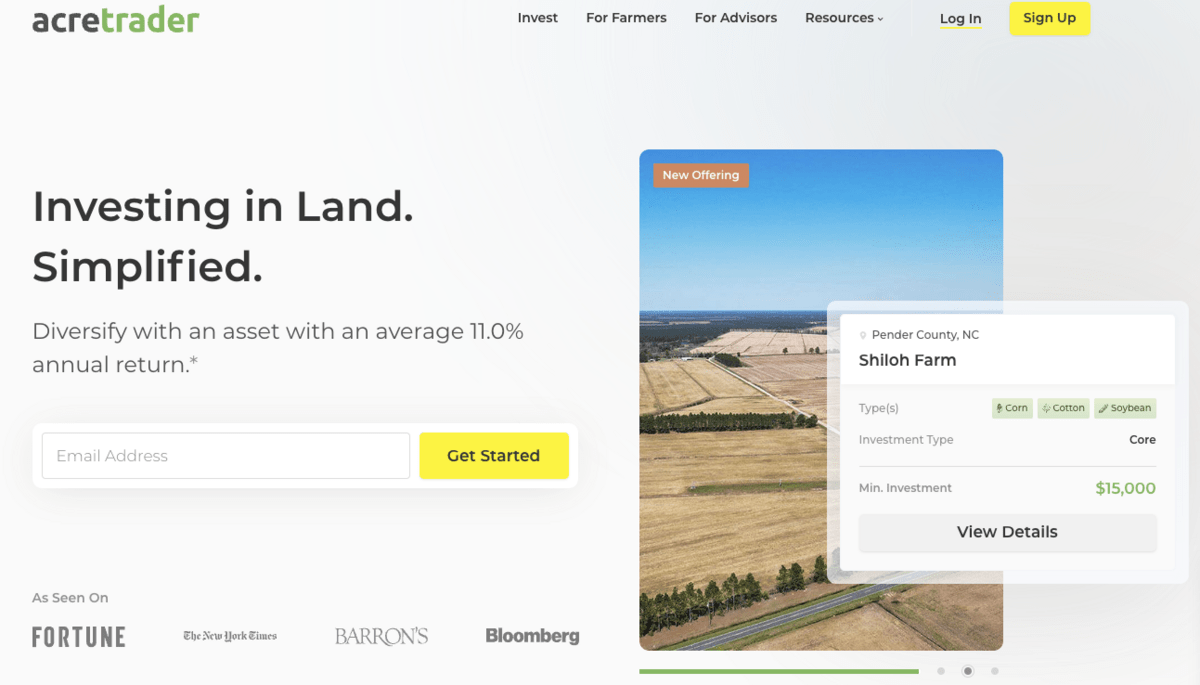 Farmland is one of the fastest-growing assets in the U.S., and AcreTrader has made it more accessible by purchasing land and letting investors buy shares of partial ownership.
The platform lets you browse specific deals and invest in ones that you like, with each providing a full offering circular and full details about the farms and crops on that land. Most deals have minimums in the $10,000 range.
While AcreTrader is relatively new, returns have averaged around 11% APY.
Final Word: The Best Alternative Investment Marketplaces & Apps
Investing in alternative assets is a great way to diversify your overall holdings while accessing unconventional assets. And the best alternative investment apps help you invest with low minimums, reasonable fees, and a well-designed platform.
The upside to alternative investing is that most assets are uncorrelated with traditional markets, and there is the potential for outsized returns.
Of course, with potentially higher returns comes higher risk, including the risk of a total loss of your investment. As always, research any company or asset before investing your money into it, and as a rule of thumb, don't invest more into alternative assets than you can afford to lose.
---
FAQs:
What is an alternative investment platform?
Alternative investments are assets outside of traditional markets that only offer stocks, bonds, mutual funds, ETFs, and other publicly-traded assets. Alternative investment platforms allow investors to invest in these alternative assets in a simplified way, typically for less money, and often provide management services.
What are 4 examples of alternative investments?
There are several types of alternative assets, but some of the most popular ones include commercial real estate, fine art, private credit, and farmland. These assets were once only for the wealthy and well-connected but crowdfunded alternative investment platforms make them more accessible than ever.
What is the most popular alternative investment?
Probably the most popular alternative investment is commercial real estate. There are several popular platforms with hundreds of billions invested, giving both accredited and non-accredited investors access to office buildings, strip malls, storage units, and other high-priced commercial properties.
Which platforms are best for investing?
There are quite a few solid alternative investment platforms available, with Yieldstreet currently being our favorite. It offers access to a huge selection of assets with low fees and the best alternative investment marketplace for investors. There are some great real estate investment platforms too, as well as apps like Public that let you trade alternative assets with others.
Where to Invest $1,000 Right Now?
Did you know that stocks rated as "Buy" by the Top Analysts in WallStreetZen's database beat the S&P500 by 98.4% last year?
Our September report reveals the 3 "Strong Buy" stocks that market-beating analysts predict will outperform over the next year.