Our editorial team uses a strict editorial review process to compile all reviews, research, and evaluations of any kind. Our company, WallStreetZen Limited, is supported by our user community and may receive a small commission when purchases are made through partner links. Commissions do not affect the opinions or evaluations of our editorial team.
With potential yields of $30,000 – $70,000 per investment, the real estate world has intrigued the investing community.
But here's what you may not know: There's a vastly unexplored segment that extends past traditional residential real estate opportunities.
If you're looking for alternative real estate investments to diversify your portfolio, you're in the right place. I've put together a list of some of the best alternative real estate cash flow investments — some might be totally new to you!
Let's start exploring.
At-a-Glance: Top Platforms for Alternative Real Estate Investments
| | | | | |
| --- | --- | --- | --- | --- |
| Platform | Asset | Expected Returns* | Minimum Investment | Investor Requirement |
| Arrived Homes | Residential Properties | 8%-20% | $100 | Accredited And Non-Accredited |
| Yieldstreet | Real Estate, Art, Venture Capital, Crypto, Private Credit, & More | 8-20% (Results May Vary) | $10,000 | Primarily Accredited |
| AcreTrader | Farmland | 3-5% | $10,000 | Accredited Only |
| EquityMultiple | Commercial Real Estate | 17% | $5k | Accredited Only |
| CrowdStreet | Commercial Real Estate | 12-20% | $25k (Varies) | Accredited Only |
| RealtyMogul | Commercial Real Estate | 6-8% | $5,000 | Primarily Accredited |
| Percent | Private Credit, Private Notes | 12% | $500 | Accredited Only |
| Fundrise | Residential Real Estate, Loans | 5%-22% | $10 | Accredited And Non-Accredited |
| Equitybee | Private Companies | Varies | $10,000 | Accredited Only |
| Peerspace | Short Term Home Rentals, Hourly Venue Rentals | Up To $1,000/Day | A High Quality/ Distinctive Property | All Investors |
* Based on historical data and/or company-stated target returns. Actual results may vary. This article should not be taken as investment advice. No investment offers a guarantee of returns. Your capital is at risk.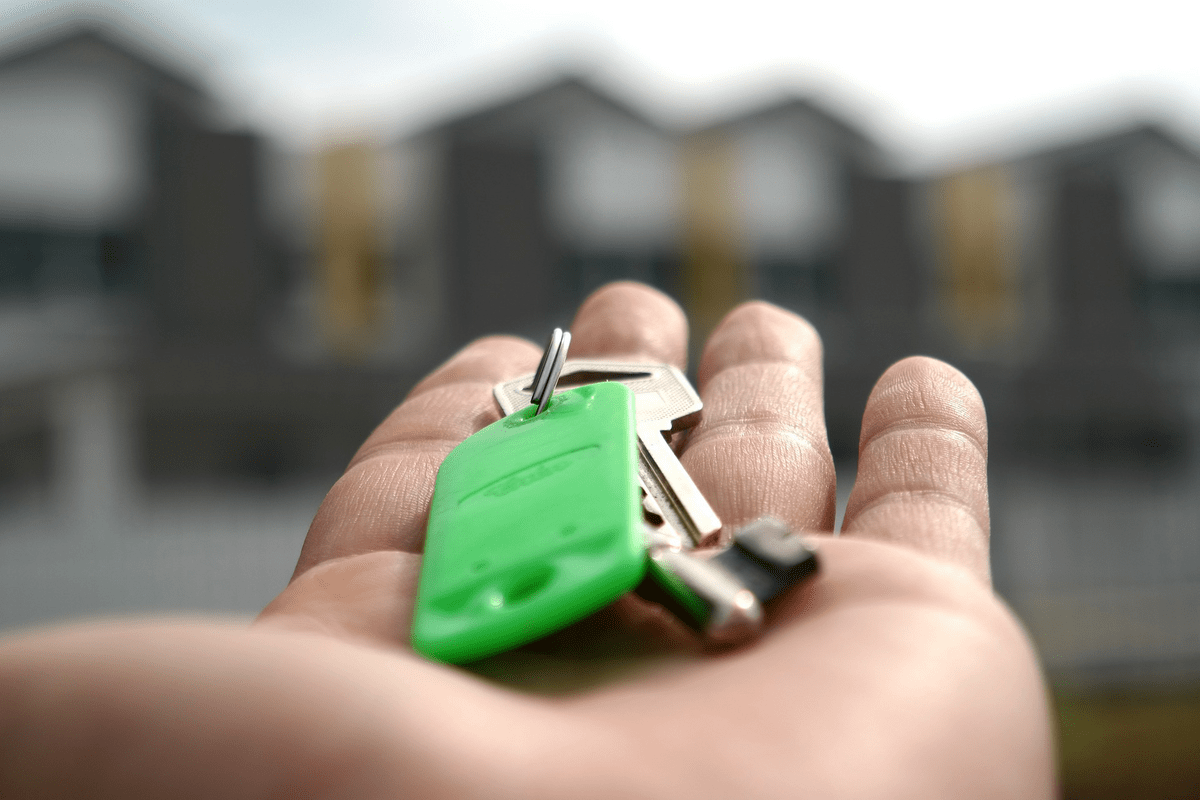 What is an Alternative Real Estate Investment?
An alternative real estate investment is a real estate transaction that falls outside of the standard residential or commercial real estate venture.
There's a surprising number of alternatives to residential fix and flips — investing in farmland, leasing your land, opening a coworking space, and more.
Alternative Real Estate Investments Most People Ignore
Investing in certain lesser-known investments can sometimes yield substantial dividends (as high as 10-20%, in many cases) and are typically less competitive.
They do come with their own challenges and risks. However, thanks to companies like Fundrise and Arrived Homes, it's possible to expand your portfolio with less hassle and risk.
Farmland: A Grounded Investment
Farmland is often overlooked, but the rising demand for food translates directly into higher appreciation rates of agricultural land values, resulting in 12.24% US average annual returns.
The problem(s)? Farmland investments are:
Illiquid
Come with high initial investments
Require a lot of expertise
Plus, returns are subject to climate patterns, water scarcity issues, and crop prices.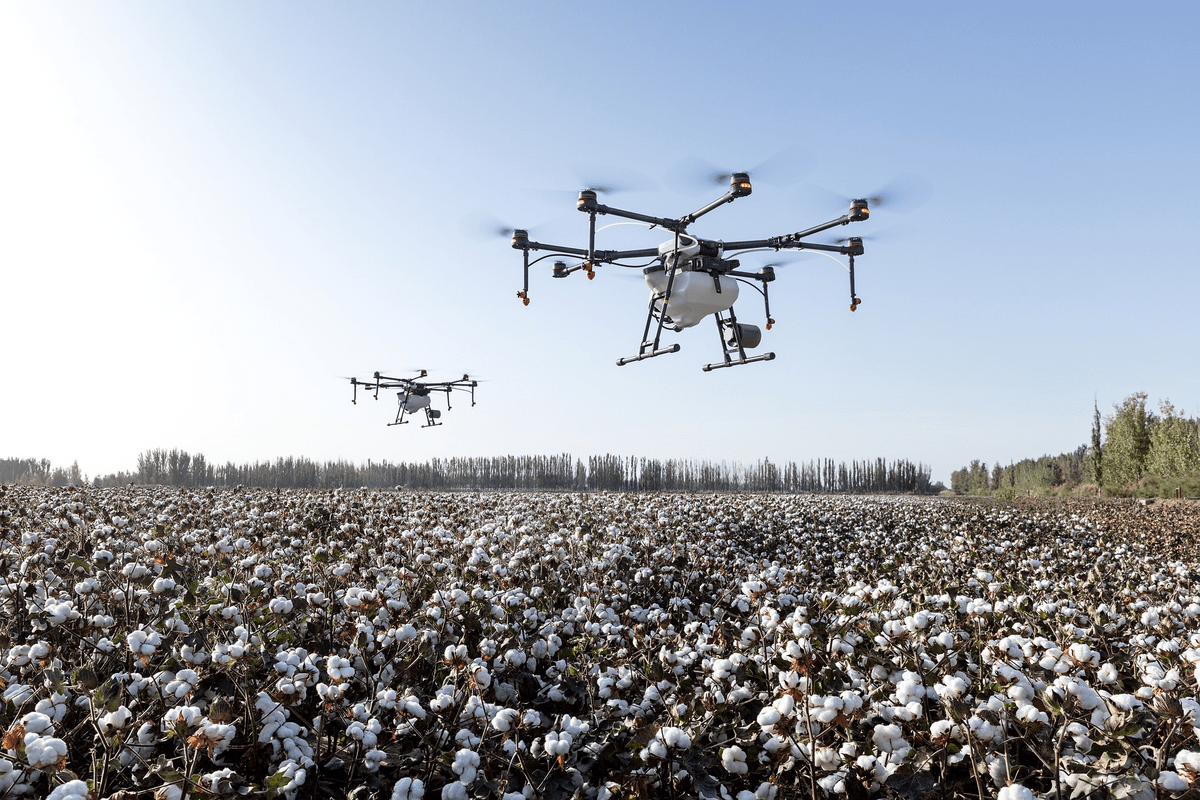 You may not have the cash (or desire) to buy a farm. However, if you're an accredited investor, you have the option to purchase fractional shares of farmland through AcreTrader.
Farmland investment margins have historically beat the S&P 500 — AcreTrader gives everyday accredited investors access to them. Keep reading for more information about the platform — and check out our comprehensive AcreTrader review.
Raw Land: A Blank Canvas for Opportunities
Increasing population and diminishing space have driven land value up 40% since the 70s.
With raw land, you have options:
Sell as is
Build a property or parking lot
Lease it
Use it for agricultural purposes
But there is a certain amount of expertise required. It's also illiquid and comes with its own risk, including illegal occupation and unexpected zoning changes.
Manufactured Homes: Affordable Housing Solution
Many people don't immediately think of manufactured and mobile homes as alternative investments real estate investors should pursue. But considering the increased demand for affordable housing, they can potentially be quite lucrative.
Statistics show as high as 40.6 % average ROI (roughly $64,900) per transaction.
Keep in mind, these opportunities can still be illiquid, have risks, have a high initial investment, and you will need some expertise.
Co-working Spaces: The Future of Workspaces
Coworking spaces' popularity has grown steadily at about 16% and is widely considered the leading workspace solution for startups, digital nomads, freelancers, and work-from-home professionals.
It's important to note that this is more of a business venture than most real estate opportunities, requiring expertise, constant management, and higher initial and ongoing expenses.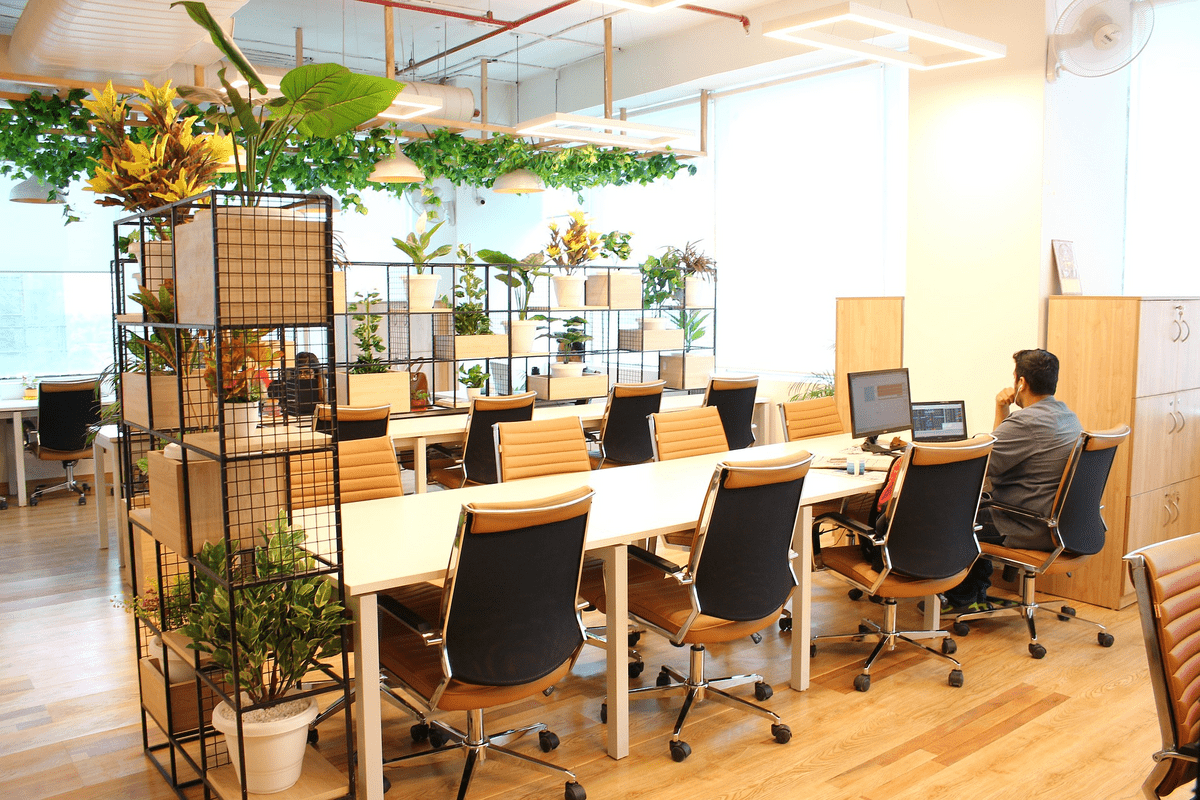 Real Estate Syndications & Crowdfunding: Pooling Resources for Bigger Investments
Real estate syndications and real estate crowdfunding are both pooled investments sourced from multiple investors used to invest in a real estate opportunity.
The main difference between the two?
Syndications are led by a professional syndicator and are typically only open to accredited investors.
Crowdfunding can include most investors and are led by a team of experts.
Though both long-term investments come with risks, they are considerably lower and very little expertise is required.
They do come with commissions — typically 30% of profits — with profits ranging from 7-10%, with some companies such as RealtyMogul targeting returns as high as 16%+.
Private Notes & Hard Money Lending: Lending with Real Estate as Collateral
Money lending opportunities can be great alternative investments real estate investors can opt for. If you have a significant amount of money, let's say borrowed from your 401k account, you can become a lender.
Notes are typically secured with real estate as leverage and can earn points, fees, and/or monthly payments, often generating returns between 10%-20%, but the notes are considered to be less liquid than a typical real estate investment and expertise is required to mitigate your risk.
1. Arrived – Best for Residential Investments for Beginners
Overall Rating: ⭐⭐⭐⭐⭐
Assets: Residential Properties
Minimum Investment: $100
Type of Investor: Accredited and Non-Accredited
New or inexperienced in the world of real estate? Check out Arrived Homes.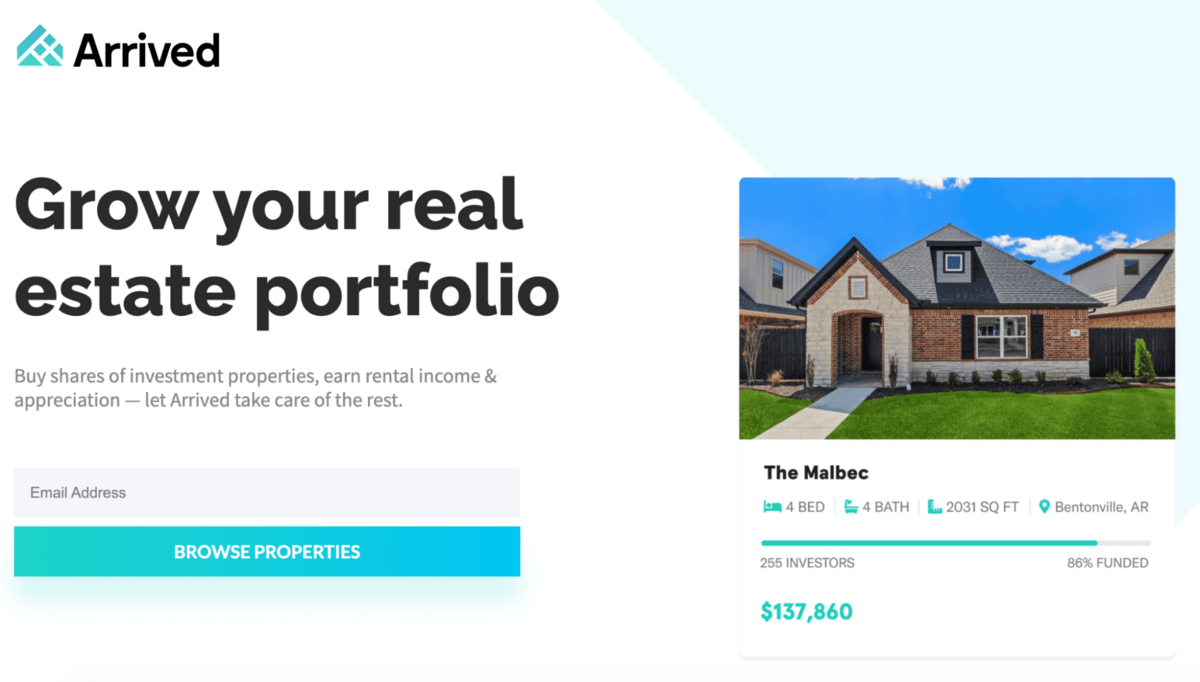 The Arrived Homes platform was created for investors without real estate investing experience.
You can buy shares of a real estate opportunity with as little as $100 dollars and still reap long-term benefits such as rent-based returns and a percentage of the property sale when the acquisition is turned over 5-7 years later.
Their fees range from 8-15% depending on the type of investment and their opportunities are illiquid, but if your plans change you may request an early redemption after 6 months.
2. Yieldstreet – Best for Diversified Investment Opportunities
Overall Rating: ⭐⭐⭐⭐
Assets: Real Estate, Art, VC, Crypto, Private Credit, & More
Minimum Investment: $10,000
Type of Investor: Primarily Accredited
Yieldstreet is a diverse investment platform enabling you to explore alternative asset classes that might otherwise be beyond your reach as an individual.
The minimum investment can be a bit of a sticking point for most, but if you're accredited, are looking to hold for 6 months – 5+ years, and have the seed money, Yieldstreet is a fantastic option.
You can diversify your portfolio with real estate, private credit, structured notes, as well as other alternative assets such as crypto, art, and more, all on a transparent, user-friendly interface.
If your hold period becomes a problem, you can request an early liquidation after one quarter, but it is not guaranteed, so be sure before committing to any investment.
3. AcreTrader – Best for Farmland Investment
Overall Rating: ⭐⭐⭐⭐
Assets: Farmland
Minimum Investment: $10,000
Type of Investor: Accredited
AcreTrader is a crowdfunding platform that helps provide accredited investors access to high-quality farmland investment opportunities.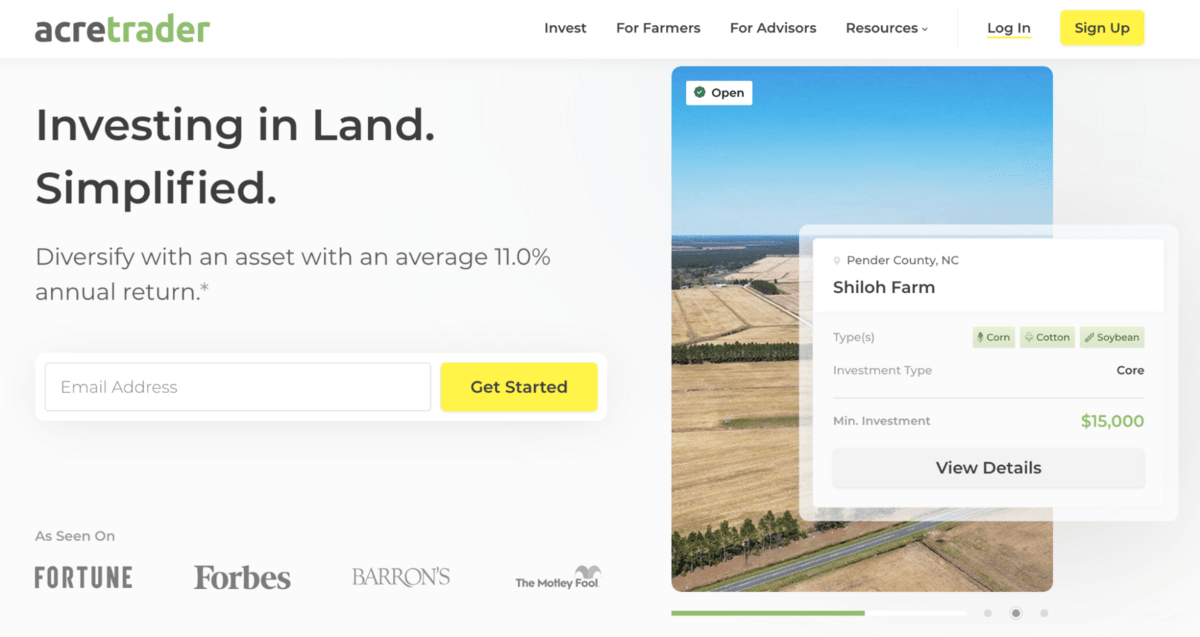 Farmland investment margins have historically beat the S&P 500, but the opportunities require a tremendous amount of capital and expertise. AcreTrader seeks to be the solution to this problem.
A team of experts vet opportunities and showcase the mere 5% that pass their scruples onto a pool of investors. However, there is still quite a lot of risk involved since so many things affect farmland profitability including weather, price of crops, water quality, and more.
You can review each farmland project and invest in shares of the project. Farmers are charged rent and a percentage of their crop profits. After the liquidation event, investors share in the profits of a hopefully, appreciated property.
These are long-term opportunities, typically lasting 5-7 years but can be as long as 20 years with no current early redemption option. However, the project is managed entirely by AcreTrader, making this opportunity passive.
4. EquityMultiple – Best for Low Minimum Commercial Real Estate Opportunities
Overall Rating: ⭐⭐⭐⭐
Assets: Commercial real estate
Minimum Investment: $5,000
Type of Investor: Accredited only
EquityMultiple is a real estate crowdfunding platform that offers accredited investors access to professionally managed commercial real estate.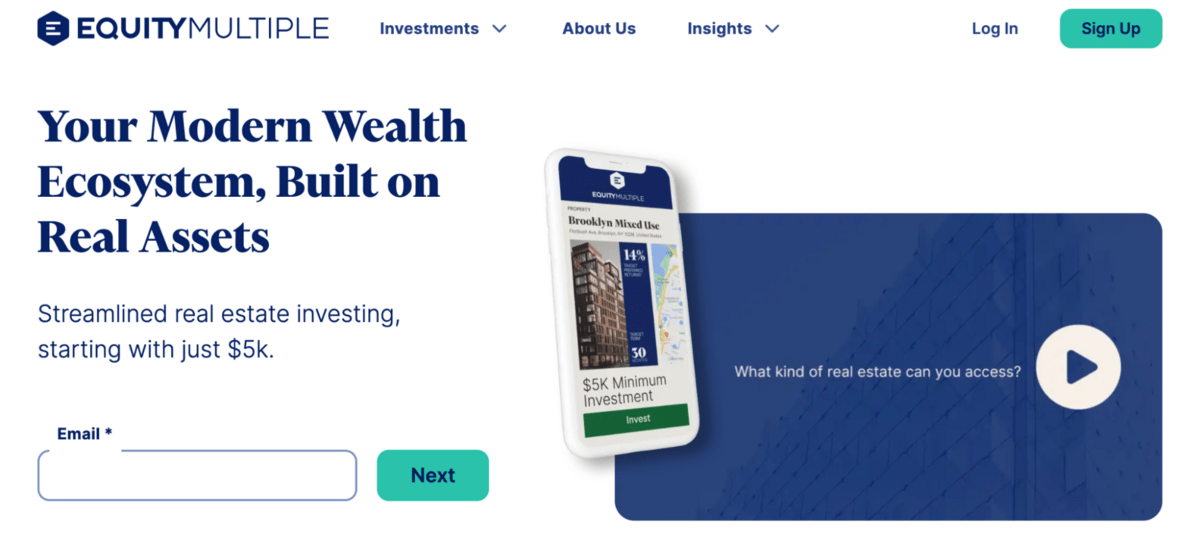 If you're looking to expand your portfolio with commercial properties but lack experience, time, or capital, EquityMultiple may be a great way to break into this field.
They are a strong performer with a proven track averaging 17% historical profits. They vet only top-tier, institutional-quality real estate offerings allowing long-term investors to invest "like the 1%" do.
Investments typically last 5-7 years and early redemption is only allowed if you want to reinvest into another EquityMultiple opportunity.
5. CrowdStreet – Best for Accredited Investors Interested in Commercial Real Estate
Overall Rating: ⭐⭐⭐⭐
Assets: Commercial real estate
Minimum Investment: Varies but usually at least $25,000
Type of Investor: Accredited only
CrowdStreet caters to accredited investors seeking diverse, institutional-quality commercial real estate investment opportunities ranging from multifamily residential complexes to self-storage locations.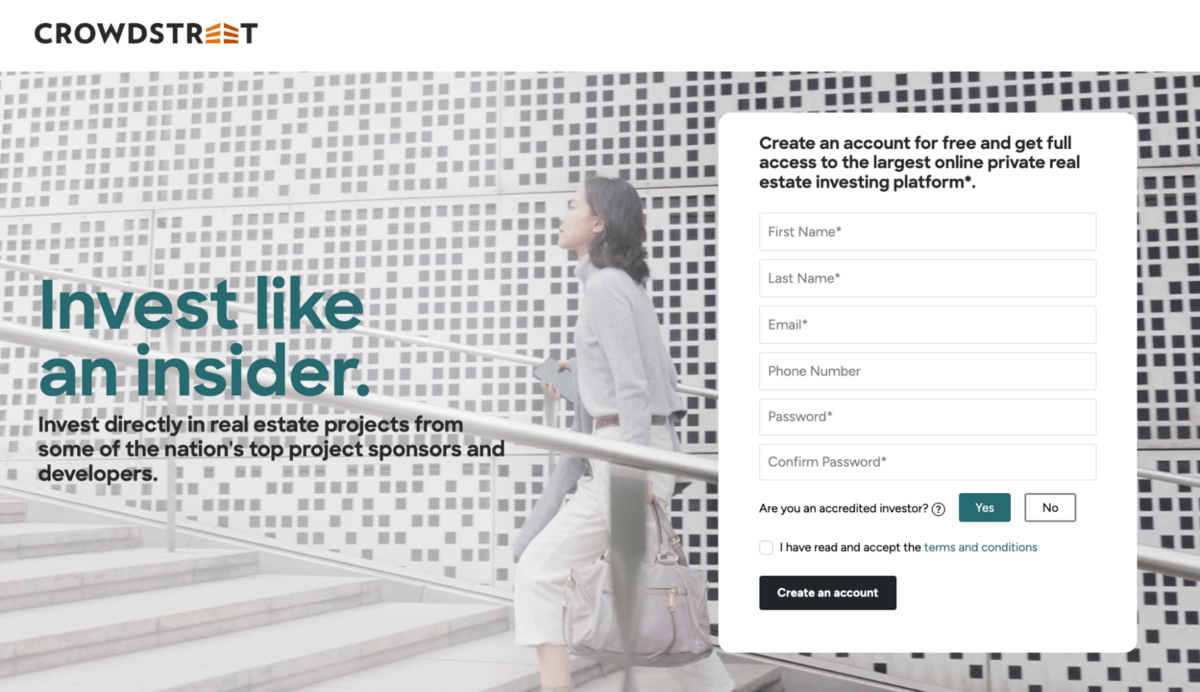 If you're willing to part with the substantial upfront capital and are ok with the long-term liquidity risks, you could find yourself enjoying Crowdstreet's historical 18%+ average profits.
There are always risks to investing, especially in commercial real estate, but the company does its due diligence.
However, this investment is illiquid and does not come with an early redemption option, so it is only ideal if you're truly looking to let your money sit (average 2 ½ years, but as long as 10 years).
6. RealtyMogul – Best for REIT Investment Opportunities
Overall Rating: ⭐⭐⭐⭐
Assets: Commercial real estate
Minimum Investment: $5,000
Type of Investor: Primarily accredited
RealtyMogul is a pioneering real estate crowdfunding platform offering a diverse selection of investment properties to accredited and non-accredited investors.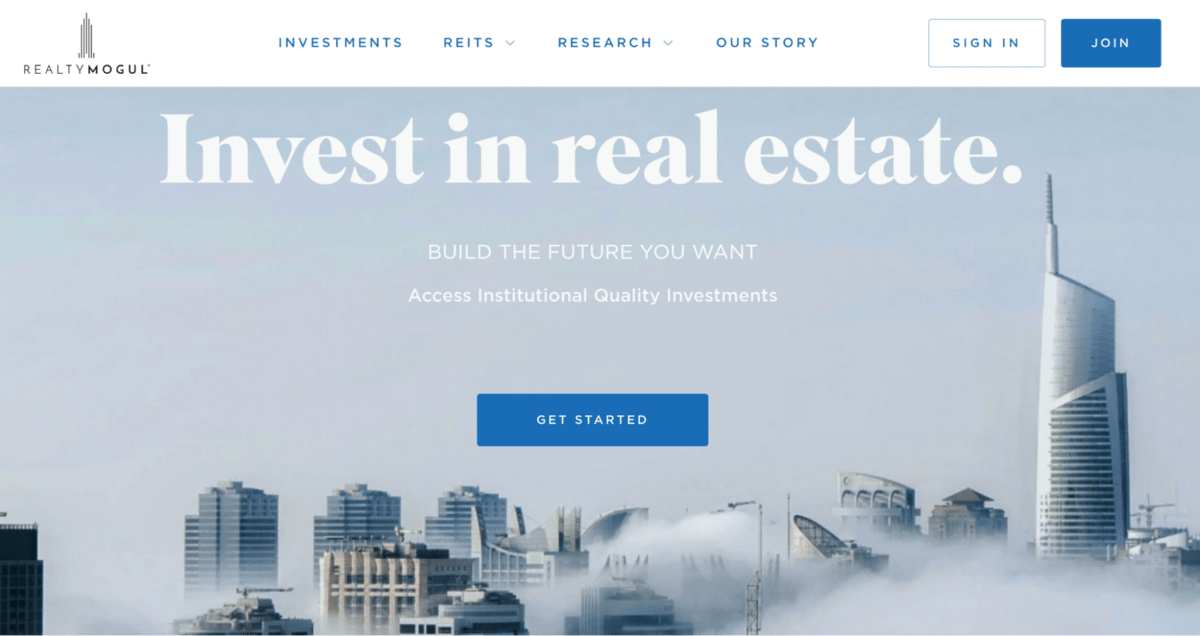 RealtyMogul's main claim to fame is that this crowdfunding platform allows investors to invest in commercial Real Estate Investment Trusts (REITs) which are historically proven to hedge well against inflation and are famous for giving steady distributions.
The company empowers both accredited & non-accredited members with transparent access to a diverse range of vetted property deals that have modest minimum investment requirements and sometimes IRA funding options (atypical compared to most traditional real estate options).
Liquidity events are not the point of these types of investments. But if your circumstances change, the REIT may repurchase your shares after 12-36 months depending on your type of investment. Otherwise, expect at least a 5-7 year investment period with expected returns of 8%-11%.
7. Percent – Best for Private Credit Investment
Overall Rating: ⭐⭐⭐⭐
Assets: Private credit, private notes
Minimum Investment: $500
Type of Investor: Accredited only
Percent is an innovative digital investment platform that helps you become a bank through private credit opportunities.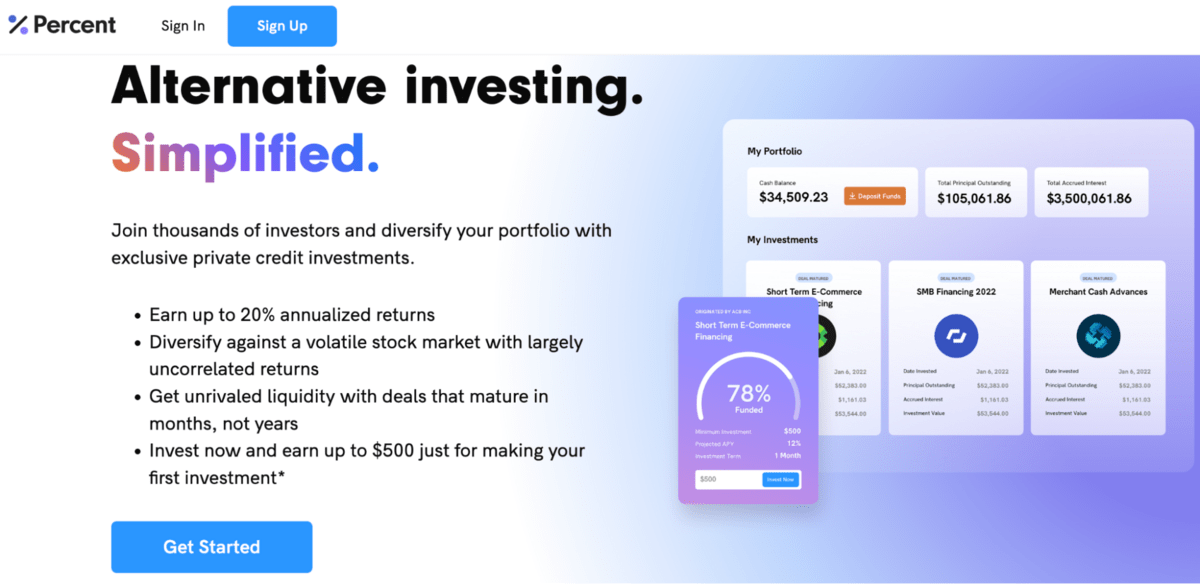 Percent is a private credit platform allowing hardworking business owners to connect with private credit investors. Not only are you able to make a possible passive profit, but you help support small businesses, artists, inventors, and more, to get past funding hurdles.
Though they have only been around since 2018, they have helped investors earn 12.56% APY after a 9-month average holding period.
Their user-friendly platform allows you to easily browse opportunities, invest, prove ownership, track your investment, and cash out or rollover profits. Nearly all ventures are short term and returns have historically beat the S&P 500.
How does Percent make money?
Percent charges fees up to 10% of interest. For example, if a deal paid 15% APY and the fee charged was 10% of interest, your effective APY is 13.5% after fees.
8. Fundrise – Best for All Investors Types With Limited Capital
Overall Rating: ⭐⭐⭐⭐⭐
Assets: Residential Real Estate, Loans
Minimum Investment: Varies Per Project $10-$100,000
Type of Investor: Accredited and Non-Accredited
Fundrise is an accessible, real estate crowdfunding platform that provides you access to private market real estate investments.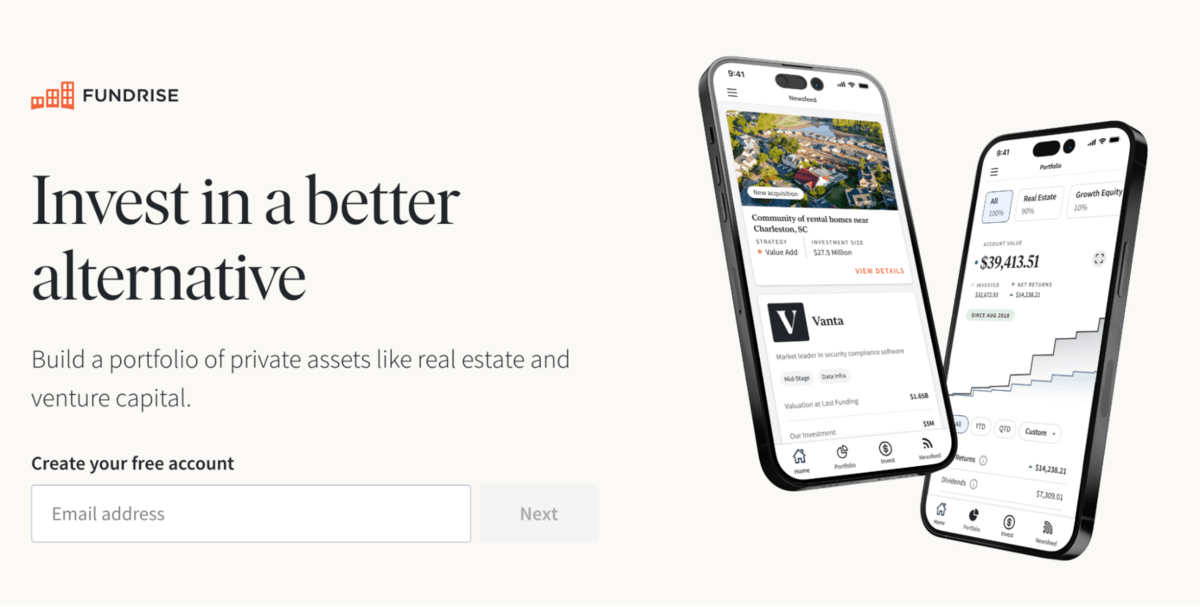 You don't need to be accredited to invest with Fundrise. The platform opens its doors to anyone seeking passive income generation or portfolio diversification. The low initial investment and passive aspect of the investments removes a lot of barriers to entry into the world of real estate.
Add in their transparent fees, dividend reinvestment feature, user-friendly, transparent platform, and extensive risk assessment, and the company shines as one of the most sought-after alternative real estate investments.
They have historically outperformed most public REITs, and they hold for at least 5 years with a redemption policy if your plans change.
9. Equitybee – Best for Investing in Private Companies
Overall Rating: ⭐⭐⭐
Assets: Private Companies
Minimum Investment: $10,000
Type of Investor: Accredited only
Equitybee is a groundbreaking platform that challenges convention and empowers startup employees, who would have otherwise not been able to afford it, to exercise their stock options.
While on the one hand this might seem like an outlier on the list, right now, there are several companies on Equitybee that are directly related or adjacent to real estate, including construction companies.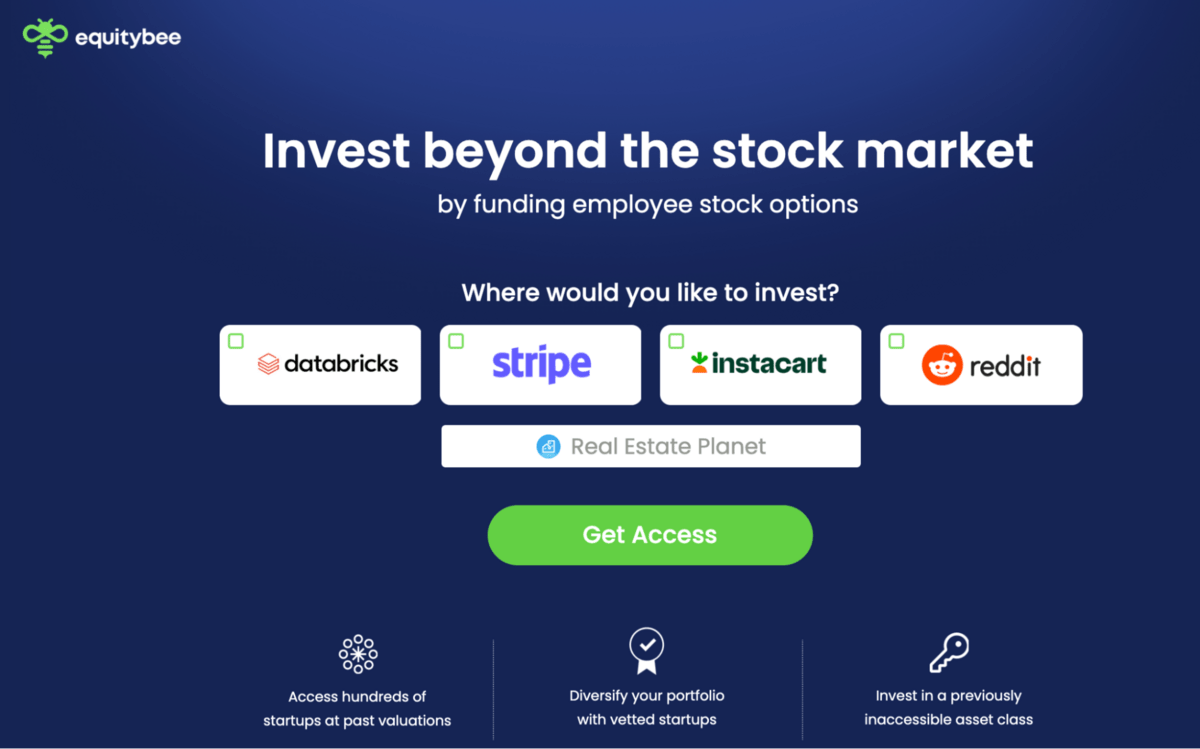 Curious to know how it works?
EquityBee helps startup employees exercise their stock options before they expire while allowing you to support startup ventures and grow your portfolio.
Typically, profits are split 25-50% with the employee, but each opportunity is exclusive and would otherwise not have been available to you.
Keep in mind investing in startups can be unpredictable and illiquid. There was not much information on their historical returns, but with Equitybee's analytical tools, transparent tracking tools, and educational resources, you can at least make an informed decision on each opportunity.
10. Peerspace – Best for Investors With Unique Properties
Overall Rating: ⭐⭐⭐⭐
Assets: Short-Term Home Rentals, Hourly Venue Rentals
Minimum Investment: A Property
Type of Investor: Any Investor
Peerspace is another lesser-known, profitable alternative to listing a property on Airbnb or VRBO.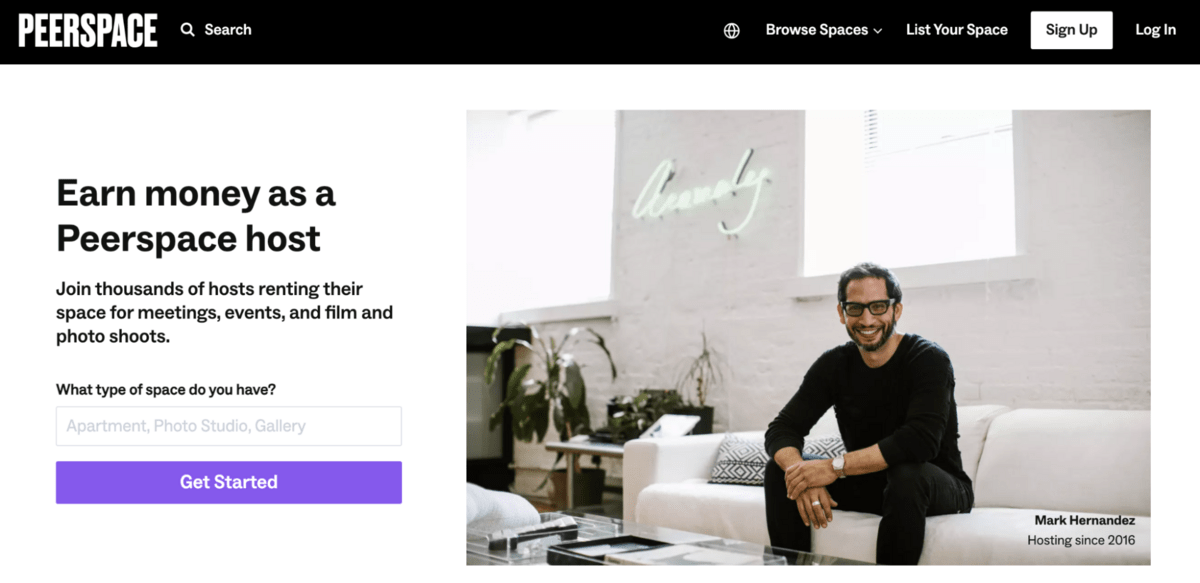 The user-friendly platform helps homeowners connect with guests, typically professionals, in need of a unique venue. The venue options range from photography studios to weddings to rooftop spaces to even a movie set!
On Peerspace, venues can be rented by the hour, for as high as $500+/hour, rented in 3-hour chunks. However, the turnover can be higher than Airbnb, resulting in a less passive form of income and/or a higher property management cost.
Peerspace offers insurance of $1,000,000 per booking, which could cover most accidents. If your property is worth more than that, you will want to consider getting supplemental insurance that also covers guests staying inside your home.
Final Word:
If you're looking to think outside the real estate box, there are plenty of alternative real estate investments that could spice up your portfolio.
You certainly want to consider the risks, time horizon, and expertise needed before going into these alternative real estate cash flow investments, but if you opt for it, you might find the landscape less crowded — and more profitable — than the traditional real estate opportunities.
---
FAQs:
What can I invest in instead of real estate?
Instead of real estate, you can potentially invest in stocks, bonds, mutual funds, ETFs, private equities, precious metals, cryptocurrencies, and various alternative real estate investments.
What are 4 examples of alternative investments?
4 examples of alternative investments are real estate, art, collectibles, and crypto.
What are at least 3 types of real estate investments?
3 types of real estate investments are residential properties, commercial properties, and raw land.
How to invest in real estate without buying a house?
You can invest in real estate without buying a house through options such as REITs, real estate crowdfunding platforms, real estate syndications, and investing in alternative real estate like farmland or coworking spaces.
Where to Invest $1,000 Right Now?
Did you know that stocks rated as "Buy" by the Top Analysts in WallStreetZen's database beat the S&P500 by 98.4% last year?
Our September report reveals the 3 "Strong Buy" stocks that market-beating analysts predict will outperform over the next year.