Our editorial team uses a strict editorial review process to compile all reviews, research, and evaluations of any kind. Our company, WallStreetZen Limited, is supported by our user community and may receive a small commission when purchases are made through partner links. Commissions do not affect the opinions or evaluations of our editorial team.
A stock portfolio tracker is a software in which you can gather all your investments in a single place and monitor their progress.
Beyond just tracking your stocks, portfolio trackers allow you to take a more big picture, holistic view of your investment portfolio. This way, you can understand all of your positions in relation to one another and keep track of them at a glance.
There are many of these trackers available, each one claiming to be the best stock portfolio tracker, and many of them are paid services.
In this article, I'm going to cover the 9 best stock portfolio tracker apps & software in .
Each of these allow you to quickly view the performance of your entire portfolio, take a closer look at individual positions, have research integrated into the investment software, and allow you to perform more in-depth stock analysis.
I'll also be covering the price of each investment portfolio tracker and who it's best for, so you know exactly which one to choose to help you make better investment decisions.
1. Seeking Alpha: The Best Stock Portfolio Tracker Overall
You may know Seeking Alpha Premium as an exceptional investment research platform, but it also leverages its data and reports into a unique portfolio tracker.
If you like Seeking Alpha, you'll love its portfolio tracker.
You can link your brokerage accounts and start benefitting from Seeking Alpha's vast array of quantitative and qualitative research in minutes.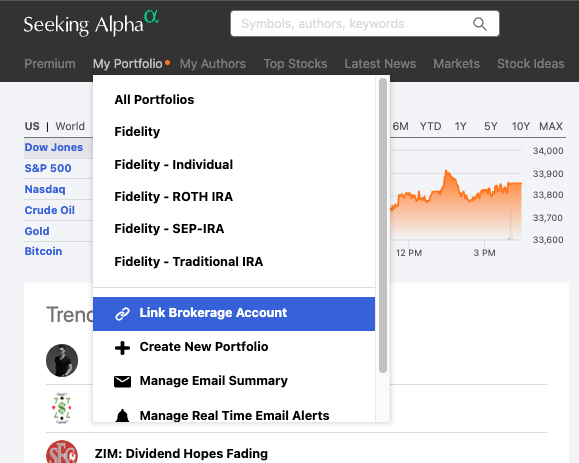 Here's a picture of my Roth IRA in Seeking Alpha:
Yes, I personally pay for Seeking Alpha Premium, even as a die-hard WallStreetZen employee. That should tell you how highly I value their product.
Down the righthand-side of the page you'll see the Quant, Seeking Alpha Authors, and Wall Street Analysts scores for each one of my holdings: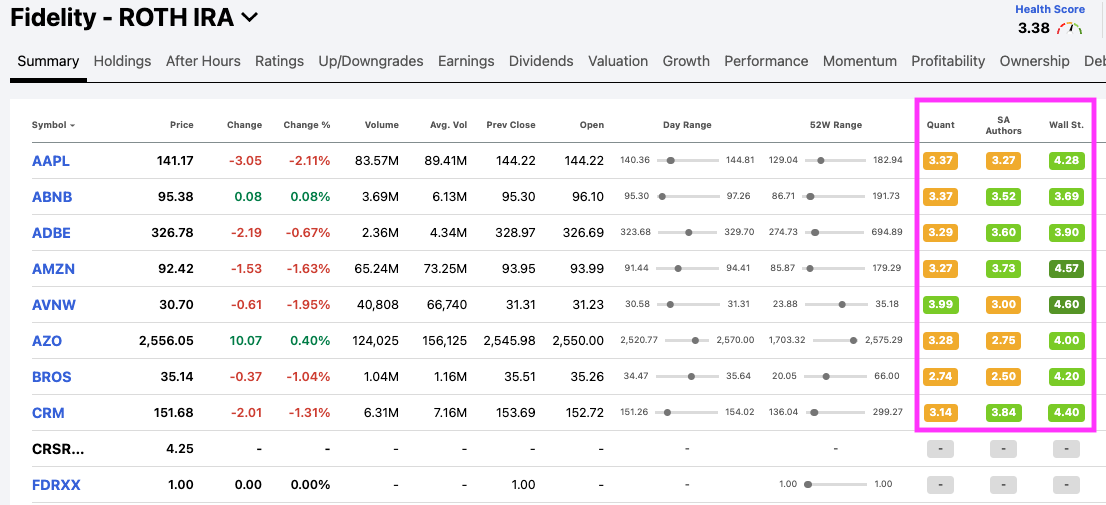 From here, I can easily see which positions may need to be re-evaluated or which companies I should be adding more weight to.
Along the top, you'll see Ratings, Upgrades/Downgrades, and Factor scores for each of Seeking Alpha's primary dimensions, allowing you to easily analyze your portfolio:

In the top left, you'll also see your portfolio's Health Score, a summary figure evaluating all of your positions.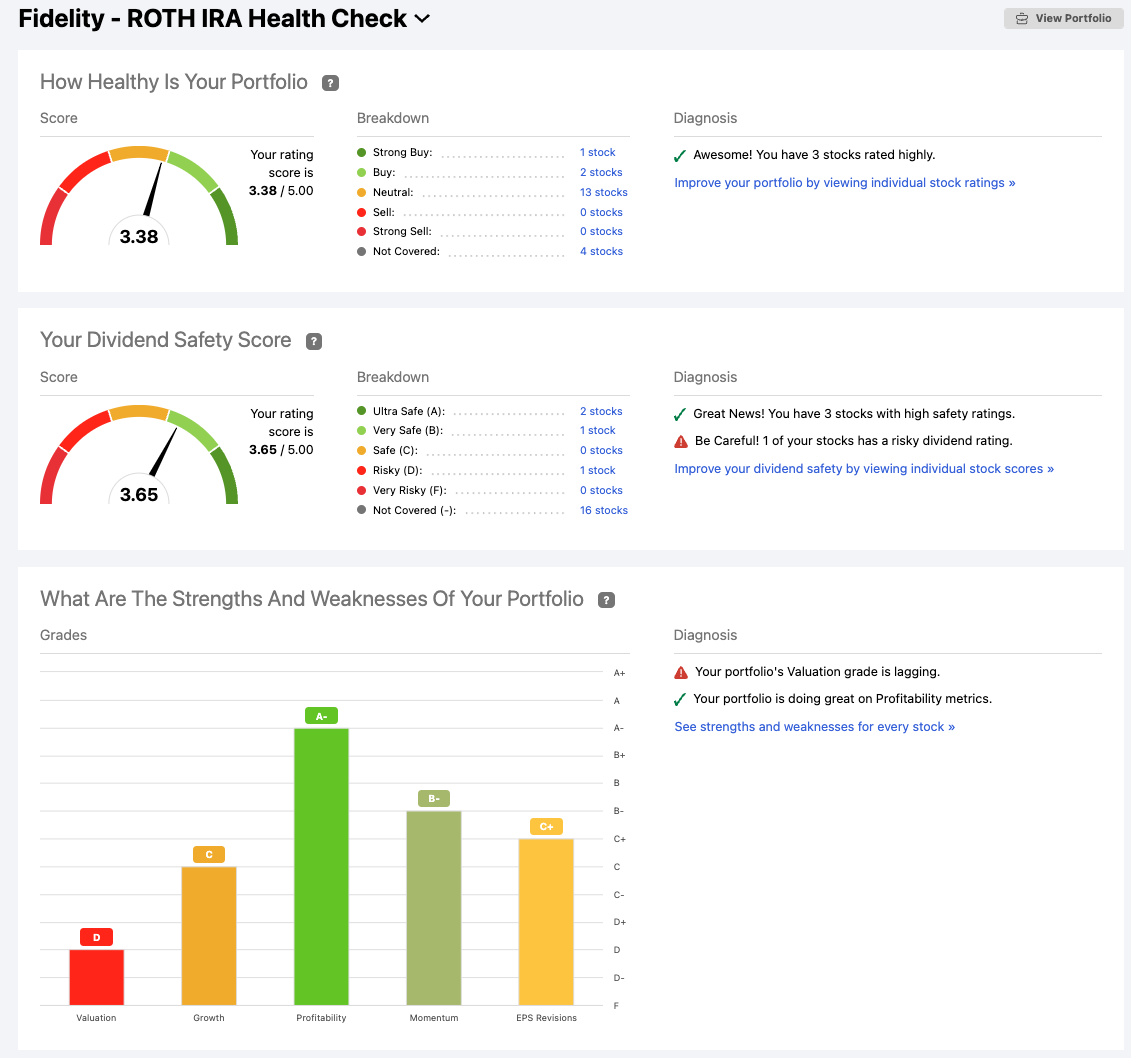 It looks like I need to check on the valuation of some of my positions…
There's a lot more I could cover regarding Seeking Alpha's portfolio tracker, but in summation: Seeking Alpha has leveraged its robust research platform into a portfolio analysis feature.
I pay for Seeking Alpha Premium for its investment research, but its portfolio tracker is a huge bonus. Like I said above, if you like Seeking Alpha's research and analysis, you'll love its portfolio tracker.
If you're unfamiliar with Seeking Alpha's primary offering, it is an investment research platform with individual stock research sourced from thousands of contributors.
These contributors are well-researched and know how to sort through the noise. Their insightful and thorough analysis can quickly educate you on any stock you're considering buying or selling. There are a wide variety of contributors with differing opinions, so you can get a global perspective on every investment:
I do not make an investment decision without first checking Seeking Alpha. I always make my own decisions, but it's a fantastic place to read confirming and disconfirming viewpoints from astute investors who (usually) know more than me.
Like other services, it has all of the tools you need to make investing decisions: financial information, news, earnings transcripts, proprietary tools (like its Quant Ratings, Market Analysis, and Stock Screeners), dividend and earnings forecasts, and more:
There's also a mobile app version, which I think is the best stock portfolio tracker app in 2022 – especially if you decide to go Premium.
Simply put, no other site provides what Seeking Alpha does, and you can get started with a free trial of Seeking Alpha Premium below then take 59% off your first year:
And if you use the link above, you'll get 59% your first year of Seeking Alpha Premium (after your free trial ends). That's $99 instead of the regular $239!
Seeking Alpha also gets on our list of the best stock news apps in 2022. You can also read our full Seeking Alpha review here.
The Details
Who It's For: Seeking Alpha Premium is best suited for intermediate and advanced investors looking for additional peer research.
Price: $19.99/month (when billed annually), $10 through our link
2. Empower (formerly Personal Capital): The Best Free Stock Portfolio and Net Worth Tracker
If you want to track your entire financial picture for free, Empower is the best option. It's the best free portfolio tracker for your entire networth.
Empower's Financial Dashboard is a free tool which makes it easy you to add all of your financial accounts in one place, including credit cards, savings and checking accounts, loans, and investment accounts:
In an instant, you can have a complete picture of your finances – it sure beats that spreadsheet I've been using.
Regarding your investment portfolio, Empower will aggregate your asset allocation and make recommendations to better suit your needs using its analytics tools. You can use these features on the desktop or mobile app:
You may also be interested in its other free tools: A Net Worth Calculator and a Retirement Calculator.
You can access all of these free tools under the same login.
Additionally, Empower also offers educational resources and retirement planning guides to help ensure you're prepared for the future.
Why does it offer these tools for free?
Empower has an upsell for wealth management services. You do not need to show any interest in their advisory services to use their free tools.
The Details
Who It's For: Empower's Financial Dashboard is for anyone looking for software to give them a holistic view of their finances.
Price: Free!
3. WallStreetZen: The Best Stock Portfolio Tracker for Fundamental Investors
If you're a fundamentally-oriented, long-term investor then a WallStreetZen Watchlist may be perfect for you.
Our Watchlist makes it easy to add your portfolio holdings and keep tabs on what's affecting your stocks.
We track news, insider activity, analyst upgrades/downgrades, and upcoming events so you can easily stay on top of your portfolio.
And if you're ready to perform some fundamental analysis on one of your stocks or want to know what the top-performing analysts on Wall Street have to say about it, you're just one click away.
The Details
Who It's For: Fundamental investors and/or those who want to track the latest ratings from the top analysts on Wall Street.
Price: Free! (Or, upgrade to Premium)
WallStreetZen Premium pricing: $19.50 a month (Billed Annually)
4. Ziggma: The Best Portfolio Tracker for Automated Monitoring
Next up is Ziggma.
Ziggma's Portfolio Dashboard measures portfolio quality (through its Ziggma Stock Scores) and portfolio risk and yield. It even shows your portfolio carbon footprint and your companies' average Climate Score (the only portfolio tracker worldwide accounting for climate impact):
You can connect an unlimited number of accounts to Ziggma for free. When connecting several accounts, Ziggma will provide you with an aggregate view of all our portfolios, so you know your exact exposure to each stock at any time.
Ziggma Smart Alerts make it easy to track your portfolio split so you can stay diversified. Link all of your accounts, set your limits, and Ziggma will monitor them for you. You can do the same for stock prices and even P/E ratios and dividend yield.
Additionally, Ziggma computes projected dividend income for the next 12 months so you will always know your expected portfolio revenue:
The Details
Who It's For: If you're especially conscious of getting the best risk-adjusted returns and want Smart Alerts to let you know when you should place a trade, check out Ziggma.
Price: $7.49/month (when billed annually)
5. Sharesight: The Best International Portfolio Tracker
Sharesight is an all-in-one portfolio tracker that covers 40 international exchanges. It also offers robust dividend-tracking and tax-reporting capabilities.
Sharesight was made for self-directed investors who are adamant about thorough recordkeeping. If you have a spreadsheet to track all of your investment performance, dividend data, tax implications, and other portfolio insights, Sharesight is worth looking into.
The Details
Who It's For: Sharesight is primarily used by international investors who want one place to keep track of all their investments and want to save time with tax reporting.
Price: $12/month
Here's a complete overview of Ziggma vs Sharesight.
6. Morningstar: The Best Stock Portfolio Tracker for Professional Analysis
In my (well-researched) opinion, Morningstar Premium is the best stock portfolio tracker software for professional analysis in .
Morningstar was founded on providing high-quality investment research to everyone, not just financial professionals. The company seeks to empower investor success and for its users to achieve financial security.
The company's commitment to independent, object, data-driven analysis is found all over its site, from its individual stock and fund research to its news feed.
Morningstar is the trusted resource of thousands of financial advisors and many individual investors just like you and me. Its commitment to its users is obvious in all of its products.
While Morningstar offers many of its services for free, a subscription to Morningstar Premium unlocks some of its most useful features.
Premium members get full access to analyst reports, investment picks, research articles, screeners, and Portfolio Manager and Portfolio X-Ray tools.
Morningstar's Portfolio Manager provides basic data about each of your investments, including current price, daily changes in value, and portfolio weight. It also gives you data on portfolio performance, showing returns by month and year, and compares it to a benchmark of your choice.
Where Morningstar really shines is its Portfolio X-Ray tool:
Portfolio X-Ray evaluates what you hold from every angle: asset allocation, sector weightings, fees and expenses, stock stats, and more. It also identifies any potential overlap within your portfolio, exposing poor diversification.
This type of insight is truly one-of-a-kind, and is what makes Morningstar Premium my second overall choice for best investment portfolio trackers and apps in .
Once you grow accustomed to Morningstar's fiercely independent analysis, you'll never want to live without it again.
Get the tool the pros use:
The Details
Who It's For: If you're serious about your investments want one tool to manage your portfolio, stay up-to-date on any changes, uncover unique insights, and get the latest financial news, Morningstar Premium is for you.
Price: $20.75/month (when billed annually)
7. M1 Finance: The Best Portfolio-Tracking Brokerage
If you love easy diversification and are interested in dividends, this is the perfect app for you.
Although it's primarily used as a broker, M1 Finance has a unique take on portfolio monitoring.
The app makes dollar-cost averaging the default which, combined with its design, makes investing for the long haul easy.
If you're in need of a brokerage or want to switch to one that will likely increase your long-term returns and make you less focused on the day-to-day gyrations of the market, choose M1 Finance.
The Details
Who It's For: New investors or those who believe in dollar-cost average and want easy diversification.
Price: Free!
Want to learn more? Ready our full M1 Finance review.
8. Kubera: Holistic Portfolio Tracker
Kubera can track all of your assets in one place. It supports global banks, brokerages, stocks, currencies, crypto, and more.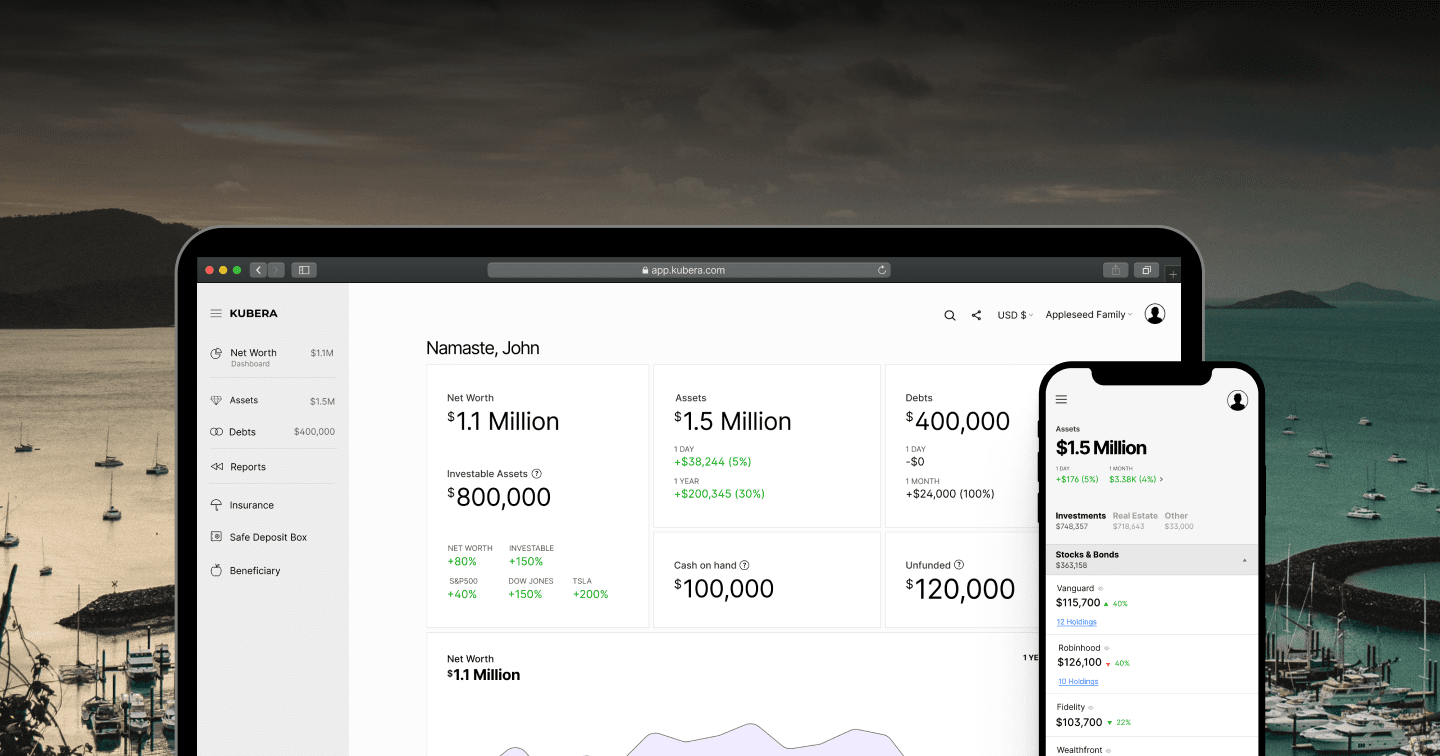 Kubera is your own personal balance sheet, designed for you to manage your assets and liabilities from a simple dashboard.
With its access to more than 20,000+ international banks, high net worth world travelers are likely to receive the most benefit from this software.
The Details
Who It's For: Kubera is best for global citizens who want a place to keep track of their entire net worth.
Price: $150/year
9. Delta Tracker: The Best Crypto App Portfolio Tracker
Delta Tracker is a crypto-centric trading app available worldwide for both iOS and Android users.
While its primary audience is cryptocurrency traders and investors, Delta also has coverage for stocks, bonds, mutual funds, ETFs, options, and futures. Because of this, it may be the best app for tracking all of your investments (if you have a portfolio that includes more than just equities).
Delta allows you to track stocks spanning global markets, such as the NASDAQ, NYSE, Eurnext, HKEX, and more. You can set the charts to display in your local currency and create custom alerts so you never miss a trade.
The Delta Tracker also includes options for tracking NFT prices, though this feature is still somewhat limited at this point.
The Details
Who It's For: Delta Tracker is the best app for advanced investors who have cryptocurrency exposure and/or own equities in global markets.
Price: Free! (or Pro plan costs $6.99/month)
Bottom Line: The Best Portfolio Trackers
It's important to have one place where you can go to quickly see how your investment portfolio is performing. If it's not easy to understand or if it's not helpful, you won't use it.
And, considering you're investing thousands of dollars you've worked hard to accumulate, I personally think it's worth it to invest in a tool that will help you reach your investment goals faster (and easier).
These investment portfolio trackers can deliver unparalleled insight into your asset allocation, risk exposure, and holistic view of your financial situation.
My favorite stock portfolio tracker in 2023 is Seeking Alpha Premium. The Portfolio Manager tool has a diverse feature set that makes it a phenomenal tool for investors at every stage of their journey.
For a free tool that covers more than just your investment portfolio, helping you budget, save, and make better financial decisions in every aspect of your life, I like Empower.
---
Empower Personal Wealth, LLC ("EPW") compensates WallStreetZen.com for new leads. WallStreetZen.com is not an investment client of Personal Capital Advisors Corporation or Empower Advisory Group, LLC.