Our editorial team uses a strict editorial review process to compile all reviews, research, and evaluations of any kind. Our company, WallStreetZen Limited, is supported by our user community and may receive a small commission when purchases are made through partner links. Commissions do not affect the opinions or evaluations of our editorial team.
If you're anything like me, you've got 50 different stock positions spread across multiple brokerage accounts, and you need a way to keep track of all of them.
That's a lot of investments to monitor, especially considering each company usually has at least a few major storylines affecting its stock price at any given moment.
How can we possibly stay on top of it all?
Regardless of our individual investment time horizons, we each need to find and use the best stock tracking app or best stock tracking website available.
We need one place where we can go to track all of our investments and to stay abreast of any new developments which are or will be influencing our stocks' prices.
With this up-to-date information, we will be able to make better, more informed buy/sell/hold decisions.
In this short guide, I'm going to walk you through the 9 Best Stock Tracking Apps to Watch & Monitor Stocks in .
We'll cover each stock tracking app's features, how much it costs, and if it's the right investment tracker for you.
1. WallStreetZen – Best Stock Tracking App Overall
In my (somewhat biased) opinion, WallStreetZen is the best stock tracking app to watch and monitor stocks in .
When it comes down to it, monitoring your stocks really requires you to stay up-to-date in 4 areas:
Stock price
Recent news
Insider transactions and analyst updates (recommendations and forecasts)
Upcoming events (earnings announcements and dividend payments)
With a WallStreetZen Watchlist, these 4 areas are covered for every stock you add to your watchlist:
The Watchlist Feed covers all News, Insider & Analyst updates, and all Events pertaining to each of your positions.
You'll also notice data on the current price, 1 day, 1 week, 1 month, and 1 year price changes.
You can sign up to get this information in a daily report, delivered straight to your inbox:
Here's what those emails look like:
The best part: It's completely free.
Simply by creating an account with your email address and a password, you can create multiple watchlists and add as many stocks as you like.
Personally, I have 2 watchlists: "My Portfolio" and "Further Due Diligence".
My favorite aspect of my watchlists is "Why Price Moved", a one-sentence synopsis of the catalyst behind a large stock price fluctuation, although this is a Premium feature: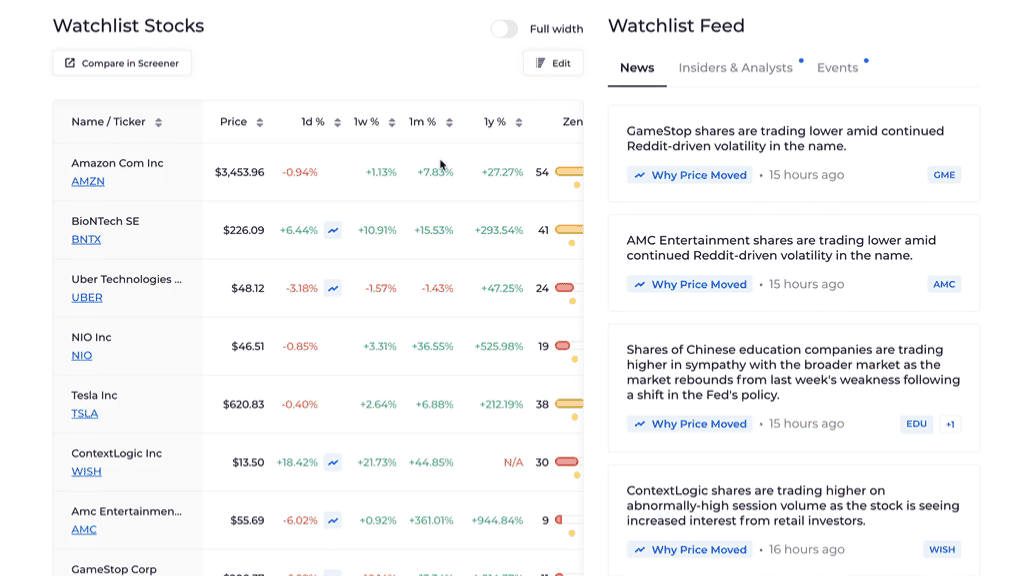 (Here's an article for if you're wondering what makes a stock price go up.)
Beyond these features, WallStreetZen, a fundamental analysis research platform, also incorporates many of its proprietary stock analysis tools into its Watchlist, like Zen Score and Top Analysts' forecast data:
To compare your list of stocks side-by-side for further analysis, hit "Compare in Screener". To take a closer look at any of your stocks, simply click the ticker to go to the stock's page:
Covering WallStreetZen's entire suite of features is beyond the scope of this article, but you can read more about them in this article of the best fundamental analysis tools.
Worth noting: Top Analysts and Zen Score are by far the 2 most popular features.
Price
Basic is FREE
WallStreetZen Premium pricing: $19.50 a month (Billed Annually)
If you are: A fundamental investor, WallStreetZen is for you.
2. Empower (formerly Personal Capital) – Best Free Stock Tracking Mobile App
Investing is just one aspect of your personal finances.
Within Empower's suite of free tools, you can easily keep track of all of your finances in one place, including your investments.
Empower was built to give you a big picture perspective on your financial situation, so you can always be making the best financial decisions.
My favorite tool is their Financial Dashboard:
The Dashboard makes it easy for you to add all of your financial accounts in one place, including savings and checking accounts, investment accounts, and credit cards. The tools within allow you to track a range of metrics (like net worth and cash flow), and help you budget and save.
There are also educational resources and retirement planners to keep you on track for your long-term goals.
For investors, there are even more helpful tools, including a fee analyzer and an investment checkup that assesses risk and builds target allocation recommendations.
Plus, their mobile app allows you to track your investments across 6 different asset classes: U.S. stocks, international stocks, U.S. bonds, international bonds, alternative investments, and cash.
Empower's goal is to give its users a better, more logical, and personal way to invest and manage their money.
Price
If you are: Someone who is looking to keep track of all of their finances in one place, Empower is for you (especially if you're looking for a mobile app).
If you want to become a private client of Empower's Wealth Management arm, they will charge a 0.49%-0.89% management fee on assets under management (note, there's a minimum initial investment of $100,000).
It's worth noting, Empower is #2 on our list of best stock portfolio trackers.
3. Morningstar – Best Stock Tracking App for Experienced Investors
If you're looking for data, analytics, and third-party, objective analysis, consider Morningstar.
Morningstar is one of the biggest names in the stock, bond, and mutual fund world. They are the go-to tool for professional investors and financial advisors all over the world.
For an investment tracker, you'll want to upgrade to Morningstar Premium to gain full access to their Portfolio Manager:
The Portfolio Manager tool allows you to track stocks, funds, bonds, and cash, as well as purchase dates and cost bases. But this is just scratching the surface.
From within this stock tracker app, there are multiple views for better understanding your investments, including:
Snapshot
News and Opinions
Intraday
Gain/Loss
Fundamental
Insights
The Portfolio Manager also gives you access to the Morningstar rating system which ranks each security from 1-5 based on its merit.
Plus, use Portfolio X-Ray to better gauge your investment mix, diversification, and fees: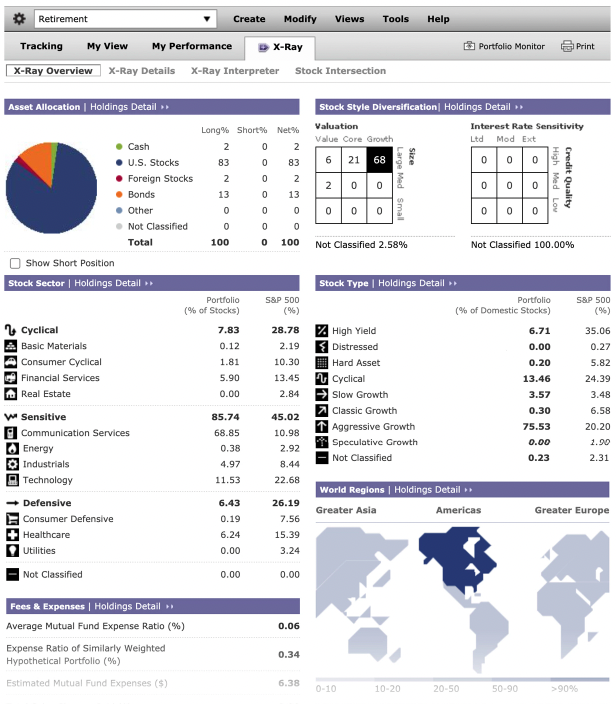 The Portfolio Manager and Portfolio X-Ray tools are just 2 of the ways Morningstar is demonstrating its commitment to fiercely independent analysis.
Price
$249/year for Morningstar Premium
If you are: A fundamental investor, very serious about your investments, and want to pay for objective portfolio insights, Morningstar Premium is for you.
You can read more about this service in my Morningstar review or in my article on the best stock research websites.
4. M1 Finance – Best Stock Tracking App for Beginners
If you're a brand new investor and don't yet have a brokerage account, M1 Finance is the best app to monitor stocks and start investing.
In order to buy and sell stocks, you need a brokerage account. You need to transfer money from your bank account into your brokerage account before you can start investing. Click here to learn how to buy stocks online.
M1 Finance allows you to easily invest in stocks and ETFs with options for both hands-on and hands-off approaches. It has also automated many of these features, making it easy for investors to make contributions on a regular basis and consistently add to their pre-built portfolios.
M1's "Pie" visualizations allow you to easily understand the makeup of your portfolio, and its net worth features are an attractive means for tracking your personal net worth:
If you haven't yet created an account with a legacy broker (Fidelity, Vanguard, Schwab, TD Ameritrade, etc.), M1 Finance is a far more user-friendly option.
Beyond regular investment accounts, you can also open IRAs, savings accounts, trusts, and joint accounts through M1 Finance.
Price
Free
$125/year for M1 Plus (not necessary)
If you are: New to investing and looking for a brokerage where you can visually track your investments, M1 Finance is for you.
5. Seeking Alpha – Best Stock Tracking App for Intermediate Investors
Seeking Alpha is probably the best stock monitoring app for investors looking to learn and get advice from investing experts and peers in the investing community, as well as track your stocks and access research tools.
The website is built off the analysis of its contributors, who write every day about their favorite and least favorite investment opportunities:
Many of these insights, especially when used in conjunction with your own analysis, can prove to be invaluable.
Seeking Alpha Premium is like paying to gain access to a roundtable of highly-educated investors, each with their own backgrounds and perspectives, to evaluate every stock you're considering.
Plus, with a Premium membership, you get access to Seeking Alpha's Quant Ratings, Author Ratings, Stock Screeners, and a host of other features.
Price
$19.99/month (when billed annually) for Seeking Alpha Pro
If you are: An investor looking to gain access to the world's largest investing community and their investment research.
Seeking Alpha also ranks #2 on our list of best stock analysis software.
6. Yahoo! Finance
Yahoo Finance is one of the largest aggregators of stock news in the world which makes it an incredibly useful stock tracking app.
We all know that news is what moves the markets. With a free watchlist on Yahoo Finance, you can easily keep track of all the news relevant to the stocks you care about.
And while its vast supply of news is what's relevant for this article, Yahoo Finance also provides some quality information for your analysis.
Whether you're a trader in need of charting tools or a long-term investor who wants to dissect a company's financial statements, Yahoo Finance has you covered.
Price
Free – You can make a Yahoo Finance (or multiple) at no cost
If you are: Wanting to stay on top of all the latest news.
7. TD Ameritrade
Who says you need a brokerage and a stock tracking app?
With TD Ameritrade, you can easily keep tabs on all of your positions and place trades all from one location.
TD Ameritrade provides you with the information you need to stay abreast of each of your stocks. It also provides educational and general news content all in the same central hub.
You can access TD Ameritrade via the web, desktop software, or the mobile app.
Price
Free (and free stock and ETF trades)
If you are: An investor in need of a brokerage account or a TD Ameritrade user.
8. TradeStation
TradeStation is a stock tracking app best reserved for intermediate to advanced traders.
The company offers powerful trading technology, brokerage services, and educational content – each component was built to assist you in your trading journey.
With TradeStation, you can chart and trade from the web-, desktop-, or mobile-versions, and practicing new trading strategies with simulated trading and backtesting capabilities.
For a complete overview of its features, check out our TradeStation review.
Price
Free (stock and ETF trades are free, while options contracts and futures contracts cost $0.60 per contract and $1.50 per contract, respectively)
If you are: An advanced trader and like the build of TradeStation over other alternatives, like TradingView or thinkorswim.
Bottom Line
Whether you're a new or seasoned investor, you need to stay on top of your investments.
You need all of the most relevant and timely information available to make the best investment decisions possible.
Regardless of who you are, it's time to pick a stock tracker app that best suits your needs and goals as an investor.
For most, we recommend WallStreetZen as the best stock tracking website in . It's by far the best site for tracking stock analyst performance.
For a free mobile app and a host of helpful tools, we like Empower.
We like Morningstar Premium for experienced investors, M1 Finance for beginner investors, and Seeking Alpha Pro for intermediate investors.
Empower Personal Wealth, LLC ("EPW") compensates WallStreetZen.com for new leads. WallStreetZen.com is not an investment client of Personal Capital Advisors Corporation or Empower Advisory Group, LLC.