Our editorial team uses a strict editorial review process to compile all reviews, research, and evaluations of any kind. Our company, WallStreetZen Limited, is supported by our user community and may receive a small commission when purchases are made through partner links. Commissions do not affect the opinions or evaluations of our editorial team.
Do you dream of owning a vacation rental property — but without all the headaches that come with being a landlord?
Here.co is a new platform that makes it easy for anyone to invest in vacation rentals without all the hassle.
With Here, you can start investing with as little as $100. From there, the platform takes care of all the property management for you so you can sit back and relax.
But is it the right investment choice for you? In this Here.co review, I'll take a closer look at Here and explain how it works, its features, pricing, and fees to help you figure it out.
Let's get started!
Here.Co Investing: Is it Worth It in 2023?
Overall rating: ⭐⭐⭐
The bottom line: Here.co is easy to use and affordable. It also has a good (though limited) good track record. It's a great option for beginner investors and real estate tycoons who want to invest in vacation rentals without all the management hassles. However, you should consider its limited track record and customer complaints before investing.
Here.co isn't the only way to invest in fractional real estate rental property. Arrived Homes is another popular option. While it only launched in 2021, it has serious star power backing it — early investors included Amazon (NASDAQ: AMZN)'s Jeff Bezos.
Arrived Homes is focused exclusively on residential real estate and has a minimum of $100 to get started. The platform has grown a lot in a short period of time — as of early 2023, Arrived Homes has purchased over 225 homes in 39 markets and has over $85 million in total investments.
What is Here.co?
Here is a full-service vacation rental investment platform. It was founded in 2022 by Corey Ashton Walters. 
It features an online marketplace that allows anyone, from anywhere, to invest in vacation rentals and earn passive income.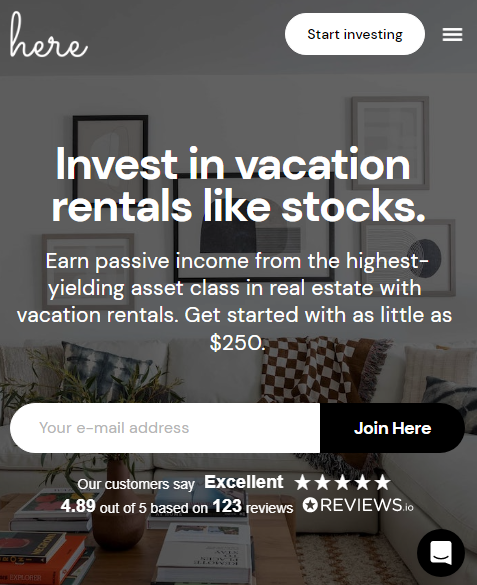 The platform was designed to help first-time investors penetrate the real estate market, while also helping real estate tycoons access new markets.
But what really makes it what makes it appealing to both new and veteran investors is this: Here claims that vacation rentals generate up to 160% more revenue on average than traditional long-term rentals.
How does Here.co Work?
Here's business model is pretty easy to grasp, and can be broken down into 3 steps:
Step 1: Browse
Browse the Here marketplace for available properties that fit your investment needs.
Step 2: Invest
Determine how much you'd like to invest, review the terms, sign electronically, and fund your investment.
Step 3: Relax
From that point, Here will take care of the day-to-day. While no investments are guaranteed, if your investment is successful, you will earn a portion of the net monthly income and potential property appreciation.
Here's a hypothetical example of Here's business model in action:
Here acquires property in the Blue Ridge Mountains. The cost? $1 million.
The property is renovated and listed for short-term rental on Airbnb.
Starting at $100, Here sells fractional ownership shares of the property to investors. They take a 1% management fee — the remaining profits are distributed quarterly to investors.
After five years, the property has appreciated in value to $1.5 million.
Here sells the property and shares the spoils with its investors.
In this example, if you'd invested $100 in the property, you would have earned a profit of $500 after five years. This is a significant return on investment, and it's just one example of how Here's business model can generate profits for investors.
Mouth watery, huh? Now that you have an understanding of a sample Here.co investment, let's delve into its pricing and fees and why I believe Here is a worthy contender compared to the alternatives.
Here.co Pricing + Fees
Here makes money in three ways:
1. Asset Management Fee
This is a fee that Here charges to manage the property. It's 1% of the property's total value each year, paid out from the property's income at a rate of 0.25% each quarter. This covers things like asset management, payment fees, and investor relations.
2. Property Management Fee
This is a fee that Here charges to manage the day-to-day operations of the property. It's 25% of the property's gross annual revenue, paid out each month. This covers things like cleaning, guest relations, maintenance, repairs, booking, and more.
3. Investing Company Money
Here also invests its own money in the properties — which is good, because you know that they have skin in the game and are working hard to make properties profitable.
Aside from Here's cut, there are no direct fees to investors. No signup fees, initiation fees, nada. And as mentioned, Here's low buy-in of just $100 per share is a highlight of the platform.
It's a simple and straightforward business model, and it's one of the reasons why Here has been gaining traction as an investment platform.
The Good: Here.co's Top Features
These are just a few of the top features that make Here an ideal option for investors. If you're looking for a simple, easy-to-use, and affordable way to invest in real estate, Here is worth considering.
Easy Sign-Up
User-Friendly Design
Hand-Picked Selections
Low Minimums of $100
Low Management Fees
SEC-Registered
Customer Service
The Bad: Drawbacks of Here.co
You are probably well aware that perfection is an illusion. It doesn't exist. While Here is an incredible platform for beginner investors, it is not without some drawbacks. For instance:
No Secondary Market
Very Limited Options
Little History
No Mobile App
Here.co Pros and Cons
To recap the good and bad points of the platform:
| | |
| --- | --- |
| Pros | Cons |
| Low minimum investment | No secondary market |
| Low management fees | Limited options |
| SEC-registered | Little history |
| Hand-picked selections | No mobile app |
| Easy to use | |
Who is Here.co Best For?
Want to make sure that Here is the right investment for you? Here are some of the people who benefit the most from Here vacation rental investment:
Investors who are new to real estate
Investors who want to diversify their portfolio
Investors who want to invest in vacation rentals
Investors who want to invest in short-term rentals
However, Here may not be the best option for everyone. For instance, here are some of the people who might not be interested in investing in Here.co:
Investors who are looking for a high-return investment
Investors who want to invest in a specific type of property or location
Investors who want to be able to sell their shares quickly
Investors who are not comfortable with the risks involved in real estate investing
If you are considering investing in Here.co, it is important to get acquainted with how it works and the risks involved.
Did you know that as many as 75% of millionaires have multiple income streams? That is to say — branching out into real estate investing isn't the only way to build wealth.
If you're interested in building up income streams in different markets, consider these top-rated platforms:
…And be sure to check out our article on the best alternative investments.
Here Vacation Rental Investment Reviews
If you start searching for Here reviews, you'll probably find a scathing one-star review on Trustpilot.
According to the user, Here charges exorbitant fees that are surreptitiously hidden from unsuspecting customers.
What's even more perplexing is that these fees are nowhere to be found on Here's flashy website, nor are they mentioned in their FAQs or property pages.
To unravel this mystery, you will have to embark on a quest through a sprawling 40-page document on the SEC website. Weirdly enough, it is concealed on page 21, buried deep within the bureaucratic labyrinth.
See this example, filed by Here with the SEC, where Here charges a $210,000 fee for a property that they bought for $816,000. That is an extremely high fee and tax on users.
But that's an exception.
On other review platforms reviews.io, the landscape transforms into a realm of positivity. Several Here vacation rental investment reviews list high customer satisfaction with the platform's user-friendly interface and robust property management tools.
Don't be swayed too easily by any investment opportunity. It is imperative you exercise caution and conduct thorough research before dipping your toes into the waters. Remember, you can always start small.
Is Here Investing Safe and Legit?
Is Here.co truly a safe and legitimate platform for investing?
The aforementioned review on Trustpilot might raise concerns, hinting at hidden fees and potential pitfalls. It's a valid point that warrants attention.
However, we must balance it with the overwhelming positivity found on reviews.io, where Here basks in the glow of satisfied customers and a stellar rating of 4.9 out of 123 reviews.
In matters of investment, knowledge is power. So take a moment to ponder and assess the available information, and don't be scared to start small to test the waters.
Conducting thorough research, exploring reputable sources, and scrutinizing Here.co's policies and track record can provide you with the confidence to start.
It's crucial to remember that every investment journey carries inherent risks. While positive reviews can serve as a reassuring beacon, they should not be the sole basis of your decision.
Arm yourself with comprehensive knowledge, seek expert advice if needed, and carefully weigh the pros and cons before venturing forth.
Here Investing Alternatives
1. Arrived Homes
Arrived Homes is a platform that specializes in real estate investment opportunities, catering to those seeking a unique and potentially lucrative avenue for their funds.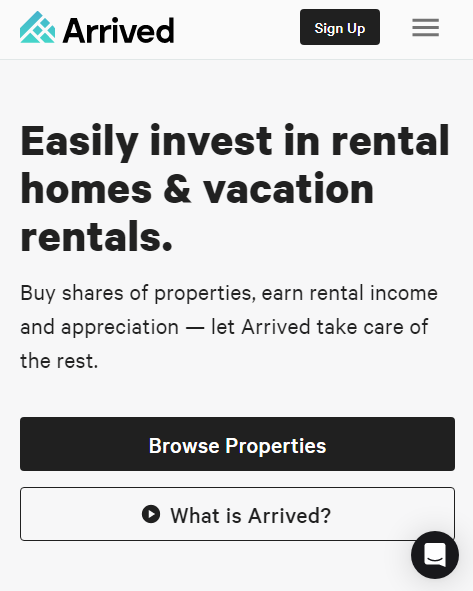 The platform uses real estate investing expertise and data science to identify high-return properties. They streamline the investment process, handling property selection and management.
Arrived Homes takes care of renovations, tenant management, and maintenance, providing passive investors with quarterly dividends and potential property appreciation.
Next to that, Arrived charges investors a quarterly management fee that's paid out of the property's rental income.
Overall rating: ⭐⭐⭐⭐
Minimums + fees: Arrived Homes offers an accessible entry point for investors with a minimum investment requirement of just $100.
In terms of fees, Arrived Homes operate with a fee structure that includes agent rebates from the previous property owner, a one-time sourcing fee to cover property acquisition and preparation costs, and an annual asset management fee of 1%.
While specific amounts may vary, Arrived Homes' low minimum investment threshold makes it an enticing option for those looking to start with smaller capital amounts.
Best for: Those seeking a more passive approach to real estate investment, where the complexities of property acquisition and management are handled by experts.
So if you are looking to diversify your investment portfolio by including real estate assets without the burdens of day-to-day property operations, Arrived Homes is worth a try.
2. REITs
REITs, or Real Estate Investment Trusts, are investment vehicles that pool capital from multiple investors to invest in income-generating real estate properties. They offer access to the real estate market without directly owning properties themselves.
REITS are companies that own and manage properties that yield income, such as offices, shopping centers, and apartments.
The cool thing, however, is that you can invest in these companies and enjoy the benefits of real estate, without the headaches of being a landlord.
For example, Fundrise specializes in proprietary REITs and offers a platform that allows you to purchase shares of real estate interests.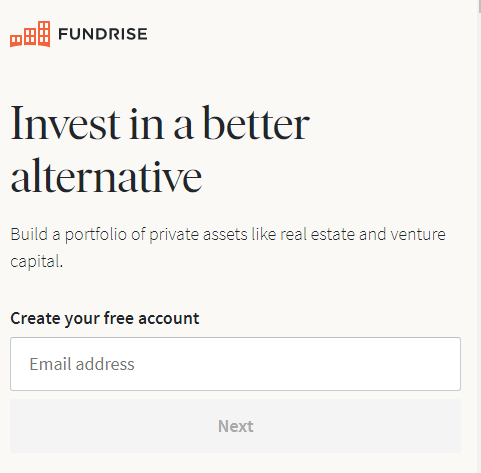 Minimums + fees: Traded REITs are listed on the stock exchange, making them readily available for purchase. Compared to non-traded REITs, the price per share of traded REITs is generally lower.
This accessibility and lower per-share price make traded REITs more affordable and easier to buy for investors.
The minimum investment for Fundrise is an extremely reasonable and accessible $10.
Best for: REITs are best for individuals looking to diversify their investment portfolios with real estate investing, while also benefiting from professional management and expert guidance.
Final Word:
Here is a decent option if you are looking to invest in real estate without having to own a property or manage the day-to-day management.
However, there are drawbacks such as the lack of a secondary market, which makes it hard to sell shares quickly.
The company's fees are not prominently disclosed and require thorough research. Mixed reviews raise concerns about hidden fees, but the positive reviews indicate customer satisfaction.
Before you dabble in, It is essential to conduct thorough research, consider alternatives like Arrived Homes and REITs, and weigh the pros and cons before making an investment decision.
---
FAQs:
Who Owns Here Vacation Rentals?
Here is owned by Corey Ashton Walters, who founded the company in 2022 after serving as a bartender for 5 years.
Is REIT a Good Investment?
Real Estate Investment Trusts (REITs) are a good investment option for income investors, beginner investors, and diversification seekers.
Are REITs a Good Investment in 2023?
According to Seekingalpha.com, REITs initially outperformed at the start of 2023, making it a good investment in 2023.
Which Real Estate Investment is Best?
The best real estate investment includes direct property ownership, real estate investment trusts (REITs), real estate crowdfunding, vacation rentals, and real estate partnerships.
Where to Invest $1,000 Right Now?
Did you know that stocks rated as "Buy" by the Top Analysts in WallStreetZen's database beat the S&P500 by 98.4% last year?
Our September report reveals the 3 "Strong Buy" stocks that market-beating analysts predict will outperform over the next year.