Our editorial team uses a strict editorial review process to compile all reviews, research, and evaluations of any kind. Our company, WallStreetZen Limited, is supported by our user community and may receive a small commission when purchases are made through partner links. Commissions do not affect the opinions or evaluations of our editorial team.
So, you're saving money for retirement and realize: If I let it sit in a stuffy savings account, I'll end up losing money to inflation. Now what? What is the best investment for retirement, anyway?
I've personally grown my retirement account to beat inflation and even turn a profit each year since I was 25, and it's actually way easier than you might be thinking.
Want to know more? In this article, I'll offer my top 12 tips, strategies, and investment options for retirement to help ensure you've got more than enough money stockpiled for when you're ready to retire.
At-a-glance: top retirement investing options + resources
What's the Best Retirement Investment Strategy?
The bottom line: There's no single retirement investment option that will be best for everyone. However, in my opinion, a combination of a standard 401(k), a Gold IRA, and real estate makes for a super healthy retirement plan. Here's why:
Your 401(k) can offer some outstanding tax benefits.
A Gold IRA and real estate will help hedge against inflation.
Real estate will very likely appreciate over time for some serious returns.
Check out some of our favorite gold IRA companies below:
12 Retirement Investing Strategy Tips
You can set up a retirement plan today using the strategies below. All it takes is some adjusting over time to dial in your ideal retirement investment strategy.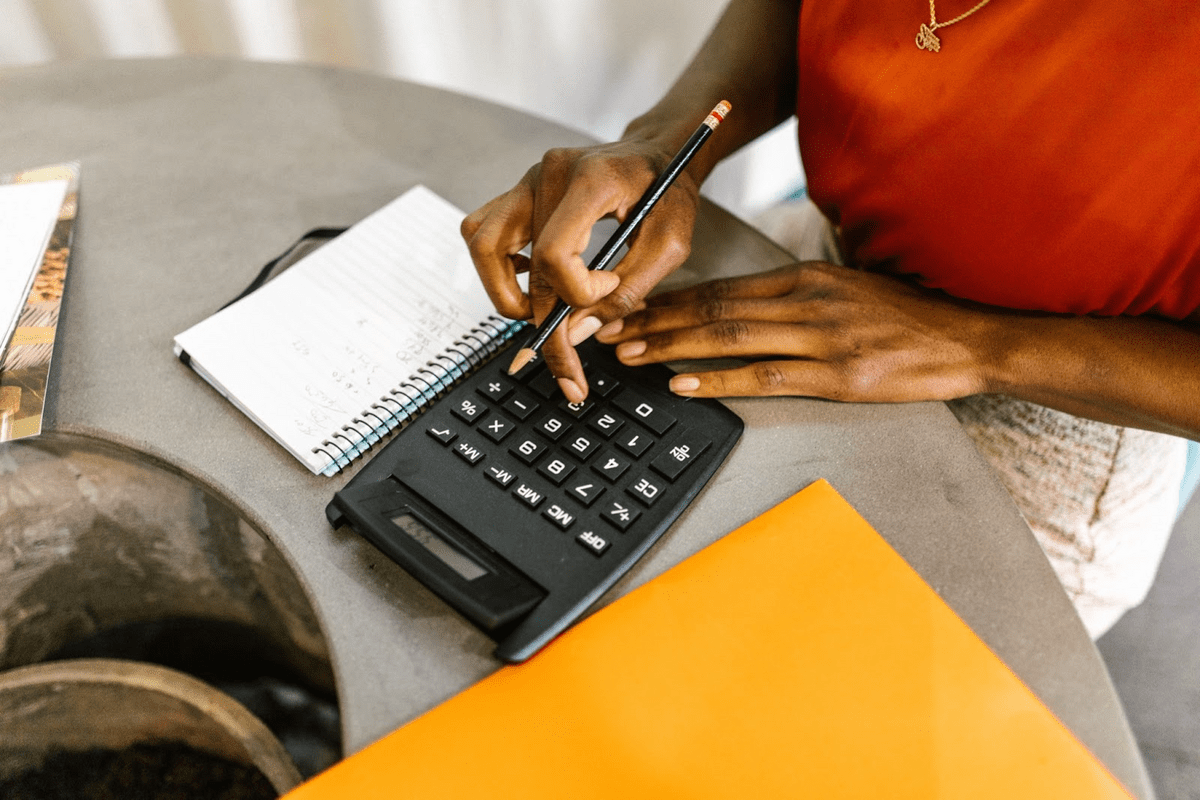 1. Consider the Basics
First, you need to figure out what's right for you.
For instance, my plan relies pretty heavily on real estate investment. That might not be your interest — or in your comfort zone.
So, first things first, you need to personalize your plan a bit. I recommend using the four metrics below to figure out your best retirement investment strategy:
Need help figuring out your retirement needs? Empower (formerly Personal Capital) is a portfolio management tool that offers a number of no-cost resources to help you plan, including a retirement calculator, portfolio tracker, 401(k) fee analyzer, and more.
Timeline
Are you retiring in five years or fifty? The answer is going to be a major determining factor in choosing a retirement investment strategy that works.
A financial planner of mine gave me some great advice regarding investments: generally speaking, the longer you have before you retire, the more risk you can take because you have longer to recover from potential losses.
That means the ideal investment strategy for you now might not be ideal in 20 years. Retirement planning should be ongoing, and it's best to adjust your portfolio not only to suit your needs now but also in the future as you grow closer to retirement.
Spending Needs
Next, consider your lifestyle now and what you expect it to be when you exit the workforce. If you're rolling around in a Lambo and summering in San Juan now, chances are, you're going to need a lot more to stay happy and satisfied in retirement.
If that's the case, an aggressive retirement plan might be best for you.
Not only do you need to consider your spending needs now, but you should also plan on things changing over time.
The cost of living has increased significantly over the past few years alone. While it's not always an upward trend, even a few years of higher living costs could throw a wrench in your retirement plan.
Define Your Risk Tolerance
For those who can shrug off a high potential for losses — especially those planning early for retirement — investments that are considered high-risk might be ideal for maximizing returns.
If the idea of losing money makes your head spin, low-risk, low-reward retirement strategies should probably be your bread and butter.
Of course, mixing things up a bit is always a good idea.
Another important thing to consider is that your risk tolerance will likely change over time. As you can see in the chart below, more risk isn't always better: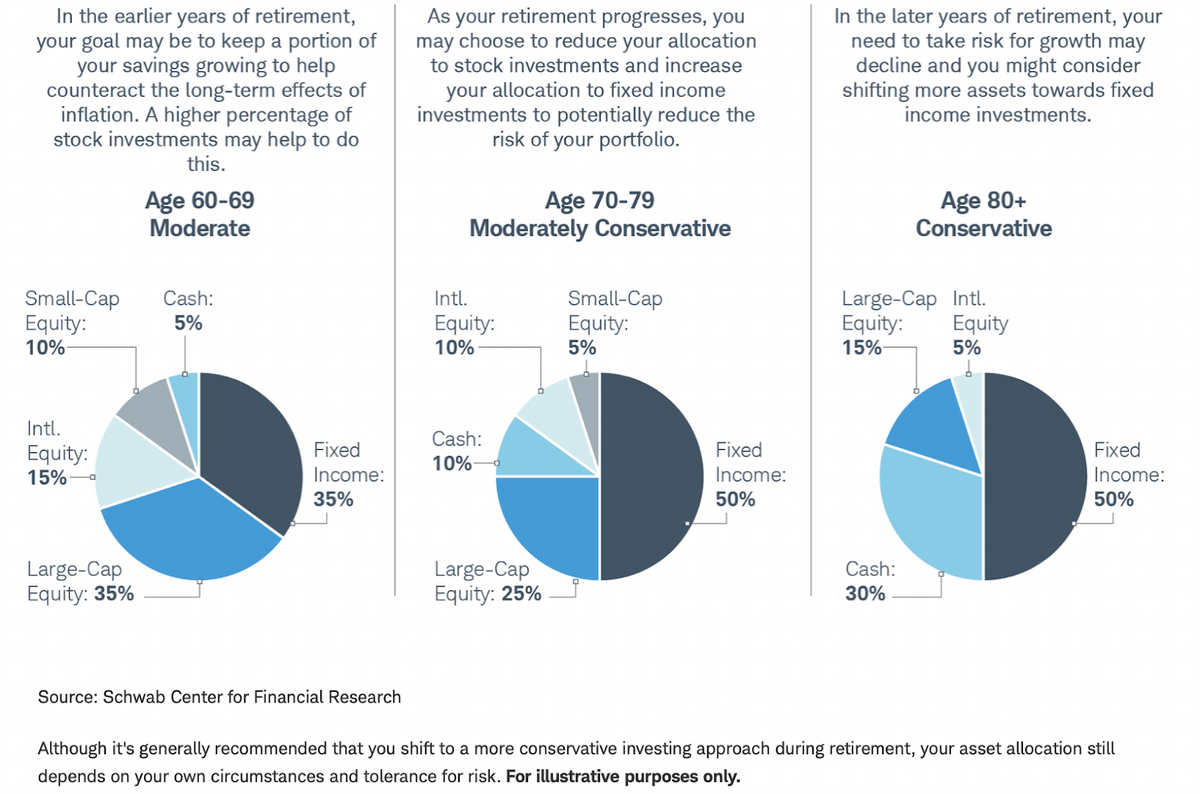 Estate Planning
A lot of people hear this term and think it's only for people on their deathbeds. In actuality, it can help set you and your loved ones up for success early on in your life and provide some peace of mind that your hard work won't go to waste if something happens to you.
2. Be Mindful of Fees + Tax Considerations
I read "Money: Master the Game" by Tony Robbins a few years ago. In the 700+ pages, the most important takeaway was that fees and taxes could cripple even the best investment strategies for retirement.
Accounts that get taxed as you contribute will mean you won't get hit with a huge amount of taxes when you withdraw, but you'll also miss out on compounding interest. The difference in your savings when you avoid ongoing taxes can be massive.
Additionally, mutual funds can be a great way to invest without having to know much about the market, but the fees alone can prevent your money from growing as it should.
You can't always avoid fees, and you'll probably never avoid taxes in the long run, but choosing investments that minimize both will often be hugely beneficial.
Need help? Empower offers a number of no-cost tools to help you make sense of taxes and fees.
3. Make Maximum 401(K) Contributions
If you have a 401(k), it's really a no-brainer to contribute the maximum, which is $22,500 as of 2023. This is especially true if your employer matches your contributions.
Any 401(k) contributions are made pre-tax, which means two important things.
First, the IRS won't get paid on that income until you withdraw, so you get the benefit of compounding interest for years—and maybe decades.
Second, anything you contribute to your 401(k) doesn't count toward your taxable income, which could drop you down to a lower tax bracket and save you money in the short term on income tax.
Here's a handy resource: Among its other tools, Empower offers no-cost 401(k) fee analyzer.
4. Open an IRA
If your employer doesn't sponsor a 401(k) plan, you can open an Individual Retirement Account (IRA) on your own. It works similarly, but you won't get the benefit of employer contributions.
You can choose between a traditional or Roth IRA if you don't have access to a 401(k). You contribute to a traditional IRA pre-tax and a Roth IRA post-tax.
5. Consider a Gold IRA
A Gold IRA can either work like a traditional or Roth IRA, so you can choose between pre-tax and post-tax contributions.
But instead of your contributions being used to purchase things like money market funds and bonds, your money goes toward gold or other precious metals.
I personally haven't invested in these, but I do plan to start. The fees for some options can be a bit high, but the best gold IRA companies have reasonable fees and can yield pretty outstanding returns in some cases.
Gold is a middle-of-the-road performer in terms of annual return over time, so it can be a great way to hedge against inflation. Plus, its value is considered stable. Just check out the chart below from Statista that shows the average annual return at 7.78%: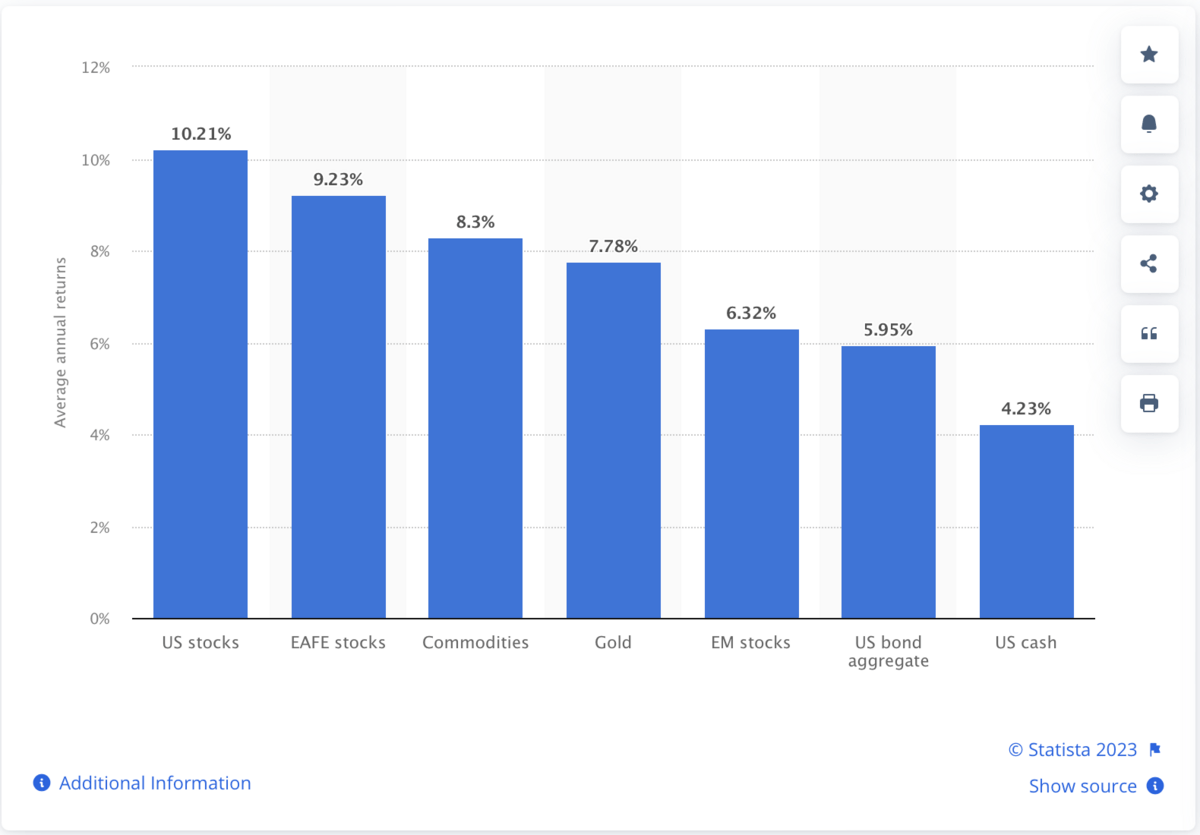 6. Consider Real Estate Investing
Real estate is one of the best investment strategies for retirement in part because there are a bunch of ways to add it to your portfolio.
It's considered a safe investment because real estate has, historically, appreciated over time. It also has inherent value because everyone needs a place to live. I used to work in real estate, so investment properties have become a major part of my retirement plan.
I personally go the route of short-term and long-term rentals most often, but you can get started with far less money if you use real estate crowdfunding sites.
Two I like? Arrived Homes and Fundrise.

If you love the idea of real estate investing but don't want to be a landlord, Arrived Homes could be a great fit. The platform lets you invest as little as $100 in residential real estate rentals.
Fundrise, on the other hand, lets you invest in proprietary "eREITs" or real estate funds that invest in a variety of different assets at once.
These eREITs are like index funds but for REITs, which means you're not only investing in one company that owns multiple assets, but multiple companies that do. It's a great way to diversify within a single asset. Plus, you earn dividends!
Fundrise currently has 11 eREITs to choose from, six of which are still in the process of being set up: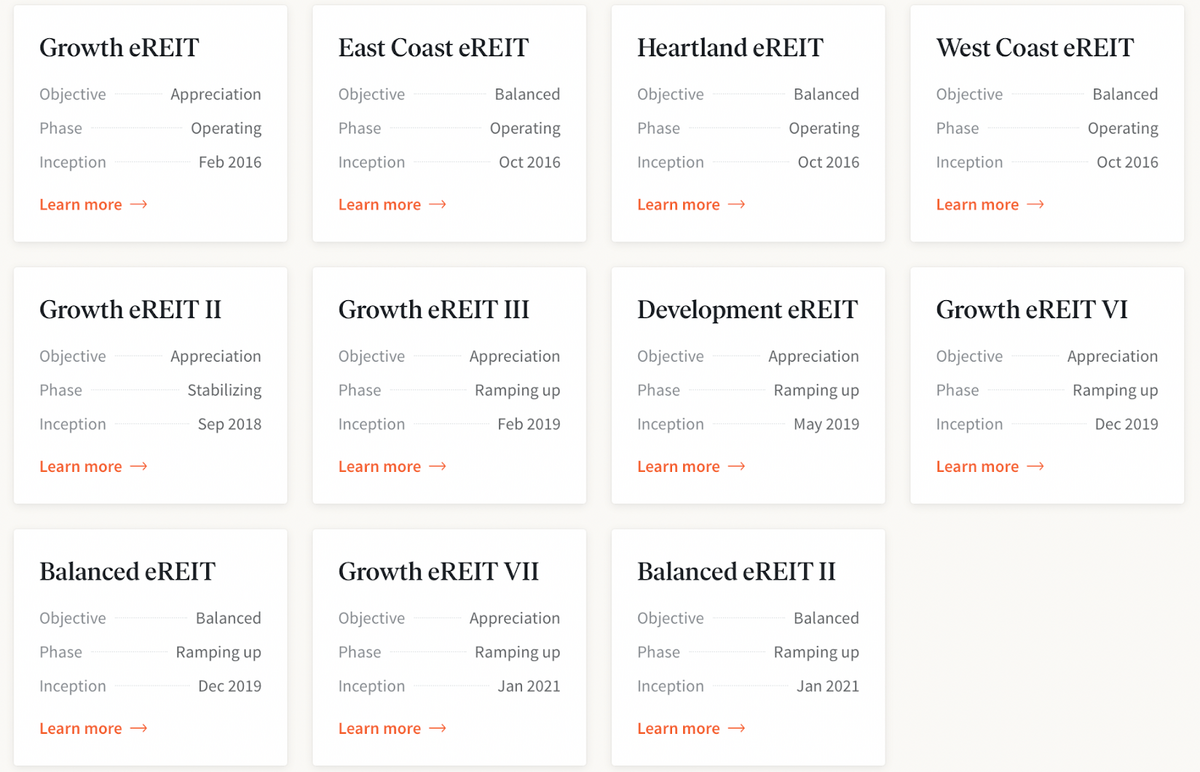 Both Arrived Homes and Fundrise also help maintain greater liquidity, so they both offer benefits if you're closer to retirement than I am.
7. Consider Alternative Investments
For every retirement investment option I've mentioned, there are multiple alternatives that could provide greater returns or match your risk tolerance, timeline, or other personal metrics more accurately.
Can't wrap your head around real estate investment and management? Try a company like Doorvest, which manages your real estate for you for a fee.
Don't see the future of gold or IRAs in an ever-more digital world? Invest in cryptocurrency instead with a company like BitcoinIRA or eToro*.
Looking for something a little more exclusive? Invest in bluechip art with Masterworks or use Public to invest in collectibles (think: rare comic books and basketball memorabilia). Check out some of Public's art and NFT investment opportunities: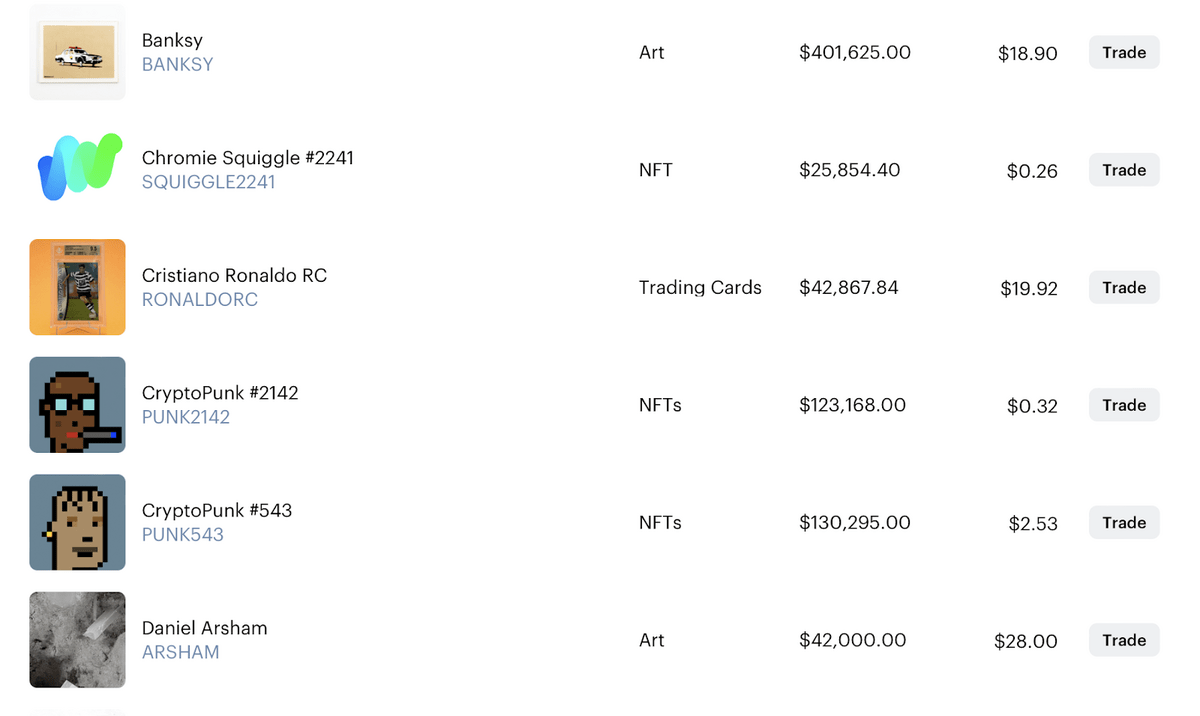 There is no shortage of alternative investments out there to customize your retirement plan.
8. Explore Fixed Annuities
Fixed annuities are a popular way to protect yourself from running out of funds in retirement.
Through a fixed annuity, which you can buy with retirement funds, you essentially get "retirement insurance." It pays out a fixed amount—hence the name—annually once you retire, so you always know what money will be coming in.
Since these are considered very low risk, the return on investment is minimal, but these accounts can be some of the best retirement investments to diversify and get some peace of mind.
9. Make Friends with the Saver's Credit
The Saver's Credit is a tax strategy for low- and moderate-income taxpayers. It's an income tax credit of between 10% and 50% of your first $2,000 contributed to a 401(k), a 403(b), a 457 plan, a SEP IRA, or a simple IRA.
The Saver's Credit isn't an investment itself, but it can reduce your taxable income and save you up to $1,000, which you can then turn around and invest for retirement. As such, it makes a great retirement investing strategy for anyone who qualifies.
TurboTax has a handy breakdown of the income limitations for this tax credit.
10. Open a Health Savings Account (HSA)
My wife and I just hired a new accountant, and she introduced us to HSAs. In fact, she said it was one of her favorite tax strategies. After she explained it to us, we immediately started the process of switching our medical insurance to a plan that included an HSA.
Basically, you contribute pre-tax to an HSA, which you can then pull from to pay for out-of-pocket medical expenses, also tax-free. Things like copays and over-the-counter medications often qualify.
As a family, you can contribute up to $7,750 per year in 2023, and there's no limit to how long your money can sit in the account. If you withdraw after you're 65, there are no penalties, and you just pay federal income tax on the withdrawals.
Basically, an HSA works as an additional IRA, but you get the benefit of being able to use untaxed funds to pay for medical expenses.
This could potentially save you from having to dip into other retirement accounts to cover those expenses, making it an outstanding investment option, in my opinion — and my accountant's!
11. Hedge Against Inflation
A lot of people focus on simply saving money for retirement, but in my opinion, that's only half the battle. At all times, you have inflation working against your portfolio.
The best investments for retirement income will not only provide an income for you after you retire, but they will also beat inflation to make sure your money later is worth more than it is now in terms of your cost of living.
There are many ways to hedge against inflation, but I personally think the best retirement investment options for long-term portfolio health include those in gold and real estate.
Generally speaking, the value of commodities increases with inflation. That means investing in gold and real estate will be more likely to beat inflation.
In my opinion, a combination of a Gold IRA and some type of real estate investment—like a long-term rental or crowdfunded real estate deal—is a good way to fight the negative effects of inflation on your retirement funds.
12. Have an Exit (Withdrawal) Strategy
Finally, I recommend you come up with a withdrawal plan alongside your retirement investing strategy. Investing for retirement is all about planning, so why not plan how and when you'll make withdrawals, too?
I suggest thinking about any penalties you might encounter for early withdrawal and the taxes that you'll have to pay on funds you take out.
For example, taking money from a 401(k) or a Health Savings Account before you turn 65 will result in a 10% or 20% penalty, respectively. If you retire at 60, make sure you plan for 5 years of withdrawals from another account to avoid those fees.
I suggest using Empower's retirement calculator and 401(k) analyzer to get a sense of how the 401(k) contributions you make now will pay off when you're ready to retire and what the best withdrawal plan might be for you.
Final Word: Best Retirement Investments + Strategies
So, what is the best investment for retirement?
The best investment options for retirement for me won't necessarily be the same for you, but if you apply the principles and use the strategies discussed above, you should be able to develop a personalized retirement investing strategy that suits you perfectly.
In my opinion, though, a combination of inflation-resistant investments like a Gold IRA and real estate will help mitigate the risk of your accounts being worth less when you're ready to retire. Plus, investing in a good old-fashioned 401(k) can provide some pretty outstanding tax benefits.
---
FAQs:
What is the $1000 a month rule for retirement?
The $1,000 per month rule for retirement uses basic math and averages to conclude that you need $240,000 saved in retirement accounts for every $1,000 per month you'll need to withdraw once you retire. This is an overly basic principle, but it's a good rule of thumb.
What is the 4% rule investing for retirement?
The 4% rule for retirement states that you should withdraw no more than 4% of your account balance per year from your retirement savings. In theory, this will ensure you don't run out of money early.
What is the 2% retirement rule?
The 2% retirement rule states that the cost of living is expected to increase annually by 2%. It's recommended that investors use this bump in living costs to calculate how much money they need to save in order to retire, accounting for increasing costs.
How to invest $100,000 for retirement?
There's no single retirement investment strategy that will work for everyone, but it's a good idea to diversify to mitigate risk. A good plan is to max out your 401(k) contribution for that year and put the rest into Gold IRAs, real estate investments, and Health Savings Accounts. This allocation offers a good diversity of benefits and risks.
What are the best retirement investments?
Some of the best investments for retirement income include traditional 401(k)s, real estate, Gold IRAs, Health Savings Accounts, and fixed annuities. Some provide ongoing, steady income per year, while others help maximize your nest egg for portfolio longevity once you retire.
Where to Invest $1,000 Right Now?
Did you know that stocks rated as "Buy" by the Top Analysts in WallStreetZen's database beat the S&P500 by 98.4% last year?
Our September report reveals the 3 "Strong Buy" stocks that market-beating analysts predict will outperform over the next year.