Our editorial team uses a strict editorial review process to compile all reviews, research, and evaluations of any kind. Our company, WallStreetZen Limited, is supported by our user community and may receive a small commission when purchases are made through partner links. Commissions do not affect the opinions or evaluations of our editorial team.
I'm skeptical of robo-advisors.
Granted, everyone has different time commitments, interests, and priorities. As someone who worked hard to teach himself stock market fundamentals before investing, my issue with robo-advisors could be an ego thing. I also just love researching and handpicking stocks.
However, when I came across M1 Finance, I was blown away by its combination of self-directed investing AND robo-advisor features.
M1 Finance is the best of both worlds. You have total control of your investments, but can set up numerous automations to make your life easier and (theoretically) increase your long-term returns. It's like having a robo-advisor built just for you.
Here's my M1 Finance review – an unbiased, comprehensive look at one of the world's most innovative stock trading platforms today.
The Verdict: M1 Finance Review
The Bottom Line: I'm a huge fan of M1 Finance and highly recommend it to long-term investors.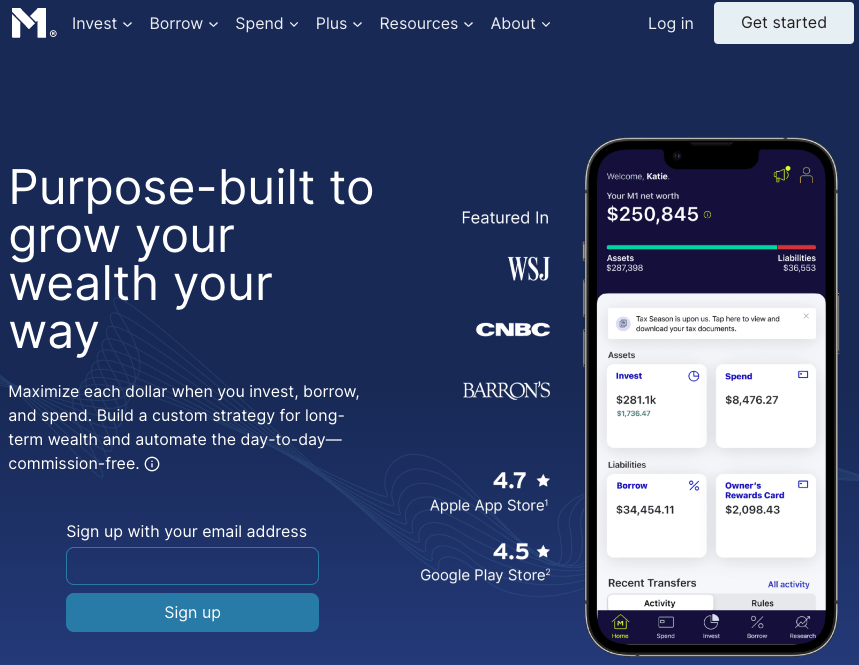 M1 Finance has an excellent user interface (similar to the ease of Robinhood) but offers IRAs and joint accounts, an absolute necessity for serious investors. Plus, its host of robo-advisor-type features make it a powerful platform for building long-term wealth (more on these features below).
Who Should Choose M1 Finance
If you want to handpick stocks and ETFs while taking advantage of auto-deposits, auto-allocation, and auto-rebalancing, M1 Finance is the perfect brokerage for you.
It's the best app to buy stocks that lets you rebalance automatically, like a robo-advisor.
Its pre-made Pies are the perfect solution for beginner investors, too.
M1 Finance has the features of a legacy brokerage, the interface of a fintech, and the automations of a robo-advisor. We've also rated it as one of the best beginner investment accounts.
For these reasons, it's the perfect brokerage app for many long-term investors regardless of investment style. (Skip ahead to How M1 Finance Invests Your Money to learn more.)
About M1 Finance
M1 Finance is an all-in-one finance app that gives people total control and automation of their wealth. It's a comprehensive platform with product features, automation tools, and educational resources meant to position investors to handle their money today and grow it for tomorrow.
M1 Finance has features that balance investing, spending, cash management, and borrowing under one roof.
Is M1 Finance Safe?
Yes, M1 Finance is safe. It is a registered broker/dealer with FINRA and a member of the SIPC. It's fully insured, just like every other broker.
You have $500,000 in SIPC insurance and $250,000 in FDIC insurance for your M1 Spend account.
Moreover, M1 Finance is a very secure platform. It has two-factor authentication and military-grade 4096-bit encryption – more than enough to keep your portfolio safe.
How M1 Invests Your Money
There are 3 ways to set up portfolios on M1 Finance which vary in degrees of automation:
1. Self-Directed Investment Portfolios (no automation)
Most investment portfolios are "self-directed", meaning you choose which assets to invest in, how much, and when – nothing is automated.
While you won't be putting any of its automation or diversification features to use, you can create self-directed portfolios in M1 Finance and use it like a regular brokerage.
You can still use its screeners and buy fractional shares, and you'll have access to IRA accounts and M1 Borrow and M1 Save (more on these below).
2. The "Pie" System (some automation)
M1 Finance's "Pie" system is a popular blend between self-managing your investments and having a robo-advisor build a portfolio for you. This is how I use M1 Finance, and is its most valuable configuration (in my opinion).
Under the "Pie" system, you handpick stocks and ETFs like a self-directed account but you allocate the pie by target percentage, based on your investments, investment style, and goals.
Let's say you want to own VT, AAPL, MSFT, and V, but you want VT to be 50% of your portfolio, AAPL to be 25%, and MSFT and V to be about 12.5% each. Here's what that looks like: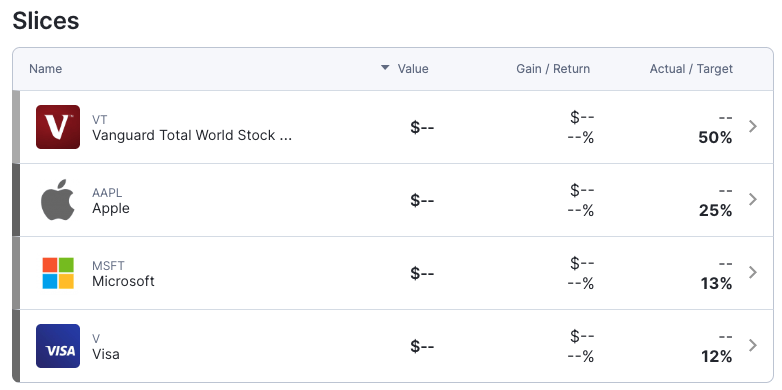 Now, everytime you make a deposit (which you can automate) the new money you contribute will be invested proportionately according to your target allocations – no math needed!
Plus, let's say AAPL stock skyrockets and becomes 40% of your portfolio. Simply click 'Rebalance' to bring your portfolio back into alignment.
Edit your pie whenever by adding or removing "Slices" or changing the target allocation.
You also have the option of creating multiple pies for different strategies.
Like I said, a powerful combination of self-directing and robo-advisor tools, perfectly tailored for long-term investors.
3. Pre-Made Portfolios (total automation)
If you don't want to create your own portfolio, M1 offers nearly 100 pre-made portfolios, otherwise known as "expert pies." These portfolios are the perfect solution for beginner investors.
These pies fall into the following categories: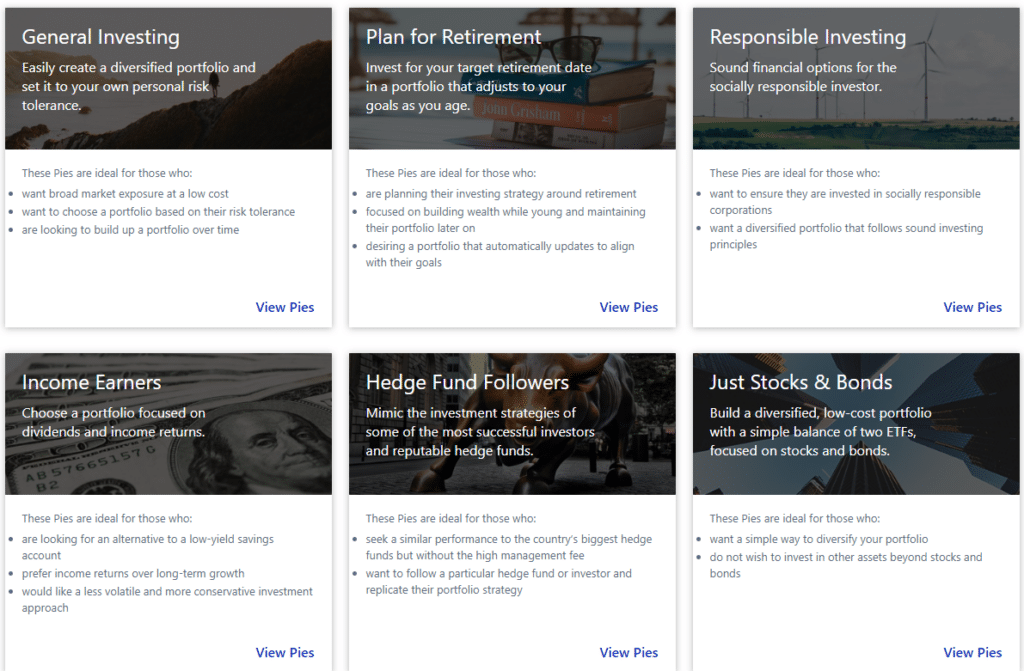 General Investing
These portfolios are similar to standard robo-advisor portfolios and offer seven different options based on risk. Each general investing portfolio holds 6-10 stocks, bonds, and real estate ETFs.
Plan for Retirement
Each pre-made retirement portfolio has a target "retirement date" from 2020 to 2060 and in five-year increments. Each portfolio holds 15-19 diversified ETFs and offers a different allocation depending on how aggressive or conservative you want to be.
Responsible Investing
If you want to invest in ESG (environment, social, governance) causes but need help knowing where to start, a pre-made responsible investing portfolio is for you. These expert pies hold 5-7 ETFs focused on the ESG space.
Income Earners
These are great portfolios if you're looking for safety and consistent income streams. You can own a pre-made income portfolio with 5-7 dividend-paying ETFs, individual U.S. dividend stocks, short- to long-term bonds, and a combo of mortgage-backed and bond ETFs.
Hedge Fund Followers
These pre-made portfolios follow what hedge funds like Berkshire Hathaway, Coatue Management, Icahn Capital, Tiger Global, and others do. They may hold between 7-25 stocks.
Just Stocks and Bonds
These are basic pre-made portfolios with two ETFs covering global stocks and bonds.
M1 Basic vs. M1 Plus
M1 Finance has two types of accounts: M1 Basic and M1 Plus.
M1 Basic does not charge any annual fees, but for $125/year, M1 Plus provides you with:
An AM and PM trading window. M1 Basic only has AM.
A margin borrowing rate as low as 6.95% (1.50% lower than M1 Basic)"
A 3.30% APY on M1 Spend balances (M1 Basic users earn zero)
4 ATM fee reimbursements per month with M1 Plus (1 with M1 Basic)
A 0% international debit purchase fee (M1 Basic's is 0.8%-1.0%)
Personally, I use M1 Basic and haven't found the need to upgrade.
Other M1 Finance Features:
Beyond M1 Invest, M1 Finance offers 2 other primary solutions to handle your personal finance needs: M1 Borrow and M1 Spend.
M1 Borrow
M1 Borrow is M1's lending service. With a minimum account balance of $2,000, you can use it as collateral for loans and borrow up to 40% of your total account balance.
What's especially appealing about M1 Borrow is how low its interest rates are compared to margin loans from other brokerages. You can also set your own repayment timeline.
M1 Spend
M1 Spend works like a typical checking account. You receive a debit card and have full-service cash management functions.
While M1 Basic users receive one ATM fee reimbursement monthly, M1 Plus users receive four. M1 Basic users also earn zero APY on deposits, while M1 Plus users earn 3.30% APY.
How to Use M1 Finance: Mobile App and Computer
Here is how M1 Finance looks on mobile and desktop devices: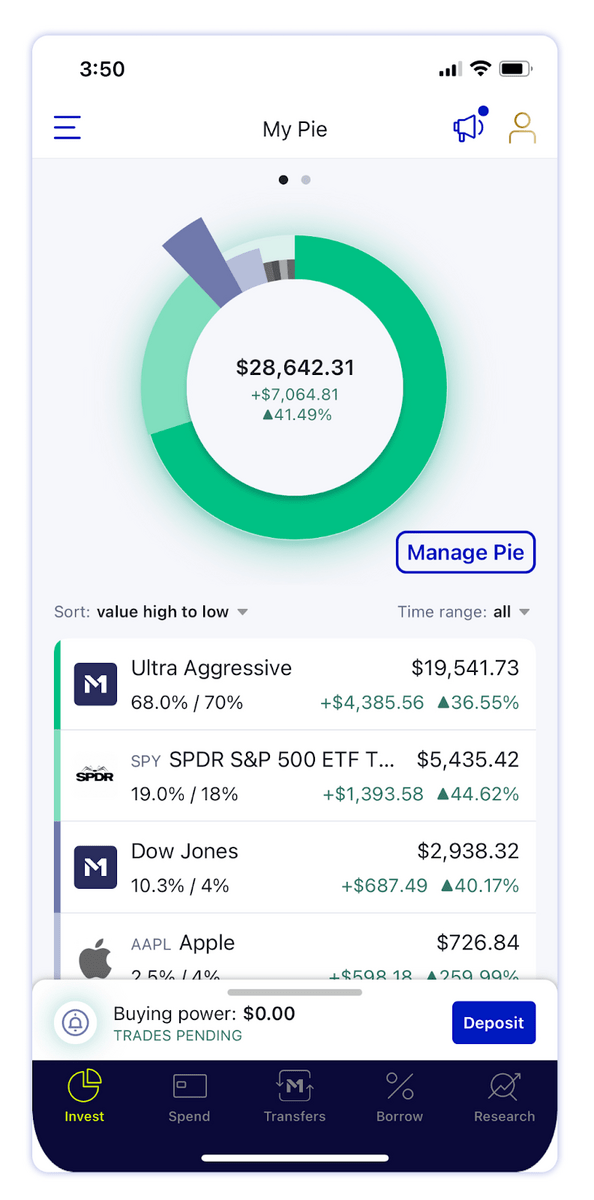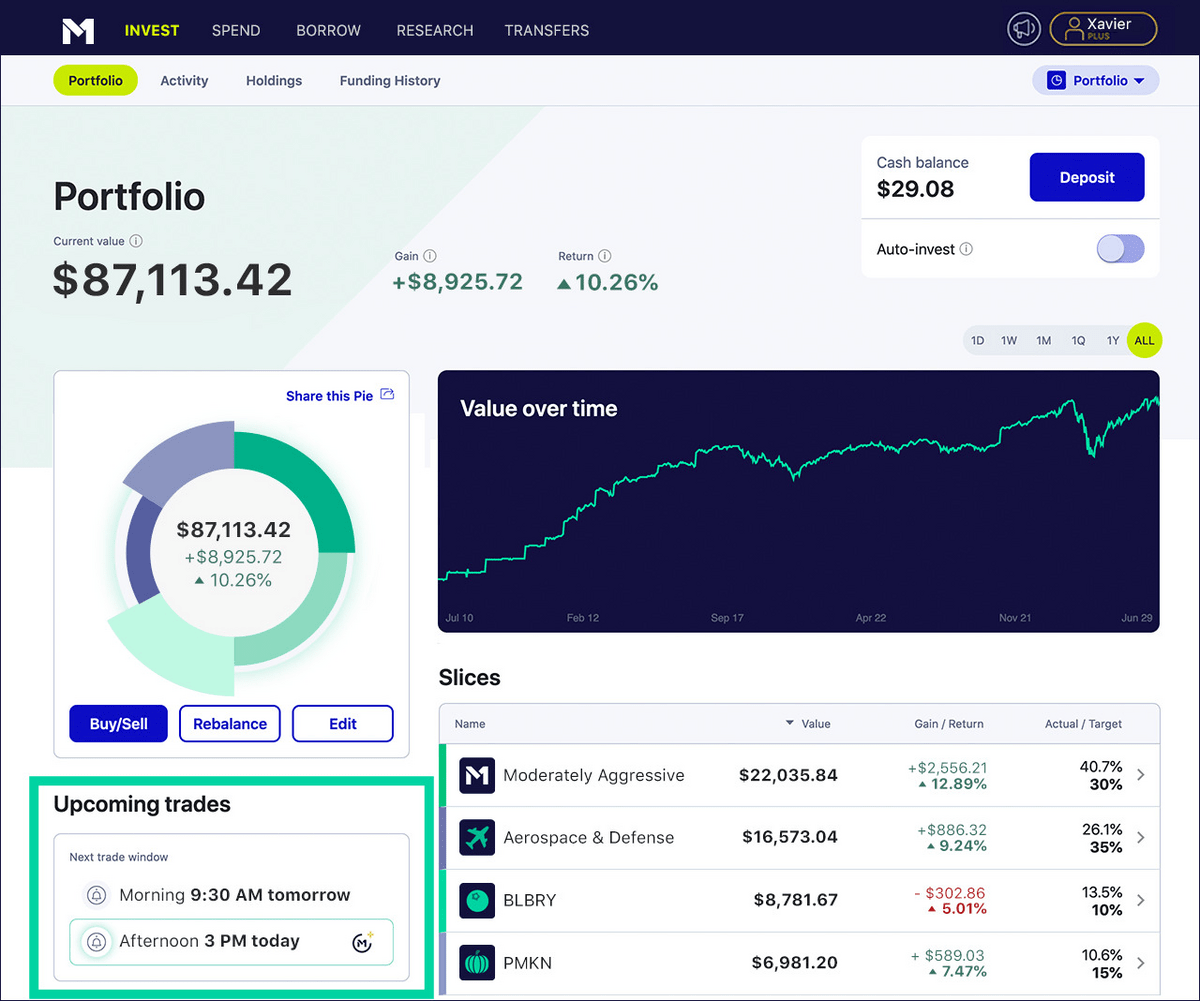 M1 Finance Fees – How does M1 Finance Make Money?
M1 Finance can be used for free. It does not charge commissions, account management fees, checking account maintenance fees, or application or origination fees.
Users can, however, invest in M1 Plus ($125/year) to unlock an extra trading window, lower margin rates, and other M1 Spend benefits.
That said, there can be inactivity fees, TOD transfer fees, and some bank fees applied in a handful of scenarios. See M1 Finance's full fee schedule for more details.
Final Word: M1 Finance Reviews
If you're still wondering "is M1 Finance good?," after reading this M1 Finance review, let me break it down for you again.
Yes, absolutely, it's good. Especially for long-term investors who realize the benefits of having a hybrid between a traditional brokerage and robo-advisor.
You don't have to choose between building your portfolio from scratch or having a robot do it. You can do both! You can pick your own investments or select from 100 pre-built portfolios.
M1 can then automate your portfolio management and automatically rebalance it based on your selected criteria.
I especially recommend M1 Finance to younger investors looking to switch from Robinhood, Webull, Acorns, and others. Read more about Robinhood alternatives.
Unlike other M1 Finance reviews, I hope you know now whether or not M1 Finance is the best brokerage for you. Personally, I find it incredibly underrated and believe it is one of the best brokerages dedicated to building its users long-term wealth – something nearly every broker cannot say.
---
FAQs:
What is M1 Finance?
M1 Finance is an all-in-one finance app that gives people total control and automation of their wealth. It's a comprehensive platform with product features, automation tools, and educational resources meant to position investors to handle their money today and grow it for tomorrow.  
M1 Finance has features that balance investing, spending, cash management, and borrowing under one roof.
What are the M1 Finance pros and cons?
The pros of M1 Finance are its customizability, ease of use, and automation features. The cons of M1 Finance are its lack of trading capabilities and inability to buy bonds.
​​Is M1 Finance good?
Yes, M1 Finance is good. Intermediate investors looking for a self-directed brokerage with robo-advisor elements will love the platform.
M1 Finance puts you in charge by allowing you to handpick your portfolio or choose from pre-made portfolios. Then, if you want, you can automate rebalancing, depositing, and other investing aspects to help you grow your wealth your way.
Where to Invest $1,000 Right Now?
Did you know that stocks rated as "Buy" by the Top Analysts in WallStreetZen's database beat the S&P500 by 98.4% last year?
Our November report reveals the 3 "Strong Buy" stocks that market-beating analysts predict will outperform over the next year.