Our editorial team uses a strict editorial review process to compile all reviews, research, and evaluations of any kind. Our company, WallStreetZen Limited, is supported by our user community and may receive a small commission when purchases are made through partner links. Commissions do not affect the opinions or evaluations of our editorial team.
Automation is here — and it's radically changing everything around us, including options trading.
If you're an options trader interested in exploring automated trading, you may want to explore Option Alpha.
This automated trading platform offers a varied suite of tools that allow you to automate a huge portion of the trading process. Putting your faith (and money) into the hands of an algorithm might seem daunting, but the team behind the service has quite a strong focus on risk management.
Want to know more? In this Option Alpha review, you'll learn everything you need to know about the platform — how does it work? Is it legit? How do you get started? Keep reading…
Option Alpha Review: Is Option Alpha Legit?
The Bottom Line: Option Alpha is a legit service, and it can provide a ton of value to options traders.

The platform offers plenty of well-produced educational materials, as well as powerful automation features.
But there is a catch.
To maximize the bots and algorithmic trading features of Option Alpha, you need a certain level of expertise. If you're not already at that level, you may find the asking price a bit too steep.
But if you're an established options trader and want to take things up a notch, keep reading for an in-depth Option Alpha review…
Option Alpha Education
Although primarily focused on automated trading, education is Option Alpha's standout feature.
The educational materials that the service offers are quite broad and cover topics ranging from quite rudimentary to complex.
On the platform, you get access to:
A library of video tutorials that cover risk management, trading strategies, and general options trading knowledge
A weekly podcast hosted by founder Kirk Du Plessis focused on market updates and interviewing successful options traders
Webinars hosted by industry experts and traders
An extensive library of blog posts that deal with various topics pertaining to options
Trading courses
A trading simulator, allowing users to test strategies without risk
Backtesting tools
A community forum
Option Alpha Automated Trading
Option Alpha automated trading is conducted through bots that allow users to automate different steps of the trading process.
This is the platform's main selling point, so the Option Alpha automated trading review section is going to be the most in-depth part of this article.
Setting up a bot is very straightforward:
Give it a name and icon
Link it with an account
Set an allocation
Define position limits
You don't have to start from scratch — there are plenty of pre-built templates available, and cloning a bot in order to tweak it is a one-click process.
Your bot will use the trading capital you previously allocated to open positions with clear instructions on the maximum number of positions it can open in a day or in total.
The platform supports instant testing, giving you a risk-free way of gauging whether or not everything is set up exactly as you intended it.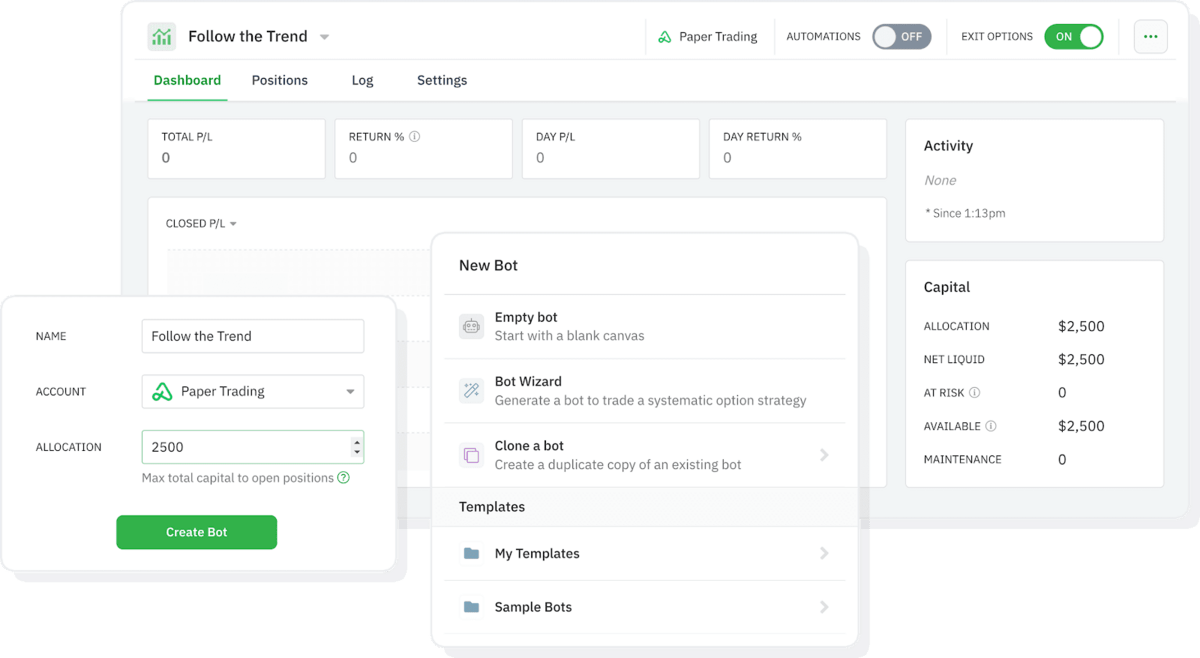 When the bot is set up, you have to add automation. That's where the fun starts. There are two automation types available — here's a brief Option Alpha bot review:
1. Scanners – Scanner automation can be set to run on defined time intervals. Their primary use is to facilitate the search for trading opportunities, data analysis, decision-making, and position opening.
Creating a new scan automation requires you to input some decisions beforehand. This way, a bot is able to filter market data before it enters a position.
You will also have to define the action that the bot performs after entering a position. You can choose a position type, define its size, and set the SmartPricing criteria.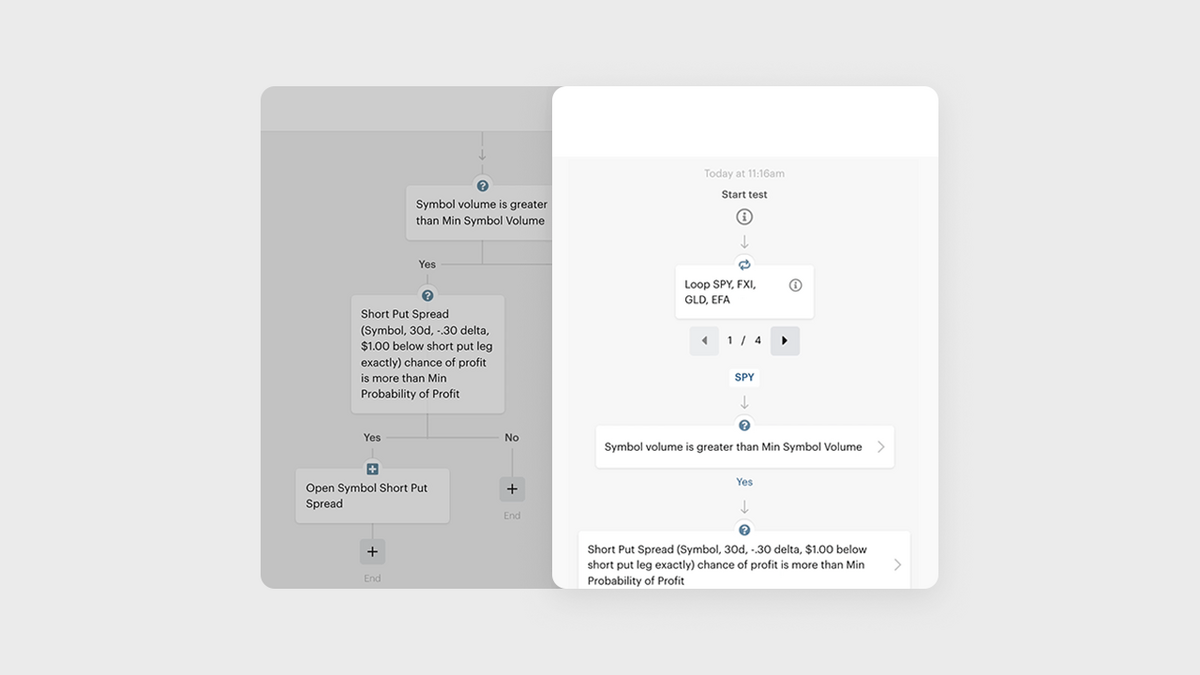 SmartPricing is Option Alpha's unique technology that places limit orders in a sequence that starts near the mid-price and cuts across the bid-ask spread until the final price is reached.
SmartPricing serves to find the best price for your order, saving you time as you won't have to cancel and replace orders manually.
2. Monitors – Once a position is opened, it's all about management. In order to relieve you from even more hands-on work, Option Alpha bots can monitor more than 200 positions with ease.
Monitoring automations give you an ongoing overview of open positions and help you look for exit points.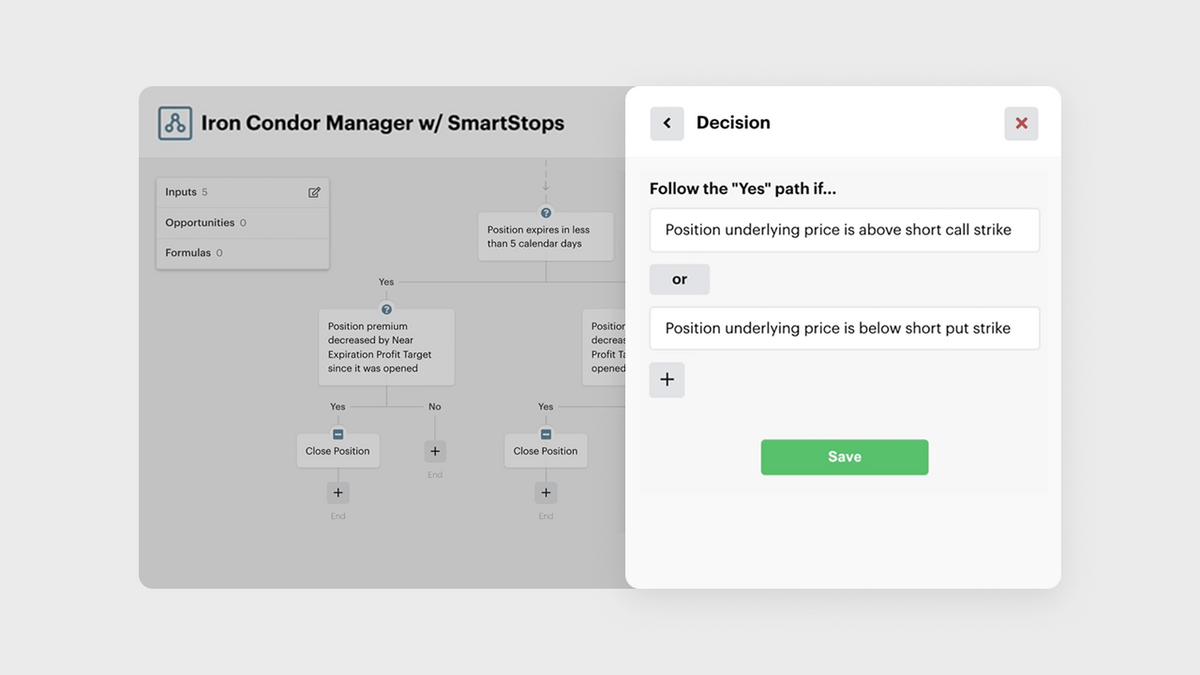 For example, if you want to automatically exit a position, the Option Alpha platform offers you an Exit Options automation. With this automation, your positions are monitored every minute and the bot is able to automatically close them when your criteria are met.
There is plenty more to cover, but since this isn't an Option Alpha bot review, we've only focused on the most important features.
Suffice it to say, leveraging data-driven approaches allows these bots to find, make use of, and execute trades that even the most dedicated trader would have missed — and do so at incredible speeds.
With plenty of features focusing on risk management, the ability to test strategies via paper trading, and absolutely no need to learn to code, I have to give the automation features very high marks overall.
Now that we've completed the Option Alpha automated trading review, let's continue…
Option Alpha Membership Tiers
Free Membership
Option Alpha's free membership tier gives users a decent foundation — so it's a great way to get started with the platform. Here are the features available with OptionAlpha free membership:
Video tutorials
Podcasts
Blog articles
Trading simulator
Community forum
Daily market updates
If you have a brokerage account with Tradier, you can get the benefits of Option Alpha Pro membership for free, along with $0 commissions.
The catch? The linked account has to be worth at least $2,000. Still, the promotion is available until December 31st, 2023, so it's worth checking out.
As far as automated trading goes, the free membership gives you access to:
10 bots
100 backtests per month
A $25k limit per bot
Pro Membership
The Pro membership tier is designed for traders who already have some notches under their belt and need advanced tools and educational materials to take things to the next level.
The Pro membership includes access to all of the educational resources available to free members, as well as these additional features.
Access to all of the options trading courses
Backtesting tools and optimization tools
Trade alerts
Algorithmic trading platforms (bots)
Priority support
On the automated trading side of the field, a Pro account gives you access to:
20 bots
250 backtests per month
A $50k limit per bot
Elite Membership
Option Alpha's Elite membership, or the Pro+ account, is designed for professional traders who require the utmost when it comes to tools, support, and customization.
In addition to all of the features available to Pro members, Elite members receive personalized support and coaching from the Option Alpha team.
Elite membership users can access the following features:
Personalized coaching and support
Customized data feeds and analytics tools
Priority access to new features and updates
A dedicated account manager
On top of all of that, clients who choose this plan can also make use of:
50 bots
500 backtests per month
A $100k limit per bot
Option Alpha Fees & Pricing
Users who opt for an annual pricing plan will pay less on a monthly level. Here's a comprehensive overview of the Option Alpha fee structure:
| | |
| --- | --- |
| Membership tier | Per month/annual cost |
| Standard | $79/mo or $69/mo with an annual plan |
| Pro | $99/mo or $79/mo with an annual plan |
| Pro+ | $199/mo or $159/mo with an annual plan |
According to Option Alpha, the Pro account is the most popular choice. I see no reason to doubt that since it is only slightly more expensive than the Standard account, it offers much more bang for your buck.
Your mileage may vary, but for most investors, the Pro plan is the best value option.
As a side note, 2% of Option Alpha revenue is allocated to bring clean water to those who lack it thanks to the company's partnership with CharityWater.org.
Pros and Cons of Option Alpha
| | |
| --- | --- |
| Pros | Cons |
| Outstanding options education | Limited technical analysis tools with manual trading |
| Unique algorithmic trading platform | No mobile app |
Pros explained
Interested in options trading but have no prior experience? Option Alpha comes with a vast library of educational resources.
The platform offers video materials along with comprehensive blog posts that really serve as a 101 for all topics, from bots to the basics of options trading and complex trading strategies and concepts.
These resources help you make the most of Option Alpha's unique auto trading technology.
Cons explained
Option Alpha doesn't just offer automated trading features. You can trade manually, too — but you may be underwhelmed by the offerings.
The platform is geared towards users who want to reap the benefits of auto trading and doesn't offer plenty of analysis tools for manual traders. So if you want a platform that provides robust analytical tools, you should look elsewhere.
Using all the tools that the OptionAlpha platform has on the go would be marvelous. Unfortunately, the company doesn't have a mobile platform yet, but they claim that the mobile app is their next step.
Who is Option Alpha Best For?
The Option Alpha platform comes with outstanding auto-trade features and great educational materials.
Traders who will benefit the most from the Option Alpha platform are:
Experienced investors with long-term goals
Traders who seek a platform with outstanding risk management features
Who is the platform NOT suitable for?
Traders who want potentially quick and big ROI with small investments
Inexperienced options traders
That might come as a surprise since the platform's educational materials are exceptional. But the true selling point, which is automation, can only be utilized to its full extent by already experienced traders.
Most Option Alpha reviews are quite dated and state that the platform focuses solely on iron flies and other types of credit spreads. While that has changed, and the platform has started to lean into other strategies a bit more, most of the recommended approaches are still quite low-risk.
If you favor a "go big or go home" approach, Option Alpha may leave you wanting. Although you can tweak the bots to utilize more aggressive, high-risk algorithms, the platform was founded with risk management in mind and is best aligned with a long-term approach that focuses on small, yet consistent profits.
Looking for more great options trading resources? Here are some of our favorites:
Final Word: Option Alpha Review
If you want to educate yourself on options beyond the basics and incorporate automation in your trading workflow, the Option Alpha platform is packed with everything you need.  
Depending on the membership tier you opt for and the trading strategy you want to pursue, the platform may provide more or less value. In my opinion, it's best to get started with a Pro plan, having in mind the tools available and the reasonable price tag.
However, the platform is not for traders who focus on short-term risky bets, as it caters to those who gravitate toward long-term trading strategies.
All said, I'd still recommend the service to traders who have at least a year or two of options trading under their belt. The bots provided for the service are powerful tools and coupled with the educational materials, they can take your options game to the next level — but only if you already have the basics down pat.
---
FAQs:
Who owns Option Alpha?
Option Alpha was founded by Kirk Du Plessis in 2007. Du Plessis is the current CEO of Option Alpha and remains the primary owner of the company. He has a background in engineering and finance and has been trading options since 2002.
Is Options Alpha free?
Option Alpha offers both free and paid membership tiers. The free membership tier provides access to a range of educational resources, including video tutorials, podcasts, blog articles, a trading simulator, and a community forum. Paid memberships provide full access to the platform's auto-trading tools, along with all the features available with a free membership plan.
What are the alternatives to Option Alpha?
A couple of different services that offer alternatives to Option Alpha are eOption, Benzinga Options, and Pocket Option.
Which option trading service is best?
Which service will end up being the best for you depends chiefly on your own requirements - feel free to check out the reviews we've linked to in the previous questions for a couple of alternatives to Option Alpha.
Where to Invest $1,000 Right Now?
Did you know that stocks rated as "Buy" by the Top Analysts in WallStreetZen's database beat the S&P500 by 98.4% last year?
Our June report reveals the 3 "Strong Buy" stocks that market-beating analysts predict will outperform over the next year.