Our editorial team uses a strict editorial review process to compile all reviews, research, and evaluations of any kind. Our company, WallStreetZen Limited, is supported by our user community and may receive a small commission when purchases are made through partner links. Commissions do not affect the opinions or evaluations of our editorial team.
The platform(s) you select for swing trading can be the difference in making or losing money.
But given the sheer number of platforms available, it's nearly impossible to tell which one is the best for you.
You can't afford to waste time testing out trading platforms only to ultimately find the one you chose is missing some fundamental feature.
I'm speaking from experience.
I'm a trader myself and love experimenting with the latest software and tools. I've tried all of the major platforms and know exactly which ones deliver on their promises.
That's why I've outlined the 9 best swing trading software platforms and specify exactly who each platform is right for.
While there are a lot of tools out there, you really only need 2 things to be a profitable swing trader:
A charting platform
A brokerage
My first 2 swing trading platform recommendations cover the best option for each of these areas:
1. TradingView – The Best Platform for Swing Trading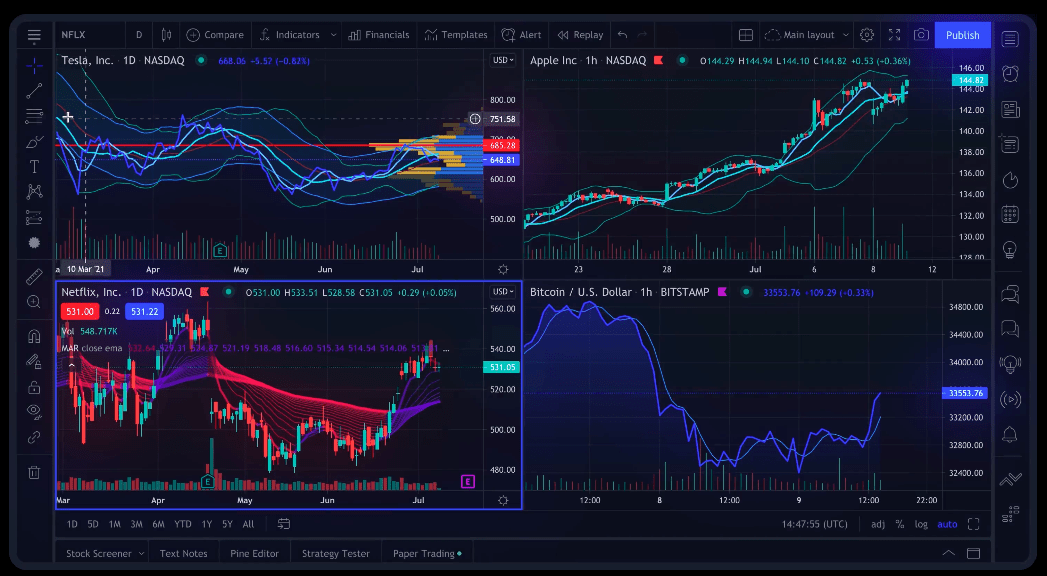 I believe that TradingView is the single best platform for swing trading. It's fast, reliable, and easy-to-use.
Unlike other charting platforms, TradingView just makes sense. You never need to go searching for anything – everything is right where it should be: Indicators, drawing tools, charts, layout customization, hot keys, and tools. And despite the power and nearly unlimited customizability, the interface is clean, minimal, and user-friendly.
It's like when I use my iPhone – it feels like a powerful extension of myself.
Regarding TradingView's charting, you can choose from more than 100 technical indicators and more than 100,000 community-built indicators. There are over 90 drawing tools, 14 chart types, and 20+ timeframe configurations.
Furthermore, TradingView offers screeners, customizable alerts, community resources, paper trading, backtesting, heatmaps, broker integration, and real-time news.
Its complete offering might be why more than 30 million active stock and crypto traders choose to use TradingView each month.
These traders access TradingView via its mobile apps and web-based and desktop versions.
Whether you're new to swing trading or a seasoned veteran, TradingView is the best charting platform for swing trading in 2022.
While you can use the free version of TradingView, serious traders will want to upgrade to a paid plan to unlock access to key features (more indicators per chart, more charts per tab, etc.).
Personally, I recommend TradingView Pro+. In my opinion, it's the best value for your money.
Pro+ normally costs $17.95/month (when billed annually), but you can get started with a 30-day free trial by using the link below!
Read our full TradingView review or our TradingView vs StockCharts article.
2. TradeStation – The Best Brokerage for Swing Trading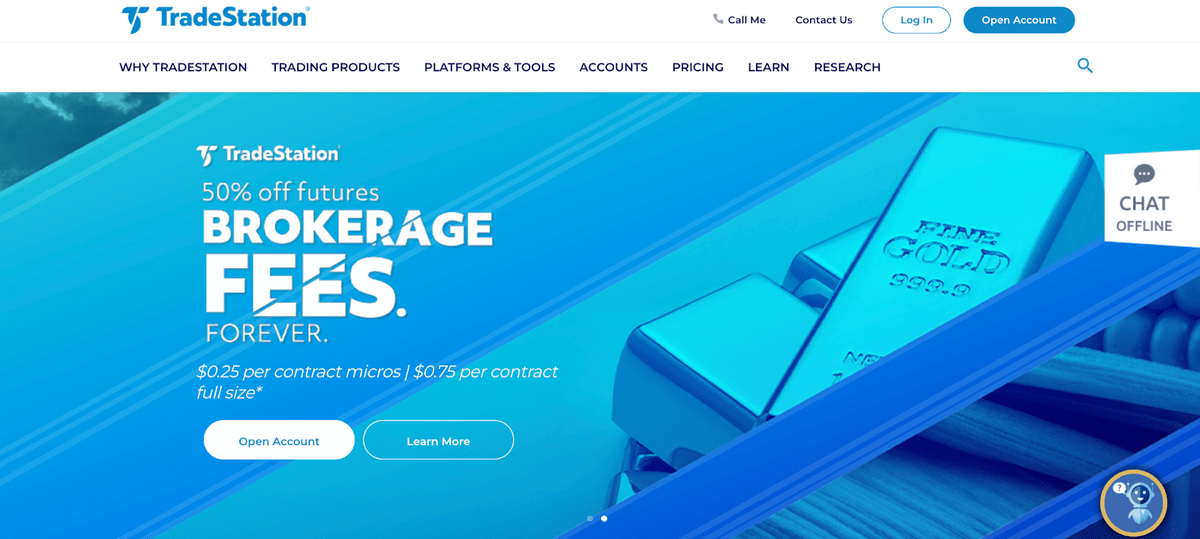 TradeStation is one of the best trading platforms for active traders and tops my list of the best swing trading brokers.
Unlike TradingView, which focuses on charting, TradeStation is a brokerage where you open an account and actually place your trades. If you want to take trading seriously, you need a broker designed specifically for traders.
TradeStation is the premium trading platform for active investors. Its focus on low commissions, technical analysis tools, and a high-caliber trading platform make it the perfect trading companion for stock, crypto, option, and futures traders.
There are no trading commissions on stocks and ETFs, while options and futures trades cost $0.60 and $1.50 per contract, respectively.
TradeStation also has countless educational materials for new traders and those looking to improve their skill set and ranks as our best day trading platform in 2023.
Between charting on TradingView and trading on TradeStation, all of your swing trading needs are met. You can even connect your TradeStation account directly to TradingView and place trades straight from your charts.
This is a powerful 1-2 combination.
3. TrendSpider – The Best Technical Analysis Platform for Automation and Options Flow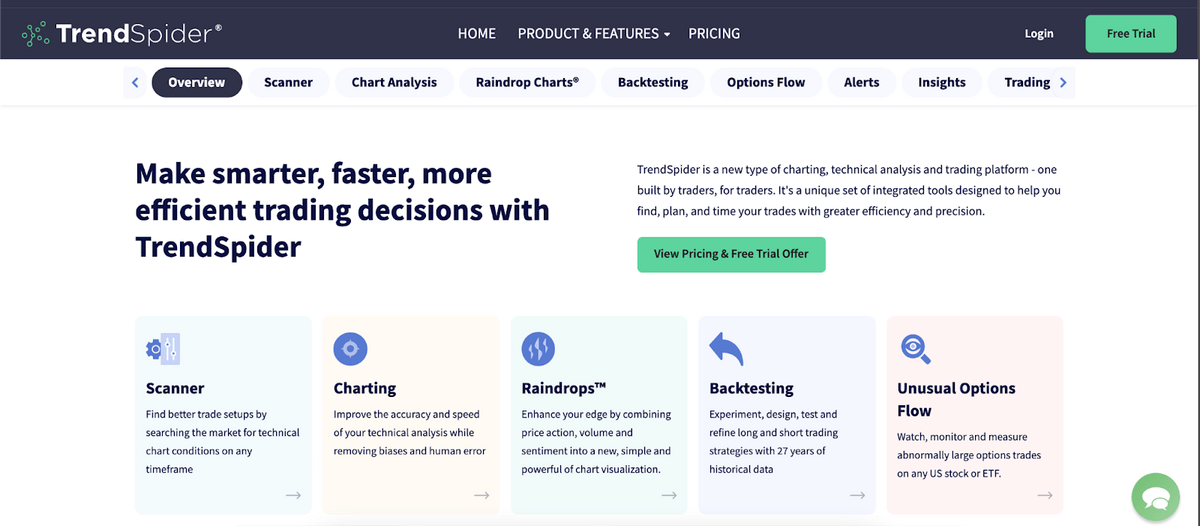 TrendSpider is an excellent alternative to TradingView.
TrendSpider beats TradingView in 2 categories: Automated technical analysis and unusual options flow.
Automated Technical Analysis
If you think about life in terms of figures and statistics and/or are a programmer, mathematician, or computer engineer, then you'll love TrendSpider.
TrendSpider allows you to design your own trading bots to automatically analyze any chart within 60 seconds, time trades, backtest strategies, and more.
It also deploys AI to keep track of trendlines, break out points, Fibonacci retracements, and candlestick formations, which speeds up your technical analysis process so you can make trading decisions faster and more accurately.
The downside is that backtesting, multifactor alerts, intraday scanning, and trading bots are not available on the lowest package, priced at $39 monthly. These are provided only at the $79 a month package.
Unusual Options Flow
If you are an options trader and use a tool to track unusual options activity and another tool to chart, TrendSpider may be for you.
The platform integrated the tracking of large block and sweep options trades so you can see when hedge funds and other institutional traders are making large one-directional bets. I'm a long-time user of unusual options flow trackers – this is a brilliant integration.
For programmers and unusual options trackers, TrendSpider deserves your attention.
---
BONUS ITEM: The Best Demo Account for Swing Traders
Before I continue with my list I need to mention something.
Active trading is one of the most competitive industries in the world. If you're good, you can make millions, which has attracted the most intelligent and competitive people from all over the world into the industry.
That's your competition.
If you're a new trader, that should intimidate you. Those people are actively trying to take your money.
It's similar to if you headed to Vegas and took a seat at a table full of professional poker players. How long would it be before you had your money taken from you?
That's why I always recommend new traders get started with a Demo Account from eToro.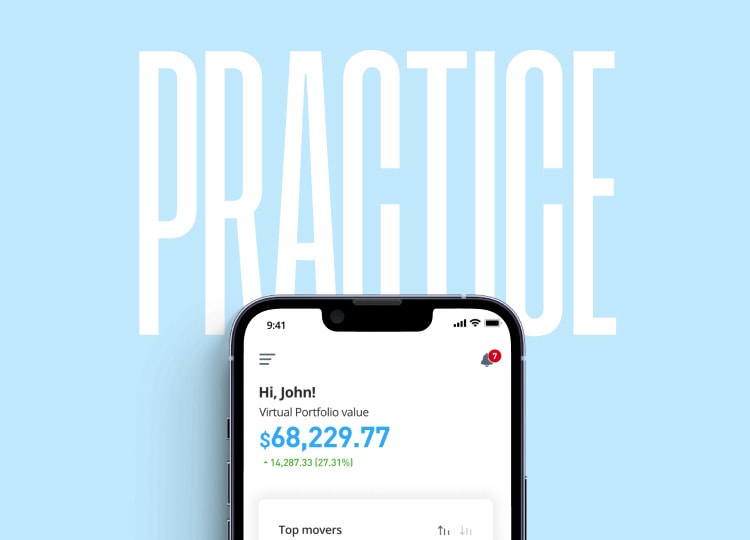 With it, you get $100,000 in virtual currency to practice trading before risking your own money. Hone your skills, test different strategies, and find what works best for you without any financial risk.
When you're confident in your ability, easily toggle to your Real Account and start trading. It's one of the best tools for trading.
And if you feel ready to upgrade to a real money account, WallStreetZen also rated eToro as the #1 best stock trading app.
In my mind, it's the single fastest way to learn how to be a profitable trader – and it's completely free.
eToro is a multi-asset investment platform. The value of your investments may go up or down. Your capital is at risk.
---
Now, back to the list…
4. thinkorswim – The Best Free Charting Platform for Swing Traders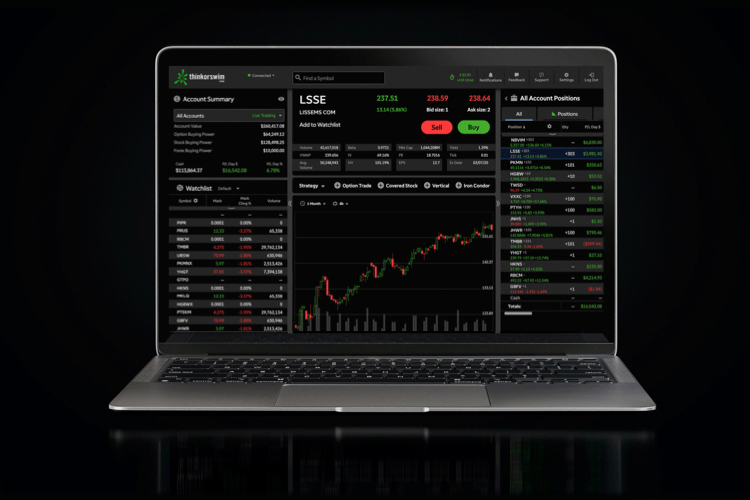 thinkorswim is TD Ameritrade's charting platform and seamlessly connects with TD brokerage accounts.
While it's an obvious choice for TD customers, it can be used for free by anybody. It's a great platform and comes with all of the indicators, drawing tools, and scanners you need to be a successful trader.
The thinkorswim feature set is gigantic – I have no complaints and have never once not found what I was looking for (eventually).
That said, there's a downside: There's a significant learning curve before you'll be using the platform effectively. When I switched to TradingView I had the opposite experience, which is why I'm such a big fan of TradingView.
Also worth noting, thinkorswim can sometimes lag (personal experience), which can lead to frustration at best and significant losses at worst.
Still, I got my start trading on thinkorswim (and its paper trading tool) and built my skills on its platform for free – it's still a great option.
5. MetaTrader5 – The Best Forex Swing Trading Platform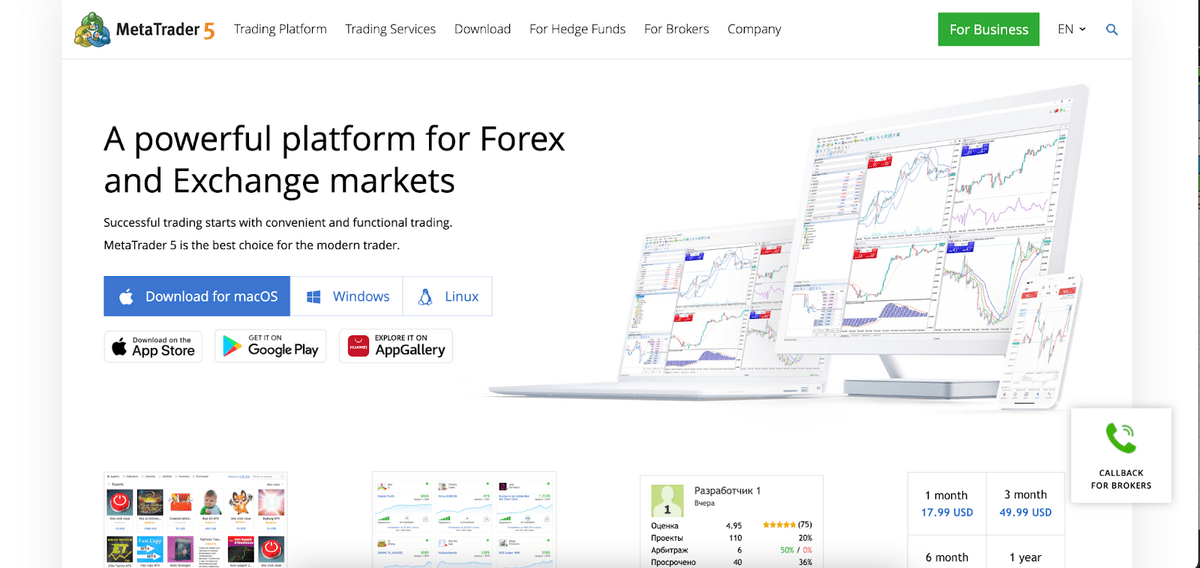 MetaTrader5 (MT5) is a sophisticated swing trading machine that has everything a programming-minded forex trader could possibly need.
Among other things, MT5 allows you to browse an extensive library of trading bots and strategies. You download the platform and then purchase a trading bot for a particular market.
MT5 is actually the software used by a lot of well-known brand names in the trading industry, such as ZuluTrade and NAGA. You download this trading application and then connect it to a brokerage such as IC Markets, FX Pro, or Admiral Markets. It's especially useful for advanced traders.
It offers over 80 technical indicators and it's a multi-asset platform that offers superior tools for comprehensive price analysis, algorithmic trading applications (trading bots, Expert Advisor) and copy trading. MT5 allows opening up to 100 charts of currency and stock quotes at the same time.
Through the MT5 platform, traders can build very complex trading bots. It can be likened to a software development environment as much as a trading interface. It's even available on Linux, something which is extremely rare for financial applications.
I can't say this is a beginner-friendly platform. But if you don't mind a steep learning curve and take the time to learn this platform, you will have everything you need at your disposal.
You need to make a minimum deposit of $100 into AvaTrade to open a MT5 account.
6. Firsttrade – The Best Options Swing Trading Brokerage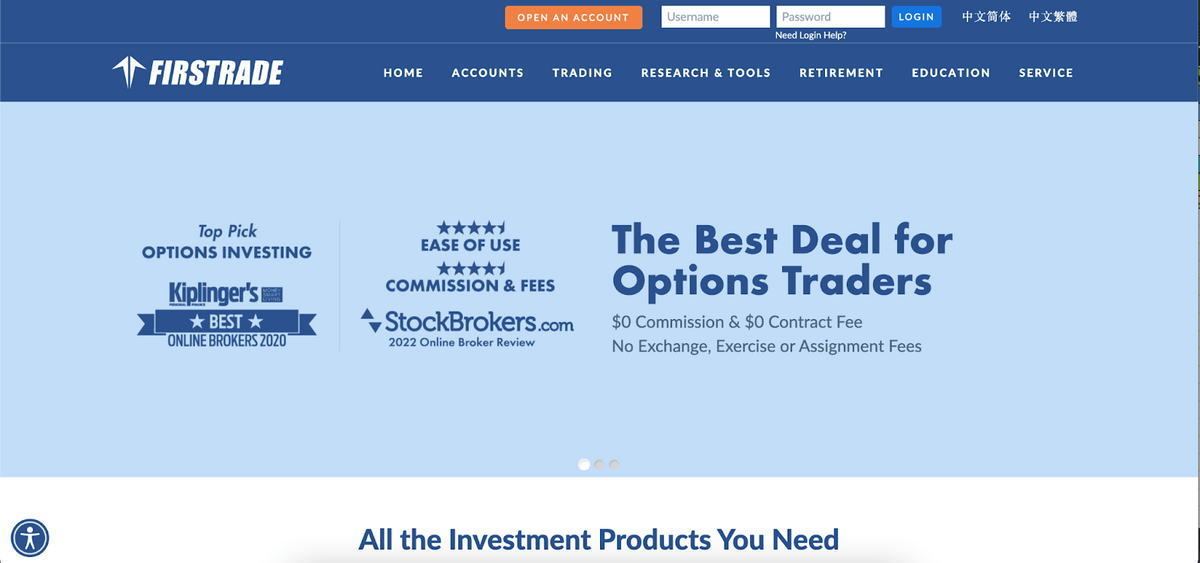 If you're an options swing trader, listen up.
Firsttrade is a strong trading platform where you can purchase stocks, ETFs, options, cryptocurrency, mutual funds, and more in individual brokerage accounts or retirement accounts.
Best of all, it offers free options trades. $0 per trade, $0 per contract.
For options traders, it has a number of tools such as OptionsWizard and Trade Ideas to help you uncover entry opportunities. You can also buy and sell during pre-market and after-market sessions.
For long-term investors, it allows for dividend re-investing and has an excellent suite of tools for those planning for retirement and those looking for long-term financial security. It's a powerful and safe platform for simple, no-nonsense investors.
It's not a 'cutting edge' platform by any means and it has no forex or futures options. But this can actually be an advantage for those looking for simple mechanisms to generate wealth.
7. FINVIZ – The Best Stock Screener for Swing Trading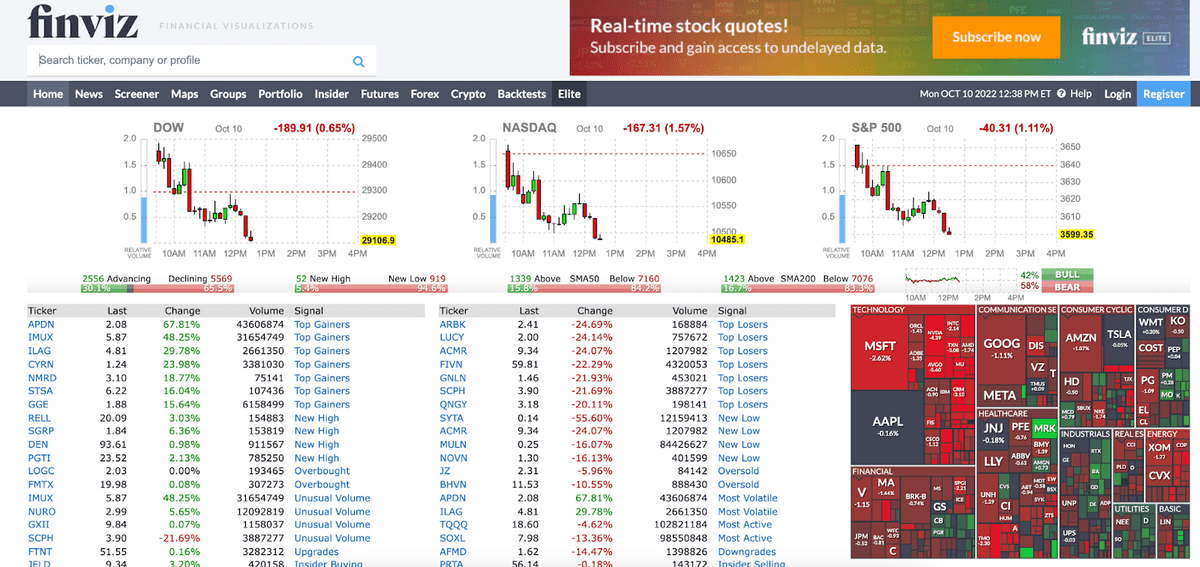 FINVIZ is one of the best free stock screeners available (for technical analysis, that is – WallStreetZen's Screener beats FINVIZ in fundamental analysis).
You can filter through stocks using a host of quantitative and qualitative measures to easily sift out investments that don't match your criteria. This includes technical indicators (moving averages, RSI, etc.).
If you aren't using a charting platform like TradingView, TrendSpider, or thinkorswim (which have their own built-in screeners), you should at least be using FINVIZ's screener.
8. Webull – The Best Brokerage for Novice Swing Traders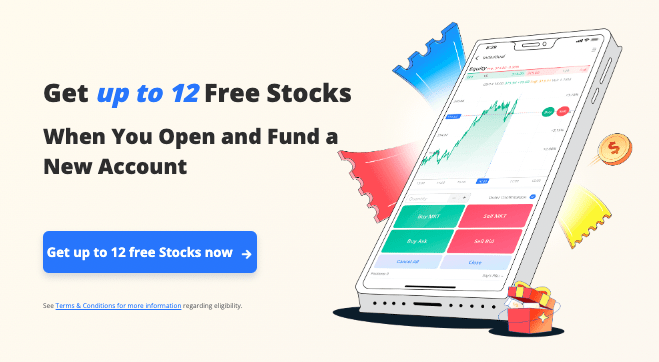 Webull has a lot of appeal to younger investors, with a modern mobile application, neat interface, low fees, and $0 account minimums. There are no annual or inactivity fees. It offers a lot without skimping on the more advanced features that are required for swing traders.
At the time of writing (October 2022), there's a promotion to get up to 12 free stocks (priced up to $30,600) when you open and fund a Webull account.
Webull has a unique mix of being user-friendly and a great mobile experience while maintaining solid charting and analysis tools.
Where does it fall short? Webull is not the platform for long-term investors who want to save for retirement or intermediate to advanced investors who need more functionality. It was primarily built for beginner investors and those interested in cryptocurrencies.
However, its mobile app is far better than most legacy brokers' (like Fidelity and Charles Schwab).
9. Robinhood – The Best Brokerage Platform for New Investors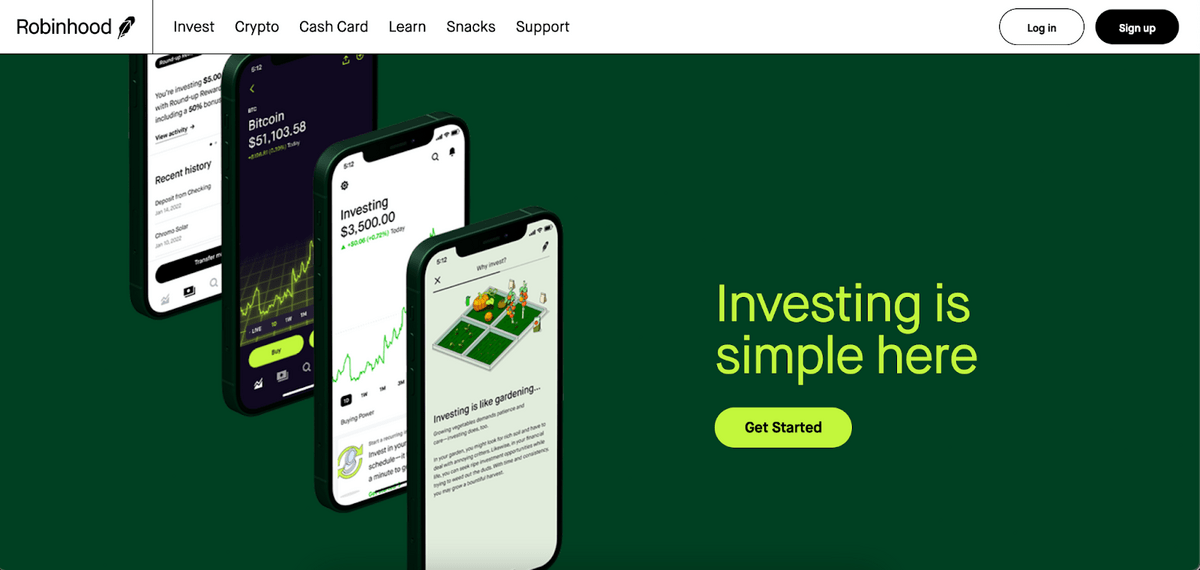 Robinhood made commission-free trading mainstream and created a powerful brokerage inside its beautifully-designed mobile app.
Robinhood is very easy to use and is ultra low cost. There are no annual, inactivity or ACH transfer fees. There is no account minimum and no per-contract fee for options. It's one of very few brokers that allow you to trade cryptocurrencies for free..
Robinhood is ideal for those who are getting started with investing, though it might be missing some features in comparison to the higher entries on this list. Research tools and advanced charting are lagging.
But if you don't have much money and want to start swing trading (and stock market investing in general), then it could easily be the best available option. Especially if you don't have access to a computer.
Not quite ready to start swing trading? Discover the best way to learn about stocks.
Final Word: The Best Platform for Swing Trading
Personally, I love the combination of TradingView Pro+ (the best platform for swing trading) and TradeStation (the best trading platform for swing trading) for swing traders.
With it, you get a brilliant, feature-rich charting platform with global news and an attached screener AND broker integration with one of the best (if not the best) brokerage platforms for active traders.
Plus, you can use the pair completely free for 30 days!
Get your free trial of TradingView Pro+ and open your free TradeStation account.
Honestly, this list could begin and end right there.
Which is why the remaining swing trading software recommendations were all "niche" offerings which I recommended for very specific traders.
You may also want the best stock trading computer.
---
FAQs:
Which trading platform is best for swing trading?
TradingView is the single best platform for swing trading.
It's priced very reasonably, has advanced charting capabilities, and is one of the highest-rated platforms available. 30 million traders choose TradingView each month.
Which strategy is best for swing trading?
Using the Relative Strength Indicator (RSI) to identify overbought and oversold stocks is a frequently used strategy by many swing traders.
When combined with other technical indicators such as the moving average, it becomes an effective trading strategy that is also suitable for beginners.
That said, there really is no one best strategy for swing trading. It depends on market conditions, the asset class, and trading skills/preferences.
Is swing trading the most profitable?
For many traders, swing trading has proven to be the most profitable form of trading.
That said, other traders find more success by day trading - it really depends on your goals and which technical analysis strategies you prefer.
I would recommend experimenting with both day and swing trading and find which works best for you.
Which screener is best for swing trading?
The best screener for swing trading is, in my opinion, TradingView's.
The TradingView screener shows a "Technical Rating" which ranges from Strong Sell to Strong Buy and can be used to easily find entry positions. Plus, it's already integrated into my favorite charting platform.
Where to Invest $1,000 Right Now?
Did you know that stocks rated as "Buy" by the Top Analysts in WallStreetZen's database beat the S&P500 by 98.4% last year?
Our March report reveals the 3 "Strong Buy" stocks that market-beating analysts predict will outperform over the next year.