Our editorial team uses a strict editorial review process to compile all reviews, research, and evaluations of any kind. Our company, WallStreetZen Limited, is supported by our user community and may receive a small commission when purchases are made through partner links. Commissions do not affect the opinions or evaluations of our editorial team.
The real money is made when a company goes public, not after.
But as an individual investor, it's nearly impossible to get access to private investments unless you have 1) a lot of money and 2) know an insider.
At least, that used to be the case.
Equitybee is a platform that allows accredited investors to invest in private companies before they go public.
Many employees are granted stock options as part of their total compensation, but these options are essentially worthless to an employee without a place to sell them. Before a company becomes public, Equitybee has a marketplace which allows employees to sell their stock options to investors.
As an investor, you can invest in hundreds of private companies like Reddit, Discord, and Stripe by funding employee stock options.
Interested?
In this Equitybee review, I'll cover exactly how the process works, the benefits and drawbacks, the fees involved, and what to watch out for when investing via Equitybee.
Equitybee Review: Is It the Best Way to Invest in Private Companies in 2023?
The Bottom Line: Yes, Equitybee is a legit company and a reliable gateway to private equity investing in 2023. The platform is regulated by the SEC and FINRA and is used by thousands of investors.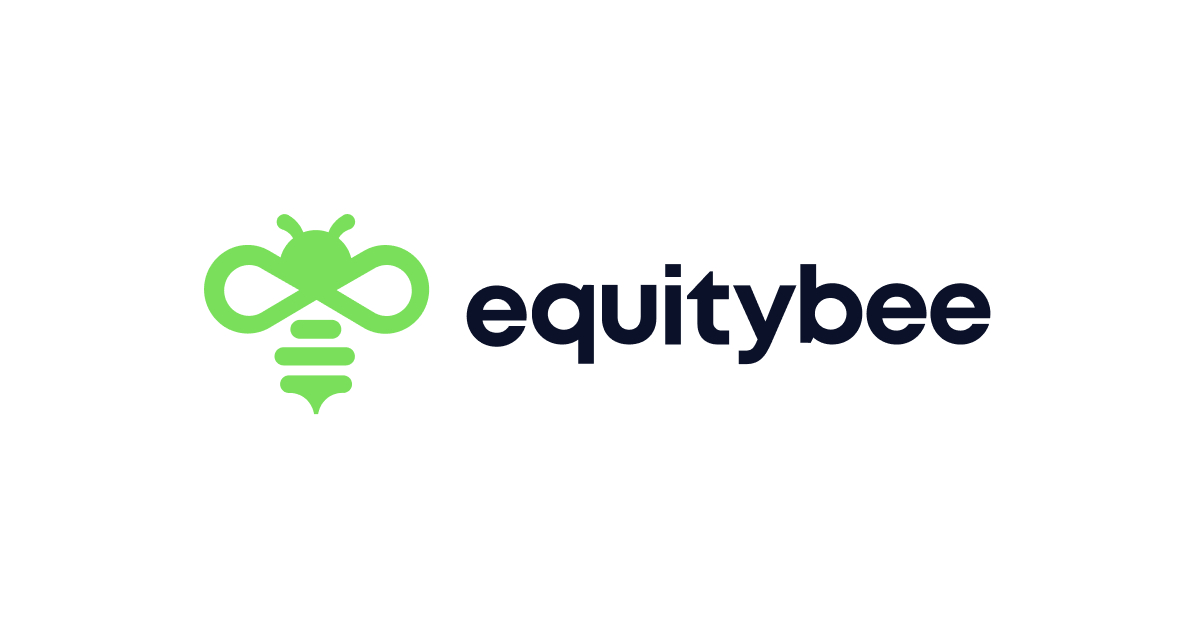 Equitybee has two main advantages:
A large client base – there are hundreds of companies to invest in and thousands of investors across the platform.
A wide variety of offerings – stocks listed on Equitybee include everything from innovative tech startups to major companies that have never gone public.
The platform is easy to use, the broker is fully-regulated, and the whole experience is geared for dedicated investors.
What is Equitybee?
Equitybee is an online platform that connects accredited investors (who want to invest in private companies) with employees of privately-held companies (who want to cash in on their stock options).
Employees often get stock options as part of their compensation but exercising is impossible or expensive. Equitybee connects these employees to investors who want to invest in private companies.
For employees, finding willing investors among Equitybee's 35,000+ verified users isn't difficult.
Investors can sort through the 600+ offerings on Equitybee to find private companies to invest in. Equitybee has everything from pre-IPO startups to major companies that just never went public.
Who is Equitybee For?
Employees
Employees who have access to stock options in their company can find accredited investors on Equitybee and exchange their options for cash.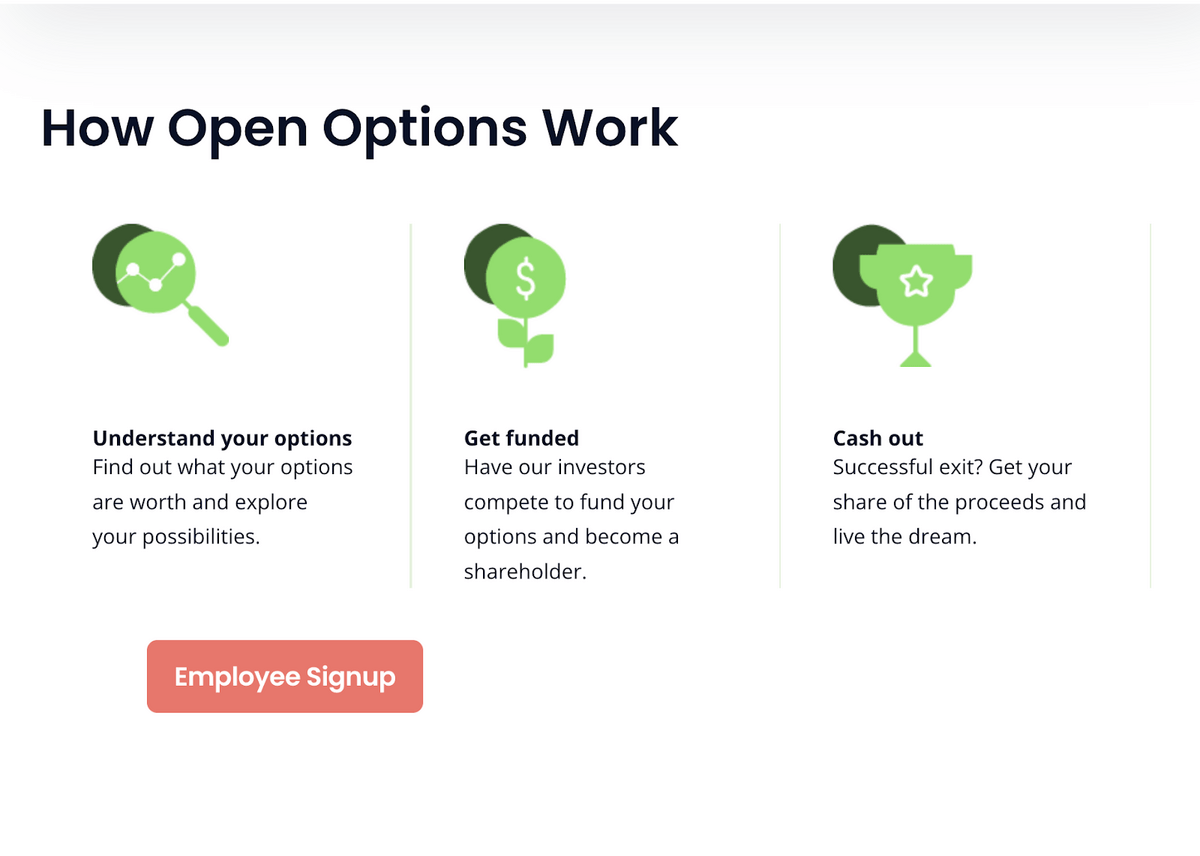 Instead of holding options for an eventual liquidity event, employees can sell their options to investors at any time.
Accredited Investors
If you are an accredited investor and want to easily invest in private companies, Equitybee is for you.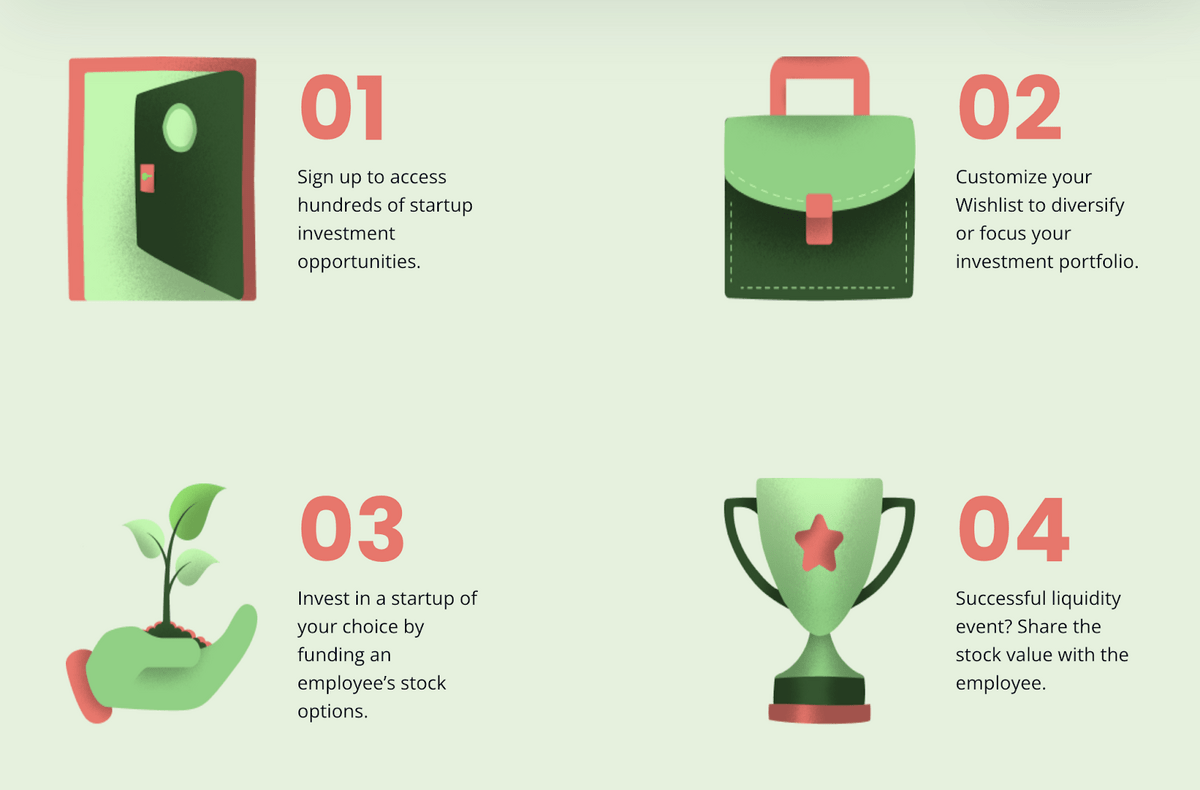 Only accredited investors are allowed to invest on Equitybee. You can qualify as an accredited investor if you:
How Does Equitybee Work?
Let's say I work for WallStreetZen and I've been granted stock options as part of my compensation.
Instead of waiting for a liquidity event (such as an IPO or acquisition) to redeem and "cash in" on my shares, I can approach Equitybee and tell them I'm interested in selling some shares.
Equitybee will then create a listing under WallStreetZen and its users can bid on my shares, essentially assigning WallStreetZen a valuation.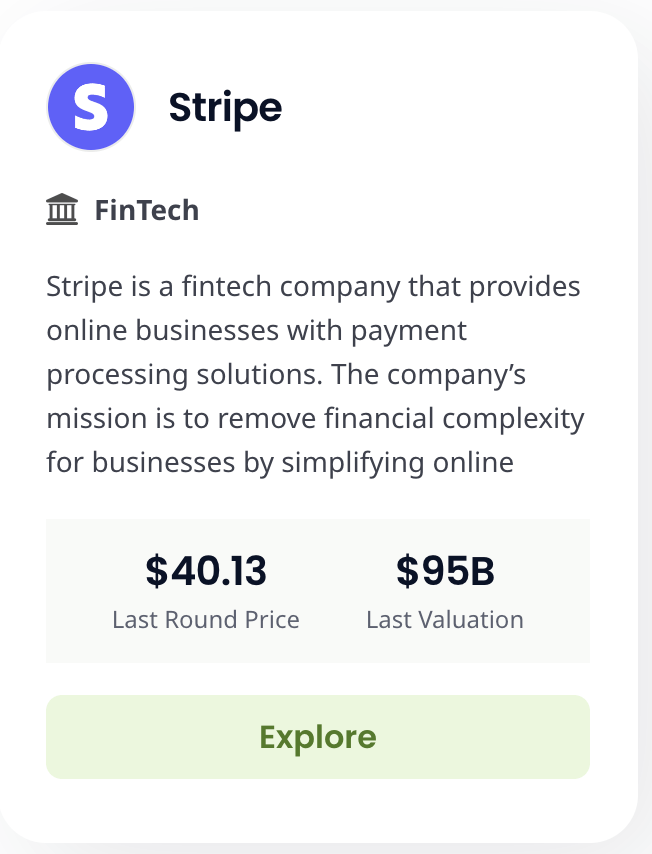 If I want to sell stock options which equate to 1% of WallStreetZen and you want to buy them for $10,000, you've just assigned WallStreetZen a $1 million valuation. If I agree to your offer, Equitybee will show WallStreetZen as currently having a $1 million valuation.
You now own my 1% of WallStreetZen and will participate in its upside.
Let's say WallStreetZen is sold in 5 years for $10 million. Your 1% is worth $100,000, or a 10x ROI on your original $10,000 investment.
Accredited investors using the app have to choose between the hundreds of private equity offerings on the platform. Each offering has a detailed description and capital requirements but the minimum amount you can invest is $10,000.
Remember: The investor's money is locked in a position until a liquidity event happens. However, there is no guarantee that an event like this will ever happen and there is currently no secondary market on Equitybee—this is one of the risks of private equity.
Investment Offering on Equitybee
Investors can invest in more than 600 private companies on Equitybee.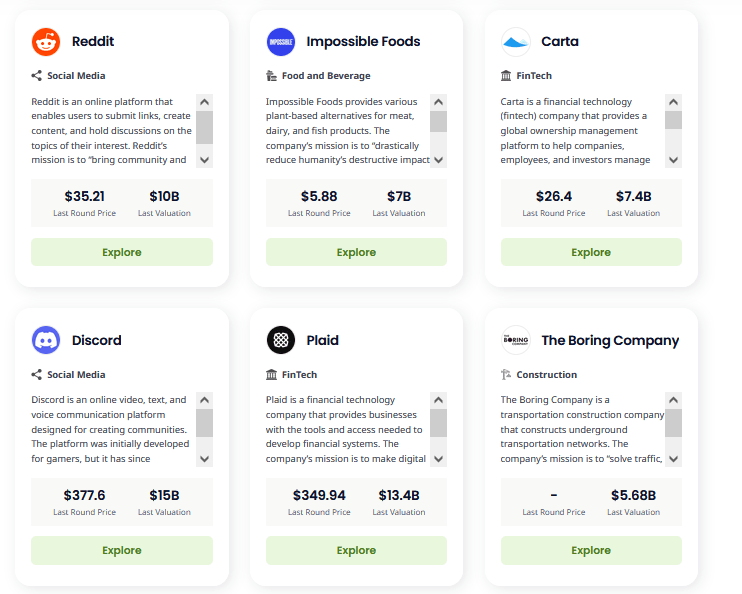 Each offering on Equitybee has information that helps investors decide what's worth buying.
The platform has various filters that let you make a small selection of companies you would invest in, plus, every offering has an in-depth description. There are hundreds of companies like SpaceX or Chime on the menu and learning about each one is made easy by the intuitive UI.
That said, I find myself looking for some outside information before making investment decisions.
How Much Can You Make on Equitybee?
Investing in high-growth private companies through Equitybee has the potential to generate huge returns.
Some prominent recent examples of these "unicorns" are:
Zoom Video Communications (ZM) – just 18 months after it went public in 2019, the stock was up 800%.
Beyond Meat (BYND) – The plant-based meat company quadrupled in price just two months after its IPO in 2019.
Palantir Technologies (PLTR) – The big data analytics company grew by about 300% in four months after its IPO in 2020.
Roblox (RBLX) – The video game platform's stock price doubled in less than a year after its IPO in 2021.
However, most startups aren't unicorns as much as they are regular old mules. Statistics tell us that only about 10% of startups make it while the rest turn out as either total flops or very poor performers.
On the other hand, already-established non-public companies are a much safer option for investors but with less potential upside.
All in all, buying a great startup early can be incredibly profitable, buying a solid non-public company can also be very profitable in the long run, and buying a bad pre-IPO business can be fatal for your capital.
It's high-risk, high-reward private-equity investing. You shouldn't invest capital you can't afford to lose.
How Much Does Equitybee Take (Equitybee Fees)?
The minimum requirement for any investment is $10,000. Each investment incurs a 5% platform fee.
If you make a profit on your investment, you give an additional 5% of the profit to Equitybee as a carry fee.
| | |
| --- | --- |
| Minimum investment | $10,000 |
| Platform fee | 5% of investment |
| Carry fee | 5% of all profits |
Equitybee is neither expensive nor is it the cheapest private equity brokerage, but is much cheaper than traditional venture capital brokers who charge as much as 20% in fees and the capital requirements are much lower. Plus, you're in charge of your investments.
Pros and Cons of Equitybee
Pros:
Access to private investment opportunities – Equitybee offers hundreds of startups, as well as mature companies that just never went public.
Simple and user-friendly platform – The app is so intuitive that users can learn how to operate it in no time.
Streamlined investment process – The whole investment process can be completed digitally and without the need to interact with insiders or investors directly.
Potential for high returns – Some of the best-performing growth investments ever were pre-IPO startups like the ones listed on Equitybee.
Accredited investors only – This is a bonus for company insiders as they will only deal with savvy buyers with a lot of capital on Equitybee.
Cons:
Riskier than investing in publicly-traded companies – Private companies offer less information that investors can use to make a valuation and startups are often very unpredictable. This makes private equity risky and it is best suited for investors with money to lose.
Investment fees – The investment fees are not the highest as venture capital brokers can charge up to 20% per investment. However, there are cheaper alternatives to Equitybee.
Accredited investors only – Non-accredited investors cannot even access the platform and have to look elsewhere to buy private equity.
How to Open an Account on Equitybee
Here is how to open an account on Equitybee:
Visit the Equitybee website and click on the "Sign Up" button.
Fill in your personal information, including your name, email address, and phone number.
If you're an accredited investor, you'll need to provide proof of accreditation. This may include your net worth, income, or tax documents. If you're an employee of a privately-traded company, you'll need to provide proof of employment.
Once your information has been verified, you'll be able to log in to your account and start exploring investment opportunities.
Review the investment offerings and choose the ones that match your investment goals and risk tolerance.
Once you've made your investment, you'll be able to track your portfolio performance and receive regular updates on the companies you've invested in.
Final Word: Equitybee Review
In summary, Equitybee is an intuitive investing platform that connects accredited investors with employees and companies who want funding in exchange for private equity.
One of the platform's key competitive edges is its broad selection of innovative startups and big private businesses alike. These investment opportunities are usually not available through regular brokers, and Equitybee is much cheaper than traditional venture capital brokers.
---
FAQs:
Is Equitybee worth it?
If you are an investor who wants to invest in private companies, Equitybee is a safe, legit, and affordable way to do it.
Plus, Equitybee's thousands of users have access to one of the widest marketplaces of private companies.
What percentage does Equitybee take?
Equitybee charges a flat 5% platform fee for every investment. Additionally, Equitybee earns 5% of any profits.
Is Equitybee a legitimate company?
Yes, Equitybee is a legitimate company that is regulated by the SEC and FINRA. The company has held a strong track record since it was founded in 2018 and is one of the most popular private equity brokers around.
Do you need to be an accredited investor for Equitybee?
Yes, you need to be an accredited investor to invest on Equitybee. Accredited investors must meet certain income, net worth, or investment experience requirements as dictated by the SEC.
Where to Invest $1,000 Right Now?
Did you know that stocks rated as "Buy" by the Top Analysts in WallStreetZen's database beat the S&P500 by 98.4% last year?
Our June report reveals the 3 "Strong Buy" stocks that market-beating analysts predict will outperform over the next year.