Our editorial team uses a strict editorial review process to compile all reviews, research, and evaluations of any kind. Our company, WallStreetZen Limited, is supported by our user community and may receive a small commission when purchases are made through partner links. Commissions do not affect the opinions or evaluations of our editorial team.
Are you an accredited investor?
If so, you're part of an elite group of investors that have access to private markets that most people don't.
Why? According to the Securities and Exchange Commission (SEC), if you qualify as an accredited investor, you've proven that you've got the mettle (or at least the financial means) to play ball with alternate investments that might be too risky or expensive for the average retail investor.
Accredited investors investments include but are not limited to commercial real estate, fine art, private credit, and more.
There's no shortage of accredited investor investment opportunities. But you're probably wondering — what are the best accredited investor investments?
In this article, you'll find a curated list of the best investments for accredited investors. Whether you're looking for an accredited investor real estate investment or more niche opportunities, there's something for every investing style on this list…
At-a-Glance: Best Accredited Investments
The 11 Best Investment Opportunities for Accredited Investors:
Before we get to the best investment opportunities for accredited investors…
What is an accredited investor, exactly?
An accredited investor is either a financial professional who meets certain criteria or an individual who meets certain income requirements:
Individuals with an income over $200,000 ($300,000 if filing jointly), with a reasonable expectation of maintaining that level of income
Individuals with a net worth exceeding $1 million, excluding the value of their primary residence
Still not sure if you're accredited or not? Check out the SEC website for more info.
Now that we're clear on that, here are some of the best accredited investor investments out there:
1. Equitybee – Invest in Private Companies
Overall Rating: ⭐⭐⭐⭐⭐
Minimum Investment: $10,000
Interested in investing in a company that hasn't gone public yet? Equitybee can give you access. This pioneering platform gives accredited investors the ability to become stakeholders in private companies by letting them invest in employee stock options.
Here's how it works.
Equitybee acts as a matchmaker between accredited investors who want a stake in private and/or pre-IPO companies and employees of privately-held companies who want to take advantage of their stock options.
For employees, it's easy to find an investor among Equitybee's 35K+ verified users.
For investors, there are hundreds of VC-backed startups with powerful growth potential to choose between — a few big names include Epic Games, Reddit, and Waymo.
As an accredited investor, once you fund the stock options, you're entitled to a percentage of proceeds from successful liquidity events.
There's a platform fee of 5% and you'll have to pay a small percentage following any successful liquidity events, but for many investors, access to otherwise unavailable companies is well worth it.
2. Percent – Invest in Private Credit
Overall Rating: ⭐⭐⭐⭐⭐
Minimum Investment: $500
Percent gives accredited investors access to one of the least-discussed investment opportunities available – private credit.
Today, the private credit market stands at over $7 trillion.
Companies without access to public markets borrow money from non-bank lenders to finance operations and growth.
Why are investors flocking to private credit?
Shorter terms
Higher yielding
Largely uncorrelated with public markets
Plus, many of these loans are secured by assets, loan portfolios, or corporate debt. For these reasons, private credit can be an attractive alternative asset class for risk-adjusted returns.
And while private credit used to be exclusively funded by institutions, Percent is dedicated to bringing the power of private credit to accredited investors.
How does private credit stack up against other alternative investments?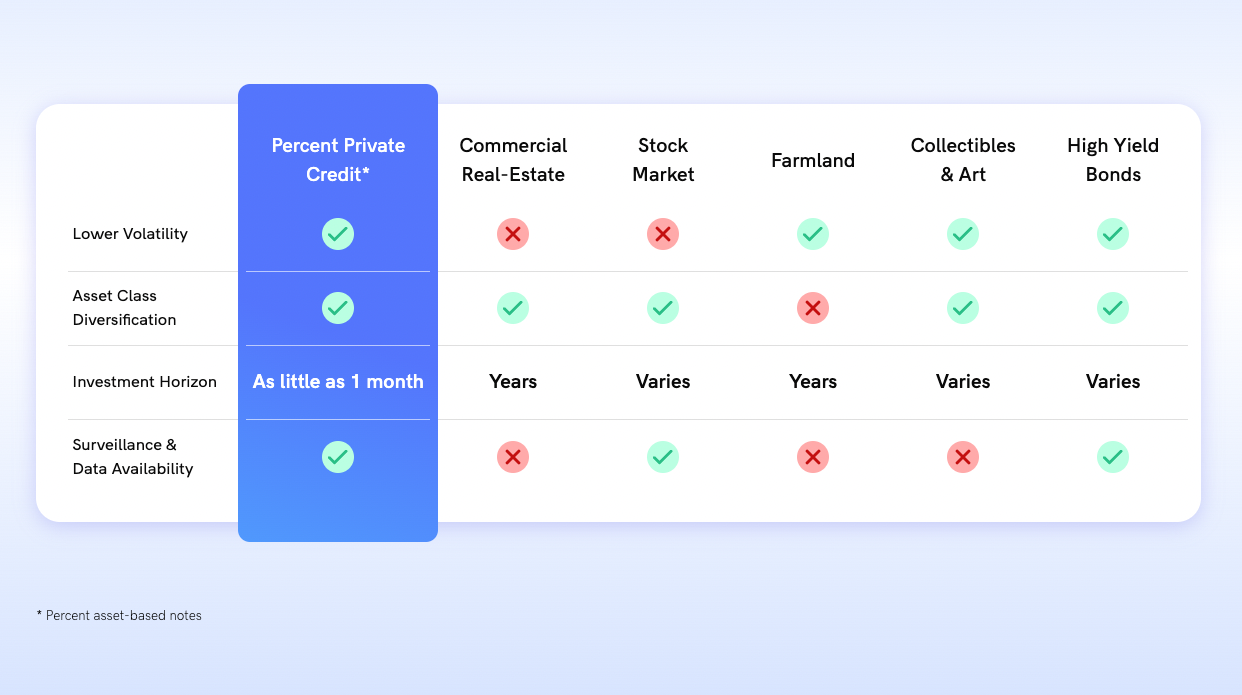 Get access to private credit deals on Percent's easy-to-use (and extremely transparent) platform and find alternative investments that align with all of your portfolio objectives.
They're even offering a bonus of up to $500 for new investors who make their first investment.
Percent charges fees up to 10% of interest. For example, if a deal paid 15% APY and the fee charged was 10% of interest, your effective APY is 13.5% after fees.
3. Masterworks – Invest in Fine Art
Overall Rating: ⭐⭐⭐⭐⭐
Minimum Investment: None; Masterworks retains complete discretion to determine that subscribers are "qualified purchasers" (as defined in Regulation A under the Securities Act) in reliance on the information and representations provided to us regarding their financial situation.
Type of investor: All investors
Wanna be a mover and shaker in the art world, but don't have millions? Masterworks is a crowdfunded platform that lets accredited and non-accredited investors invest in shares of fine art by internationally-known artists like Andy Warhol, Banksy, and Claude Monet.
Masterworks does the hard work of finding, authenticating, buying, and storing the art. You purchase shares of your chosen pieces.
From there, you can either wait until Masterworks sells the art, or you can sell shares to other users in a secondary market (that secondary market is only available to U.S. clients).
The platform is available to everyone, even if you're not an accredited investor. First, you need to register and request an invitation. If you meet their requirements, you'll get a coveted invite and entry into the world of fine art investing.
Plus, the potential returns are exciting — art has appreciated about 12.6% per year since 1995, as opposed to the S&P 500, which has increased about 9%.
4. Yieldstreet – Invest in Real Estate, Art, VC, Crypto, Private Credit, & More
Overall Rating: ⭐⭐⭐⭐⭐
Minimum Investment: $15,000
Diversification station! Yieldstreet gives accredited investors the chance to diversify their portfolios with all sorts of cool alternative investments that used to be reserved for institutional and mega-wealthy investors, like art, private equity, and shipping vessels.
Yes, Yieldstreet is available to retail investors as well as accredited investors. However, the opportunities are limited for retail investors — accredited investors really get to choose their own adventure.
First, you get to choose what you'd like to invest in — the platform has more asset classes than just about any other platform out there, including (but not limited to) art, crypto, diversified funds, real estate, private credit, and venture capital.
Since these are private investments, you're less connected to the volatility of the stock market than you would be with many other public investments.
And let's not forget the potential returns. Private-market investments have limited availability and can deliver higher returns — Yieldstreet's target net returns per year range from 8 to 20%.
Moreover, Yieldstreet is more than just an accredited investor real estate investment opportunity. You could consider it a one-stop-shop for accredited investors investments.
5. AcreTrader – Invest in Farmland
Overall Rating: ⭐⭐⭐⭐⭐
Minimum Investment: $10,000
Let's face it, you're probably never going to become a farmer. But thanks to AcreTrader, that doesn't have to stop you from investing in farmland and potentially profiting through the land's appreciation and rental income.
AcreTrader offers accredited investors the opportunity to own farmland without ever having to milk a cow or sow the fields. They subdivide properties into smaller portions, so you can invest at a more affordable price point.
AcreTrader has a vigorous vetting process and only moves forward with about 5% of the land they review — so as an investor, you can rest assured that the investment has gone through serious due diligence.
The initial investment is $10,000; AcreTrader expects between 3 to 5% returns. However, according to the AcreTrader website, the cumulative rate of returns for farmland has been 12.24% since the year 2000.
With fairly low fees and the potential for great returns, AcreTrader provides one of the best investments for accredited investors.
6. EquityMultiple – Invest in Commercial Real Estate
Overall Rating: ⭐⭐⭐
Minimum Investment: $5,000
EquityMultiple is a crowdfunded real estate investment platform that gives accredited investors access to professionally-managed properties.
Once upon a time, private-market commercial real estate was only available to institutional investors. Not anymore.
With EquityMultiple, a crowdfunding group accredited investors like you become the lender for real estate investors; you have the potential to earn high-yield returns.
The opportunities include a diverse mix of property types and price points. Minimums range from as low as $5,000 to $30,000 depending on the project. You can also invest directly in commercial real estate deals.
The platform boasts $4.4 billion in project value, and the average historical returns are 17% — which far outpaces many other asset classes.
Fees vary depending on the investment; equity investments may charge between 0.5 to 1.5%, which is similar to other crowdfunded real estate platforms.
7. CrowdStreet – Invest in Commercial Real Estate
Overall Rating: ⭐⭐⭐⭐
Minimum Investment: $25,000
CrowdStreet is one of the best-known and most established crowdfunded real estate platforms out there. It lets accredited investors own a portion of prime commercial real estate projects without actually dealing with the hassles of property management.
CrowdStreet is also one of the biggest private equity real estate platforms. As of January 2023, it reported $3.9 billion in investments and 732 deals funded.
Crowdstreet is an established brand — it's been around since 2012, which is a long time for crowdfunded real estate platforms. It also has some of the best variety. You can find commercial buildings including self-storage units, but you can also find multifamily apartment complexes.
The minimum investment varies, but most start at $25,000. The average holding period is three years, and the average returns are 19.7%.
Crowdstreet does charge sponsor and advisory fees, but they're in line with the industry standards.
8. Mainvest – Invest in Small Businesses (Private Equity)
Overall Rating: ⭐⭐⭐⭐
Minimum Investment: $100
Mainvest offers investors the chance to think small while pursuing potentially big returns by investing in small businesses across the United States.
While Mainvest is open to accredited and non-accredited investors, it's worth a mention because it offers unique investment opportunities that you won't find anywhere else, including opportunities in your own local community.
It's one of the most accessible investment opportunities on this list — the minimum is just $100.
Plus, the opportunities are fun to browse. Care to invest in a bakery in San Diego or a pickleball facility in Massachusetts? Mainvest has you covered. You can also search by category, such as regulated cannabis opportunities or businesses within a specific area.
While the minimum is low, the target returns are 10-25% and the fees are low, so Mainvest is worth checking out whether you're an accredited investor or not.
9. Vinovest – Invest in Fine Wine
Overall Rating: ⭐⭐⭐⭐
Minimum Investment: $1,000
Vinovest lets you become a fine wine investor and collector with ease. Starting with just $1,000, you can get access to the wine market — no expertise required.
Vinovest is a platform that lets you invest in a portfolio of fine wines without requiring sommelier-level expertise, and it's accessible to accredited and non-accredited investors.
Investing in wine requires a lot of knowledge and know-how. It needs to be authenticated, insured, and properly stored — if you don't have the right temperature, light, or humidity, your investment could become a very expensive bottle of vinegar.
The company does all the hard work for you — they source and store it for you. Want to drink some? No problem. You can have a bottle shipped to you whenever you'd like.
There's also a secondary market where you can buy and sell bottles with other investors.
There are several tiers of membership to Vinovest, making it accessible to a variety of investors. However, there are fees — including an early liquidation fee — and the ideal holding period is 10-15 years. So if you want a fast return, this may not be the investment opportunity for you.
10. Arrived – Invest in Single Family Homes
Overall Rating: ⭐⭐⭐⭐
Minimum Investment: $100
Arrived Homes is a little different from most crowdfunded real estate platforms out there. It allows both accredited and non-accredited investors to invest small amounts in single-family residential properties.
The platform was only launched in 2021, but a star-studded cast of investors including Amazon (NASDAQ: AMZN)'s Jeff Bezos put the company on the map fast.
Arrived Homes gives investors access to the benefits of being a landlord without actually being a landlord or buying the property yourself. Plus, the initial stakes are low — you can invest for as little as $100.
The company may not have been around for long, but so far returns appear to be solid and investors get quarterly dividends on each investment.
Yes, there are fees involved, but they're warranted — Arrived handles obtaining and vetting the property and all of the management details.
Plus, it's growing. As of 2023, Arrived Homes has purchased over 225 homes in 39 markets and has over $85 million in total investments. So if you're interested in a low-stakes way to enter the real estate market, it may be worth your time.
11. RealtyMogul – Invest in Commercial & Residential Real Estate
Overall Rating: ⭐⭐⭐⭐
Minimum Investment: $5,000
RealtyMogul is a crowdfunded real estate platform that lets you invest in a variety of different commercial properties.
Like the other crowdfunded real estate platforms on this list, RealtyMogul is designed to give investors access to institutional-quality investments without the massive initial investment.
But they do it in a slightly different way.
On RealtyMogul, both accredited and non-accredited investors can invest in commercial real estate through non-traded REITs. It's sort of like a buy-and-hold-style investment where you get dividends.
They offer two types of REITs — income-focused funds, and growth-focused funds. The minimums are $5,000 and expected returns range from 6 to 8% on the low end.
If you're an accredited investor, you can also make direct investments in LLCs that own specific properties; the minimums are in the $25,000+ range and include student housing, multifamily properties, and industrial buildings.
Overall, the variety of assets and investment types make RealtyMogul an accredited investor real estate investment worth checking out.
Final Word: Best Investments for Accredited Investors
As an accredited investor, you've got access to a ton of exciting and potentially profitable investments that most people can't access.
However, just because you can seek out different investment opportunities doesn't mean you should sink your cash into the first thing that comes along. Learning how to invest a million dollars or more in a financially responsible way is not a simple task.
This list of the best investments for accredited investors includes a variety of well-reviewed and legit companies. While every investment carries risk, the track record of each of the platforms in this article is solid — which makes it a great starting point for your accredited investment journey!
---