Our editorial team uses a strict editorial review process to compile all reviews, research, and evaluations of any kind. Our company, WallStreetZen Limited, is supported by our user community and may receive a small commission when purchases are made through partner links. Commissions do not affect the opinions or evaluations of our editorial team.
Have you heard Warren Buffett's Top 2 Rules of Investing?
Rule #1 – Don't lose money.

Rule #2 – Never forget Rule #1.
Buffett isn't the only one with this mantra.
Stephen Schwarzman, co-founder of Blackstone (the world's largest alternative asset manager with nearly $1 trillion in assets under management), says the number one rule at Blackstone is:
Don't. Lose. Money.
Coincidence?
If 2 of the best investors of all time have the same rule, it's probably a good one for the rest of us to adopt.
But, if you've been an investor for more than one day, you'll know how hard it is to not lose money – and that's the point.
For Buffett and Schwarzman, they realized the more time they spent identifying the risks associated with their investments, the more they were able to mitigate and avoid those risks.
Both of these investors to this day, despite their incredible investing prowess, rely on roundtable discussions to guide every investment decision.
Do you do the same?
To not lose money, we need access to this type of transparent, informative, and multi-opinionated analysis.
But, unfortunately for us "regular investors", we don't have massive teams of analysts to do this work for us.
That's where investment newsletters come in.
The best investment newsletters give periodic advice on new stock ideas, investing strategies, portfolio management techniques, stock market news and catalysts, and/or other information to help you make better decisions.
Because the more information you have, assuming it's high-quality, the better odds you will have of increasing your rewards and decreasing your risk.
So I compiled a list of the 7 Best Investment Newsletters in 2023.
After experimenting with A LOT of the so-called "top investment newsletters", I sorted through the noise and put together some criteria so you can determine which is the best stock newsletter for you.
For each pick, I'll share the value (what you'll be getting), the price (what you'll be giving up) and who each newsletter is right for.
8 Best Investment Newsletters (Top Stock Returns) in October 2023
1. The Motley Fool – Stock Advisor
If you're a long-term investor looking for monthly stock picks, The Motley Fool's Stock Advisor is the best investment newsletter for you.
The Motley Fool is run by former hedge fund managers and brothers David and Tom Gardner who have an incredible eye for value. As such, the company's Stock Advisor newsletter stock picks have performed exceptionally well since the service's inception: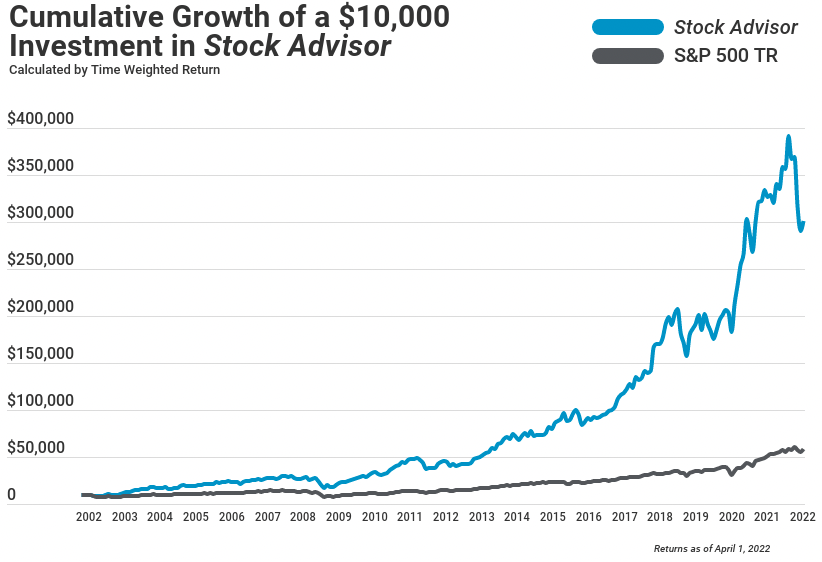 This newsletter is for investors who want regular stock picks and analysis performed by an investment team with an incredible track record.
Here's a quick mention of some of their former recommendations, in which they got in at or near the ground floor: Amazon, Tesla, NVIDIA, Netflix, Booking.com, Costco, Gilead, and Priceline.com.
And they just announced their latest 2 recommendations:
What You'll Get with Stock Advisor
2 new stock picks each month – The team's latest stock recommendations, delivered monthly.
Best Buys Now List – 10 timely buys chosen from over 300 stocks.
Starter Stocks List – Foundational stock recommendations for new investors.
Community access and investing resources – Educational materials and membership into an ever-growing community of investors to help you invest.
From this stock newsletter service, you'll get picks from an analyst team that have historically beaten the market quite consistently.
Pricing
We have access to an exclusive offer of Stock Advisor, just $89 for new member's first year:
You can read my full Motley Fool review here.
2. Seeking Alpha – Alpha Picks
Seeking Alpha has an investment newsletter service of their own, called Alpha Picks.
If you have a Seeking Alpha Premium subscription, you'll know just how much analysis the website has aggregated on every stock it has covered. Author ratings, Quant scores, Factor grades, Analyst ratings – the list goes on.
Seeking Alpha has taken this mountain of research and created a product to provide 2 monthly stock picks sifted from the thousands of stocks covered on its site.
The stock picks are generated by Seeking Alpha's proprietary data-driven system, which analyzes valuation, growth, profitability, momentum, EPS trends, and other key metrics.
Using historical data, here's how Alpha Picks would have performed from 2010 to 2022: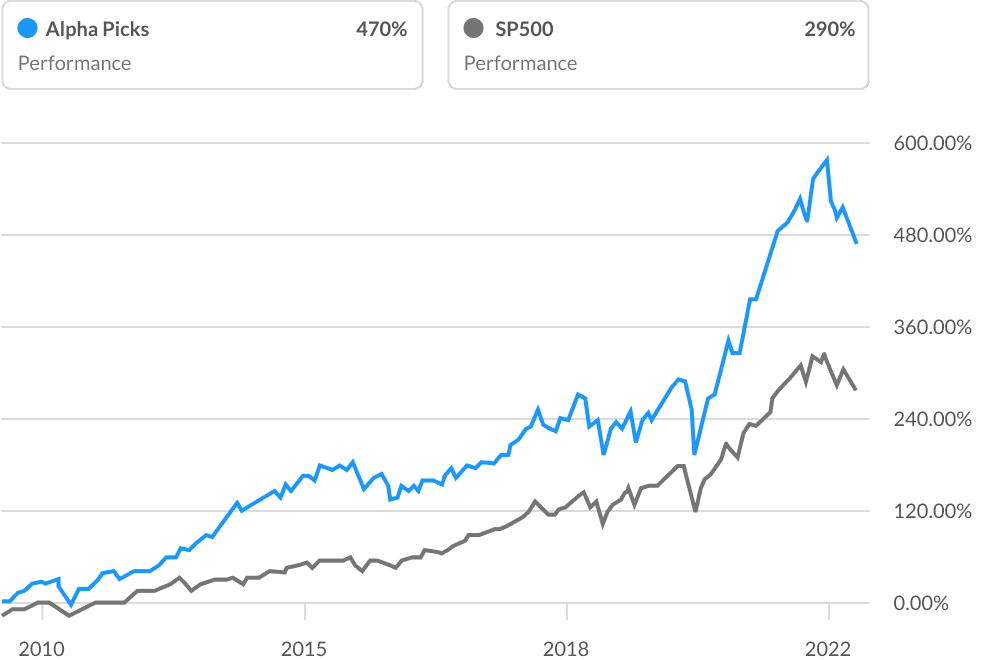 I'm a huge fan of Seeking Alpha, and I'm pretty confident Alpha Picks will give Stock Advisor a run for its money.
What You'll Get with Alpha Picks
2 long-term stock picks each month
Detailed explanations of why each stock is rated so highly
An alert if they think you should sell a stock that was previously recommended
Regular updates on current 'Buy' recommendations
The service is for busy, investing professionals who are already fans of Seeking Alpha's products.
Pricing
Grab Alpha Picks for 50% off your first year with the link below:
After the first year, your membership will renew at the regular price of $199/year.
3. WallStreetZen
Full disclosure, I work for WallStreetZen, but I applied for the job because I absolutely love the product.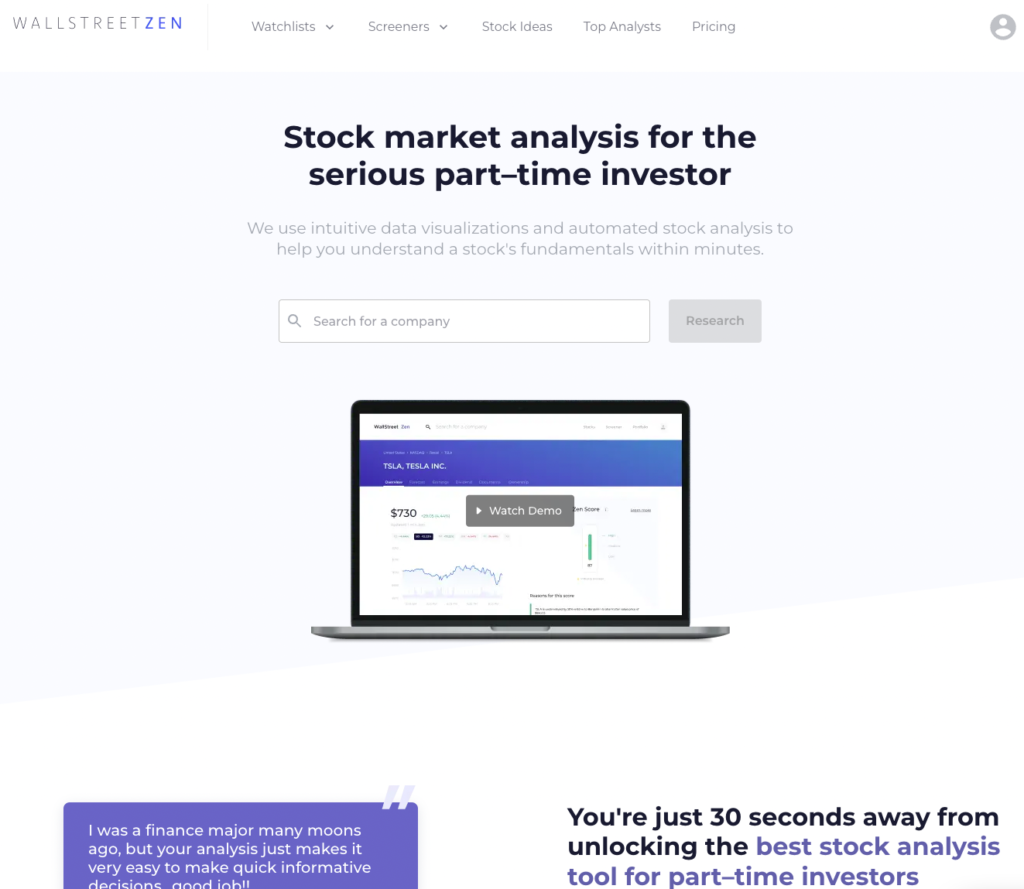 As Buffett and Schwarzman point out, investing is all about 1) Identifying opportunities and, 2) Mitigating risk. No one does these 2 things better than WallStreetZen, which is why it earns the top overall spot.
Let's examine WallStreetZen tackles both sides of investing:
How to Identify New Investing Opportunities with WallStreetZen
Top Analysts
We collect performance data on nearly 4,000 Wall Street analysts, who we rank by return, frequency, and win rate (backtested over multiple years).
After sorting them, you can see exactly what the top-ranked analysts are recommending right now: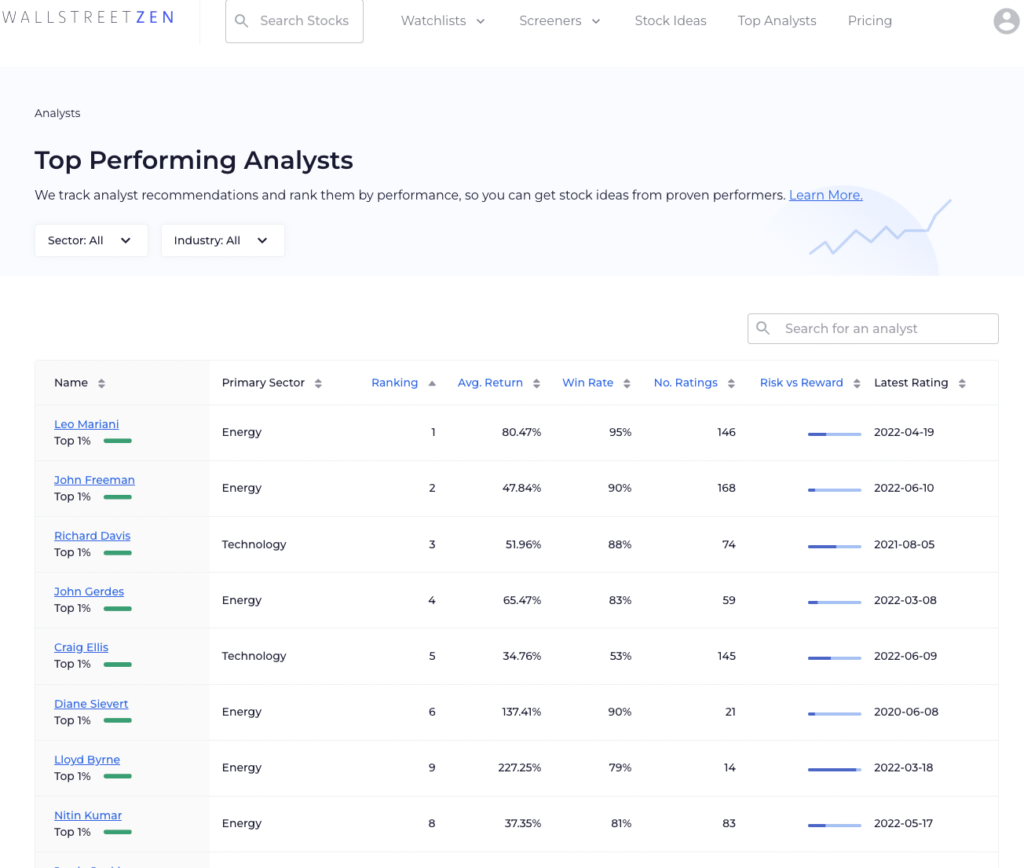 Remember, these are the best performing analysts on Wall Street. And you get to see what they're recommending.
Picks like:
SNAP, which was recommended by Top Analyst Jim Kelleher, and resulted in a gain of more than 500% in less than one year
CRK, which was picked by Vincent Lovaglio (an energy stock specialist) and twice gave him 200%+ gains
Stock picks and analysis from professional analysts – sound familiar? (hint: Buffett's and Schwarzman's round table discussions)
Stock Ideas
22 pre-built screener setups, filtering on the qualitative and quantitative criteria you find most important. Click one and get a complete list of investment ideas.
Stock Screener
You probably already have an investing style – what you need now is a way to translate those personal preferences into investment ideas: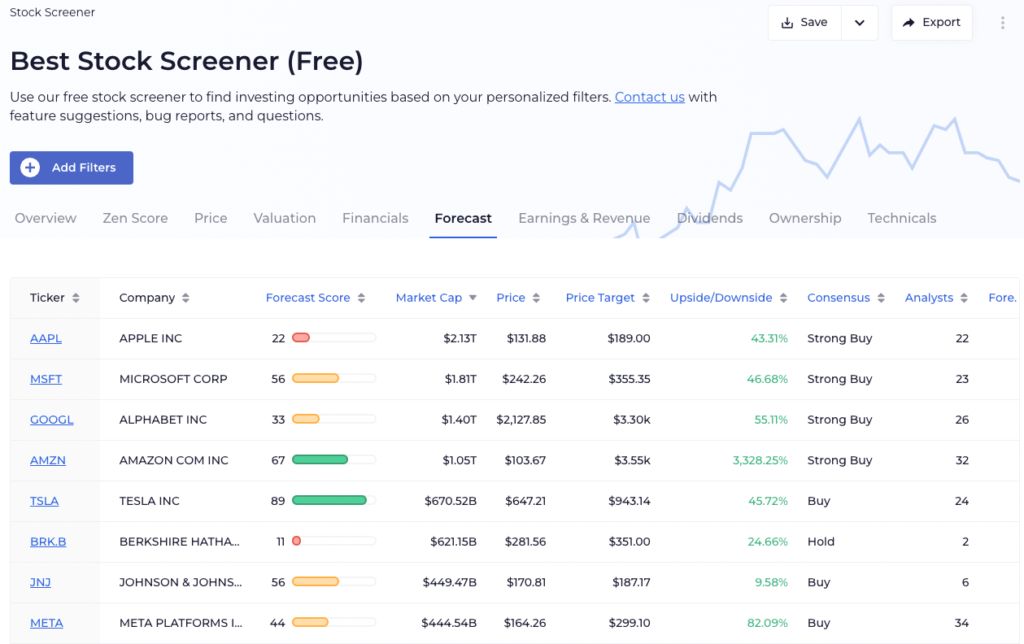 The Screener combines WallStreetZen's automated analysis (think Zen Score, DCF, relative and intrinsic valuation information, to name a few) found elsewhere on the site with the layout and screening capabilities of a typical screener – the result is one-of-a-kind.
Don't believe me? Try it out for yourself – it's free.
"Strong Buys" Newsletter
Each week, Premium users receive a list of "Strong Buy" stocks to consider adding to their portfolio.
These stocks are compiled by taking the strongest recommendations from the very best analysts in our database and sending them through an additional screening process.
The result: The very best investment ideas, delivered straight to your inbox.
How to Mitigate Investing Risks with WallStreetZen
Zen Score (and accompanying fundamental analysis)
What is fundamental analysis?
Sure, it's the process of determining a stock's fair value, but what are you really doing?
Identifying a stock's strengths and weaknesses.
Put another way: Opportunities (reward) and threats (risk).
With Zen Score, you can see a stock's fundamental strengths and weaknesses in seconds and immediately launch into further investigation: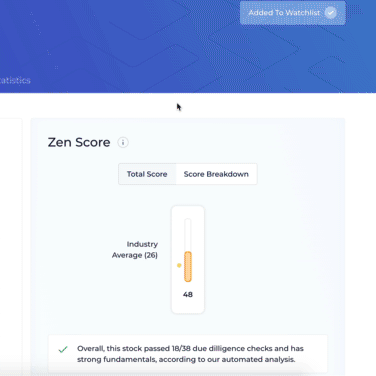 Automated, fundamental analysis performed across the 5 key dimensions of any stock: Valuation, Financials, Forecast, Performance, and Dividend. It's like you have an entire team of analysts taking an in-depth look at any stock you care about.
You may not run a massive investment firm, but that doesn't mean you can't have the research of one.
Try it for yourself – type in your favorite ticker here.
Forecast pages
Each recommendation and research report performed by the Top Analysts will be displayed on each respective stock's Forecast page: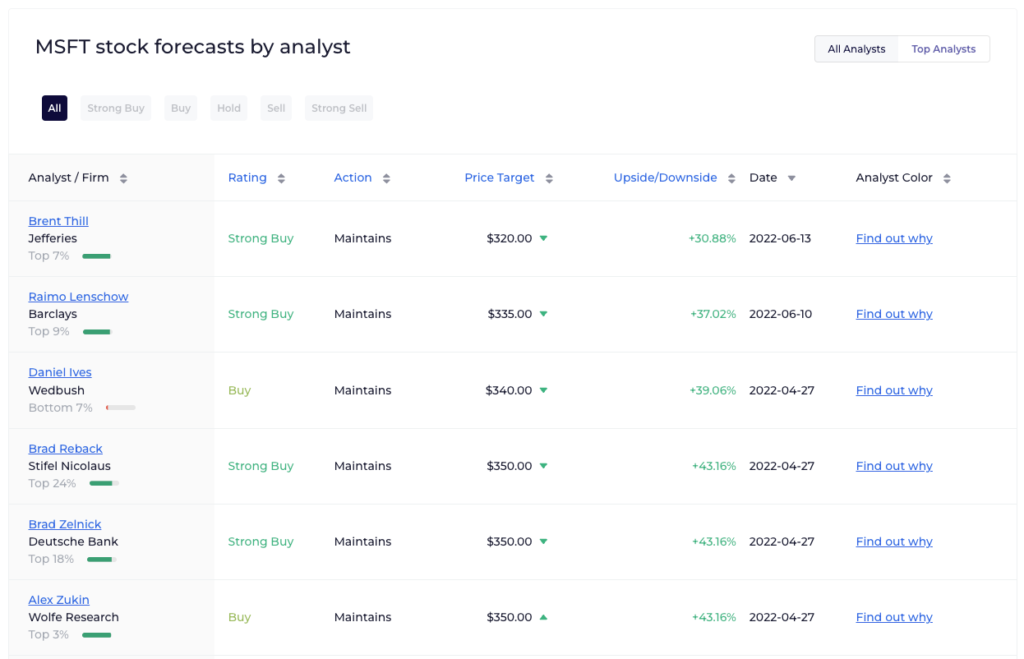 Commentaries, earnings and revenue forecasts, price targets, growth rates, consensus ratings – it's all here.
Watchlists (and Daily Alerts), Why Price Moved, & News Feeds
We all know the importance of keeping our finger on the pulse, especially given current market conditions.
We need a reliable system for staying on top of the latest news on price changes for each of the stocks in our portfolios. WallStreetZen has you covered.
(Want to learn how to predict stocks or what makes stocks go up and down?)
With Watchlists, easily add your favorite stocks to multiple watchlists (personally, I have "Current Portfolio" and "Further Due Diligence" watchlists).
From inside a Watchlist, sign up for Watchlist emails, view your Watchlist Feed (which includes News, Insiders & Analysts, and Events), and discover "Why Price Moved" (a 1-2 sentence synopsis on large price swings).
Pricing
Unlike the other options on this list, WallStreetZen gives away most of its features for free, though frequent users will likely bump into a paywall.
To unlock full access, these power users will want to upgrade to Premium.
$19.50/month ($234 billed yearly) or $59/monthly. Save 60% by going annual.
WSZ Premium includes a 30-day, money-back guarantee.
4. The Oxford Communique
The Oxford Communique is an investment newsletter curated by Alexander Green which provides members with monthly stock recommendations, buy and sell alerts, and bonus reports.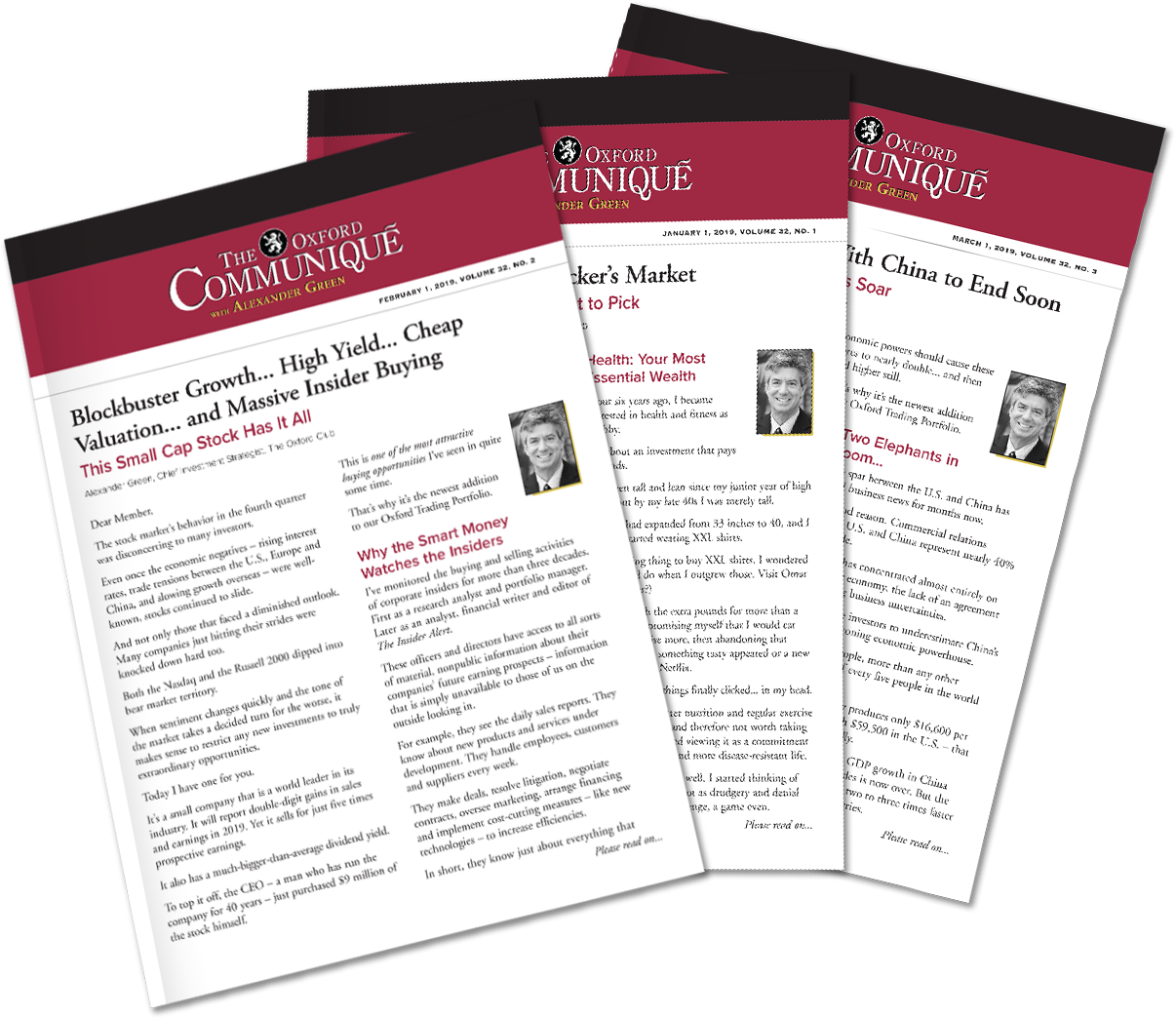 Alexander Green is a Wall Street veteran with over 20 years of experience as a writer, research analyst, portfolio manager, and financial advisor. Green has been featured in The Wall Street Journal, Businessweek, and Forbes. He's also the Chief Investment Officer at The Oxford Club.
The Oxford Club's lead stock picker, Alexander Green, is calling this $4 stock the "Single-Stock Retirement Play". Get the investment report with a subscription to The Oxford Communique.
Regarding performance, an initial investment of $100,000 would have grown to $434,000 by investing in the Communique's picks. Over the same ~20-year period, the S&P returned just $332,000.
Pricing
The retail price for the Communique is $249 per year, but using our links you can get it for as low as $49 (an 80% discount). It also comes with a 1-year, money-back guarantee.
5. The Motley Fool – Rule Breakers
The Motley Fool has a second service that is very similar to Stock Advisor – Rule Breakers.
This investment newsletter has many overlapping features and characteristics of its older brother, but has one primary difference: Rule Breakers only invests in disruptive technology.
While the Stock Advisor team is free to choose from any industry, Rule Breakers will only recommend companies that can completely rearrange their entire industry. If successful, early investors in these stocks can achieve massive returns.
However, these stock picks are prone to increased volatility. Many Rule Breakers recommendations will not yet be profitable and be trading at extremely high valuations because of their potential upside.
Still, the service has performed quite well: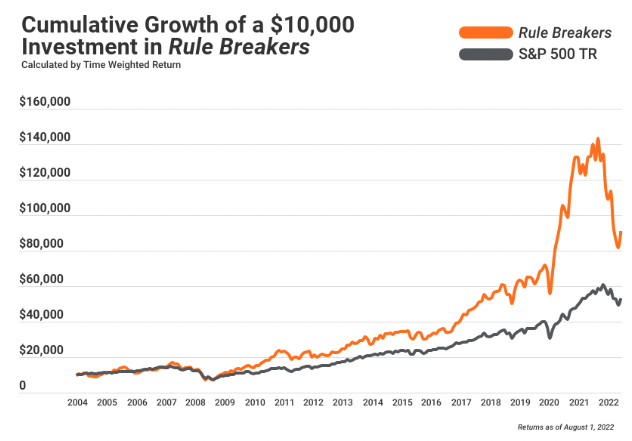 If you can stomach the inevitable volatility of a portfolio full of disruptive stocks, Rule Breakers may be the perfect service for you.
And the recent pullback in high-flying tech and growth stocks may be making for a perfect opportunity to start your subscription and get access to the team's picks.
What You'll Get with Rule Breakers
2 new stock picks each month – The team's latest stock recommendations, delivered monthly.
Community access and investing resources – Educational materials and membership into an ever-growing community of investors to help you invest.
If you like Stock Advisor, you may decide to double-dip into Motley Fool's barrel of investment ideas with a Rule Breakers subscription too.
Pricing
We have access to an exclusive offer of Rule Breakers, just $99 for new member's first year:
After the first year, your membership will renew at the regular price of $299/year.
6. The Average Joe
The Average Joe is a free 4x-weekly investing newsletter filled with market insights and trends that helps you become a better investor.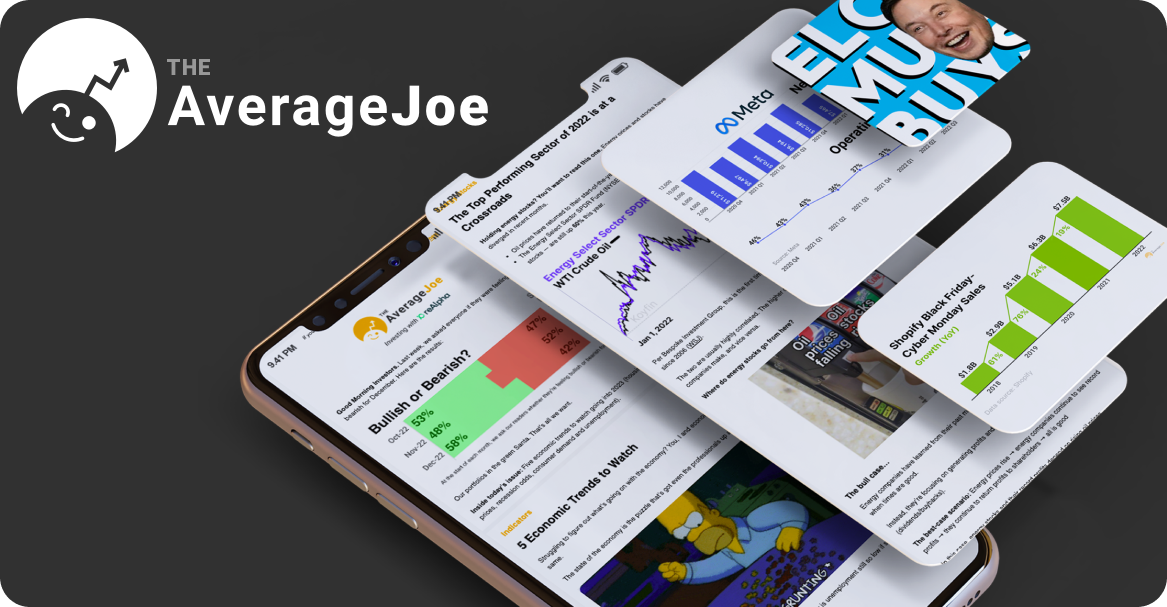 They call themselves the "IKEA instructions for investing" and you'll see why the moment you subscribe. Their newsletters are simple, concise and impactful and easily consumed in just 5 minutes.
But you don't read IKEA instructions in your spare time and you likely wouldn't read financial publications for fun either. Until now… This is like nothing you've ever read before. It's entertaining and informative, rare for a financial publication.
Pricing
Completely free.
Join 50,000+ investors by subscribing below:
7. Benzinga Options
Enough with stock-picking newsletters, time for something with more upside.
Benzinga Options provides winning options trades from Nic Chahine, a veteran (and highly profitable) options trader. Nic has had a very successful career trading options and releases only his highest conviction trades to newsletter subscribers.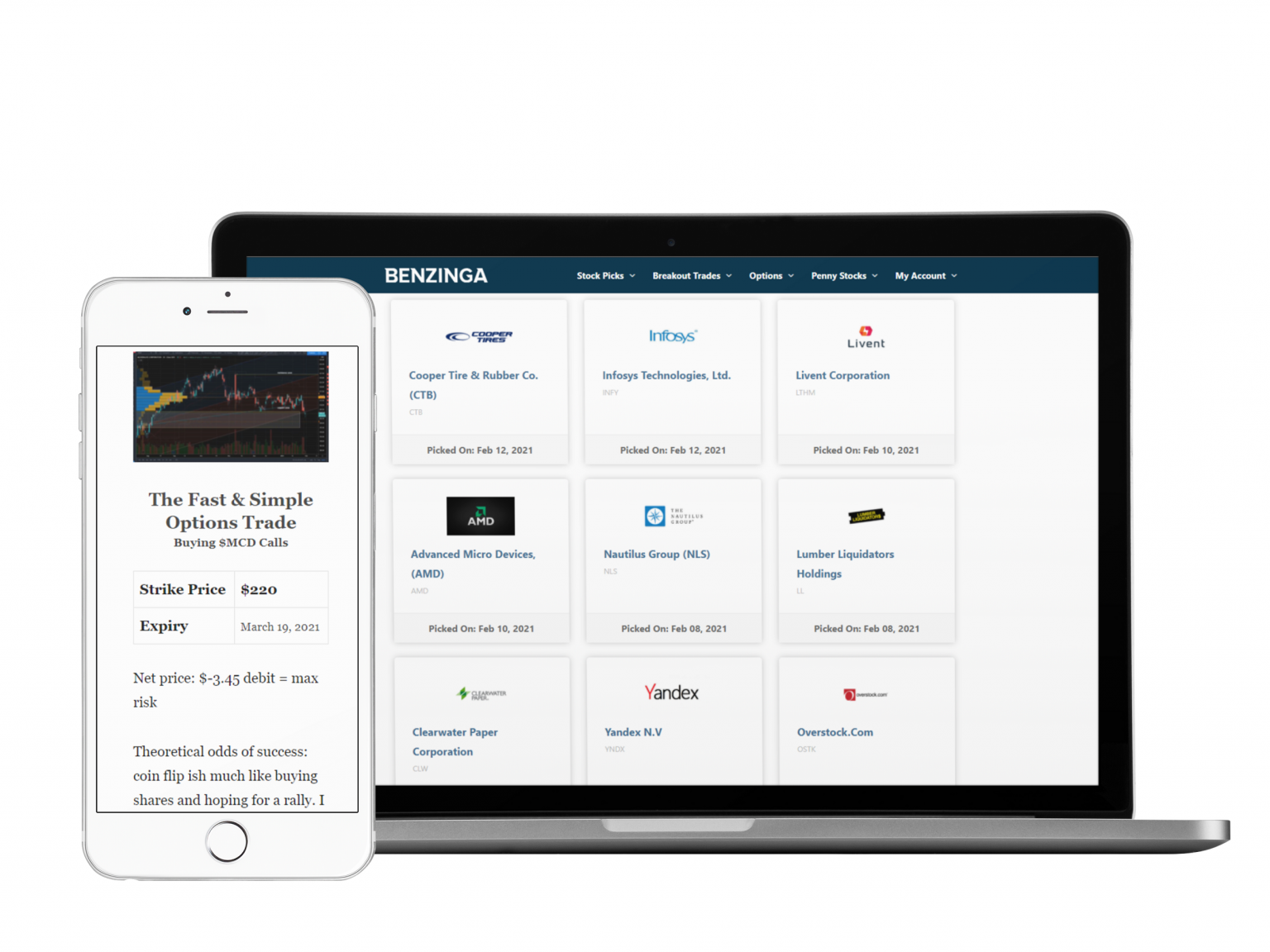 Get high-quality, high-probability trades twice per month with holding periods that range from 1 week to 3 months.
And if you're totally new to options trading, don't worry – the callouts are easy to follow and simple to implement. Plus, each option trade can be tailored to any portfolio, regardless of size.
Pricing
Get Benzinga Options for $297/year:
8. Zacks Investment Research
Zacks offers an abundance of free and paid services, of which its best stock newsletters are among its most popular.
These newsletters include stock research, market analysis, portfolio recommendations, and a variety of other information.
Unlike The Motley Fool's Stock Advisor service, Zacks analyzes thousands of stocks and gives each one a "Zacks Rank" – a score ranging from 1 ("Strong Buy") to 5 ("Strong Sell"). This is Zacks' flagship feature.
If you're unsure how much value this service really adds, take a quick look at the performance figures for their 5 categories: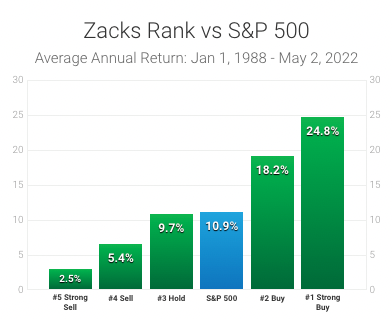 Convinced?
You're not the only one – Zacks boasts a community of more than 800,000 members, both experienced and new investors.
Returns
Over the past 3 decades…
The S&P 500 has averaged +11.2%
Zacks Rank #1 stocks have averaged a staggering +25.4%
Zacks Rank #2 stocks have averaged +19.1%
How's that for identifying opportunities?
Pricing
I'm going to recommend Zacks Premium, which is their best value offer (in my opinion).
After a 30-day trial, Premium costs you $249/year.
Honorable Mentions
Here are a few honorable mentions for best investment newsletter, along with what they provide, who they're right for, and how much a premium membership costs:
| | | |
| --- | --- | --- |
| Newsletter: | Value Add: | Pricing: |
| Seeking Alpha Premium | Supplementary research from a plethora of on-site contributorsGreat source of supplementary research on stocks you own or are considering buying | $19.99/month (after a free trial through our link) |
| Morningstar | Investment research platformUnbiased, objective, independent analysisTop investment newslettersStay up-to-date on current market headlines | $249/year (after a free trial through our link) |
| Kiplinger | A publisher of business forecasts and personal finance adviceNewsletters include: The Kiplinger Letter, The Kiplinger Tax Letter, Kiplinger's Personal FInance, and Kiplinger's Retirement Report | $29.95/year |
| MarketWatch | Stock market and financial news (a Dow Jones offering) Financial newsletter | $36.99/month (you can find numerous discount codes online) |
Summary
If you're looking for the top option for best investment newsletters in , WallStreetZen is it.
Given the number of times our investing heroes Warren Buffett and Stephen Schwarzman have repeated it over and over to their staffs, we know the importance we should be placing on not losing money.
While Stock Advisor and Zacks Premium are great places to identify opportunities, WallStreetZen is the place to perform the fundamental analysis you need to minimize your downside.
Plus, get access to their weekly "Strong Buys" email, Top Analysts, Stock Ideas, and the Stock Screener for plenty of investment opportunities.
Even if you're just looking for a couple stock picks and opt for a Stock Advisor subscription, you may want to pair it with WallStreetZen's platform to avoid investing blindly.
If you are thinking about Motley Fool, check out my review of Motley Fool Stock Advisor vs Rule Breakers, its 2 flagship services.
There are plenty of opportunities – we need to find the ones with the lowest risk.
---
FAQs:
What are the most successful investment newsletter?
The Motley Fool Stock Advisor newsletter has the most successful history of outstanding stock returns and has outperformed the S&P 500 by more than 3x over the last 20 years.
Are investment newsletters worth it?
Yes, investment newsletters are worth it.
You can receive high-quality stock and economic analysis straight to your inbox on a daily, weekly, or monthly basis.
Where to Invest $1,000 Right Now?
Did you know that stocks rated as "Buy" by the Top Analysts in WallStreetZen's database beat the S&P500 by 98.4% last year?
Our October report reveals the 3 "Strong Buy" stocks that market-beating analysts predict will outperform over the next year.