Our editorial team uses a strict editorial review process to compile all reviews, research, and evaluations of any kind. Our company, WallStreetZen Limited, is supported by our user community and may receive a small commission when purchases are made through partner links. Commissions do not affect the opinions or evaluations of our editorial team.
Buy low, sell high.
You've probably heard this investing cliche before.
But when it boils down to it, investing really is that simple.
Simple? Yes.
Easy? Not at all.
The challenge comes from determining what we mean by buying "low" and selling "high".
To determine the prices considered to be low ("undervalued", "cheap") or high ("overvalued", "expensive", "overpriced"), investors fall into 2 camps:
Fundamental investors
Technical investors
These are the 2 major schools of thought when it comes to approaching the markets.
What we really want to know is how to predict stock prices. If a stock is undervalued, it will likely go up. If a stock is overvalued, it will likely go down.
Before you learn how to predict stock prices and how to predict the stock market in general, you need to determine which camp you're in. Based on your camp, you'll know the exact tools and methodologies you can use to predict stock prices.
In this article, we'll discuss how you can build conviction in your trades. But first, a potential way to speed up your learning curve:
A Faster Way to Gain Understanding of Stock Price Movement
If you're not yet confident in your own fundamental analysis abilities, why not follow the stock recommendations from the best-performing analysts on Wall Street?
Yes, you really can do that, with Top Analysts: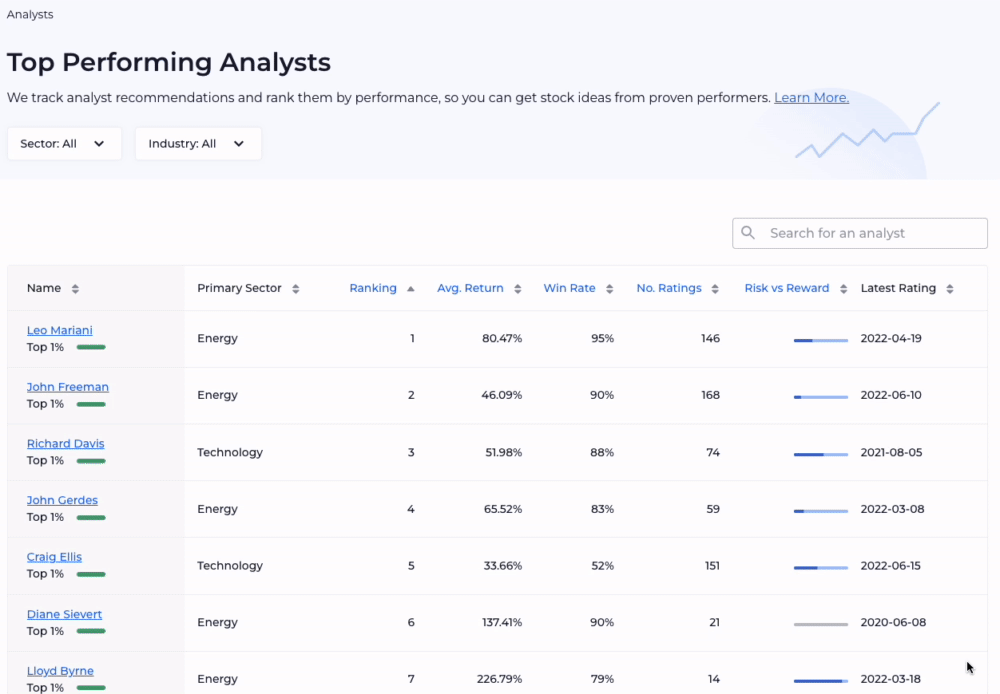 These guys and gals are masters of fundamental analysis and make their stock picks based on hours of research and proprietary modeling techniques.
However, that analysis doesn't guarantee their success – stock-picking seems to combine science and art.
A lot of these analysts make recommendations that you'd be better off not following, which is exactly why WallStreetZen ranks them all for you (based on average return, frequency, and win rate).
This way, you can see the latest recommendations from proven performers.
💡 Sometimes, the best way to learn how to forecast stock prices is to follow the forecasts performed by some of the highest-paid analysts in the world. Hint: It's what I do.
For a complete suite of tools for your fundamental analysis, hit the button below to try WallStreetZen Premium today:
How to Predict When a Stock Will Go Up or Down
💡 Note: There is no way to 100% predict stock price movements. At best, we can make informed investment decisions based on models and analyses that reduce the risk of entering an investment.
But before we determine which investing style matches your personality and risk tolerances, let me explain a concept brought forth by legendary value investor Benjamin Graham.
Long story short: Fundamental analysis will help you determine which stocks are currently undervalued and will increase in value in the future.
WallStreetZen is built to help long-term, fundamental investors find hidden investing opportunities, even if you don't have a finance degree.
Start a 14-day trial of WallStreetZen Premium for just $1 with the link below:
The Voting and Weighing Machines
The Voting Machine – In the short run, the market is like a voting machine, tallying up which firms are popular and unpopular by means of increasing and decreasing stock prices.
The Weighing Machine – In the long run, however, the market is like a weighing machine, assessing the substance (primarily in the form of increasing earnings and revenue) of a company.
Over the long term, when companies perform well their shares will also. Similarly, when a business is suffering, the stock will also suffer.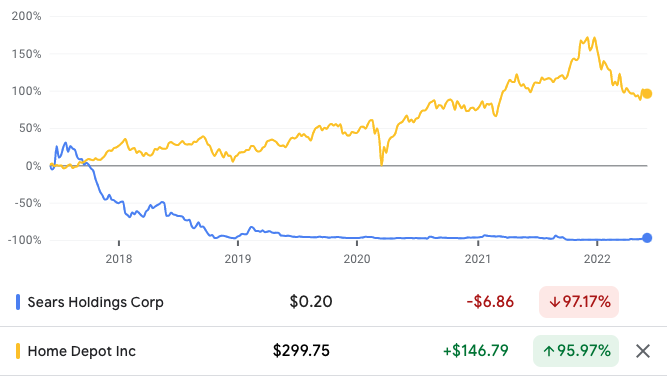 Remember, when you buy shares of a stock you are taking an ownership interest in that company – you are a partial owner. Over time, a company's business performance and its stock price will parallel one another.
Now, let's tie this into our 2 camps of investors and how each of them answer how to know if a stock will go up.
Fundamental Analysis: How to know when stocks will go up
Personally, I find fundamental analysis the best predictor of how to know when a stock will go up.
Fundamental analysis is a method of uncovering whether a stock is undervalued or overvalued by calculating a company's intrinsic value (or "fair value", what it's really worth) and analyzing the factors which could influence its worth in the future.
Fundamental analysts will research and study the overall economy, industry conditions, and the financial strengths and weaknesses and management of individual companies. Revenue, earnings, debt balances, operating cash flow, margins, and other company-specific metrics are all used to calculate intrinsic value.
If a fundamental investor comes to the conclusion that stock ABC is worth $150 per share and it's currently trading for $110, ABC is considered undervalued and will be purchased.
Most fundamental investors invest for the long-term. In our example above, the investor may wait several years before ABC reaches its fair value price of $150, where they will sell and reinvest in a new undervalued opportunity.
This analysis is aligned with the long-term, "Weighing Machine" principles mentioned above.
WallStreetZen
If you want to start performing fundamental analysis and learn how to forecast stock prices based on calculating intrinsic value, you'll want to check out WallStreetZen.
This fundamental analysis site automates some of the most time-tested fundamental analysis techniques and models inspired by investors like Benjamin Graham and Warren Buffett.
With Zen Score, you can understand the strengths and weaknesses of any stock in minutes: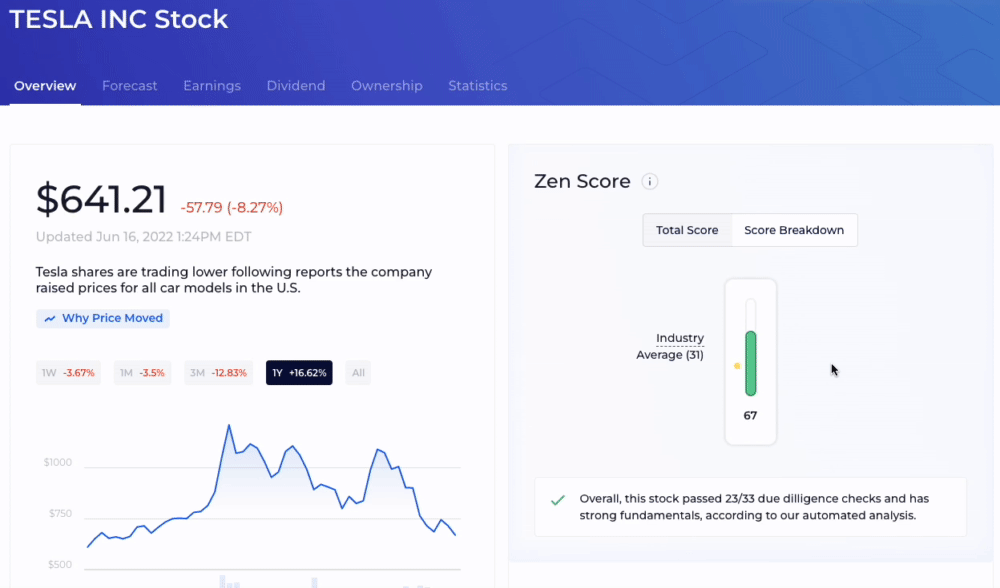 If Tesla has a weak spot (it does, its Valuation dimension is scoring just 14), I can see it immediately and jump into further investigation.
Your next step? Check out WallStreetZen's Top Analysts and see what successful investors think of the stock. Take the guesswork out of long-term investing by performing proper fundamental analysis or following the recommendations of the best analysts in the world.
(Check out my article on what to look at when buying stocks?)
Love the idea of WallStreetZen's Top Analysts? Looking for like-minded resources?
You may be interested in eToro's CopyTrader feature.
With this feature, you can track the trades of successful traders. How you use this information is up to you — you can use this information to build your own high-conviction trades, or simply observe and learn in real-time. It's just one of the many offerings that makes eToro one of the top brokerages and trading resources out there.
Past performance is not an indication of future results.
Technical Analysis: How to know when stocks will go up
If you want to learn how to know when a stock will rise in the short term, you may decide to learn technical analysis (though there's never a guarantee that any trend will continue).
Technical analysis is the use of patterns and trends to identify short-term trading opportunities and make predictions.
Instead of measuring a stock's intrinsic value, they use stock charts and trading signals to indicate whether a stock will move up or down in the future.
💡 Note: Some popular technical analysis signals include simple moving averages (SMA), trendlines, support and resistance levels, and momentum indicators.
It should be noted, successful day trading is incredibly difficult. There are innumerable factors that can affect short-term price movements.
If you're new to technical analysis, I highly recommend investing in a day trading curriculum.
Investors Underground has the best and most complete set of trading materials which have taken complete beginners to full-time traders.
Since technical investors are trading purely off the short-term chart of a particular stock, they do not care about the company's underlying business. This analysis is tied much more closely to the short-term, "Voting Machine"-type elements of the market.
(If you want to try your hand at short-term trading, you should practice on a day trading simulator before risking real money.)
Many investors choose to combine their technical analysis-based trading with fundamental analysis and only trade stocks with strong fundamentals. By doing so, if they enter a day or swing trade in which their interpretation of signals prove to be incorrect, they can hold the stock for the long term worry-free because of the confidence in the stock's underlying fundamentals.
TradingView
If you're looking for a technical analysis platform, TradingView should be at the top of your list.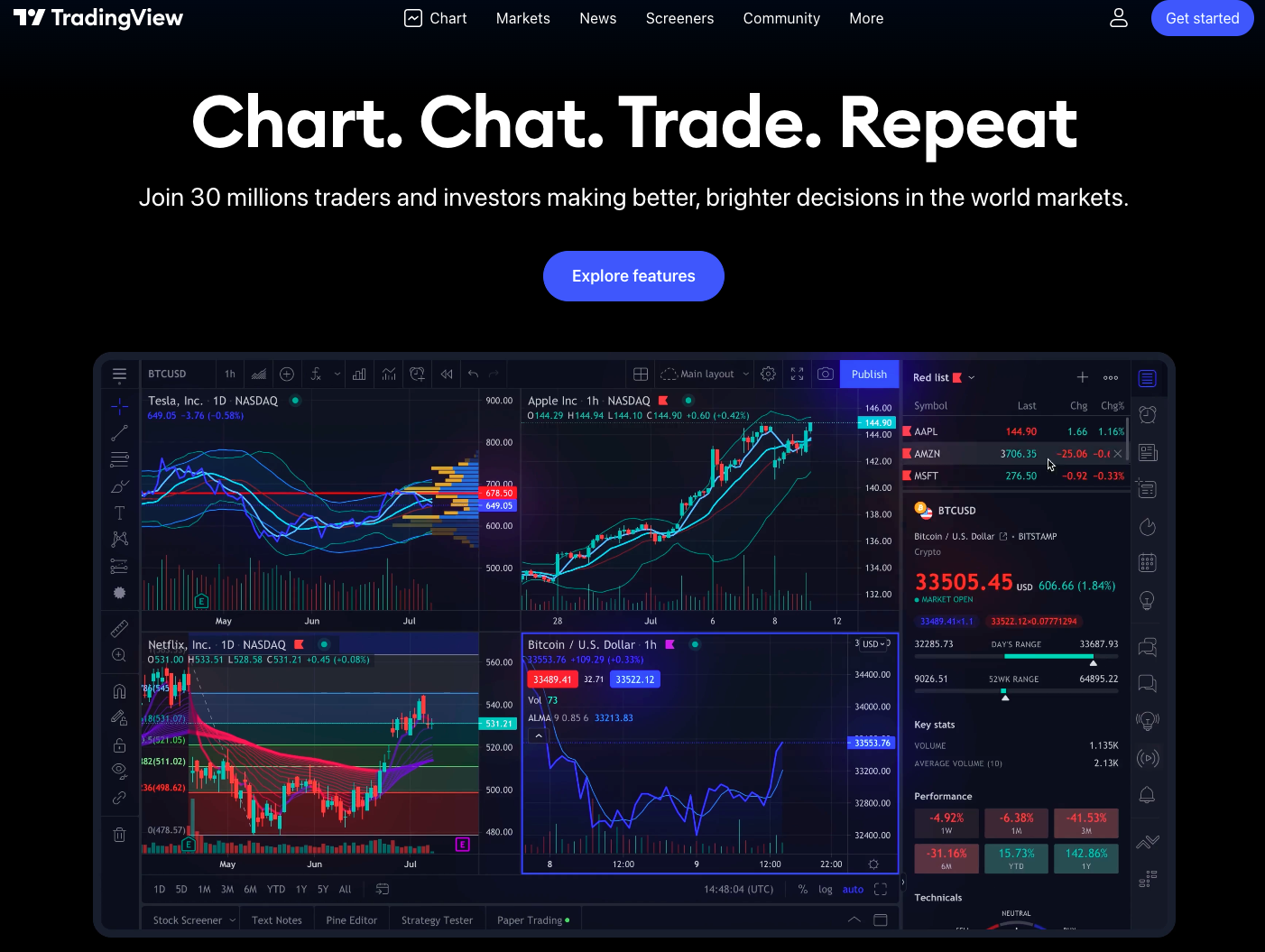 It's user-friendly and speedy. Its design and suite of features is more than capable of handling the workflow of long-time technical analysis while remaining approachable for new traders just getting started.
Start your technical analysis and trading journey right now with TradingView. After your 30-day trial (following the link below), I'd highly recommend Pro+:
(Interested in learning where to buy penny stocks?)
Where to invest $1,000 right now…
If all this talk about fundamental and technical analysis is above your head, I've got the solution for you.
The Motley Fool's Stock Advisor has 3X'ed the S&P 500 over the last 20 years: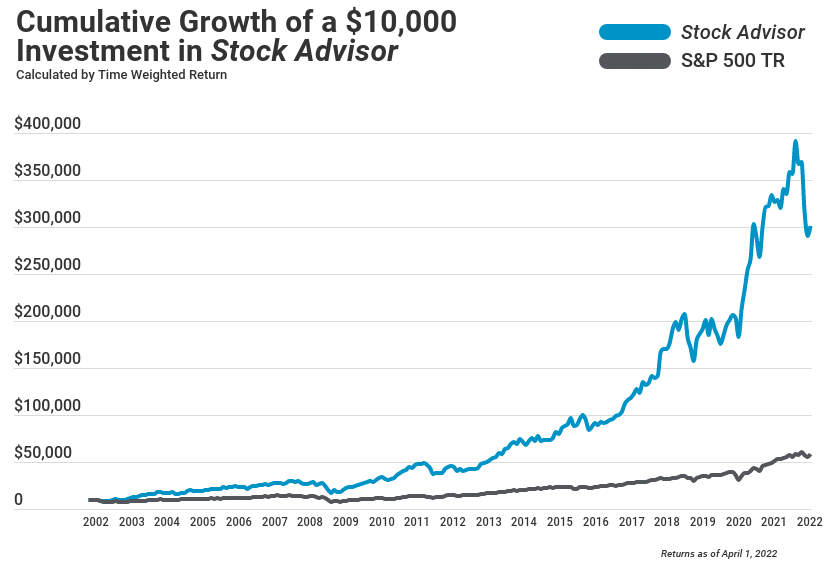 They recommended Amazon, Disney, and Netflix before anybody knew what these companies would be, tallying gains of 16,202%, 5,868%, and 10,532%.
(That's why Motley Fool ranks #2 on our list of best investment newsletters 2022. For more info, click here for my Motley Fool review.)
And they just released 2 more of these potential home run stocks.
---
FAQs:
Is it possible to predict stock prices?
Yes, you can predict stock prices.
In the long run, the best way to predict stock prices is with fundamental analysis. In the short term, the best way to predict stocks is with technical analysis.
What is the best way to predict stock prices?
The best way to predict long-term stock prices is with fundamental analysis.
The best way to predict short-term stock prices is with technical analysis.
Read more: Head over to my article to learn when to sell stocks.
Where to Invest $1,000 Right Now?
Did you know that stocks rated as "Buy" by the Top Analysts in WallStreetZen's database beat the S&P500 by 98.4% last year?
Our November report reveals the 3 "Strong Buy" stocks that market-beating analysts predict will outperform over the next year.