Our editorial team uses a strict editorial review process to compile all reviews, research, and evaluations of any kind. Our company, WallStreetZen Limited, is supported by our user community and may receive a small commission when purchases are made through partner links. Commissions do not affect the opinions or evaluations of our editorial team.
Skeptical about the popular binary options platform, Pocket Option? It's only natural.
Binary options have gotten a bad rap over the years due to shady brokers and get-rich-quick advertising. Why would you want to risk your hard-earned cash on something so speculative?
And if you've ever used a binary options broker, you'll know that the bonus structure and gamification of the entire experience resemble online gambling websites. Personally, I do not recommend you get into binary options trading.
But here's the truth: trading binary options can be profitable — if you have a trading strategy with positive expectancy and use a reputable broker.
In this Pocket Option review, I'll answer your biggest questions about the platform by diving into:
The platform's history.
The stuff you're wondering about: is Pocket Options regulated? Is Pocket Option safe? Or is it some Pocket Options scam?
The platform's features, like tournaments, analysis tools, and more.
What kind of trader Pocket Option suits best (spoiler: it's NOT beginners!)
Let's dig in…
New here? Day trading essentials
Instead of binary options, you could day trade stocks. Start with these resources & tools:
Pocket Option Review: Legit and Regulated or Scam?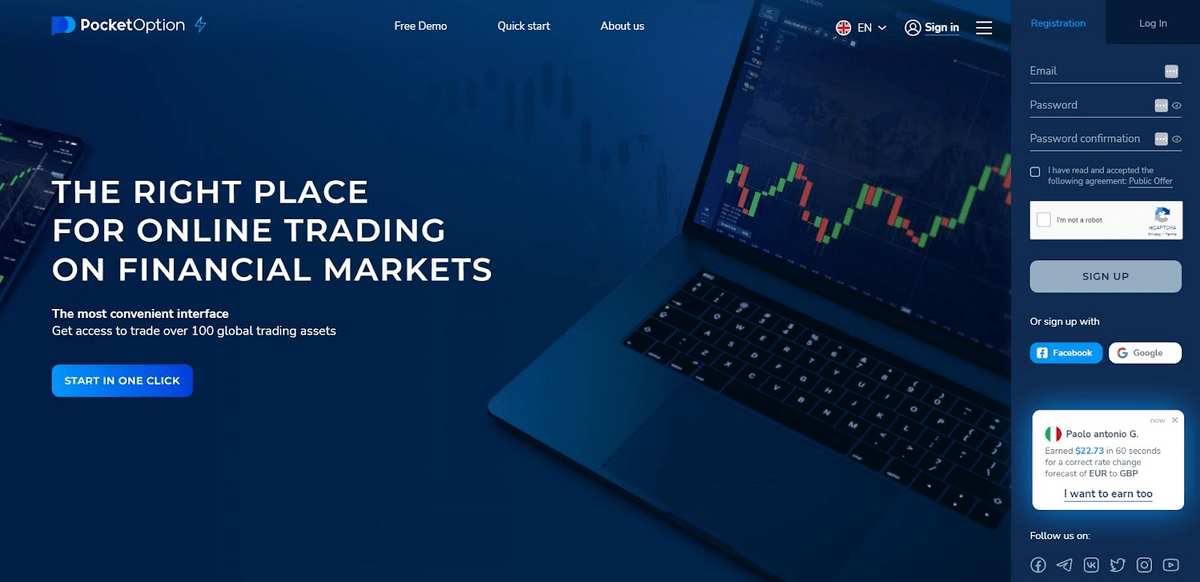 The Bottom Line: Pocket Option is a binary options broker that offers all the necessary trading tools and features for this speculative style of trading.
If you're a binary options trader, Pocket Option is one of the better options out there. However, there are some things you should know:
Is Pocket Options legit? While the platform is regulated (more on that in a bit), it's not by the SEC. So you should err on the side of caution if you plan to use it.
You're restricted to options expiry periods between five seconds and four hours. This makes Pocket Option more appropriate for traders with a short-term trading strategy.
If you haven't jumped into the world of binary options trading, here's a spoiler: Most binary options traders lose money. If you have your heart set on becoming a trader, you're probably better off day trading stocks or options.
What is Pocket Option?
Founded in 2017, Pocket Option is a binary options broker that offers a variety of financial instruments. It's registered in the Republic of the Marshall Islands.
Is Pocket Options regulated? Yes.
Pocket Option is regulated by the International Financial Market Relations Regulation Center (IFMRRC).

While the IFMRRC isn't well-known, the platform's longevity suggests that Pocket Option is safe, as do some of the metrics…
Pocket Option by the numbers
Over ten million customers (100,000+ active users).

$500,000,000+ in trading turnover.
Customers in more than 95 countries.
An average trader income of over $850 per month.
Pocket Option provides several access options, including a browser-based platform as well as desktop (Windows and Mac) and mobile applications (Android and iOS).
Funding your account is simple, with over 50 payment options including Visa, bank transfers, e-payment platforms, or cryptocurrency.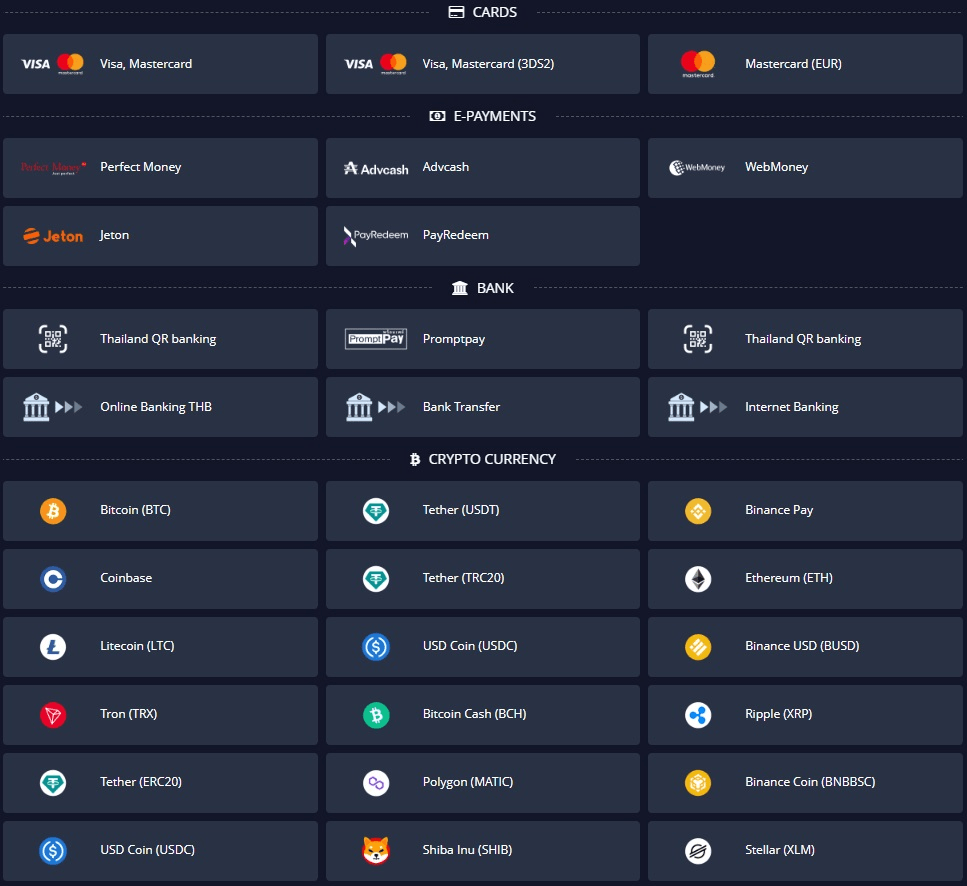 Pocket Option: pro tips
The minimum deposit on Pocket Option is $5 (depending on location and payment method) with near-instant availability.

The minimum withdrawal is $10 and is subject to a 24-hour review period.
Pocket Option Features:
Assets
Pocket Option offers over 100 trading instruments, including FX, commodities, indices, and even cryptocurrencies.
Here are a few examples of what you can trade:
Standard fiat currency crosses, such as EUR/USD, and exotics, such as EUR/RUB.
Indices, such as the S&P 500, AUS 200, and E50EUR.
Individual stocks, such as Apple (NASDAQ: AAPL) and Meta, AKA Facebook (NASDAQ: META)
Commodities including Gold and Oil.
Cryptocurrencies like Bitcoin and Dash.
Pocket Option: pro tips
Different instruments have different payout percentages — some are as low as 15%.
If you want to give yourself the best chance to be profitable, stick to instruments with payouts of at least 80%.
Trading Platform
Binary options are not recommended for beginners — it's a very risky style of trading.
But if you're a seasoned trader looking to explore binary options, Pocket Option's platform has everything you need.
Its sleek interface is simple to navigate with menus on both the left and right of the screen.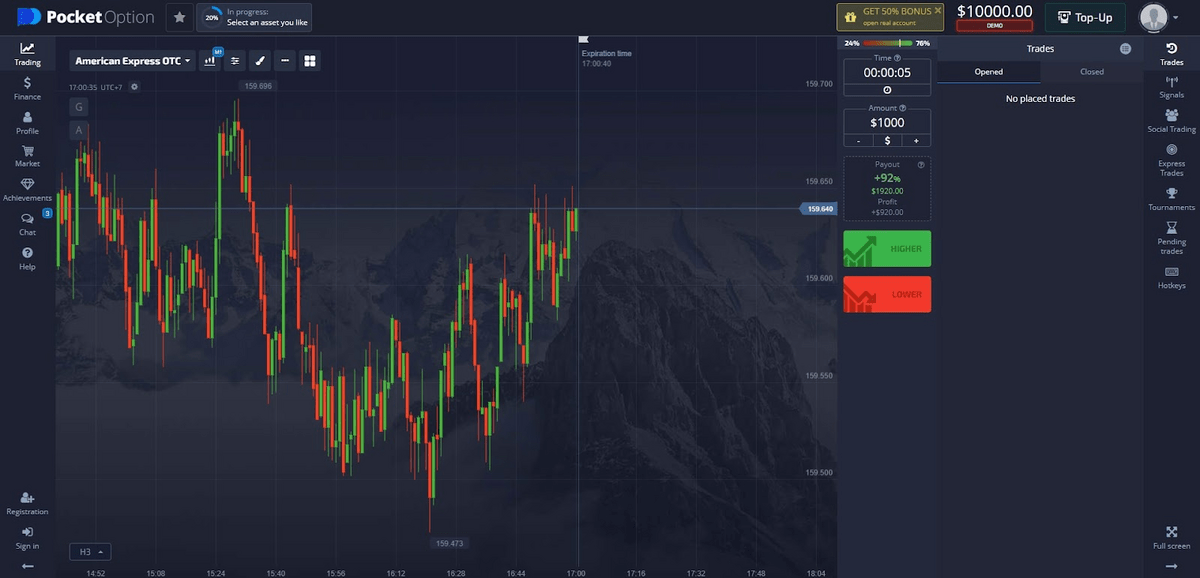 On the left, you can access:
Your real or demo account and trading bots.
Deposits, withdrawals, and promo codes.
Trading history and profiles.
Market, lotteries, social rewards, and gem mining.
Account achievements.
Chats — general chat feed for platform users, support, and private messages.
Help with guides, tutorials, and more.
On the right-hand side, you'll see:
Top-ranked traders and traders who have copied your trades.
Pending trades that will only execute if certain criteria are met.
Various free and paid tournaments (more on that below).
Next to the right-hand trading menu, you'll find all your open and closed trades with time stamps and P&L (Profit and Loss) information.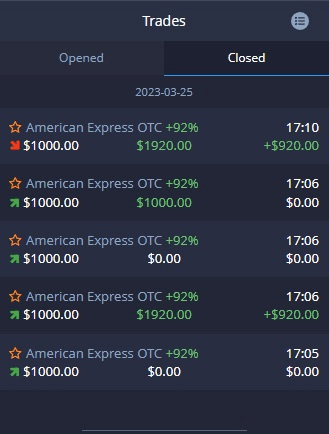 Under that, you'll find real-time trade signals that are generated by the community which you can copy with a single click.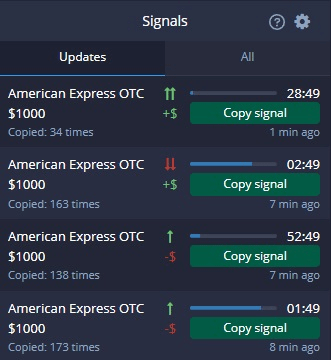 Pocket Option automatically displays signals for the same chart you're looking at. So if you're analyzing multiple instruments at the same time, make sure you click the right signal because they're mixed together!
Charts
Pocket Option offers a variety of chart types, such as line, candle, bar, or Heiken Ashi.
The trading platform provides a host of popular charting indicators, including:
Bollinger Bands
RSI
Moving averages
ADX
You can also access your favorite drawing tools, such as:
Channels
Fibonacci Retracements
Trend lines
Andrew's Pitchfork
Pocket Option also lets you analyze up to four charts on a single screen, so you don't have to constantly switch back and forth to keep tabs on your trades.
Mobile App
Pocket Option's mobile application (available for IOS and Android devices) is just as easy to use as its browser counterpart with an almost identical layout.
In the mobile app, you can do pretty much everything you can do on the browser platform.
The one thing you can't do? View multiple charts on mobile due to screen size restrictions.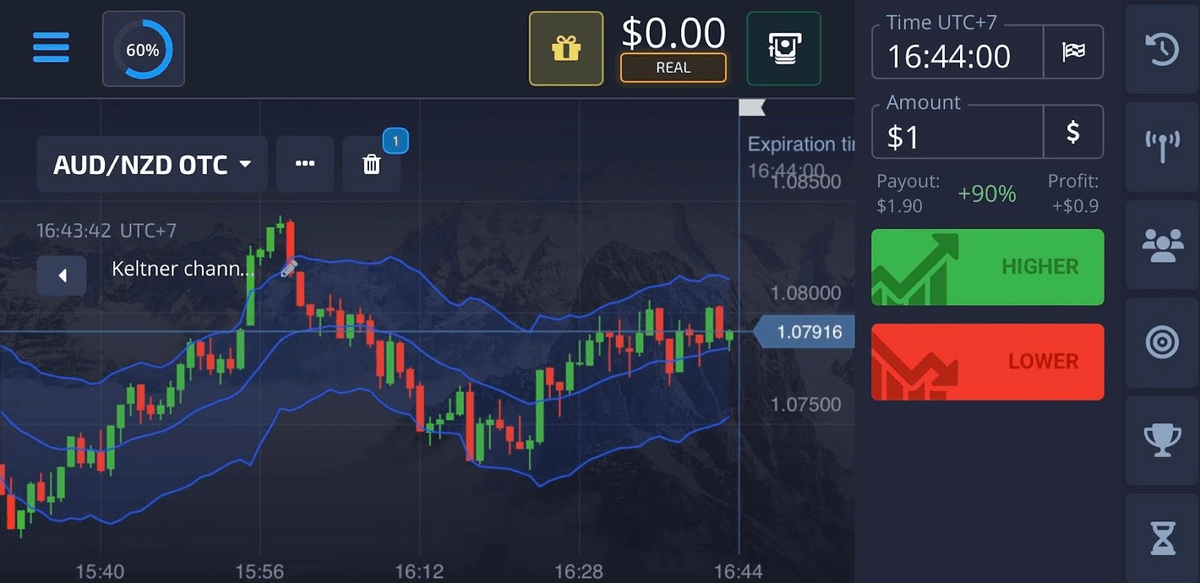 Demo Account
Since binary options are extremely speculative and risky, it's a good idea to test the waters with a demo account before you put your hard-earned cash at risk.
Pocket Option has a demo account option that gives you $10,000 of simulated money to practice on the platform, with the option to request a top-up.
Simply click the "Free Demo" button on Pocket Option's home page to get started.
Pocket Option: pro tips
You won't be able to save your trading history with a demo account. If that's important to you, keep your demo trades under a registered account.
Here's a glimpse of what the Pocket Option demo account looks like: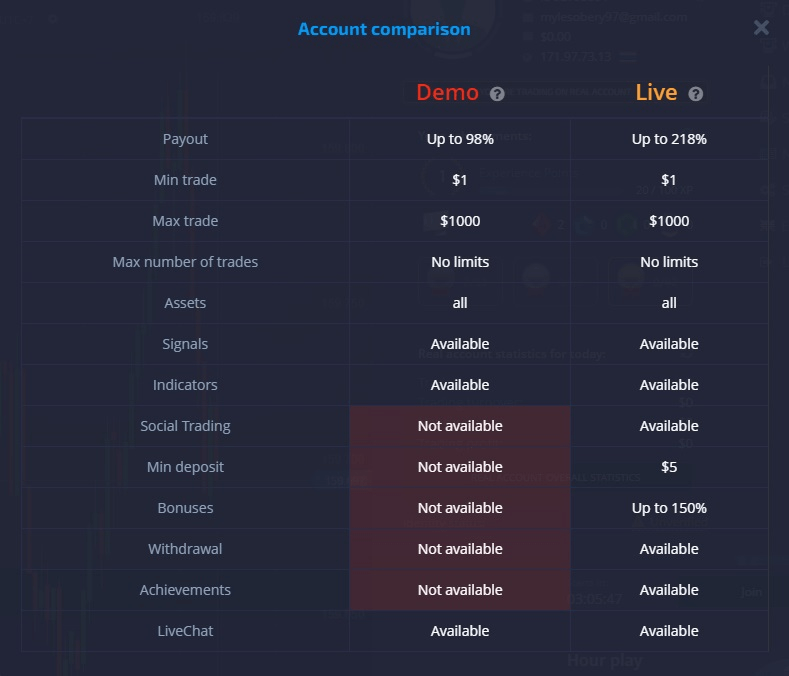 Trading Gamification
A word to the wise: traders should approach gamification features with caution, as they can promote risky behavior.
That said, if you enjoy this type of feature, Pocket Options has you covered. The features revolve around gems with four different rarities:
Red Gem of Pro — $2 each
Blue Gem of Master — $8 each.
Green Gem of Guru — $30 each.
Secret Gem of Heroes — you can't buy this
Besides buying gems outright, there are several ways to earn them, including earning shards through trade frequency, social rewards when someone copies your signals, and lottery and achievement-based gems.
These gems can fetch you bonuses, including deposit bonuses between 20% to 110%, direct cash injections, loss cancellations, cash back, effect boosters, and much more.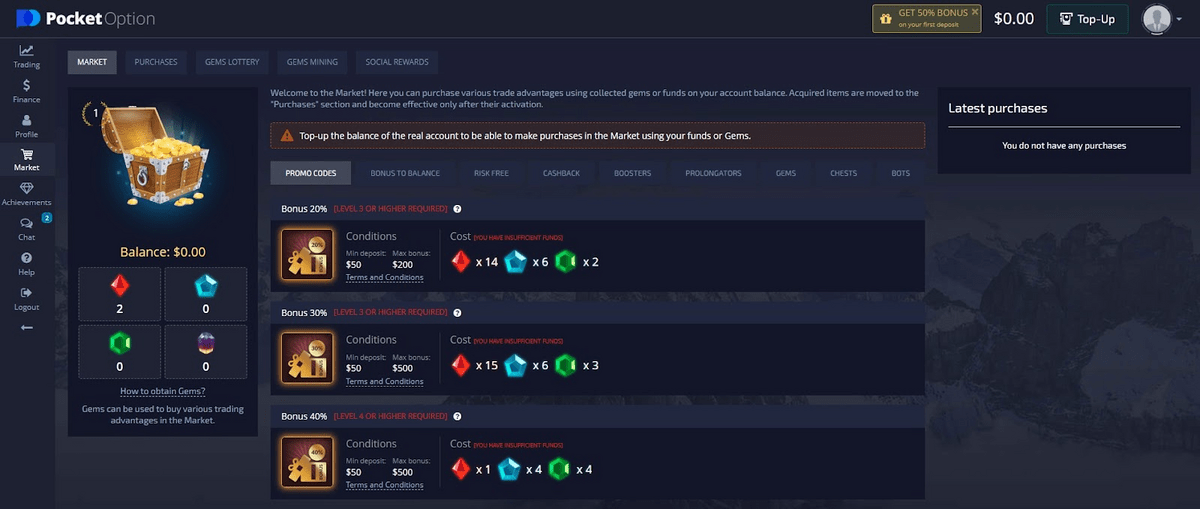 Tournaments
Similar to gamification features, tournaments add a social element to Pocket Option. However, since tournament trading takes place with virtual balances, participants don't have to spend live funds while competing.
Here's how it works:
To participate, click the tournaments tab on the platform's right-hand menu and choose a tournament.
Once you join, you'll find the tournament's details — start time, participation fee, starting balance, the number of participants, and more.
Tournaments are played with virtual funds so they're a fun way to test aggressive strategies for as little as $1 (and sometimes free).
Losing streak? No worries. Tournaments have a re-buy feature that allows you to top up your tournament account anytime it drops below $100.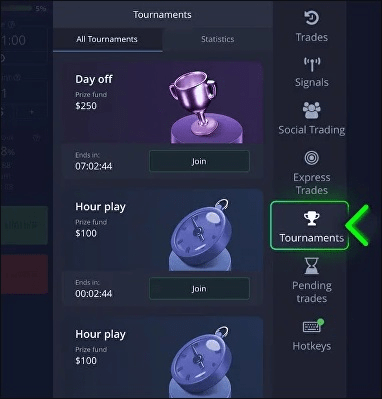 Pocket Option Fees & Commissions
Pocket Option doesn't charge fees or commissions on withdrawals and deposits.
Here's how they make their money:
Trader losses
Users who purchase gems and other boosters with cash
Is Pocket Options Legit?
Is Pocket Option safe? As I mentioned earlier, Pocket Option is not regulated by the SEC. That fact alone should make you approach the platform with caution.
However, it is regulated by the International Financial Markets Relations Regulation Centre (IFMRRC), and there are other aspects that bolster its legitimacy:
Pocket Option has been around for six years and has experienced user growth.
Pocket Option has almost 2,000 five-star reviews on the independent review platform Trustpilot.
Who is Pocket Option Best For?
Pocket Option is best for:
Seasoned binary options traders with a verifiable edge
That's it.
Pocket Option is not recommended for beginners, as binary options trading is an extremely risky style of trading. If you're a beginner, I suggest seeking out a more general trading education before expanding into more speculative trading styles.
Day Trading Education
Want to kick-start your day trading education? Check out Investors Underground.
Choose from a basic course or uplevel with advanced trading courses that come with live mentorship and access to a community where traders share their experiences.
Pros and Cons of Pocket Option
| | |
| --- | --- |
| Pros | Cons |
| Social rewards for top traders | Not regulated by a well-known agency |
| Real-time trading signals | No MT4 trading platform |
| Instruments with high payouts | Some instruments have extremely low payouts |
| Sleek trading platforms | Limited expiration times (five seconds to one day) |
| Available in almost 100 countries | A limited number of indicators and tools compared to popular charting software |
| Gamification to boost ROI | Risky – most traders lose money |
| Over 50 funding options | Not appropriate for beginners |
| Several free trading bots | |
Should You Trade Binary Options?
Binary options can be a profitable trading strategy. However, it's not for everyone.
Why?
Most people trading binary options lose money.
It's a short-term style of trading with a lot of "noise" — the patterns you do see may be more random than those on longer timeframes.
Binary options favor technical-first trading, which means you're missing out on understanding the fundamentals behind a trading instrument.
The time-bound element of binary options trading makes it even more difficult because not only do you have to get the direction right, but you also have to choose the right expiry.
My suggestion? Before you jump into the world of binary options, try stocks or currencies with traditional price targets before you make trading more complex.
New here? Day trading essentials
If binary options aren't recommended for beginners, what is? Start here:
Final Word: Pocket Option Review
There's a reason why so many binary options traders choose Pocket Option.
It provides sleek, easy-to-navigate trading platforms across mobile and desktop and some of the best payout percentages in the industry.
However, the inflexibility of binary options makes it better suited to experienced traders who can craft suitable strategies.
If you're a beginner, I suggest starting with traditional long/short trading where the price is the sole determinant of a winning trade. Once you have a handle on managing trades based on reacting to the market, then you can progress to other strategies like binary options.
When you're ready to advance, or if you're a more seasoned trader who's ready to explore binary options, check out Pocket Option.
---
FAQs:
Is Pocket Option legal in the US?
Pocket Option is legal in the U.S. It is regulated and offers services for clients in countries including the United States, the UK, Europe, and India.
What is the minimum deposit in Pocket Option?
The minimum deposit in Pocket Option is $5 but this depends on the region and payment method.
Which country owns Pocket Option?
Pocket Option's parent company, Gembell Limited, is registered in the Republic of the Marshall Islands.
Which is better IQ Option or Pocket Option?
It depends on your needs. Pocket Option is better for binary options and the overall trading experience, but IQ Option is better if you need traditional long/short trading.
Where to Invest $1,000 Right Now?
Did you know that stocks rated as "Buy" by the Top Analysts in WallStreetZen's database beat the S&P500 by 98.4% last year?
Our September report reveals the 3 "Strong Buy" stocks that market-beating analysts predict will outperform over the next year.