Our editorial team uses a strict editorial review process to compile all reviews, research, and evaluations of any kind. Our company, WallStreetZen Limited, is supported by our user community and may receive a small commission when purchases are made through partner links. Commissions do not affect the opinions or evaluations of our editorial team.
Stable cash flow, price appreciation, diversification, and leverage – there's a lot to like about real estate investing.
There are 2 big hurdles you'll face as a real estate investor:
Finding the right property to buy
Coming up with the cash to make a down payment
At least, that used to be the case.
It's 2023, and platforms like Fundrise give you the opportunity to invest in real estate with just $10.
But is it the right platform for you?
This Fundrise review will dive deeper into what it is, how it works, and its benefits and limitations.
Fundrise Review 2023: Can You Really Make Money?
Overall Rating: ⭐️⭐️⭐️⭐️
The Bottom Line: Fundrise is an excellent platform to gain exposure to real estate.
Fundrise is an investment platform that lowers the barrier to entry for new investors looking to get into real estate. Instead of owning properties outright, Fundrise investors invest in a portfolio of different projects. And since there is no investment analysis or management responsibilities (Fundrise does all the work), it's one of the best ways to make passive income through real estate.
Investment Opportunities: 4/5
Accessibility: 4/5
Price: 3/5
What is Fundrise?
Fundrise is an investment platform designed for unaccredited investors – those of us without a ton of cash – looking to get into real estate.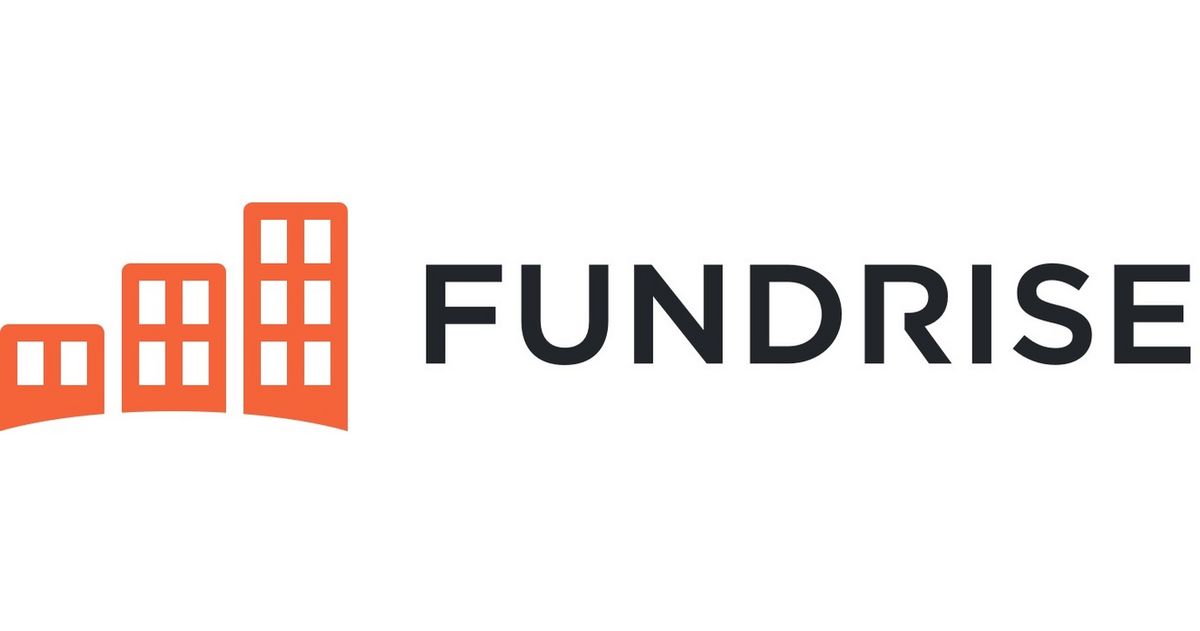 Instead of fronting capital to buy a property, Fundrise investors crowdfund – or pool their resources together – to buy shares in different properties.
With just $10, Fundrise gives you access to commercial and residential investments.
You can either invest in a REIT portfolio – called eREITs – or a professionally managed residential real estate fund – called an eFund.
Fundrise's Key Numbers
Minimum investment: $10
Total Annual Fees: 1% (AUM)
2022 YTD Return: 5.40%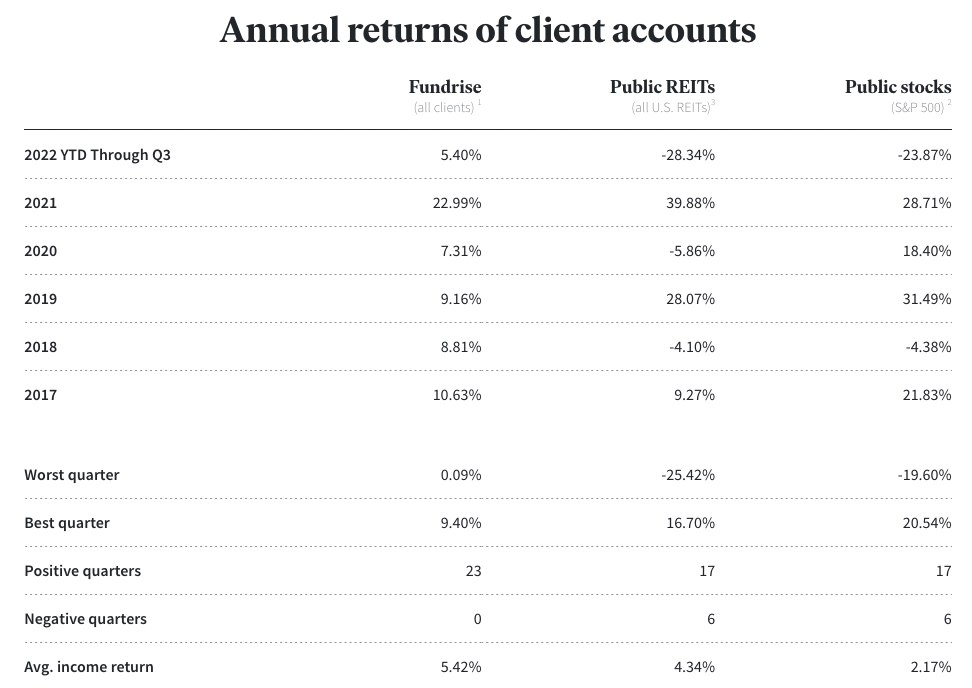 Fundrise Portfolios
Fundrise has 5 account levels:
The Starter Portfolio is an entry-level option for new investors looking to get started in real estate. With just $10 you get access to a basic portfolio of properties like apartments and single-family homes located in major cities around the United States.
The Basic Portfolio is for investors who have a minimum of $1,000 to invest. At this level, you unlock access to different types of funds, IRAs and investment goals.
The Core Portfolio is the most popular level. It requires a $5,000 minimum investment. Investors get access to different customizable investing strategies in addition to setting goals at this level. These goals include generating passive income, aggressive growth, or building a balanced portfolio.
The Advanced Portfolio requires a $10,000 minimum investment. This is a more advanced option that gives investors access to more products and specialized funds.
The highest level is the Premium Portfolio. It requires a $100,000 minimum investment. This option is designed for accredited investors and comes with exclusive access to private funds. If you're at this level you may decide to invest in physical real estate.
Benefits of Fundrise
Most people are attracted to Fundrise because it allows you to own quality real estate investments with minimal capital and low fees.
Fundrise fees are 1% of assets under management and are split between a 0.85% annual asset management fee and a 0.15% annual investment advisory fee.
It also makes it easy to start investing in real estate by performing the investment analysis and taking on the management responsibilities for you.
Currently, Fundrise has 294 active projects totaling more than $3.3 billion in assets under management.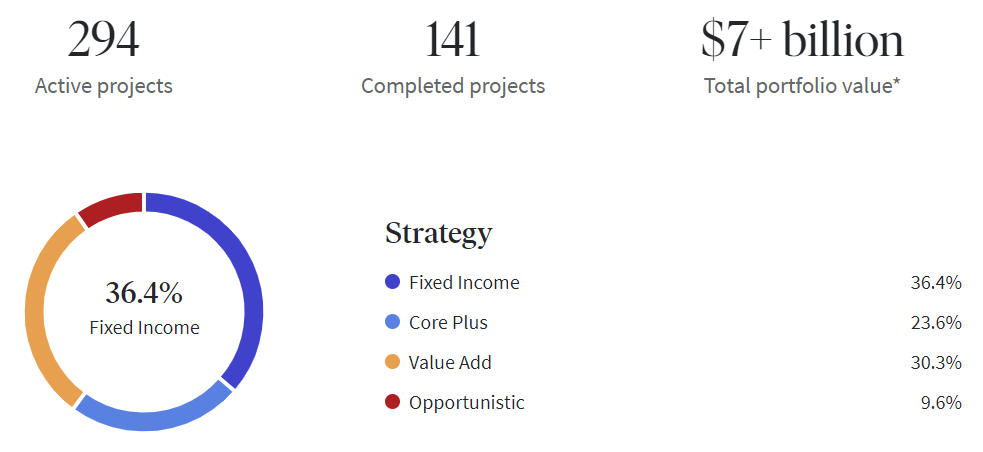 Another reason why I like Fundrise is because it allows investors to automate savings and opt to reinvest their dividends. This set-it-and-forget-it approach makes it easier to build a portfolio with little to no maintenance.
As an investment class, real estate is known for combining the growth potential of stocks with the stability of bonds, making them an excellent investment and a great way to diversify your portfolio.
Fundrise has partnered with an investing platform called Public.com, which allows you to invest in stocks and other assets in addition to real estate. If you're looking for a great place to build a diversified portfolio, check out our Public investing app review.
Fundrise's Self Directed IRAs allow you to shelter alternative assets – like real estate – from taxes. The program comes with an annual $75 fee, but it allows you to invest in any of their projects as part of a retirement savings plan. You can do this with crypto too — check out our iTrustCapital review if you're interested.
Drawbacks of Fundrise
The primary drawback of Fundrise, and real estate investing in general, is lack of liquidity.
Its portfolios are designed in a way which locks up funds for at least five years. While you can sell your eREIT shares before 5 years, you will have to pay a 1-3% redemption fee when you do.
Additionally, Fundrise eREITs are sold on a private market which means you can only buy and sell them on Fundrise. If there's a downturn in the economy, Fundrise can suspend redemptions which would prevent you from withdrawing your money.
Fundrise is a new platform and hasn't been tested in an economic downturn – it's hard to say how its portfolio will perform and if it will need to suspend redemptions in the future.
I wouldn't invest any money on Fundrise you plan on needing in the next 5 years (although the same is true for stock market investments). Head over to Crowdstreet vs Fundrise to learn about a competing platform with a shorter average holding period.
Finally, Fundrise pays out quarterly distributions rather than monthly dividends. Unlike many regular REITs traded on the stock market, Fundrise does not provide a guaranteed dividend payout. Fundrise distributions are also taxed as income rather than qualified dividends.
Example Investment on Fundrise
Fundrise recently invested $16.3 million in a 249-unit apartment community in Orlando Florida: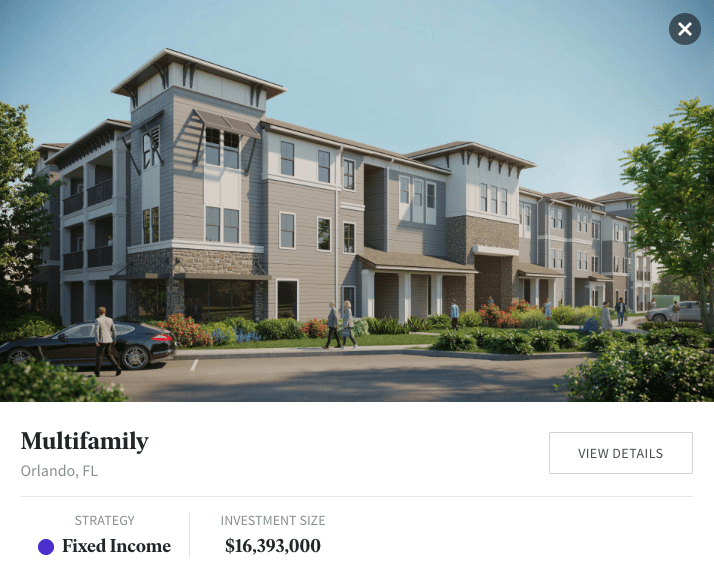 Here are a few details:
Strategy: Fixed Income
Risk-return profile: Low to moderate
Expected return: 8.85%
Why we invested: Great location, fast-growing area, and an attractive margin of safety
Fundrise Investment Strategies
Fundrise employs a combination of 4 strategies to build well-rounded, resilient portfolios.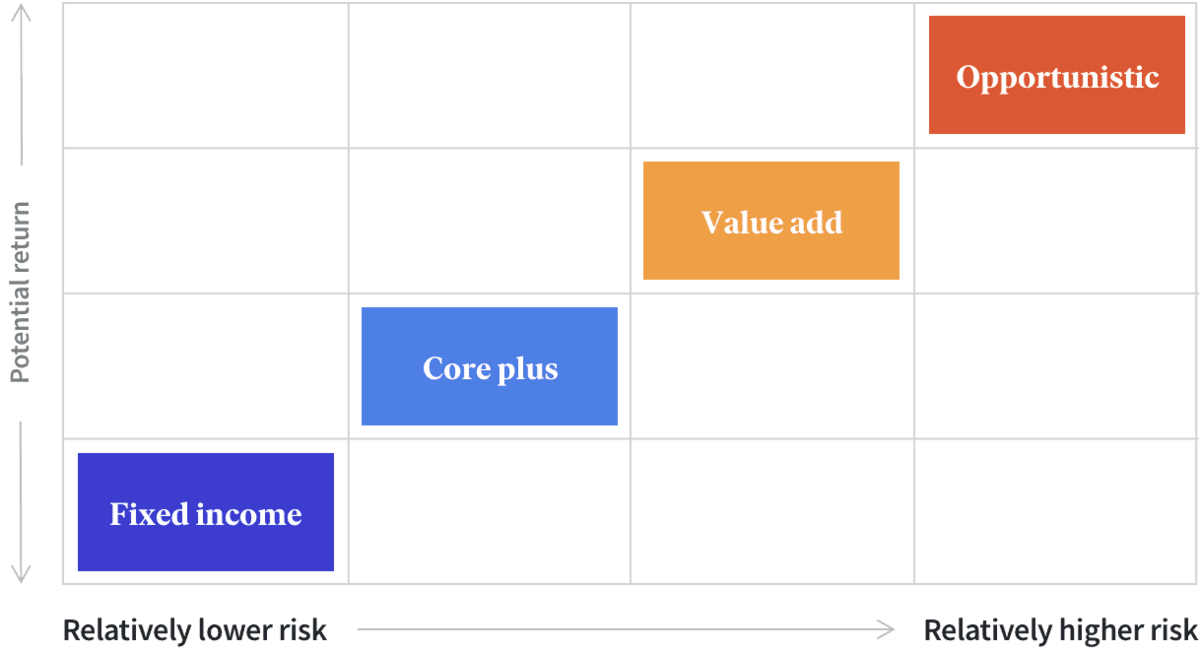 By mixing investment styles, Fundrise can deliver consistently strong results to meet their client's goals and appetite for risk.
Fundrise vs Yieldstreet
Yieldstreet is another real estate crowdfunding investing platform.
Unlike Fundrise – which only offers real estate – Yieldstreet gives you access to a variety of alternative investments beyond real estate like art, notes, and financing opportunities.
Annual management fees are higher than on Fundrise, though, and range from 1-4% depending on the asset.
Personally, I find Yieldstreet slightly easier to use but they're both very powerful.
If you're an accredited investor or you want access to a wider class of investments, Yieldstreet is the better choice.
If you want to passively invest in only real estate, I'd give Fundrise the slight edge.
Final Word: Fundrise Review
Fundrise is a great platform for investors looking to get started in real estate investing. It even topped our list of the best real estate investment apps.
Its Starter Portfolio requires a minimum investment of just $10, perfect for new real estate investors.
Although you won't have to deal with the investment analysis and management components, you will still be subject to the illiquidity of real estate investing.
Fundrise is an excellent way to easily add some real estate into your portfolio.
---
FAQs:
Can you make money with Fundrise?
You can make money on Fundrise.
This year, Fundrise has posted higher returns than publicly-traded REITs and stocks.
Is Fundrise trustworthy?
Fundrise is a safe and trustworthy platform.
Investments are made in physical real estate assets which tend to be a good hedge during economic downturns. Additionally, Fundrise is SEC-regulated.
Is Fundrise a wise investment?
Depending on your personal investment strategy, Fundrise could be a good investment opportunity.
Fundrise provides access to real estate investments that many retail investors might not otherwise have access to. Real estate has historically been a strong asset class to invest in.
Does Fundrise pay monthly?
Fundrise pays quarterly dividends, not monthly.
This is less frequent than many publicly-traded REITs which often pay monthly dividends. It's a minor detail but important to consider because of the benefits of compound interest.
Fundrise dividends are also taxed as income instead of qualified dividends. Again, a minor detail but it is something you'll want to take into consideration depending on your tax bracket.
What are Fundrise eREITs?
Fundrise eREITs give investors access to off-market real estate projects located across the country. Like traditional REITs, Fundrise eREITs appreciate in value while paying regular dividends.
Where to Invest $1,000 Right Now?
Did you know that stocks rated as "Buy" by the Top Analysts in WallStreetZen's database beat the S&P500 by 98.4% last year?
Our December report reveals the 3 "Strong Buy" stocks that market-beating analysts predict will outperform over the next year.