Our editorial team uses a strict editorial review process to compile all reviews, research, and evaluations of any kind. Our company, WallStreetZen Limited, is supported by our user community and may receive a small commission when purchases are made through partner links. Commissions do not affect the opinions or evaluations of our editorial team.
The stock market has long been one of the greatest wealth-generating tools in the world.
It can also be a total money pit – especially if you're following bad advice.
There are a lot of stock picking services out there, each one claiming to be the best with screenshots to "prove" it (while they conveniently leave out their losers).
Just like investing in stocks, investing in a high-quality newsletter or platform is critical.
(If you're new to investing, check out this article on how to invest in stocks for beginners.)
So, what makes a good stock-picking service?
Are they trustworthy?
How is their track record?
Is it affordable?
These are the questions you need to answer before choosing a service.
After all, you should know whether or not the analyst recommendations you're following are likely to prove successful.
Based on these 3 criteria, I'm going to list out the 4 Best Stock Picking Services in 2022.
Remember, you get what you pay for, and if someone is offering you free investment advice, it's probably not worth much. As such, I'm going to be recommending premium options (keeping annual costs as a relevant factor), although you can benefit from a lot of free features from my first recommendation.
The Best Stock Picking Service
1. WallStreetZen
In my (biased) opinion, WallStreetZen is the best stock picking service available. (Full disclosure, I currently work for WallStreetZen.)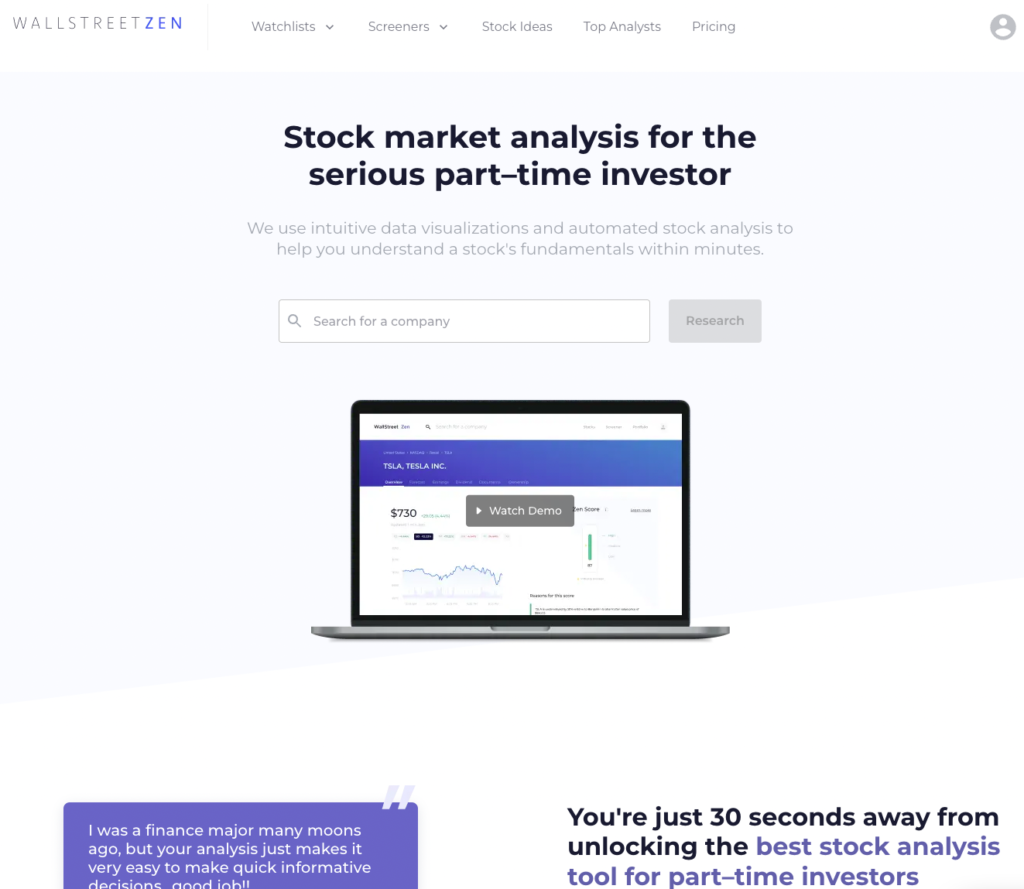 Although it's far from their only feature, WallStreetZen's Top Analysts is their most frequently visited page (and for good reason):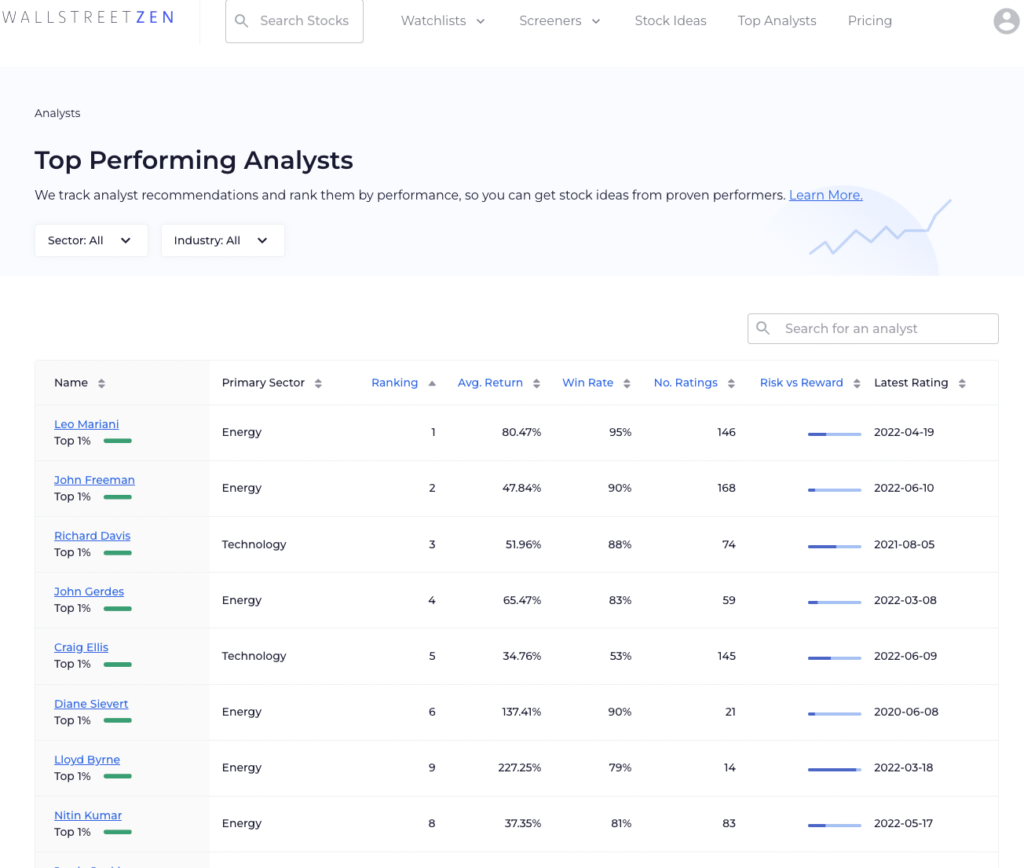 Other stock-picking services constantly brag about their winning stock picks but conveniently forget to mention all the times they're wrong. So instead of providing picks directly, this stock picking service was built to discover the analysts who are consistently beating the market and display their latest picks.
The site aggregates the research and recommendations from nearly 4,000 Wall Street analysts and backtests their performance over multiple years. From there, analysts are ranked based on average return, frequency of ratings, and win rate so you can follow the latest advice of proven performers.
Because the best person to follow for stock advice is the one who is consistently picking winners.
The analyst research is found throughout the site: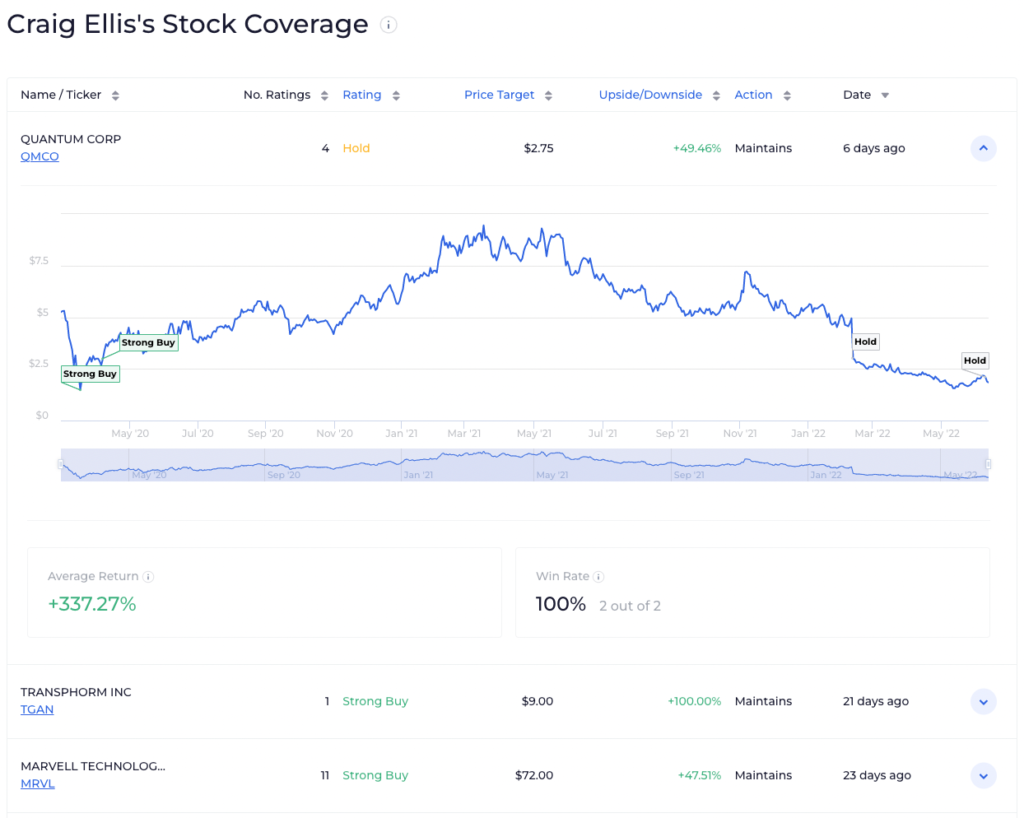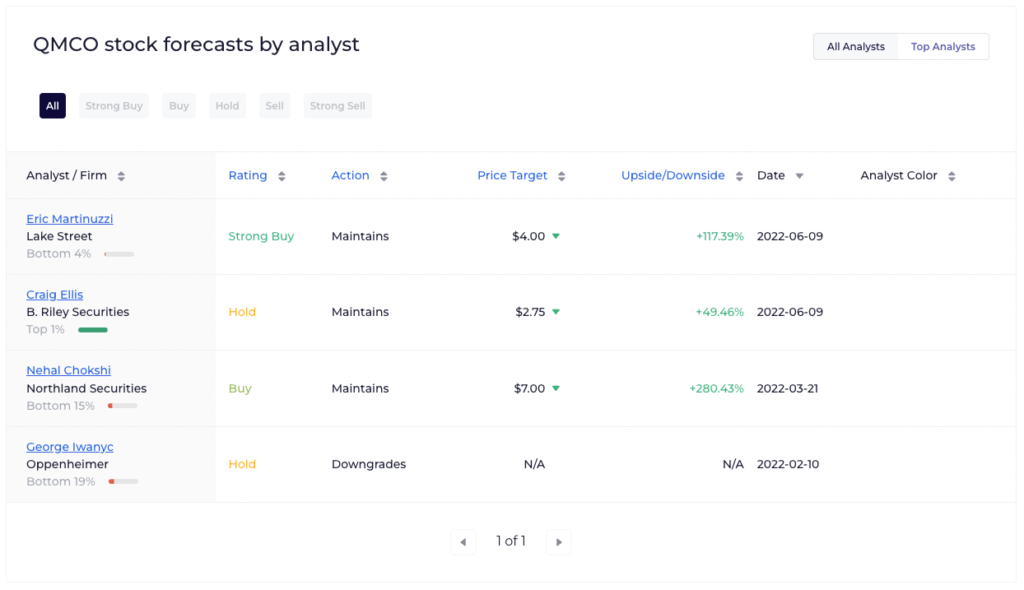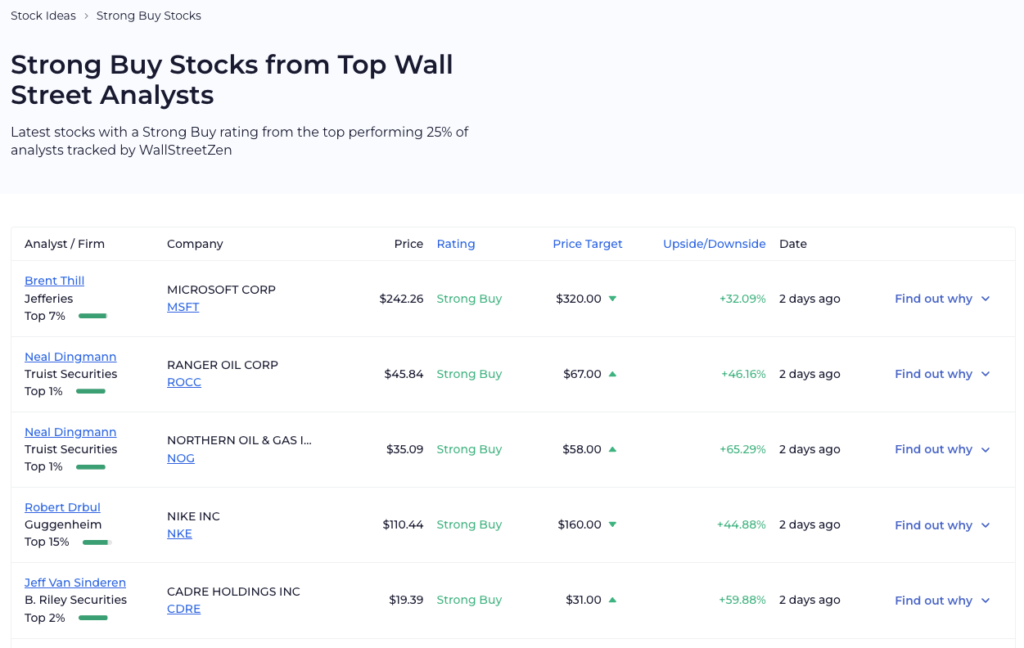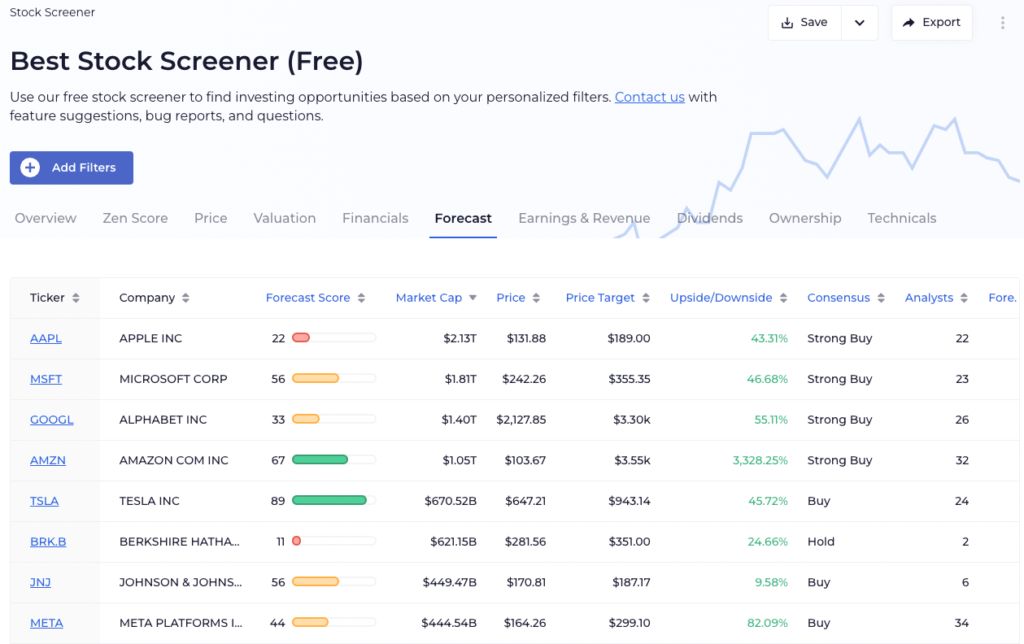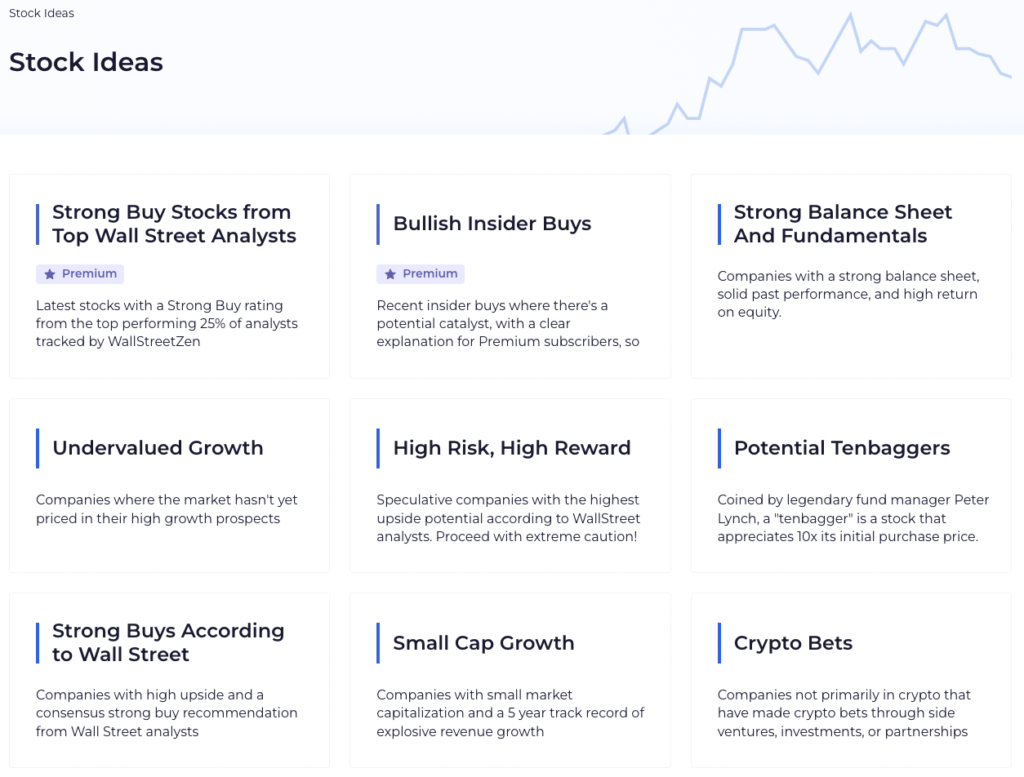 Check out the Forecast page of TSLA or, if you're wondering who has the best stock picking record, take a look at the recommendations of the Top 1% Analysts.
The data-driven, transparent, and visually-compelling information is integrated throughout the entire site. If you like what you see with Top Analysts, you'll want to check out Zen Score and the Stock Screener as well.
Trustworthiness: 5/5
Unlike the other names on this list, WallStreetZen isn't selling you picks – the site is transparently showing you the most recent recommendations from the best performing analysts.
The bottom line: Its incentives are aligned with your own.
Track Record: 5/5
There's a reason Wall Street's best performing analysts get paid millions of dollars every year.
WallStreetZen's Top Analysts have 6X'ed the S&P 500 per year over the last 4 years:
Although past performance does not guarantee future returns, these results are staggering.
Want to see what these Top Analysts are recommending today?
Affordability: 5/5
After a 14-day trial, Premium costs just $150/year (with a 30-day, money-back guarantee!):
And for a more in-depth look at WallStreetZen's Top Analysts feature, head to our YouTube video:
2. The Motley Fool
When it comes to selecting the best stock prediction website, what we really want is one that delivers great returns at a great price – this one fits the bill.
Brothers Tom and David Gardner founded The Motley Fool in 1993 and have grown it into one of the largest and best stock picking services in the world:
Their most popular product is Stock Advisor, an investment newsletter that makes direct stock recommendations.
If you're looking for a service that delivers a few stock picks per month to add to your portfolio and a report on why you should buy each of them, this is the best option for you.
Upon sign-up, members receive 2 new stock recommendations along with 2 new stock picks each month. Each recommendation comes with an in-depth analysis of the risks and potential upside of each investment.
Stock Advisor also comes with Best Buys Now, an evolving list of what they believe to be the 10 best recommendations to invest in right now.
Updated as of: 9/26/2022
For new investors, they also publish an additional Starter Stocks list they recommend for beginners.
A premium subscription to The Motley Fool also comes with performance tracking, a stock screener, exclusive special reports, educational materials, community discussion boards, and video interviews with team members.
Trustworthiness: 4.5/5
With over 700,000 newsletter subscribers, this service on our list of best prediction websites does not lack credibility or authority – there are plenty of reviews online for each one of its services.
Although not user-friendly as WallStreetZen, the Fool website is feature-rich and fairly intuitive.
Track Record: 5/5
Since Stock Advisor's inception in 2001, it has vastly outperformed the S&P 500 index: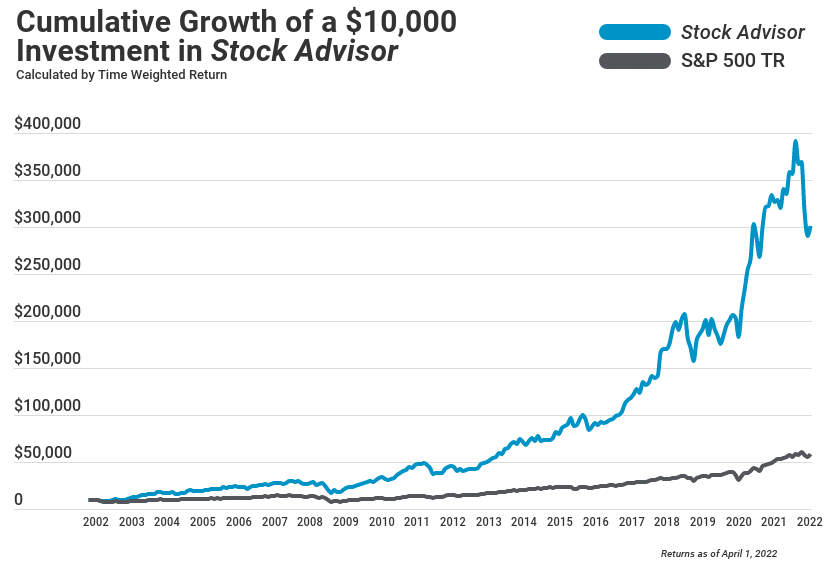 They're not shy about talking about their returns – they have nothing to hide.
Affordability: 4.5/5
At $199/year, Stock Advisor is also very affordable – it's no wonder so many people rank it as the best stock recommendation service.
And they gave us an exclusive offer to share with you: 55% off 1 year of Stock Advisor:
It's also perfect timing – they just released this month's picks!
You won't want to miss these 2 potential home run stocks.
For more in-depth information on the company's services, check out my article on Motley Fool Rule Breakers vs Stock Advisor.
3. Zacks
Founded in the 1970s, Zacks Investment Research has consistently provided some of the highest performing stock recommendations for decades:
Zacks is best known for the Zacks Rank, a stock-rating system that helps individual investors find the best companies to outperform the market. Ranks range from #1 – Strong Buy to #5 – Strong Sell.
While it does offer some free services, Zacks Premium is its most popular product.
With it, members get daily updates of the Zacks Rank, full access to the Zacks #1 Rank List (which you can filter by sector, industry, price, date, value score, and more), research reports, premium screens, a portfolio of 50 long-term stocks, and more.
To get the most out of this stock prediction website, users do have to do some of their own manual research.
Unlike Motley Fool Stock Advisor, Zacks Premium doesn't directly tell you which stocks to buy each month. Instead, it notifies you of updates to its Zacks Rank list and suggests you buy the Zacks Rank #1 stocks and sell the Zacks Rank #5 stocks.
Trustworthiness: 4.5/5
Like The Motley Fool, Zacks has developed a great brand reputation over the years. Its site is a bit outdated, but it's easy enough to understand and find what you're looking for. Like Stock Advisor, Zacks Premium shows its performance data very clearly.
Track Record: 4.5/5
Since 1988, Zacks Rank #1 Strong Buy stocks have clobbered the S&P 500:
Given enough time, these outsized returns can be expected to continue.
Affordability: 4/5
A subscription to Zacks Premium costs $249/year, after a 30-day free trial.
(Interested in Zacks? Read my full Zacks review or my article on Motley Fool vs Zacks vs Morningstar vs Seeking Alpha.)
4. BENZINGA Pro
BENZINGA Pro is the best stock picking service for swing trading and day trading: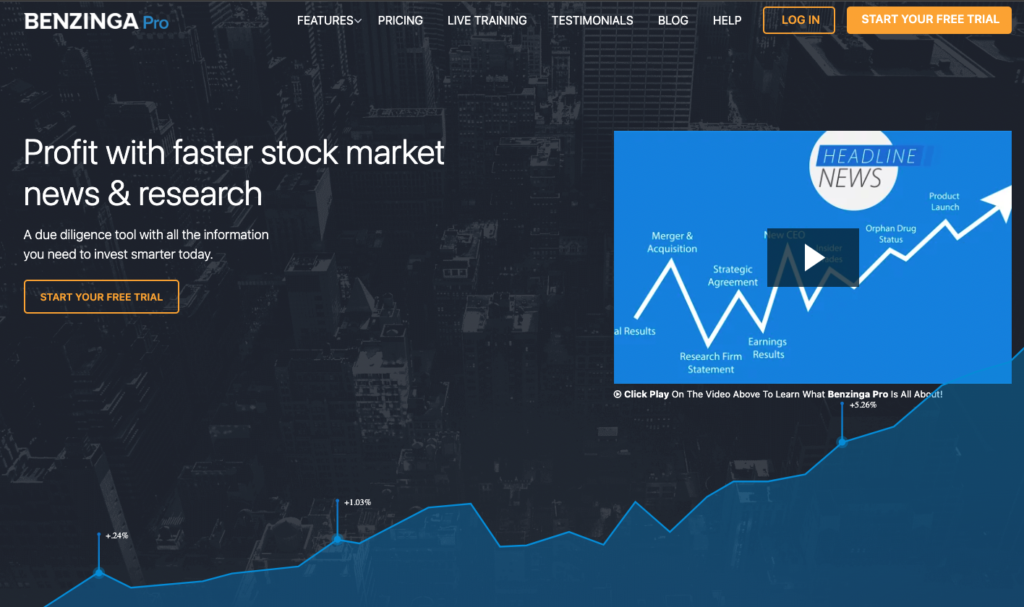 Each morning, day traders must scan the markets before the market opens to find the best stocks to trade each day. BENZINGA Pro handles this for you, providing up-to-the-minute alerts, news, technical information, scanners, and alerts for traders all over the world.
(Read more: Finviz Elite review.)
This daily stock picking service has something for everyone. Its audio content and advanced newsfeeds are great for short- and long-term investors alike. Plus, get access to enhanced features (such as unusual options activity).
Trustworthiness: 4/5
BENZINGA receives excellent reviews across a wide swath of investors who use its services. Most of its customers landed on BENZINGA after trying a host of other websites and now say they'll never leave. Glowing reviews are always a good sign.
Track Record: 4/5
Any day trading service can only take you so far – good traders can make money almost regardless of the tools they're using, but the opposite is true for those who lack the intangibles.
My score of 4 in this category is heavily reliant on the reviews I've read, so do your own homework before joining.
Affordability: 3.5/5
Benzinga Pro Essential is its most popular service, and at $177/month it's not cheap. But, assuming it adds incremental trading revenue, this price tag could ultimately prove to be just a fraction of the value it's providing.
Summary
If you're looking for the best stock picking service in 2022, you'll want to know who has the best stock picking record and whether or not you can get the same success as them.
In my opinion, WallStreetZen is both the best free stock picking service and the one offering the best tracking of its analysts. It also is the best stock forecast website, offering a Forecast page for every U.S. stock where you can see a compiled list of analysts who cover the stock.
Try it out today and get unlimited access with a 14-day trial and, after your trial, a 30-day, money-back guarantee.
If you're looking for weekly stock picks, The Motley Fool's Stock Advisor is the best option for you. If you like the idea of this type of service, check out my review of the best stock newsletters.
The best stock picking service for day traders and swing traders is BENZINGA Pro Essential.