Our editorial team uses a strict editorial review process to compile all reviews, research, and evaluations of any kind. Our company, WallStreetZen Limited, is supported by our user community and may receive a small commission when purchases are made through partner links. Commissions do not affect the opinions or evaluations of our editorial team.
If you're looking for personalized financial guidance, Edward Jones is one of the first names that comes to mind – it seems like there's one on every block!
But you might be wondering, "Is Edward Jones worth the fees?"
I'll cut to the chase: No, Edward Jones is not worth the fees.
In return for pretty simple financial advice, Edward Jones fees take a major bite out of your returns. Below, I'll reveal how their "small fees" can really add up.
I also share some better alternatives that can save you hundreds of thousands of dollars in the long run.
Is Edward Jones a Fiduciary & Worth the Fees?
The Bottom Line: Yes, Edward Jones is a fiduciary but, in my opinion, it is not worth the fees.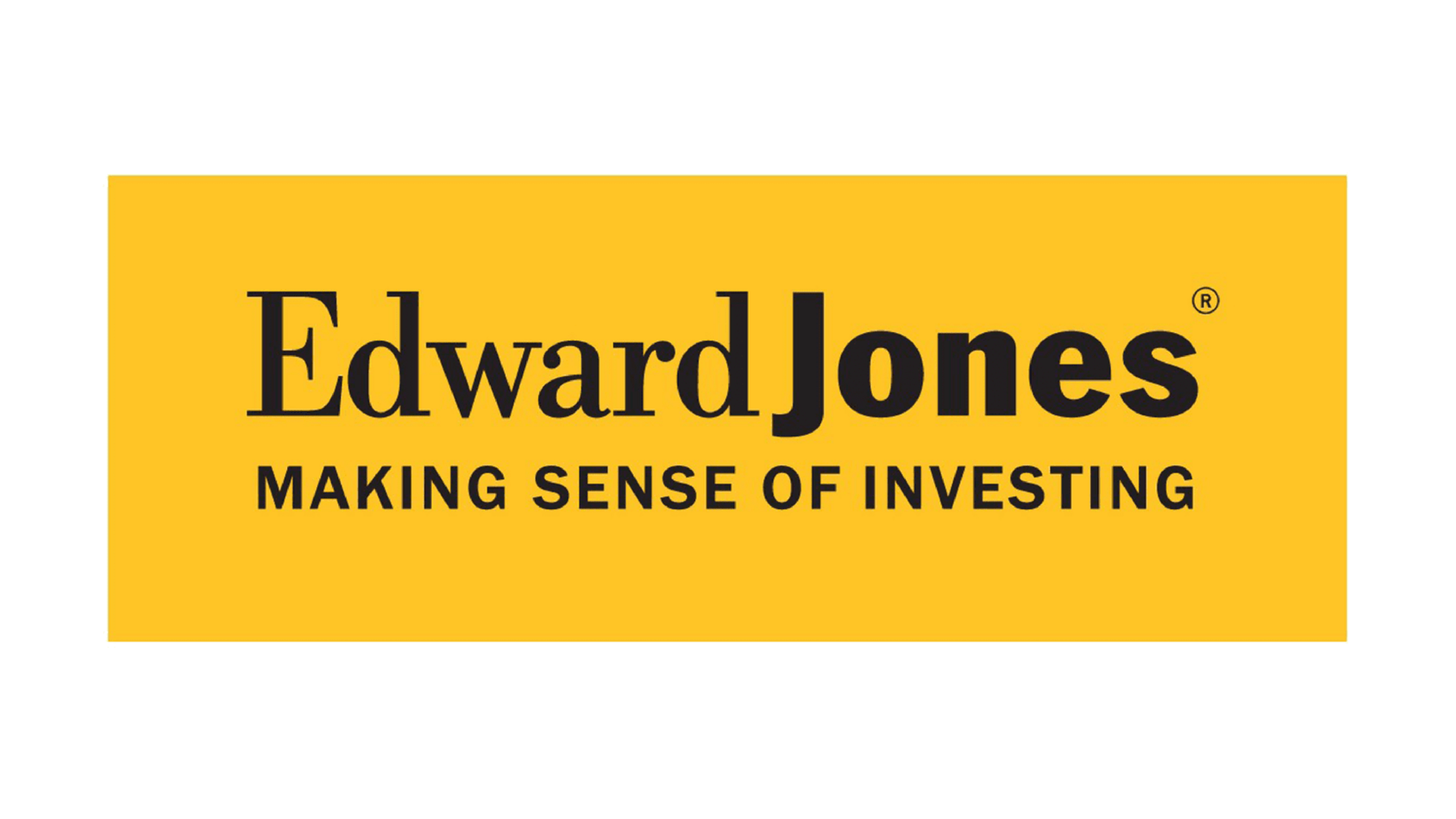 A fiduciary is a person with a legal or ethical relationship of trust who manages money for another person. Fiduciaries are required by law to manage money for their client's benefit, not their own.
All Edward Jones advisors are fiduciaries and are legally bound to act in their clients' best interests.
However, Edward Jones is not worth the fees. The services provided by Edward Jones are quite basic, and most individuals can achieve similar results with minimal research and a little bit of know-how.
So even though the answer to "is Edward Jones a fiduciary?" is yes, it's likely not the best option because of the fees.
Still, for people who want basic and completely hands-off financial advice, Edward Jones may be a good option.
Edward Jones Review:
What is Edward Jones?
Edward Jones is a financial services firm providing investment advice and guidance to individuals, families, and businesses.
Edward Jones offers a wide range of investment services including financial planning, retirement planning, and wealth management.
Here are some Edward Jones Investments Products: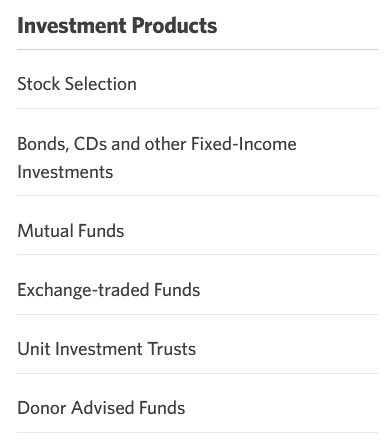 How Does Edward Jones Work?
Working with Edward Jones begins with an initial consultation between the client and a financial advisor. During this consultation, the advisor gathers information about the client's financial situation, goals, and risk tolerance.
Based on this information, the advisor chooses an investment plan from a list of pre-built portfolios. These portfolios were created and are managed by Edward Jones corporate, so every advisor in the country has the same list of portfolios available to him/her. This plan may include a mix of investments such as stocks, bonds, mutual funds, and exchange-traded funds (ETFs).
From there, Edward Jones advisors provide ongoing advice and guidance to help clients stay on track and make adjustments to their plans as needed.
In return for these financial services, Edward Jones charges fees.
Edward Jones Fees (Edward Jones Fees Comparison)
Edward Jones fees and pricing vary depending on the services provided and investments chosen. These Edward Jones fees include advisory fees, transaction fees, and/or account maintenance fees.
Many financial advisors charge a fee of at least 1% of assets under management, and Edward Jones is no exception. Their Flex and Fund Accounts each charge fees of 1.35%: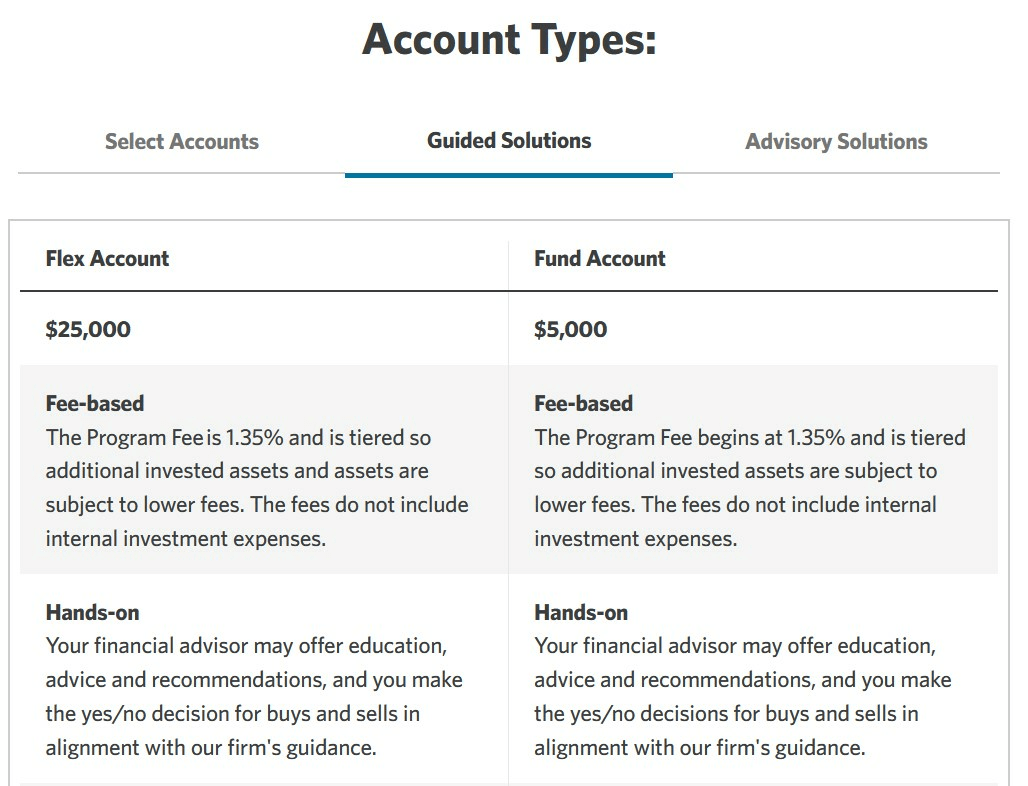 Edward Jones fees are tiered, so they decrease as your account grows in value. Still, a 1.35% fee is high, even compared to other financial advisory firms.
For a quick Edward Jones fees comparison, Charles Schwab charges a tiered fee of just 0.8% for Schwab Wealth Advisory (granted, the enrollment minimum is high at $1 million):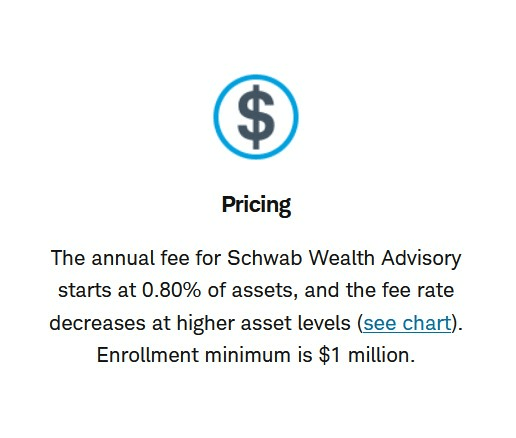 These fees are especially high considering most people can create similar portfolios with a little bit of research and a desire to learn more about investing.
The Problem with Edward Jones Fees
You might wonder why I'm making a big deal about a 1.35% fee. It seems like such a small number, after all.
But the same way compound interest can grow your wealth over time, small fees also compound, and can end up costing you big money.
Here's an example of what Edward Jones Fees really cost you:
Say you start off investing $50,000.
You make no additional contributions, and let your $50,000 grow for 20 years.
You earn an average annual return of 10% per year.
After 20 years, you will have paid $73,619 in fees.
If you hadn't paid any fees, your account would be worth $336,381
With a 1.35% fee, your account would be worth just $262,762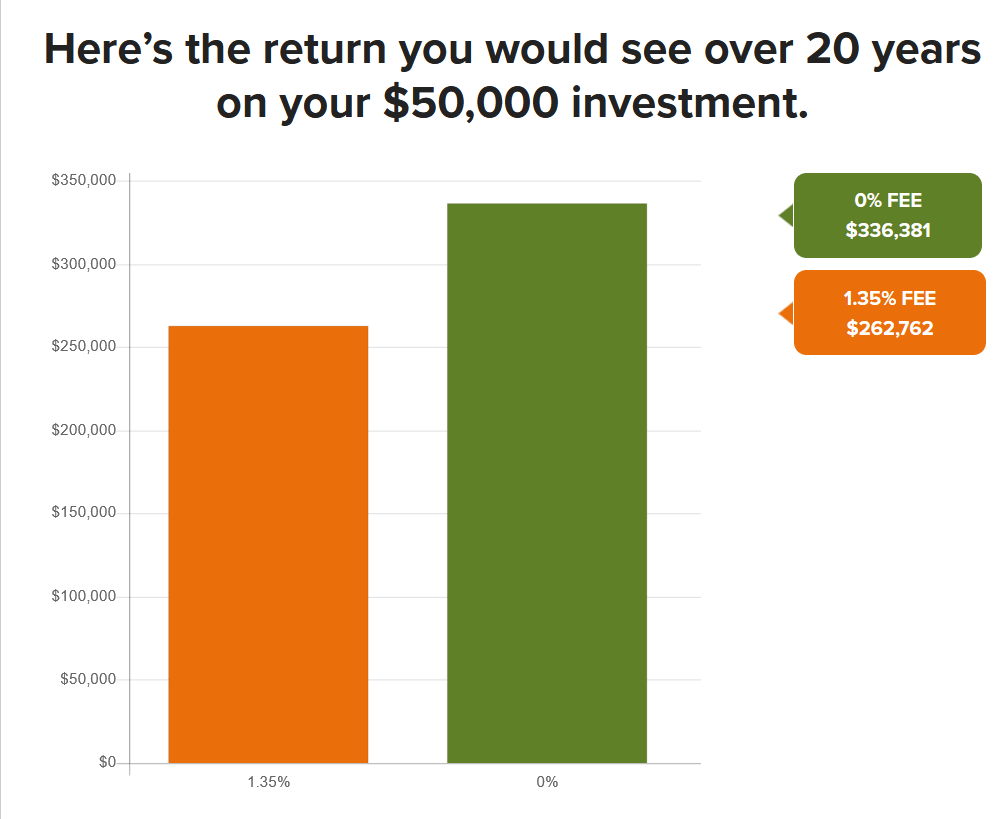 That 1.35% fee doesn't seem so small any more, does it?
That's why minimizing fees as an investor is critical to long-term success. It's also one of a few things you can control when investing.
Keep reading to learn about Edward Jones alternatives and what you can do to avoid these costly fees.
Edward Jones Pros & Cons
| | |
| --- | --- |
| Pros | Cons |
| One-on-one, personalized financial advice. | Higher fees than other investment firms. |
| A trusted firm with over a century long track record. | May recommend proprietary products like mutual funds or insurance, which can limit options and returns. |
| A range of investment options, including stocks, bonds, mutual funds, and ETFs. | Online tools may be more limited than other investment firms |
| Retirement accounts. | |
| Branch offices in many locations, making it convenient for clients to meet advisors in person. | |
| Mobile app allows clients to view account information, trade, and connect with their advisor from anywhere. | |
Who Should Use Edward Jones?
Edward Jones can still be a good fit for people who want a basic financial advisor and don't mind high fees for totally hands-off, personal money management.
However, with tools like robo-advisors and other self-directed investing options, there are plenty of lower fee alternatives for investors willing to put in just a little bit of effort. Below are some alternatives I recommend researching.
Edward Jones Alternatives
1. Do-It-Yourself (Self-Directed)
DIY, or self-directed investing can sound intimidating at first.
However, it's easier than people think, especially with free tools like Empower's retirement planner and investment calculator: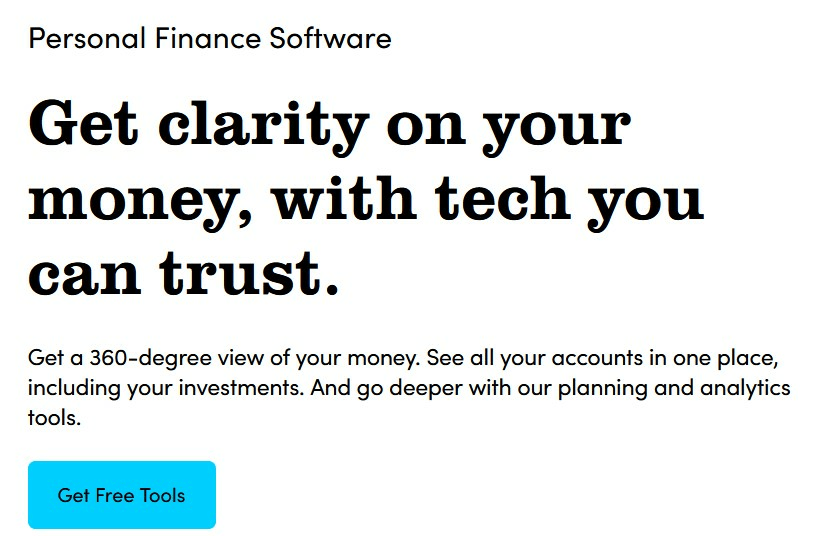 Many financial advisors, including Edward Jones, engage in what is called closet indexing. This is when advisors charge fees for actively managing investments, but end up allocating to or achieving very similar returns to the broader market benchmarks, such as the S&P 500.
This means that, although it sounds intimidating, you can achieve similar results to a high-fee advisor simply by purchasing a low-cost, broadly diversified ETF which tracks the S&P 500, such as $SPY or $VOO.
You can then use the financial planning tools at Empower to help decide how much to allocate to stocks vs bonds, track your net worth, and more.
2. Done-With-You (Robo-Advisor)
Robo-advisors like Betterment and Wealthsimple (for Canadians) have emerged as alternatives to traditional financial advisory firms like Edward Jones.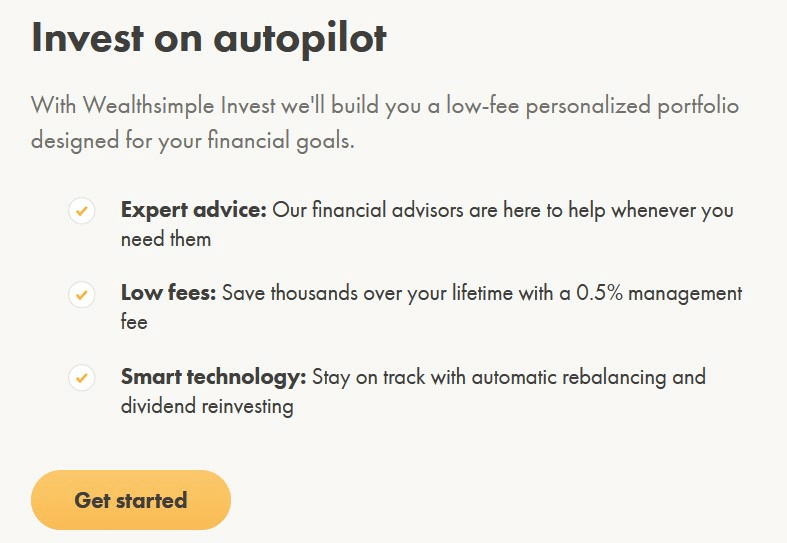 Robo-advisors use algorithms to create and manage investment portfolios for clients, offering an automated investing approach. This is essentially the same process Edward Jones uses, but robo-advisors charge far lower fees (0.25% or 0.40% at Betterment) than traditional advisors (1.35% at Edward Jones).
But the real power of robo-advisors is that once they're set up, the process is about as automated as investing can get. Once it's set up, all you have to do is set up automatic deposits from your bank each week or month and let the robo-advisor do the rest.
It is one of the easiest, most stress-free ways to invest in your future.
Plus, this hands-off strategy frees you to focus on what you're good at: earning money at your career.
This is one of the most underrated aspects of using a robo-advisor.
Instead of spending time manually investing or consulting advisors, your time is free to double down on your skills, job, or side hustles. This increases your income, which is one of the best ways to increase your wealth over time.
Consider: hedge funds and investors like Warren Buffett spend hours poring over financial statements to make a return of a few extra percentage points a year. Is your time best spent competing with these people in hopes of earning an extra percent or two in the stock market?
Putting that same time into your career could grow your income by 10-20% per year, if not more.
Or, if you'd rather just spend more time with your family, you can do that too.
Check out Betterment or Wealthsimple (for Canadians).
3. Done-For-You (Financial Advisor)
Some investors are committed to having a financial advisor. It makes sense – in return for a small fee you get the benefit of personalized advice.
Plus, if you're a high net-worth individual, a good financial advisor can more than pay for themselves in tax efficiencies and portfolio strategy.
However, you still want to be conscious of the fee you're paying. In my opinion, the 1.35% fee at Edward Jones is simply too high for the services they provide.
You can likely find financial advisors with fees of around 1% by shopping around in your local area. Plus, you can feel out different advisors to make sure they align with your goals.
Final Word: Is Edward Jones a Fiduciary?
Yes, Edward Jones is a fiduciary, but their services are not worth the high fees.
If you prefer the personal touch of a financial advisor, I recommend shopping around to find one with fees closer to 1%. As you saw above, lowering fees makes a huge difference to your returns over time.
Investors can achieve similar results with lower fee options, like self-directed investing into ETFs or index funds (with the help of Empower's free tools), or robo-advisors like Betterment and Wealthsimple (for Canadians).
That's a wrap on my Edward Jones review!
---
FAQs:
Does Edward Jones charge high fees?
Edward Jones charges a fee of 1.35% AUM for their Flex and Fund accounts, which is on the high end, even for financial advisors.
How does Edward Jones rank as a financial advisor?
Edward Jones ranks well as a popular and well-established financial advisor. Established in 1922, the company has been around for over 100 years.
Is Charles Schwab better than Edward Jones?
Whether Charles Schwab or Edward Jones is better will depend on your individual needs, but Charles Schwab generally offers lower fees and more investment options.
Which financial advisors are fiduciaries?
Most financial advisors are fiduciaries, including firms like Edward Jones and Charles Schwab Wealth Advisory. Financial advisors who are fiduciaries are legally obligated to act in their clients' best interests.
Where to Invest $1,000 Right Now?
Did you know that stocks rated as "Buy" by the Top Analysts in WallStreetZen's database beat the S&P500 by 98.4% last year?
Our March report reveals the 3 "Strong Buy" stocks that market-beating analysts predict will outperform over the next year.