Our editorial team uses a strict editorial review process to compile all reviews, research, and evaluations of any kind. Our company, WallStreetZen Limited, is supported by our user community and may receive a small commission when purchases are made through partner links. Commissions do not affect the opinions or evaluations of our editorial team.
Trying to choose between Seeking Alpha Premium and Alpha Picks?
Why decide? Get both for an amazing price.
Unlock the ultimate experience:
Get Premium AND Alpha Picks for just $249 with this coupon. (The regular price is $438 — that's more than 40% savings) 
You'll gain access to deep market insights, actionable data and two top stock picks every month sent directly to your inbox.
Since its launch in 2004, Seeking Alpha has become one of the most popular stock research websites in the world with more than 20 million visits per month.
These visitors are after one thing: High-quality investment research.
And that's exactly what they get.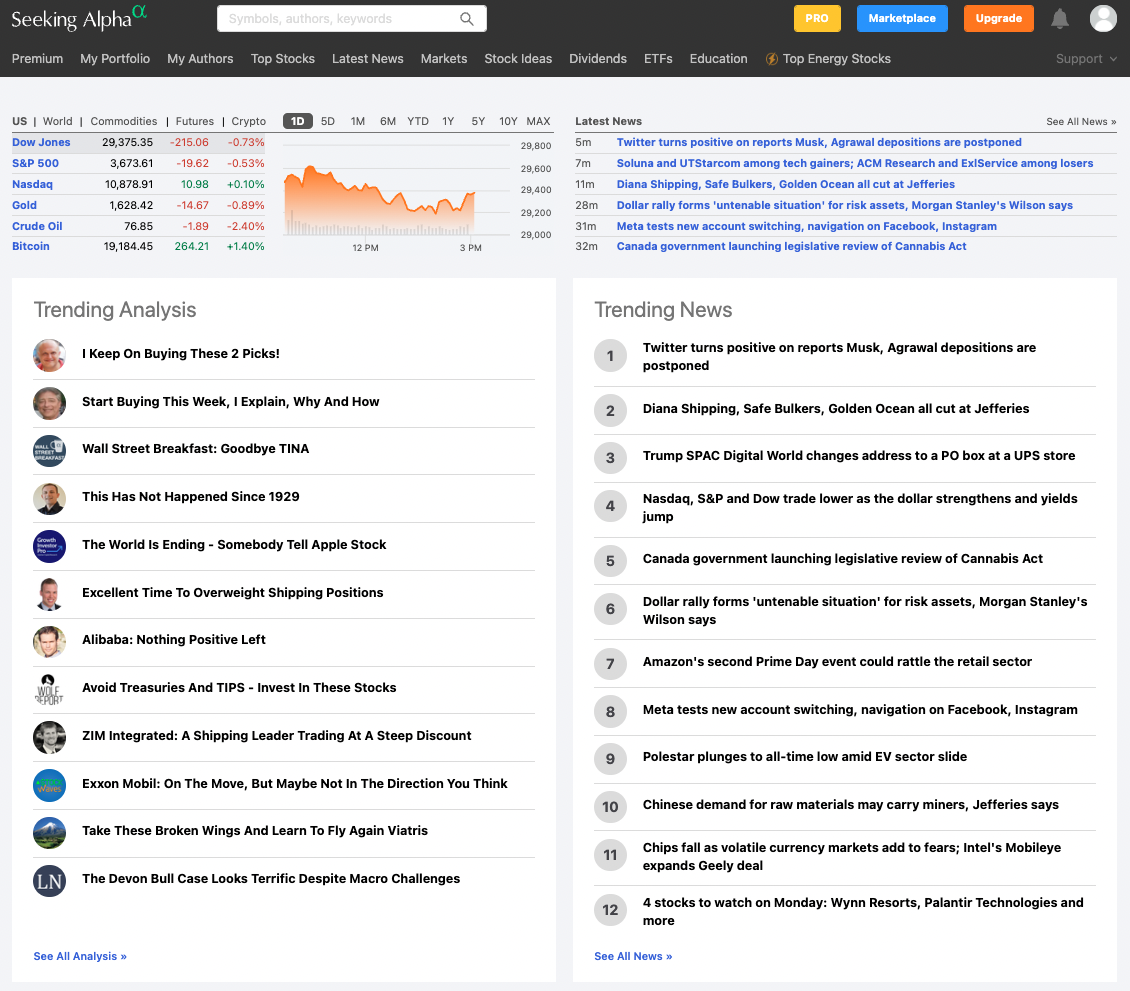 Seeking Alpha's service is fueled by more than 7,000 contributors who produce more than 10,000 articles per month. Each article contains unique insight and analysis into individual investment opportunities.
So the question is: Is Seeking Alpha Premium worth it? Will you get more value out of these articles than you're paying to access them?
First, I'm going to answer that question and score Seeking Alpha Premium based on Accessibility, Quality of Research/Analysis, and Price.
Then I'll dive into a more in-depth Seeking Alpha Premium review and some of my favorite features.
For context, I'm a long-time user and work at a competitor of Seeking Alpha – I know the product well, and my opinion of it may surprise you.
Considering Seeking Alpha Premium?
As of September 20, 2023, Seeking Alpha is offering our readers an exclusive 14-day free trial.
Is Seeking Alpha Premium Worth It in ?
The Bottom Line: If you're interested in hand-picking individual stocks, Seeking Alpha Premium is absolutely worth the money. Our editorial team gives Seeking Alpha a rating of 4.5 out of 5 stars, and Trustpilot rates it 4.4/5 based on 70+ reviews.
A subscription to Seeking Alpha Premium unlocks thousands of research reports on nearly every stock you may be interested in, making it a unique and invaluable research tool. It also made our list of the best Bloomberg Terminal alternatives.
Accessibility: 4/5
Quality of Research/Analysis: 4.5/5
Price: 4.5/5 (Seeking Alpha Premium costs $239/month when billed annually, but you can try it for Free for 14 days with the link below)
What is Seeking Alpha? (Seeking Alpha Review in )
Seeking Alpha is a crowdsourcing investment website that sources stock analysis and research through a consortium of contributors. Premium users get instant access to diverse opinions on all their favorite stocks, shared by a variety of knowledgeable investors.
Much of the content on the site is available for free, though users will quickly bump into a paywall after a number of article views.
For unlimited access to content, proprietary rating systems, and stock screening tools, you will need to sign up for one of the company's subscription services: Seeking Alpha Premium or Seeking Alpha PRO.
In my opinion, Seeking Alpha Premium (cost: $239/year) is a much better value than Seeking Alpha PRO (cost: $199.99/month).
Considering an upgrade to Seeking Alpha Premium?
As of September 2023, Seeking Alpha is offering our readers an exclusive 14-day Free trial.
Key Features of Seeking Alpha Premium
I've broken down the key features of Seeking Alpha Premium into 3 main categories: Investment Research, Portfolio Monitoring, and Other.
1. Investment Research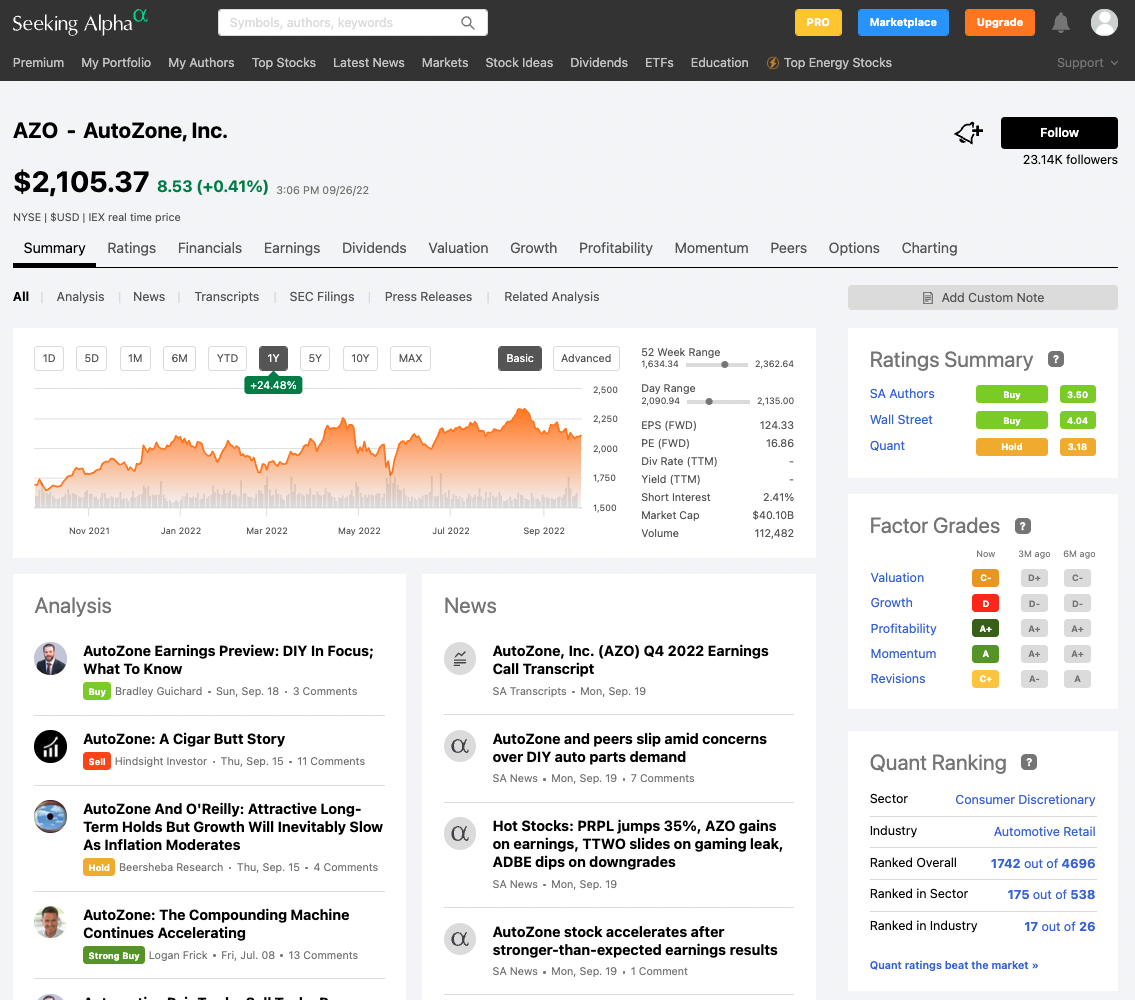 Investment Ideas
The vast majority of the more than 10,000 monthly articles are labeled as investment ideas which fall into one of many categories, such as:
Long Ideas – Stocks that the authors believe will increase in value long term.
Editor's Picks – Hand-selected articles based on in-depth research, the author's track record, and other factors.
Stock Ideas by Sector – Quickly scan through any sector of the market for potential investments.
IPO Analysis – IPOs are among the most difficult assets to accurately price, making these articles especially valuable.
Fund Letters – A curated list of letters from professionally managed funds outlining the investing landscape.
Quick Picks – Stocks based on a specific investment theme or fundamental data.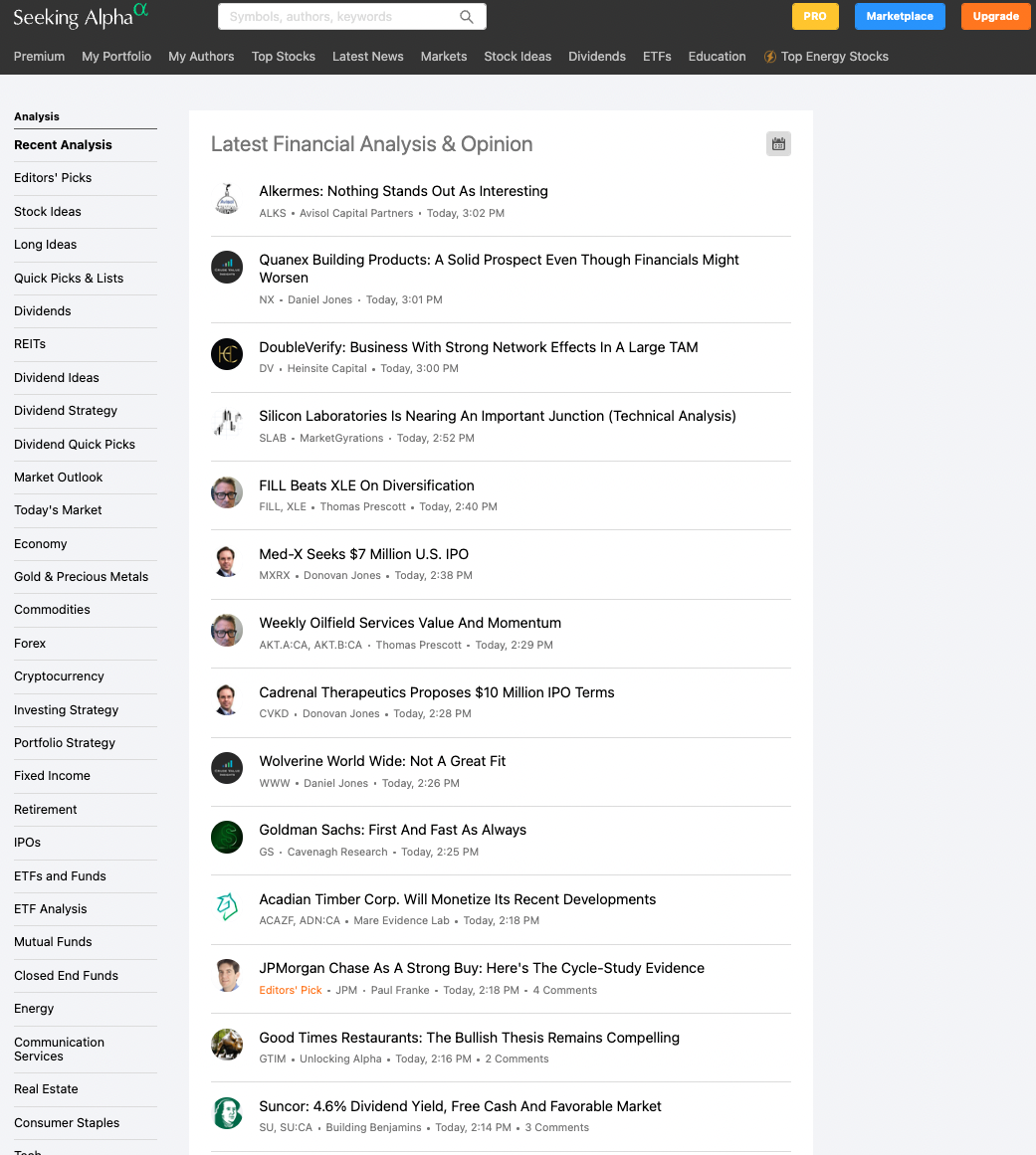 Beyond the search function, Premium members can also customize their news dashboards to display articles on stocks and specific investment strategies they're interested in first. This allows you to find the most relevant information in the sea of content on Seeking Alpha.
It's worth noting, Seeking Alpha's content should not be considered personal financial advice and is meant to be used as a way to supplement your own research.
Article Sidebars
Is Seeking Alpha reliable?
If you're going to be making investment decisions based on what you read online, it's important to check the validity of the research and ensure the source is worth reading.
The Article Sidebar makes this simple to do at-a-glance, allowing you to quickly understand the investment details and view the author's sentiment on the particular stock.
The Sidebar includes the author's stock rating (bullish, neutral, or bearish), the stock price chart, and ratings from proprietary scoring models (read about how to use stock analyst ratings).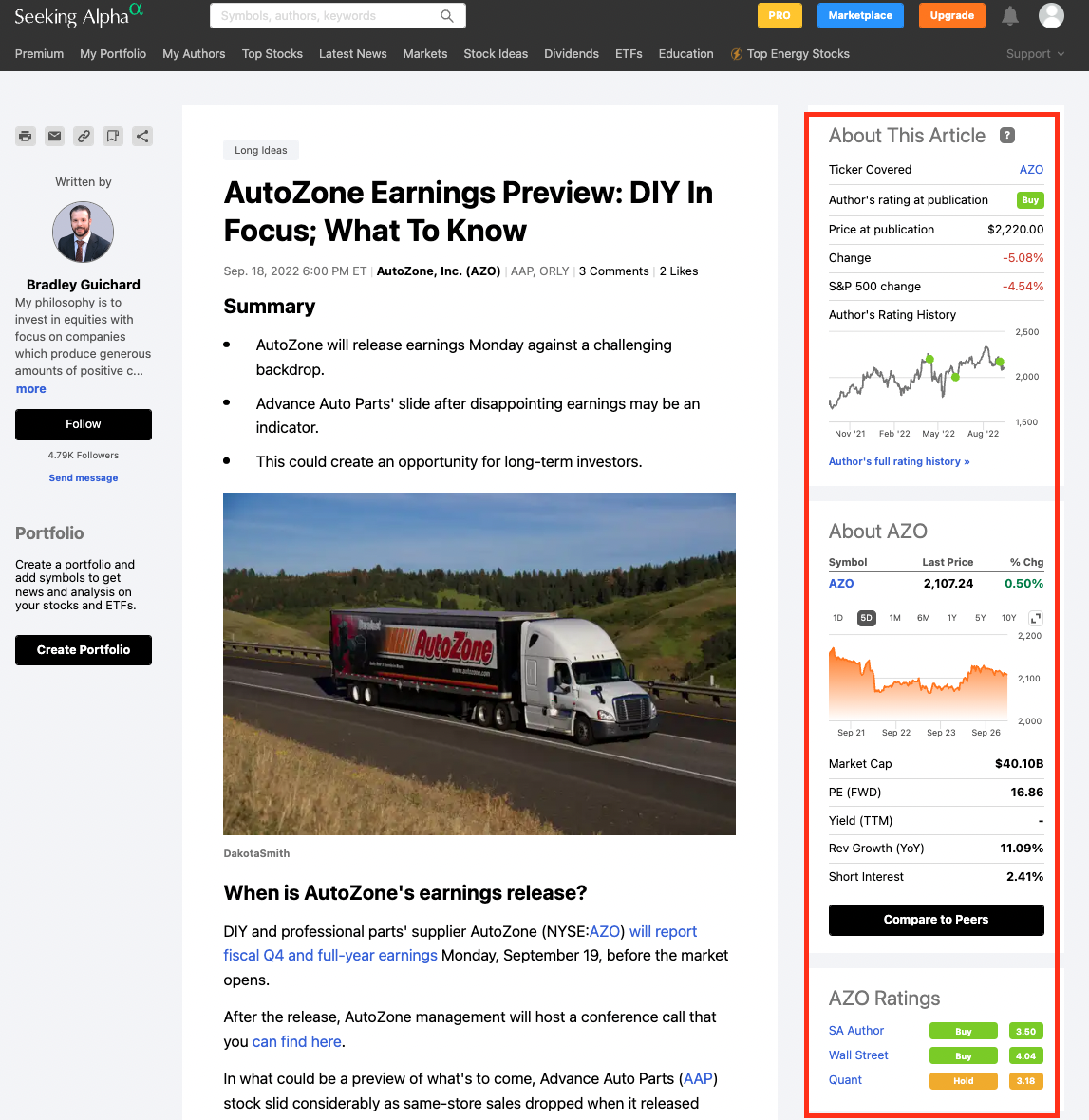 Author Ratings
Premium members can see the long-term track record of the contributors submitting the investment ideas. In addition, you can see each contributor's favorite stocks.
By doing so, Seeking Alpha makes it easy to follow the recommendations from proven performers who are putting their own money into their ideas.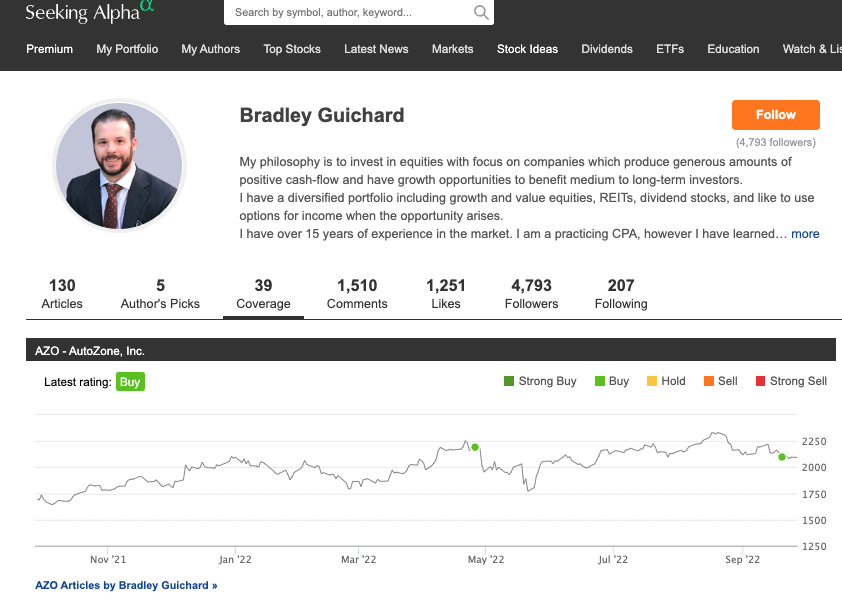 Quant Ratings
Seeking Alpha's Quant Ratings system is a proprietary methodology for grading stocks from "Strong Buy" to "Strong Sell".
Its Quant Ratings have performed exceptionally well:

The algorithmic ratings are derived from 5 components: value, growth, profitability, EPS revisions, and momentum.
Factor Scorecards
In addition to its Quant Ratings, Seeking Alpha provides Factor Scorecards which measure stocks fundamentals. The scorecard ratings range from "A+" to "F".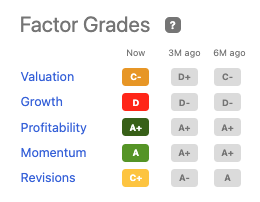 If you're looking for dividend income, the Dividend Stock Scorecard can help you avoid stocks with unsustainable yields.
Earnings Call Transcripts & Recordings
Every quarter, companies are required to provide updated financial information. Seeking Alpha collects these transcripts, presentations, and records the calls so you can stay abreast of your investments' latest financial positions.
Earnings Estimates & Surprises
For Premium members, the site offers analysts forecasts and earnings surprises visually so you can see to what extent the company beat or missed earnings expectations in recent quarters.

Stock Screener
Like many platforms, Seeking Alpha has its own Stock Screeners. What makes this one unique is the availability of including its proprietary ratings systems and author analysis into your criteria.
If you're into stock screeners, check out my Finviz Elite Review.
2. Portfolio Monitoring
Sync Brokerage Accounts
Members are able to connect their investment portfolios and monitor their holdings through the platform. When you attach your portfolio, you can receive alerts when news and articles are published around the tickers you're invested in.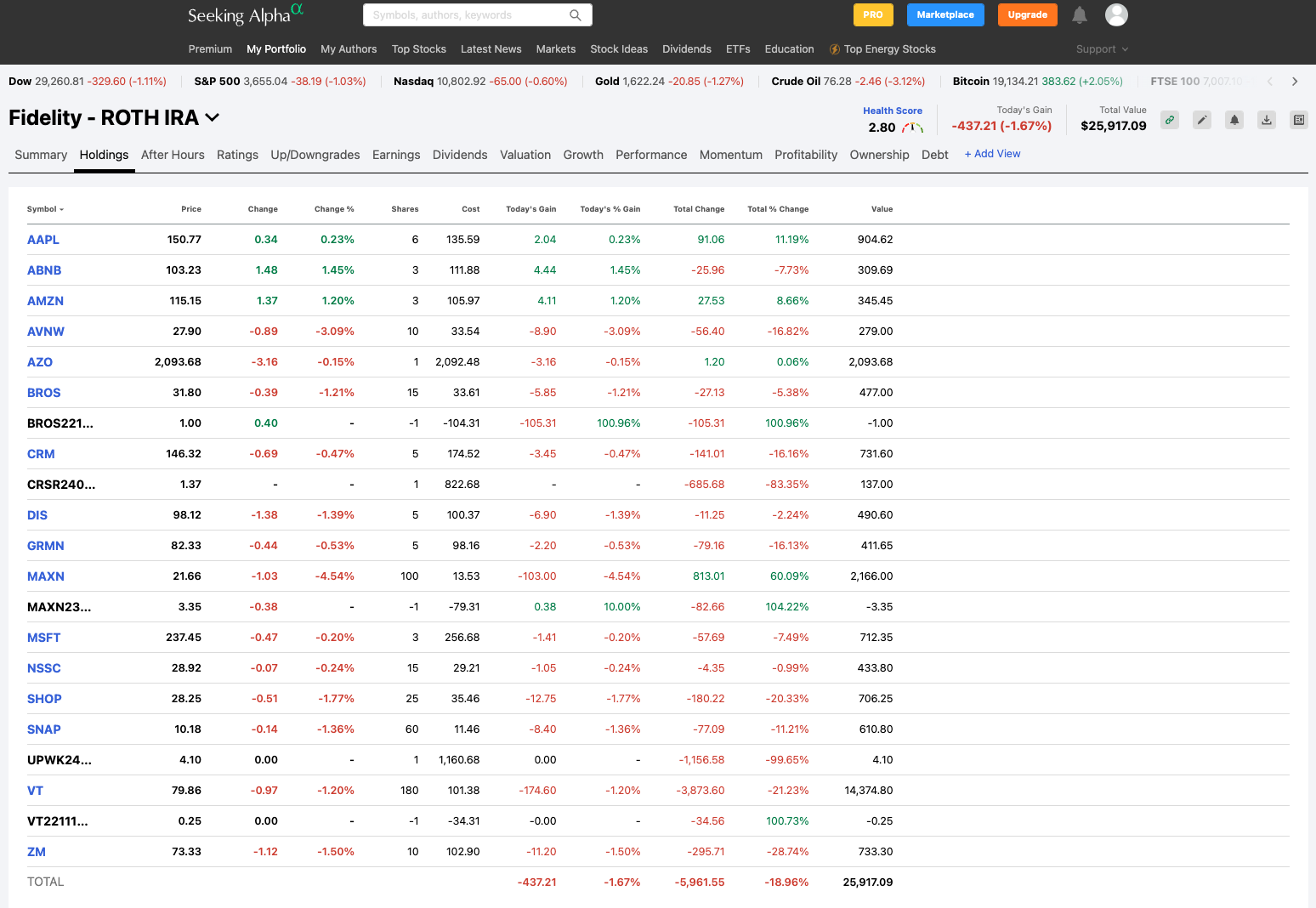 Personalized Alerts
You can receive breaking news and upgrade and downgrade alerts on your portfolio holdings.
While these email alerts are available to all Seeking Alpha subscribers (including the Free tier), Premium members get a complete view of the data in the email they receive, while Free members must head to the website itself.
News Dashboard
Read market headlines, articles on specific sectors and investment strategies, and ticker-specific news all in a completely customizable dashboard.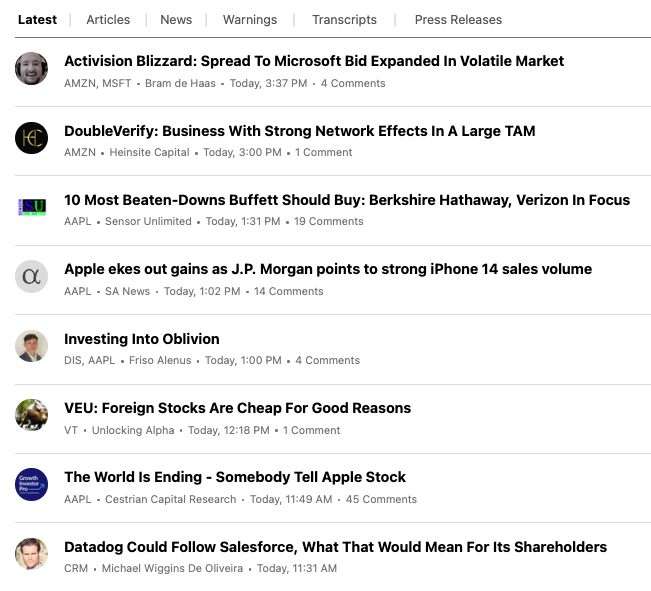 Earnings Calendar
View an earnings calendar that lists upcoming calls and reports from stocks in your portfolio, and see EPS revisions as the market adjusts to the latest company news.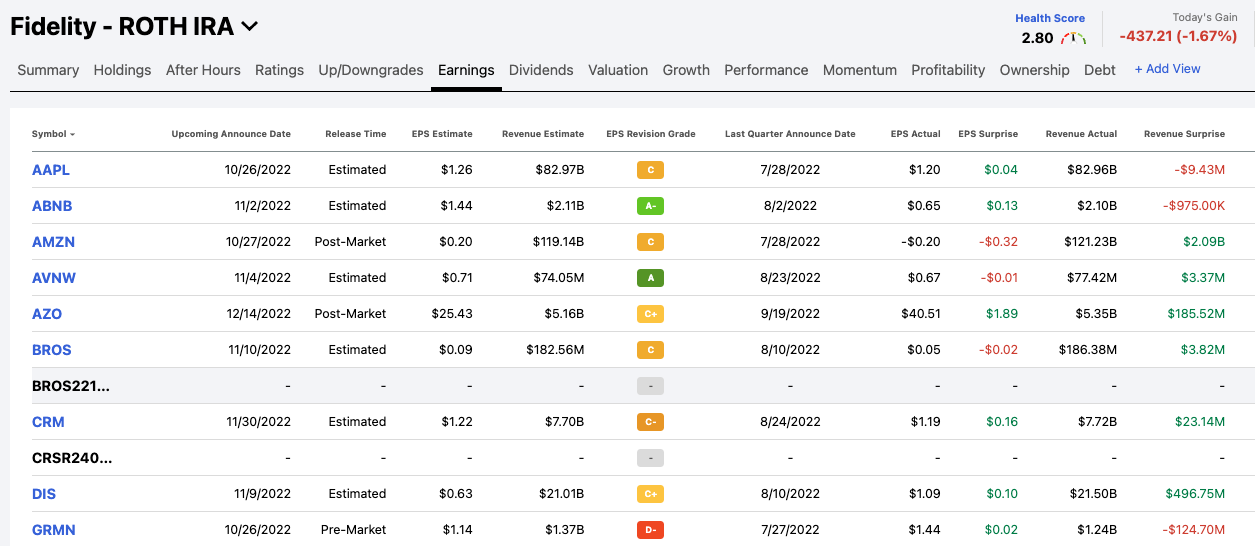 Portfolio Monitoring via Valuation Metrics
In addition to tracking your investments by price, you can view your positions by specific valuation rations, fundamentals, and author ratings metrics.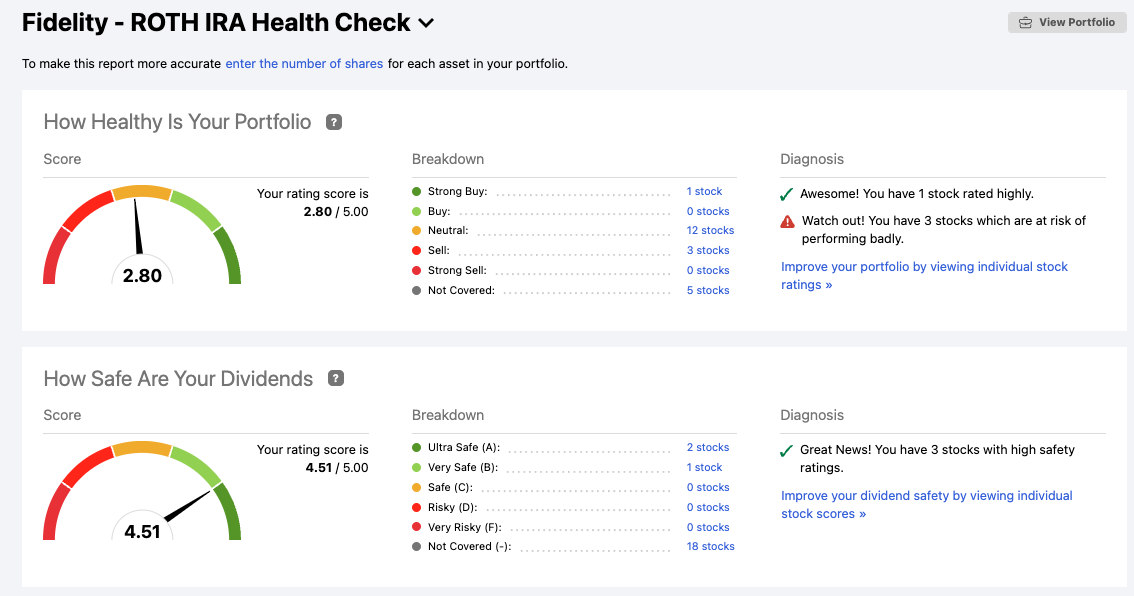 Seeking Alpha is also on our list of the best stock tracking apps and is my favorite option for intermediate to advanced investors.
3. Other Seeking Alpha Features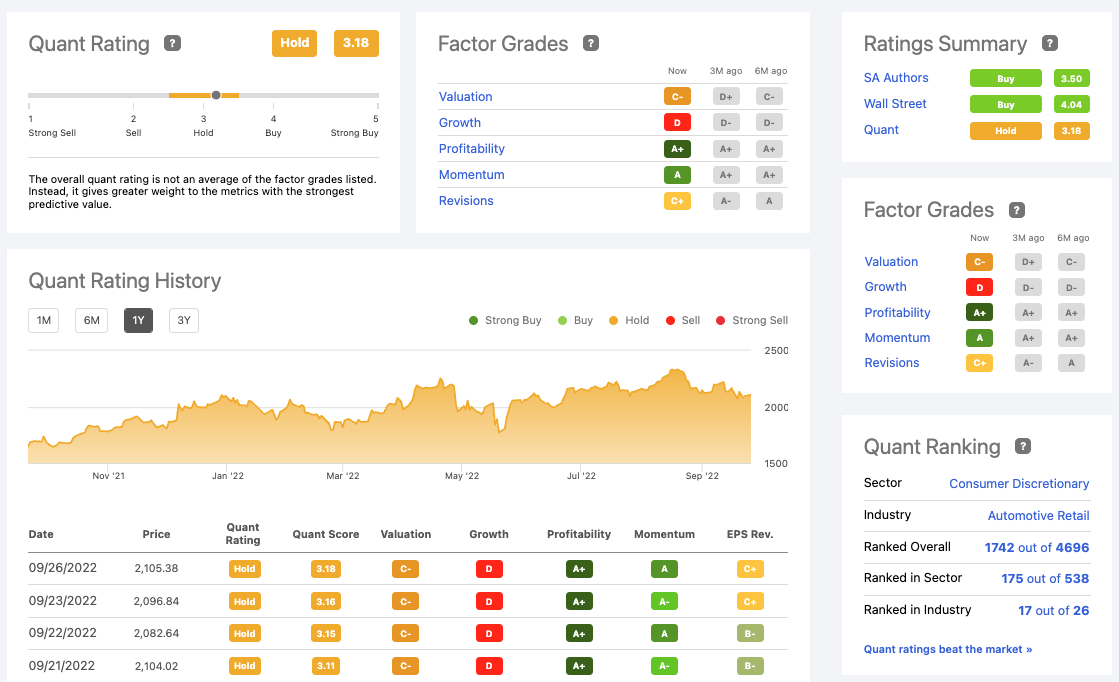 Stock Ideas
The Stock Ideas feed shows the articles that people are reading the most and collects articles by investing themes, allowing you to easily find content relevant to your interests.
Podcasts
Seeking Alpha hosts 8 different investing podcasts, ranging from daily market news to specific investing strategies.
Daily Newsletters
You can receive up to 15 free newsletters covering different themes, allowing you to quickly find links to articles you may be interested in.
Marketplace
In addition to their free articles, many Seeking Alpha contributors offer subscription services in the form of investing newsletters. This content will give you access to model portfolios that you won't get anywhere else.
Investing Strategy
The Investing Strategy section features educational articles which can help shape your overall portfolio make-up and strategy.
My Opinion
As I mentioned above, I'm a long-time user of Seeking Alpha and also work at WallStreetZen, a direct competitor of Seeking Alpha (though our products are not all that similar).
Despite being our competitor, I pay (personally) for my own Seeking Alpha Premium account – I'm not sure there's anything more I can say to indicate how highly I view the service.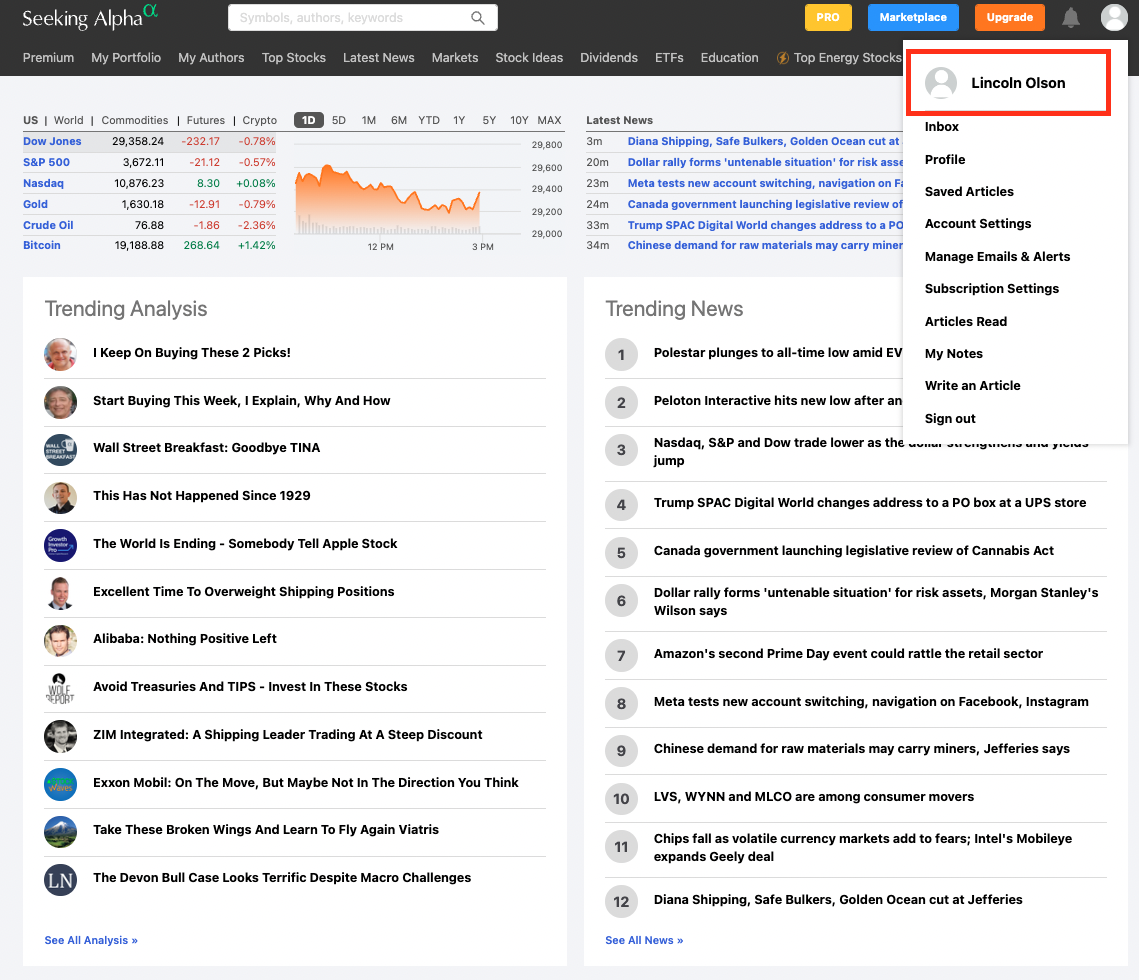 While I use WallStreetZen for tracking analyst upgrades and all of my objective, fundamental analysis and portfolio tracking needs, Seeking Alpha's massive library of subjective Analysis makes the $240/year I pay well worth it (yes, I pay full price, which you don't have to if you use the links in this article to sign up).
I like to use Seeking Alpha's contributors' analyses to spot-check my own due diligence and to uncover whether I'm missing any key details.
Personally, I don't see Seeking Alpha as a competitor – I see it as a supplementary service. Between WallStreetZen and Seeking Alpha, my research and portfolio tracking needs are 100% covered as a long-term, fundamentally-oriented, buy-and-hold investor.
I can't recommend this dual-pronged approach enough.
If you're interested in WallStreetZen Premium, unlock your trial here. All of the Seeking Alpha Premium links in this article include a 14-day trial period.
Final Word
As you can tell, there are A LOT of features on Seeking Alpha Premium.
By far the most valuable piece of upgrading is getting unlimited access to the thousands of investment ideas posted each month. If you don't want these reports, Premium is likely not for you.
You should pay for Seeking Alpha Premium if you're a fundamental investor who buys individual stocks and wants access to high-quality, thorough investment research from a variety of contributors to help you outperform the market.
For active investors, Seeking Alpha Premium is a very prudent (and profitable) investment in .
If you want a similar service but prefer to invest in mutual funds, Morningstar Premium is probably a better fit.
If you prefer a more passive approach to investing and want to take a hands-off approach, I would recommend a robo-advisor like Betterment.
And if you're looking for a service that provides a couple stock picks each month with home-run potential, I always recommend Motley Fool Stock Advisor.
If you're looking to perform your own fundamental analysis and want to stay abreast of the latest stock ratings from the top 1% Wall Street analysts, check out WallStreetZen.
---
FAQs:
Is Seeking Alpha worth it?
Yes, Seeking Alpha is worth it, especially for active, fundamental investors.
There is a plethora of research on nearly every publicly-traded stock in the world. At $239 a year, the analysis provided by Seeking Alpha can save you time and could increase your returns.
How much can you make from Seeking Alpha?
For investors, since you're buying individual stocks, it's hard to say exactly how much you'll make from Seeking Alpha - it's basically impossible to split-test results from someone using Seeking Alpha vs. if they weren't using Seeking Alpha. However, there's a good chance of it increasing your returns.
For contributors, Seeking Alpha pays $10 per 1,000 page views. If you're interested in earning money from your stock analysis on Seeking Alpha, this is just the tip of the iceberg.
Is Seeking Alpha no longer free?
Seeking Alpha is free, but only up to a few page visits per month.
If you find the analysis helpful, you'll quickly bump into a paywall and need to upgrade to Premium to unlock unlimited access to the site. Seeking Alpha Premium costs $239/year.
Where to Invest $1,000 Right Now?
Did you know that stocks rated as "Buy" by the Top Analysts in WallStreetZen's database beat the S&P500 by 98.4% last year?
Our September report reveals the 3 "Strong Buy" stocks that market-beating analysts predict will outperform over the next year.