Our editorial team uses a strict editorial review process to compile all reviews, research, and evaluations of any kind. Our company, WallStreetZen Limited, is supported by our user community and may receive a small commission when purchases are made through partner links. Commissions do not affect the opinions or evaluations of our editorial team.
Researching stocks can be exhausting.
If you're a fundamental investor, there's a lot that goes into your analysis.
And after all that work you never know for sure if your research will prove to be profitable.
Investing is a long-term game, one that can play out over 5-10 years or longer. If you're earning below average returns for that long you may never catch up to your peers who just simply bought index funds.
Fortunately, The Motley Fool makes it easy for you to benefit from the research its teams of professional financial analysts are working on everyday.
In this Motley Fool Stock Advisor review, I'll answer the question "Is a Motley Fool subscription worth it?"
Spoiler alert: It is.
What is The Motley Fool?
Founded in 1993 by brothers Tom and David Gardner, The Motley Fool helps millions of people attain financial freedom through its website, podcasts, books, newspaper column, radio show, and premium investing services.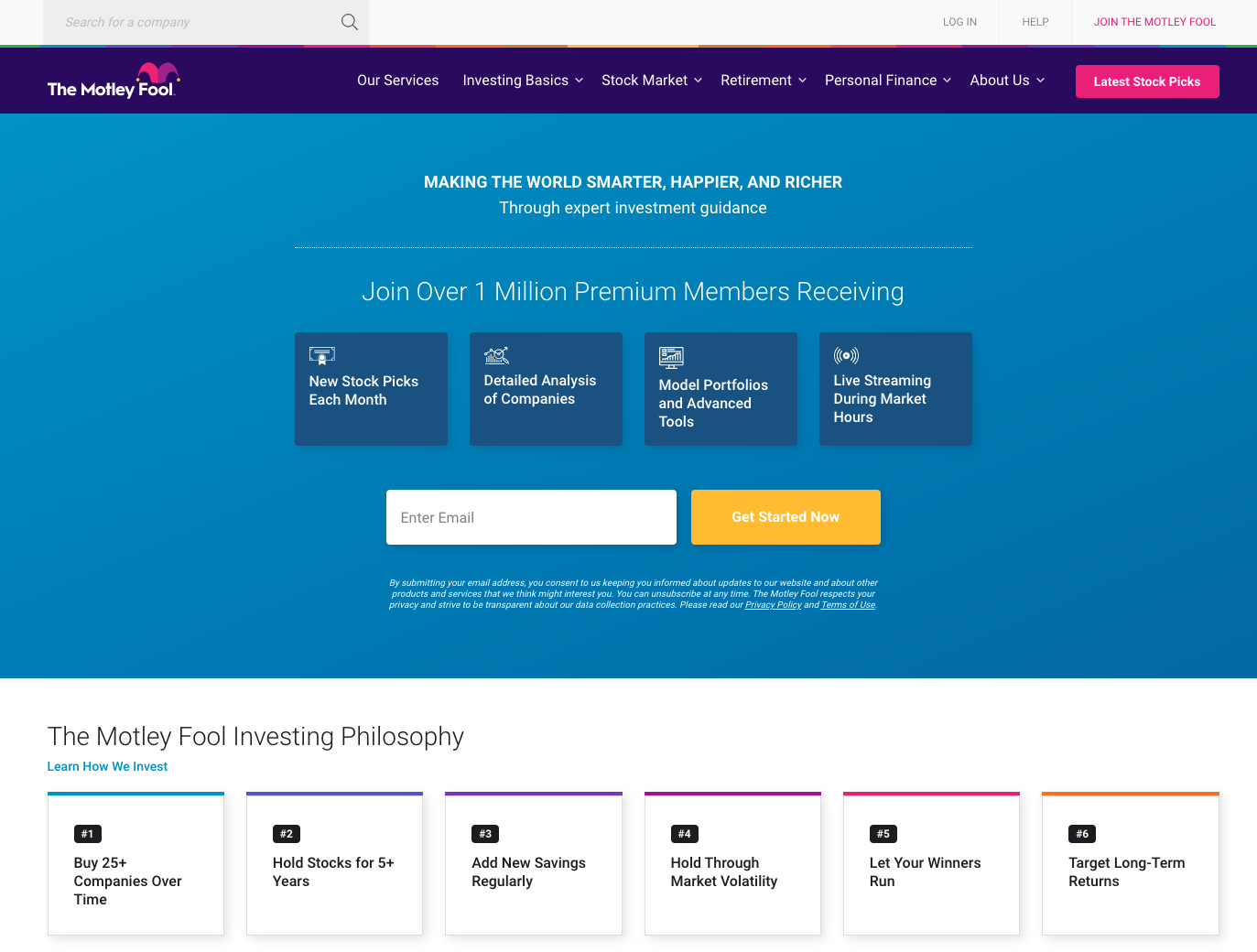 The Motley Fool is not a brokerage account. Rather, it has 2 primary investing services: Stock Advisor and Rule Breakers.
I'll be reviewing Stock Advisor, its flagship membership product, in this article, but if you're interested in its counterpart here's my Motley Fool Rule Breakers review.
As with my other premium-service review articles, I'll score its Accessibility, Quality of Research/Analysis, and Price, then cover its key features in my review of Motley Fool Stock Advisor.
Is Motley Fool Stock Advisor Worth It in ?
The Bottom Line: Stock Advisor is well worth the money. If you're looking for a stock-picking service with an exceptional track record and can stomach the volatility of growth stocks, Stock Advisor is almost a no-brainer.
Accessibility: 4.5/5
Quality of Research/Analysis: 4.5/5 (who can argue with those returns?)
Price: 4.5/5 (with the link below, get 1 year of Stock Advisor for $89 after which your subscription will renew at the regular price of $199)
There's also a 30-day money-back guarantee.
Key Features of Stock Advisor
Motley Fool Stock Advisor is The Motley Fool's flagship product. It is an investment newsletter which delivers 2 stock picks each month to its members (and ranks #2 on my list of the best investment newsletters and best stock advisor websites).
With a subscription you'll gain access to the service's stock recommendations and other resources. Let's jump into the main features of a membership to Stock Advisor.
Performance
We've all seen The Motley Fool's ads covering its fantastic returns like this one: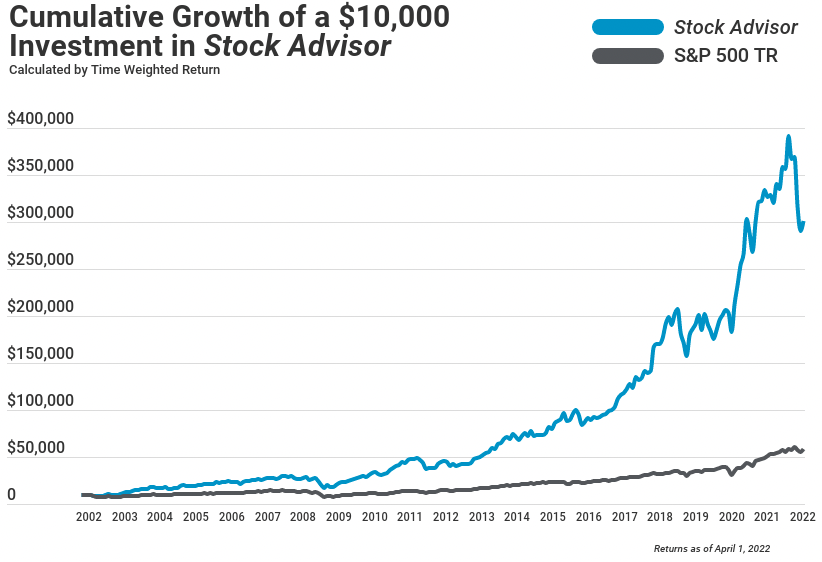 Whatever the strategy for finding stocks set to vastly outperform the market, it's safe to say it works.
At the end of the day what you're paying for is stock picks, and Stock Advisor stocks have easily beaten the S&P 500 over time.
How much money would you pay to have your investment account look like the chart above? $89? Or WAY more?
Yeah, me too.
Investing Philosophy
Before diving into the stock picks you'll be getting with this service it's important to cover The Motley Fool Investing Philosophy. If you can't stick to these 6 rules then you may want to pass on this service.

Buy 25+ companies over time (in an equal-weighted portfolio)
Hold stocks for 5+ years
Add new savings regularly
Hold through market volatility
Let winners run
Target long-term returns
Members who stick to these principles and give the stock picks the time they need to pay off have been handsomely rewarded.
Stock Picks
Stock Advisor will provide you with 2 stock picks each month with a detailed report on each of those picks.
These reports are the distilled version of the investment team's analysis on the stock recommendation. If you're looking to enhance your investment acumen and want to learn what to look for when identifying potential investments, this analysis is invaluable and can help you make smarter decisions with your money.
The performance of these monthly stock picks is pretty impressive: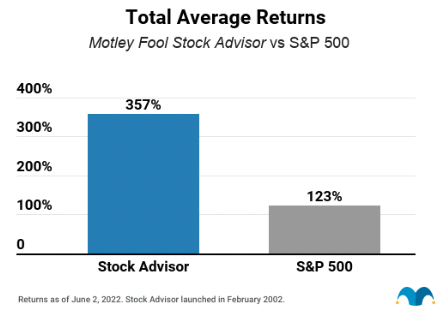 The Motley Fool team has an eye for spotting stocks that are poised to double, triple, or more. Buying into just a few of these huge winners throughout your investing lifetime can exponentially increase your portfolio value.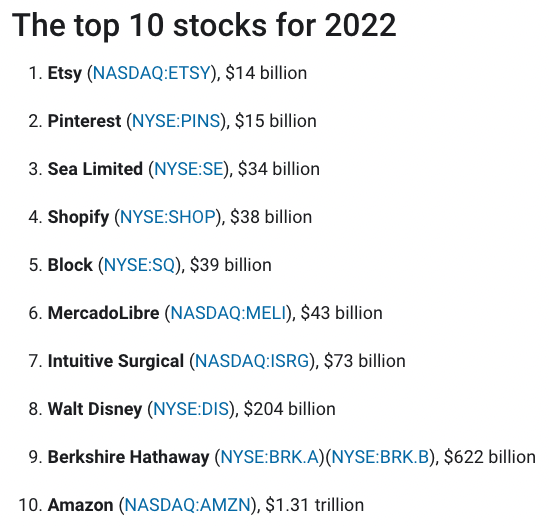 While a major component of the investing philosophy is to let winners run, they will send you an alert if they ever think it's time to sell a stock.
Worth noting: The Motley Fool doesn't try to time the market – the investing philosophy is to buy-and-hold through ups-and-downs in the market.
And if some of their previous recommendations are beaten down to prices where they once again look attractive, the Stock Advisor team has no problem re-recommending previous stock picks. The best stock to buy may be one you already own (How do you know what stocks to buy?).
Beyond the monthly stock recommendations, you'll also get access to:
Best Buys Now – 10 timely buys chosen from more than 300 stocks
Starter Stocks – stock recommendations for new and experienced investors to add to their portfolios
All Previous Picks – See the complete list of previous Stock Advisor recommendations and their performance data
Other
Beyond the newsletter and actual stock recommendations, a Stock Advisor subscription also gives you access to:
Community Support
This is a place for investors just like you (and some with much more experience) to talk stock ideas and ask questions.
Bonus Reports
Occasionally, the Stock Advisor team releases bonus content with additional analysis on stock recommendations, macro trends, or investing education. It's a great value-add that doesn't cost you any extra money.
My Opinion
Here's the bottom line of this review: If I wasn't a total stock nerd, Stock Advisor would be the one subscription I bought and used forever.
The returns speak for themselves, and the fact that I could be a total newbie (and never have to learn a thing if I didn't want to) and have exposure to those long-term returns would make the service an easy decision. Plus, the rates are reasonable — you get a lot for your money.
That said, I would want to round out a decent portion of my portfolio with a U.S.-focused ETF for easy diversification and peace of mind (my 2 recommendations are the S&P 500, ticker: SPY, or the Total Domestic Market, ticker: VTI).
Final Word
The 6 principles of The Motley Fool's investing philosophy is a good yardstick for measuring if you will benefit from this newsletter service.

If you're able to stomach the volatility of the growth stocks in an equal-weighted portfolio for more than 5 years, there's an excellent chance your investment in a Stock Advisor subscription will cost a mere fraction of the value you receive.
You've seen the performance figures – this is a service that specializes in picking home-run stocks.
Plus, there's a 30-day money-back guarantee.
What's the risk of giving Stock Advisor a chance?
You should pay for Stock Advisor if you're a long-term investor who wants regular stock picks and can follow The Motley Fool's investing philosophy.
My only complaint is the email marketing is a bit annoying – but you can simply unsubscribe to the marketing emails like I did.
---
FAQs:
How much does Motley Fool cost?
A Motley Fool subscription to Stock Advisor costs $89 with the introductory offer above.
After your first year, your subscription will renew at the ordinary price of $199/year.
Other features and services can be purchased for additional fees.
Is Motley Fool legit?
Yes, The Motley Fool is a premier stock-picking-service provider with almost 30 years worth of data showing its outperformance (though past performance is no guarantee of future results).
In my opinion, the Stock Advisor service is the product with by far the best value.
What is Motley Fool Track record?
Created by brothers David and Tom Gardner as a resource to help people attain financial freedom, The Motley Fool has vastly outperformed the S&P 500 since its founding in 1993.
Is the Motley Fool worth it? Is Motley Fool worth it? Is Motley Fool subscription worth it?
Yes, if you can follow The Motley Fool's investing philosophy, a subscription to Motley Fool Stock Advisor is almost certainly worth the investment. For a relatively small amount of money, you get access to stock picks, reports, and a robust trading community.
Does the Motley Fool tell you when to sell?
Yes, in the rare instance the Motley Fool Stock Advisor team believes you should sell a previous recommendation, they will issue a Sell alert.
Read more: Here's a comparison I wrote on some of the most popular premium stock subscriptions, Motley Fool vs Zacks vs Morningstar vs Seeking Alpha.
Where to Invest $1,000 Right Now?
Did you know that stocks rated as "Buy" by the Top Analysts in WallStreetZen's database beat the S&P500 by 98.4% last year?
Our December report reveals the 3 "Strong Buy" stocks that market-beating analysts predict will outperform over the next year.