Our editorial team uses a strict editorial review process to compile all reviews, research, and evaluations of any kind. Our company, WallStreetZen Limited, is supported by our user community and may receive a small commission when purchases are made through partner links. Commissions do not affect the opinions or evaluations of our editorial team.
There is a waitlist to join Masterworks.
You can skip the waitlist by using any of our links in this article to sign up.
Picasso. Banksy. Warhol.
If you've ever dreamed of investing in some of the most famous paintings in the world, you're not alone.
But investing in fine art is a multi-millionaire's game, isn't it? There's no way for investors like you and I to break into the $1.7 trillion market, right?
Wrong.
Masterworks has developed a way for average investors to invest in high-end art for a fraction of the total cost. Members can invest in shares of famous paintings and see returns if the artwork sells for a profit.
But is this platform too good to be true? Is Masterworks legit?
In this Masterworks art investing review, we dig into the details of the platform, how it all works, how much you need to invest in a piece of art, and review returns that investors have realized so far.
Most importantly, we'll uncover if you should start investing in art with Masterworks.
Masterworks Review: Is Masterworks Legit?
Overall Rating: ⭐️⭐️⭐️⭐️⭐️
The Bottom Line: Masterworks is the premier online platform for investing in high-end contemporary art.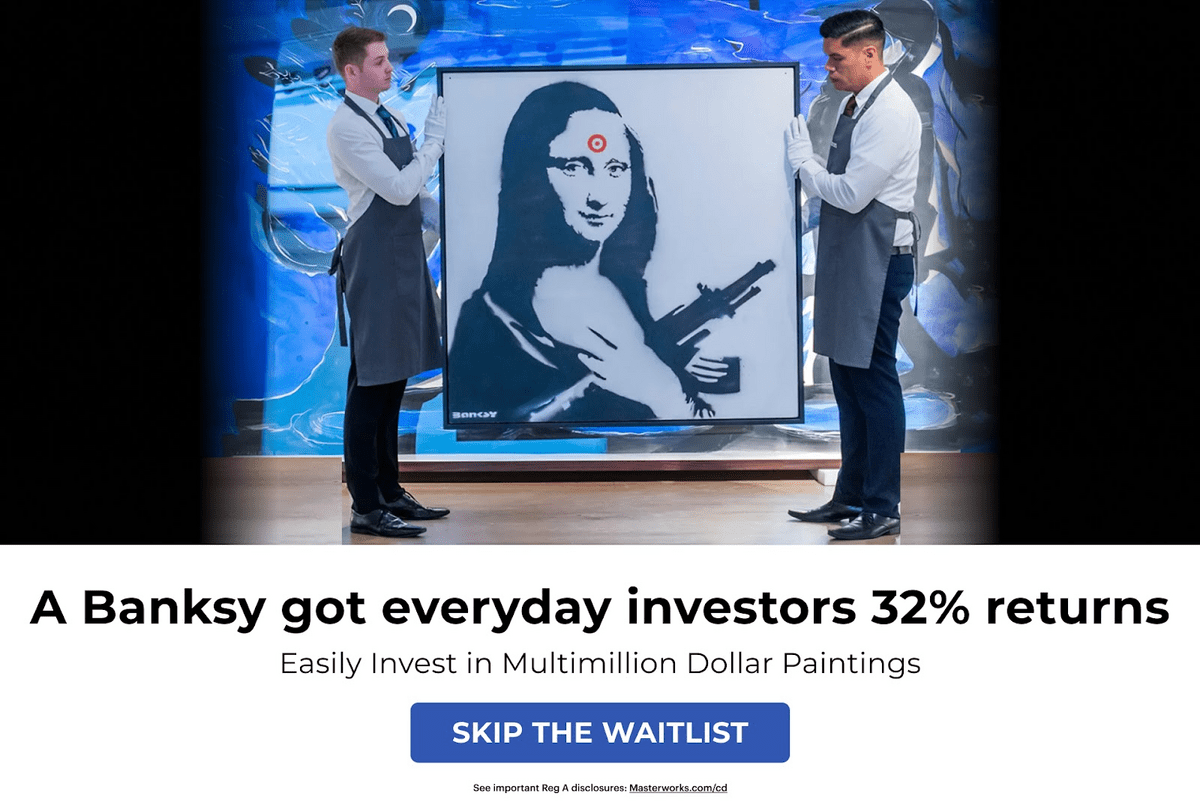 Masterworks is an investing platform which purchases paintings and other art worth millions of dollars, and then offers fractional shares to their members for investment.
As of today, it has acquired 239 pieces for its collection and has sold 13 of them. Masterworks' investors have realized 10.4%, 21.5%, and even 35% net returns from their sold artworks.
Art is also largely uncorrelated with public markets, making it historically a strong investment during times of economic turmoil.
Masterworks' platform is secure, and its offerings are securitized with and qualified by the SEC.
That said, investing in Masterworks carries a higher degree of uncertainty than many other types of investing – it's less liquid than public markets, and Masterworks has only been around since 2017. If you're risk-averse and need liquidity, Masterworks probably isn't for you.
What is Masterworks?
Masterworks is an alternative investment platform that allows anyone to invest in shares of contemporary artworks. The company owns over 200 pieces of fine art from modern artists such as Banksy and Andy Warhol.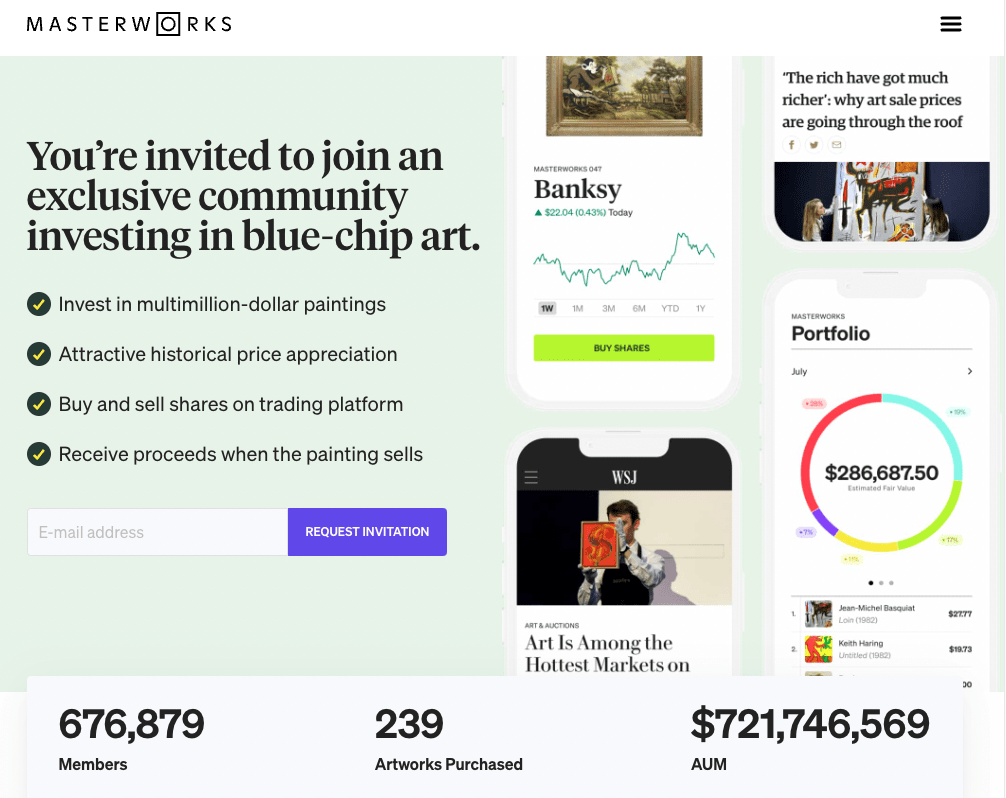 Masterworks handles all of the acquisition, storage, insurance, and selling of the art pieces, and distributes the profits (net of fees) to investors if the artwork is sold for a profit. It focuses exclusively on contemporary art pieces (post World War 2) which they believe have the most potential for price appreciation.
It is owned by Scott Lynn, a wealthy online marketer and avid art collector. It has been in business since 2017 and has over 650,000 registered users on the platform.
Example Investment on Masterworks
So, exactly how does Masterworks work?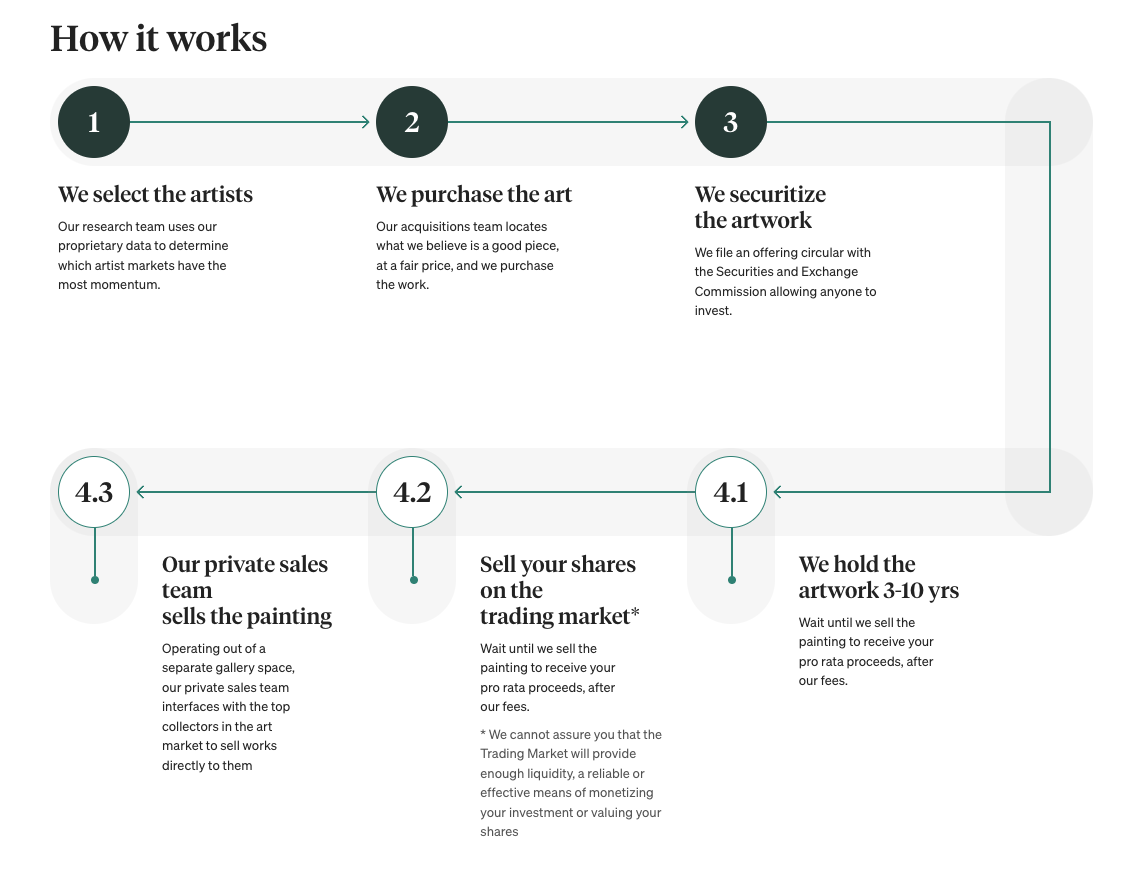 Masterworks has a robust process for purchasing and storing artwork, as well as onboarding investors and eventually selling the pieces for a profit.
Here's a complete breakdown of its investment process:
Acquisition and Storage
Masterworks has created a comprehensive pricing database of contemporary artworks which shows the price appreciation of pieces that have been bought and sold at auction over the past few decades, as well as information about trends within artists' markets.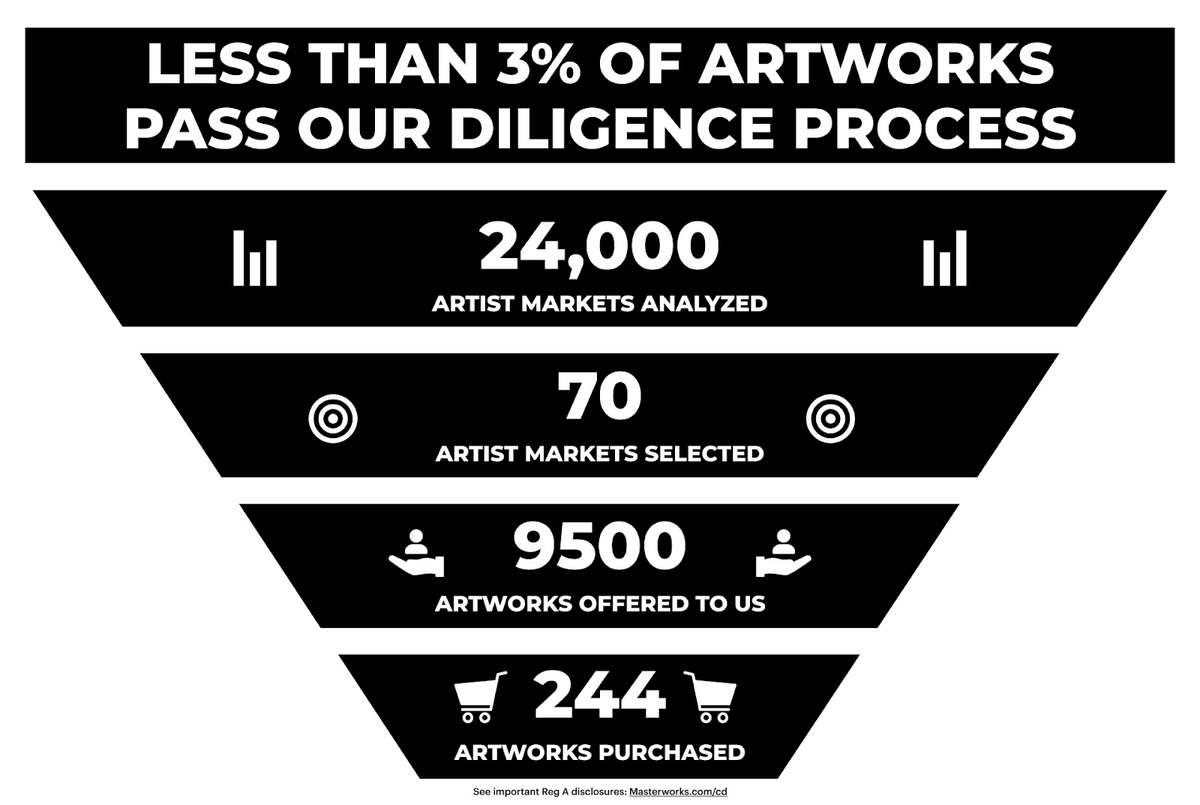 It uses this data to find art they think has the most momentum, and the acquisition team will negotiate and purchase the pieces they think are best for the platform. Less than 3% of artwork passes their due diligence process.
Once purchased, the art is transferred to a secure storage facility.
Upon acquiring an art piece, Masterworks files an offering with the Securities and Exchange Commission (SEC) under Regulation A, so it can securitize the piece into individual shares which can be offered to investors on the platform.
This allows both accredited and non-accredited investors to invest in shares in an artwork.
Investing with Masterworks
After signing up for a Masterworks account and completing your membership process, you can invest in shares directly on the Masterworks platform. There is usually a $10,000 minimum for initial investments, although after that, minimums start at $500 for subsequent investments.
Masterworks expects to hold each artwork for 3-10 years before selling, making it more illiquid than stocks and bonds, but on par with many other alternatives like private equity and venture capital.
When Masterworks determines it is an opportune time, its private sales team will sell the piece and distribute any profits (net of fees) pro-rata to the shareholders.
Masterworks does offer a trading market where you can sell your shares to other investors before the final sale of the artwork.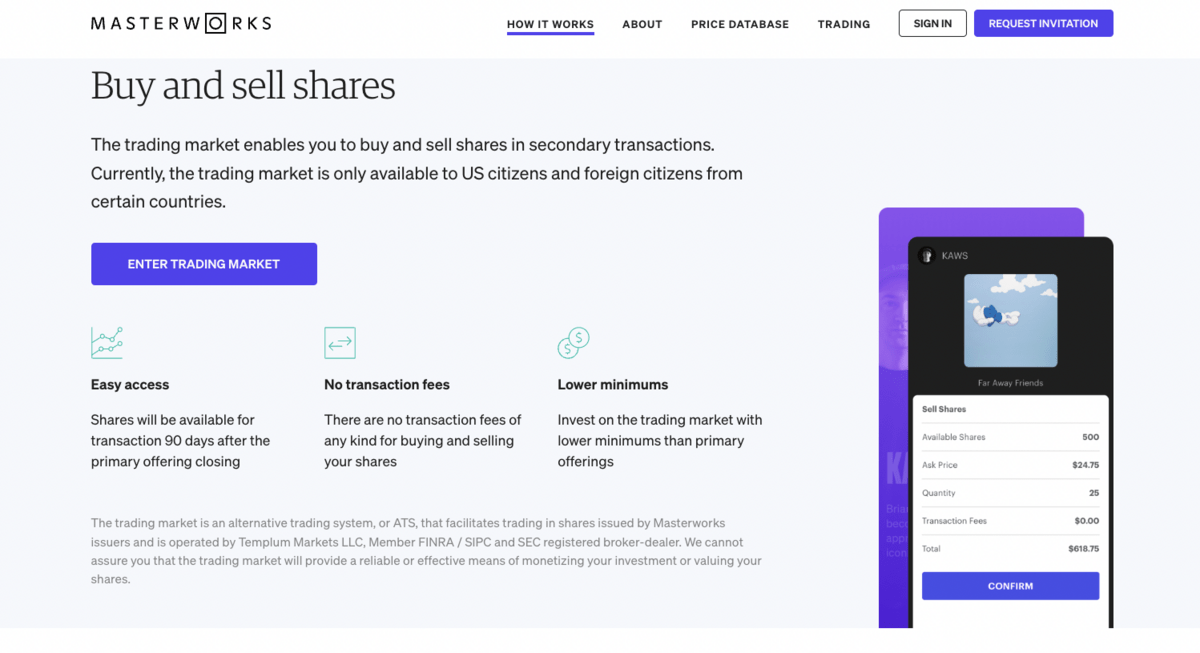 That said, it makes no promise of liquidity within the marketplace, which means you may need to hold your shares until the art piece is sold.
Masterworks Investment Example (Masterworks Returns)
If you had invested in its Banksy painting (Masterworks 003) and held those shares until Masterworks sold the piece just over a year later you would have realized a 32% annualized return after all fees. If you invested the $10,000 minimum investment, you would have seen a $4,800 profit.
And remember, Masterworks found the painting, negotiated the price, bought and stored it, held it until they found a desirable buyer, sold it, and transferred ownership without any effort from you.
Not all returns will happen this quickly or be as large, but this should be enough to show that yes, Masterworks is legit.
Masterworks Track Record
Masterworks has sold 13 art pieces to date, with sold artworks returning 10.4%, 21.5%, and even 35% to its investors.

While its performance thus far is exceptional, Masterworks is a relatively young company with a rather short track record.
That being said, contemporary art as an asset class has appreciated faster than gold, real estate, and the S&P 500 since 1995, with a 12.6%% average annualized appreciation.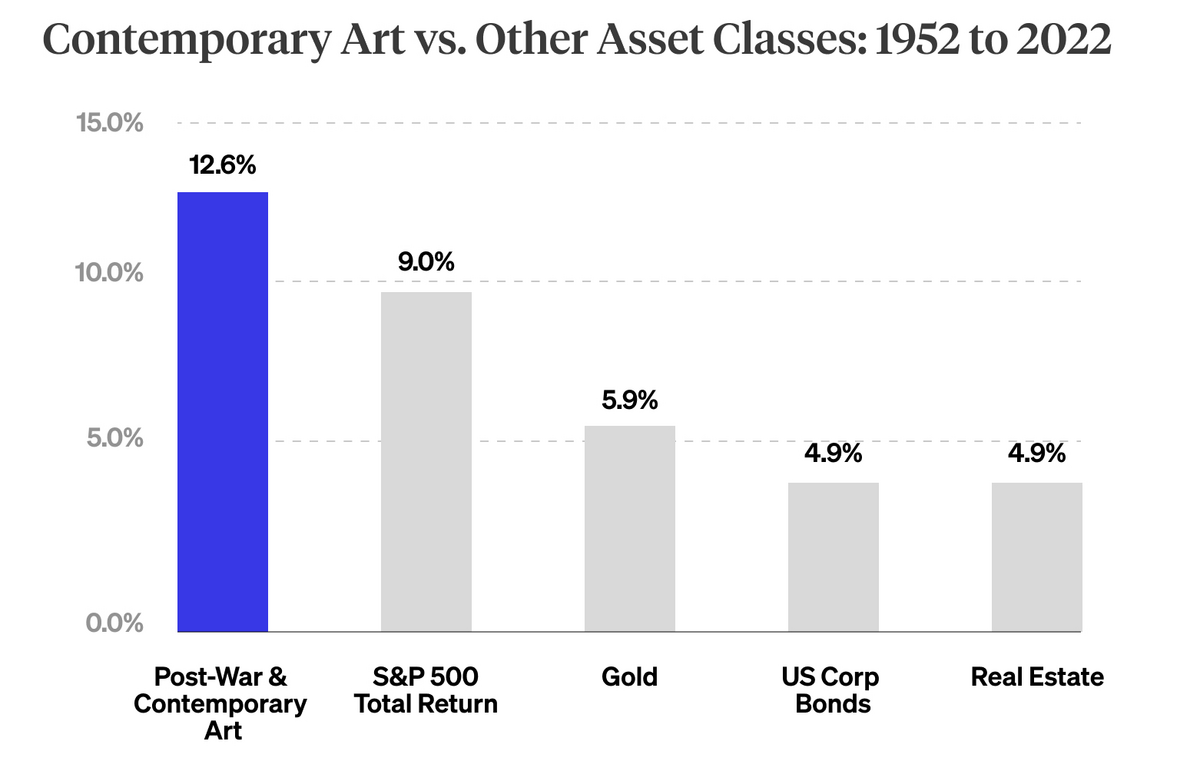 Who is Masterworks Best For?
Masterworks is ideal for investors that are looking to diversify their investment portfolio into alternative assets AND for art investors who don't want to deal with the up-front cost, required maintenance, and hassle of buying and selling art on their own.
Masterworks does require an up-front investment of $10,000 and the investments aren't guaranteed to have liquidity, so investing is best suited for long-term investors that don't need access to their funds for quite a while.
As an alternative investment platform, investing with Masterworks carries a higher amount of risk than traditional investments. However, many of their artists show strong market risk-adjusted appreciation (commonly measured as Sharpe Ratio).
That being said, investors need to have a high risk tolerance for the funds invested on the platform, as there are no guaranteed results and it is still a relatively new type of investing.
And finally, Masterworks is a fine art investing platform, and members will need to choose which pieces to invest in.
If you don't have at least some knowledge of the industry and marketplace (or the desire to learn more and do research), this investment may not be the best fit.
They do, however, have a team of affiliated financial advisors that can help guide you to appropriate investments for your risk tolerance.
Is Masterworks Legit?
Masterworks securitizes all its offerings with the SEC. Any investment advice provided through the platform is given by investment advisor representatives of Arete Wealth Advisors, an SEC-registered Investment Adviser. .
Masterworks has over 650,000 registered users and owns over 230 high-end pieces that you can invest in. The platform has been around since 2017 and has sold 13 artworks and counting.
Yes, it's legit.
Is Masterworks a Scam?
No, Masterworks is not a scam. It's one of the only ways to invest in high-end art without a ton of up-front capital.
Investing in alternatives is (unfortunately) fraught with many scammers, especially around art, collectibles, and digital assets like crypto and NFTs. But Masterworks aims to be very transparent with its platform members and investors, and files all its offerings with the SEC.
Each piece is contained within its own special-purpose limited liability corporation (LLC) and "securitized" to allow investors to invest in shares of the LLC, whose sole asset is the artwork . This is similar to how other alternative investing platforms work.
Masterworks Key Figures
Masterworks returns: Recent returns include 10.4%, 13.9% and 35% net annualized gains
Masterworks fees: 11% initial "true-up" in form of equity, 1.5% annual management fee, 20% commission on profit from sale of artwork
Masterworks minimum investment: $10,000 average minimum per art piece, though investment advisor representatives can waive the minimum on a case-by-case basis depending on how suitable that minimum is for each potential investor.
Number of users: 676,000+
Pros and Cons of Masterworks
| | |
| --- | --- |
| Pros | Cons |
| Invest in high-end art pieces | Highly illiquid investment |
| Strong historical returns | Hold time of 3 to 10 years |
| Detailed market research available | High fees compared to traditional investments |
| Can sell shares on Trading Market | No dividends (only make money when art is sold) and no promise of liquidity |
| Robust acquisition and storage process | Requires a phone interview to get started |
How to Open an Account on Masterworks
To open an account with Masterworks, you need to sign up for an online account and request an invitation. Masterworks requires a phone interview to review the account requirements and make sure it is a good fit for your investment needs.
You will need to submit your name, email address, and phone number, plus create a password for your account.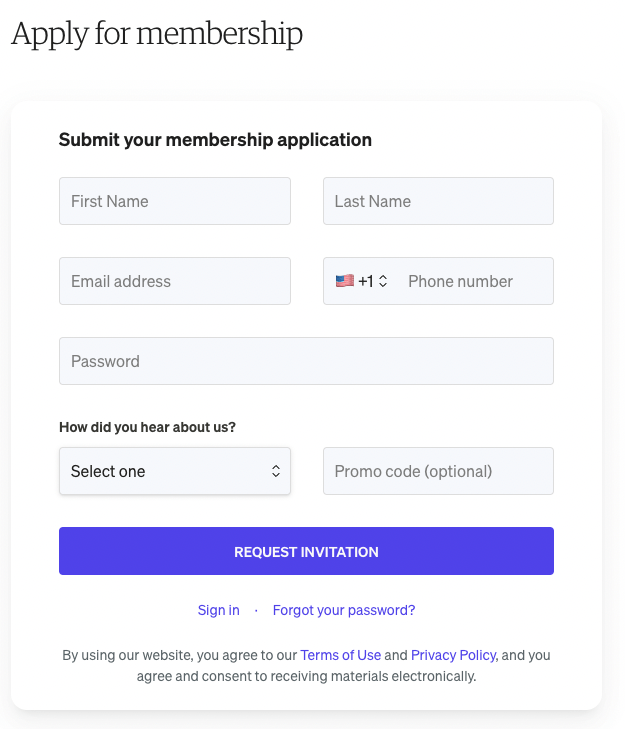 Once you have submitted an application, you will set up a phone interview with the Masterworks team. During this phone interview, they will review your personal information and verify your identity.
Then, they will work with you to determine an appropriate investment strategy. And finally, they will help you find suitable art pieces on their platform for you to invest in, and help you complete your first investment.
Once you have completed your first investment, you can continue your investment process with them online. You can pick and choose pieces to invest in to build your own investment portfolio or buy and sell shares on the secondary marketplace.
The process probably takes about 20-30 minutes in total, but once you're in, further investments take just a few clicks.
Final Word: Masterworks.com Review
Masterworks is a premier place to invest in shares of high-end contemporary art pieces…period.
The entire buying and selling process is handled for you, Masterworks purchases some of the most well-known artworks in the contemporary art space, , and the returns, so far, have been strong for its investors.
Investing in fine art is risky and should not make up the bulk of your investment portfolio. But if you are looking for an alternative investment platform to add more diversification to your portfolio and are interested in art, Masterworks could be a good option.
---
FAQs:
Is Masterworks a good investment?
Masterworks has provided strong returns so far for investors since it sold its first painting in 2019. Masterworks has sold 13 artworks so far, each for a positive return.
But, just because returns have generally been high in the past, does not guarantee that the results will be the same going forward. Investing in Masterworks can be a great way to add some alternative assets to your portfolio, but it all depends on your investment goals, timeline, risk tolerance, and the amount of money you have to invest.
Has anyone made money with Masterworks?
Masterworks has paid out over $32 million dollars in total net returns to investors over the past few years. Every single one of their 13 exits so far delivered positive returns for investors..
How much money can you make on Masterworks?
Masterworks shares the historical data of the contemporary art industry on their website, and shows that the average annual price appreciation has been about 12.6% annually over the past 27 years (1995 - 2022)..
How much money do you need for Masterworks?
The Masterworks minimum investment requirement is $10,000. This minimum can be waived, though, at the discretion of the sales team when you speak to them on the phone interview.
Where to Invest $1,000 Right Now?
Did you know that stocks rated as "Buy" by the Top Analysts in WallStreetZen's database beat the S&P500 by 98.4% last year?
Our June report reveals the 3 "Strong Buy" stocks that market-beating analysts predict will outperform over the next year.