Our editorial team uses a strict editorial review process to compile all reviews, research, and evaluations of any kind. Our company, WallStreetZen Limited, is supported by our user community and may receive a small commission when purchases are made through partner links. Commissions do not affect the opinions or evaluations of our editorial team.
If you have $5 million to invest, you have quite a few opportunities to grow your wealth even more. Choosing the right investments can set you up for life.
But while growing your wealth is important, once you have a few million in the bank, managing your risk becomes even more important.
Need help navigating it all? Below, you'll find a list of great ways to invest $5 million while preserving your wealth and keeping risk management top of mind. Here's how to invest 5 million dollars:
At-a-Glance: Suggested Platforms
The 12 Best Ways to Invest $5 Million in 2023
Need some ideas for how to invest $5 million? Consider these:
1. Invest in Stocks and ETFs
If you've amassed a large nest egg, you may have already invested in the stock market. Stocks and ETFs can help you maintain and build wealth for the long term, and the stock market has a long track record of solid returns.
In fact, the S&P 500 has averaged nearly 10% returns over the last 100 years.
If you haven't invested in stocks before, it's accessible to just about anyone, regardless of account size. Investing small amounts of money allows you to use almost any investing app.
If you're new to stocks, eToro is a great place to learn the ropes — not only does it have a paper trading feature where you can test out strategies and execute virtual trades with virtual money, but it also has a CopyTrader feature that lets you follow the trades of top-rated traders.
(That said, I wouldn't suggest plunking down all of your $5 million on stocks on any platform — maybe just a small portion.)
eToro securities trading is offered by eToro USA Securities, Inc. ("the BD"), member of FINRA and SIPC. Cryptocurrency is offered by eToro USA LLC ("the MSB") (NMLS: 1769299) and is not FDIC or SIPC insured. Investing involves risk, and content is provided for educational purposes only, does not imply a recommendation, and is not a guarantee of future performance. https://www.wallstreetzen.com is not an affiliate and may be compensated if you access certain products or services offered by the MSB and/or the BD.
If you're looking for a trading platform that can also offer money management, you may want to consider Charles Schwab.
Schwab has nearly $1 trillion in assets under management, is relied on by millions of investors around the world, and even has a Private Client Service for anyone with $1 million invested or more.
You have access to a dedicated financial consultant, priority support, and wealth management services that include tax planning, estate planning, and more.
If you want to invest millions into the market, it's important to trust your broker and have access to professionals who can help advise you on investment strategies.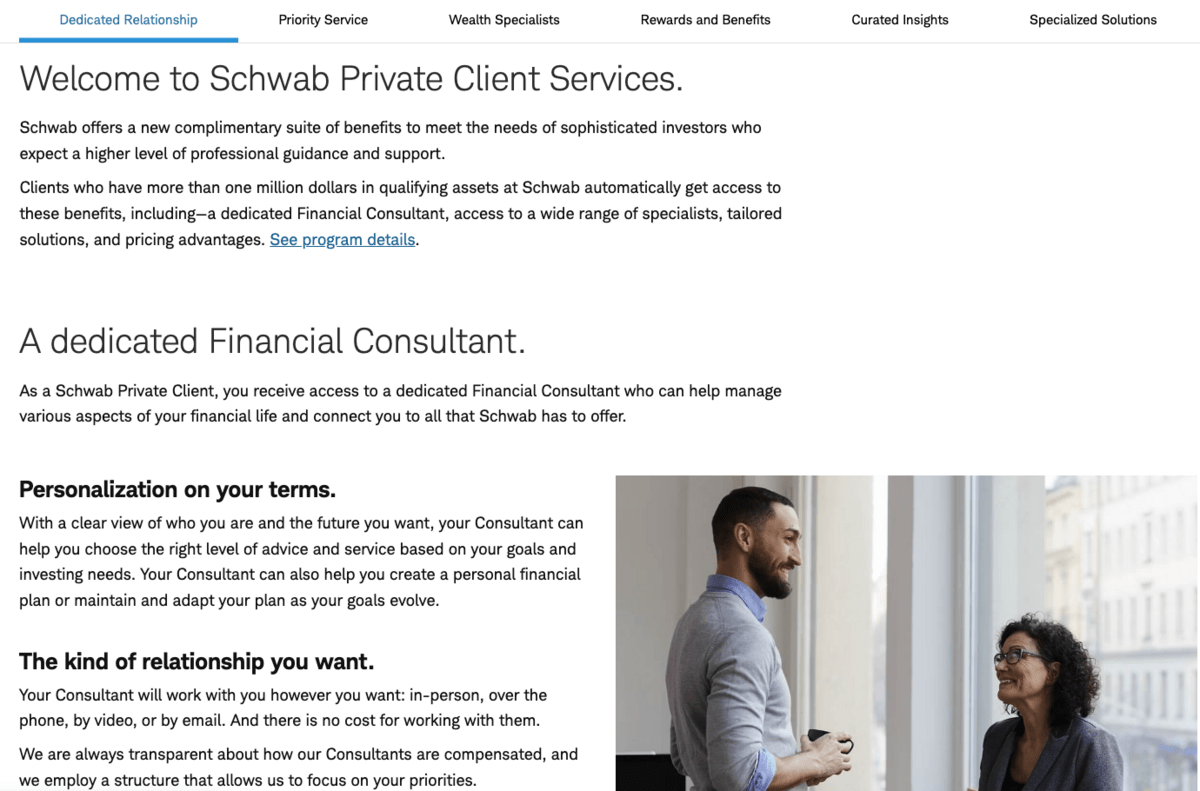 2. Invest in Master Limited Partnerships (MLPs)
When you have a net worth of $5 million, you can focus on investing for income instead of just growth. Master Limited Partnerships (MLPs) are a popular investment option that allows you to invest as a limited partner in companies that focus on commodities, such as oil, gas, coal, or timber. They typically have high yields and some tax advantages.
MLPs are traded on public exchanges, similar to a stock or ETF. This makes them more liquid than joining a private investment as a limited partner.
And since MLPs deal in commodities, they are somewhat uncorrelated to the stock market, making them a great option for diversifying your investments.
If you want to invest in MLPs for yield, you can do this on most exchanges. One exchange that really stands out is eToro — the platform features a great variety of MLPs as well as a robust knowledge base of articles so you can familiarize yourself with what MLPs are and how they work.
Plus, with its "social trading" features, you can see what other eToro members are saying about MLPs you're interested in, which can help bolster your trading plan.
eToro is a multi-asset investment platform. The value of your investments may go up or down. Your capital is at risk.
3. Invest in Fixed Income
Once you have a net worth of $5 million, preserving your wealth may become your highest priority. Fixed-income investments offer the opportunity to create consistent cash flow while preserving your principal investment.
Here are a few fixed-income investment options to choose from:
Annuities
An annuity is an insurance contract that offers fixed income payments over the life of the contract. Annuities are seen as a stable income option, though they may come with high fees and are highly illiquid.
Annuities can be funded in monthly installments, or with a lump sum investment. If you have $5 million available to invest, you can fund the annuity in a lump sum and begin receiving payments right away.
Bonds
Bonds are corporate or government debt instruments that allow you to fund business or government operations in exchange for interest payments. Bonds are seen as a "safe haven" investment that offers monthly or quarterly coupon payments at competitive interest rates.
Bonds are subject to interest rate risk (as we've seen lately), but over the long term provide a steady yield and less volatility than stocks. U.S. Treasury Bonds are considered one of the safest investments in the world, and the bond market is highly liquid.
You can buy bonds through a broker like eToro, or direct from the government at TreasuryDirect.gov.

eToro is a multi-asset investment platform. The value of your investments may go up or down. Your capital is at risk.
4. Professional Money Management
Unless you feel confident investing millions of dollars by yourself, you may want to hire a professional investment team to assist you with your financial goals.
Investment advisors not only help you with your investments, but also advise on insurance, taxes, estate planning, savings goals, and more.
Most investment advisors will charge a percentage of your investments to manage your finances, with some charging 1.5% or more. This can cost you tens of thousands per year.
Platforms like Empower offer wealth management services for high-net-worth individuals for a lower cost than most advisory services.
With $5 million invested (or more), your fee is only 0.59% of assets under management, much lower than most advisors. Plus, you can access private equity investments and, and the advisors you work with are licensed fiduciaries.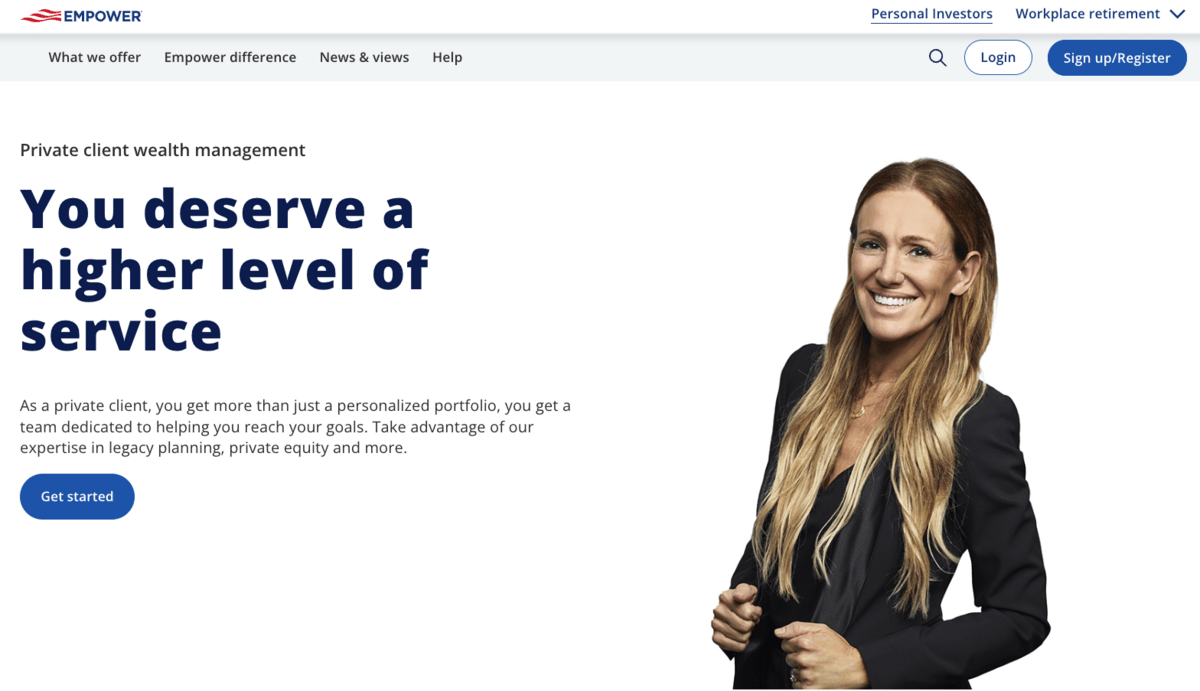 5. Invest in Alternative Assets
Private Credit
Once you have $5 million, you become the bank. Lending your money to private businesses and individuals can be a great way to potentially earn a high return.
Private credit investments include loans and other debt financing to clients who are starting businesses, investing in real estate, or need funding to expand business operations. These investments offer a higher return than normal loans, with a yield of 10% or more in some cases.
Percent is an online platform that allows accredited investors (that includes you, if you've got $5 million) to invest in private credit deals, including venture funding, corporate loans, and consumer loans, among other options.
You can quickly peruse through deals to find investments you want to fund and build a portfolio of private credit deals with short or long durations.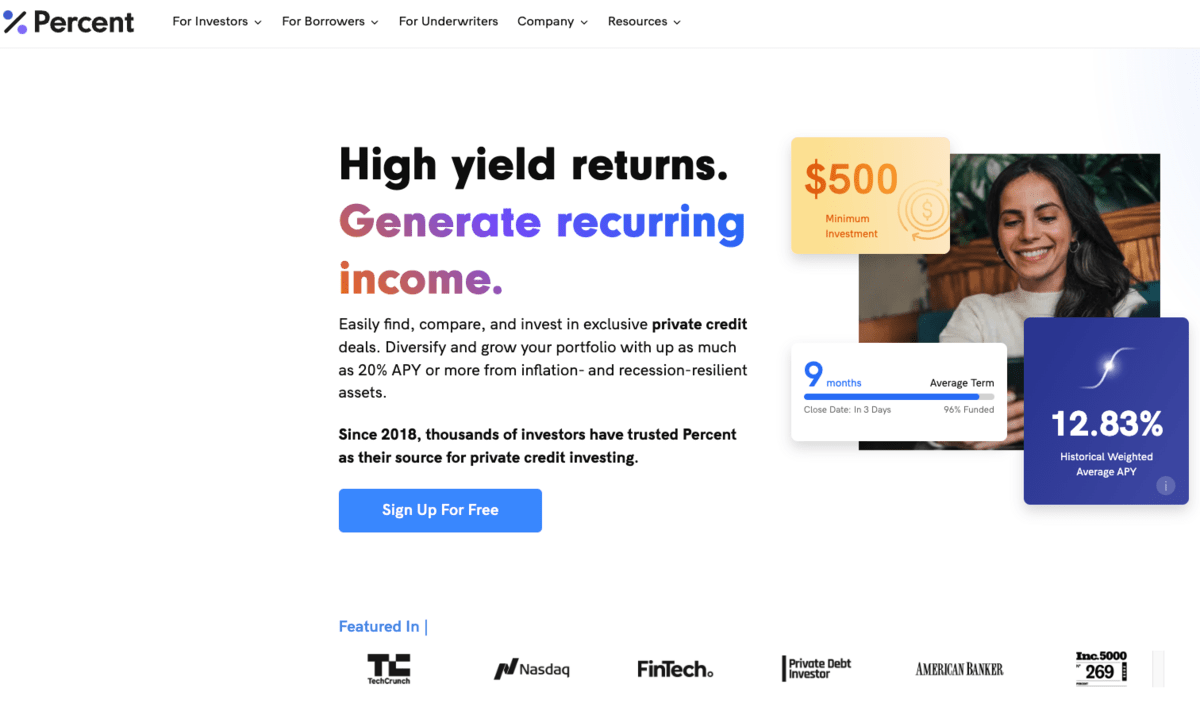 Fine Art
If you're looking to diversify your investments outside of traditional markets, investing in fine art might be a good option. Fine art can appreciate over time, especially if you have a rare piece that is kept in pristine condition.
As an alternative asset, art is also not correlated with the stock market and can continue to appreciate, regardless of what the market does.
But while $5 million might be able to buy you some nice pieces, you won't be able to get a piece of Picasso or Banksy. Platforms like Masterworks now make these pieces accessible, though, allowing you to invest in rare modern art for less.
Instead of buying a $20 million piece of art outright, you can buy shares of ownership through the Masterworks platform and make a profit when the artwork sells.
Masterworks owns hundreds of millions of dollars worth of contemporary art pieces and has realized annualized returns from 4% up to 77%.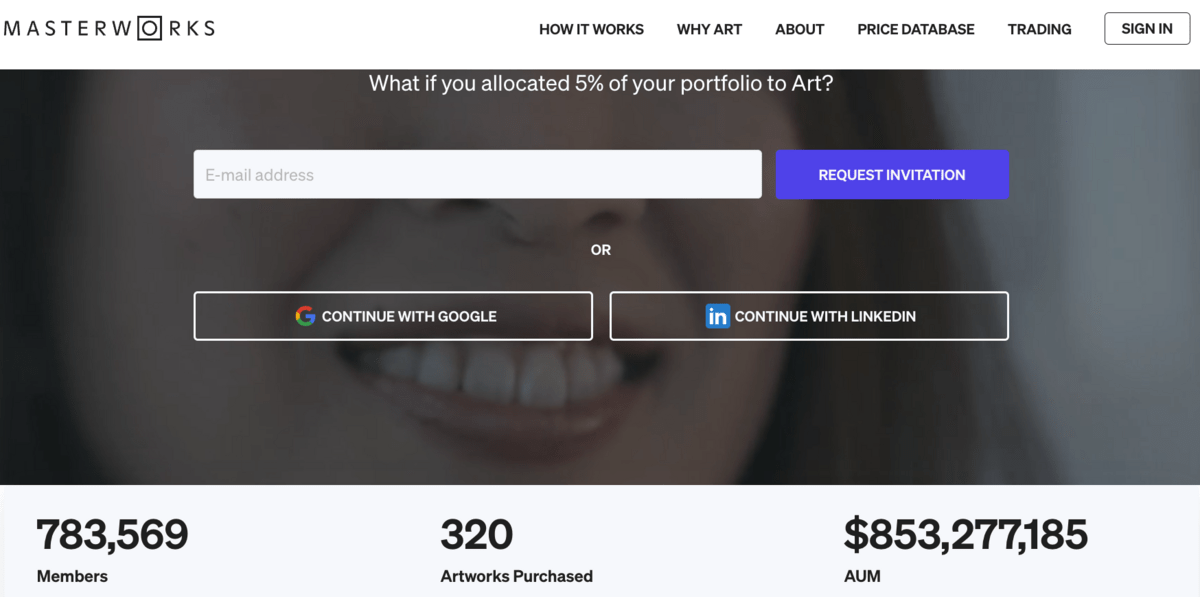 6. Invest in Private Companies
Investing in private companies has traditionally been off-limits to individual investors who don't have insider access. But there are now innovative companies that allow you to invest in a private company directly through employees.
Equitybee offers access to fund employee stock options for employees at VC-backed startups. The idea is that you provide the up-front funding for employees to max out their options, and you get a percentage of the eventual value when the company goes public.
You must be an accredited investor to invest, but with a net worth of at least $5 million, that includes you! While the concept is innovative, there is a risk of losing money if the company fails. It's important to only invest in private companies an amount you are willing to lose.

7. Invest in Real Estate
Buying and holding rental real estate can help you grow your wealth, earn a steady cash flow, and reduce your taxes.
But it can be hard to handle unless you build a team to help you manage your portfolio of properties.
While residential real estate is always a good option for investing, commercial real estate has been offering outsized returns.
But even with $5 million, buying an office building might be slightly out of reach or take up too much of your capital, so you might consider utilizing an online crowdfunded real estate platform instead.
Here are a few options for investing in commercial real estate:
YieldStreet: Yieldstreet is an alternative investing platform that offers access to a wide range of investments, including access to multifamily real estate properties. You can invest as little as $15k and earn quarterly dividends from rents collected. It's one of our top picks.
RealtyMogul: RealtyMogul is an institutional-quality real estate investing platform with access to commercial and industrial properties to invest in. You can earn up to 20% IIR (or more) by investing in high-quality buildings and properties.
Roofstock: Roofstock offers institutional real estate investing services, helping you manage the purchase of multiple properties to build a portfolio. They manage everything from acquisition to management, to disposition with a simple-to-use dashboard for tracking your returns.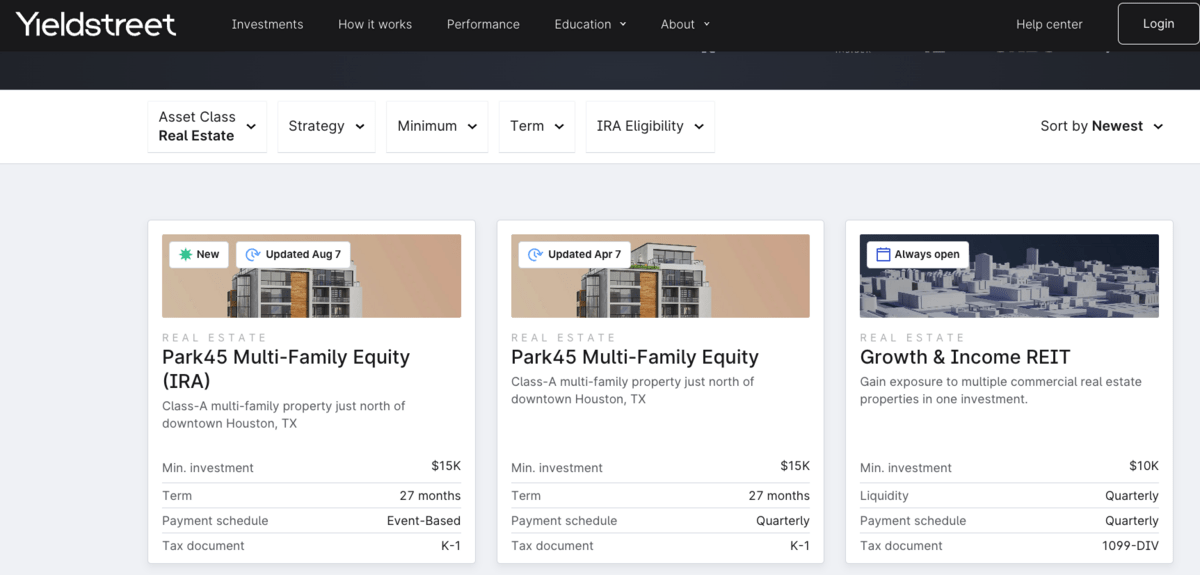 8. Invest in Farmland
Farmland is becoming one of the most popular real estate investments as it generates a solid return with long-term renters (farmers). But don't worry — you don't have to buy the whole farm to potentially reap the rewards of this investment.
As an accredited investor, you can invest in fractional ownership with AcreTrader, a crowdfunded real estate site that allows you to invest in parcels of farmland, earning a return through rents collected and price appreciation. Some recent investments have earned over a 15% IRR!
The minimum investment is around $15,000, and holding periods are usually 5 to 10 years in length. If you want to take a portion of your $5 million and diversify into a solid asset class that continues to grow (pun intended), farmland is a great bet.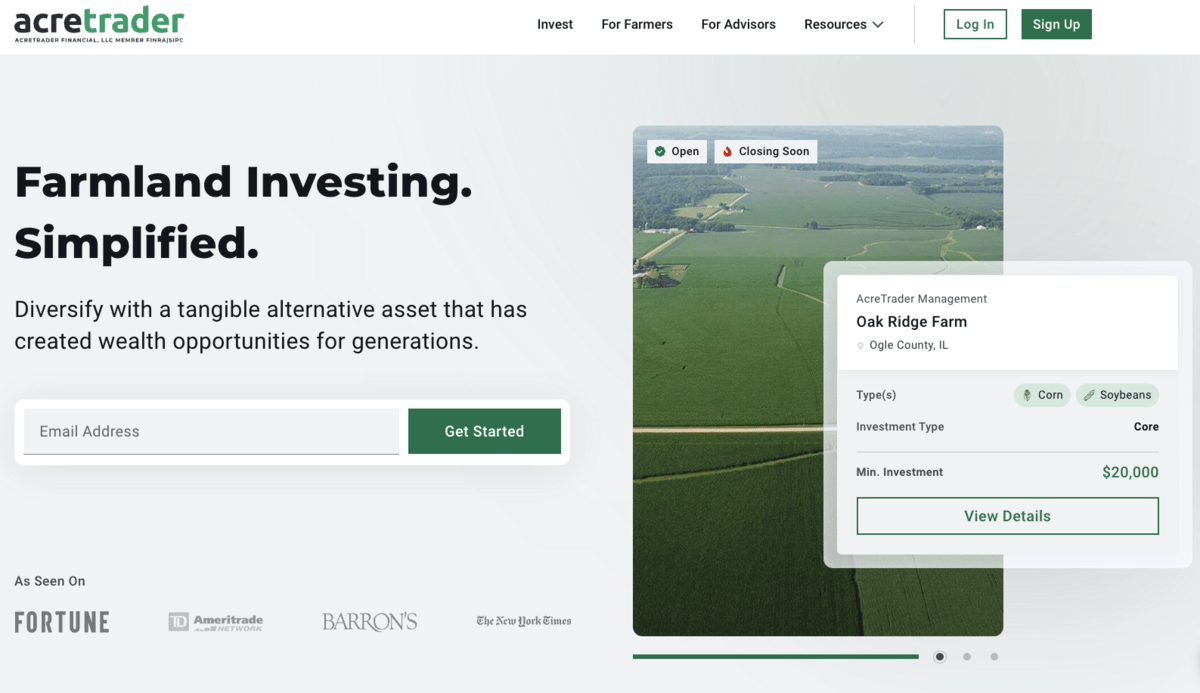 9. Set Up a High-Yield Savings Account (or a few)
If you have amassed $5 million, it's important to protect your investments. And while savings accounts have been a dismal place to earn a return over the last decade, a recent increase in interest rates has made them an attractive option for solid returns.
High-yield savings accounts (HYSAs) are now offering over 4% APY on deposits, with some platforms offering even more.
Empower offers a high-yield cash account that is currently paying out 4.7% APY, while M1 Finance is offering 5% APY for M1 Plus members (monthly fee).
If you are planning to park millions into HYSAs, just make sure to open multiple accounts, as FDIC insurance only covers up to $250,000 per account, per depositor.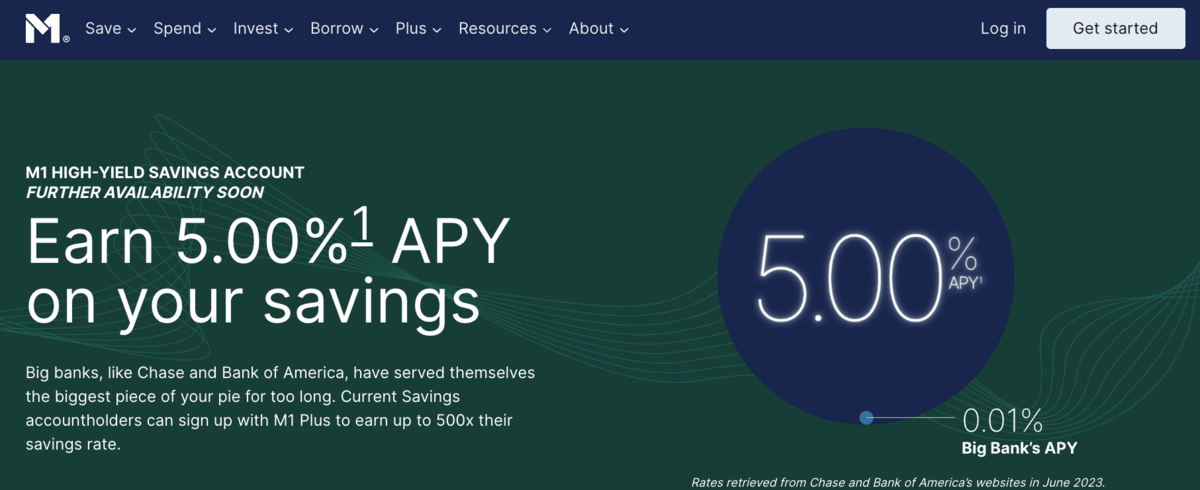 10. Pay off High-Interest Debt
Paying off debt is actually a solid investment strategy, especially if you have high-interest debt. If you have high credit card balances or other debts with 10% interest rates (or higher), it's a good idea to pay those off quickly.
Luckily, with $5 million in the bank, you should be able to knock out high-interest debts in one fell swoop. This is an instant 10% return on investment or more and helps lower your monthly spending too.
If you're looking to get an idea of your asset and debt balances, Empower offers a free net worth tracker to see how your net worth stacks up. And you can quickly see your debts all in one place, too.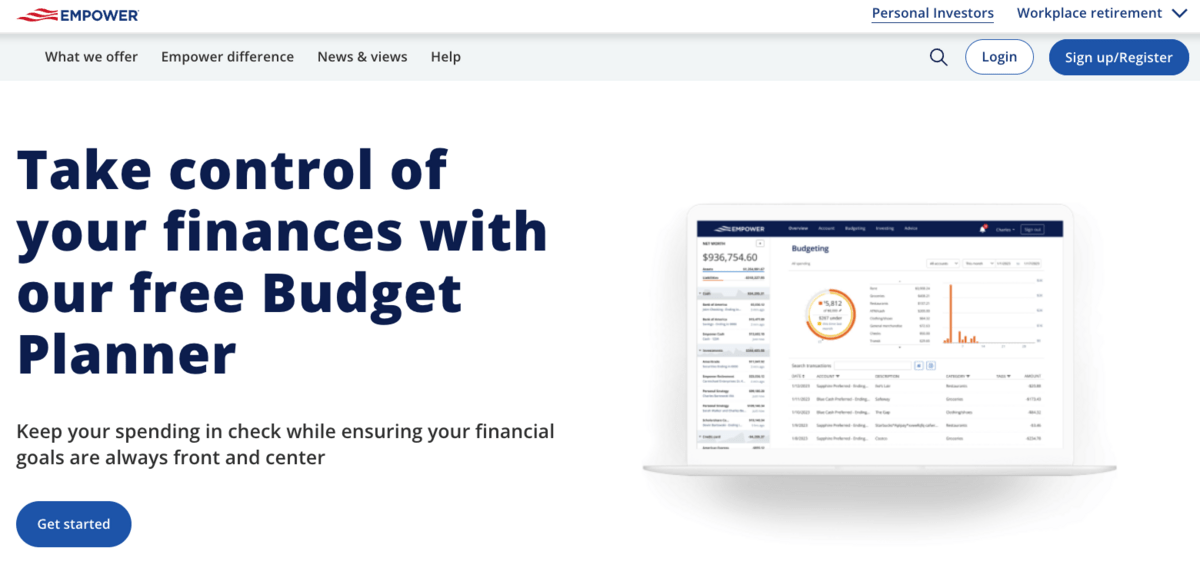 11. Invest in Retirement
If you have a high net worth, you might be thinking about retirement. And while you might already have funds in a workplace retirement account or IRA, it's good to maximize your retirement savings to save on taxes and grow your wealth further.
You can max out workplace retirement accounts (such as a 401k) with up to $22,500 per year, or up to $30,000 per year if you're age 50 or older. IRA accounts let you invest up to $6,500 per year, or $7,500 per year if age 50 or older.
But if you're a business owner, you may be able to invest even more. SEP IRAs allow you to invest up to 25% of your income, up to $66,000 per year. And a Solo 401k account also lets you invest up to $66,000, plus an extra $7,500 if age 50 or older.
Empower offers an impressive retirement planner tool that helps you figure out which of its accounts work best for you.
Plus, Empower's Premier IRAs are a great option if you want one of Empower's retirement experts to manage your account, but the platform also offers an ordinary self-run brokerage IRA if you're a bit more experienced.
12. Invest in Gold
If you're looking for a way to fight inflation and keep your purchasing power over time, gold has been a longtime standard of wealth preservation.
Investing in gold is an alternative way to protect your hard-earned money, and has earned a solid return for hundreds of years.
You can invest in physical gold, or in gold stocks and ETFs. If you want to hold the real thing in your hands, using a platform like Silver Gold Bull lets you buy 1 oz gold coins and larger bars at fair market prices.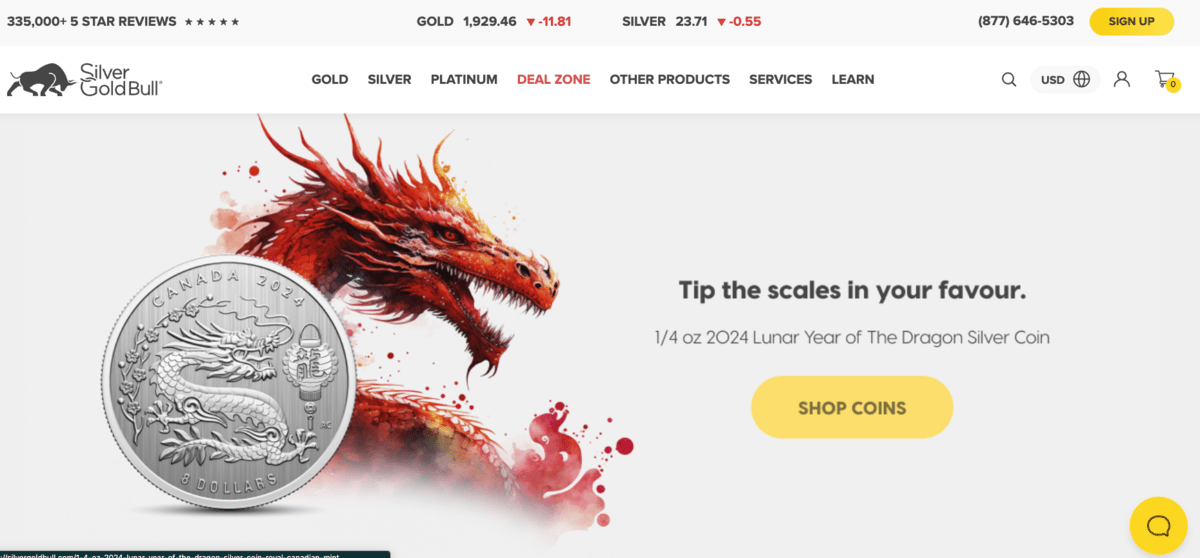 Want more options to explore? Here are some of our other top picks for gold investing/gold IRAs:
Bonus: Crypto
While no one would suggest putting your entire nest egg in crypto. That said, it is a brand-new asset class with exciting possibilities.
If you're looking to branch out with some of your investment funds, investing in Bitcoin and other cryptocurrencies may be something to consider.
Bitcoin has grown in value over the last 10 years and has been the best-performing asset of the decade. And other cryptocurrencies, such as Ethereum, offer an exciting new technology landscape that is changing rapidly.
You can invest in crypto through crypto exchanges and through platforms like eToro. With access to dozens of the top cryptocurrencies and low trading fees, eToro is a simple-to-use platform for crypto investing.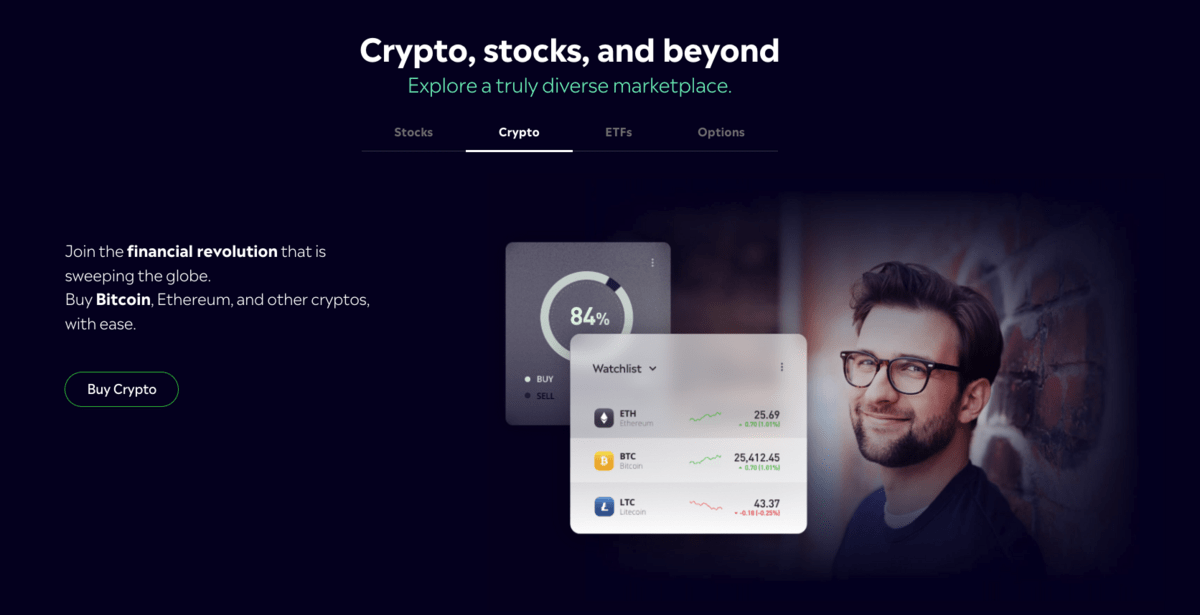 eToro securities trading is offered by eToro USA Securities, Inc. ("the BD"), member of FINRA and SIPC. Cryptocurrency is offered by eToro USA LLC ("the MSB") (NMLS: 1769299) and is not FDIC or SIPC insured. Investing involves risk, and content is provided for educational purposes only, does not imply a recommendation, and is not a guarantee of future performance. https://www.wallstreetzen.com is not an affiliate and may be compensated if you access certain products or services offered by the MSB and/or the BD.
How Important Are Tax-Advantaged Accounts?
If you have millions of dollars that you are trying to protect, tax-advantaged accounts can save you tens of thousands of dollars (or more) on an annual basis.
Most high-net-worth individuals with high-earning jobs are in America's top tax bracket, paying out up to 37% of their earnings in income taxes. If you can shelter your income in tax-advantaged accounts, this can be a massive tax savings.
An Important Note About Allocation
Diversification is much more than just a buzzword, it's a way to split your investments up in a way that protects you from losing it all on one bad bet.
You can invest in safer, income-based investments to preserve your capital, and then choose a smaller amount toward growth investing, such as stocks and ETFs or even crypto. But the old saying rings true; "Don't put all your eggs in one basket."
How to Invest $5 Million and Live Off the Interest
If you want a simple strategy for living off your $5 million investments, you can choose to invest in safe assets that offer annual interest payments or regular dividends.
Dividend stocks are a great example, with some offering 3% to 5% yields. This would earn you from $150,000 to $250,000 in passive income without doing anything.
Another option is certificates of deposit (CDs). Right now, yields are impressive for both short and long-term CDs — one of our favorite places to find them is CIT Bank.
Whatever you choose to invest in, if you simply want to live off passive income, make sure it's a safe investment that is FDIC-insured.
Final Word: Best Ways to Invest $5 Million Dollars
Making $5 million is hard. However, investing $5 million can be easy if you choose your investments wisely. Yes, there are a lot of choices when investing a large sum of money, but it all comes down to your financial and lifestyle goals.
If you want to preserve your wealth, stick with safe investments like bonds, U.S. Treasuries, and high-yield savings accounts. If you want to grow your wealth, investing in real estate, stocks and ETFs, and alternative investments is the way to go.
Bottom line: If you don't feel comfortable investing $5 million, you should hire a licensed financial advisor who can help create a lifetime financial plan for you.
---
FAQs:
How much interest does 5 million dollars earn per year?
If you deposit $5 million into a high-yield savings account at 4.5% currently, you can generate $225,000 per year, risk free. And if you buy U.S. Treasuries, you can earn even more, with over 5% available, or $250,000 in passive income.
How much income will 5 million generate?
$5 million can generate anywhere between $150,000 to $250,000 in passive income in relatively safe investments. If you are investing for growth, the rule of thumb suggests you can withdraw up to 4% of your portfolio for a 30-year retirement and never run out of money. This would equate to $200,000 per year.
Can I live off 5 million dollars?
If you spend less than $150,000 per year, you can easily live on $5 million, which earns anywhere from $150,000 to $250,000 in risk-free income right now. This means your monthly budget is $12,500 in spending (or less). If you spend more, you'll need to be more aggressive with your investment strategy.
What should I invest in if I have 5 million?
There are hundreds of choices for investing $5 million, but it all comes down to your financial goals and lifestyle needs. If you want to play it safe, investing in U.S. Treasuries or CDs is a good place to start. If you want to double your net worth, investing in stocks or real estate is a great option. Make sure you assess your risk tolerance and potentially meet with a fee-only financial planner before choosing where to put $5 million.
Where to Invest $1,000 Right Now?
Did you know that stocks rated as "Buy" by the Top Analysts in WallStreetZen's database beat the S&P500 by 98.4% last year?
Our September report reveals the 3 "Strong Buy" stocks that market-beating analysts predict will outperform over the next year.