Our editorial team uses a strict editorial review process to compile all reviews, research, and evaluations of any kind. Our company, WallStreetZen Limited, is supported by our user community and may receive a small commission when purchases are made through partner links. Commissions do not affect the opinions or evaluations of our editorial team.
With so many investment apps on the market, it can be hard to know where to put your hard-earned money.
One of the flashiest newcomers? Tellus, an app that allows users to invest in real estate and advertises returns of at least 5.0% APY.
It is purported to perform similarly to a high-yield savings account, though some major differences make me disagree with that assessment (more on that later in this Tellus App review).
The concept behind Tellus is intriguing — but is Tellus legit and worth your time and energy? In this article, I'll explore every aspect of the company so you can make an informed decision about whether or not Tellus savings is right for you.
Tellus vs. High-Yield Savings Accounts
Tellus positions itself as having many of the benefits of both high-yield savings accounts and investment apps. We'll compare it to a few alternative investment apps below, but first, how does it compare to some of the top high-yield savings accounts?
| | | | |
| --- | --- | --- | --- |
| App | Tellus | M1 Finance (High-Yield Savings Account) | Varo Bank (High-Yield Savings Account) |
| Expected returns | Estimated 5% | 5% | 5% (up to $5K) |
| FDIC Insured? | No | Yes | Yes |
| Avg. customer rating (Google) | 4.4 | 4.5 | 4.7 |
| Important considerations | Few to no fees | M1 Plus customers only | Over $5K, the interest rate is 3% |
Is Tellus Legit and Worth it In 2023?

Overall rating: ⭐⭐⭐
The bottom line: Tellus is legit and can potentially provide returns for its users. However, I can't recommend it over many other investment options. Here's why:
It is not FDIC-insured.
It's relatively new — no proven track record.
There can be a lot of risk for a lot less reward.
Tellus can provide a 5% APY return on your investment (a generous estimation), but as you'll see in the review, there is potentially unnecessary risk involved.
For those willing to accept a little risk and willing to invest long-term, a portfolio derived from stocks recommended by WallStreetZen can easily provide a better average return than that by several percentage points.
For those unwilling to accept much risk, a high-yield savings account from Varo can provide a 5% APY for the first $5000. And it is FDIC-insured, meaning no risk for accounts up to $250,000.
That doesn't leave much room for Tellus.
What is Tellus?
Tellus is a fintech company that positions its financial products somewhere between a high-yield savings account and an investment app provider.
Its app offers several investment products and property management tools that users can use for free.
The app boasts APYs of 5.0-5.9% and daily interest payments. They also boast that you can use it as a savings account, allowing users to withdraw or deposit money anytime.
With Tellus, you can deposit $100 monthly and get total savings of $58,043 over 30 years instead of $36,703 with a typical savings account (as Tellus is happy to remind you).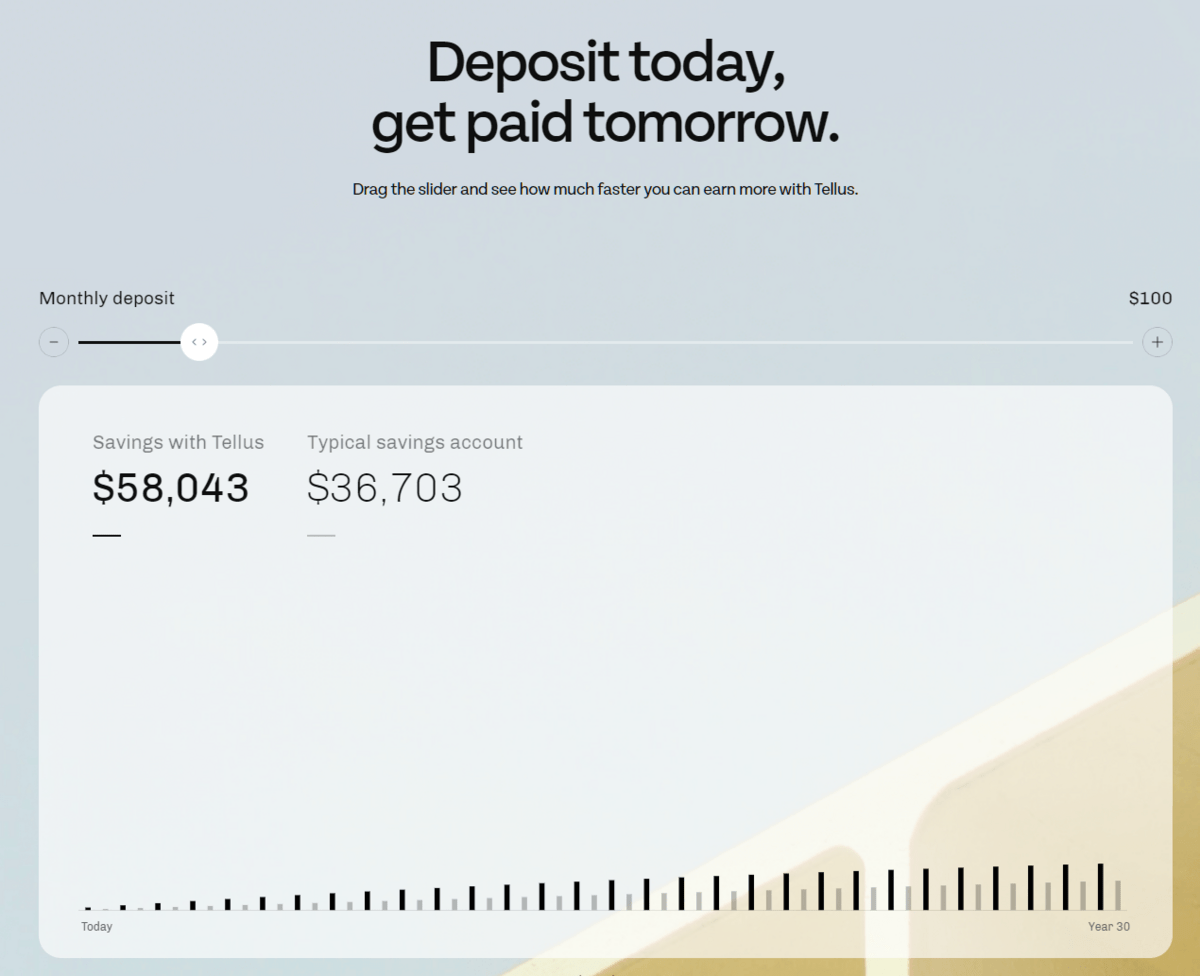 While some might consider the company a bank, it's much closer to an investment firm specializing in the residential real estate market. It is not FDIC-insured, and there is risk involved. You should be aware of this before considering investing with them.
It is based in Cupertino, California, and the funds are custodied by J.P. Morgan Chase Bank, Wells Fargo Bank, and Sunwest Bank.
Tellus App: Key Info
| | |
| --- | --- |
| Account types available | Savings/Income; Property Management |
| Minimum investment | $125 |
| Accreditation required? | No |
| APY | Varies; typically 4.5-5.9% |
| Withdrawal terms | None |
| Customer service availability | Live Chat in App; Email |
| Mobile app? | Google Play; iOS |
| Desktop access? | No |
| New account promo? | 5.50% APY for 7 Days with Code: BOOSTAPY |
Tellus App Review
Let's get this Tellus App review going — starting with the products, key features, and what makes the app tick.
Remember: Investment products will have different utility depending on your goals. Consider your own objectives before pursuing any investment opportunity.
Tellus App: Products
Tellus recently expanded its product line to include the following:
Tellus Boost Account
Their most well-known account and the one that gets the most attention, it's easy to consider the Tellus Account the main offering.
It is free to get started outside of the minimum deposit (which is still yours). You can connect your checking account and deposit or withdraw money as you please.
This account has boosts and special offers, allowing users to get up to a 10% interest rate (this would be exceedingly rare).
You can earn boosts from a "free daily boost" and through a daily quiz regarding personal finance.
Boosts can also be earned through referrals and occasionally other means. Tellus savings and opportunities can add up.
However, this can be time-consuming. You might not want to babysit your money, and boosts can expire.
The APY will vary depending on timing and the boosts applied to your account, ranging from 4-6% normally.
Tellus Reserve Account
Don't want the bells and whistles of the Boost Account? If you prefer a decent interest rate, the more recently released Tellus Reserve Account is your best choice.
There are no boosts to earn or apply, but it offers a higher base APY (4.5% APY) than the boost account.
At writing, the Tellus Reserve Account has a limit of $2,500, so it may act best as a supplement to your portfolio or a spare savings account.
Tellus Vaults
Best comparable to a CD account, a Tellus Vault account is a cash account meant to provide better returns for long periods of time in exchange for a commitment to keep the money in the account.
Tellus Vault accounts have terms of three months, six months, one year, or two years. The interest rate varies from 5.1 to 5.9% APY. You can withdraw money from the accounts early, but you will lose all interest upon doing so.
A Tellus vault account requires a minimum $1000 deposit.
If you're a "set it and forget it" investor and still want to use Tellus, this is likely your best option.
Property Management Software
Tellus also features property management software. It can allow landlords to communicate with tenants and collect rent, among other things.
However, since you're likely reading this Tellus App Review for investment considerations, I'll let other articles explore the management features.
Key Services + Features
Tellus will compound interest daily and deposit the amount into your account daily at 12 p.m. PST.
Bank-level encryption and security features ensure your account and assets remain safe.
Several account types are available for people willing to invest for different time frames.
Daily boosts and opportunities to increase the APY for a limited time.
An easy-to-use app and interface. Setup takes minutes.
The ability to withdraw and deposit money without penalty (with certain accounts).
"Stacks" within an account that allow one to set savings goals within an account.
What are People Saying About Tellus?
Google Play Review Score: 4.4/5.0

Apple App Store Score: 4.4/5.0

Looking over reviews found on the major app stores and general consumer opinion, the following opinions were most common:
It performs well as a savings and money-management app, allowing users to build better financial habits.
Users were incredibly pleased with the interest rate compared to their savings accounts.
People were pleased with the landlord and rental property management features, should they be used.
Some potential users were having issues with identity verification and technical support issues. However, these were not so numerous as to indicate a major trend.
In terms of other professional reviews and more serious-investor considerations of the app, there are a couple of opposing opinions:
The risk, limited customer service, and lack of transparency make Tellus not the best option for investing.
Tellus can provide interest rates far better than the standard savings account.
I found that opinions shifted heavily depending on how one views the platform.
If it is considered a savings account, it is a great option. If a risker one.
If looked at as an investment platform, there are better options.
Tellus App: Pricing + Fees
Tellus is a free app, and there are few fees associated with it. The company mostly makes money through its own investments and lending.
Good news: The average user will not have to pay fees when using Tellus.
How to Get Started on the Tellus App
1. Download the app. There is no desktop version, as all options on their website lead people to download the app on their phones.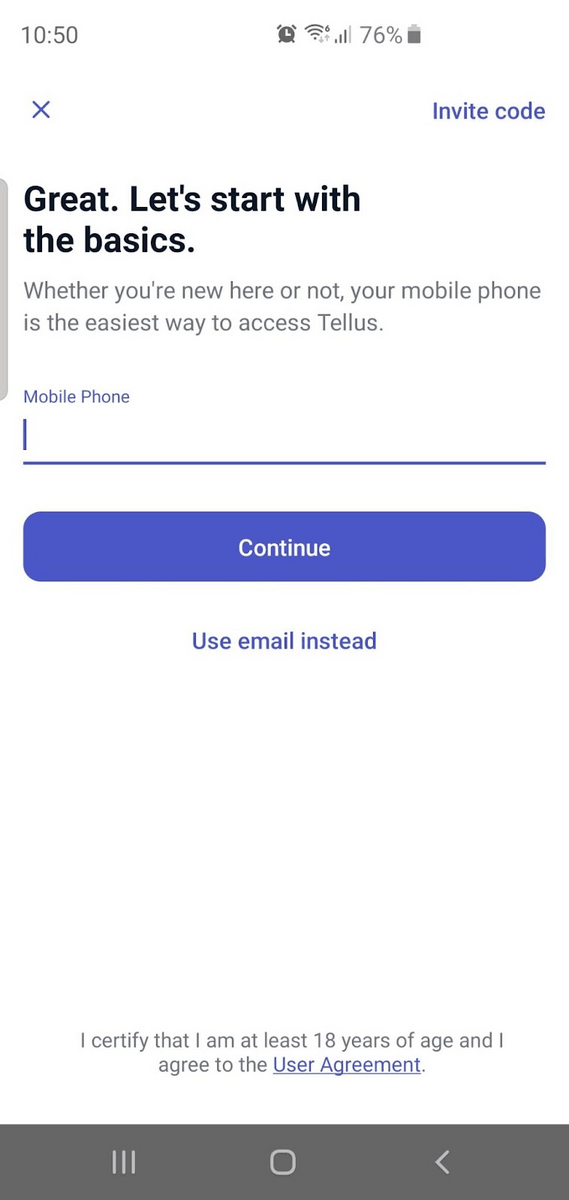 2. Create an account and apply. This is typically approved extremely quickly. Once you're accepted, you choose an account type.
3. Select your account type and deposit money into the account.
4. Once funded, you can get started — and you will start earning interest on the account.
Is Tellus Legit?
Tellus is a legitimate app and service that provides what it offers. Otherwise, it would have quickly garnered a terrible reputation and wouldn't be around after several years. It is banked by JP-Morgan Chase Bank, among others. It is not a scam.
Is Tellus FDIC-Insured?
Tellus is not FDIC-Insured. This is a major concern for potential users, given the peace of mind that FDIC insurance provides.
Tellus looks legit by all accounts currently, but it can be hard to know what's happening behind the scenes. If Tellus goes under, so can the money in your account.
Tellus App: Pros and Cons
| | |
| --- | --- |
| Pros | Cons |
| Relatively easy to use | Not FDIC-Insured |
| Competitive interest rates compared to savings accounts | Lower Interest Rates compared to investments of similar risk |
| Daily compounding and paid interest | A relatively new and unknown investment option |
| Stacks and organization features | Less transparent than other apps of its type, making risk hard to determine |
| Several account types tailored to different types of investors. | The best interest rates require participating in promotions |
| Few to no fees for most users | Little available information about them |
| | Tellus Boost Account requires attention for the best APY. |
Tellus App vs. Alternative Investment Apps
If you're most intrigued by the investment app aspect of Tellus, let's talk about some of the competition. While all of these apps are quite different, here are some avenues within the real estate investing world that you might want to consider:
Tellus vs. Arrived Homes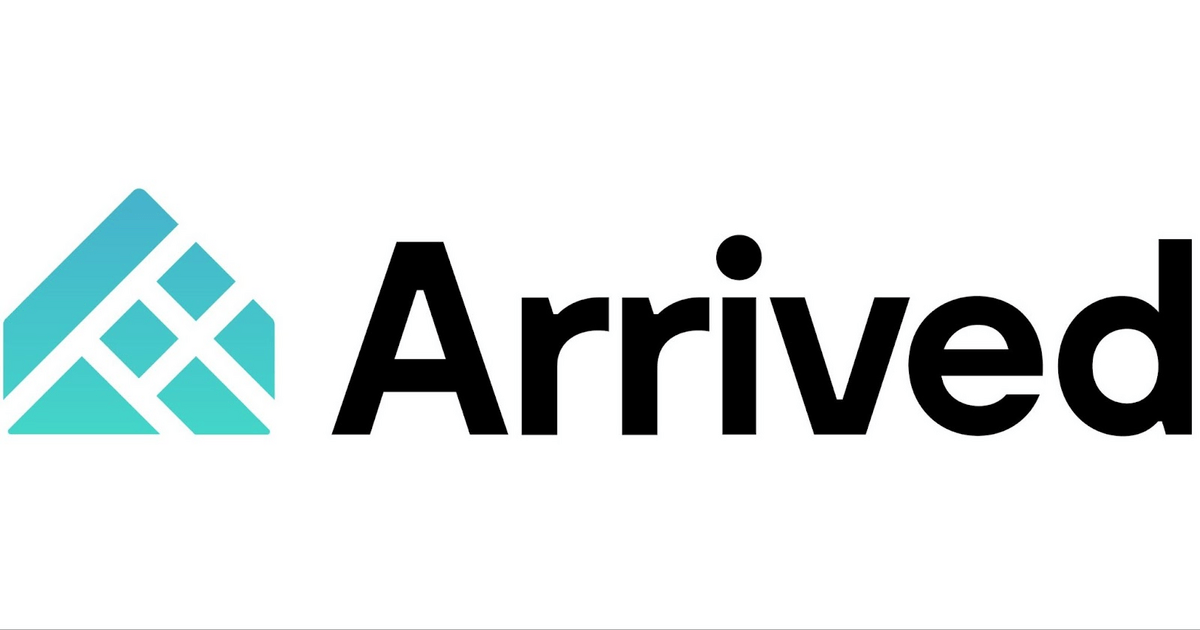 Arrived Homes is an app that allows you to invest in real estate shares (rental and vacation rental homes) starting from $100. You can look at different homes to review and invest in individually, buying shares based on your preference
While the track record isn't too long, quarterly dividends from investments currently pay out between 4-5% annually, which is on par with Tellus's returns.
While Arrived Homes offers more knowledge of your investment, Tellus offers a greater knowledge of your return (and compounds daily).
Tellus is best if:
You want something akin to a savings account.
You want daily compound interest and opportunities to boost your APY.
You want more confidence you'll get a return.
Arrived Homes is best if:
You want to invest in real estate more directly.
You want more control over and knowledge of your investment.
You want to get into real estate but have no interest in property management.
Tellus vs. Fundrise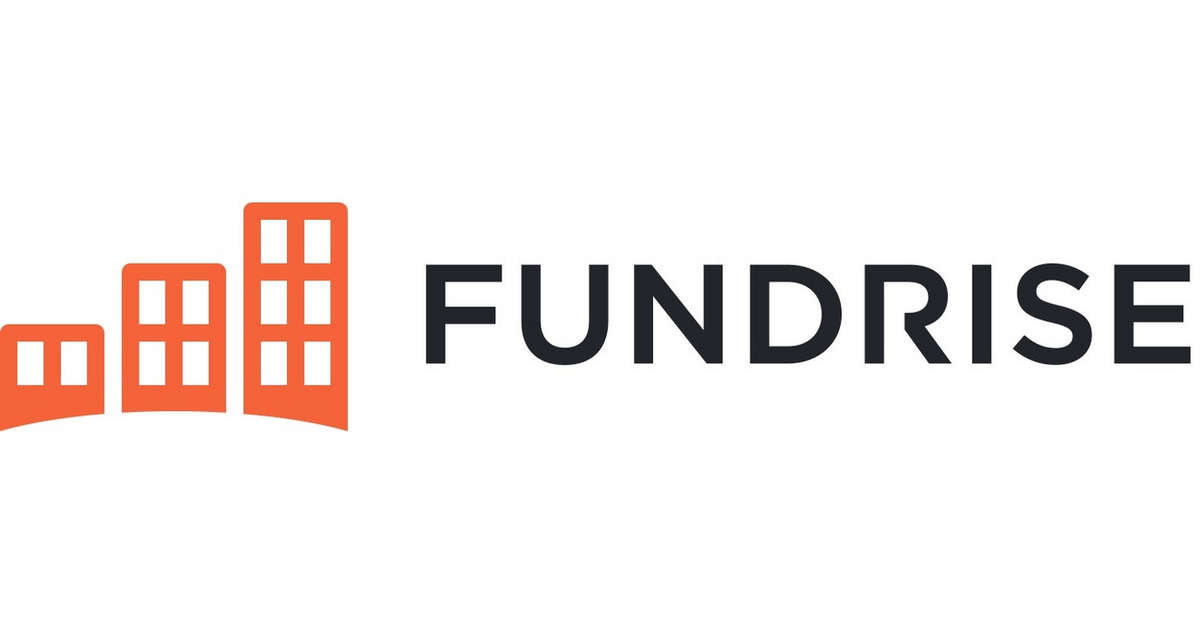 Fundrise allows you to buy property shares and get returns from real estate investments without worrying about large investments or property management.
Fundrise's 2022 YTD return was 5.40%, comparable to what Tellus can offer.
The major difference between Tellus and Fundrise is liquidity. With Tellus, most accounts will let you withdraw your money with no penalty at any time.
This is not true with Fundrise, which has a 1-3% redemption fee if you withdraw before five years' time.
Tellus is best if:
You want far more liquidity.
You loathe fees.
You aren't looking for complexity and many options.
Fundrise is best if:
You are interested in investing in real estate but want to do so through REIT funds.
You want a very small minimum investment ($10).
You want to create a self-directed IRA that contains alternative assets.
Tellus vs. EquityMultiple

EquityMultiple is quite different from Tellus. But if your aim is more exposure in the commercial real estate market and you're an accredited investor, it might be the right pick.
EquityMultiple is an app for accredited investors that gives people direct access to commercial real estate deals alongside other investing options.
It allows users to lend money to real estate investors for a potentially high return (as high as 16%), though the money won't be available to them for withdrawal as it would be in Tellus.
EquityMultiple allows for more control and higher returns, while Tellus offers more stability and liquidity.
Tellus is best if:
You aren't an accredited investor.
You are looking for stable if lesser returns.
You want more liquidity.
EquityMultiple is best if:
You are an accredited investor.
You are looking to make larger investments for potentially higher returns.
You are ok with not seeing your money for a while.
Final Word:
While Tellus can provide decent returns for users interested in real estate, as something comparable to a high-yield savings account, the risk is not worth the reward.
Instead, I urge you to consider an FDIC-insured high-yield savings account if they want somewhere to put their emergency funds or savings. Varo is a fine option for this.
I recommend higher-yielding investments (even an ETF of the S&P 500) if you're ok with a little risk but want greater returns.
As it stands, Tellus tries to be multiple things but is average at both and is beaten out by its competitors.
If you are still interested in Tellus, check them out and see if they fit your needs.
---
FAQs:
Is the Tellus app legit?
The Tellus app is legit. Its funds are custodied by three major banks, and it has been in operation in some form since 2016. While the app has its detractors, and there might be better alternatives for some investors, it is not a scam.
Does Tellus pay daily?
Tellus does pay interest daily on accounts. The interest will compound and pay out every day, which is one of the chief draws to Tellus.
What is the minimum deposit for Tellus?
The minimum deposit for Tellus is $125 as of this writing. Based on previous trends, I do not expect this to change soon.
What is the Tellus app used for?
The Tellus app is the whole platform as far as users are concerned. Tellus is an investment app that has people put money in accounts that accumulate interest, backing the options with real estate investments. App users can withdraw or deposit money, check their accounts, move money within their accounts or stacks, get boosts or bonuses, and get support if needed.
Where to Invest $1,000 Right Now?
Did you know that stocks rated as "Buy" by the Top Analysts in WallStreetZen's database beat the S&P500 by 98.4% last year?
Our September report reveals the 3 "Strong Buy" stocks that market-beating analysts predict will outperform over the next year.