Our editorial team uses a strict editorial review process to compile all reviews, research, and evaluations of any kind. Our company, WallStreetZen Limited, is supported by our user community and may receive a small commission when purchases are made through partner links. Commissions do not affect the opinions or evaluations of our editorial team.
ETFs (exchange-traded funds) are one of the most popular ways for investors to diversify their portfolios and invest in a particular index, sector, country, or theme.
An ETF is a basket of stocks that trade on exchanges like stocks (unlike mutual funds, which trade only at the end of each day and are not exchange-listed).
Personally, I own the Fidelity MSCI Utilities Index ETF ($FUTY) to get diversified exposure to utility stocks and a few country-specific ETFs to gain exposure to emerging markets.
In addition to choosing which ETFs to buy, you need to also choose which brokerage to buy them on.
Not all brokerages allow you to purchase ETFs, and the ones that do aren't made the same – some are faster and more user-friendly than others.
It's also nice to have research tools, educational resources, and other features at your disposal.
I have tested A LOT of brokerages. Here is my list of the 7 best online brokerages for ETFs.
Since index funds are a type of ETF, this list is also covering the best brokerage for index funds.
7 Best Brokers for ETFs
1. eToro – The Best Brokerage for ETF Investing Overall
Rating: 5/5
Commission/Fees: $0
My number one pick for the best brokerage for ETFs is eToro.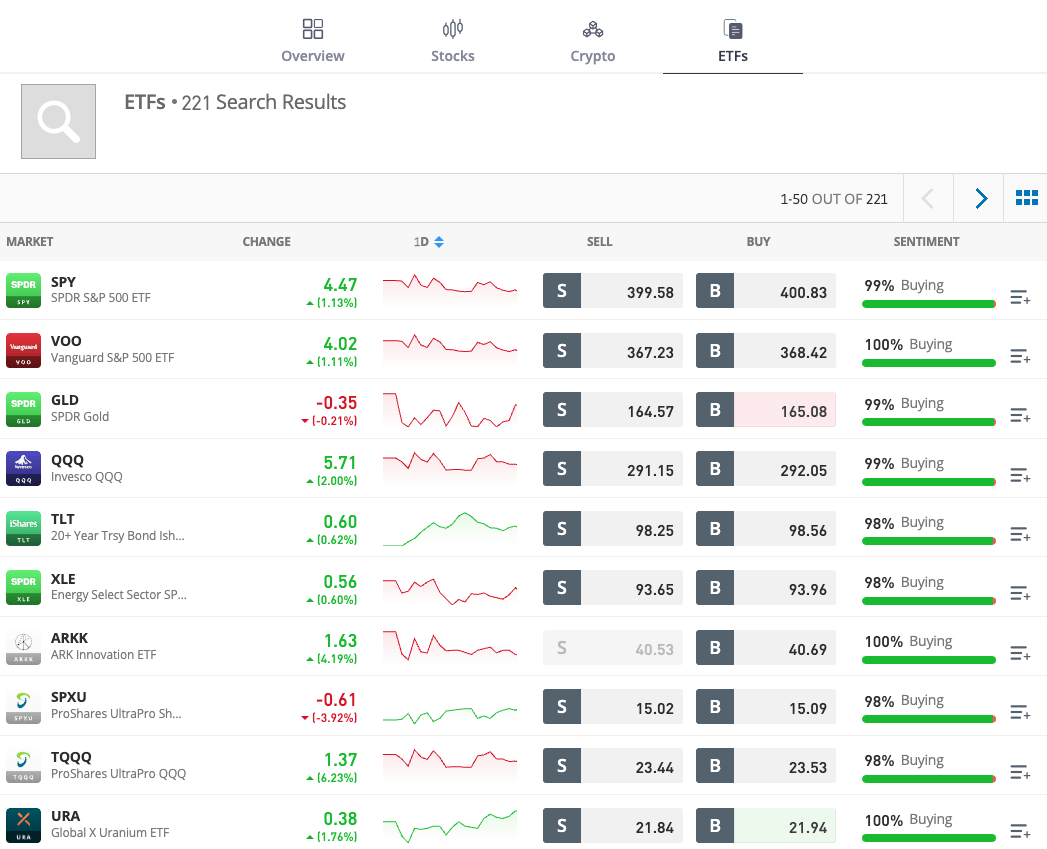 eToro is easy-to-use, powerful, and modern, which is why its our #1-ranked broker. ETF investing is one of its best features.
It has everything an ETF investor needs: You can research, set alerts, add to watchlists, and invest in 221 different ETFs, all with commission-free trading.
Additionally, with eToro's fractional shares, you can start investing with as little as $10 – no need to buy an entire share.
eToro is best known as a social trading platform. It's a brokerage platform combined with a social media element. This allows you to communicate, learn, create strategies, and invest alongside more than 28 million users worldwide.
If you're not sure what ETFs to buy, you can use CopyTrader – a tool that allows you to copy the portfolios of more experienced investors.
It's unlike any other platform on this list and is the best brokerage for ETFs.
2. Betterment – The Best Hands-Off ETF Platform
Rating: 5/5
Commission/Fees: 0.25% annual fee
Betterment is our second choice as the best brokerage for ETFs, and it takes a different approach than eToro.
Whereas eToro empowers you to make your own ETF investing decisions, Betterment does the work for you.
Upon signing up, you will fill out this questionnaire which covers your goals, risk/reward profile, and time horizon. Betterment takes it from there.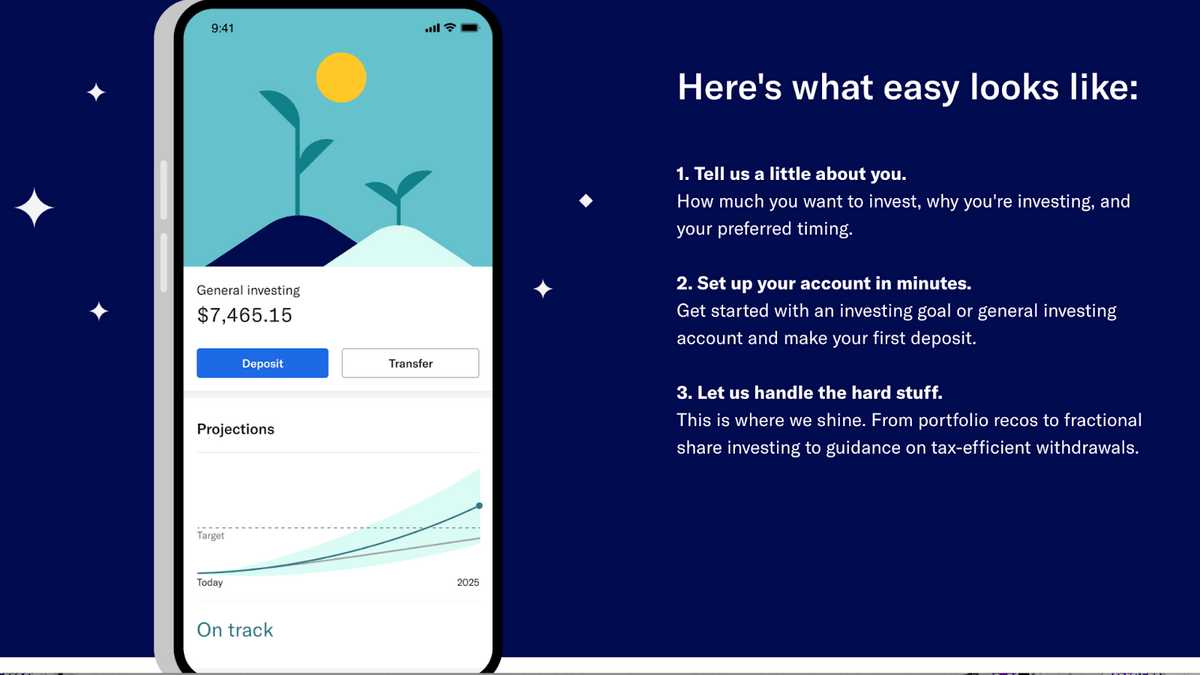 Based on your answers, Betterment will create a customized portfolio of low-cost, diversified ETFs.
After your portfolio has been built, you can turn on auto-deposits to automatically invest on a regular basis. Betterment takes care of the portfolio management, asset allocation, tax-loss harvesting, and more so you can have a diversified and efficient portfolio.
In my opinion, it's the perfect hands-off solution and is the second best platform to buy ETFs.
Unlike eToro, Betterment is not free.
It charges a 0.25% annual fee ($25 for every $10,000 invested).
Most financial advisors charge around 1% per year for a similar service.
Betterment is the best ETF broker for building a done-for-you ETF portfolio.
3. Fidelity – The Best Legacy ETF Brokerage
Rating: 4.5/5
Commission/Fees: $0
Fidelity is my favorite ETF platform out of the "legacy brokers".
Legacy brokers, unlike today's fintech platforms, are the ones that pioneered online stock investing. Fidelity, Charles Schwab, E*TRADE, Vanguard,  and TD Ameritrade are all examples of legacy brokers. They're the biggest and best-known retail brokerages.
While all legacy brokers offer the ability to invest in ETFs, Fidelity stands above its peers in this category for one reason: There are 52 Fidelity ETFs – ETFs that Fidelity has created backed by decades of research.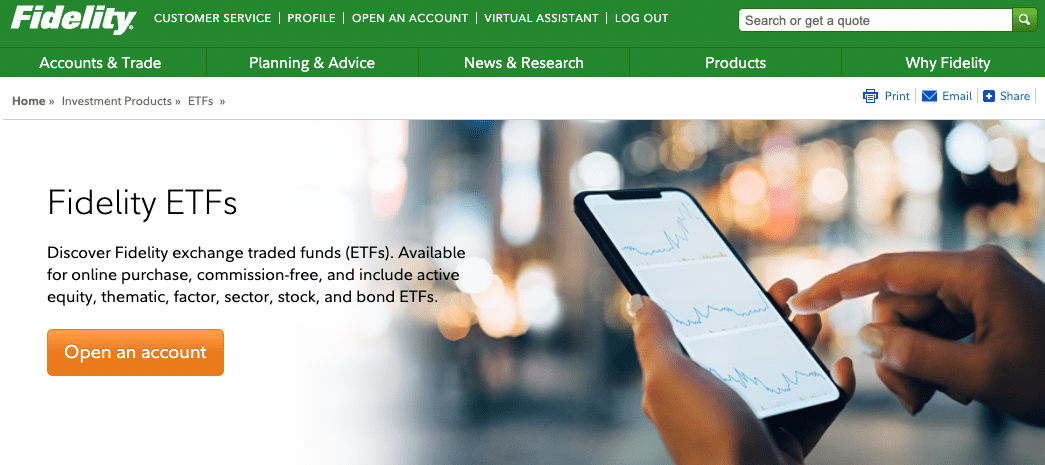 Fidelity ETF categories include:
Active Equity ETFs
Thematic ETFs
Factor ETFs
Sector ETFs
Stock ETFs
Bond ETFs
While these ETFs can be purchased on any other investing platform (including eToro), the research and analysis backing each ETF is found on Fidelity's website. If you want to build a portfolio from Fidelity's ETFs, you may choose to go straight to the source.
Plus, Fidelity's Portfolio Dashboard, investment resources, screeners, and other products make it an exceptional brokerage, even if it didn't offer its own ETFs. We've actually ranked it as the best online brokerage for beginners.
All online ETFs, Fidelity's and other providers', can be purchased commission-free on Fidelity.
That said, although Fidelity has made progress in this area, its desktop- and mobile-interfaces are not nearly as user-friendly as newer solutions (eToro, Webull, Robinhood, etc.). It's much more difficult for new investors to start investing with a legacy broker.
Still, Fidelity is one of the best brokers for ETFs.
4. TD Ameritrade – The Best ETF Broker for Active Traders
Rating: 4.5/5
Commission/Fees: $0
TD Ameritrade is another legacy broker you should consider as your ETF broker.
Whereas Fidelity stands out for its branded ETFs, TD Ameritrade is a better platform for active trading. Here's an in-depth comparison of TD vs Fidelity.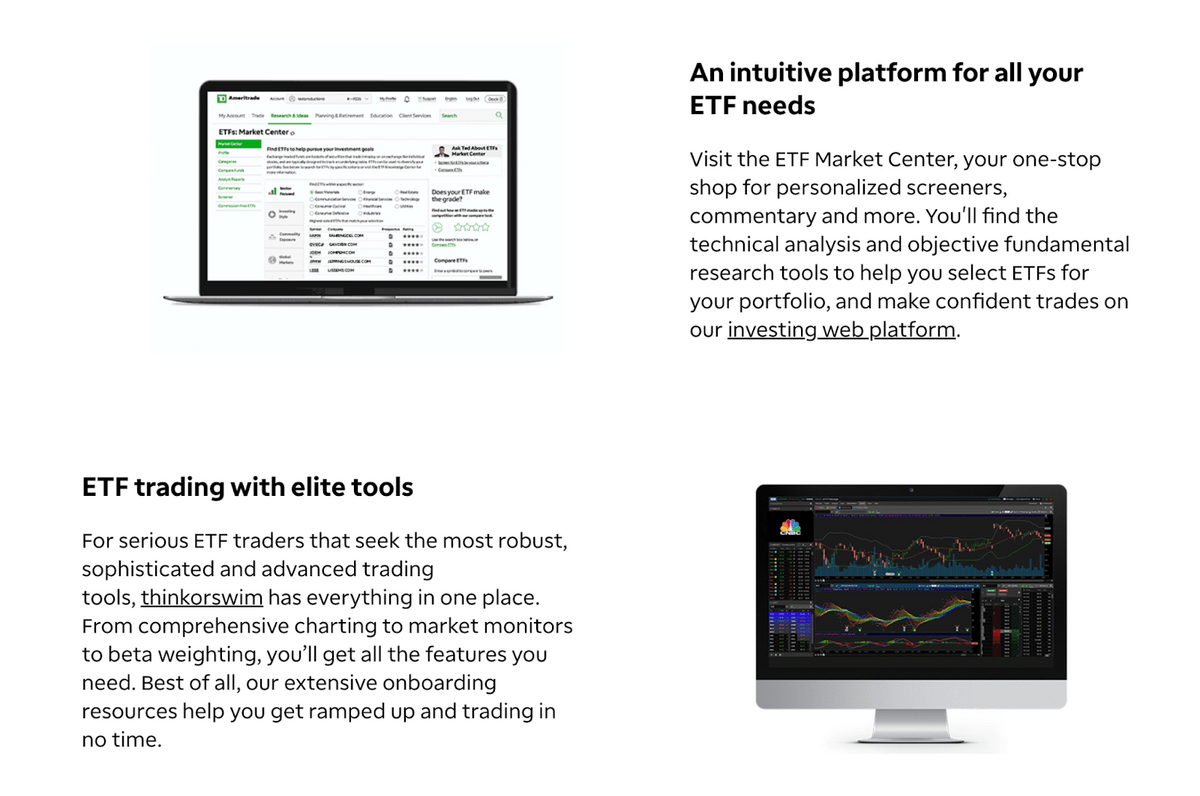 Its interface is more robust and designed to make trading simpler.
Plus, its thinkorswim charting platform is one of the best charting platforms for traders and is automatically integrated into every TD account. If you're an ETF trader, TD Ameritrade is the broker for you.
Additionally, TD Ameritrade's library of educational resources is second to none.
TD Ameritrade is the best ETF trading platform.
5. Interactive Brokers – The Best ETF Broker for International Investments
Rating: 4/5
Commission/Fees: $0
Interactive Brokers is a brokerage primarily built for traders, but it also has some unique features when it comes to ETF investing.
IB gives its investors access to 13,000 ETFs listed in over 150 global markets (only U.S.-listed ETFs trade commission-free).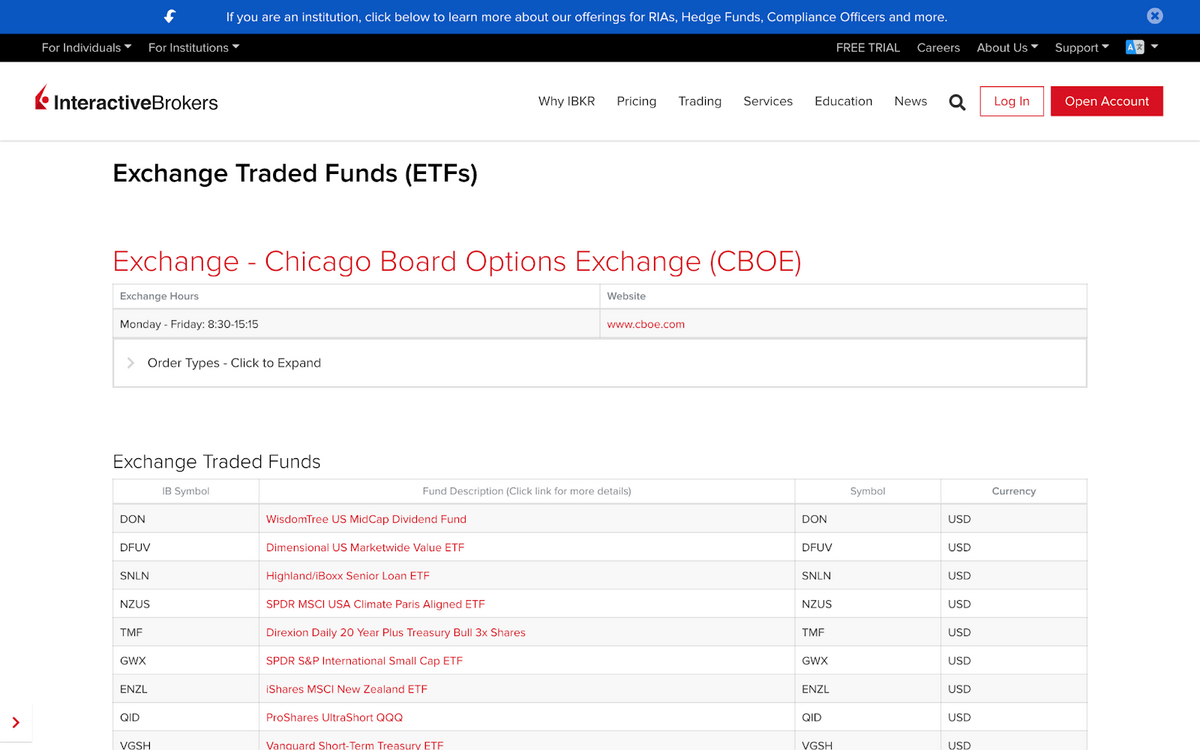 If you're a beginner, Interactive Brokers is not for you. Its website layout is not intuitive and there are an overwhelming number of investment options.
However, as someone who loves international equities and ETFs, the number of investments is a huge advantage. And if you're an experienced trader, Interactive Brokers should be on your list of brokerages to use, anyway.
While it doesn't appeal to a wide range of people, Interactive Brokers has a very loyal user base, a strong indication of its robustness.
6. Webull – The Best ETF Brokerage for Crypto Investors
Rating: 3.5/5
Commission/Fees: $0
Webull is the best online brokerage for ETFs if you're a young, aggressive investor.
It's also an excellent spot for investors who want to own ETFs AND invest in crypto (though you can buy crypto on eToro, too).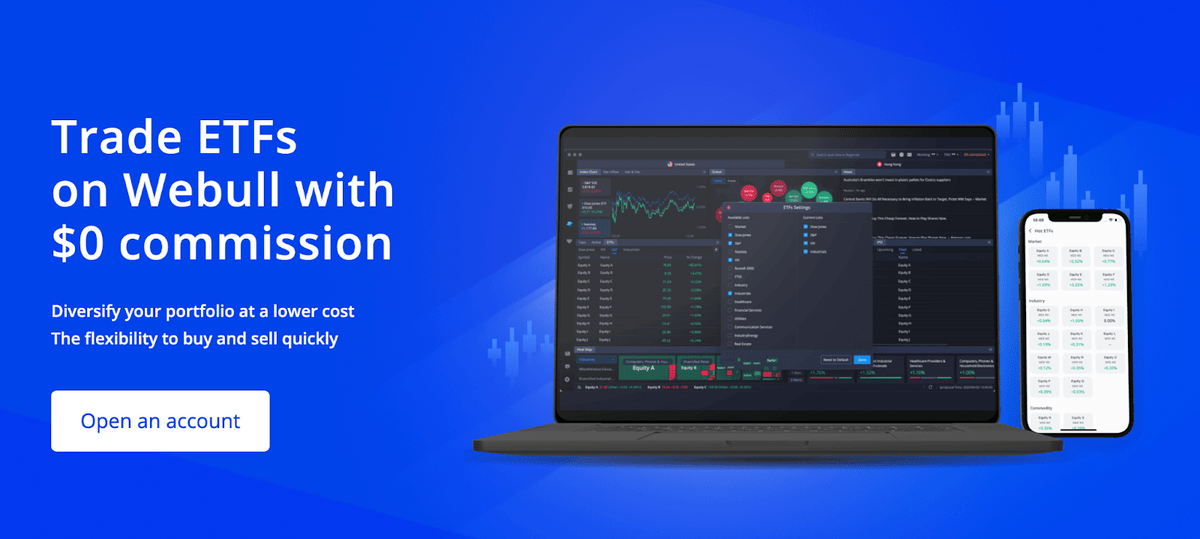 Webull is primarily known for its mobile app that makes trading easy. It's difficult to build an app that is both powerful and user-friendly to chart and trade, but Webull has done an excellent job. A nice app isn't the only important thing though — make sure to check out is Webull safe to use before signing up.
While you can invest in ETFs on Webull, it's not the best platform for long-term ETF investing.
Webull's target market is new investors and those interested in cryptocurrencies. If that's who you are, it's worth looking into (along with the next broker on the list).
7. Robinhood – The Best ETF Brokerage for Beginner Investors
Rating: 3/5
Commission/Fees: $0
Regardless of how you feel about it, Robinhood deserves to make this list.
It was the first brokerage to offer commission-free trading which forced all the other brokers on this list to follow suit. Plus, its user interface is exceptionally intuitive.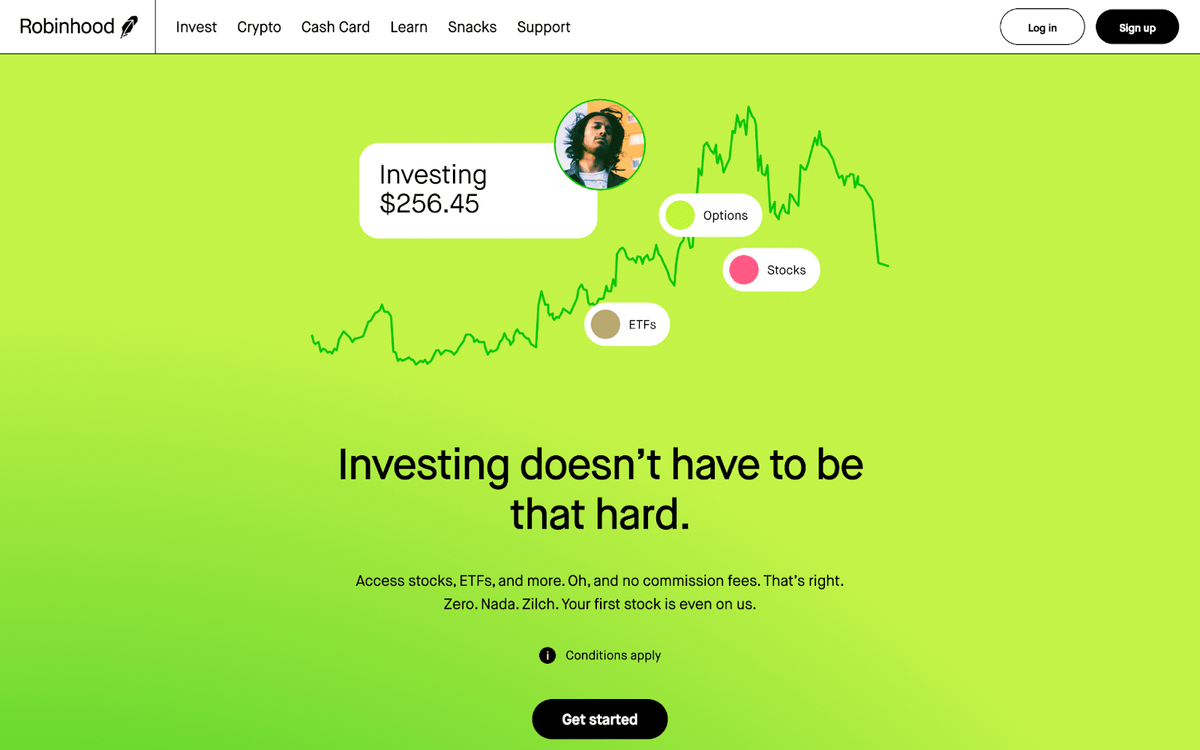 The platform is perfect for investors who want to self-direct their brokerage accounts without getting overwhelmed with research tools. It's almost the exact opposite of Interactive Brokers.
Thus, we ranked it as the best ETF brokerage for beginner investors.
However, Robinhood has had functionality concerns in the past, along with poor customer service. Furthermore, look elsewhere if you want better research tools and advanced charting features.
But for a place to start investing in ETFs, Robinhood deserves some attention.
Final Word: The Best Brokerage for ETFs
I could say something nice about every brokerage on this list – each brings something unique to the table and corners a particular type of ETF investor.
However, I believe eToro is the best brokerage for ETF investing overall.
It blends the user-friendliness and speed of newer brokers like Robinhood and Webull with the power, reliability, and security of legacy brokers like Fidelity and TD Ameritrade.
And it adds a social experience you won't find anywhere else.
Your capital is at risk. Other fees apply. For more information, visit www.etoro.com/trading/fees.
---
FAQs:
How do ETFs work?
An ETF (exchange-traded fund) is a basket of stocks that focuses on a specific sector, index, theme, or market. They are like mutual funds but trade on exchanges like stocks. They are great options for investors to gain exposure to the stock market and quickly diversify their portfolios.
What is the best brokerage for ETF investing?
eToro is the best ETF broker because it merges ETF investing with social investing. ​​It combines the power and reliability of legacy brokers with the speed and UI of fintech platforms.
It also has $0 commission fees and excellent research tools.
Where to buy an ETF? What is the best place to buy an ETF?
You need a brokerage account to buy ETFs. My favorite brokerage is eToro.
How to buy ETFs?
You can buy ETFs in 3 steps: 1. Open a brokerage account, 2. Do some research, 3. Pick your ETF and place a trade.
Where to Invest $1,000 Right Now?
Did you know that stocks rated as "Buy" by the Top Analysts in WallStreetZen's database beat the S&P500 by 98.4% last year?
Our September report reveals the 3 "Strong Buy" stocks that market-beating analysts predict will outperform over the next year.