Our editorial team uses a strict editorial review process to compile all reviews, research, and evaluations of any kind. Our company, WallStreetZen Limited, is supported by our user community and may receive a small commission when purchases are made through partner links. Commissions do not affect the opinions or evaluations of our editorial team.
You should be investing.
Putting your money to work for you is one of the best ways to build wealth.
And, like Warren Buffet says,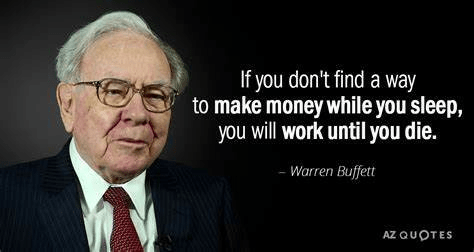 The first step to investing is picking a quality brokerage account that offers a wide range of investment choices and a simple user experience.
As a new investor, your brokerage should at least allow you to invest in stocks and ETFs, but you may also want to invest in mutual funds, cryptocurrencies, fixed income, or other investments (or at least have access to them down the road).
You also want a brokerage that doesn't nickel and dime you to death with unnecessary fees, and offers educational content to help you level-up your investing knowledge.
We've reviewed every online brokerage account to find the top ones that offer rock-bottom fees, access to thousands of stocks and funds, intuitive mobile apps, and are designed to help beginners start investing.
Here's my list of the 7 best brokerage accounts for new investors.
The 7 Best Online Brokerage Accounts for Beginners in 2023:
1. Fidelity – The Best Online Brokerage for Beginners Overall
Overall rating: ⭐️⭐️⭐️⭐️⭐️
Account Fees: None
Stock/ETF Trading Fees: $0
Account Minimum: $0
Assets Available: Stocks, ETFs, options, mutual funds, fixed income
Fidelity is a beginner-friendly platform with commission-free stock and ETF trading, access to hundreds of educational resources and training, and a well-designed mobile app to manage your investments on-the-go.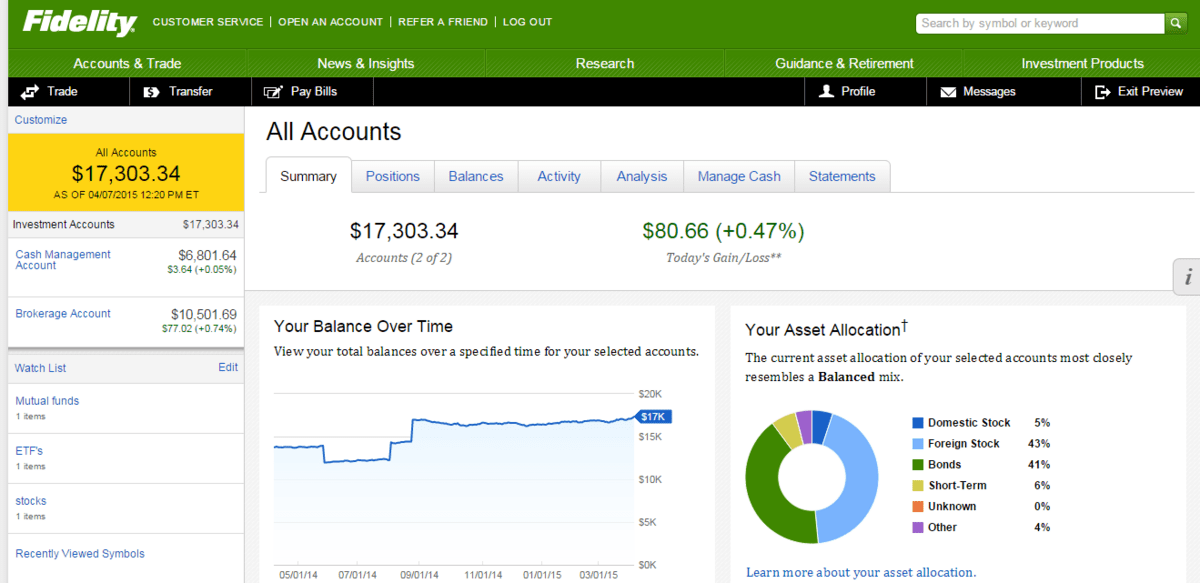 Fidelity is one of the largest and most-trusted brokers in the U.S., with over $3 trillion in assets and over 7,000 stocks and ETFs to choose from (including zero-fee index funds).
Check out some of Fidelity's closest competitors in Fidelity vs TD Ameritrade.
Fidelity supports most account types, including:
Standard brokerage accounts
Individual Retirement Accounts (IRAs)
401(k) accounts
Health Savings Accounts (HSAs)
And more
Fidelity also offers 24/7 customer service over the phone, as well as responsive live chat on the website or mobile app during business hours.
Bottom line: Fidelity is an excellent choice for new investors that want simple access to fee-free investing and helpful customer support. It is the best beginner investment account overall in 2023.
Fidelity Pros
No trading fees on stocks and ETFs
No account minimums
24/7 customer service
Large investment selection
Huge educational library
Simple mobile app
Fidelity Cons
Website not the easiest to navigate
High fees for non-Fidelity mutual funds
2. M1 Finance – Best Online Brokerage for Long-Term Wealth Building
Overall rating: ⭐️⭐️⭐️⭐️⭐️
Account Fees: $0 (optional $125/year for M1 Plus)
Stock/ETF Trading Fees: $0
Account Minimum: $100
Assets Available: Stocks, ETFs, options, crypto
When investing, time is your best friend. The longer your investments have to compound the larger your portfolio will become, and no brokerage makes putting time on your side as easy as M1 Finance.
M1 Finance is an online broker and investing app that offers access to thousands of stocks and ETFs, as well as cryptocurrencies. It's also much easier to use than Fidelity.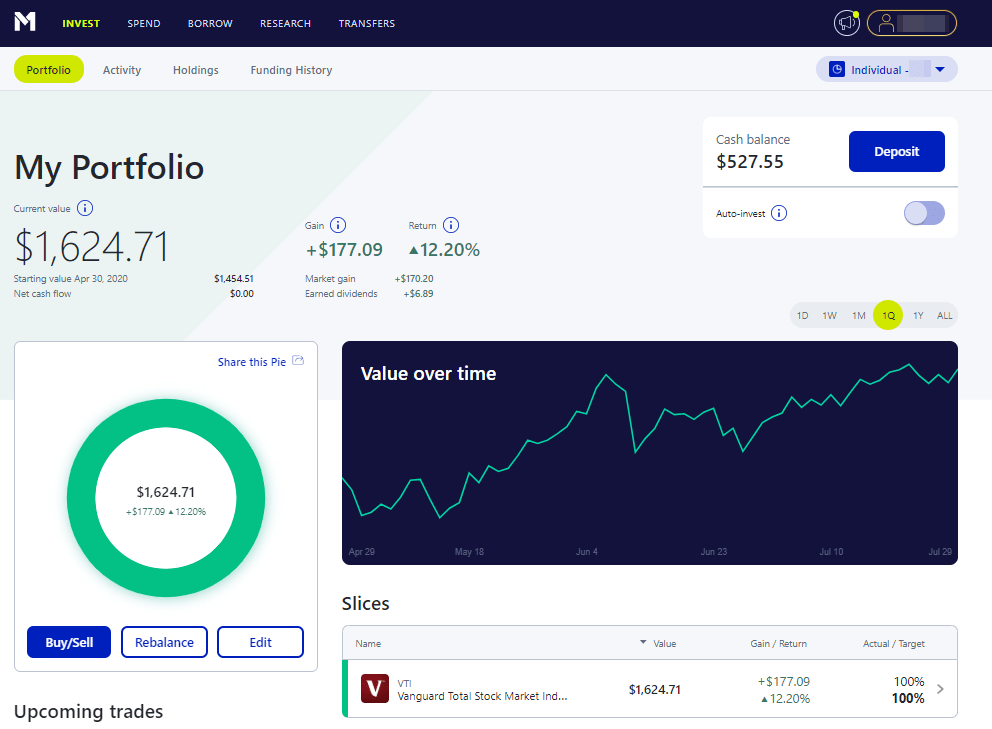 On M1, it's all about your "Pie" – the mix of investments you own. You can create your own Pie from scratch or create a diversified investment portfolio with the click of a button using its pre-built pies.
M1 Pies are built by selecting individual stocks and ETFs and choosing what percentage to invest in each. This gives M1 your asset allocation strategy, and all deposits are invested according to your Pie.
Then you can utilize M1's automated investing features like recurring contributions, auto-investing, and auto-rebalancing and easily add to your diversified Pie. You can open a standard brokerage account or IRA with an M1 Finance free account, but custodial accounts require upgrading to M1 Plus.
As an added perk, M1 Finance has an incredible brokerage account bonus for first-time users.
Bottom line: M1 Finance is great for creating low maintenance, well-diversified portfolios for long-term wealth building with extremely low fees. It is easily the 2nd best beginner investment account in 2023, and I find myself recommending it more than Fidelity because of its ease of use.
M1 Finance Pros
No fees on stocks or ETFs
Diversified investing with "Pies"
Access to crypto
Recurring transfers to automate investments
M1 Finance Cons
No access to mutual funds or bonds
Limited training and educational resources
3. Robinhood – The Best Brokerage Account for Beginners to Get Started Investing
Overall rating: ⭐️⭐️⭐️⭐️
Account Fees: $0 (optional $5/month for Robinhood Gold)
Stock/ETF Trading Fees: $0
Account Minimum: $0
Assets Available: Stocks, ETFs, options, crypto
Robinhood is a commission-free stock trading app that offers low fees on stocks, ETFs, and even cryptocurrency. The Robinhood mobile app has a minimal design and intuitive layout, ideal for beginners that want to dip their toes into trading stocks.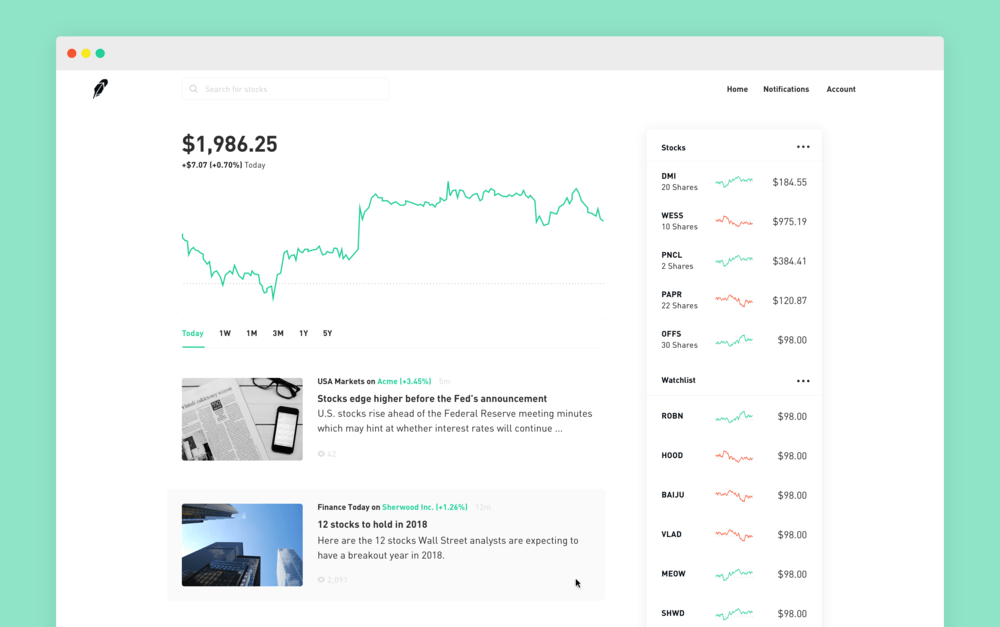 Robinhood has over 5,000 U.S. stocks and ETFs, as well as access to over 20 popular cryptocurrencies (including Bitcoin and Ethereum). And Robinhood recently launched their IRA account, allowing you to invest in a retirement account within the app. For a complete overview of its features, check out our Robinhood review.
Although it's by far the easiest online brokerage for beginners to start investing in the stock market, Robinhood has been in trouble with regulators and media outlets in the past over the way they make money, including accepting payments for routing trades to preferred partners (known as "Payment for Order Flow"). They have also halted trading on the app during times of volatility (remember Gamestop?).
Bottom Line: If you are a new investor that wants to learn about trading stocks and crypto, Robinhood is a good starting point. But if you want access to more investing options, you can "graduate" to another broker in the future.
Robinhood Pros
Commission-free stock, ETF, and crypto trading
Invest as little as $1
Minimalist mobile app design
Robinhood Cons
No access to mutual funds or fixed income investments
Limited research and education tools
4. Webull – Best for Beginner Options Trading
Overall rating: ⭐️⭐️⭐️⭐️
Account Fees: None
Stock/ETF Trading Fees: $0
Account Minimum: $0
Assets Available: Stocks, ETFs, options, crypto
Webull is an online broker that offers no fees on stock, ETF, and options trades, with a user-friendly mobile app. Webull doesn't charge any fees for options trading, making it one of the least expensive brokers available.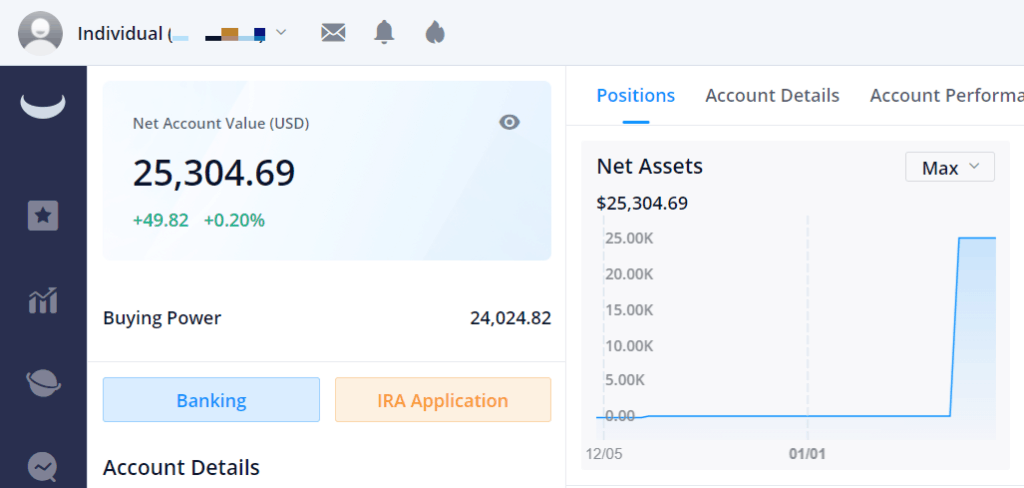 Webull has an entire library of learning resources built into the app, designed to help beginners learn how to trade options contracts. In addition to options trading, you can trade thousands of stocks, ETFs, and crypto.
The desktop Webull app might be a little advanced for new users, but the mobile app offers a great balance of trading tools and simplicity.
Bottom line: Webull is the best low-cost options trading broker that offers free education to beginners.
Webull Pros
No fees on options trading
Access to fee-free stock and ETF trades
Over 40 cryptocurrencies
Built-in courses for options trading
Well-designed mobile app
Webull Cons
Desktop app may be too complicated for new users
No access to mutual funds or bonds
5. Acorns – Best for Investing Small Amounts
Overall rating: ⭐️⭐️⭐️⭐️
Account Fees: $3 – $5 per month
Stock/ETF Trading Fees: $0
Account Minimum: $5
Assets Available: ETFs
Acorns is an online broker that offers automated investing by rounding up the spare change from your purchases. Acorns will track your purchases, and round up to the nearest dollar, investing the difference into your portfolio.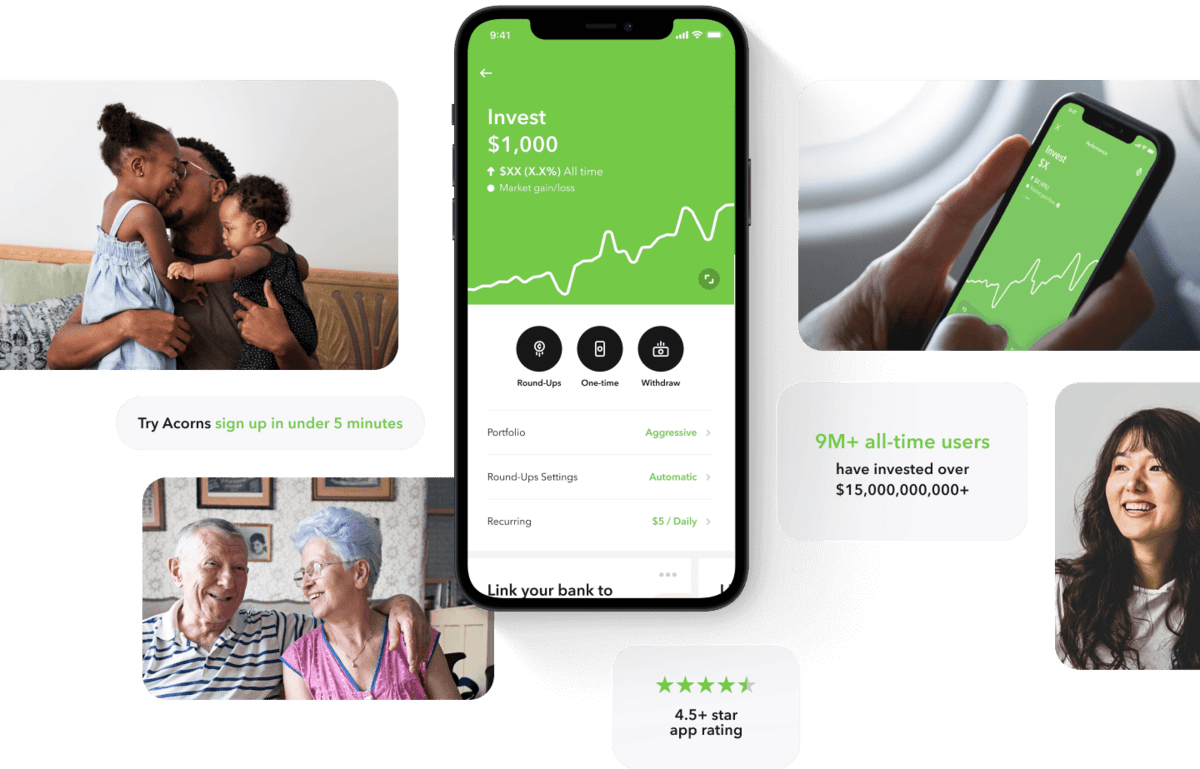 Acorns offers access to over 6,000 low-cost ETFs to build a diversified investment mix, but you can't buy individual stocks and bonds. Acorns is aimed at long-term investors, and offers both standard brokerage accounts and retirement accounts.
Acorns will help you pick a balanced portfolio based on your risk tolerance, as well as your investment goals. And your investments are automatically rebalanced periodically. You can invest as little as $5, and can also set up recurring investments in addition to rounding up.
Bottom line: Acorns is great for new investors that want some help creating a balanced portfolio while investing small amounts. Just watch out for the monthly fee, as it can quickly eat into your investment balance.
Acorns Pros
Round up spare change to invest
Automation built-in (rebalancing, dividend reinvestment)
Access to 6,000+ ETFs
Mobile app is easy to use
Acorns Cons
Fees may be high for users with small balances
No access to individual stocks, bonds, or other assets
6. Betterment – Best Robo Advisor for Completely Automated Investing
Overall rating: ⭐️⭐️⭐️⭐️
Account Fees: 0.25% annual fee (based on account balance)
Stock/ETF Trading Fees: $0
Account Minimum: $10 ($100,000 for Premium)
Assets Available: ETFs
Betterment is a robo-advisor that offers fully automated investment management, including asset allocation, automatic rebalancing, tax-loss harvesting, and dividend reinvestment. Even if you don't know what those things are, Betterment makes it simple to invest on a set-it-and-forget-it schedule.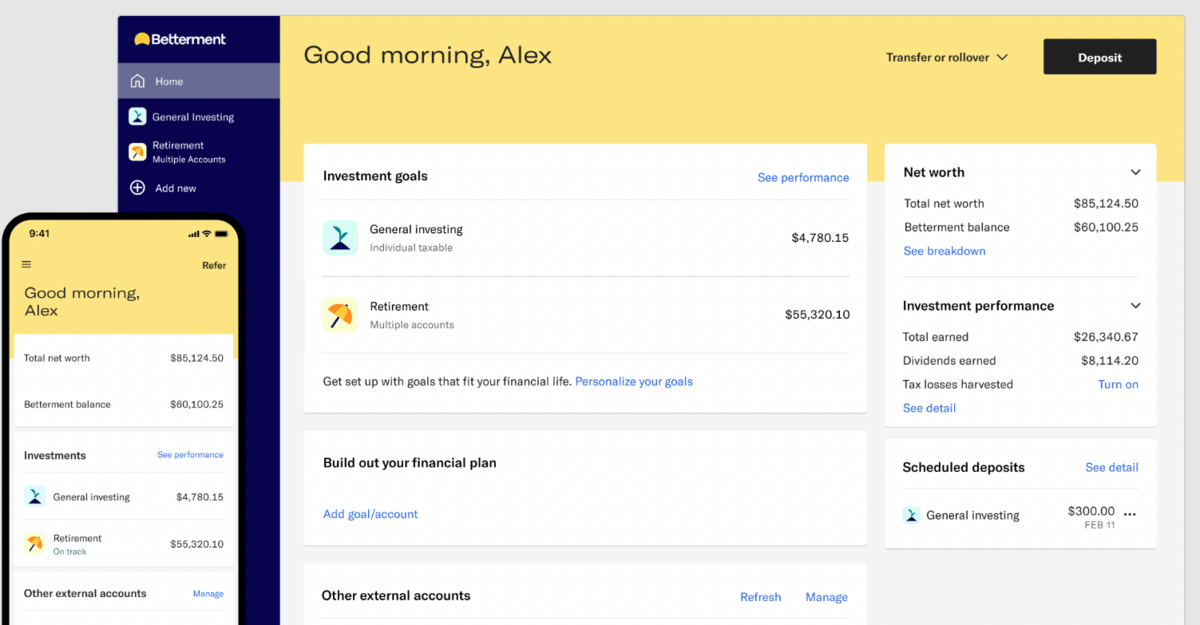 Betterment builds portfolios utilizing a mix of low-cost ETFs and index funds, diversifying your investments across several asset classes. And their tools are goal-based, meaning that you can set goals and Betterment will help you figure out a savings plan to achieve them.
In addition to automated investing, Betterment offers a Premium service, giving you access to licensed financial advisors for a bump in account fees (0.35% vs. 0.25%). But you do need a $100,000 balance before upgrading to Premium
Bottom line: Betterment is the best robo-advisor for beginners that want to open an IRA or brokerage account and automate their investments..
Betterment Pros
Fully managed investment account
Access to financial advisors (Premium only)
Large ETF selection
Tax-saving strategies built-in
Betterment Cons
High minimums for Premium accounts
No access to individual stocks
7. eToro – Best for Social Trading
Overall rating: ⭐️⭐️⭐️
Stock/ETF Trading Fees: Commission-free trading
Account Minimum: $10
Assets Available: Stocks, ETFs, options, cryptocurrencies,
eToro is a unique online broker that offers social trading, which allows users to subscribe to popular traders and copy their trades automatically. eToro also offers access to thousands of stocks, ETFs, index funds, as well as over 50 cryptocurrencies.
eToro offers commission-free stock and ETF trading, and options trading has no contract fees. Crypto charges a flat 1% fee, which is competitive with most crypto exchanges. The eToro mobile app is user-friendly, making it easy to browse investments and place trades.
eToro does not offer retirement accounts, and the desktop experience may be too confusing for beginners.
If you're interested in day trading, eToro's not a bad option. However, you might be better off checking out the best day trading platform.
Bottom line: eToro is the best app for social trading, allowing beginners to join advanced traders without having to place the trades themselves.
eToro Pros
No commissions on stock and ETF trading
Access to alternative assets (crypto)
Copy trades of popular investors on the app
eToro Cons
Your capital is at risk. Other fees may apply.
Final Word: The Best Online Brokerage for Beginners
Finding a quality brokerage account that makes it easy to start has never been easier. Fidelity offers everything you need to get started, and you can manage everything from their well-designed mobile app.
If you are new to trading stocks, apps like Robinhood and Webull offer built-in training and super-simple mobile apps to get started. But if you are looking to invest in retirement accounts, brokers like Acorns and Betterment help you automate the process and build a properly diversified portfolio without needing a finance degree.
All of these apps are fully insured and licensed in the U.S., and offer a safe and secure way to invest. You just need to find one that fits your investing style to get started.
---
FAQs:
What brokerage should a beginner use?
If you are just starting to invest, you want to find a brokerage that offers a simple onboarding process, low fees, and access to educational content. Learning about investing is half the battle, and brokers like Fidelity can help you get up-to-speed quickly on basic investment concepts with built-in training.
You will also want to consider the type of investing you are doing.
If you are a long-term investor, make sure the brokerage offers retirement accounts, or helps you build a proper asset allocation. If you want to trade stocks and crypto, find a broker that offers a large selection and low fees.
What online broker has lowest fees?
Luckily, most brokers offer no-fee trades for stocks and ETFs these days, along with low minimums and no account maintenance fees. Fidelity, M1 Finance, and Robinhood are the best online brokers with low fees.
Is Robinhood a good brokerage for beginners?
Robinhood is ideal for beginners that are interested in stock and crypto trading, or who want to earn options trading. There are no commissions on stock and crypto trades, and the mobile app is one of the easiest to use of any broker.
Robinhood does have limitations, though, as they don't offer retirement accounts, or access to mutual funds or bonds. And Robinhood has had its fair share of controversy (including platform outages) over the years.
Robinhood may be a good starting point, but more full-service brokers (like Fidelity) are a good next step for long-term investors.
What is the most trusted brokerage?
Fidelity is one of the most trusted (and top-rated) brokerage services in the U.S. With over 40 million customers, no brokerage serves more customers in the world. And Fidelity also offers a huge selection of investments and funds, as well as services for beginners and wealthy clients alike.
What is the best investment firm for beginners?
Fidelity is the best investment firm for beginners, followed closely by M1 Finance.
Where to Invest $1,000 Right Now?
Did you know that stocks rated as "Buy" by the Top Analysts in WallStreetZen's database beat the S&P500 by 98.4% last year?
Our September report reveals the 3 "Strong Buy" stocks that market-beating analysts predict will outperform over the next year.