Our editorial team uses a strict editorial review process to compile all reviews, research, and evaluations of any kind. Our company, WallStreetZen Limited, is supported by our user community and may receive a small commission when purchases are made through partner links. Commissions do not affect the opinions or evaluations of our editorial team.
Discord is not publicly traded, but that doesn't mean you can't invest in it.
Equitybee gives accredited investors access to hundreds of private, VC-backed startups before they IPO.
Sign up with Equitybee and invest in Discord today.
Discord's number of users has tripled over the last 3 years.
Even more impressive, estimates show triple-digit YoY revenue growth every year since 2019.
This astronomical growth reminds me of Facebook, which had similar numbers in its early years from 2009-2011. If there's one thing that history has taught us over the last two decades, it's that social media platforms beginning to show parabolic growth are a screaming buy.
How can you get a piece of the company behind these statistics?
Here's how to buy Discord stock in 2023 whether you're a retail investor or an accredited investor.
How to Buy Discord Stock as an Accredited Investor
Equitybee gives accredited investors access to hundreds of high-growth, VC-backed startups. You can become an investor in private companies like Discord, Reddit, and Stripe.
By funding employee stock options, investors like you can own stakes in private companies at past valuations. In exchange for funding the options, you will receive a percentage of future proceeds from successful liquidity events.
Click on the image below to view Discord's current offerings on Equitybee: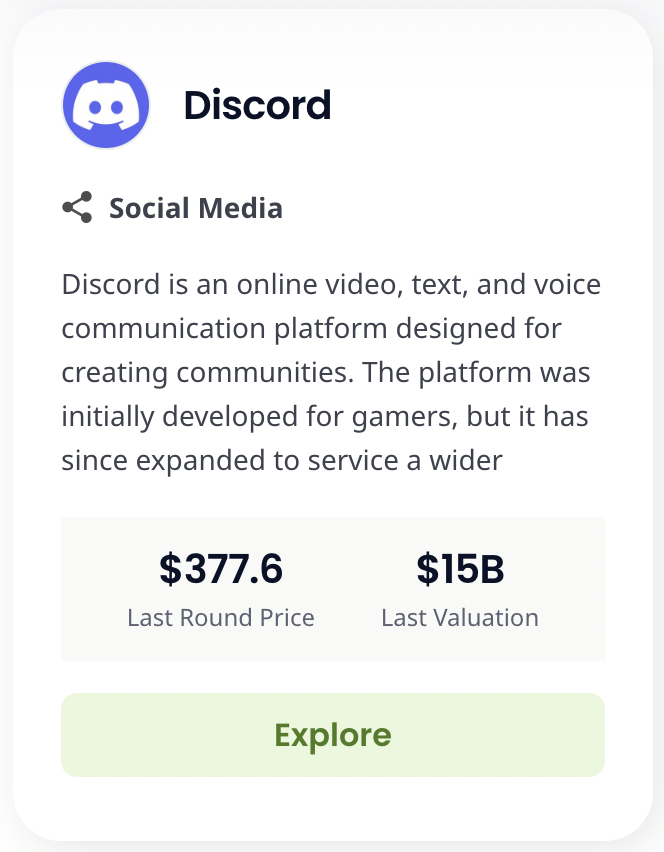 Start investing in Discord and hundreds of other private companies on Equitybee.
Subject to availability.
If you're not an accredited investor, keep reading to learn how you can gain exposure to Discord's upside…
Can You Buy Discord Stock as a Retail Investor? Is Discord Publicly Traded?
Since it's not a publicly-traded company, there is no Discord stock price, and no Discord stock ticker on any exchange.
But you can still invest in Discord (indirectly) by buying shares of the companies that own it.
Several social media platforms like YouTube, TikTok, and Instagram are in the same boat – you can gain exposure to the upside of these platforms by investing in Google, Softbank, and Facebook.
And while we can't buy YouTube directly, there's no question that the growth and revenue metrics of YouTube are reflected in the stock price of Google.
How to buy Discord stock isn't quite as easy as buying a regular public company, but we can still gain indirect exposure to its upside.
September 2023 Deal for U.S. Residents
eToro is one of the world's most popular investing platforms with over 28.5 million users.
As of September 20, 2023, eToro is offering a $10 bonus* for U.S. residents who open and fund a new account.
$10 bonus for a deposit of $100 or more. Only available to U.S. residents. Additional terms and conditions apply.
Here's how:
Who Owns Discord?
While Discord does not have shares available for purchase by retail traders, you can make an indirect investment via Sony Group Corporation (NYSE: SONY).
Sony is a Japanese conglomerate known best for its flagship product, the PlayStation. Discord is already integrated with PlayStations and has enabled sophisticated chat capabilities to its users. In addition to its console integration, Sony made a minority investment in Discord's $100 million H round, although the amount Sony invested has not been disclosed.
Other notable investors in Discord include Tencent, Arcane Group, and Fidelity. Arcane Group and Fidelity are both private companies, while Tencent trades on the OTC markets..
Tencent is a massive Chinese technology and entertainment holding company that participated in multiple funding rounds for Discord. Arcane Group is a Web 3 and blockchain-focussed venture capital firm. Fidelity Investments is an American corporation, and one of the largest asset managers in the world.
How to Invest in Discord Stock
You cannot directly buy shares of Discord stock but you can invest in some of the companies that own it. Sony and Tencent are both available to retail traders, and have both invested in Discord.
Sony is a Japanese company primarily in the entertainment sector, best known for the PlayStation.
Tencent is one of the largest companies in China – it owns many tech companies, apps, and social media platforms.
The most direct investment opportunity is via buying shares of Sony, though its investment in Discord is likely quite small compared to its $80+ billion market capitalization.
How to Buy the Discord IPO
In 2021, Microsoft offered to buy Discord for $12 billion, which Discord turned down. Some point to this as a sign that the company is likely to go public in the near future via an IPO.
If Discord does go public, here are the steps to take to buy the Discord IPO:
Create or login to your brokerage account (if you don't have one, we recommend eToro – it's free)
Search for Discord
Select how many shares you want to buy
Place your order
Monitor your trade
Remember, Discord stock is not yet available. We cannot buy shares of Discord until the company's IPO.
If you don't want to wait for its IPO, register for Equitybee and invest in Discord today.
Subject to availability.
Another social media company that's likely to go public (again) is Twitter. Check out how to buy Twitter stock for more information.
Discord Stock Price Chart
There is no Discord stock price chart as of right now, but we can track its valuation based on their private funding rounds.
This graph shows the history of the valuations at which Discord has raised money: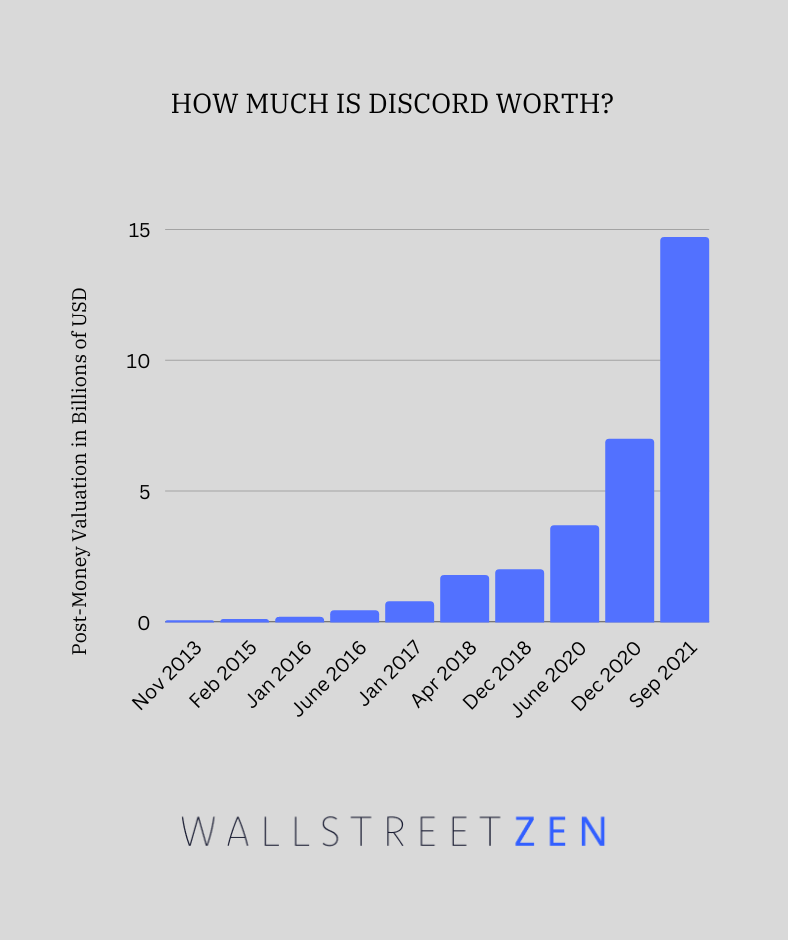 Read more: How to Buy Instacart Stock
---
FAQs:
How to buy Discord stock?
At this time, Discord is not publicly traded, so you can only invest in it indirectly by buying Sony or Tencent stock.
How much is Discord stock?
Discord does not have a stock or a stock price at this time, though it is estimated to be worth roughly $15 billion based on its latest round of funding.
What is Discord stock symbol?
There is no Discord stock symbol at this time, but there may be one in the near future. The Discord stock symbol will be revealed when the company files for an IPO.
Who owns Discord stock?
Co-Founder and CEO Jason Citron is the primary owner of DIscord.
There are a number of private and public companies that own a portion of Discord. The two notable public companies that own Discord are Sony and Tencent.
Where to Invest $1,000 Right Now?
Did you know that stocks rated as "Buy" by the Top Analysts in WallStreetZen's database beat the S&P500 by 98.4% last year?
Our September report reveals the 3 "Strong Buy" stocks that market-beating analysts predict will outperform over the next year.