Our editorial team uses a strict editorial review process to compile all reviews, research, and evaluations of any kind. Our company, WallStreetZen Limited, is supported by our user community and may receive a small commission when purchases are made through partner links. Commissions do not affect the opinions or evaluations of our editorial team.
Technical analysis is the core of active trading.
To do it at a high level, you need the right tools. There are dozens of trading platforms vying for your attention.
If you're reading this, you've narrowed it down to TradingView vs StockCharts vs thinkorswim vs TrendSpider, but which is the best?
I won't bury the lead – my favorite is TradingView. I explain why below.
And despite TradingView being my favorite, each of the other options have their strengths.
Once you figure out the kind of trader they're geared to, you can choose the one that's right for you.
TradingView – Best Day Trading Platform Overall
TradingView is a sleek, powerful trading platform geared to short-term traders. It has every feature you need for high-level technical analysis.
That means access to real-time stock quotes, a suite of versatile indicators, complex charting capabilities, watchlists, screeners, and tools to help you research stocks, cryptocurrencies, and other asset classes.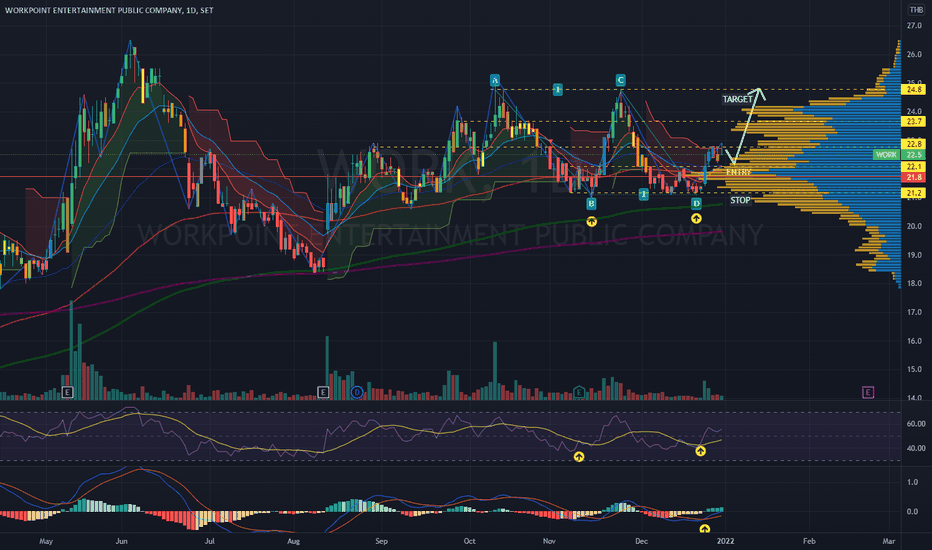 TradingView is best for active day traders and swing traders, beginners and experts.
It's both powerful and intuitive – it's user-friendly for new traders while offering robust capabilities for experienced day traders
Pricing:
I recommend the Pro+ membership tier – if you're a day trader, you'll need at least this level of power (extra drawing tools and charts per display).
Pro+ costs $24.95/month when billed annually, but our link below will give you a 30-day free trial:
Charting is the main attraction for TradingView's 30+ million users (yes, it's the most popular trading website in the world). Your toolkit will include:
14 chart types
20+ timeframes
90+ drawing tools
100+ pre-built indicators
100,000+ community-built indicators
70+ exchanges from 50+ countries
It also has best-in-class stock screeners and text/email alerts. Its active community is a knowledgeable and helpful way to share trade ideas and learn new setups.
If you don't want to complicate things, just trust me and give TradingView a trial run.
Otherwise, read on.
StockCharts – Best for Long-Term Traders
StockCharts is another popular and versatile platform. It's old-school in look and performance, which works for some traders… Others will get a bit turned off by its functionality.
Its trademark charts are highly customizable. Take a look: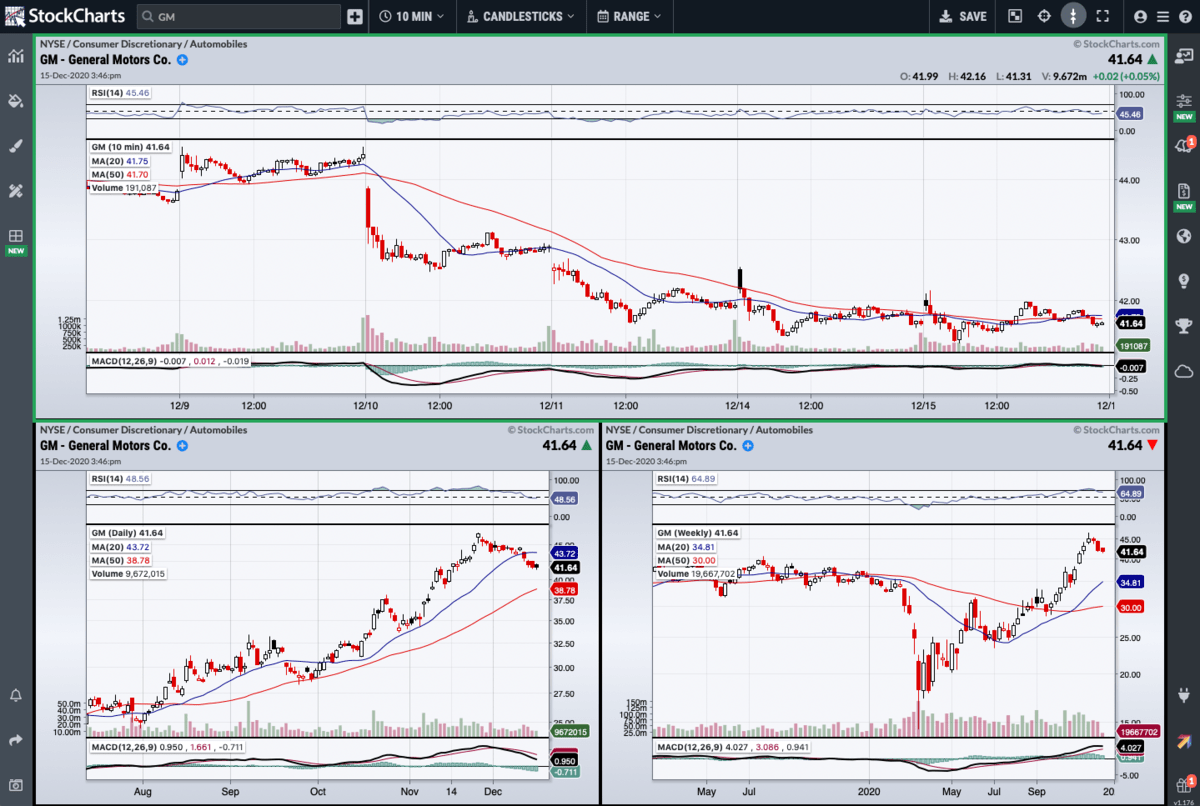 StockCharts is best for longer-term traders who like its interface – as I mentioned before, it's decidedly classic looking.
Beginners will enjoy its ChartSchool, StockChart's educational resource for new traders.
Its lack of dynamic charting is a real weakness for short-term traders. Each time you need to change timeframe or indicators, you'll have to refresh the chart image. There are also limitations on its real-time quotes.
Pricing:
The free plan gives you a very limited version of StockCharts' charting. There are three paid tiers — the basic ($14.95 per month) and extra ($24.95 per month) will give most traders the features they need.
If you sign up for the annual plan, you'll get the 13th month free. That makes StockCharts the cheapest non-broker site on this list.
Despite its limitations, StockCharts has some unique capabilities. It features:
A syntax-based stock screener, which lets you write your own criteria
Unique features like their Seasonality chart, which shows historical trends
Daily technical analysis reports
Trading tutorials
It isn't ideal for day trading (I definitely wouldn't choose it over TradingView), but it may fit your purposes.
thinkorswim
thinkorswim revolutionized online trading when it came out in 1999. TD Ameritrade acquired the platform in 2009 and made it free to use and perfectly integrated with an existing TD account.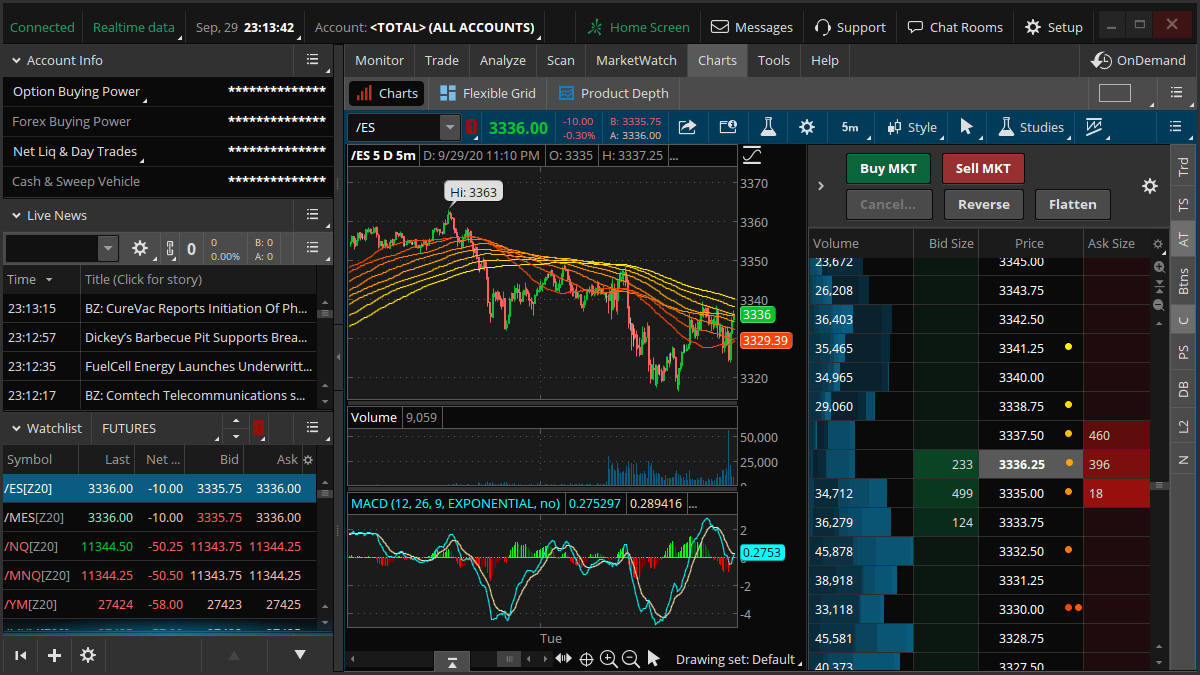 thinkorswim is best for experienced traders and the tech-savvy. It's one of the most versatile platforms out there – on the flip side, it's one of the most complicated.
Plus, if you have an existing TD Ameritrade account, it's probably at least worth trying.
Unlike TradingView, you should expect a significant learning curve, but many traders swear by it.
Pricing:
thinkorswim is only available to TD Ameritrade traders at the moment, at zero commissions and minimal fees. Soon, it will extend its reach to Charles Schwab account holders, who currently use the clunkier platform StreetSmart Edge.
The biggest draw of thinkorswim is its versatility. It's so versatile that it will take the average beginner some targeted training (and a number of YouTube videos) to feel comfortable. Once you get up to speed, your options will include:
Desktop and web-based versions
Multi-legged trade orders
Fundamental analysis tools like real-time news and currency maps
thinkScript, a built-in programming language that lets you create your own tools
thinkorswim may lag at times, but it's still one of the most powerful platforms out there.
TrendSpider
TrendSpider is a bit of an outlier in our roundup. Its charts are sleek and innovative, but the main attractions here are its automated features. With a bit of training, users can use automated indicators and even automate their trading strategies.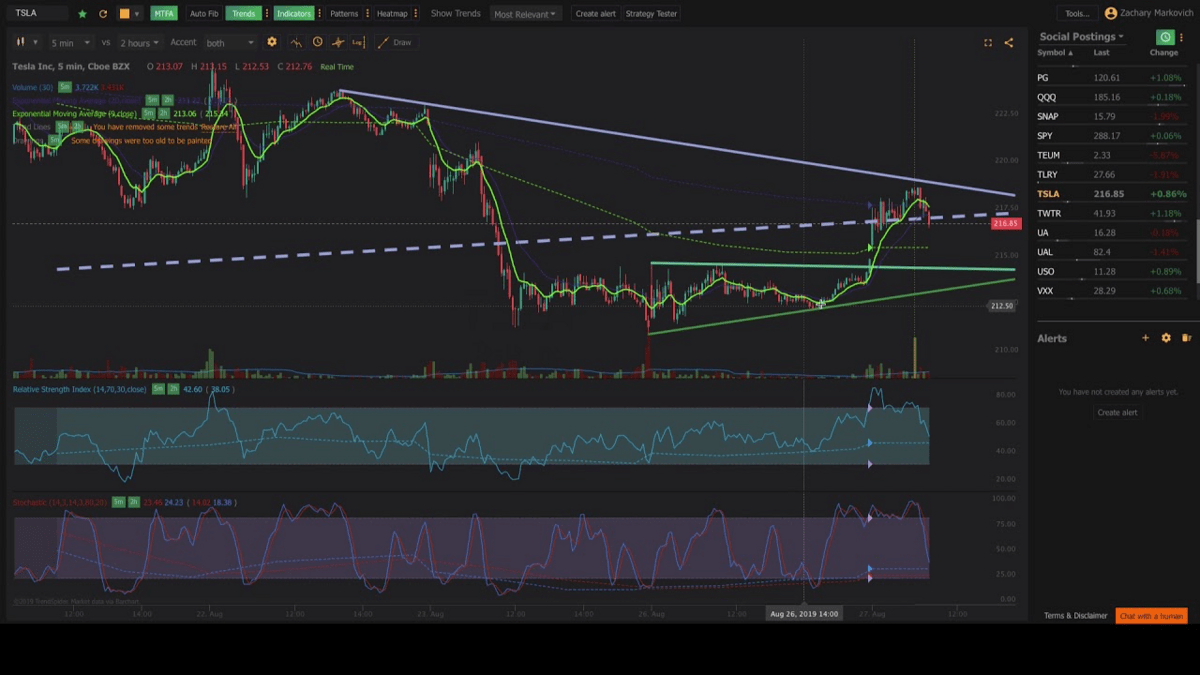 TrendSpider is best for swing traders.
While its charts are great for active traders, its main value is in automating strategies. For traders who are in front of the computer more frequently, these features are less crucial.
Some day traders will still find good value in its automated trendline analysis and alternative display options, so if you're interested in these features it may be worth a trial run.
Pricing:
Yearly plans range from $33 to $97 per month, though the Elite tier ($65/month) is the best value option in my opinion. Elite unlocks all of TrendSpider's tools and features without being total overkill (like the Advanced tier).
TrendSpider is truly a 21st-century platform. If you want to invest as much time into your trading platform as you do on trading itself, TrendSpider might work for you.
Some of the highlights include:
Alternative displays allow you to view the same stock in multiple timeframes, or replace traditional price-action indicators with innovative chart options like raindrops
Automated trendline indicators
Automated trading bots
One-on-one training in its features is available
Plus, the charting is top-notch.
Head-to-Head Comparisons
You came here to find out which platform is best between TradingView vs StockCharts vs thinkorswim vs TrendSpider — and I already told you that TradingView is my pick.
Let's do some head-to-head comparisons so you can see how I came to my conclusion and how these platforms stack up against one another.
StockCharts vs TradingView
For me, the value in a trading platform comes in accessible yet powerful features. StockCharts lack of dynamic charting and real-time price data isn't ideal for short-term traders.
TradingView's charts, on the other hand, are my favorite on the market. They don't suffer from a lack of customizable options and (the best thing about these charts is that) they're easy to use.
TrendSpider vs TradingView
TrendSpider is awesome, but I think of it more as a fancy toy than an everyday tool. I love my GoPro, but most of my videos are shot on an iPhone (i.e. TradingView).
That said, there are some tools in TrendSpider that may become a bigger part of my trading repertoire in the future. One that I'm still wrapping my head around is TrendSpider's raindrop charts. I love the idea, but I still find myself drawn to the more traditional charting options on TradingView.
TradingView vs thinkorswim
I'm spoiled — thinkorswim has always been my baseline. It's a great app, even though it hasn't made the changes necessary to stay as my go-to platform.
TradingView is newer, and it just feels better – its interface is unmatched, and its got all of the power of thinkorswim.
When thinkorswim debuted in 1999, it was all about adding more and more features.
When TradingView came out in 2011, we already knew what computers were capable of, but what we needed was a better user experience. TradingView delivers this better than anyone.
TradingView vs FINVIZ
I know some of you are wondering about other options, like FINVIZ.
FINVIZ has long been one of the premiere free trading tools. It's still used by more than 20 million users each month.
With their paid option, FINVIZ Elite, FINVIZ has stepped into the charting competition. And it does quite well.
I'm still a sucker for user experience though. TradingView is what I'm comfortable with, and it doesn't sacrifice anything in capacity either.
The Bottom Line: TradingView vs StockCharts vs thinkorswim vs TrendSpider
In my experience, TradingView is the best trading platform overall. It strikes a perfect balance between accessibility and optionality. For that reason, I think it's also the best platform for most traders.
Most doesn't mean all. As I said before, the best trading platform is the one you feel most comfortable using.
Here's a recap of who should choose what:
TradingView – Best Day Trading Platform Overall
StockCharts – Best for Long-Term Traders
thinkorswim – Best Free Platform/Best for TD Ameritrade Users
TrendSpider – Best High-Tech Platform
---
FAQs:
Which is better TradingView vs StockCharts?
TradingView is better for most traders, especially active traders who need dynamic charts with real-time quotes.
StockCharts is good for longer-term traders who like its user interface and customizability.
What is better than TradingView?
TradingView is the best trading platform out there. In my opinion, nothing is better than TradingView.
Is StockCharts worth it?
StockCharts is worth it for traders who like its charts, and are not bothered by its limitations. That said, I recommend TradingView for most traders.
Is TradingView good for stocks?
TradingView is good for stock screening and charting.
You can also place trades directly from the platform using broker integrations, which works well for TradeStation users, among others.
Where to Invest $1,000 Right Now?
Did you know that stocks rated as "Buy" by the Top Analysts in WallStreetZen's database beat the S&P500 by 98.4% last year?
Our December report reveals the 3 "Strong Buy" stocks that market-beating analysts predict will outperform over the next year.