Our editorial team uses a strict editorial review process to compile all reviews, research, and evaluations of any kind. Our company, WallStreetZen Limited, is supported by our user community and may receive a small commission when purchases are made through partner links. Commissions do not affect the opinions or evaluations of our editorial team.
Gold is an alluring safe haven investment.
But with so many gold dealers out there, you may be wondering … What's the best and cheapest place to buy gold online?
I've got you covered. Keep reading to discover the leading gold dealers in 2023, what sets them apart from one another, and how to get the best value for your gold investment.
At-a-Glance: What's the Best Place to Buy Gold Online?
Depends on your goals and objectives…
Best overall: JM Bullion
Best selection of gold coins: APMEX
Best coins for IRS compliance: Orion Metal Exchange
Best IRA gold guidance: Oxford Gold Group
Best gold coin pricing: BGASC
Best affordable gold and silver: Silver Gold Bull 
Best way to diversify with a gold IRA: Lear Capital 
Best investor education: Birch Gold Group
Best self-directed IRA diversification: Noble Gold
Best streamlined gold IRA rollovers: American Hartford Gold
Keep reading for a more detailed review of the companies mentioned above, and check out some of our top-rated gold IRA companies here:
What's the Best Place to Buy Gold in 2023?
The bottom line: Finding the best place to buy gold online in 2023 requires considering several factors, like pricing, selection, reputation, and customer experience.
Plus, it just depends on what you're looking for:
Looking for the best experience overall? Check out JM Bullion
Looking for the best prices? Consider Silver Gold Bull
Interested in retirement accounts and gold IRAs? Check out Lear Capital
JM Bullion – Best Overall
Rating: ⭐⭐⭐⭐⭐
Best for: Direct delivery of physical precious metals
Fees: No fees
Storage: Optional
JM Bullion has earned their reputation as a top choice among gold investors.
Here's why:
When it comes to user experience, JM Bullion shines with its user-friendly interface that makes navigating through their extensive range of gold products a breeze. If you're wondering where to buy physical gold, silver coins, platinum, and palladium, JM Bullion has it all: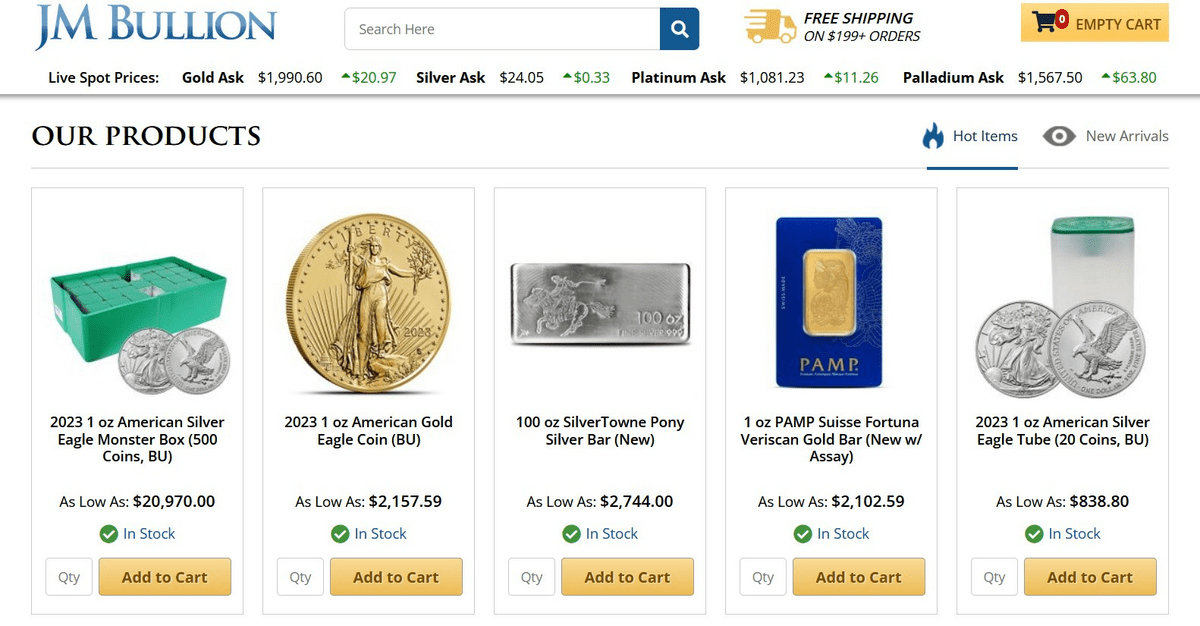 But what truly sets JM Bullion apart from the competition? Some of the most attractive rates in the market, making it easier for you to maximize your investment potential. They charge no fees, other than a slight premium over spot price (which is standard for all precious metals dealers).
If you don't want to take physical delivery, JM Bullion also offers secure storage options.
The only thing to watch out for is that JM Bullion charges a shipping fee for orders under a certain value. However, considering the advantages they bring to the table, it's a small price to pay.
So, if you're ready to dip your toes into the world of gold investing, JM Bullion is all-around the best company to buy gold from.
APMEX – Best Selection
Rating: ⭐⭐⭐⭐⭐
Best for: Wide selection
Fees: No fees
Storage: Optional
When it comes to buying gold, APMEX truly shines with its exceptional selection.
Whether you're interested in gold bars, coins, or other precious metal items, APMEX has an extensive selection to cater to all types of investors. From popular choices like American Eagles and Canadian Maple Leafs to rare and collectible pieces, they offer something for everyone: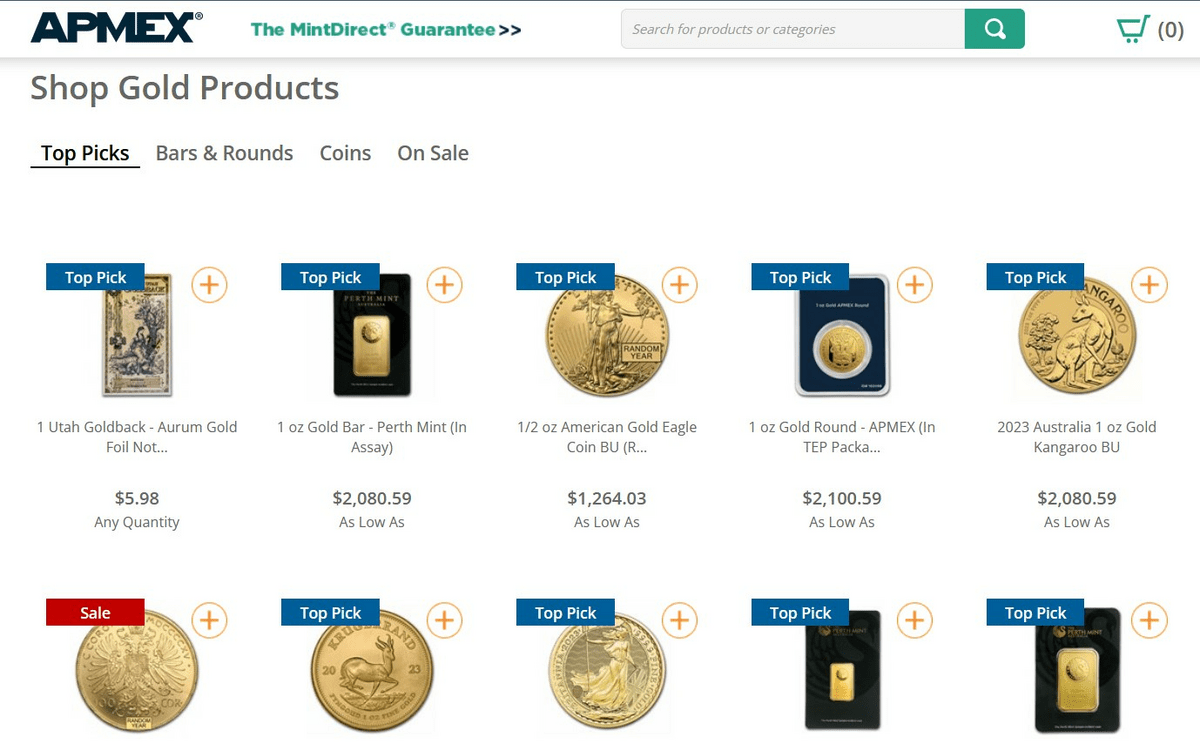 Their vast selection allows you to find exactly what you're looking for. It also gives you the flexibility to tailor your investment strategy to your preferences.
They also ensure the authenticity and quality of their products. APMEX sources their gold from reputable mints and suppliers, ensuring that you receive genuine and certified items.
Orion Metal Exchange – Best for IRA-Approved Coins
Rating: ⭐⭐⭐⭐
Best for: IRA-Approved Coins
Fees: For IRAs: $150-225 annually
Storage: Yes
Looking to invest in gold within an IRA? If so, Orion Metal Exchange could be a great choice.
They're the best when it comes to providing a wide selection of IRA-approved coins — great if you're looking to incorporate gold coins in your retirement savings.
Orion understands the unique requirements and regulations surrounding IRA investments, and ensures the coins they offer meet the strict guidelines set by the Internal Revenue Service (IRS).
Orion Metal Exchange offers a diverse range of IRA-approved gold coins, including popular choices like American Gold Eagles, Canadian Gold Maple Leafs, and South African Krugerrands: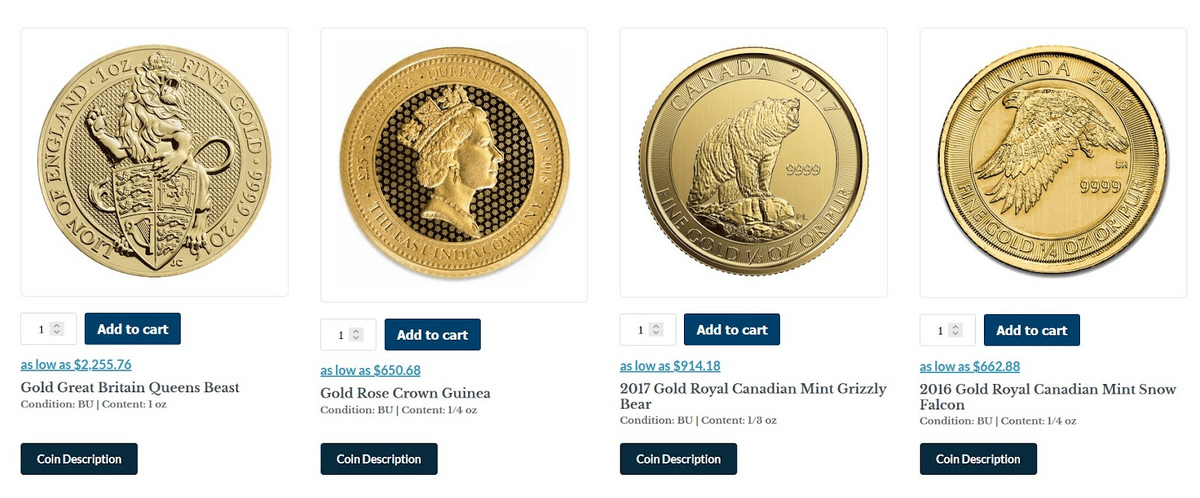 What sets Orion Metal Exchange apart is their expertise in helping investors navigate the process of investing in IRA-approved coins. Their knowledgeable team is well-versed in the IRS rules and regulations, and they can provide valuable guidance and support to ensure your investment is in compliance.
They understand the importance of a seamless and hassle-free experience when it comes to IRA investments, and they are dedicated to assisting you every step of the way.
Oxford Gold Group – Best for Personalized Gold IRA Guidance
Rating: ⭐⭐⭐⭐
Best for: Personalized Gold IRA Guidance
Fees: For storage, fees are $200 a yea
Storage: Optional
Oxford Gold Group stands out as the best place to buy gold online if you're looking for a tailored and personalized approach to gold investing. They understand that every investor has unique goals, risk tolerance, and financial circumstances.
They offer personalized guidance and expert advice to help you navigate the complexities of gold investing and make informed decisions that align with your specific needs.
Oxford Gold Group offers a holistic approach to gold investing, taking into account factors like portfolio diversification, risk management, and long-term wealth preservation. Whether you're a seasoned investor or new to gold, their team of experts will work closely with you to understand your objectives and develop a customized strategy.
One of the key benefits of choosing Oxford Gold Group is their extensive network and access to a wide range of gold products: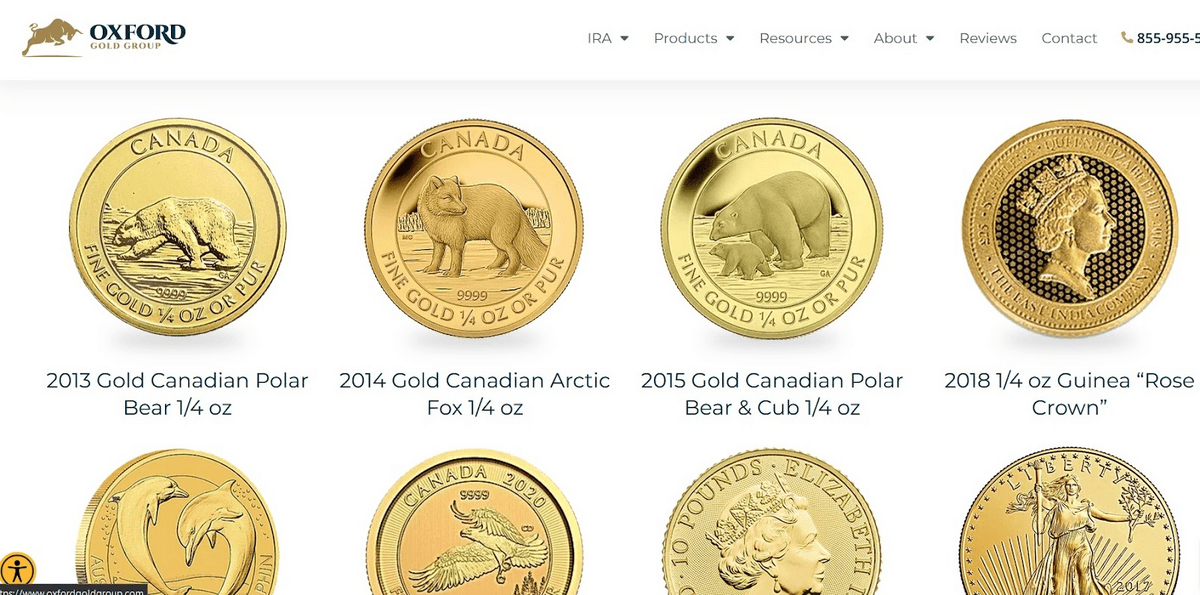 They have established relationships with reputable mints and suppliers, allowing them to offer a diverse selection of gold bars and coins.
From iconic bullion coins to exquisite collectibles, Oxford Gold Group ensures that you have access to high-quality, authenticated gold products that suit your investment preferences.
BGASC – Best for Gold Coins
Rating: ⭐⭐⭐⭐⭐
Best for: Gold Coin Selection, Discrete Physical Delivery
Fees: None
Storage: Optional
If you're seeking the best selection of gold coins, BGASC is the go-to platform.
They offer an impressive collection of gold coins from around the world, including popular bullion coins, historic coins, and rare numismatic treasures.
Whether you're looking for iconic American Gold Eagles, historic British Sovereigns, or exquisite Canadian Maple Leafs, BGASC gives you access to a wide range of gold coins: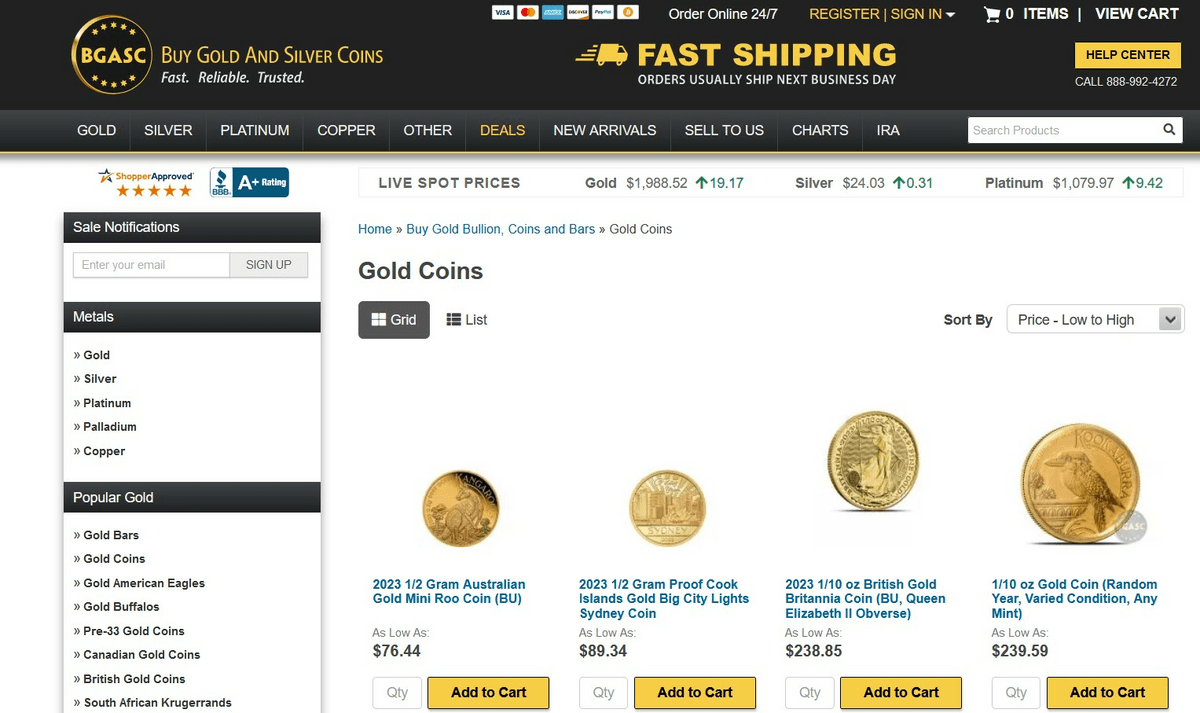 BGASC is also committed to offering competitive prices, which makes them an attractive choice for investors looking to maximize their purchasing power and potential returns.
Plus, BGASC understands the importance of secure and discreet shipping. They take great care in packaging and shipping your gold coins, ensuring that they arrive safely and securely at your doorstep.
They prioritize the confidentiality of your investment and go to great lengths to protect your privacy throughout the buying process.
Silver Gold Bull – Best for Low Prices
Rating: ⭐⭐⭐⭐
Best for: Low prices, direct physical delivery
Fees: None
Storage: Optional
Silver Gold Bull offers some of the most competitive prices in the industry, so you can acquire gold and silver at favorable rates. Their dedication to providing affordable options makes them a top choice.
How do they do it? Silver Gold Bull's strong relationships with suppliers and their bulk purchasing power enable them to pass on significant savings to their customers.
By buying directly from trusted sources and in large quantities, they are able to negotiate better prices and secure favorable deals and offer competitive pricing.
Their "Deal Zone" page is a great starting point if you're looking for the cheapest place to buy gold online: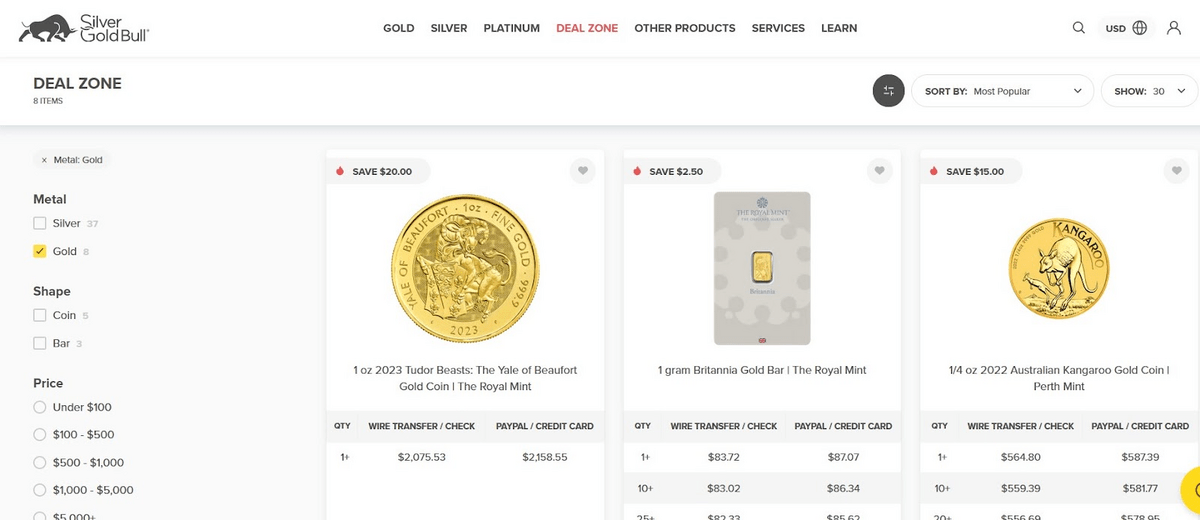 Another key factor that contributes to Silver Gold Bull's prices? They strive to provide fair and transparent pricing, ensuring that customers have a clear understanding of the costs associated with their purchases.
Lear Capital – Best for Retirement Accounts and Gold IRAs
Rating: ⭐⭐⭐
Best for: Retirement Accounts and Gold IRAs
Fees: For IRAs: one payment of $280 for the first year and $200 annually thereafter
Storage: Optional
Lear Capital excels in catering to investors looking to diversify their retirement portfolios with precious metals.
They specialize in helping investors establish Precious Metals IRAs, which allow for the inclusion of physical gold, silver, platinum, and palladium in a tax-advantaged retirement account: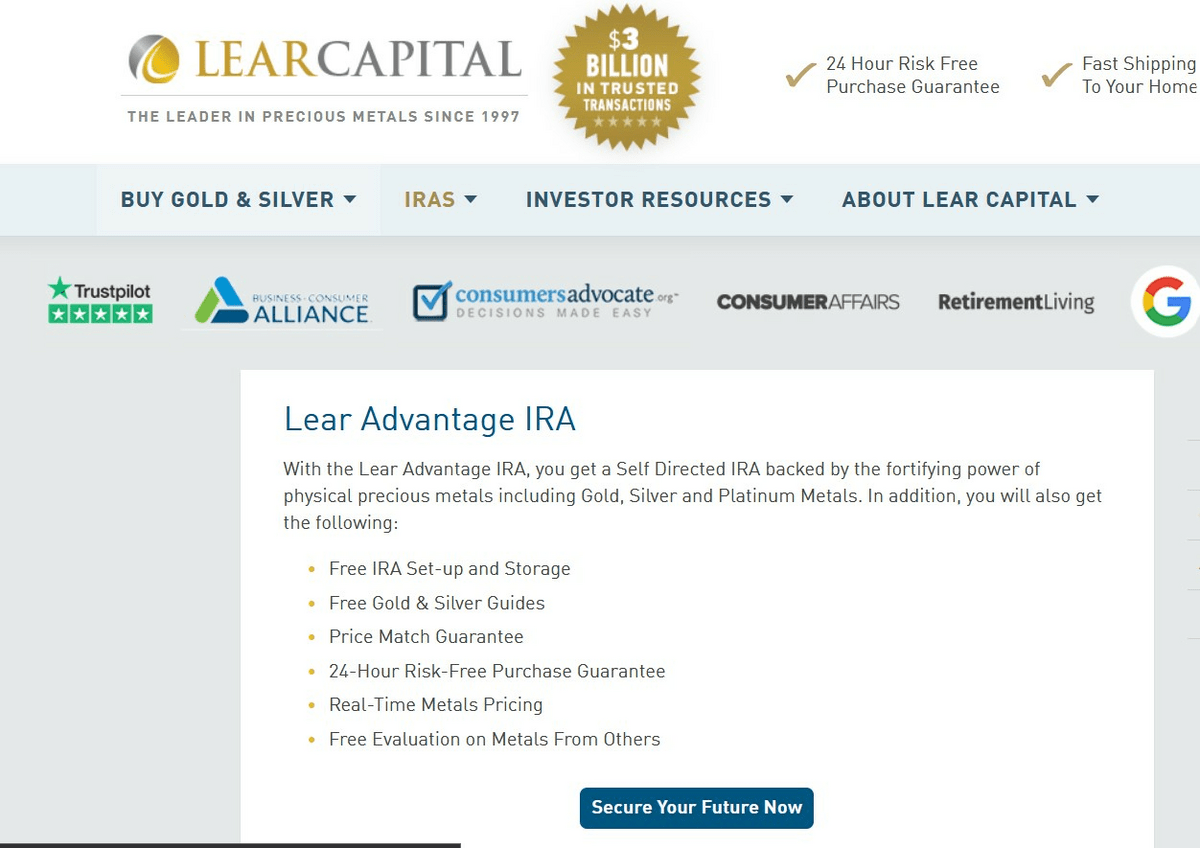 Lear also provides comprehensive guidance throughout the process, from selecting the appropriate metals to handling the administrative aspects of setting up the IRA.
With their expertise in retirement accounts and precious metals, Lear Capital ensures a seamless experience for those looking to protect and grow their retirement savings.
If you're looking to combine the benefits of precious metals with the power of an IRA, Lear is perhaps the best place to buy gold online.
Curious to know more about Lear Capital — both the good and the bad? Check out our extensive Lear Capital review.
Birch Gold Group – Best for Investor Education and Resources
Rating: ⭐⭐⭐⭐
Best for: Investor Education and Resources
Fees: For IRAs: Initial Set-up fee $50 | Annual Maintenance fee $80 | Annual Storage fee $100
Storage: Yes
Birch Gold Group distinguishes itself by offering a wealth of educational resources and personalized guidance to investors interested in precious metals.
They're a great platform to consider if you're seeking a deeper understanding of the precious metals market and personalized investment advice.
Birch Gold Group goes above and beyond to empower investors with comprehensive educational materials, including articles, videos, and guides, designed to enhance their knowledge of precious metals: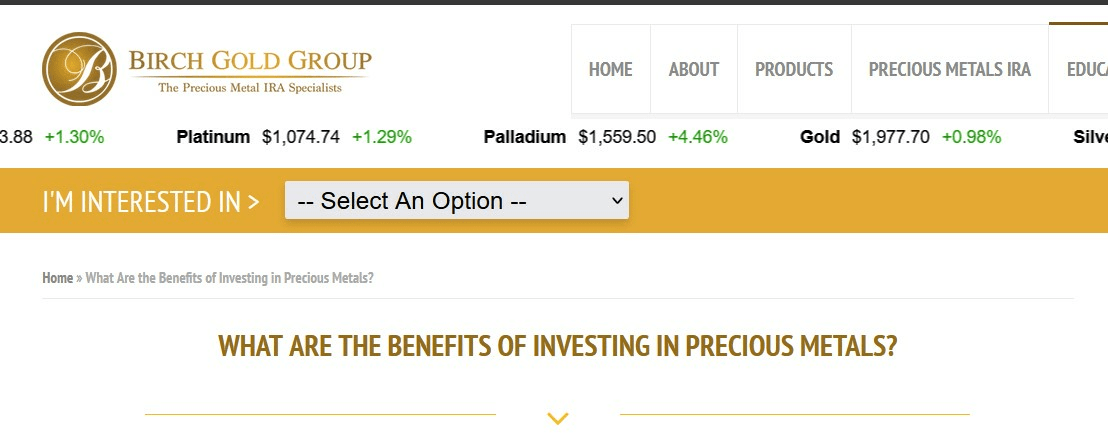 They provide insights into market trends, historical data, and the factors influencing the value of gold, silver, and other metals.
Birch Gold Group's team of experts is also readily available to provide personalized guidance and address individual investment goals and concerns.
Noble Gold – Best for Self-Directed IRAs
Rating: ⭐⭐⭐⭐
Best for: Self-directed IRAs
Fees: For IRAS: $80 annual service fee, and a $150 annual storage fee
Storage: Yes
Noble Gold excels in helping investors achieve portfolio diversification through the inclusion of precious metals. Their focus on self-directed IRAs sets them apart in empowering investors to take control of their retirement investments: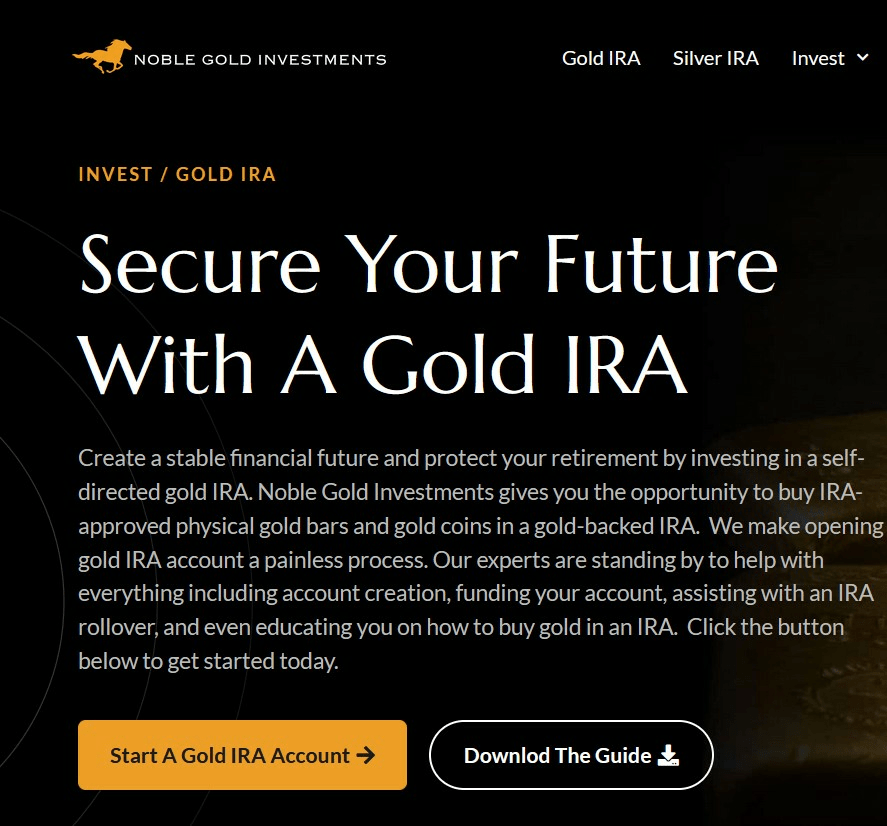 Noble Gold recognizes the importance of diversification and offers a wide range of precious metals options to suit different investor preferences and goals.
They guide investors in setting up self-directed IRAs, which provide the flexibility to include gold, silver, platinum, and palladium alongside traditional assets.
By offering self-directed IRAs and an extensive selection of metals, Noble Gold empowers investors to customize their portfolios and potentially mitigate risk through diversification.
American Hartford Gold – Best for Streamlined Gold IRA Rollovers
Rating: 4/5
Best for: Gold IRA Rollovers
Fees: For IRA accounts valued at $100,000 or less, the annual fee is $75.
Storage: Yes
American Hartford Gold is renowned for its expertise in facilitating gold IRA rollovers.
So if you're looking to transition your existing retirement accounts into precious metals-backed IRAs, American Hartford Gold could be just what you're looking for: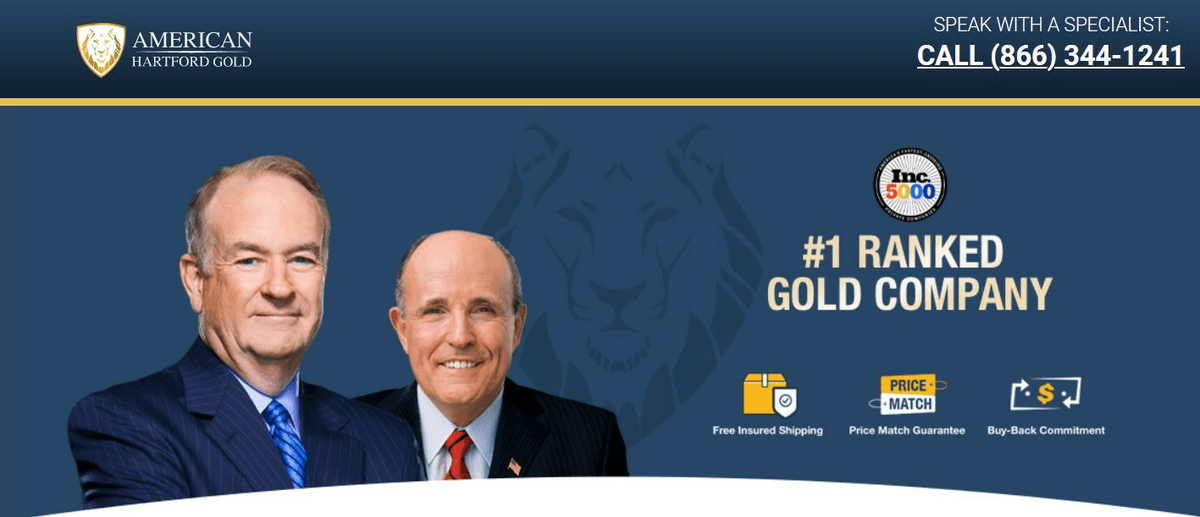 American Hartford Gold streamlines the process of converting traditional IRAs or 401(k) accounts into gold-backed IRAs. Their knowledgeable team assists investors at every step, from the initial consultation to the safe and secure transfer of funds and the selection of appropriate precious metals.
By providing a smooth and hassle-free rollover experience, American Hartford Gold enables investors to protect their retirement savings with physical gold while benefiting from potential tax advantages.
Alternatives to Gold Investing
Gold is just one of many alternative investments that can help you diversify your portfolio. Looking for more suggestions? Here are some of our favorites:
For even more ideas, check out our article on the best alternative investments.
Final Word:
The best place to buy gold online ultimately comes down to YOU and what you're looking for.
That said, the platforms mentioned in this article offer unique advantages that set them apart from competitors, catering to different investment goals and preferences.
To make the most of your precious metals investments, consider your specific goals, preferences, and the unique advantages each platform offers.
Remember to conduct thorough research, seek professional advice when needed, and make informed decisions based on your financial circumstances.
---
FAQs:
Is it better to buy gold online or in store?
Whether to buy gold online or in-store depends on personal preferences and convenience. Many buyers find that their local coin shop can offer better prices than online sellers, but may not carry the same level of trust as buying from a well-known online brand.
Is it safe to buy gold from JM Bullion?
Yes, it is safe to buy gold from JM Bullion as they are a reputable dealer known for their secure transactions and high-quality products.
Is it better to buy gold coins or bars?
The choice between gold coins or bars depends on individual investment goals and preferences. Bars often sell for closer to the spot price, so they may be the cheapest way to buy gold online
What is the best real gold to buy?
The best real gold to buy can vary depending on factors such as purity, recognized mint or refinery. Both gold bars and coins like American Gold Eagles or Canadian Maple Leafs have their pros and cons.
Where to Invest $1,000 Right Now?
Did you know that stocks rated as "Buy" by the Top Analysts in WallStreetZen's database beat the S&P500 by 98.4% last year?
Our September report reveals the 3 "Strong Buy" stocks that market-beating analysts predict will outperform over the next year.