Our editorial team uses a strict editorial review process to compile all reviews, research, and evaluations of any kind. Our company, WallStreetZen Limited, is supported by our user community and may receive a small commission when purchases are made through partner links. Commissions do not affect the opinions or evaluations of our editorial team.
Buying gold and silver can be an excellent way to diversify your portfolio — these precious metals enjoy track records most assets can't come close to touching.
Unfortunately, how to buy gold and silver for investment isn't always straightforward or easy to understand.
Whether you're looking for direct ownership by purchasing physical gold and silver, accessing exposure to the industry through investments in mining companies, or anything in between, we've got you covered.
Let's explore some of the many ways you can begin purchasing gold and silver and examples of our favorite platforms to help get you started.
How to Buy Gold and Silver in 2023
The bottom line: There are multiple ways to start purchasing gold and silver, each with unique characteristics. Regardless of the approach, each method described will expose you to these precious metals' many potential benefits.
At-a-Glance: Top Platforms for Gold and Silver Investing
5 Ways: How to Invest in Gold and Silver
So you want to know how to buy gold and silver for investment? No problem!
1. Buy Physical Gold and Silver
How it works: While it's far from complicated, it's also not as simple as you think.
When you buy physical gold and silver, there are several considerations to keep in mind. You don't just somewhere safe and secure to store the metals. You also require the ability to assess quality.
Luckily, most people who invest in physical gold don't have to worry about these concerns directly. Instead, platforms are available that help investors purchase physical gold, taking care of quality control and liaising with established custodians.
Best Platforms:
Here are some of the top platforms for buying physical gold and silver online:
JM Bullion
If you're after a user-friendly interface with a wide range of gold and silver products, like coins and bars, JM Bullion is an excellent choice. The platform also offers secure storage options, should you need them.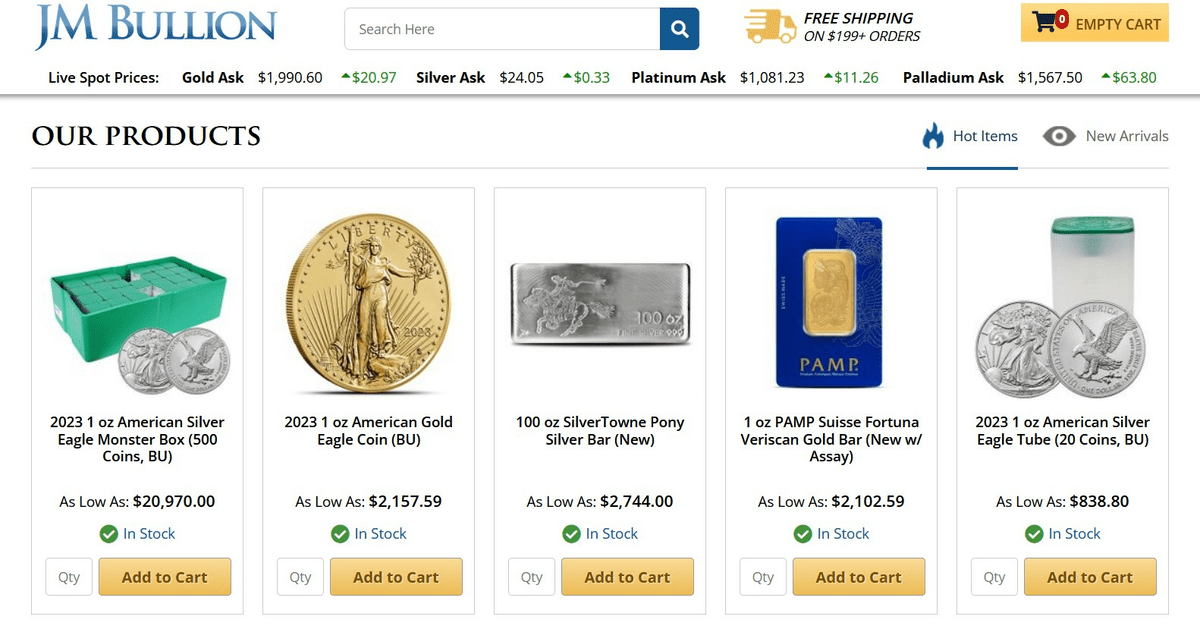 Silver Gold Bull
Looking for low prices and optional storage? Silver Gold Bull might be right up your alley. As a prominent precious metals purchaser with deep supplier relationships, Silver Gold Bull obtains favorable rates, permitting them to offer competitive gold and silver prices.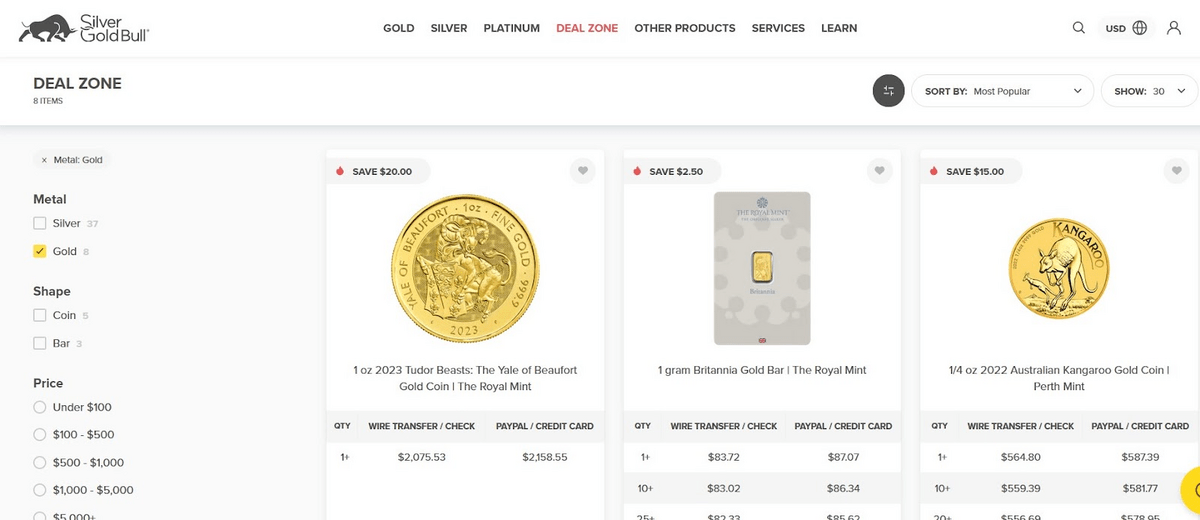 2. Buy Gold and Silver Derivatives (Futures and Options)
How it works: Derivatives, like gold and silver futures and options contracts, are another method to gain exposure to these precious metals.
Gold and silver futures are contracts to buy or sell commodities at a fixed price for delivery at a future date.
This type of trade is often used by traders looking to hedge positions. For example, a gold dealer that expects gold prices to fall in the short term might decide to lock in the sale of some quantity of gold today at more favorable prices.
With gold and silver call options, the contract owner has the right but not the obligation to buy the precious metal at a predefined price in the future should particular conditions be met. More active, savvy traders typically use options.
Best Platforms
Here are some of the top platforms for gold and silver derivatives:
TradeStation
No minimum ($0) account balance is needed to start with TradeStation. Micro futures cost only $0.50 per trade, futures are $1.50 per contract, and options are $0.60 per contract.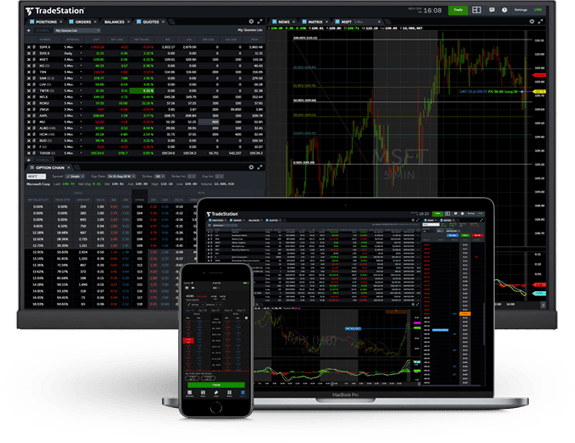 Interactive Brokers
Like TradeStation, no minimum balance is required. On Interactive Brokers' TWS Light plan, you can trade options contracts for $0.65 each and $0.85 for futures contracts.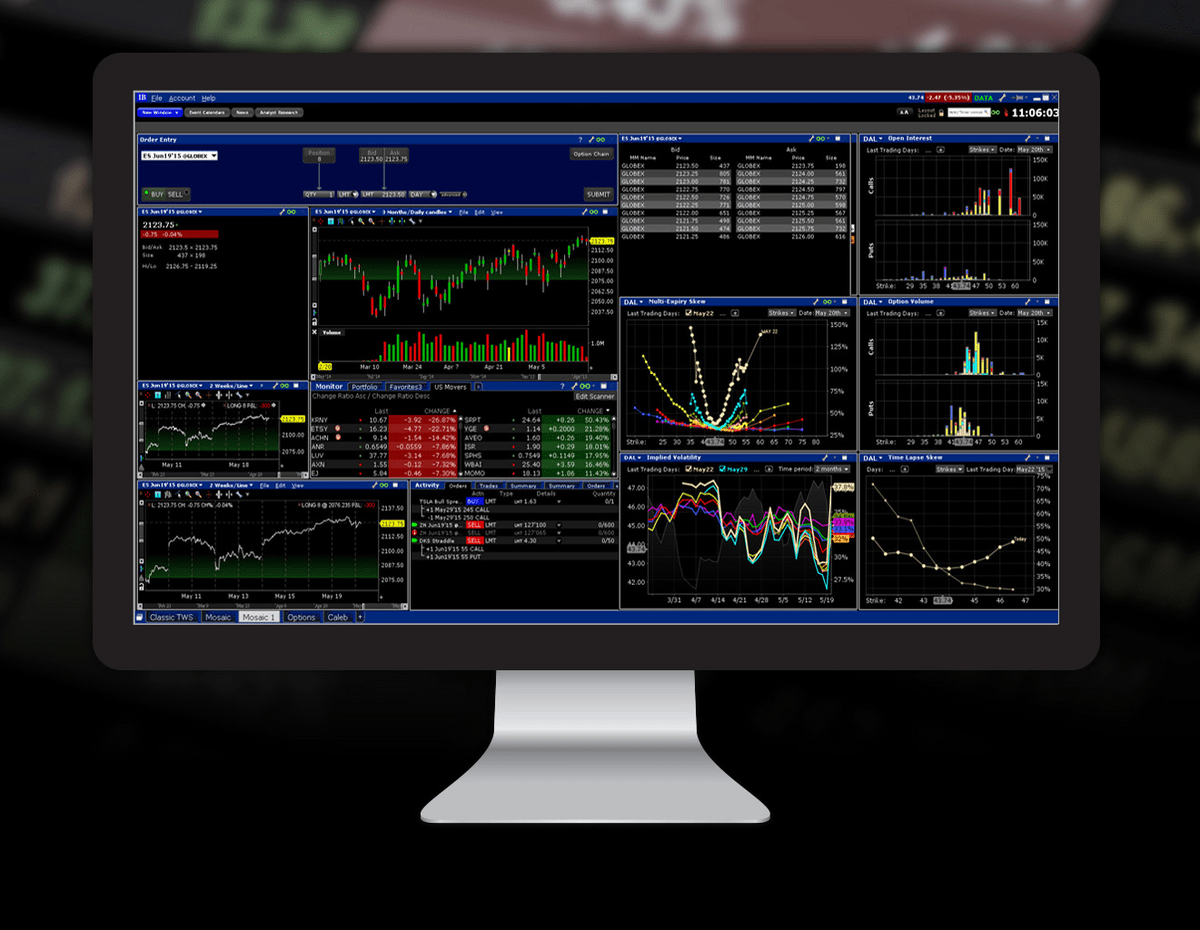 3. Buying ETFs
How it works: Gold and silver ETFs are among the most popular ways people purchase gold. With precious metal ETFs, you won't hold the physical metal. Instead, you'll obtain shares of an ETF that holds physical gold and silver, gold and silver futures contracts, and gold and silver mining companies.
Precious metals ETFs are an excellent option if you want quick, easy, and broad exposure to the industry.
Best Platforms: Both TradeStation and Interactive Brokers, mentioned above, are great platforms to leverage when buying not only derivatives but ETFs as well.
For ease of use, however, eToro reigns supreme. It's our favorite platform that combines powerful tools with a low barrier to entry. For gold and silver ETFs, it tops our list.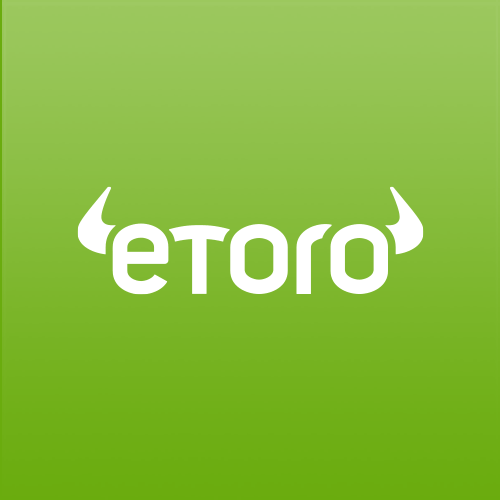 eToro is a multi-asset investment platform. The value of your investments may go up or down. Your capital is at risk.
4. Buying Mining Stocks
How it works: Another way to follow the performance of commodities like gold and silver is to invest in the companies that mine them. Typically, the stock price of these companies will correlate with the performance of the precious metals. In other words, gold mining stocks also tend to increase when gold prices rise.
Buying mining stocks is a creative way to access the industry without, for example, holding physical bars of gold or trading silver options contracts.
Best Platforms: Once again, eToro tops our list. Not only is it an excellent platform for trading ETFs, but it's also our favorite for trading individual equities.
Perhaps the single best part of eToro is its CopyTrader feature. You get direct access to decisions made by the best-performing traders on the platform. You can even find traders that focus on mining stocks!
eToro is a multi-asset platform which offers both investing in stocks and cryptoassets, as well as trading CFDs.
CFDs are complex instruments and come with a high risk of losing money rapidly due to leverage. 81% of retail investor accounts lose money when trading CFDs with this provider. You should consider whether you understand how CFDs work, and whether you can afford to take the high risk of losing your money.
Cryptoassets are highly volatile and unregulated in the UK. No consumer protection. Tax on profits may apply.
Copy Trading does not amount to investment advice. The value of your investments may go up or down. Your capital is at risk.
eToro USA LLC does not offer CFDs and neither does it represent or assume any responsibility for the accuracy or completeness of the content of this publication, prepared by WallStreetZen, as a partner, using information available and public and not specific to the eToro entity.
5. Gold and Silver IRAs
How it works: Simply put, gold and silver IRAs are traditional IRAs that permit the holding of precious metals. The best part is you can even transfer your traditional IRA to a gold or silver IRA without triggering a taxable event.
While some paperwork is involved, some platforms offer customized services that walk you through each step. They even take care of the custodial considerations!
Best Platforms
Here are some of the top silver and gold IRAs out there…
iTrustCapital
iTrustCapital leverages well-known and established precious metals dealer Kitco to obtain gold and silver. While there are no storage fees, you will incur a premium of $50 over the spot price per ounce for gold and $2.50 for silver.

Silver Gold Bull
This platform isn't just an excellent option for purchasing gold and silver coins. It's also ideal if you decide to invest in precious metals with your IRA.
In terms of fees, Silver Gold Bull charges a straightforward 1% of your account's value annually. Its user-friendly interface also makes it one of our top picks.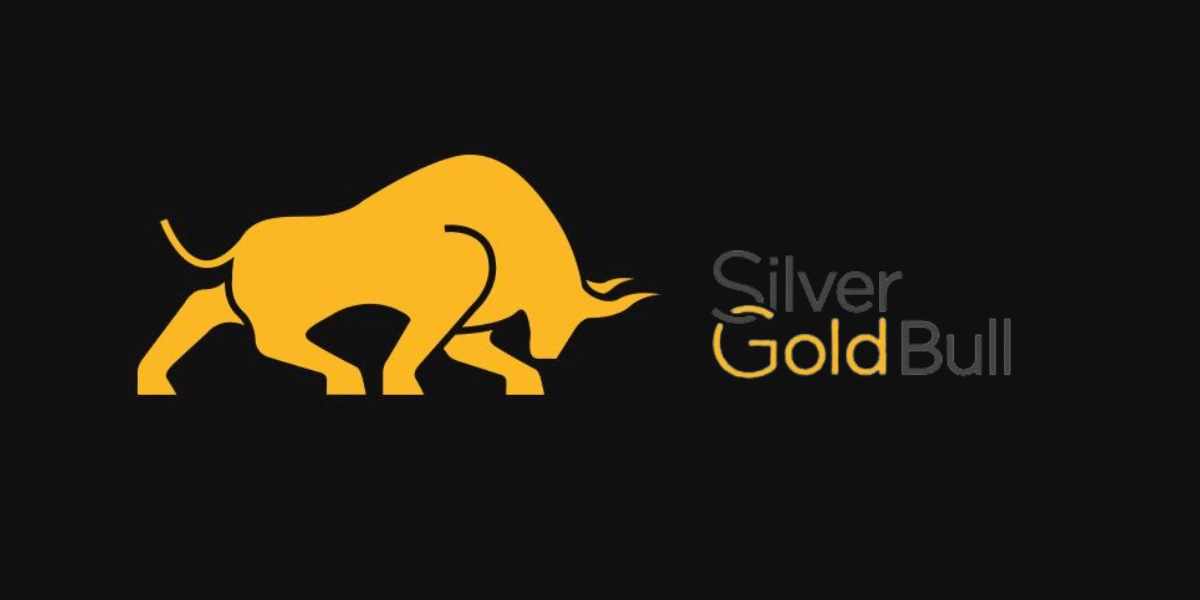 What's the Best Way to Buy Gold and Silver?
The best way to buy gold and silver depends on several factors.
For some people, nothing short of physical ownership will do. These investors are comfortable with procuring and storing physical assets. Often, they want peace of mind knowing the metal will exist even if trading networks fail.
For most others, financial products make the most sense. While some savvy traders may use derivatives, most investors will obtain exposure to gold and silver via exchange-traded funds and less directly via investment in companies that mine the precious metals.
Are Gold and Silver the Best Precious Metals to Invest in?
Gold and silver are some of the best precious metals to invest in. These widely circulated metals are used daily worldwide. Even central banks rely on precious metals as part of their core holdings.
Gold and silver enjoy long track records as stores of value and are often considered effective hedges against inflation. As part of a portfolio, they can contribute to minimizing downside risk during a recessionary period.
Buying Physical Gold and Silver vs "Paper" Metals
When learning how to invest in gold and silver, you'll discover there are two main categories: physical metals and "paper" metals.
When you buy physical gold and silver, you buy the actual, tangible metal for possession. For example, buying a gold chain is an example of buying physical gold.
"Paper" metals, on the other hand, refer to exposure to precious metals but not physical ownership.
Most investors prefer to buy paper metals due to their ease of trading and low barrier to entry. For example, gold-focused ETFs are extremely popular, offering investors a simple way to gain exposure to shares of precious metals and mining companies.
Why Are Investors So Interested in Gold and Silver?
Investors like gold and silver for multiple reasons.
Inflation Hedge: Precious metals like gold and silver are often considered a safe haven against surging inflation. Currencies tend to devalue when prices rise, but gold and silver often appreciate.
Diversification: Investing in gold and silver can provide assets with little correlation to others in your portfolio. They typically won't move too closely with stocks and bonds unless we're talking about mining companies focusing specifically on those precious metals.
Tangible Asset: Some investors prefer tangible assets they can touch, feel, and, importantly, control. For this reason, some investors want ownership of physical gold and silver.
Store of Value: Stocks come and go, but gold and silver have stood the test of time. They have been used as a currency for thousands of years and resist government action, like quantitative easing. You can print cash; you can't print gold and silver.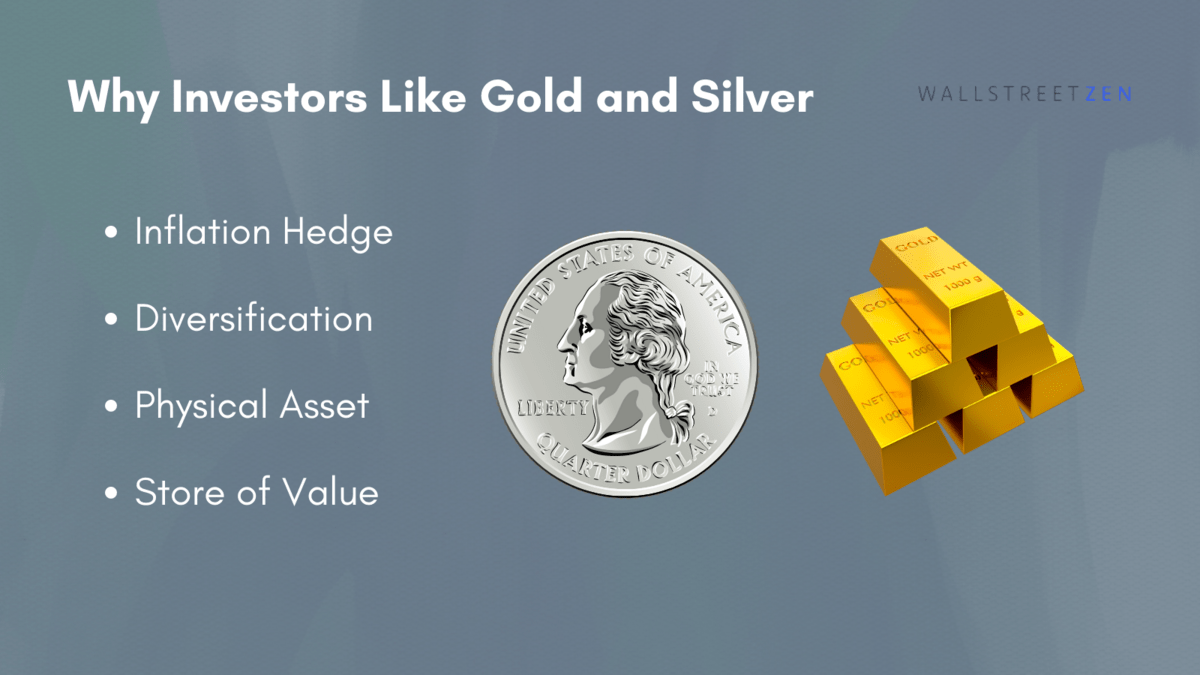 Final Word:
Buying gold and silver can be accomplished through a variety of routes.
Do you want to hold physical gold and silver, do you want access to financial products like derivatives and ETFs for indirect exposure, or do you simply want to invest in the precious metals industry via mining stocks?
Regardless of your decision, the detailed approaches we listed above will expose you to precious metals. Ultimately, the best course depends on your personal preferences and circumstances.
---
FAQs:
What is the best and safest way to buy gold and silver?
The best and safest way to buy gold and silver is to purchase the physical precious metals through a reputable dealer or via indirect purchase through exchange-traded funds (ETFs).
What is the best way to buy gold for beginners?
The best way to buy gold for beginners is to purchase small quantities of physical gold, like a gold coin, or to purchase shares in a gold-focused ETF.
Is it a good idea to buy gold and silver?
Yes, buying gold and silver can be a good idea. These precious metals can help diversify your portfolio, hedge against inflation, and provide you assets with a long track record as stores of value.
What is the best way to buy gold and silver for investment?
The best way to buy gold and silver for investment is to purchase physical gold (i.e., investing via a gold or silver IRA), buy gold or silver-focused ETFs, buy gold or silver mining stocks, or in some instances, use gold and silver derivatives to obtain exposure.
Where to Invest $1,000 Right Now?
Did you know that stocks rated as "Buy" by the Top Analysts in WallStreetZen's database beat the S&P500 by 98.4% last year?
Our September report reveals the 3 "Strong Buy" stocks that market-beating analysts predict will outperform over the next year.