Our editorial team uses a strict editorial review process to compile all reviews, research, and evaluations of any kind. Our company, WallStreetZen Limited, is supported by our user community and may receive a small commission when purchases are made through partner links. Commissions do not affect the opinions or evaluations of our editorial team.
You've worked hard to save $10,000, and now you want to make it work for you.
But what's the best way to invest $10,000?
With so many investment options available, from stocks to real estate to crypto, it can be tough to know where to start.
The good news is that there are plenty of worthwhile investments that can potentially grow your money faster than a typical savings account.
In this guide, I'll walk you through how to invest 10K using 9 different assets. By the time you're finished reading this article, you'll understand the 9 best 10k investments for every investing style.
Armed with this knowledge, you can move forward with a much clearer vision of how to start working toward your financial goals.
FEATURED OFFER: Masterworks
Want an investment that won't collapse like a bank? Try art. 
Since 1995, contemporary art has appreciated 14% annually on average. That's even more than you'd get with the S&P 500 (with less volatility). After all, there's a reason why many billionaires invest 10-30% of their wealth in art. 
Want in? You can invest in shares of million-dollar paintings with Masterworks, the world's premier art investment platform. 
For a limited time, you can skip the waitlist here
*See important disclosures at masterworks.com/cd
The Importance of Stocks & Bonds
Why do most experts say you should own both stocks and bonds?
Over the long term, stocks deliver the lion's share of returns in the portfolio. But they're also subject to huge drawdowns.
Bonds deliver more modest returns, but also experience much lower volatility and less severe drawdowns. Together, stocks and bonds help stabilize your portfolio: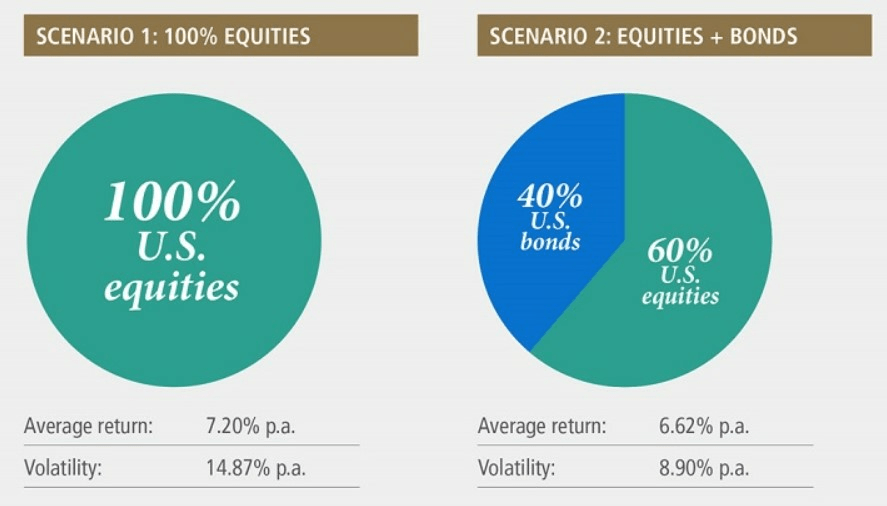 The Importance of Tax-Advantaged Accounts
Before I jump into the best ways to invest $10K, it's important you know that not all investment accounts are created equal.
As Nobel Prize laureate and economist Harry Markowitz is reported to have said, the only free lunch in investing is diversification. But I'd argue there's another one: tax-advantaged accounts.
Traditional IRA, Roth IRA, HSA, and other tax-advantaged accounts allow you to take profits and receive dividends on your investments, tax-free.
To see how taxes eat into returns, take a hypothetical investment of $1 million. After 30 years of 10% annual returns, that $1M would be worth $17M … before taxes. After paying taxes, that $17M could drop to as low as $4-12M depending on the tax treatment: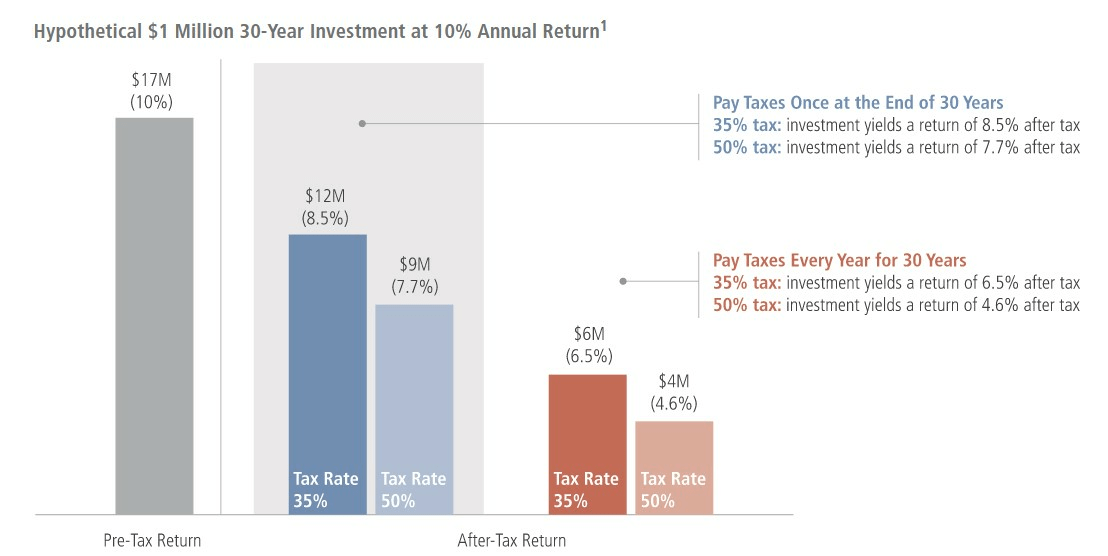 I don't want to bog down this article with the details of each account, but suffice it to say that most investors would benefit from maxing out a tax-advantaged account before opening a taxable brokerage account.
The 9 Best Ways to Invest $10k in 2023:
1. Stocks
For investors with a long time horizon, stocks are likely the best way to invest 10k. Both large market cap and small market cap stocks historically outperform bonds over long time periods: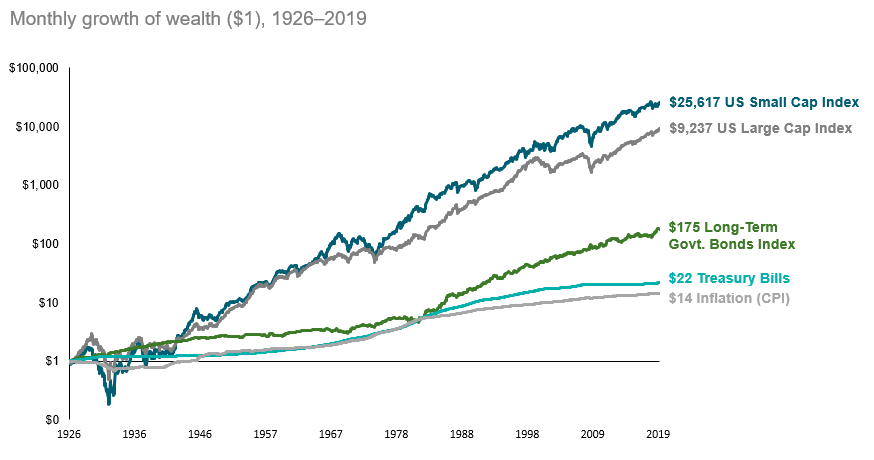 But even if you decide that stocks are the best investment for 10K, there's still one more choice to make: individual stocks vs. index funds.
Individual stocks are shares of ownership in specific companies, like Microsoft (NASDAQ: MSFT), Google (NASDAQ: GOOGL), or Waste Management (NYSE: WM).
Index funds, on the other hand, track a broad index of companies. The S&P 500, for example, tracks the 500 largest publicly traded companies in the US.
For the majority of investors, index funds are the best investments with 10k.
Studies have shown that over time index funds outperform the vast majority of actively managed funds. To think that you can outperform the index over long time periods would mean outperforming some of the best active fund managers out there — pros whose full-time focus is stock picking.
That said, if you're passionate about picking stocks, you can still devote a small portion of your portfolio to your individual picks.
Whether you choose to invest $10k in index funds, individual stocks, or both, I recommend M1 Finance to be your broker. Not only does this investment platform offer access to the assets mentioned above, but it also offers tax-advantaged accounts like IRAs and some automated investing features which make growing your net worth much easier.
Plus, its dashboard makes it easy to track and visualize your investments: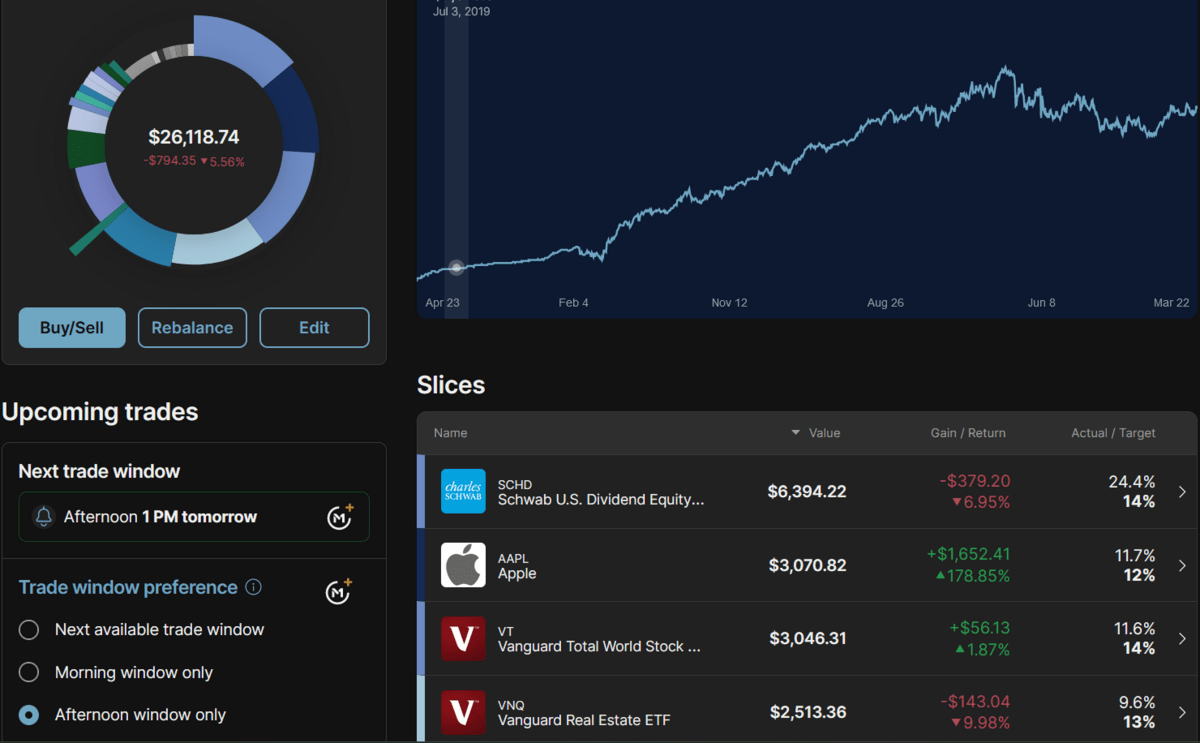 A final word on index funds: just like taxes, fund fees can eat into your returns over time. Funds from Schwab, Fidelity, and Vanguard will typically have very low expense ratios (fees) but I still like to use Personal Capital's Fee Analyzer Tool to compare the fees of different funds.
2. Bonds
If you're an investor wondering how to invest $10,000, bonds are another strong choice. But again, allocation will depend on your risk tolerance.
When it comes to allocation, there are two popular schools of thought for bond investors:
First, there's the classic 60/40 portfolio (60% stocks, 40% bonds)
Second, try this easy equation: take your age and subtract 10 — that's your bond allocation.
To illustrate the latter, a 30-year-old would have 20% allocated to bonds; a 50-year-old would have 40% allocated to bonds, and so on.
I should note that the bond world can be a bit complicated. There are government bonds, corporate bonds, TIPS, I-Bonds, etc…
Personally, I like to keep things simple and just own a total US bond index fund. Yes, just like there are stock index funds, the same products exist for bonds. I like Vanguard's US bond index, ticker BND: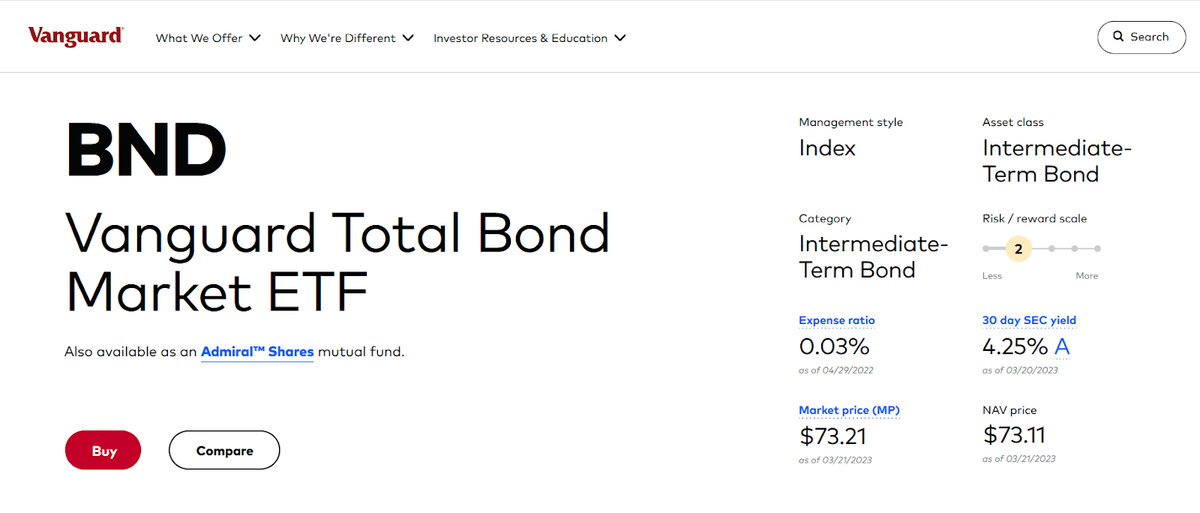 You can buy Vanguard's $BND ETF within your M1 Finance account.
3. Real Estate
You can't have a list of the best 10k investments without mentioning real estate.
But you might be thinking, How can real estate be the best investment for 10k when that amount won't even buy a parking spot?
Fortunately, there are plenty of ways to get real estate exposure without actually buying or selling commercial or residential structures.
As a starting point, I recommend Real Estate Investment Trusts or REITs.
REITs are a special kind of stock that invest in real estate. And the cool thing is, there are a lot of benefits to owning REITs versus buying an individual piece of real estate. For example:
REITs offer instant diversification, as many of them own dozens or hundreds of properties in different geographical areas.
REITS are also professionally managed (whereas if you buy a property yourself, management is on you).
REITs are diverse. The REIT universe is vast and includes companies specializing in warehouses, strip malls, farmland, healthcare infrastructure, data centers, cell towers, and everything in between. So if you buy a REIT index fund (my favorite is Vanguard's VNQ) you are also instantly diversified across these different real estate sectors.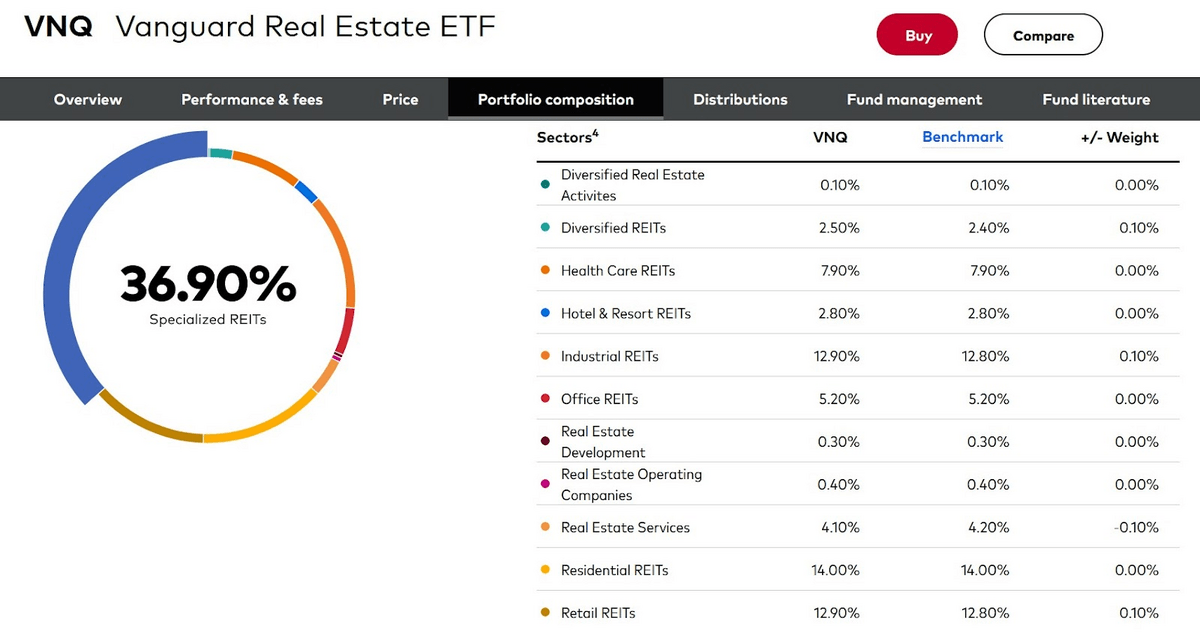 You can buy REITs within your M1 Finance account.
Alternatively, if you'd rather make more specific real estate investments, like rental properties or commercial real estate in a specific area, then you can also consider Fundrise.
Fundrise allows investors to invest in real estate with as little as $10. And their recent performance has been exceptional: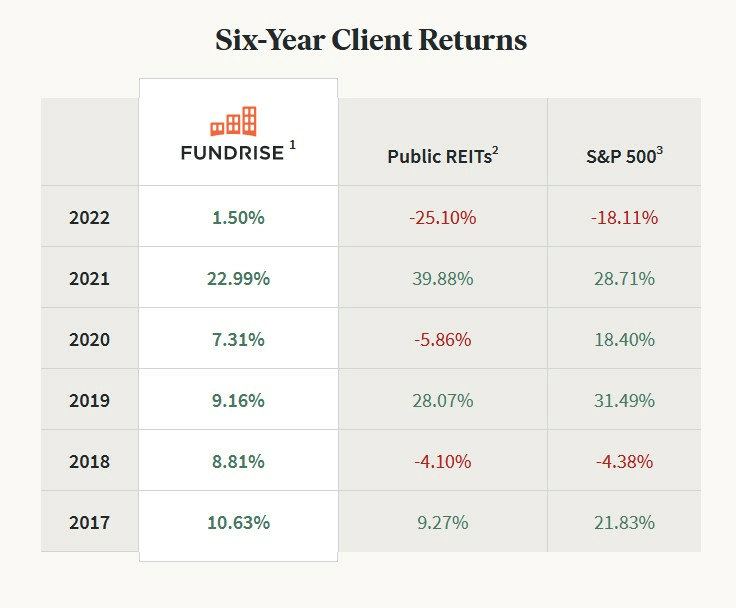 4. High Yield Savings
It may surprise you to see high-yield savings accounts listed as an investment. But as your portfolio grows in size, cash will have an important role to play in your personal finances.
Cash minimizes drawdowns in your portfolio and allows you to take advantage of market downturns.
Unfortunately, a recent Wall Street Journal article found that investors are still leaving billions on the table by neglecting high-yield savings accounts. In the current interest rate environment, many of these high accounts are paying upwards of 3-5% APY, like the ones offered by M1 Finance…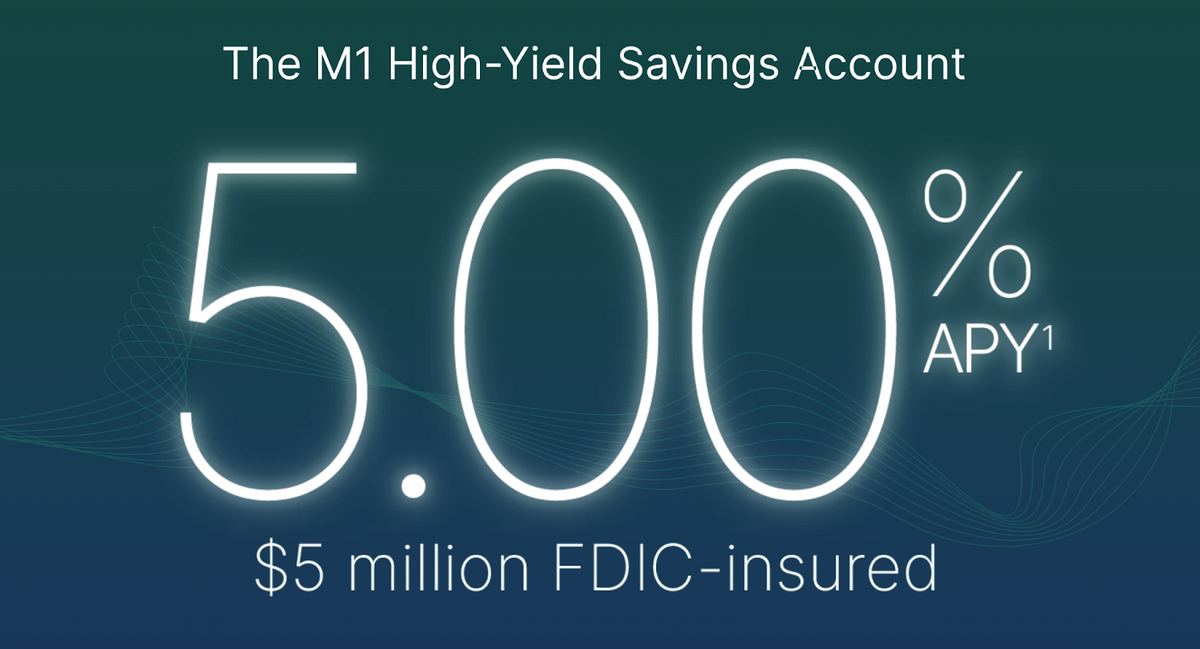 Currently, M1 Finance offers 5% APY for qualifying high-yield savings accounts.
Given that we're still in an inflationary and high-interest-rate environment, it's more important than ever that investors earn at least a nominal yield on their cash savings. That's why investors searching for the best way to invest $500K would do well to allocate at least some of their cash position to a high-yield savings account.
5. Emergency Fund
Speaking of cash, an emergency fund is another important investment. If you have dependents, work in a volatile industry, or are self-employed, an emergency fund could be one of the best ways to invest 10k.
As the name implies, an emergency fund is cash set aside to cover large emergency expenses, such as:
Living expenses if you lose your job
Unexpected medical bills
Unexpected home or car repairs
…Or any number of things.
Most experts recommend keeping between three to six months of expenses saved in an emergency fund.
It may sound silly to keep multiple months worth of expenses sitting around in cash, but I can tell you that the peace of mind it provides is priceless.
Again, I recommend using M1 Finance — its savings rates are excellent.
6. Yourself
I know you probably landed on this article looking for more conventional finance investments for where to invest 10k. But as Warren Buffett says, "investing in yourself is the best thing you can do."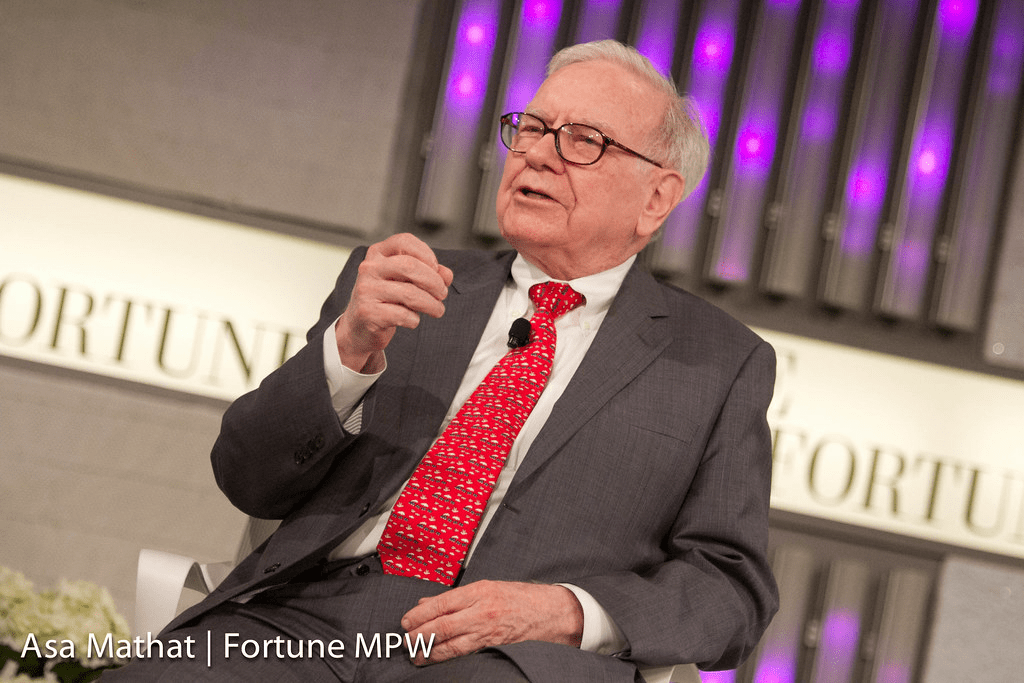 Do you have a skill, business, educational program, career, or side hustle? Consider investing in it as a means to improve yourself and your career.
True, $10K may seem like a lot of money to bet on yourself.
But think about it this way: what if the $10K you invest in yourself could take your income from $40K/yr to $60K a year?
Theoretically, such an investment is a no-brainer. You'd get a 100% return in a year. But really, the returns are potentially infinite. Investing in yourself could increase your active income for many years to come.
Maybe that investment involves growing your own knowledge as an investor. You could invest in classic books like "The Intelligent Investor" or "Berkshire Hathaway Letters to Shareholders," a collection of Buffett's shareholder letters…
…Or you could sign up for courses to improve your knowledge in specific areas of investing or trading.
Ready to Uplevel Your Trading Expertise?
7. Gold
As an investment, gold usually pops up on people's radars during times of fear and uncertainty.
But rather than betting big on gold as a short-term fear trade, it's wiser to think about it as a small portion of the portfolio that plays a specific role as a long-term hedge and a non-correlated asset.
I think of gold as a hedge against debt-laden governments and potential currency problems. We've got plenty of both right now!
Gold tends to go through long (think decades) periods of consolidation, and then has meteoric rises when no one is expecting it: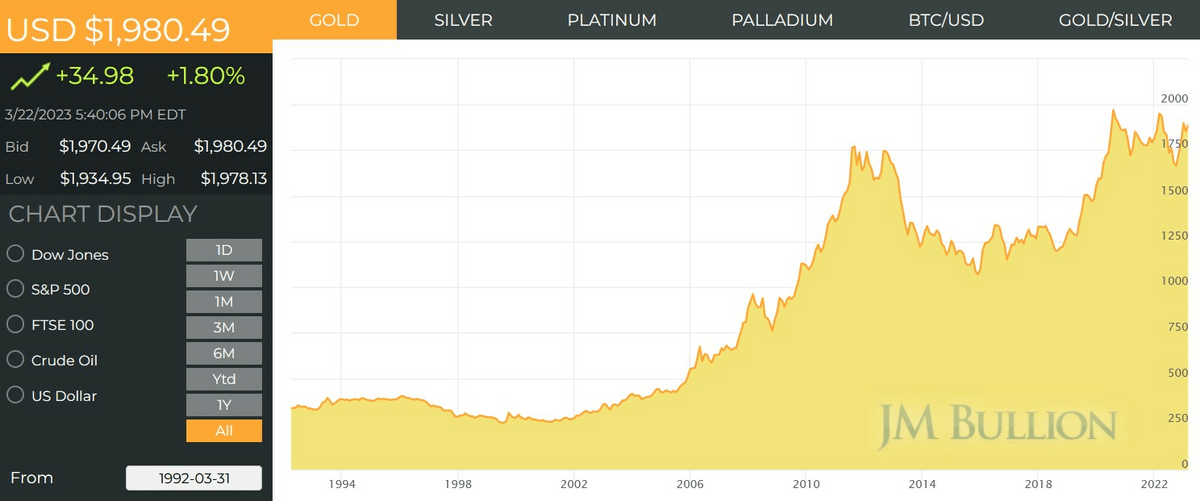 This pattern frustrates many traders. It's also why I prefer to simply hold a small gold position long term. You can set a desired portfolio allocation (say, 5%) and "add on dips and sell on rips" whenever it rises or falls sharply beyond your allocation.
Some goldbugs swear by the need to hold physical bullion. Others prefer to hold low-fee ETFs backed by physical bullion, like GLDM.
If you want physical ownership of gold (without needing to store it and maintain it yourself), consider using a gold IRA. Gold IRAs store and maintain your gold within a tax-efficient vehicle. Since you're using it as a long-term hedge anyways, there's no reason not to use an IRA.
The top gold IRA providers are:
8. Alternative Assets
Alternative assets include things like:
Art (I recommend Masterworks)
Transportation
Legal finance
Private equity and credit
And much more
The advantage of private alternatives is that their performance is often uncorrelated with broader market performance, as you can see in the chart below: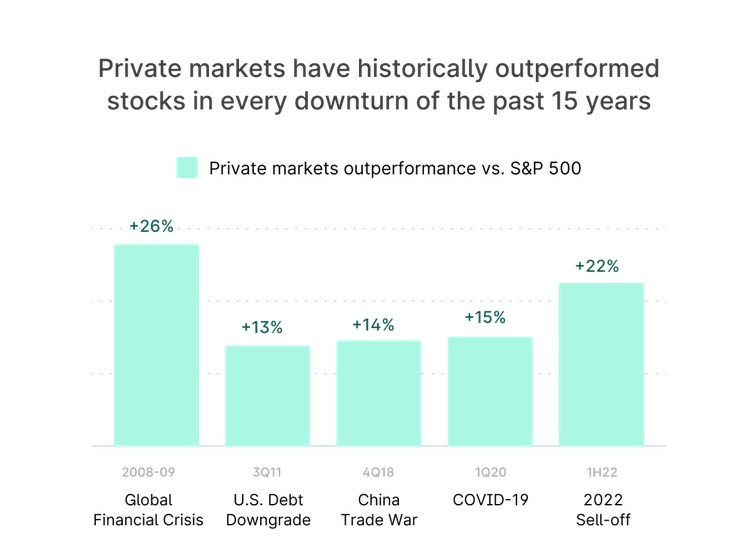 You can invest in all of the assets mentioned above on Yieldstreet: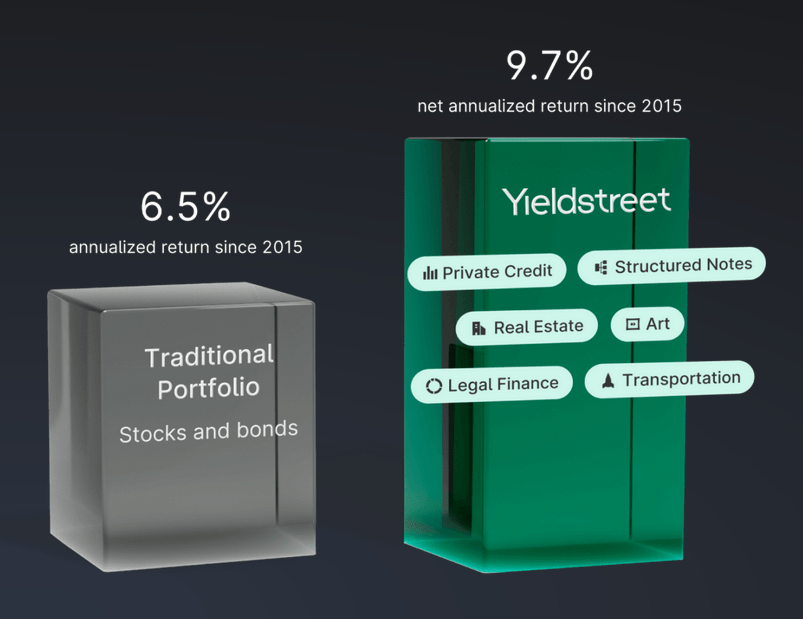 The alternatives Yieldstreet offers are difficult to get exposure to in public markets and offer additional diversification beyond the stock market.
9. Crypto
Investors wondering how to invest 10k could also consider allocating a small amount to cryptocurrency.
Cryptos like Bitcoin have been called "digital gold" and may offer some of the same benefits as precious metals, mainly the ability to offset inflation due to the scarcity of the asset.
Just keep in mind that Bitcoin and other cryptos haven't been around long enough to know how they'll perform during an extended downturn, so most people recommend limiting crypto to a small portion of your portfolio.
Also, you should put a lot of thought into where you hold your crypto, as several firms have blown up recently (Celsius, BlockFi, FTX, etc). I like eToro because it provides a comprehensive crypto trading experience, on a powerful yet user-friendly platform: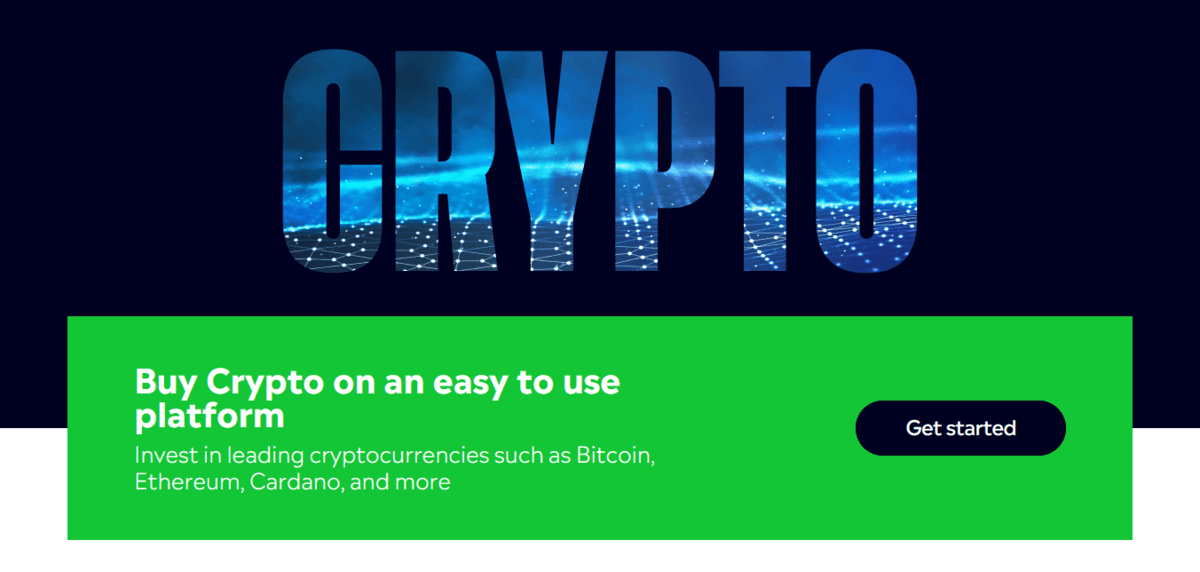 eToro securities trading is offered by eToro USA Securities, Inc. ("the BD"), member of FINRA and SIPC. Cryptocurrency is offered by eToro USA LLC ("the MSB") (NMLS: 1769299) and is not FDIC or SIPC insured. Investing involves risk, and content is provided for educational purposes only, does not imply a recommendation, and is not a guarantee of future performance. https://www.wallstreetzen.com is not an affiliate and may be compensated if you access certain products or services offered by the MSB and/or the BD.
Final Word: How to Invest 10k
Deciding how to invest 10k will depend on you, your goals, and your risk tolerance. With stocks, bonds, real estate, gold, alternatives, crypto, cash, and more, you have no shortage of options.
But for most people, the best way to invest 10k would be to:
Max out your tax-advantaged accounts by investing in a diversified portfolio of index funds.
Put three to six months of expenses away in cash as your emergency fund.
Limit other investments (crypto, gold, individual stocks, etc) to a small percentage of your portfolio.
Above all, when deciding how to invest $10k, remember to diversify, minimize taxes and fees, and think critically about your personal taste for risk and reward. Before you know it, you'll be learning the best way to invest $100k.
eToro is a multi-asset investment platform. The value of your investments may go up or down. Your capital is at risk.
---
FAQs:
What should I invest $10,000 in right now?
Where to invest $10,000 right now depends on your individual circumstances and preferences. Stocks, mutual funds, ETFs, and real estate investment trusts (REITs) all have the potential for high returns.
How can I make money with 10k?
To make money with 10k, consider investing in stocks, bonds, or real estate to generate long-term returns and passive income.
Is 10k good to start investing?
Yes, $10,000 can be a great starting point for investing. There are a number of different investment options available, including stocks, bonds, real estate, gold, and other assets.
How to invest $10k for passive income?
Dividend-paying stocks, bonds, and rental properties can help you create a portfolio that generates a passive income stream.
Where to Invest $1,000 Right Now?
Did you know that stocks rated as "Buy" by the Top Analysts in WallStreetZen's database beat the S&P500 by 98.4% last year?
Our September report reveals the 3 "Strong Buy" stocks that market-beating analysts predict will outperform over the next year.