Our editorial team uses a strict editorial review process to compile all reviews, research, and evaluations of any kind. Our company, WallStreetZen Limited, is supported by our user community and may receive a small commission when purchases are made through partner links. Commissions do not affect the opinions or evaluations of our editorial team.
Ever wish you could hit the cruise control button on your finances?
Wealthfront took this concept and made it a reality by automating the most tedious parts of investing and managing your portfolio.
Not only can this one-stop-shop financial management platform automate investing and retirement planning, but it suggests course corrections that can help you move toward your financial goals.
In this Wealthfront Review, you'll learn the features, benefits, and costs of the Wealthfront investing platform. Keep reading to find out if Wealthfront can help you outsource your money management and hit the "easy button" on your financial life.
Wealthfront Review: Is it Worth It in 2023?
Overall Rating: 5 / 5
The Bottom Line: Is Wealthfront worth it? Yes. Wealthfront is a powerful robo-advisor that offers access to a wide range of features, including:
Goal-setting
Automated investing
Tax-loss harvesting
Retirement planning
Plus, Wealthfront charges a low 0.25% management fee and gives access to a mix of low-cost ETFs and individual stocks.
Wealthfront is ideal for hands-off investors that don't want to pay high fees and want to fully automate their finances, from direct deposits to savings accounts to investing, and tax efficiency.
Wealthfront charges similar management fees to competitors but offers more features than any other robo-advisor on the market.
What is Wealthfront?
Wealthfront is a robo-advisory service that helps you invest for retirement and other financial goals, with fully-automated portfolios, automatic rebalancing, built-in goal-setting features, and intelligent money management.
Wealthfront pioneered the term "Self-Driving Money" — their goal is to build the ultimate set-it-and-forget-it financial tool.
The platform lets you open a retirement account, an automated investment account, or a stock trading account for as little as $500.
As an added bonus, Wealthfront also lets you park your cash in a Wealthfront Cash account currently paying 4.30% interest.
If you have both an investment and cash account open, you can create automated rules to move your money between accounts, giving you a completely hands-off experience.
Wealthfront: At-a-Glance
| | |
| --- | --- |
| Account Minimum | $500 for investment accounts, $1 for cash accounts and self-directed investing |
| Commissions + Fees | 0.25% management fee |
| Portfolio Balance / Customization | Automatic rebalancing + customizable portfolios |
| Available Assets | 200+ ETFs, individual stocks, crypto funds |
| Accounts offered | Traditional IRA, Roth IRA, SEP IRA, 401(k) Rollover, Taxable brokerage, College 529, Cash account |
| Goals + Planning | Path planning tool + goal-setting |
| Portfolio Management? | Automated portfolio management |
| Mobile App | Yes |
| Cash Management? | Yes |
| Financial Advisor Availability? | No |
| Security | SSL encryption, biometric access |
| Customer Service | Help Center, Online form (email) |
| Education | Help Center + Blog Articles |
| Wealthfront Promotions | First $5,000 managed for free |
Wealthfront Overview & Features
Account Types
Wealthfront offers both automated and self-directed investment accounts, as well as a cash account for daily money management.
Accounts Offered
Wealthfront supports a variety of accounts, including retirement accounts, brokerage accounts, college savings accounts, and cash accounts. Here's a full list of support accounts:
Traditional IRA
Roth IRA
SEP IRA
Rollover IRA
Taxable brokerage
College 529
Cash account
Wealthfront also supports both individual and joint investing and cash accounts, as well as trusts.
Automated Investing
Wealthfront offers a fully-automated investing experience as part of their robo-advisor services.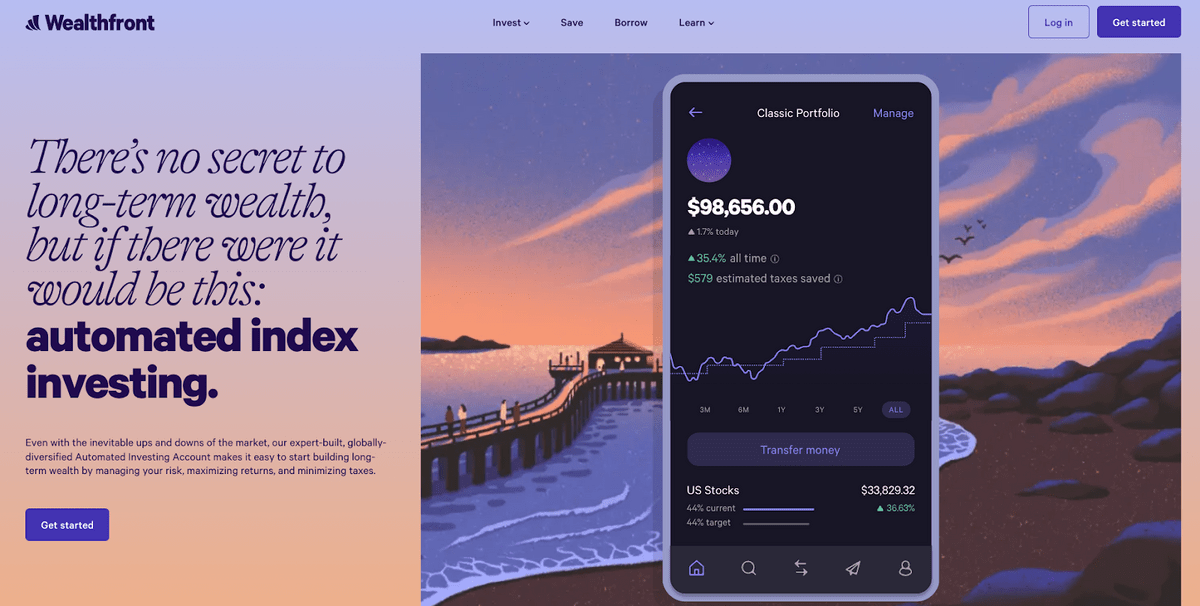 Their automated account includes:
Portfolio creation
Automatic investing of deposits
Recurring investments
Automatic rebalancing
Tax-loss harvesting on taxable accounts
The ability to borrow against assets in a taxable account
Self-Directed Investing
A relatively new offering, Wealthfront now offers a self-directed investing account that allows you to invest in stocks and ETFs commission-free.
You can open an account for as little as $1, and choose from a curated list of stock investments, as well as pre-selected stock collections.
Fractional share investing is available, though the stock selection is more limited than other stock investing apps.
Looking for more fractional share opportunities?
While Wealthfront does offer fractional share investing, the selection is limited. Looking for a greater variety of fractional shares? Check out M1 Finance.
Wealthfront Cash
A Wealthfront Cash account is a bank account that offers debit card access and $5 million in FDIC insurance. Cash accounts are currently paying out over 4% APY, which is competitive with most high-yield savings accounts.
If you have a Wealthfront Cash account and an Automated Investing account, you can set up rules to automatically transfer money between them.
Account Minimums
Wealthfront doesn't require a lot of money up front to open an account. Here are the minimums for each type of account:
Automated Investing: $500
Self-Directed Investing: $1
Wealthfront Cash: $1
If you want access to more advanced account features, such as Direct Indexing or the Wealthfront Risk Parity Fund, you need a minimum of $100,000. And the Smart Beta feature requires a minimum account balance of $500,000.
Account Setup
You can open a free account with Wealthfront online by following these steps:
Click "Get Started" and choose an account type (Investing, College, or Cash)
Choose an individual, joint, or trust account
Input your personal information
If you choose an investment account, you will answer questions that help Wealthfront gauge your risk tolerance and goals
Wealthfront uses the answers to create a diversified portfolio of ETFs for you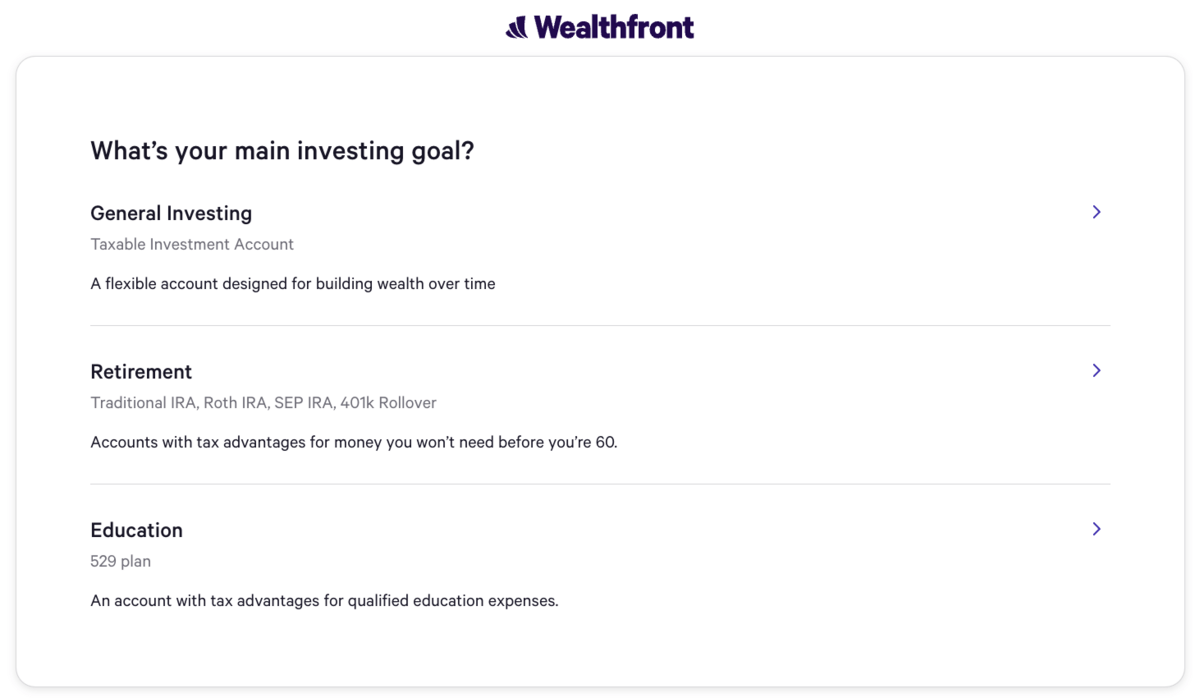 Once your account is open, you can customize the investment mix (if you wish), or simply connect an external bank account and deposit funds to complete the process.
All deposits will be invested automatically according to your selected portfolio.
Available Assets
Wealthfront investing includes 17 different asset classes to help build a globally-diversified portfolio. This includes ETFs, REITs, individual stocks, and even crypto funds.
There are 200+ ETFs available to choose from in multiple asset classes and market sectors. There are also over 1,000 individual stocks available to choose from, including every stock represented in the CRSP US Large-Cap Index.
Important note: Many small-cap stocks are missing, though — Wealthfront only supports stocks with a share price of at least $2 that do $4 million+ in daily volume.
Cash Management
The Wealthfront Cash account is a bank account that offers debit card access and fee-free ATM accounts around the U.S. (via Green Dot).
But unlike a checking account, the cash account also pays a 4.30% APY on deposits and is insured up to $5 million instead of the standard $250,000 for most bank accounts.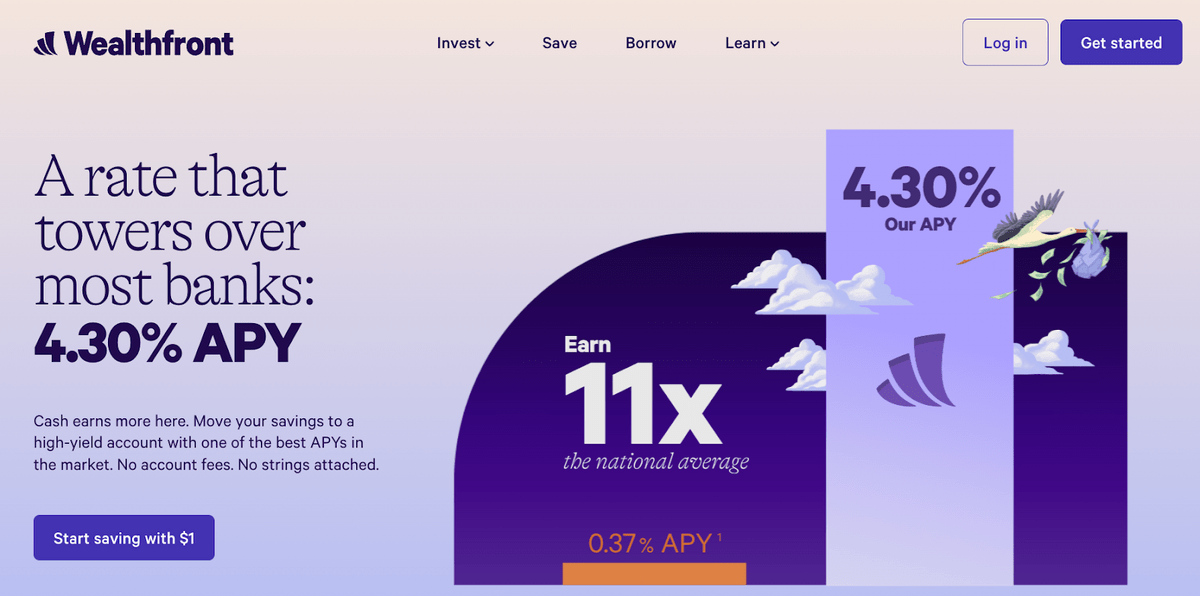 Cash accounts don't charge account maintenance fees, offer unlimited transfers, and don't require a minimum deposit to earn the full 4.30% interest rate.
The account offers a full suite of banking features, with automatic bill pay, mobile check deposit, mail checks, and the ability to create savings categories within the account.
User Experience
Wealthfront offers an intuitive user experience on both the web-based platform and mobile app. After you set up your account, the interface is focused on your stated goals. This may include tracking your progress toward retirement, or other financial goals.
You can also link non-Wealthfront accounts to provide a holistic view of your finances. And even if you aren't using Wealthfront's investing services, you can still use the Wealthfront app to get financial planning insights.
Overall Wealthfront makes it easy to invest, save, and manage your cash without an overwhelming user experience.
Wealthfront Fees
Wealthfront charges fees for automated investing accounts, but cash accounts and self-directed accounts don't charge any account fees. Users also pay ETF fees for investments on the platform.
Wealthfront automated investing fee: 0.25% of assets under management
ETF Fees: Varies (usually under 0.15%)
Wealthfront Cash accounts also have fees for some services:
Out-of-Network ATM: $2.50 + ATM fee
Bank Teller fee: $2.50 + Teller fee
International transaction fee: 2.75%
Cash deposits at select retailers: Up to $5.95
Other Resources
Wealthfront offers even more services, including:
Path Financial Planner. Wealthfront offers its financial planning software for free, even to users that don't have any Wealthfront accounts. This tool uses market data and A.I. to help you plan for upcoming financial goals, such as buying a home, saving for college, and saving for emergencies.
Portfolio Line-of-Credit. Wealthfront lets you borrow against the assets in your taxable investment account. You can open a portfolio line of credit to borrow up to 30% of the total value in your taxable brokerage account.
The minimum value must be at least $25,000, and you must be an Automated Investing client.
College 529 Savings Account. Wealthfront offers 529 savings accounts to help you invest toward college expenses. These accounts allow you to save in a tax-advantaged account for qualifying higher education expenses, and it uses Wealthfront's automated investing tools.
There is an additional 0.6% management fee on top of the standard 0.25% annual fee for 529 accounts.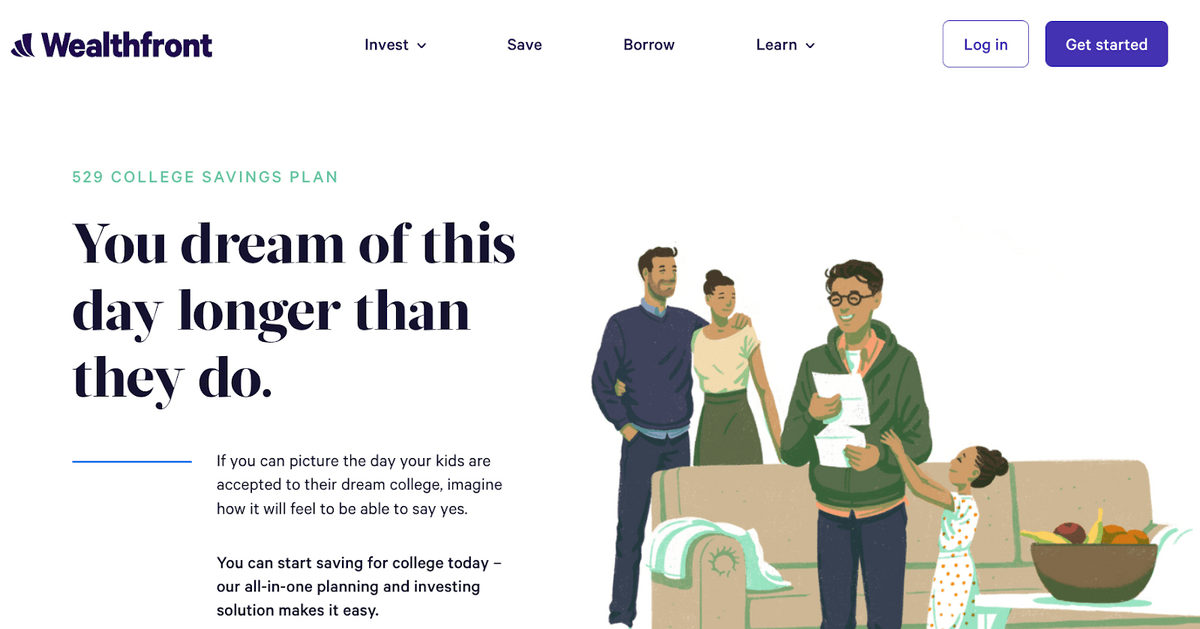 Tax-Loss Harvesting. If you have a taxable brokerage account with Wealthfront, they can employ "tax-loss harvesting" which helps you sell securities and re-buy similar ones to claim a loss for the year.
This can help lower your tax burden for the year, and Wealthfront claims this typically offsets their annual fee.
Wealthfront Promotions. Currently, you can get your first $5,000 managed for free if you sign up for a Wealthfront Automated Investing account.
Pros and Cons of Wealthfront
| | |
| --- | --- |
| Pros | Cons |
| Well-designed user interface (and mobile app) | No access to human advisors |
| Completely automated investing | No phone number for customer service |
| Low fees | |
| Cash accounts offer high APY | |
| 529 accounts available | |
| Financial planning tool is completely free | |
Who Should Use Wealthfront?
Wealthfront is ideal for both beginner and sophisticated investors that want to automate their investing strategy without the high fees of a financial planner.
Wealthfront makes it easy to offload your financial life to a single platform, with banking, investing, tax-efficient account management, and financial planning all rolled into one place.
Who Shouldn't Use Wealthfront
While Wealthfront recently rolled out the ability to trade stocks individually, it isn't designed for active traders.
Platforms like Robinhood, TD Ameritrade, or Webull offer far more advanced trading features (such as limit orders) and a bigger selection of individual stocks to choose from. If you want to actively trade, Wealthfront isn't the right platform for you.
Final Word: Wealthfront Review
To sum up this Wealthfront review? It's no exaggeration to say it's among the best robo-advisors available today, with a suite of automated investing features and the ability to be completely hands-off with your finances.
Add in a cash account paying over 4% interest with $5 million in FDIC insurance, and it's also one of the best places to park your money.
Wealthfront does offer stock trading, albeit in a limited capacity. And while the College 529 savings account is a nice offering, the additional Wealthfront fees make it a bit less appealing than just going with a state-sponsored account. But overall, is Wealthfront worth it? A resounding yes.
---
FAQs:
How trustworthy is Wealthfront?
Wealthfront is one of the original robo-advisors. It launched in 2009 and has continued to add features and innovation over the last 10+ years. Wealthfront has over 500,000 clients and over $35 billion in assets under management currently, making them one of the most trusted robo-advisors on the planet.
What are the cons of using Wealthfront?
Wealthfront is great for automating much of your financial life, but it isn't a great trading platform. Though they do offer individual stock investing, Wealthfront is designed for long-term investors, not day traders. And you can't access a human advisor if you want financial advice, everything is automated on the platform.
What is the average return on Wealthfront?
Wealthfront publishes its annual returns on its website, showing the historical average returns since 2013. The average return since 2013 is 6.84% per year, while the S&P 500 average over that time frame was 12.90%. But the recent one-year return is 2.15% vs the S&P 500 return of -7.15%. This return reflects some of the conservative nature of a diversified portfolio vs. going 100% in on the stock market.
Is Robinhood or Wealthfront better?
They're suited for different purposes. Robinhood is a stock trading app that offers commission-free trading of stocks, options trading, and a handful of cryptocurrencies. Wealthfront is a complete financial planning tool that manages your investment portfolio, automatically invests your funds, rebalances your portfolio, and helps lower your overall tax burden. Wealthfront is far better for long-term investors than Robinhood.
Is Vanguard or Wealthfront better?
Wealthfront and Vanguard both offer automated investment management. Vanguard Digital Advisor Service only charges 0.15% vs. Wealthfront's 0.25% fee. But Wealthfront offers far more features, including tax-loss harvesting, portfolio loans, direct indexing (on accounts over $100,000), and a full-service cash account. And Vanguard requires a $3,000 investment, while Wealthfront only requires a $500 minimum.
How much money do you need to start Wealthfront?
Wealthfront automated investing accounts require $500 to open an account. Wealthfront self-directed investing accounts and cash accounts can be opened with as little as $1. And you can use the Wealthfront app and financial planning tools for free.
Where to Invest $1,000 Right Now?
Did you know that stocks rated as "Buy" by the Top Analysts in WallStreetZen's database beat the S&P500 by 98.4% last year?
Our September report reveals the 3 "Strong Buy" stocks that market-beating analysts predict will outperform over the next year.